Bourbon Pecan Chocolate Popcorn for #SundaySupper
Disclosure: This post may contain affiliate links. Cupcakes & Kale Chips is a participant in the Amazon Services LLC Associates Program, an affiliate advertising program designed to provide a means for us to earn fees by linking to Amazon.com and affiliated sites.
A fun popcorn snack with the crunch of pecans, a little kick of bourbon, and lots of chocolate!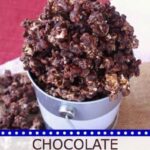 As we come to the close of 2013, for #SundaySupper this week, we are sharing recipes inspired by our Reflections & Resolutions – looking back on 2013 and ahead to 2014 and the occasions and events we celebrated, accomplishments we achieved, things we want to change or improve, and what we have planned. For my last recipe of 2013, I am bringing you a fun, crunchy snack with a little kick and a lot of chocolate – Bourbon Pecan Chocolate Popcorn.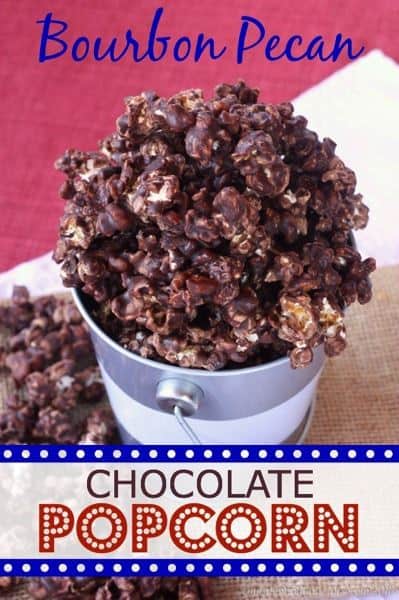 2013 has certainly been an eventful year. The Bug has gotten so big – even at only three-and-a-half, I can already see him becoming so intelligent and independent and creative, with his own mind and opinions. While this makes him difficult to deal with at times, it is also incredible to observe, and to realize that he is my child, mine and The Hubby's, an amazing combination of the two of us. This becomes more and more evident the older he gets.
I also became a mom of two with the birth of Baby Smiles. While his birth was an incredible experience, the first few months were pretty intense – worries about his weight gain, getting used to juggling two kids, complete and utter exhaustion. But the past two or three months have been super fun. Perhaps it's because this is the period of time that I went back to work full time with The Bug, or perhaps just because six to nine months is just such a fun period of amazing developments, but I have loved just watching. Watching his silly faces, watching him go from lay to crawling to sitting up on his own to pulling up. Watching him start to really play and interact with people, especially his big brother. And as much as The Bug seems a blend of The Hubby and I, sometimes I wonder if Baby Smiles was switched in the hospital. While The Bug was a content baby, Baby Smiles is happy. Just carefree and adventurous. I can't wait to see how his personality evolves.

MY LATEST VIDEOS
And I wasn't the only one to add a member to our family – my cousin also had her first baby, an adorable little girl. Unfortunately our kids won't have to opportunity to be as close as we were growing up, since they now live in Kentucky, it is so exciting to see the next generation of our family, and to see my little cousin as a mama. Distance has made it hard to be as close as when we were little, so I love that now we have a new type of connection and way to relate as mothers.
And while I took a major break from blogging, since I restarted in July, I have seen such growth in my readership, interaction with readers, my knowledge and skills, and my relationships with other bloggers, with groups of us utilizing each other for help, advice, inspiration, mutual promotion, support, and friendship. I think laid some good groundwork in 2013, and hope that 2014 is year of truly transitioning my hobby into a business that, while it's not the road to easy street, will bring in a little money to help support my family while still allowing me to be at home with my boys.
What does Bourbon Pecan Chocolate Popcorn have to do with any of this?
So, about the popcorn part. Well, through one of the blogger groups that I am part of, I have connected with some amazing women who are always there to help each other out. Ashton of Something Swanky needed some people to help her with some recipe testing for popcorn recipes. I hadn't made any fancy pants popcorn, so she got me thinking about developing some popcorn recipes of my own. Plus recipes like this are super easy and fast – perfect for my short-attention-span-three-and-a-half-year-old. I'll be trying to come up with more of these as I begin contributing Healthy Kids Snacks recipes (preferably ones to make with your kids) to the lovely Jenny of The NY Melrose Family in 2014.
And the bourbon? Well that was inspired by my Thanksgiving trip to Kentucky – a wonderful time with my family and the first time we got to meet my cousin's baby, and they got to meet Baby Smiles. This trip also kind of proved to me that The Hubby and I could do this. As I said, the early months with Baby Smiles were rough, plus The Bug, well, he is three, and three-year-olds are slightly insane. And I have always been a vacation uber-planner, wanting to extensively research and schedule every meal and activity. But despite being crammed in a hotel room with a sick baby who woke up every two to three hours, an overtired preschooler who was woken up by his brother, but still refused to nap and was a bit spazzy, we rolled with the punches, had a really loose game plan, and had a great time! And ate some great food, naturally.
Pecans, well, they just work with bourbon. So there!
See how I wove that all together? Genius, right?
One thing about this recipe for Bourbon Pean Chocolate Popcorn – use melting chocolate, NOT chocolate chips, and make sure you melt the chocolate with the bourbon and do not add the bourbon after melting the chocolate. Trust me on this one. Doing either will cause the chocolate to seize, and while you can turn it into delicious truffles (sadly the chocolate shell on mine cracked, so they aren't making it to the blog… yet), it will not be runny enough to coat the popcorn. I popped some popcorn in the microwave using this method, but if you are going to use microwave popcorn, get the plainest kind you can get. I think most brands call it "Natural".
Honestly, due to the bourbon, this isn't going to be the crunchiest popcorn you've ever eaten. But that doesn't matter because it is delicious! And while it will keep in an airtight container for a couple days, you probably don't want to keep this around for a week. Not that it'll past that long. The Hubby taste-tested for me… and then I proceeded to polish it off. Luckily I only made a half batch.
Which brings me to the resolution part of this week's Reflections & Resolutions. I've been bringing you lots of sweets and treats lately. Part of this is due to my love of making holiday goodies, part from it being pitch black by dinnertime, the making it hard to photograph savory dishes before my guys and I eat dinner, and juggling the two kids makes timing tough for cooking, styling and shooting anything that is time-sensitive. But in the new year, you'll see a little shift back to some healthier dishes – I do have a couple pounds of baby weight that still need to come off. And when I do make sweets, my resolution is not to devour most of it myself 😉 Luckily I was able to offload most of the Christmas cookies.
Join the #SundaySupper conversation on twitter on Sunday! We tweet throughout the day and share recipes from all over the world. Our weekly chat starts at 7:00 pm ET. Follow the #SundaySupper hashtag and remember to include it in your tweets to join in the chat. Check out our#SundaySupper Pinterest board for more fabulous recipes and food photos. Would you like to join the Sunday Supper Movement? It's easy! You can sign up by clicking here: Sunday Supper Movement.
Make sure you check out the rest of this week's amazing #SundaySupper recipes at the bottom of this post!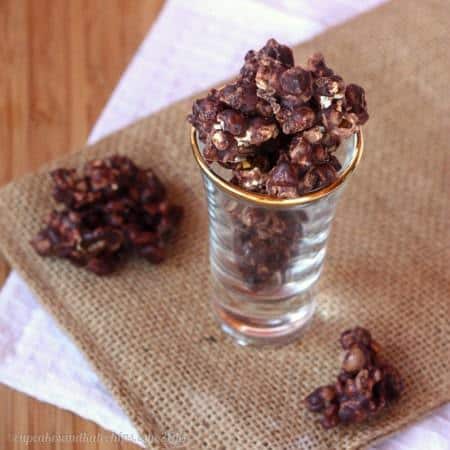 What is the most significant thing that happened to you in 2013?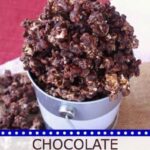 Print Recipe
Bourbon Pecan Chocolate Popcorn
A fun popcorn snack with the crunch of pecans, a little kick of bourbon, and lots of chocolate!
Ingredients
8

c

popped popcorn

see Note

1

c

chopped pecans

12

oz.

dark or semisweet melting chocolate discs or wafers

or almond bark

1/2

c

bourbon
Instructions
Place the popcorn in a large bowl and pour the pecans over the top. Don't mix or toss because then the pecans will just go to the bottom of the bowl.

Add the chocolate and bourbon to a bowl or top portion of a double boiler and set over a pot of simmering water on low heat, and gently stir and melt the chocolate. I do not recommend melting the chocolate in the microwave because the liquid may make it more likely to seize and solidify.

Pour the melted chocolate over the popcorn and pecans and gently toss until it is evenly and thoroughly coated.

Spread the popcorn onto a silicone baking mat or wax paper lined baking sheet and allow to cool to room temperature and firm up.

Once completely cooled, store in an airtight container.
Notes
You can pop your own in the microwave or air popper without any oil or butter, or if you use microwave popcorn, use the plainest kind you can find, usually labeled "Natural".
Enjoy!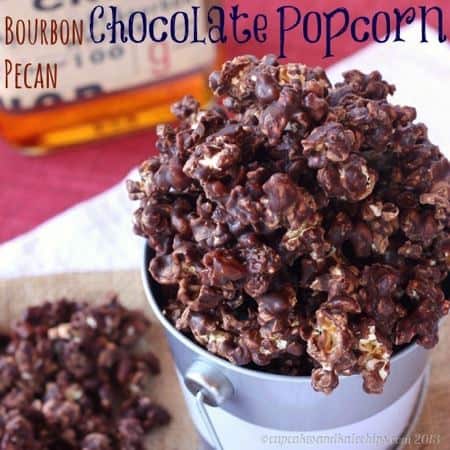 Here are a few more recipes that have a special significance to me…
And check out this entire #SundaySupper menu inspired by our Reflections and Resolutions…
Breakfast
Appetizers & Snacks
Main Dishes & Sides
Desserts & Drinks