This post may contain affiliate links. Read my disclosure policy.
With just six ingredients, this easy Apple Pecan Baked Brie recipe is an instant hit at holiday parties! You can't go wrong with warm, melty cheese topped with sweet and nutty caramelized apples and pecans; this is the ultimate fall appetizer that's ready in minutes.
This Baked Brie Recipe is Perfect for Fall
When it comes to holiday dinners, I come from a family where "no-fuss" takes on a whole new meaning: pre-made biscuit dough, cranberry sauce from a can, and gravy from a jar.
Corn pudding is about as gourmet as the home cooking gets for big family meals! As much as I love to bust out my culinary chops, I've also learned that simple can often be just as delicious.
This in mind, when it comes to party appetizers, my holiday season staple is a delicious Baked Brie. It's funny how one of my most simple recipes has become my signature dish, from Thanksgiving to Christmas dinners. Don't we love it when something so easy is also super impressive?
For all their no-fuss tendencies, the family gets fancy with their requests for French cheese, all bubbly and delicious. That's where I've gotten creative with variations like my Pineapple Pecan Baked Brie and Honey and Nut Baked Brie with great success!
This fall, inspiration struck again for a little something different. This is what led me to this absolutely mouthwatering, seasonal recipe for Caramelized Apple Pecan Baked Brie that will definitely be on repeat throughout the holidays.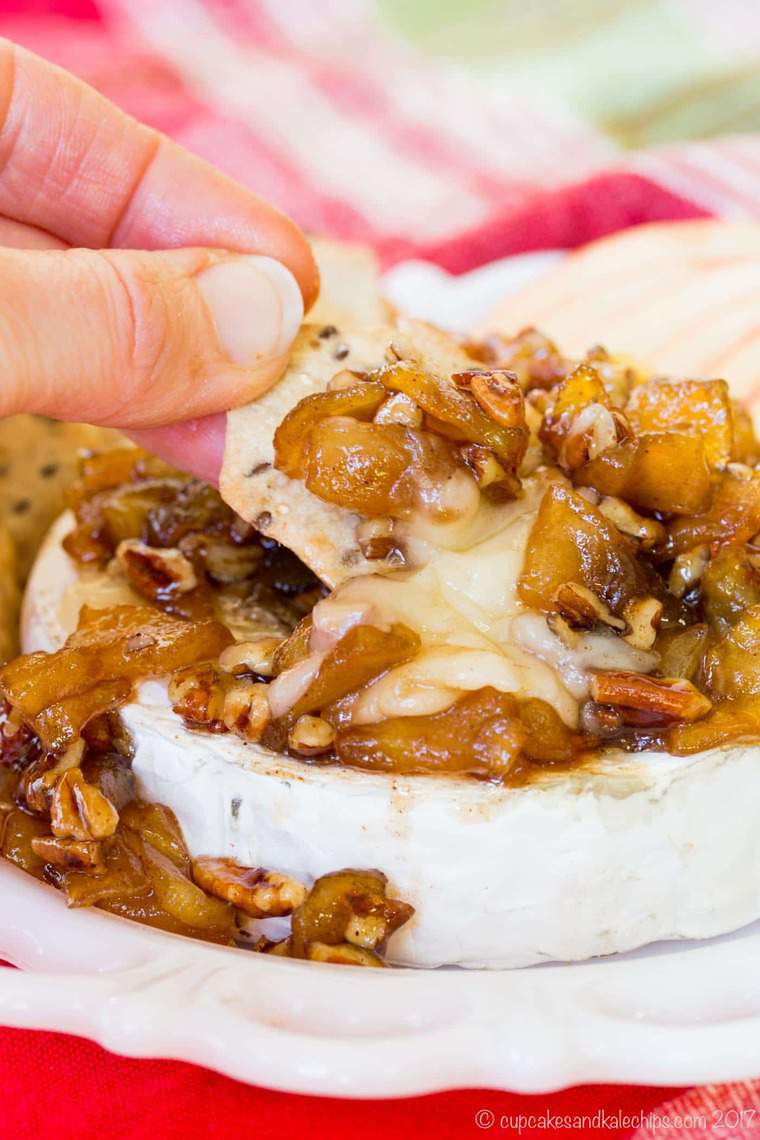 What You'll Need
This recipe really goes all-out in the fall inspiration department. Cozy spices, crisp apples and the rich flavors of brown sugar and pecans; the ingredients list is the stuff of autumn dreams! And it's only six items long:
Brie Cheese: For this recipe, I use an 8 oz. wheel.
Apple: One large apple, chopped into half-inch pieces.
Apple Juice: Pure apple juice or apple cider is the secret ingredient that takes the caramelization of the topping up a notch! Martinelli's Apple Juice adds the perfect sweet apple flavor to this baked Brie recipe.
Brown Sugar: Light or regular brown sugar for a rich and caramelized flavor and golden color.
Cinnamon: A hint of warm spice that pairs unbelievably well with apples and Brie.
Pecans: Chopped or crushed.
Do I Need to Remove the Rind from Brie?
Not only is the rind edible, it's best if left on! This will hold the Brie's gooey insides in place while the cheese is baking and afterwards once the toppings are added. Before baking, score the top of the rind lightly using a sharp knife so that it's easy to peel off once warm, leaving the sides intact.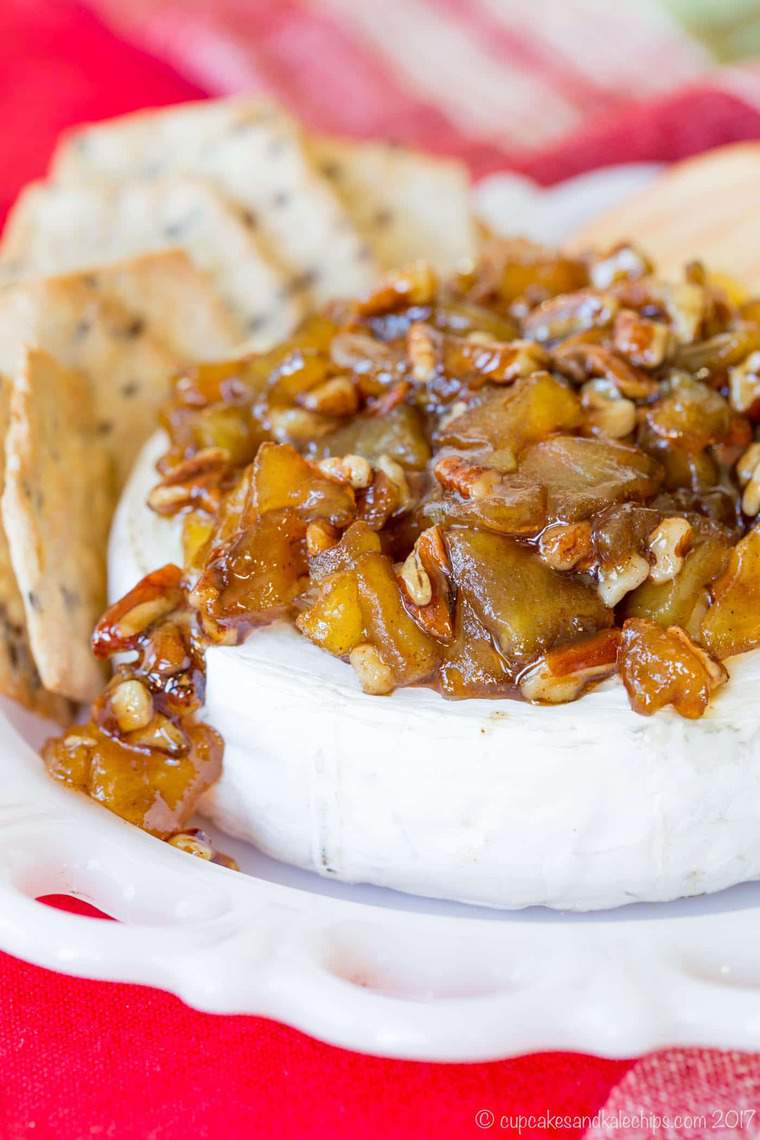 How to Make Baked Brie
This recipe for baked Brie is truly a thing of holiday beauty. With only six ingredients and a few minutes in the oven, you'll be serving this delicious cheese dip to your friends and family in no time at all. Follow these steps and revel in how simple and special this baked appetizer is to make:
Bake the Brie: It all starts with the Brie cheese. Score the rind and warm the cheese in the oven until it becomes melted, then peel the rind off the top. Even at this stage, it's perfect for dipping crackers, bread, or apple slices. While that alone is enough to make me weak in the knees, it gets better!
Make the Apple Pecan Topping: During the cheese's brief stint in the oven, mix together your apple pecan topping with brown sugar and just a hint of cinnamon, and boil it in the apple juice until it becomes thick and sticky. Pour that over the top of your baked Brie, and you have heaven on a cracker.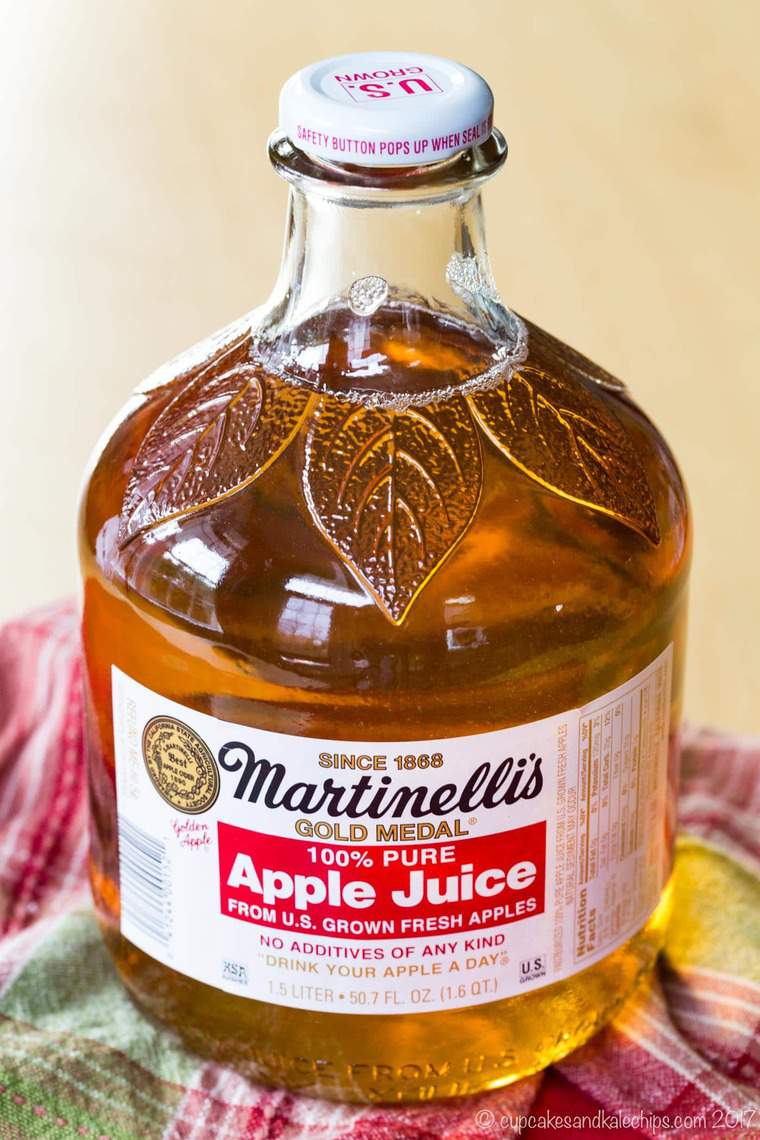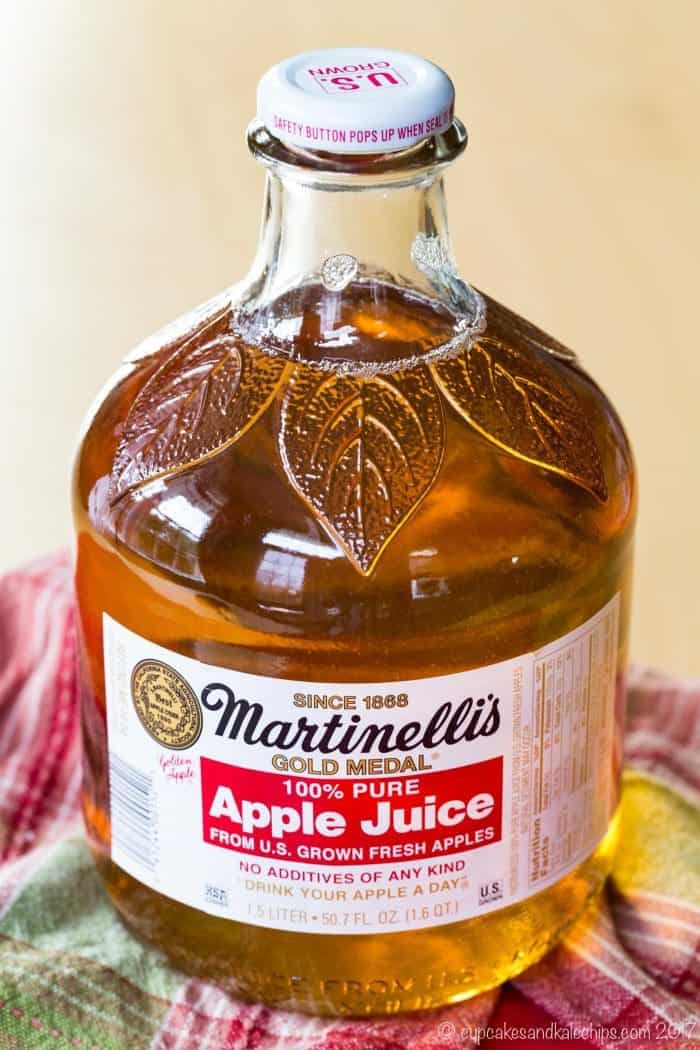 Make the Best Baked Brie
Don't Over-Cook the Cheese: Overheated cheese will harden faster when cooling, so keep an eye on your Brie when it's in the oven and remove it as soon as you see a hint of goo beginning to peek out.
How to Choose the Best Brie for Baking: I opt for budget Brie whenever I bake it, since the cheese is just as flavorful and is topped with other ingredients anyway. Take advantage of a higher end Brie by serving as is!
Bake Brie in a Ceramic Dish: Baking the Brie in an oven-safe dish offers dual benefits: one, it's easy to serve and secondly, it will keep the warm Brie cheese gooey and spreadable for longer.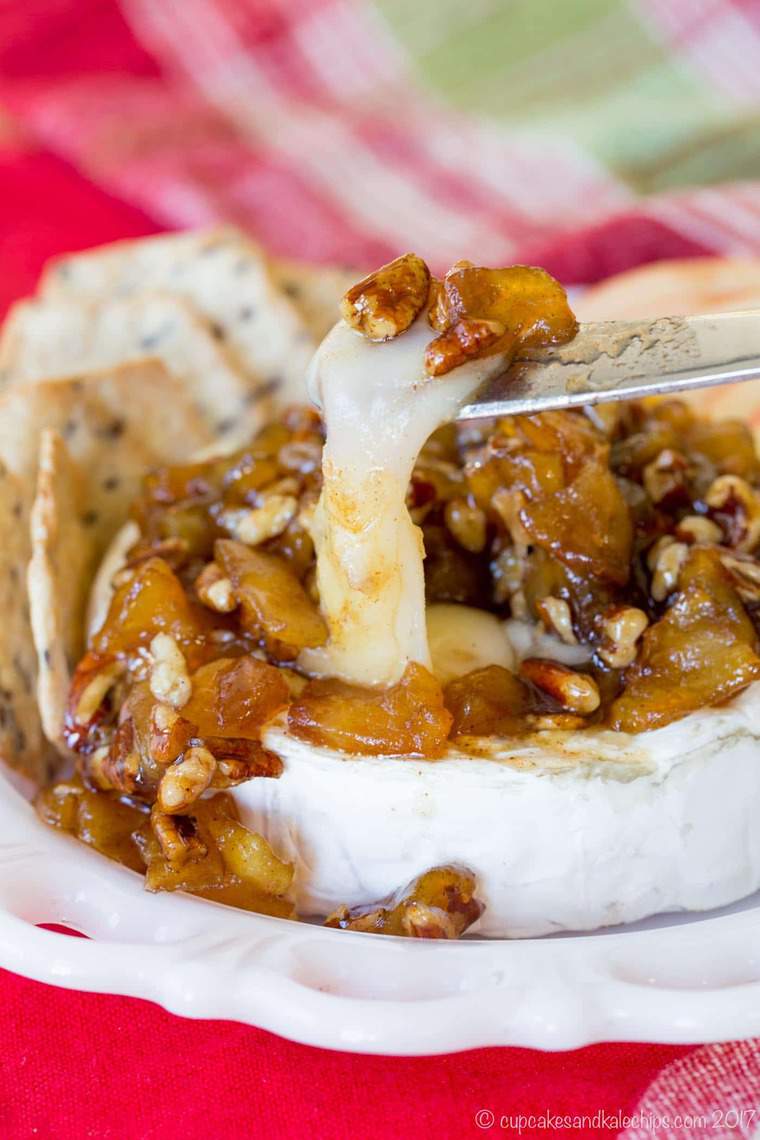 What to Serve with Baked Brie
Serve your Brie alone with crackers or as the centerpiece for a larger cheese board alongside bunches of grapes, cured meats, fruit preserves, mixed nuts, and other plain cheeses like goat cheese and Roquefort. Here are some more suggestions for serving:
Strong, sturdy Crackers or Crostini are best for serving with Baked Brie. Avoid thin or airy crackers and chips as these won't hold up to scooping and spreading.
Rustic Bread or Baguette, either fresh or toasted, also holds up to the molten texture of Baked Brie cheese.
Apple and Pear Slices are delicious alongside the sweet nutty topping, and make a great gluten-free option.
Fresh herbs like Rosemary and Thyme are wonderful both for decoration as well as adding extra flavor.
My family and I absolutely love enjoying a Baked Brie served alongside a glass of Bubbly or Sparkling Cider. Along with being the secret ingredient in this recipe's caramelized Apple Pecan topping, Martinelli's Sparkling Juices and Ciders have been our go-to bubbles on special occasions like Christmas, Thanksgiving, and New Years for decades!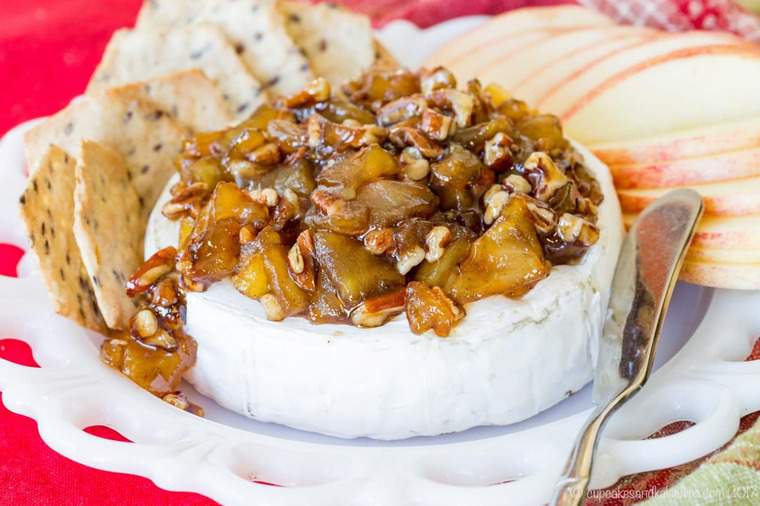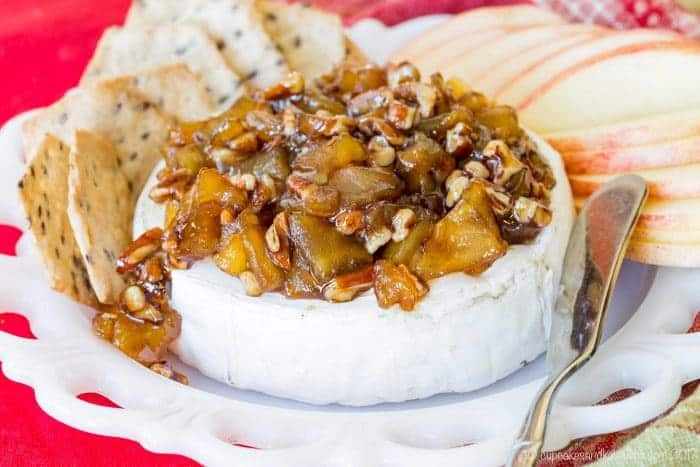 Can I Save Extras for Later?
You can absolutely save Baked Brie leftovers, melted with the caramelized topping, to reheat or repurpose! Keeping in mind that a full Brie wheel takes only a couple of minutes in the microwave, use this as a guide when reheating the extras. You can also reheat leftover Brie in the oven the same way it was baked in the first place.
Leftovers can be enjoyed spread onto toast or crackers.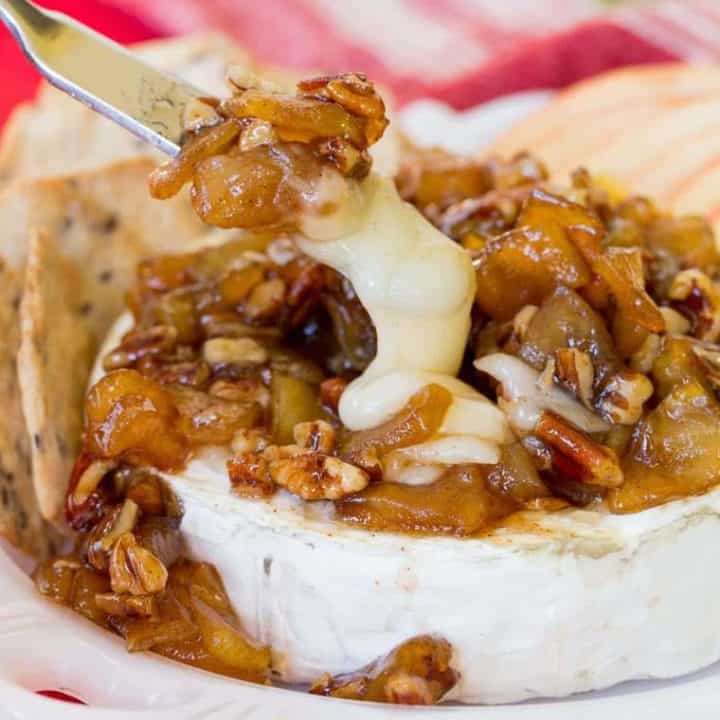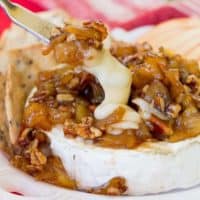 Caramelized Apple Pecan Baked Brie
This easy Baked Brie recipe is an instant hit at holiday parties! Warm, melty Brie cheese topped with sweet and nutty caramelized apples and pecans; this is the ultimate fall appetizer that's ready in minutes.
Ingredients
8

oz

Brie cheese

1 wheel

1

large

apple,

chopped into about 1/2-inch pieces

1/4

cup

Martinelli's Apple Juice

1/4

cup

light brown sugar

1/4

teaspoon

cinnamon

1/4

cup

chopped pecans
Instructions
Preheat oven to 350°F. Place brie round on baking sheet. With a sharp knife, cut into the rind on the top of the brie about a quarter inch from the edge. Do not remove the rind.

Bake 15 minutes, or until cheese is soft and melted.

While the Brie is baking, in a saucepan, combine the apples, Martinelli's Apple Juice, brown sugar, and cinnamon.

Over medium heat, bring the mixture to a boil. Boil for 8-12 minutes, or until the mixture has thickened. Stir in pecans and cook for another minute or two. Set aside to cool slightly.

Remove the hot brie from the oven and transfer to a serving plate. Carefully remove the top rind using a sharp knife to separate it, if needed.

Pour the apple mixture on top of Brie. Serve with crackers, baguette, apple, etc. for dipping.
Notes
This recipe makes enough topping for an 8 oz. wheel of Brie. If you would like to use one of the larger (17.6 oz.) wheels of Brie you often find at the warehouse stores like Costco, you can double all of the ingredients, but follow the rest of the directions as written. The Brie might need another minute or two in the oven.
Adapted from Kahlua Pecan Brown Sugar Baked Brie from Noble Pig.
Nutrition Facts
Caramelized Apple Pecan Baked Brie
Amount Per Serving (1 oz.)
Calories 162
Calories from Fat 90
% Daily Value*
Fat 10g15%
Cholesterol 28mg9%
Sodium 180mg8%
Potassium 103mg3%
Carbohydrates 12g4%
Protein 6g12%
Vitamin A 185IU4%
Vitamin C 1.3mg2%
Calcium 62mg6%
Iron 0.3mg2%
* Percent Daily Values are based on a 2000 calorie diet.
Categories:
More Easy Appetizer Ideas
Looking for more simple but special holiday appetizers? Here are more recipe ideas to try: