This post may contain affiliate links. Read my disclosure policy.
Caramelized Apple Pecan Baked Brie is a festive and easy appetizer recipe perfect for any holiday party. With only six ingredients and a few minutes, you can serve this cheesy dip to your friends and family and impress everyone with how simple and special it is.
Disclaimer: This recipe was developed through a sponsored partnership with Martinelli's. As always, all opinions are my own.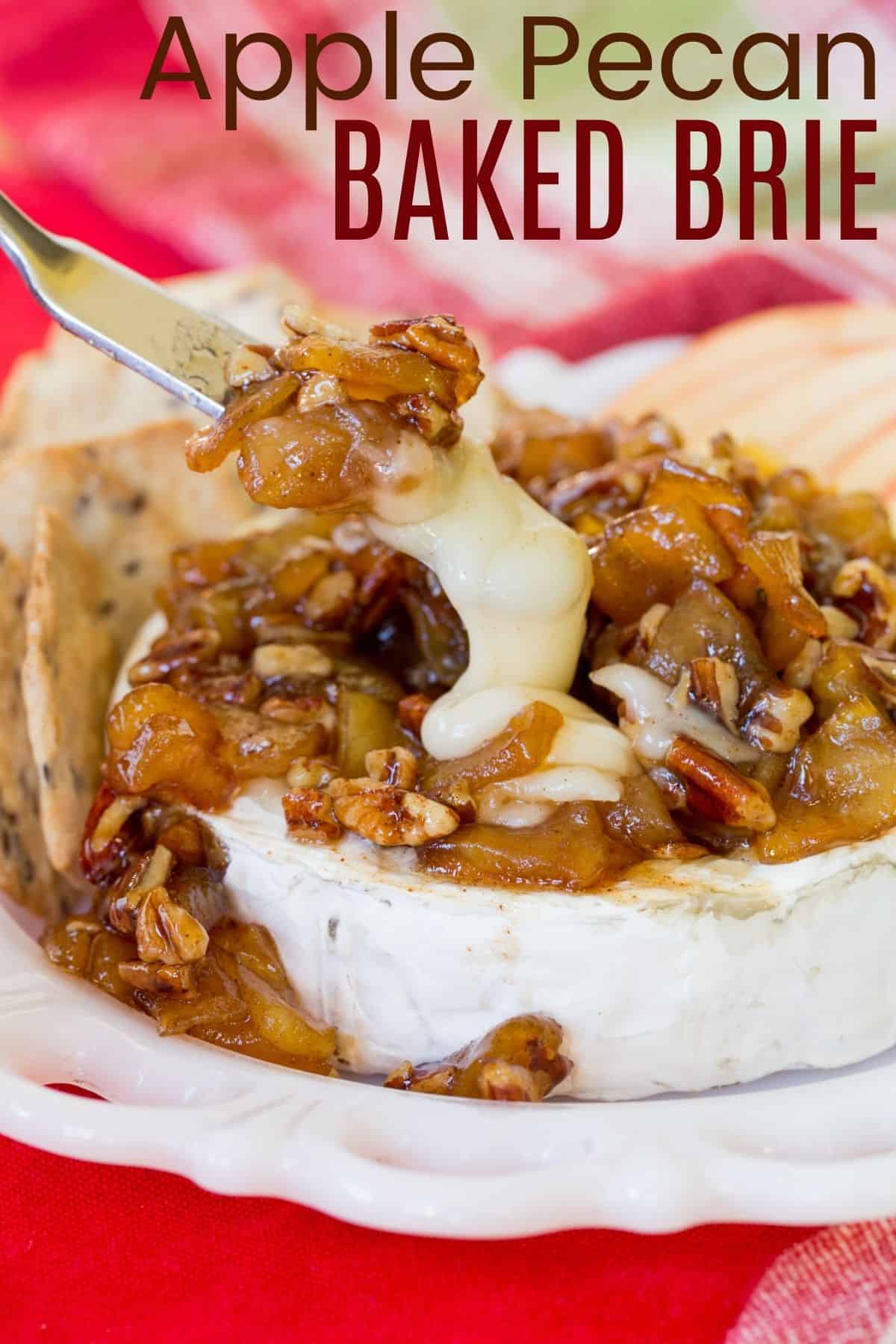 Isn't it funny how your signature recipe can sometimes be the most simple thing you make? In my case, it is a Baked Brie recipe.
For years my family requests my Honey Nut Baked Brie at every holiday gathering. This is the family who prefers pre-made biscuit dough, cranberry sauce from a can, and gravy from a jar for their holiday meals. Heck, even for the "homemade" side dishes, Corn Pudding is about as gourmet as it gets. So when it comes to big family dinners, as much as I want to break out my culinary chops, I've learned to stick with what they know and love and save myself some time and effort.
Yet when it comes to appetizers, there's no potato chips and cans or pre-made onion dip for this family. They get fancy with their requests for French cheese, all bubbly and delicious. And the funny part is that they think I'm making this gourmet appetizer, but it's really simple. And don't we all love when something simple is really super impressive?
But after all these years making the same baked Brie recipe, I thought it was time to add a little something different…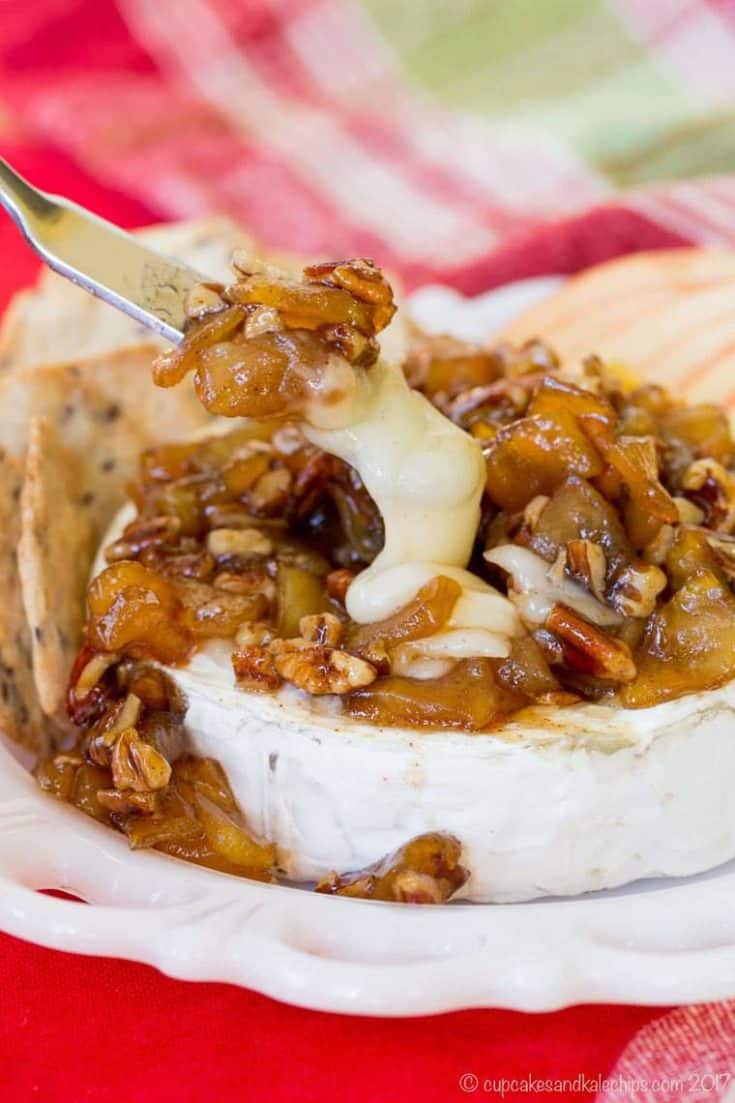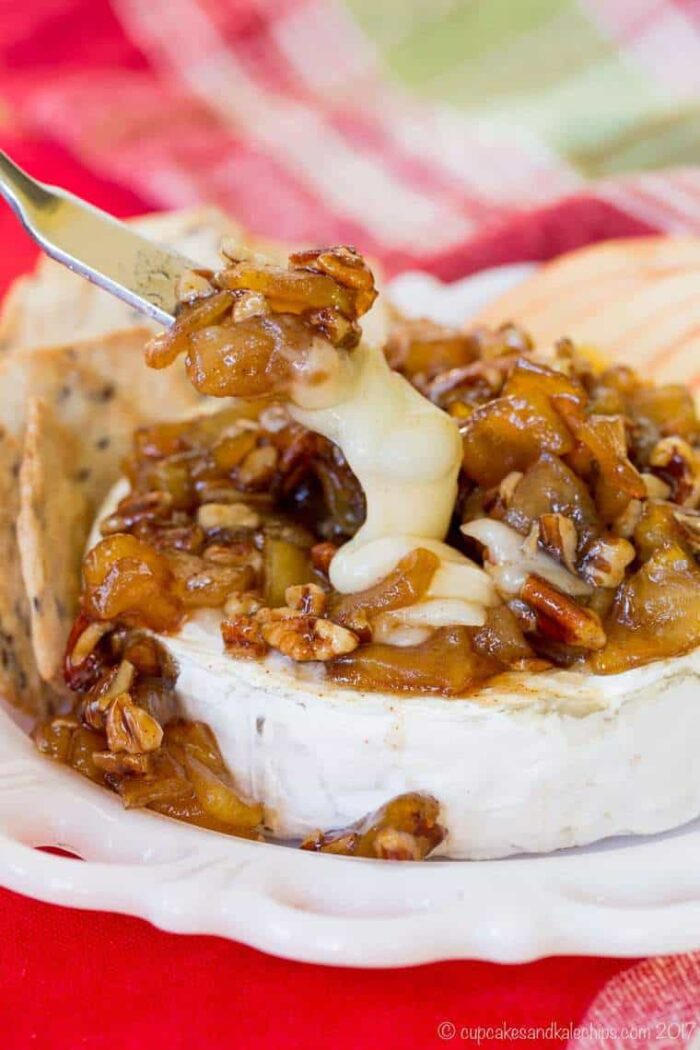 Baked Brie with Pecans and Apples
It all starts with the Brie cheese. Just score the rind and warm in the oven until it becomes melted and then you can just peel that rind off the top. It's then perfect for dipping crackers, bread, or apple slices. And while that alone is enough to make me weak in the knees, it gets better. During the brief stint in the oven, all you have to do is throw together an apple pecan topping with just a hint of cinnamon, boil it until it becomes thick and sticky, pour that over the top, and you have heaven on a cracker.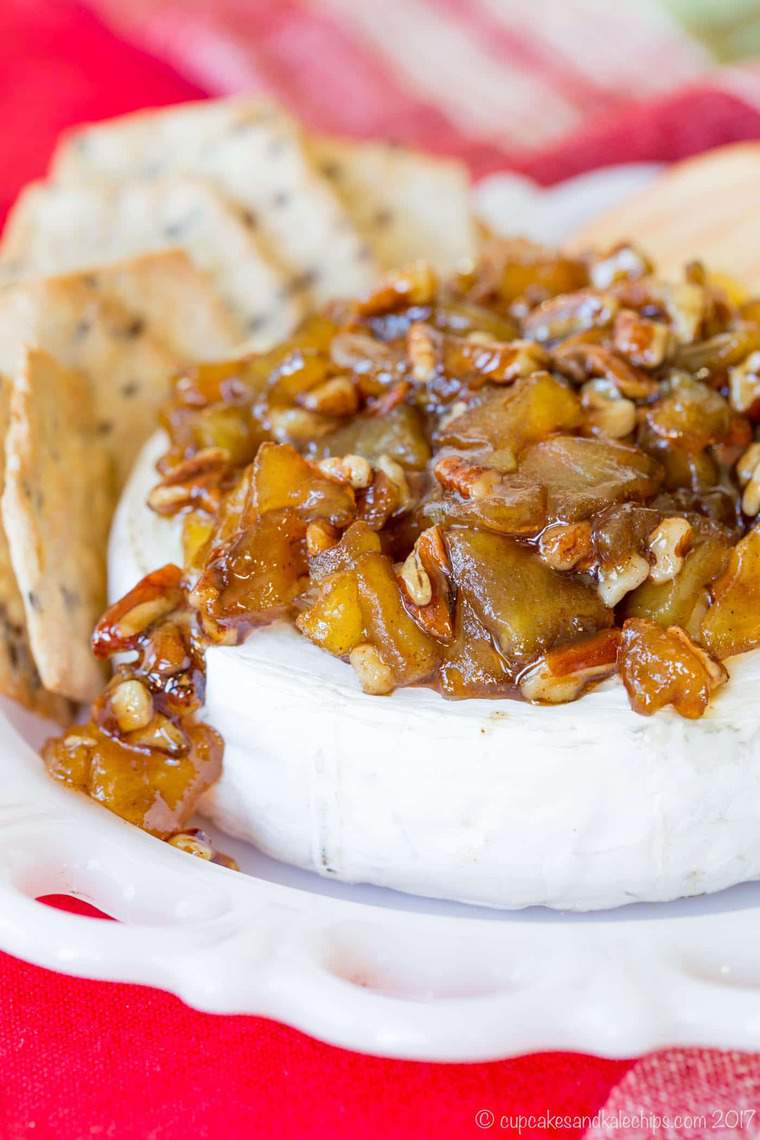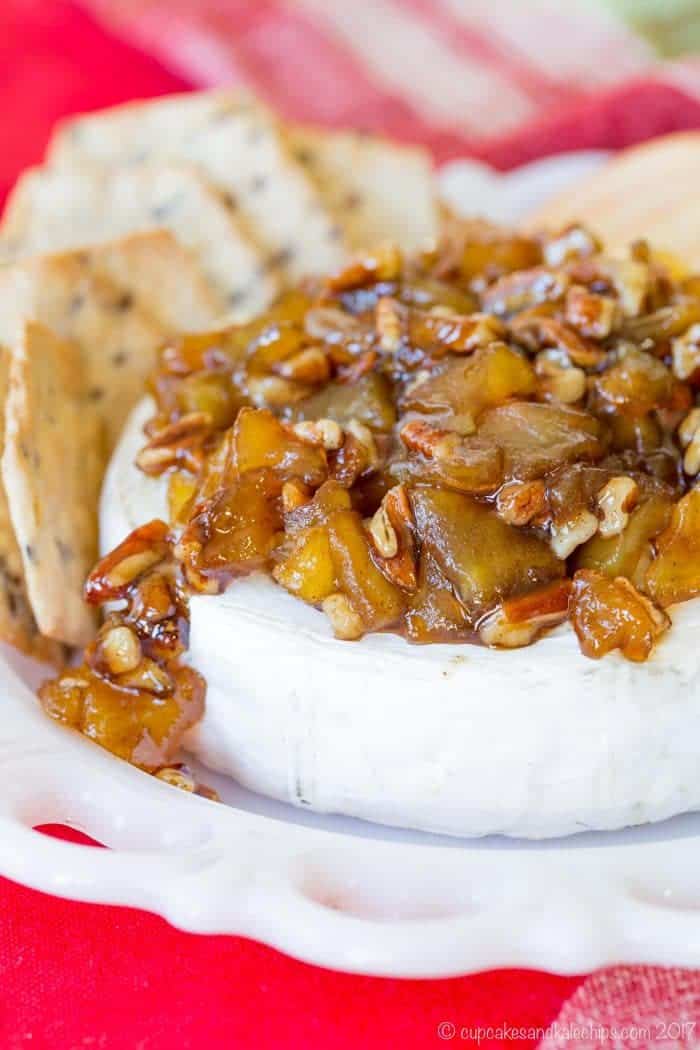 That topping has just a handful of ingredients, including one that makes it extra special. Those apples and pecans are caramelized in a sweet and delicious mixture of brown sugar and Martinelli's Apple Juice. You probably know Martinelli's Sparkling Cider, but they make apple juice as well from 100% U.S grown apples, and no additives. It adds the perfect sweet apple flavor to this baked Brie recipe.
Besides Baked Brie, the other key ingredient to our festive family gatherings is at least one of our favorite Martinelli's Sparkling Juices or Cider, so pour a glass of bubbly to enjoy with your party snacks. For decades, the kids and adults in my family have always enjoyed a glass of Martinelli's Sparkling Cider on special occasions. My cousins and I would toast with our Sparkling Cider every Christmas Eve, and now my boys request it as well. We will certainly be pouring some with our Christmas Eve breakfast for dinner, and ringing in the new year with a make-your-own-pizza-and-sundae party and a Martinelli's Sparkling Cider toast!
Celebrate this wonderful time of the year with Caramelized Apple Pecan Baked Brie and Martinelli's Sparkling Cider and Juices!
Because a little sparkle adds something special to all of your celebrations! Happy Holidays!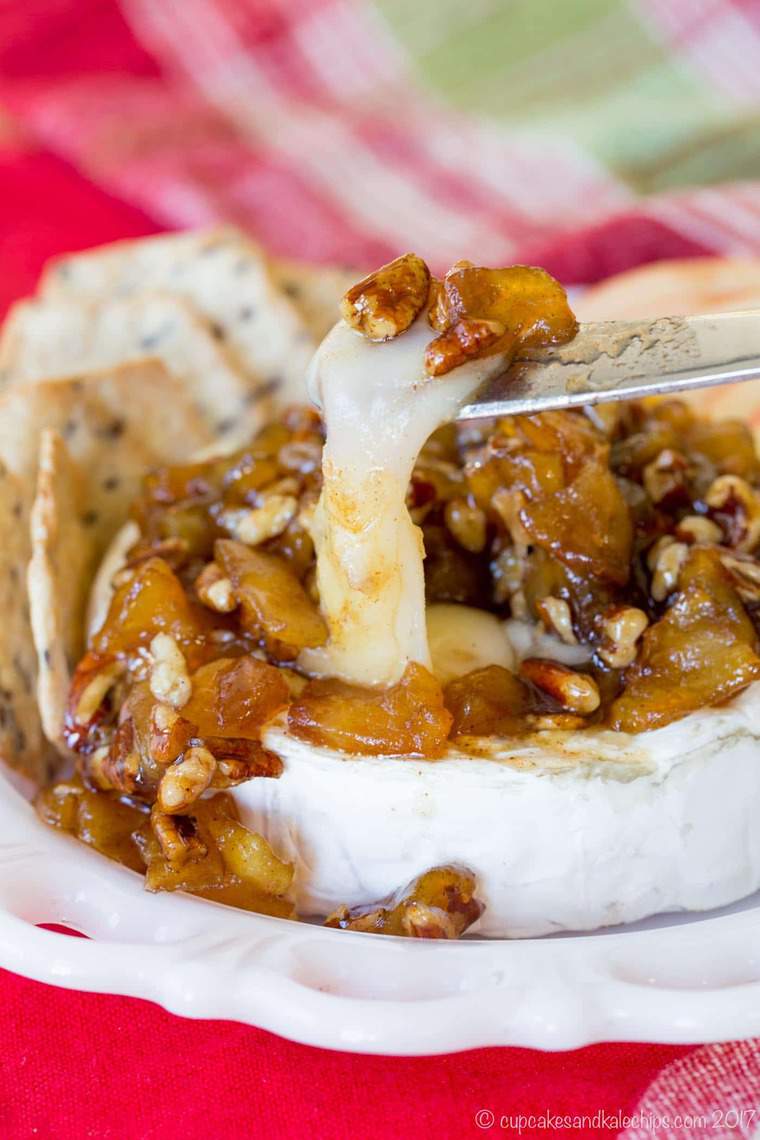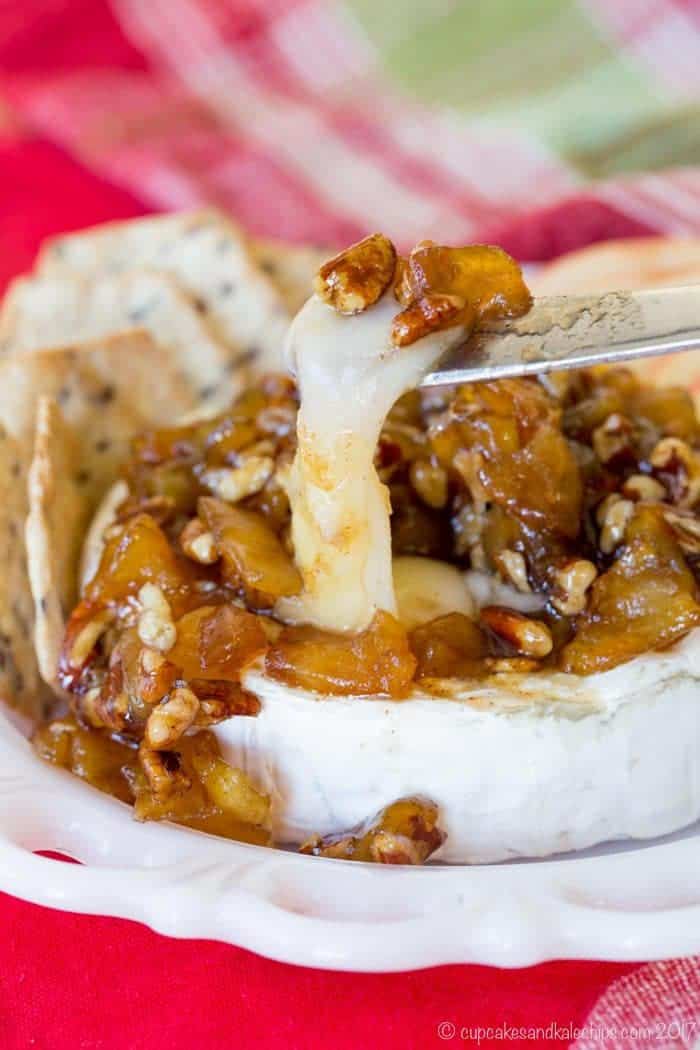 For more yumminess from me and my foodie friends, keep up with me on…
Or sign up to have Cupcakes & Kale Chips delivered straight to your Inbox!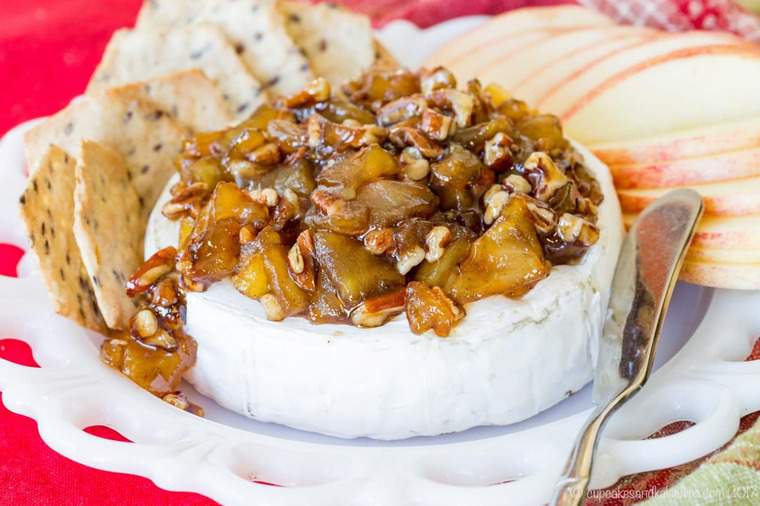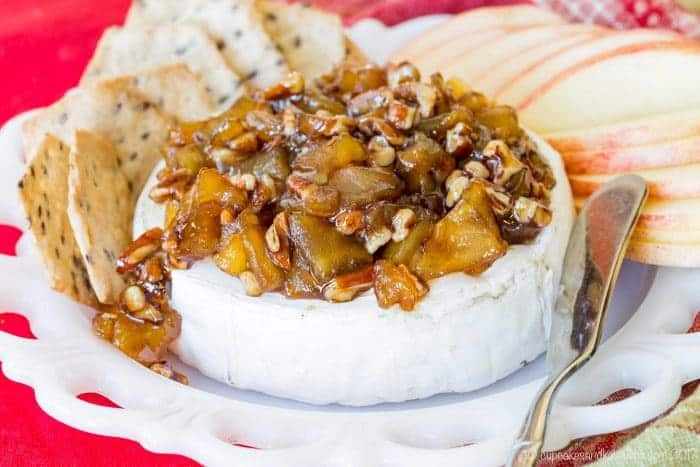 What else can you make with sparkling cider?
What are more baked brie recipes?
How to Make Baked Brie with Pecans and Apples
With just six ingredients, this easy baked brie recipe will be the centerpiece of your holiday party appetizers! How can you go wrong with ooey gooey, melty cheese with a sweet and nutty topping? It's the ultimate holiday party snack!
I hope you'll leave a comment and give it a FIVE STAR rating or share a photo on Pinterest!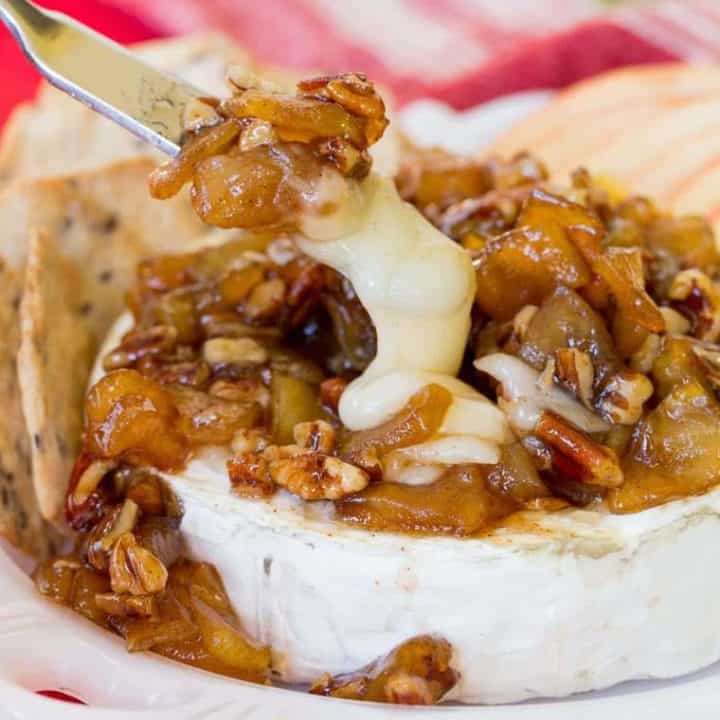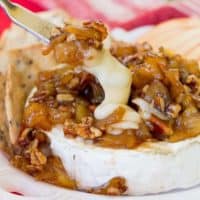 Caramelized Apple Pecan Baked Brie
This easy Baked Brie recipe is an instant hit at holiday parties! Warm, melty Brie cheese topped with sweet and nutty caramelized apples and pecans; this is the ultimate fall appetizer that's ready in minutes.
Ingredients
8

oz

Brie cheese

1 wheel

1

large

apple,

chopped into about 1/2-inch pieces

1/4

cup

Martinelli's Apple Juice

1/4

cup

light brown sugar

1/4

teaspoon

cinnamon

1/4

cup

chopped pecans
Instructions
Preheat oven to 350°F. Place brie round on baking sheet. With a sharp knife, cut into the rind on the top of the brie about a quarter inch from the edge. Do not remove the rind.

Bake 15 minutes, or until cheese is soft and melted.

While the Brie is baking, in a saucepan, combine the apples, Martinelli's Apple Juice, brown sugar, and cinnamon.

Over medium heat, bring the mixture to a boil. Boil for 8-12 minutes, or until the mixture has thickened. Stir in pecans and cook for another minute or two. Set aside to cool slightly.

Remove the hot brie from the oven and transfer to a serving plate. Carefully remove the top rind using a sharp knife to separate it, if needed.

Pour the apple mixture on top of Brie. Serve with crackers, baguette, apple, etc. for dipping.
Notes
This recipe makes enough topping for an 8 oz. wheel of Brie. If you would like to use one of the larger (17.6 oz.) wheels of Brie you often find at the warehouse stores like Costco, you can double all of the ingredients, but follow the rest of the directions as written. The Brie might need another minute or two in the oven.
Adapted from Kahlua Pecan Brown Sugar Baked Brie from Noble Pig.
Nutrition Facts
Caramelized Apple Pecan Baked Brie
Amount Per Serving (1 oz.)
Calories 162
Calories from Fat 90
% Daily Value*
Fat 10g15%
Cholesterol 28mg9%
Sodium 180mg8%
Potassium 103mg3%
Carbohydrates 12g4%
Protein 6g12%
Vitamin A 185IU4%
Vitamin C 1.3mg2%
Calcium 62mg6%
Iron 0.3mg2%
* Percent Daily Values are based on a 2000 calorie diet.
Enjoy!