This post may contain affiliate links. Read my disclosure policy.
This easy recipe for Honey Nut Baked Brie Bloomin' Apples is the perfect holiday party snack or shared entree! An amazing and flavorful combination of melted Brie cheese oozing between "petals" of honey-sweetened fruit and nuts, one of my favorite gluten free appetizers!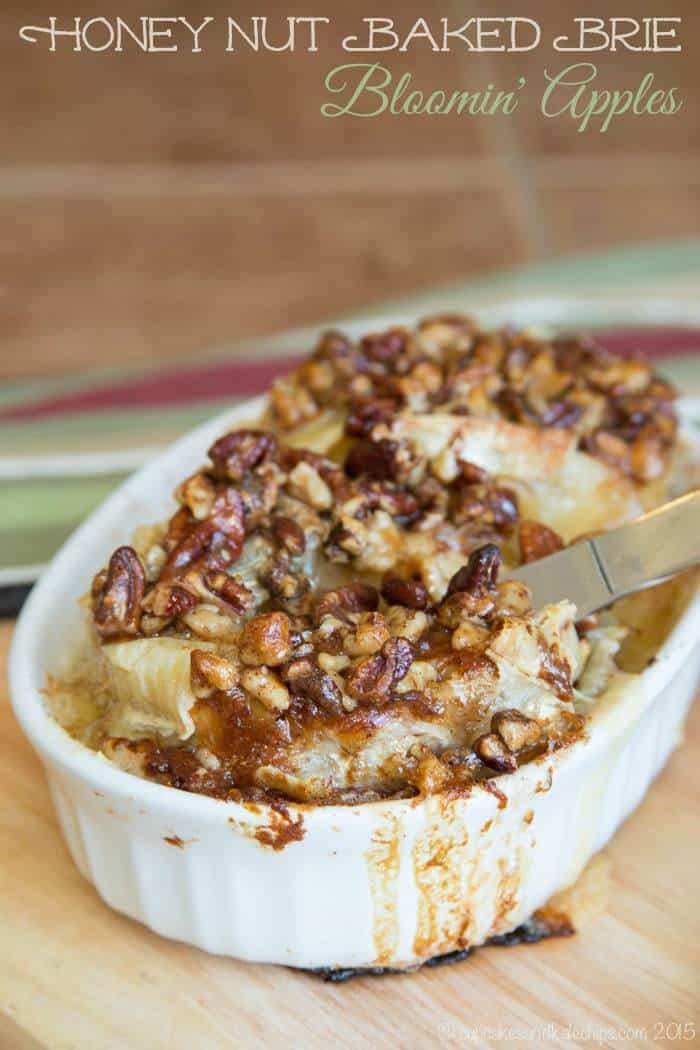 Easy Baked Apples with Brie and Walnuts
Like fondue, but even better! Inspired by the ever-popular bloomin' onion, these Honey Nut Baked Brie Bloomin' Apples really are a stroke of brilliance. Combining one of my family's favorite fall appetizers – Honey Nut Baked Brie – into a bloomin' recipe, the result is this sweet, savory, cheesy and creamy entree that's so easy to make and incredible for parties.
Since I usually forgo crackers and eat my Baked Brie on apple slices anyhow, it seemed natural to translate the technique to this bloomin' apple appetizer. The combination is just so good! Savory cheese and sweet honey ooze down into the apple, and the nuts offer a satisfying crunch. While you can still scoop this version onto a cracker, you can also pull apart the apple "petals" with a fork or spoon to enjoy as is!
So in addition to the sweet and crunchy, creamy goodness, you get the juicy, tender apple too – a natural pairing with the cheese and nuts. These easy Bloomin' Apples stuffed with Honey and Nut Baked Brie just may be my new favorite gluten free appetizer for the holidays!
If you love the combination of Baked Brie topped with fruit and nuts, you absolutely have to try my Pineapple Pecan Baked Brie, too!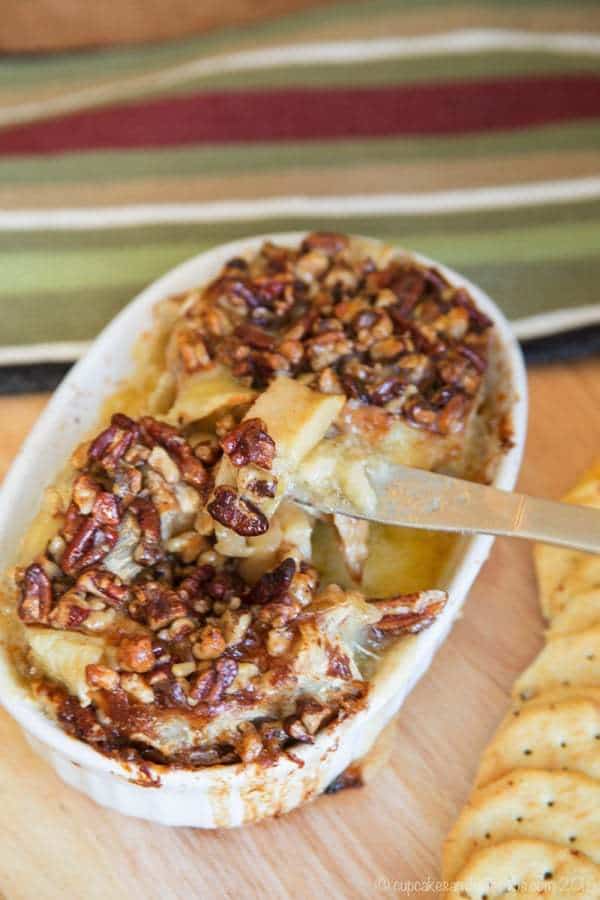 What You'll Need
This recipe will make enough to serve 4 people. To make these delicious and easy Baked Brie Bloomin' Apples you'll need the following ultra short list of ingredients:
Apples: Apples that are firmer and crisper, like Honeycrisp or Fuji, are best for bloomin' apple recipes.
Brie Cheese: An 8oz wheel or wedge.
Chopped Nuts: I like to use a mixture of chopped walnuts and pecans for extra texture.
Honey: A couple tablespoons of honey, alternatively Maple Syrup.
Cinnamon: Because nothing pairs with honey, apples, and fall vibes better than a dash of warm cinnamon!
Salt
Do I Need to Remove the Rind from Brie?
Nope, you can leave it on. The rind holds the Brie together while the cheese is baking, and afterwards once the toppings are added. Just score the top of the rind lightly with a knife before baking so that it's easy to peel off once warm. You can eat the rind along with the gooey insides.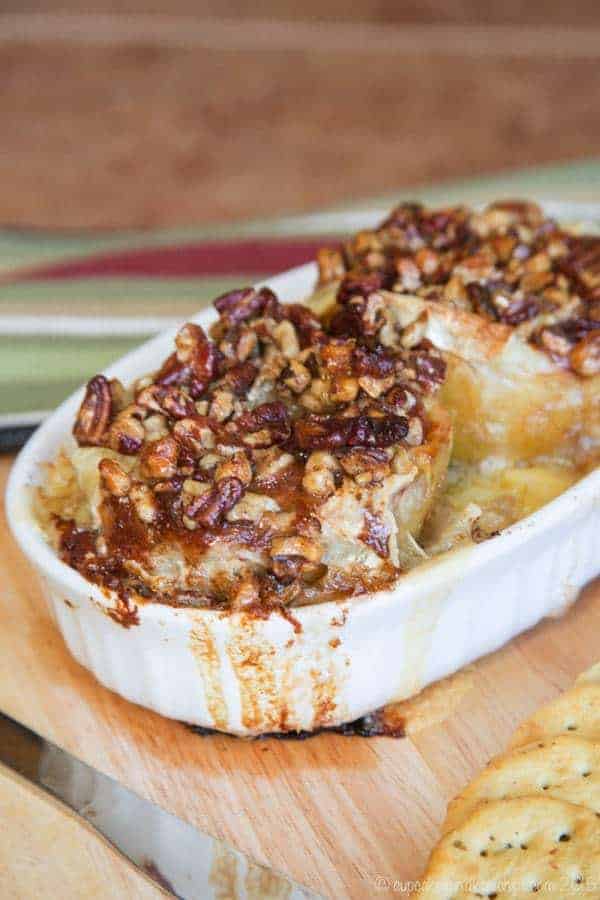 How to Make Baked Apples with Honey Nut Brie Stuffing
This is the easiest appetizer recipe to pull together when you're expecting company. It really only takes a few minutes to prep the apples, cheese, and toppings, and the oven does the rest!
Prep the Apples: Set your oven to preheat to 375°F, and prepare your apples by chopping the tops off and coring them.
Cut the Blooms: Next it's time to practice some knife skills. Use a sharp knife to make two deep circular cuts around the core/center of the apple. Flip the apple upside down and make slits down the sides – these will be the "petals" of the bloomin' apples!
Top with Brie Cheese & Bake: Place the apple topside up in an oven safe baking dish. If you're using a Brie wheel, trim off the top and bottom of the rind and then slice the cheese wheel horizontally. Place one half of the cheese over each apple and then place the dish into the oven to bake. (If using a wedge, remove the top and bottom rind, cut into pieces, and shape over the apples.)
Make the Honey Nut Topping: While the apples and Brie are baking, in a small pan toast the nuts, then add the honey, salt, and cinnamon and stir until the nuts are fully coated.
Finish & Serve: Remove the apples and Brie from the oven and top with the nut mixture. Bake everything together until the apple is slightly tender. Serve fresh and warm from the oven!
Pro Tips for Success
Don't Over-Cook your Cheese: Overheated cheese will harden faster when cooling, so keep an eye on your Brie when it's in the oven and remove it as soon as you see a hint of goo beginning to peek out.
How to Choose the Best Brie for Baking: I opt for budget Brie whenever baking is involved, since the cheese is just as flavorful when warmed up. I take advantage of a higher end Brie by serving it as is, so I can really appreciate the flavors!
Bake Brie in a Ceramic Dish: Baking the Brie in an oven-safe dish offers dual benefits: one, it's easy to serve and secondly, it will keep the warm Brie cheese gooey and spreadable for longer.
Serving Suggestions
For best results, serve Baked Brie fresh and warm from the oven. If you're entertaining, let the finished Brie stay in the oven on a low setting to keep it heated before company arrives.
Serve your Brie alone with crackers or as the centerpiece for a larger cheese board alongside bunches of grapes, cured meats, fruit preserves, mixed nuts, and other plain cheeses like goat cheese and Roquefort. Here are some more suggestions on what to serve with Baked Brie:
Crackers or Crostini
Rustic bread or baguette (toasted if you'd prefer!)
Apple or Pear slices
Decorate your platter with fresh sprigs of Rosemary or Thyme that are also great for extra flavor!
Can I Save Extras for Later?
Leftovers can be saved to reheat or repurpose! Reheat your extras in the microwave for a few seconds at a time until heated through. You can also reheat leftover Baked Brie Bloomin' Apples in the oven the same way they were baked in the first place.
Leftovers can be enjoyed spread onto toast or crackers, or alongside any of the serving suggestions!
More Easy Appetizer Ideas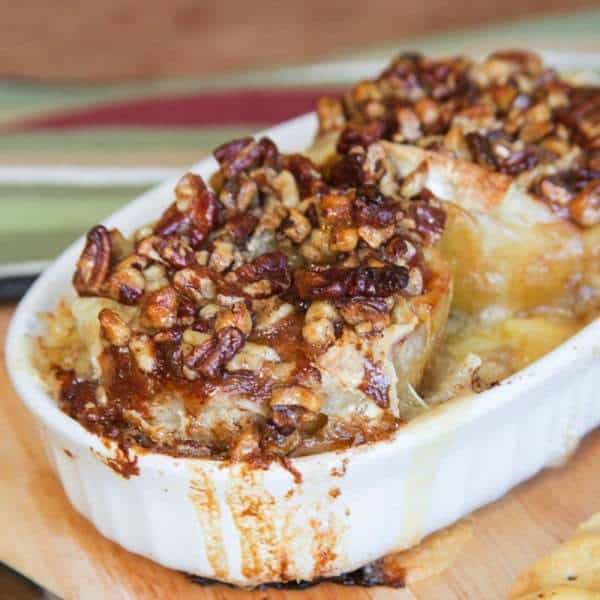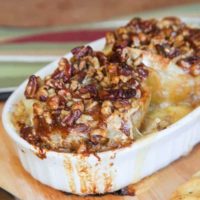 Honey Nut Baked Brie Bloomin' Apples
This appetizer recipe for Easy Baked Apples stuffed with melted Brie and Walnuts is the perfect gluten free holiday party snack!
Ingredients
Instructions
Preheat your oven to 375°F.

To prepare the apples, slice off the top quarter of the apples and scoop out the core. With a sharp knife, make two circular cuts around the core as deep into the apple as possible. Flip the apple upside down and make slits down the apple. See the visual at

The Gunny Sack

.

Flip the apples back over and place in an oven safe baking dish.

Top each apple with about half of the cheese. If using a wheel, slice off the top and bottom rind, slice in half horizontally and press one half firmly over each apple. If using a wedge, remove the top and bottom rind and shape over the apples.

Bake for 20 minutes.

While baking, prepare the nut mixture. Heat a small pan over medium heat and add the nuts, toasting for a few minutes, until they turn slightly brown and give off a nutty aroma. Add the honey, salt, and cinnamon to the nuts and stir to coat.

Remove the apples and Brie from the oven, top with the nut mixture, and bake for another 10-20 minutes, or until the apple is slightly tender.

Serve with crackers.
Nutrition Facts
Honey Nut Baked Brie Bloomin' Apples
Amount Per Serving (0.5 apple)
Calories 375
Calories from Fat 225
% Daily Value*
Fat 25g38%
Cholesterol 56mg19%
Sodium 358mg15%
Potassium 269mg8%
Carbohydrates 26g9%
Protein 14g28%
Vitamin A 395IU8%
Vitamin C 5.1mg6%
Calcium 125mg13%
Iron 0.8mg4%
* Percent Daily Values are based on a 2000 calorie diet.
Categories: