This post may contain affiliate links. Read my disclosure policy.
It's time to start singing "Take Me Out to the Ballgame" because we've got Popcorn & Peanuts! This snack mix may be a bit too sticky to bring out to a baseball game, but get yourself a bowl to munch (and a napkin) on while you cheer on your favorite team on TV. Everyone's favorites can be found in this sweet and salty Peanut Butter Golden Grahams Popcorn Bark.
Peanut Butter Golden Grahams Popcorn Bark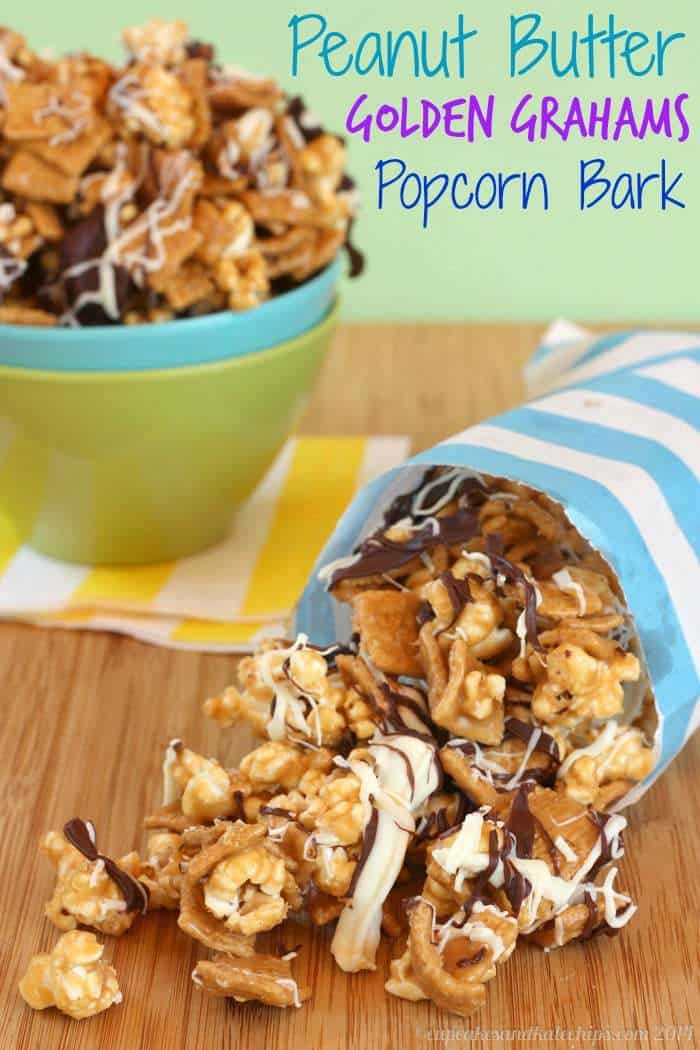 I know to those of you that read the blog regularly, you may think I am all about food and my kids. But one of the other things I love is baseball. Well, specifically, the Yankees. Actually, my husband would say that I am not a baseball fan, I am a Yankees fan. I actually would have to agree, because you are not likely to find me watching any old baseball game. Really, just the Yankees.
More specifically, I might actually just be a Derek Jeter fan. So I am really kinda sad this year, with it being his last year before retirement. I've been following his career since his rookie season. I was just a silly high school girl then, and totally had a crush. In fact, I still kinda do. But I was actually, really, seriously into the game. I've learned a lot and have taught The Hubby, who I've now converted to a Yankees fan. But after this year, with Derek gone, I'm not sure I'll be able to watch with someone else as the starting shortstop. It's just not gonna be the same. I might even have to start following another team.
Or maybe not.
Although you could probably convince me to watch Jeter-less, non-pinstriped baseball if you gave me a bowl of this…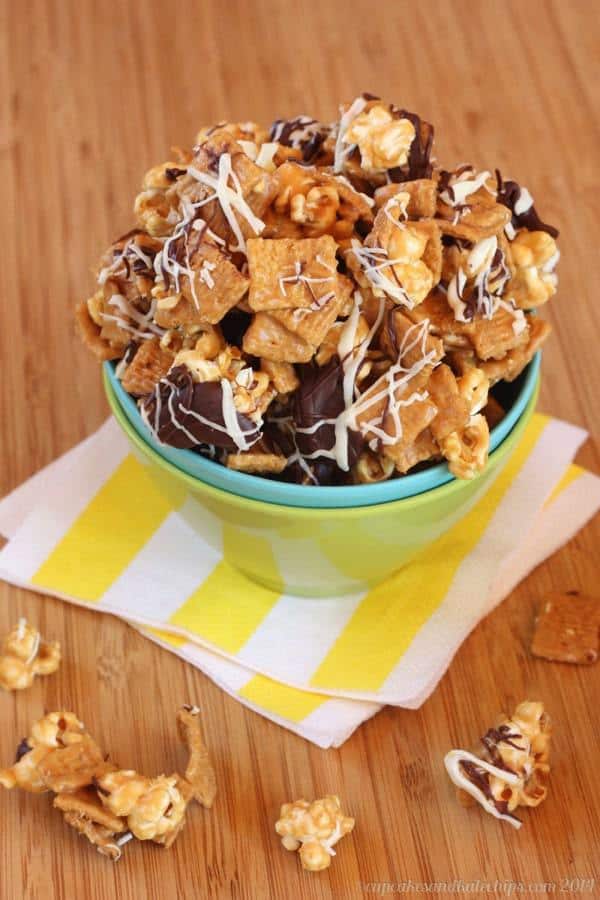 Oh my goodness, this Peanut Butter Golden Grahams Popcorn Bark is dangerous, guys. It was all I could do to keep myself from eating it all. And honestly, since I have to watch the wheat, I was only picking out the popcorn and chocolate, but I didn't want to stop. Sweet and salty, peanutty and crunchy with a yummy drizzle of white and dark chocolate. Does it get any more delicious?! I only wish I had added some peanuts, too, so I am adding that into the recipe as option, but I really think it should be done.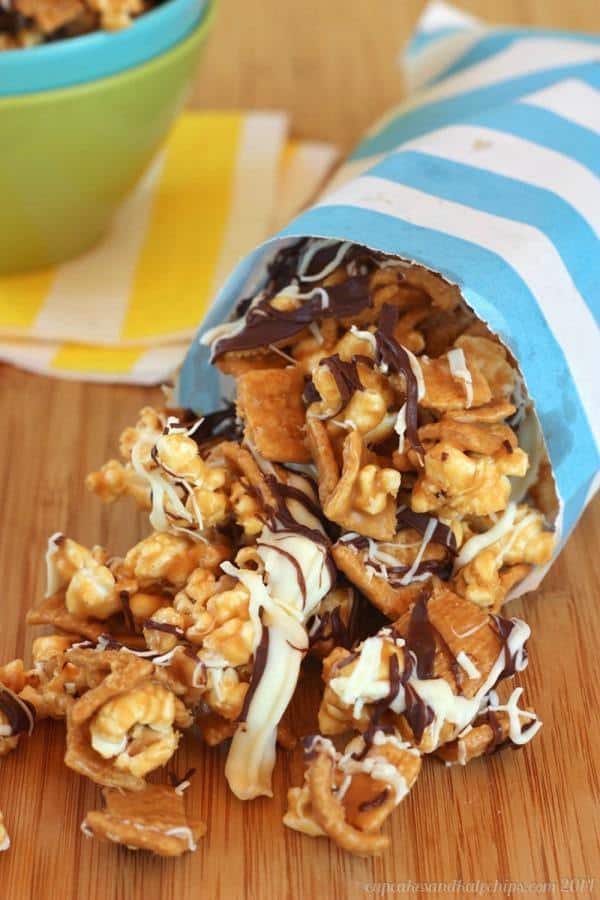 Crunchy, munchy. Soooo darn good!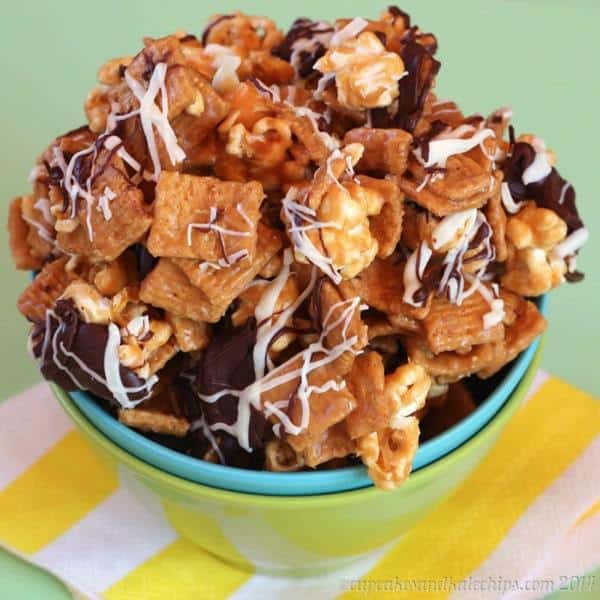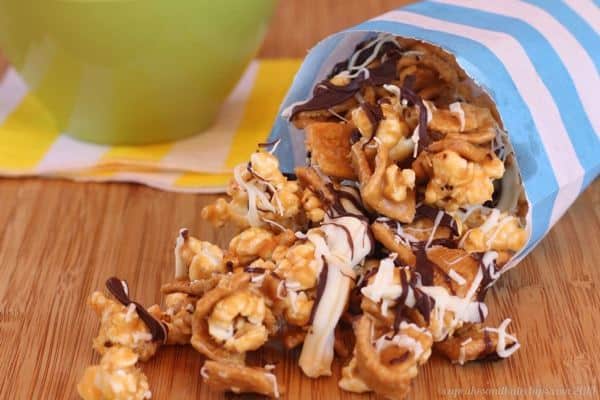 Who is your favorite athlete?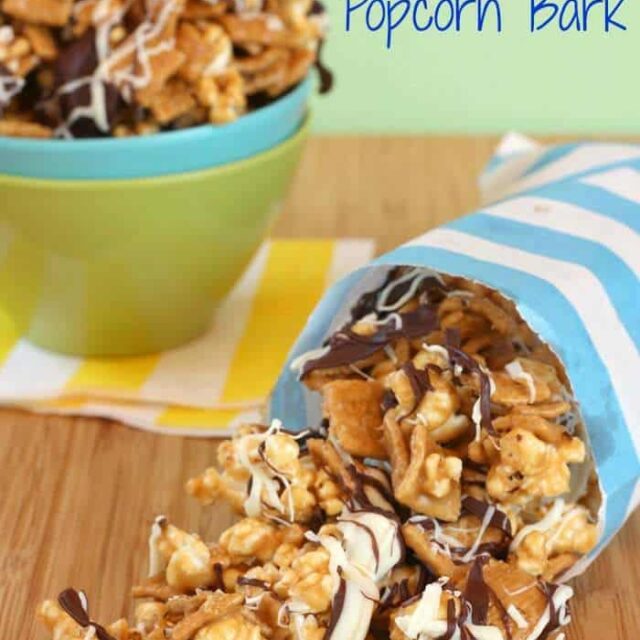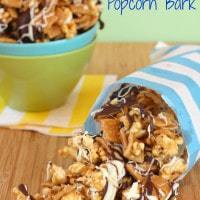 Peanut Butter Golden Grahams Popcorn Bark
Sweet and salty, peanutty and crunchy with a yummy drizzle of white and dark chocolate.
Ingredients
4

cups

plain popped popcorn

4

cups

Golden Grahams cereal

Optional about 1 cup peanuts

2/3

cup

peanut butter

1/2

cup

honey

1/2

cup

white chocolate chips

1/2

cup

semisweet chocolate chips
Instructions
Line baking sheet with a silicone baking sheet or wax paper.

In a large bowl, toss together the popcorn and Golden Grahams (and peanuts, if using)

In a medium microwave-safe bowl, microwave the peanut butter and honey on high for 30 seconds, then stir until blended. Microwave for an additional 15 seconds, if needed.

Pour the peanut butter mixture over the popcorn and cereal mixture and stir until evenly coated.

Spread into an even layer on the prepared pan.

Melt the white chocolate chips and semisweet chocolate chips in separate small bowls in the microwave at 50% power in 15-30 second intervals, stirring until smooth, or over a double boiler and drizzle over the popcorn and cereal mixture on the pan.

Refrigerate until set and firm (it will still be sticky). Break into chunks and store in an airtight container.
Enjoy!
Want some more popcorn?
Plus a few from my friends…