This post may contain affiliate links. Read my disclosure policy.
This flavor-packed Gluten Free BBQ Chicken Pizza is the easy way to enjoy a restaurant favorite at home. Start with my no-knead homemade pizza dough or use your favorite, then cover it with barbecue sauce, shredded chicken, three kinds of cheese, and more. You won't be able to stop at one slice!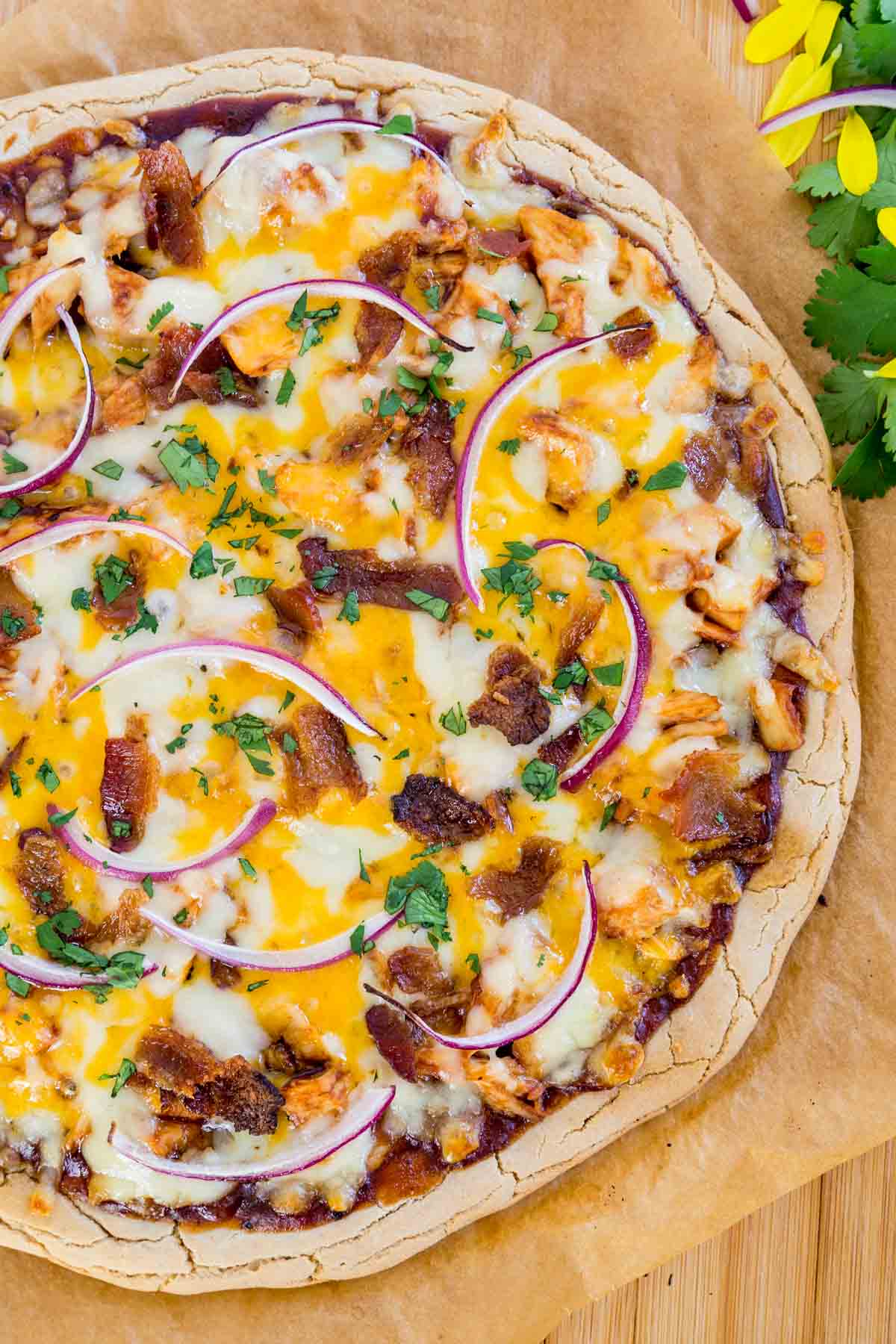 Easy BBQ Chicken Pizza
While pizza purists might think you need to stick to tomato sauce and mozzarella cheese, we have Ed LaDou to thank for bringing BBQ chicken pizza into our lives.
As a pizza chef at Wolfgang Puck's Spago restaurant in Los Angeles, he threw tradition out the window and put together all kinds of interesting combinations featuring many ingredients that you might not think to put on pizza. And people fell in love with them!
He then went on to create the menu for California Pizza Kitchen, which included the original BBQ Chicken Pizza. It remains on the menu to this day and has been reinvited countless times over in other restaurants all over the country.
And now you can make it at home!
This is amazing because not only can you customize it with your favorite barbecue sauce and cheese, and even switch up the toppings, you can make it when you need to use up leftover chicken. And you can even make it gluten free. By handling it in your kitchen, you have complete control over the ingredients and cross-contamination.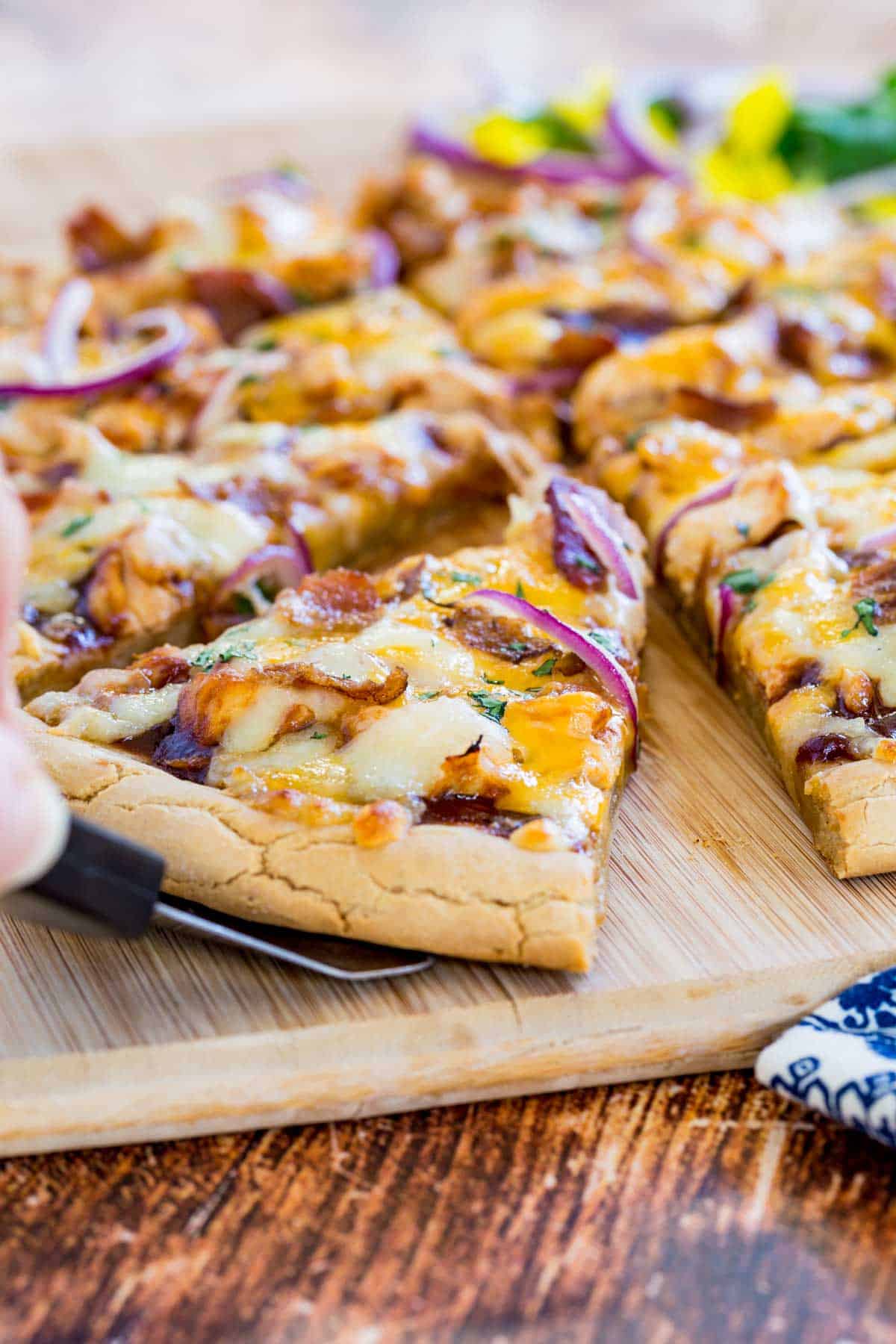 What You'll Need
Every pizza needs to start with a good crust. I always use my favorite Gluten Free Pizza Crust. However, you can use any regular or gluten free crust recipe you prefer. You can even use a mix or a pre-made crust from the grocery store.
BBQ Chicken Pizza Toppings
These are the basics that really are essential to make a good barbecue chicken pizza.
BBQ Sauce: You can use your favorite, which gived your the freedom to make it more sweet, smoky, or spicy. Maybe you even want to try making your own, like Bourbon Barbecue Sauce or Honey BBQ Sauce.
Chicken: You cannot put raw chicken on pizza because it will not cook through. So make sure to use already cooked chicken that you've shredded. You can use leftover grilled chicken, a Costco rotisserie chicken, or for extra flavor Baked BBQ Chicken Breasts.
Cheese: I like to use three kind of cheese. Mozzarella for that classic stretch pizza goodness, cheddar for the sharp flavor that goes so well with barbecue, and Monterey Jack because it gets nice and melty. But you can really use any combination you like. Try Smoked Gouda for extra smoky flavor!
Red onion: Thinly sliced.
Bacon: Some versions leave this off, and you are free to omit it, but it adds perfect salty, smoky flavor. Use your favorite of these 6 ways to cook bacon to make it nice and crispy.
Cilantro: Finely minced for an optional garnish to sprinkle on the finished pizza.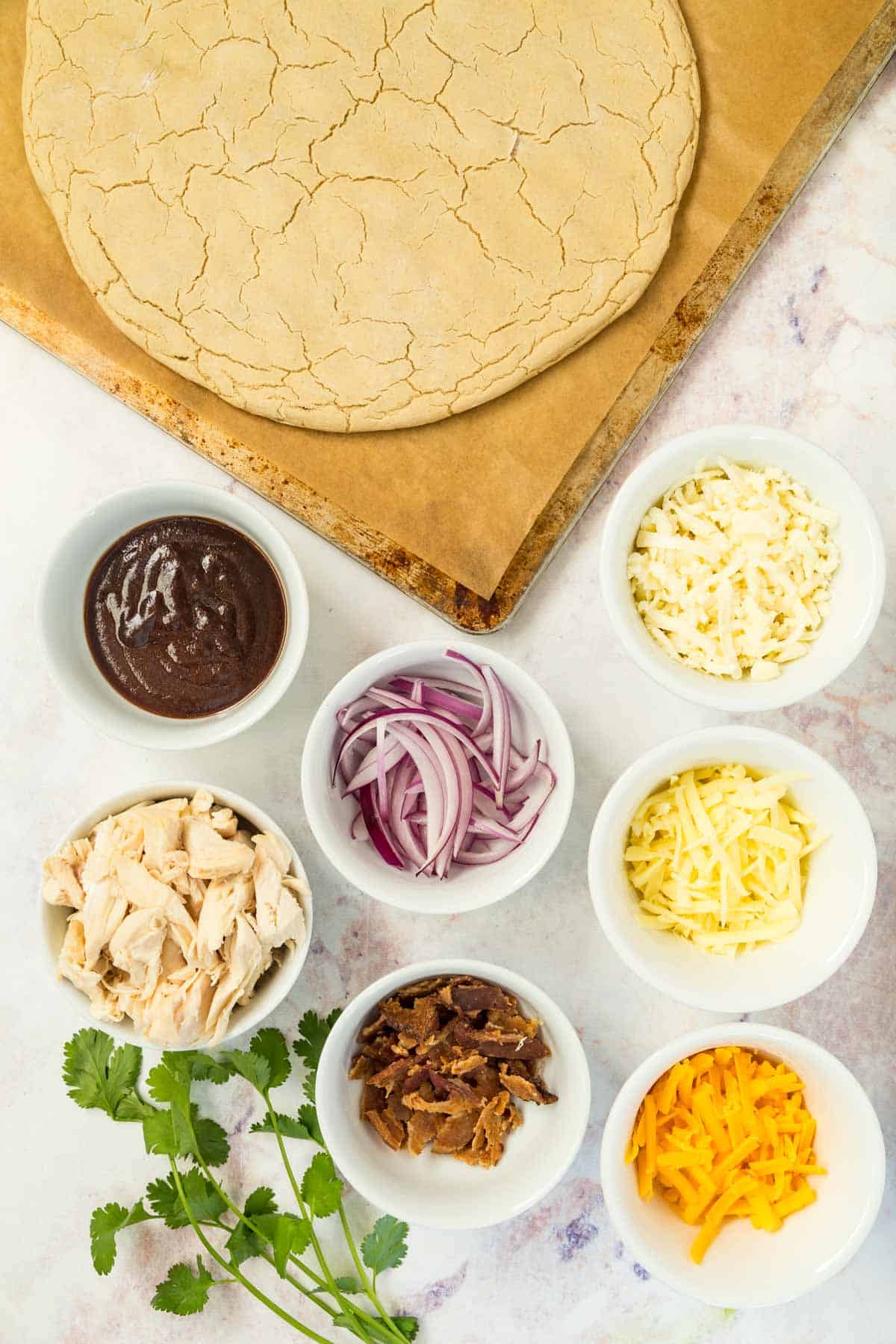 How to Make a Gluten Free BBQ Chicken Pizza
Prepare the Crust: Preheat oven to 450°F, arrange a rack in the bottom third of the oven, and line a baking sheet with baking paper. Whether you are using the gluten free pizza crust I include here or are using your own recipe or a pre-made crust, be sure to follow the directions if par-baking is necessary.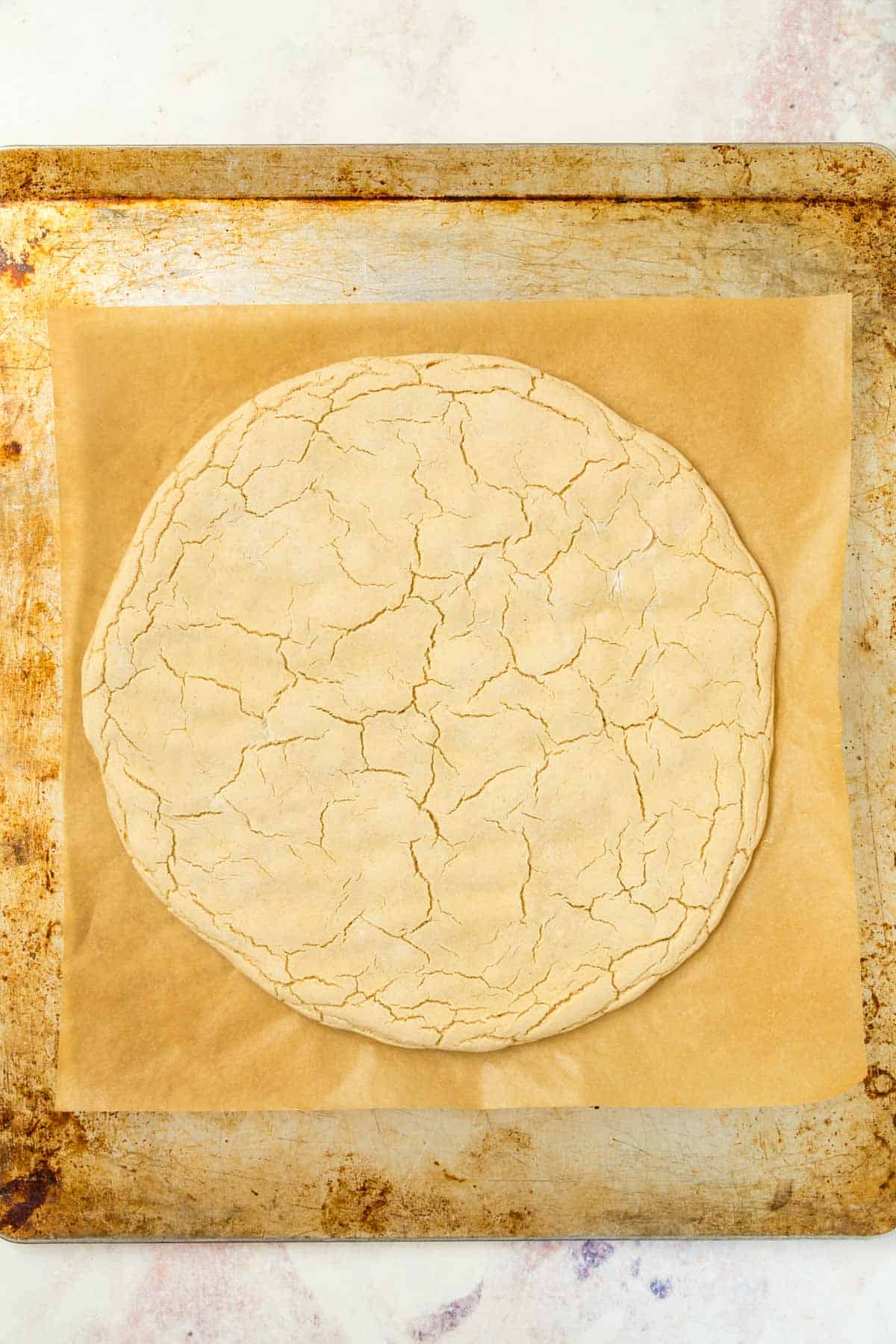 Add the Toppings: Shred or chop your chicken and toss it with some of the barbecue sauce. Spread BBQ sauce over the crust, then top with the chicken. Scatter the cheese on top.
Finish and Bake: Add the red onion and bacon and finish baking at 450°F for another 10-15 minutes, until the cheese is melted and the crust is golden brown.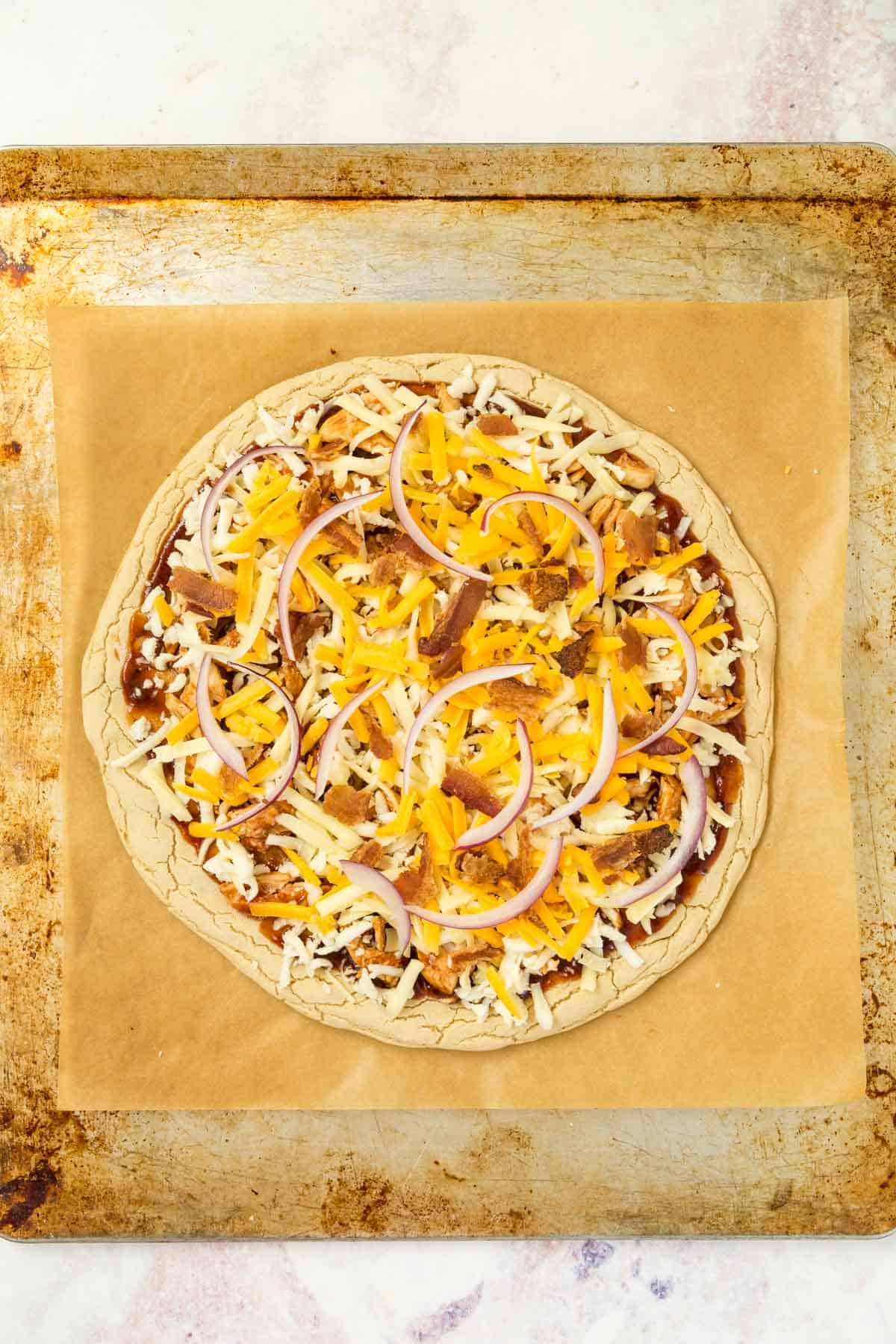 Slice and Serve: Sprinkle on a garnish of minced cilantro, if you like. Then cut your pizza into slices and enjoy!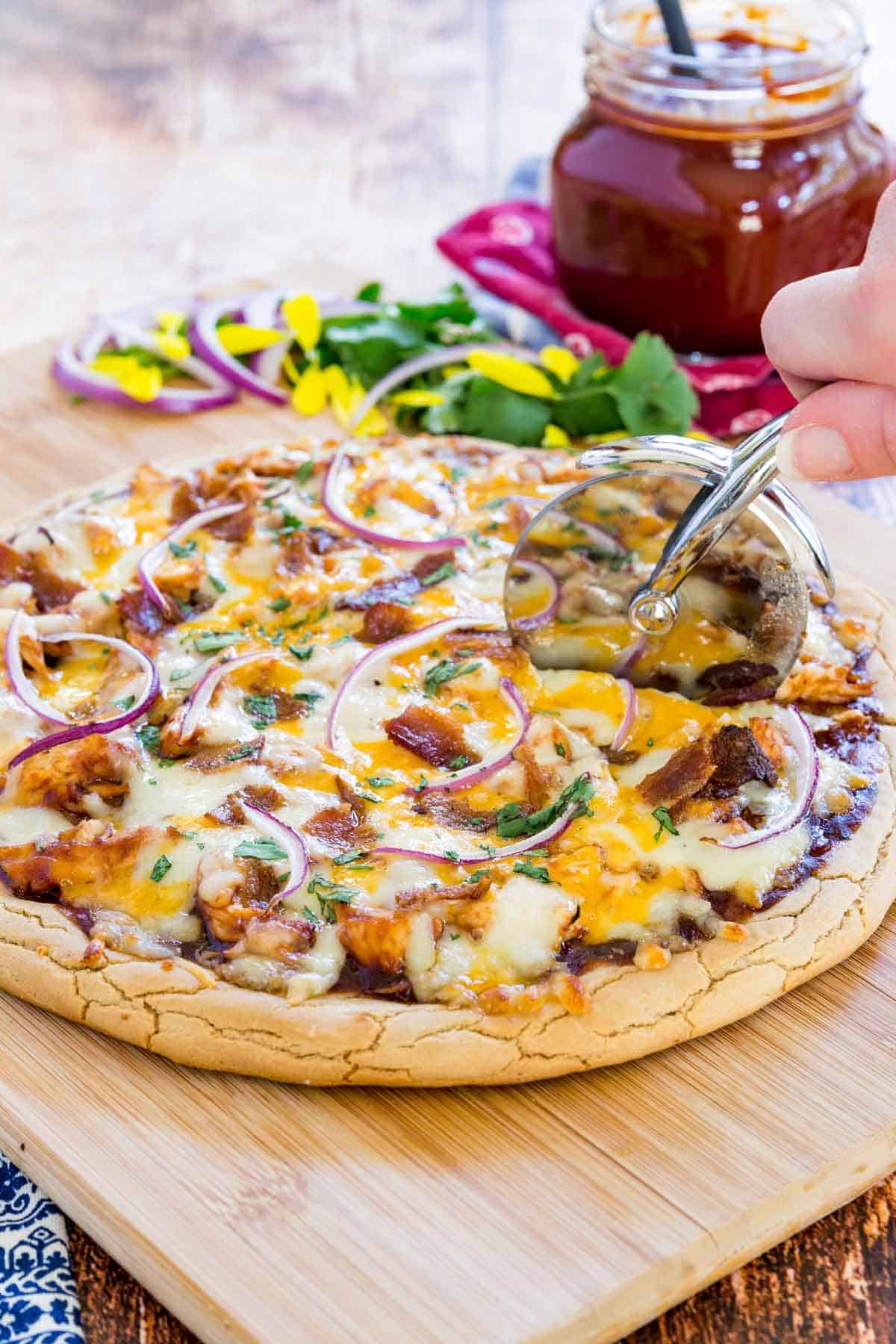 Tips for Success
Adjust as Needed
You can split your dough into two smaller pizzas, or use a smaller or larger crust. You will then have to adjust the amount of toppings.
Customize It
You can also start with this base BBQ chicken pizza recipe and then customize it as you like by substituting or adding toppings. Try some of these ideas.
Pineapple: Some are agaist pineapple on pizza, but the sweet and savory pairing is fabulous.
Jalapenos: If you like some spice.
Ham: Another smoky alternative to the bacon, especialy if you have leftover roast ham.
Green onions: Can be an aternative to the red onion
Other veggies: Peppers, tomatoes, corn, and more.
Ranch dressing: Some people like to finish off their pizza with a little ranch dressing. For a little zip, try Creamy Jalapeno Ranch Dressing.
Storing Leftovers
To refrigerate any leftovers, place your leftover pizza slices in a single layer in an airtight container or in a plastic zip-top bag. It will keep for up to 4 days in the refrigerator.
You can also freeze it for up to two months if it is tightly sealed.
Reheating Pizza
If you froze the pizza, be sure to thaw it in the refrigerator. Reheat it at 350°F in a toaster oven or regular oven until it is hot and the cheese is melted again.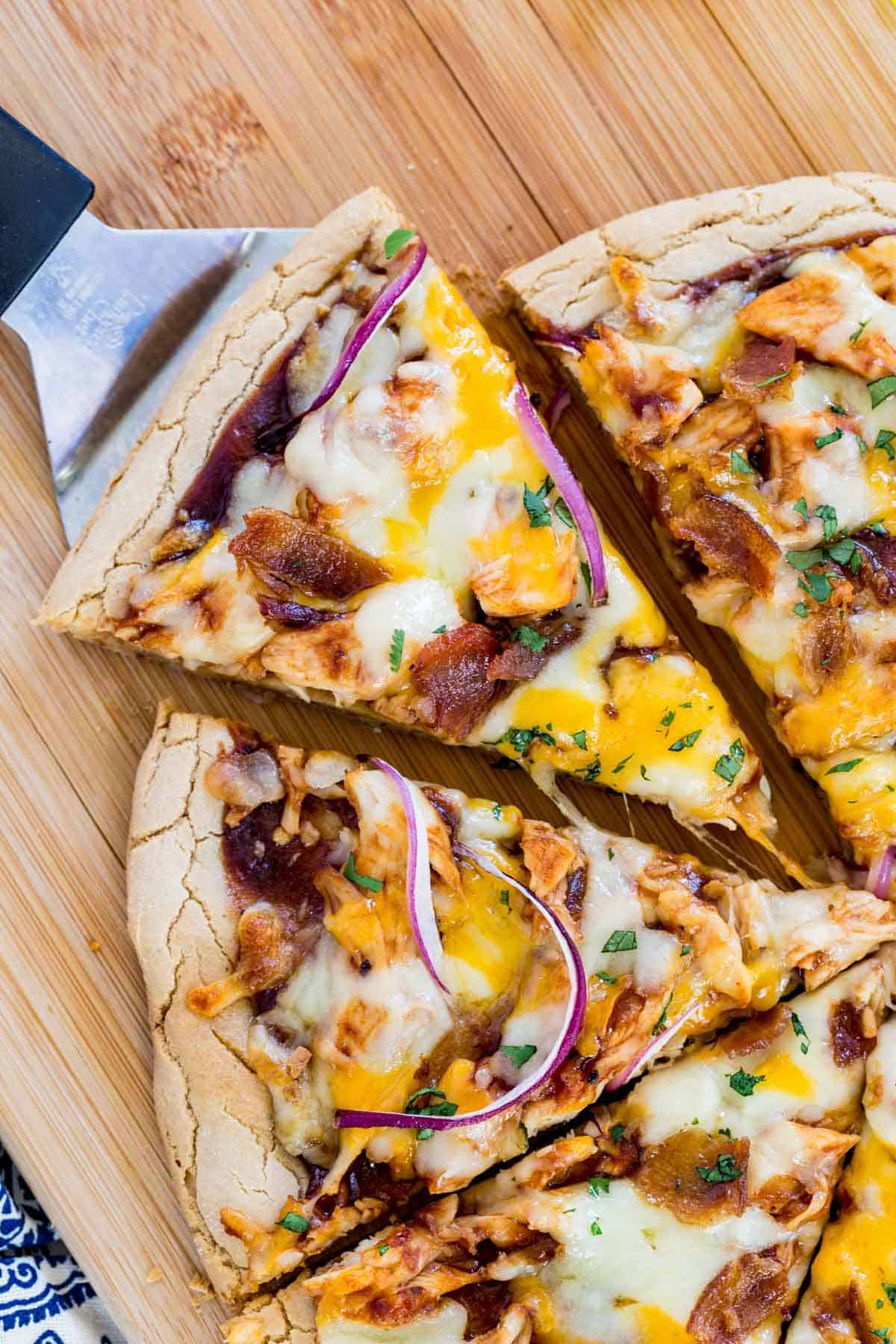 Make it a Meal
Barbecue chicken pizza will pair perfectly with your favorite BBQ side dishes like these.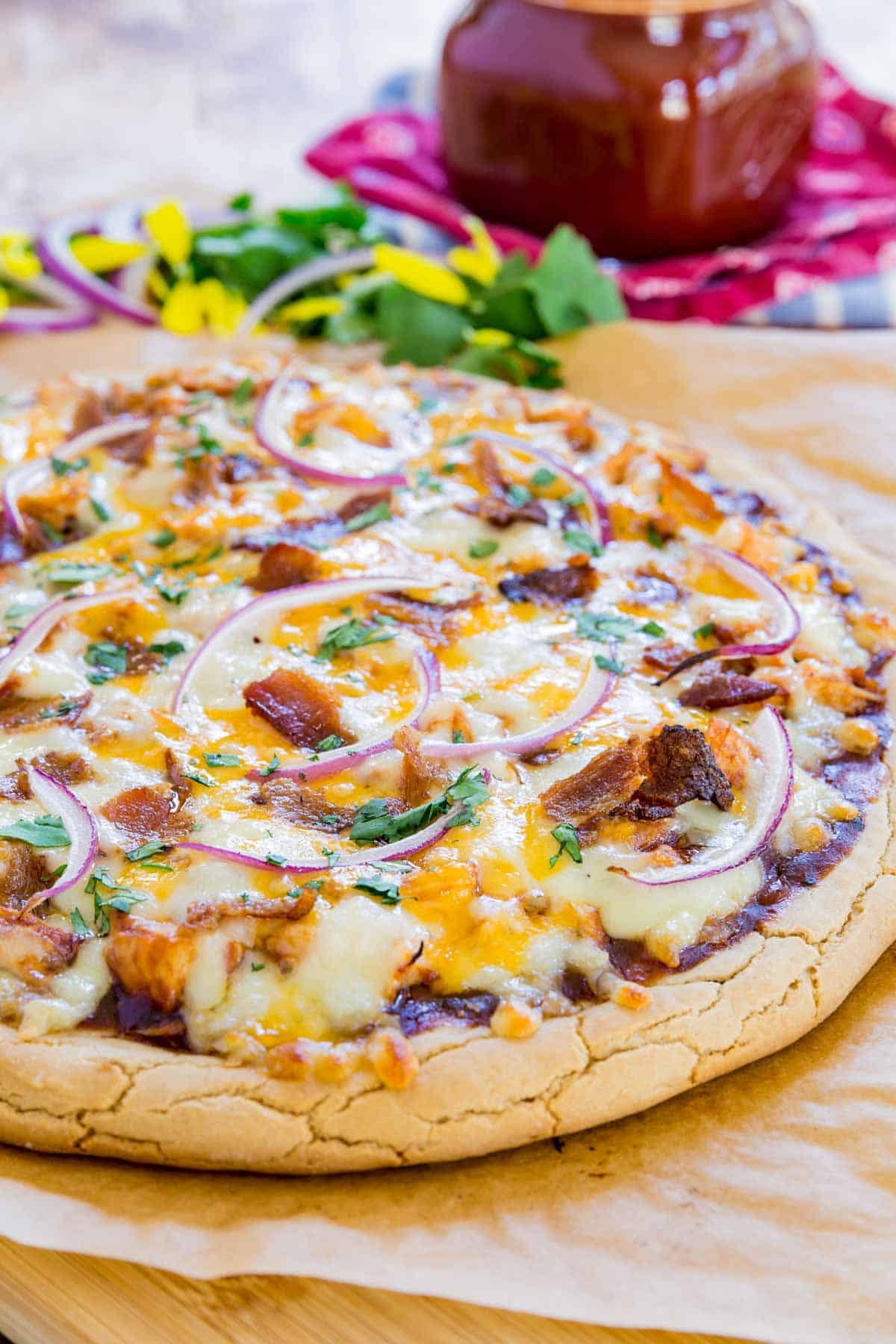 Things You'll Need
Brianne Recommends
You'll save yourself a lot of stress if you line your pan with parchment paper.
I love using my paddle grater to shred cheese.
If you are using this crust recipe, be sure to get Instant Yeast.
A pizza stone is also great for making homemade pizza.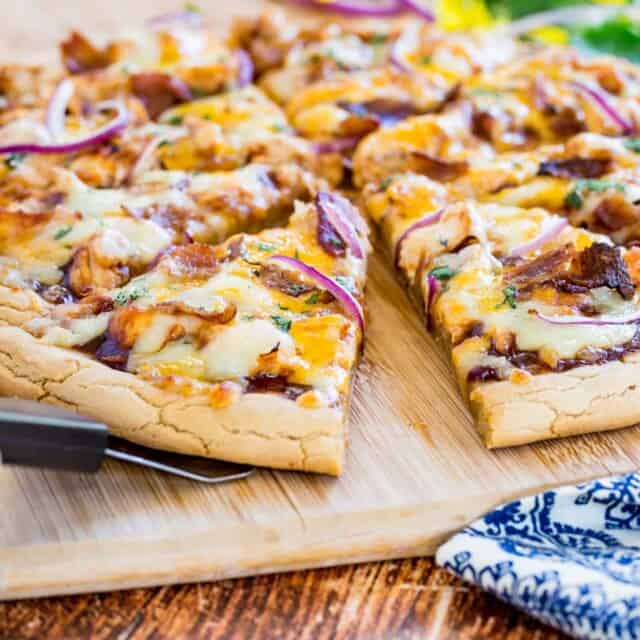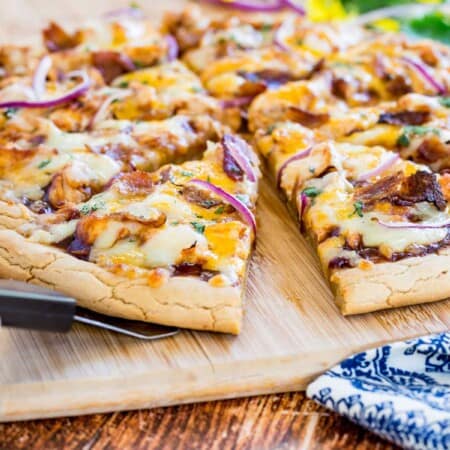 Gluten Free BBQ Chicken Pizza
Ingredients
For the Crust
1

cup

warm water

2

teaspoon

instant dry yeast

2

cups

gluten-free 1:1 baking flour

1

teaspoon

salt

1

Tablespoon

sugar

1/4

teaspoon

baking soda

1

Tablespoon

olive oil
For the Pizza
1/2

cup

shredded cooked chicken

1/4

cup

BBQ sauce

+ 2 Tablespoons

1/2

cup

shredded mozzarella cheese

1/4

cup

shredded sharp cheddar cheese

1/4

cup

shredded Monterey Jack cheese

1/4

of a

small red onion,

thinly sliced

2

slices

bacon,

cooked and crumbled

Minced cilantro

for garnish, if desired
Instructions
For the Crust
Preheat oven to 450°F, arrange a rack in the bottom third of the oven, and line a baking sheet with baking paper.

In a small bowl or jug, combine the warm water and instant dry yeast. Let sit for about 5 minutes to allow the yeast to dissolve and become foamy.

In a mixing bowl, whisk together the flour, salt, sugar, and baking soda.

Using a wooden spoon, create a well in the middle of the combined dry ingredients.

Pour in the yeast mixture and oil and mix together.

Stir the dough until it is smooth and well combined, about 5 minutes.

Once dough is ready, place on the prepared baking sheet and press into a thin, even 10-inch circle (or 2 5-inch circles).

Par-bake for 8 – 10 minutes, or until the top of the base is dry and starting to brown.
For the Pizza
Prepare and par-bake the crust as directed above or following the directions of your favorite homemade or storebough crust.

In a small bowl, toss the chicken with the 2 Tablespoons of BBQ sauce.

Spread the 1/4 cup of BBQ sauce in an even layer of sauce over the crust, then spread the coated chicken over the crust. Cover with the mozzarella, cheddar, and Monterey Jack cheese.

Scatter the onion and bacon over the top of the pizza.

Return to the oven and bake for a further 10 – 15 minutes, or until golden brown.

Remove from the oven, garnish with cilantro, if desired, then slice and serve.
Notes
Nutrition facts are based on this crust recipe.
The toppings are based on covering a 10-inch crust. You can adjust the quantities if you are using a bigger or smaller crust.
Nutrition Facts
Gluten Free BBQ Chicken Pizza
Amount Per Serving (1 slice)
Calories 223
Calories from Fat 72
% Daily Value*
Fat 8g12%
Cholesterol 20mg7%
Sodium 593mg25%
Potassium 121mg3%
Carbohydrates 30g10%
Protein 10g20%
Vitamin A 143IU3%
Vitamin C 1mg1%
Calcium 115mg12%
Iron 1mg6%
* Percent Daily Values are based on a 2000 calorie diet.
More Gluten Free Pizza Recipes