This post may contain affiliate links. Read my disclosure policy.
You're going to love these Gluten Free Pizza Recipes! Make the best gluten-free pizza that's saucy, cheesy, and super tasty right at home. Try these pizzas as they are, or customize them with your favorite toppings!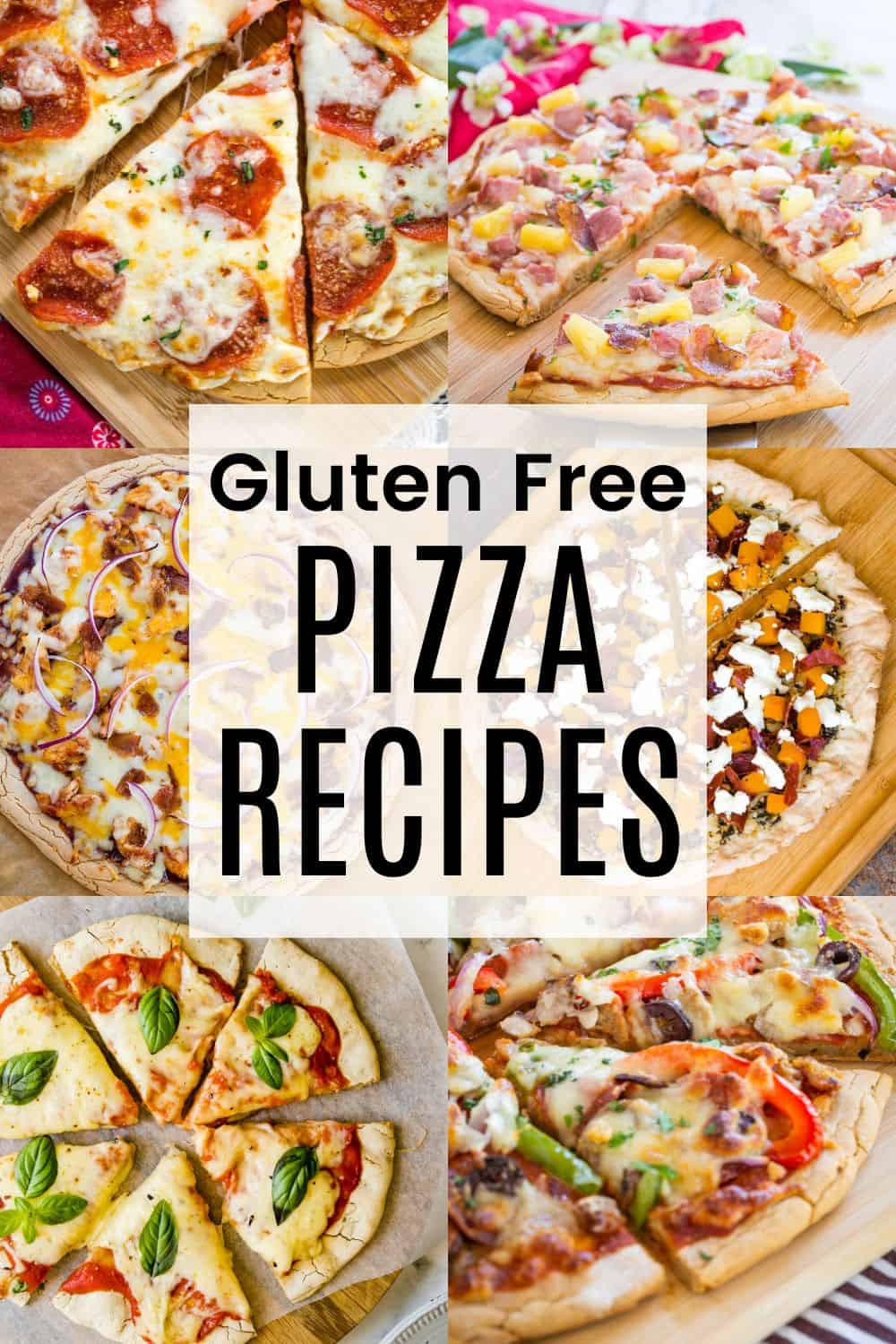 Whether you gave up gluten by choice or by necessity, that doesn't mean you need to give up one of life's greatest pleasures: Pizza! Fresh from the oven, too. And when it comes to enjoying a gluten-free pizza exactly the way you like it, homemade is the way to go. Gluten-free pizza can be just as crisp, chewy, cheesy, and delicious as the original. And it's crazy easy to make your own!
I've rounded up my favorite gluten-free homemade pizza recipes, right down to the best gluten-free dough.
How Is Gluten-Free Pizza Different?
Gluten is found in wheat and some cereal grains. Therefore, a gluten-free pizza is a pizza that's made without any gluten. This means that the dough and other ingredients are free from wheat, barley, or other gluten-containing products.
The main difference between a regular pizza recipe and gluten-free pizza is the gluten-free flour used to make the dough. Of course, all the ingredients used to make the pizza must also be completely free from gluten for it to be 100% safe for those with allergies or intolerances.
Apart from the lack of gluten, there isn't much of a difference between a gluten-free pizza and the regular kind. When it comes to taste and texture, a gluten-free pizza that's made properly can be just as good, if not better!
Is Gluten-Free Pizza Safe for Celiacs?
As always, if you have a particular condition such as celiac disease, I highly recommend consulting your healthcare practitioner to know what's best for you.
In general, gluten-free pizza that's prepared with certified gluten-free ingredients (including the sauces and toppings, see below) and that's baked in a gluten-free oven should be safe for celiacs. Of course, if you're unsure, it's always a good idea to seek professional advice.
Ingredients to Watch Out For
It's important to know that the ingredients you're using to make your pizza are, in fact, gluten-free. And unless you're buying 100% certified gluten-free ingredients, it's not always obvious when a product contains traces of gluten. Be sure to check those labels!
Here are some ingredients I've come across that warrant double-checking:
Yeast: Most commercial baker's yeast (including active yeast and instant yeast) is free from gluten. However other types like brewer's yeast, for example, are a byproduct of malt and should be avoided. If you want to be sure, look for yeast sachets that are labeled accordingly.
Pizza Sauce: You might be thinking, pizza sauce, really? Isn't that just tomatoes? And the truth is, not all store-bought pizza sauces are created equal. Sneaky ingredients like emulsifiers, starches, malt flavoring, and other additives in some sauces can contain gluten. If you want to be 100% sure, look for brands that are certified gluten-free or make your own tomato sauce from scratch.
Toppings: Like sauces, some pizza toppings contain G-who-shall-not-be-named. Especially ingredients like pepperoni, other processed meats, and seasonings that may include gluten or gluten-containing additives.
Make-Ahead Options
Want to get a headstart on that gluten-free pizza recipe? There's more than one way to do it! Pizzas are one of the easiest meals to make ahead, whether you're preparing the dough, the toppings, or even the whole pizza in advance. Here are some options to consider when making your pizza ahead of time:
Making the Whole Pizza Ahead: Yes, it's possible to make your pizza as directed in the recipe, right up until you're ready to bake it with the toppings. Then store the whole thing airtight in the fridge to take out and bake whenever you're ready.
Making the Dough Ahead: Many gluten-free pizza dough recipes can be prepared up to 3 days ahead and stored airtight in the fridge. The dough can be rolled out and shaped straight from the cold.
Preparing the Toppings: Many pizza toppings can be diced, sliced, and stored a day or two in advance. Ingredients like pepperoni and bacon, or veggies like onions, peppers, mushrooms, etc. can all be prepped and kept in the fridge to make your family pizza night a breeze!
Par-baking the Crust: While I don't recommend freezing raw dough that contains yeast (as the subzero temperatures can kill the yeast), your best bet for freezing is to par-bake the pizza crust. Roll out and shape the pizza dough and then partially bake it in the oven for 8-10 minutes. Allow it to cool, then wrap it tightly and freeze it. Frozen, par-baked pizza crusts will keep for up to one month in the freezer. You can read more details in my post on The Best Gluten-Free Pizza Crust.
My Favorite Pizza-Making Products
Last updated on September 22, 2023 5:07 am
Storing and Reheating Gluten-Free Pizza
Leftover baked pizza can be stored airtight (either tightly wrapped or in a container) in the fridge for up to 4 days. I recommend storing pizza slices in a single layer to prevent the toppings from sticking.
I also recommend reheating your leftover pizza in the oven or toaster oven. This way, the crust has a chance to crisp up again! The microwave also works in a pinch, though I find that the dough and cheese sometimes turn out a bit rubbery.
Place your leftover pizza slices into the oven on a baking sheet, and reheat at 350ºF until warmed through.
---
7+ Foolproof Gluten-Free Pizza Recipes
Try these easy homemade pizza recipes on your next pizza night! Or, enjoy a freshly baked pizza as a quick and tasty gluten-free dinner idea any day of the week.
A classic homemade pizza made extra simple and totally gluten-free! This recipe has all the tips and tricks you need to knock your gluten-free pizza crust out of the park.
Get The Recipe
Skip the pizza delivery and make your own perfect, gluten-free Supreme pizza at home. Topped with pepperoni and sausage, two types of cheese, and crispy veggies, this pizza recipe is fully loaded with some of my favorite ingredients (not to mention flavor!).
Get The Recipe
A classic that is always a favorite. Start with a perfectly crispy crust, add just enough sauce and plenty of cheese, then lots of spicy pepperoni slices. Kids and adults always devour slice after slice.
Get The Recipe
Transform your gluten-free pizza crust into this delicious BBQ chicken pizza! Prepared with smoky BBQ sauce, tender shredded chicken, bacon and onions, and three kinds of melty cheese.
Get The Recipe
This one goes out to all my pineapple on pizza fans. Make the ultimate cheesy, gluten-free Hawaiian pizza with a handful of toppings for the perfect balance of sweet and savory.
Get The Recipe
A sophisticated and easy gourmet pizza recipe loaded up with sweet butternut squash, tangy goat cheese, salty prosciutto, and green basil pesto. This pizza is gluten-free and full of texture and flavor!
Get The Recipe
Nobody said you have to eat pizza in slices. Stuff your favorite toppings into these flaky little pockets and pop them in the air fryer for a fun version of a favorite childhood snack.
Get The Recipe
For a quick gluten free pizza hack, you can start with frozen gluten free pizzas and add extra toppings to make them even better. Besides this vegetarian pizza with tomatoes, broccoli, and fresh mozzarella, there are three more creative ideas for you to try!
Get The Recipe