This post may contain affiliate links. Read my disclosure policy.
This easy Gluten Free Pepperoni Pizza is perfect for your next family pizza night! A classic, kid-friendly recipe with loads of melty mozzarella and spicy pepperoni slices, oven-baked over gluten-free pizza crust made from scratch.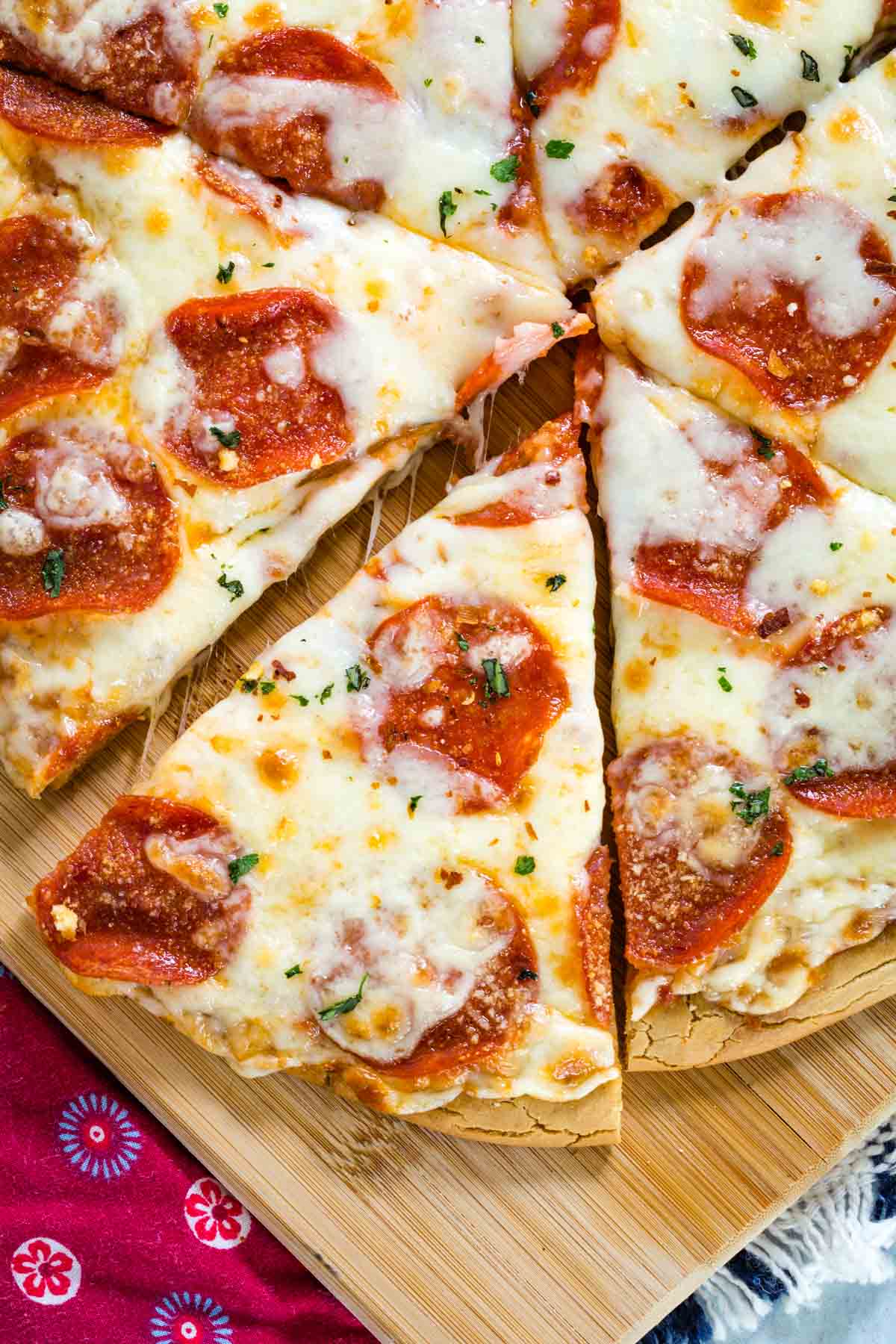 Perfect Pepperoni Pizza Made From Scratch
We get really into family pizza nights around here. It started when I perfected the best gluten free pizza crust and it's been sort of a snowball effect ever since. Now, homemade, cheesy, oven-baked pizza is steadily becoming one of our favorite family meals.
This easy pepperoni pizza recipe really has it all: melty mozzarella and parmesan cheese, tender pepperoni slices, and zesty herbs layered over the ultimate crispy and chewy gluten-free pizza base. I make it with mild pepperoni for the kids, and you can definitely change up the toppings with your family's favorite ingredients!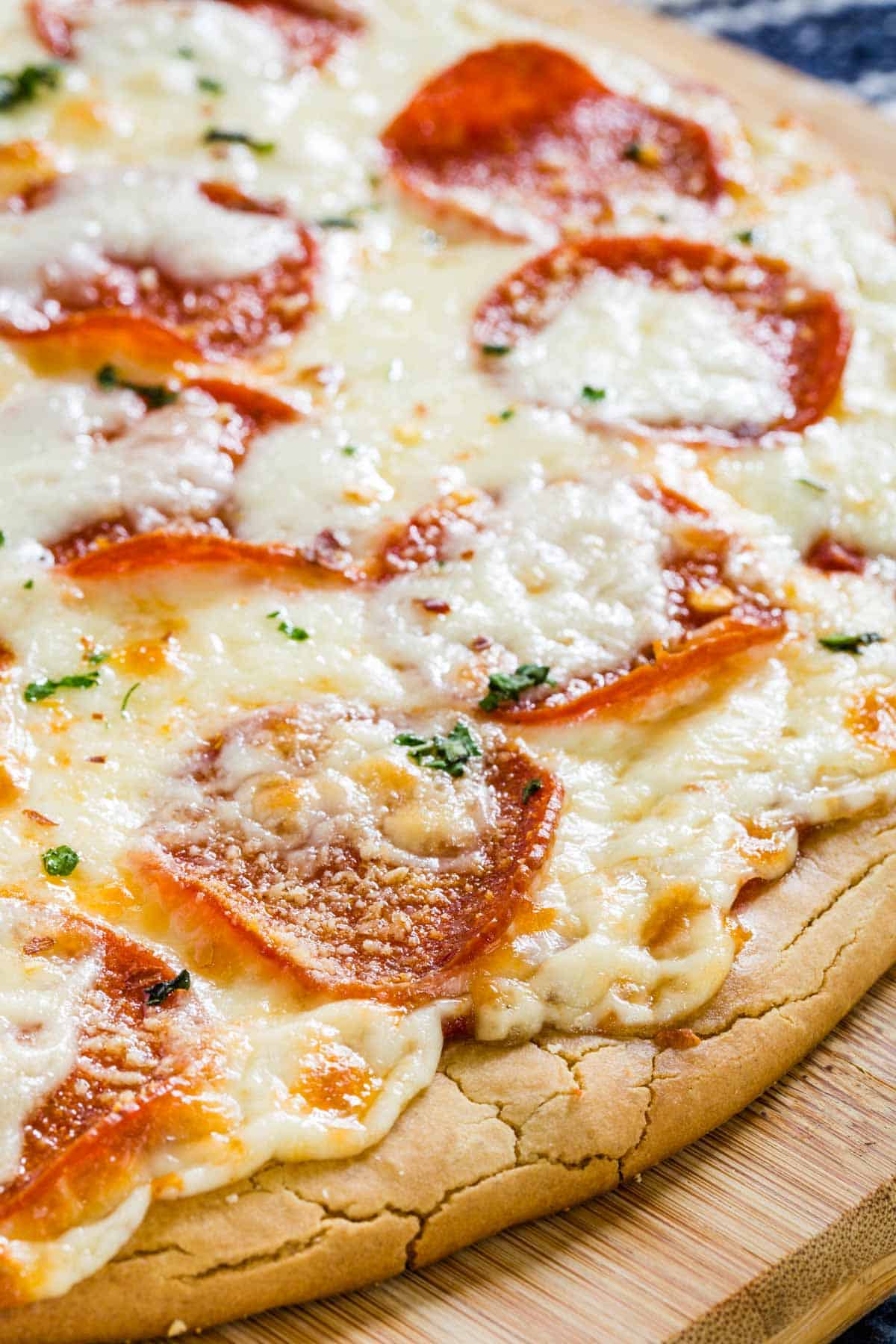 How is Gluten-Free Pizza Different?
So, what's the difference between gluten-free pizza and the regular kind? Apart from a crust that's made without gluten, not a whole lot!
The main thing that sets gluten-free pizza apart is the dough for the crust, often made with ingredients like gluten-free flour. When properly prepared, a gluten-free pizza base is almost identical in flavor and texture to a traditional pizza crust.
My recipe is a quick and easy way to achieve that perfectly tender, chewy pizza crust we all love and crave. Be sure to check labels for the toppings that you're using, like pepperoni and sauces, to ensure they're also 100% gluten-free.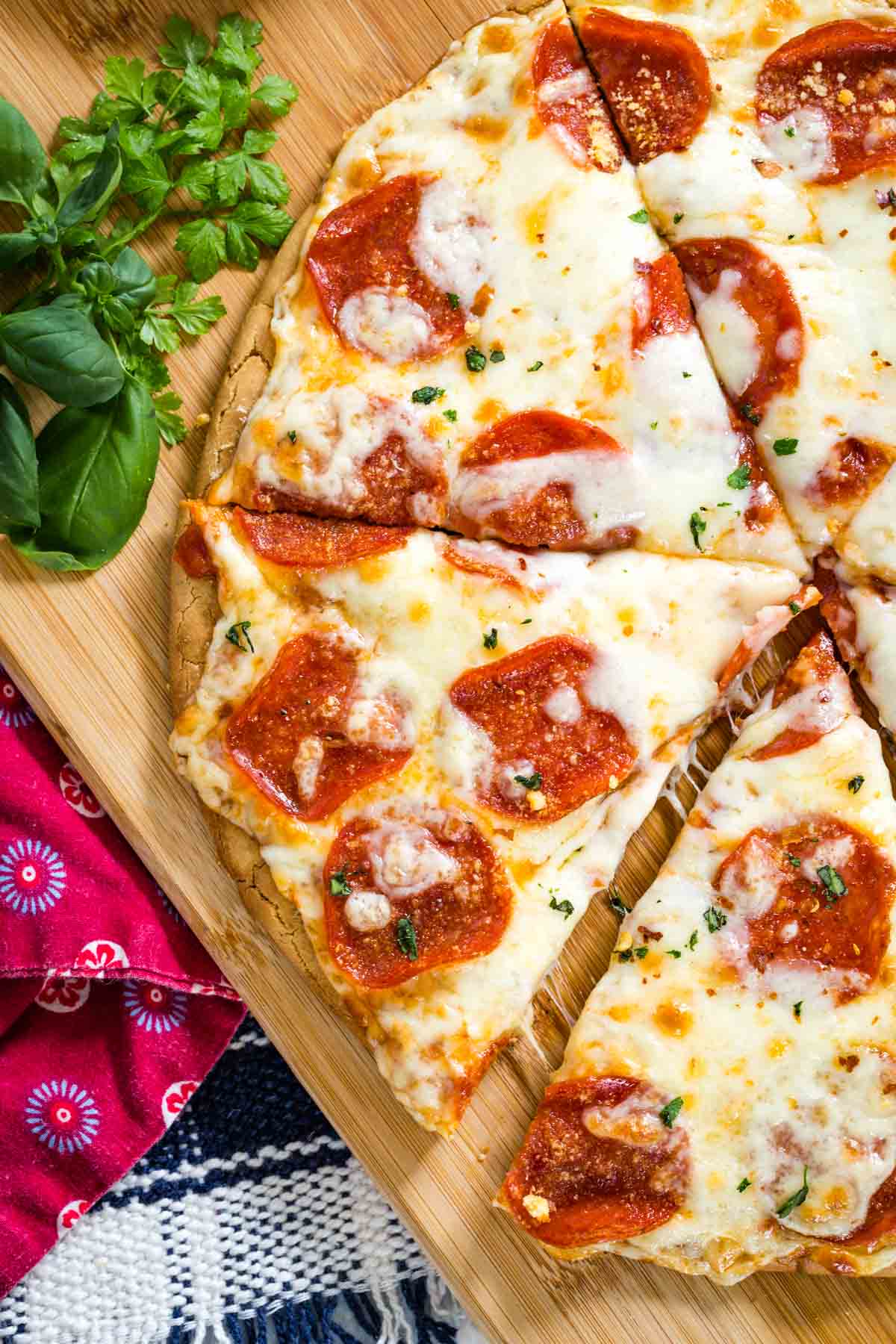 What You'll Need
You can make the pizza crust from scratch, or you can use your own favorite homemade pizza crust or store bought crust. Whichever option you choose, below is everything you'll need for this pepperoni pizza recipe, with the full details available further down in the recipe card:
For the Crust
Instant Dry Yeast: You'll need instant dry yeast combined with a bit of warm water to get the dough rising.
Gluten-Free Flour: I've had best results making the pizza crust with 1:1 gluten-free baking flour (like the kind from Bob's Red Mill).
Salt
Sugar: To feed the yeast and lend a hint of sweetness to the dough.
Baking Soda: For leavening.
Olive Oil: Extra virgin olive oil is great for that authentic Italian flavor in a savory dough. Alternatively, you can sub in another neutral oil like vegetable or avocado oil, the flavor just won't be quite the same.
For the Pizza
Pizza Sauce: Use your preferred brand and amount of jarred pizza sauce to spread over the crust.
Mozzarella: It wouldn't be a pepperoni pizza without shredded mozzarella cheese! I recommend grating it yourself, but the bags of pre-shredded cheese at the store will also work fine in a pinch. I also like to top my pizza with grated parmesan cheese.
Pepperoni: You can buy pepperoni slices from the deli section of your local supermarket, or get a full pepperoni and use a mandolin or knife to cut about 20 thin slices. Turkey pepperoni works great too.
Optional Garnish: Fresh or dried oregano, basil, or parsley, and red pepper flakes for sprinkling over the pizza for serving.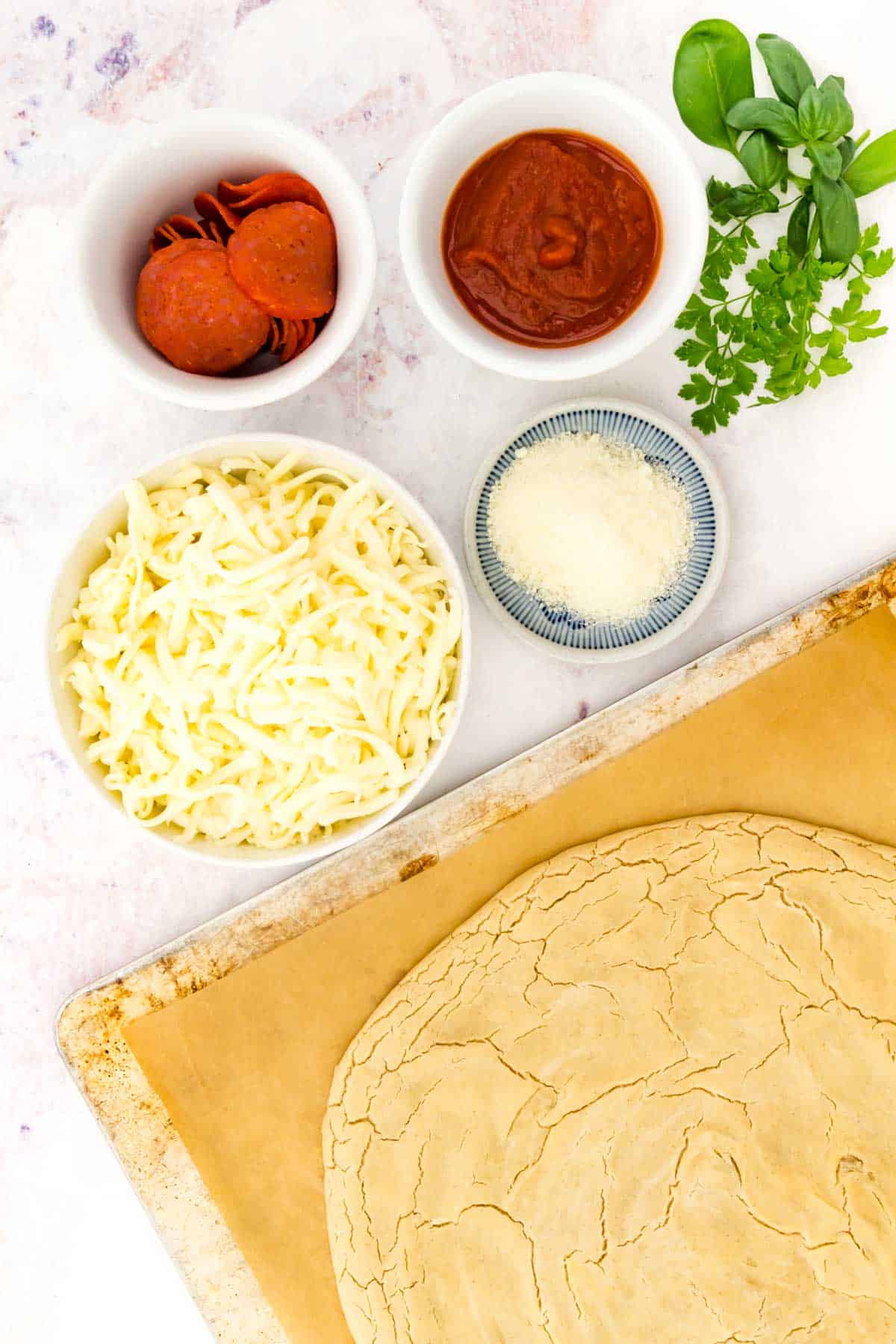 Let's Make Some Pizza!
Time to get this pizza party started. If you're making the gluten-free pizza crust from scratch, that's where we'll begin.
Making the Pizza Crust
Since you're going to par-bake the crust, get the oven nice and hot while you prepare the dough. Set the oven to preheat to 450ºF and position the rack towards the bottom, then cover a baking sheet with parchment paper. Making the pizza crust is super easy to do:
Activate the Yeast: Mix the instant dry yeast into a small bowl of warm water to activate. The mixture should start to look foamy after a few minutes.
Prepare the Dough: Once the yeast is ready, whisk together the flour and dry ingredients, then form a well in the middle. Pour in the yeast mixture and olive oil, and give everything a good stir to combine using a wooden spoon. The dough should come together smoothly after about 5 minutes. Be careful not to overmix!
Shape the Crust: Press the dough into a thin, even circle (or circles) on the baking sheet. This recipe should make enough pizza dough for one 10-inch pizza crust, or two 5-inch mini crusts.
Bake the Crust: Par-bake the crust in the preheated oven for 8 to 10 minutes. The goal is to only partially bake it, so keep a close eye while it's in there. The crust should come out when the top of the dough is dry and just beginning to turn golden.
Assembling the Pizza
Once your pizza crust is ready, it's time to assemble the pie! Gather your sauce, shredded mozzarella, pepperoni slices and garnishes, and start layering:
Sauce It Up: Spread a spoonful of pizza sauce over your pizza base. You can be as generous or sparing as you like here, it seems everyone has a preference for the saucy-ness of their pizza. Whatever you do, be sure to get the sauce in an even layer.
Top the Pizza: Next, sprinkle on one cup of shredded mozzarella, scatter on the pepperoni, and top with the rest of the mozzarella. Add a sprinkle of parmesan for good measure.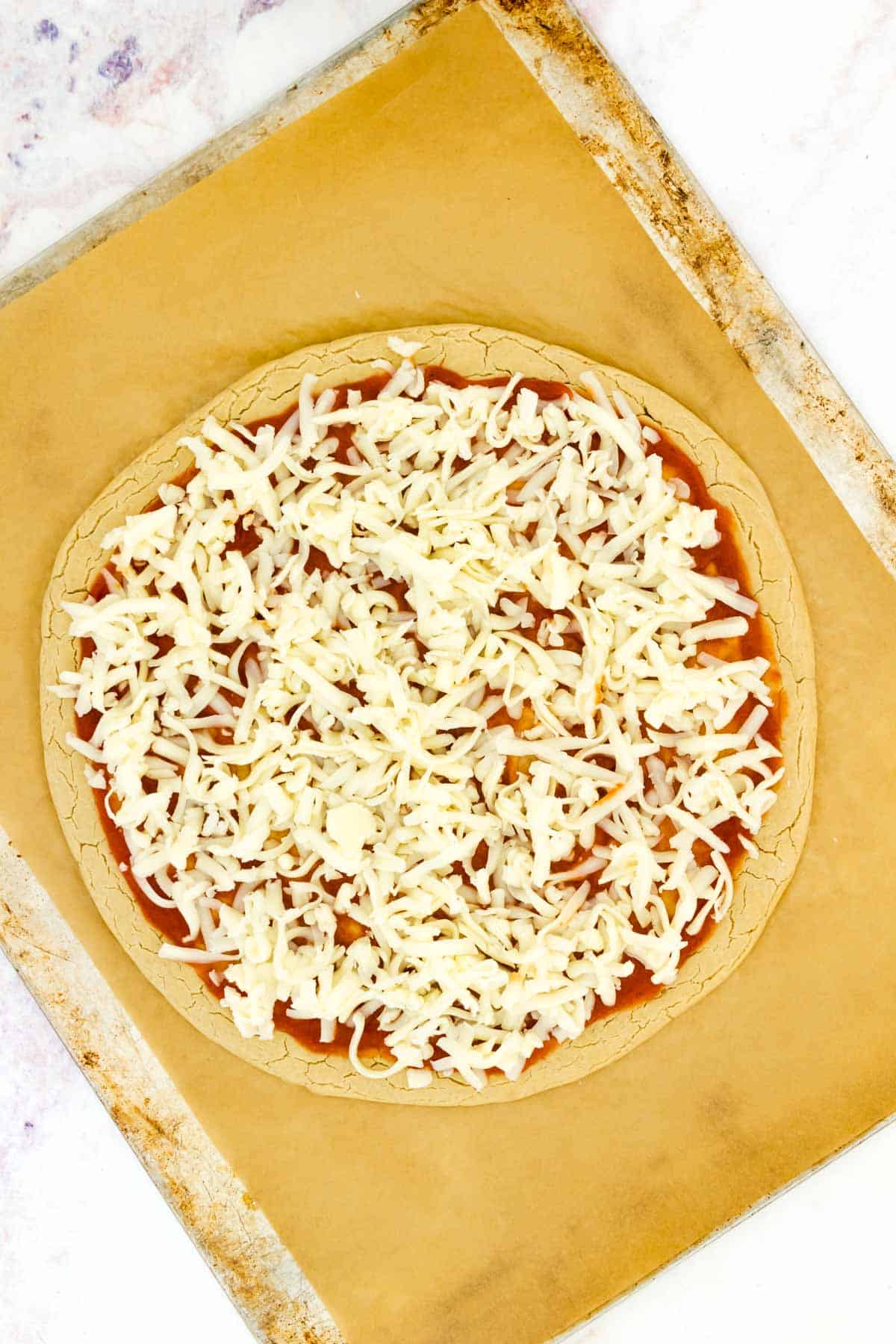 Bake: Chuck the pizza back into the oven to finish, until the cheese is golden brown. Finally, take the pepperoni pizza out and garnish with herbs or red pepper flakes if you like. Then all that's left to do is slice and serve!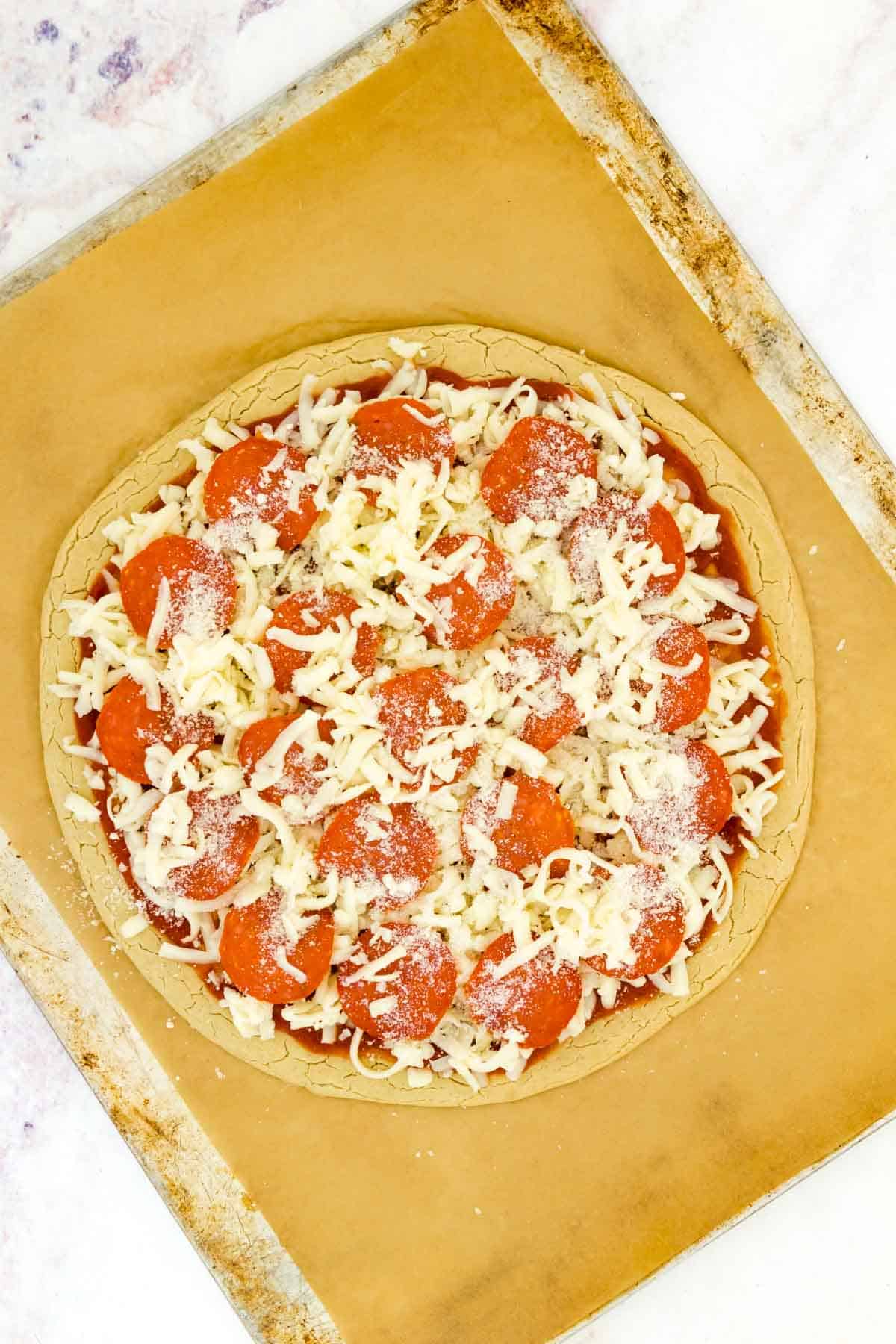 Can I Make the Dough in Advance?
Absolutely, you can. Get a jump on pizza night and prepare the gluten-free dough up to 3 days ahead. Simply follow the recipe for the crust as directed and then store the dough airtight in the fridge. When you're ready to make your pizza, shape the dough straight from the fridge and then assemble the toppings as usual!
I wouldn't recommend freezing the raw dough, as it risks killing the yeast. But you can freeze the par-baked crusts to have on hand! I actually love making a few extra pizza bases to store in the freezer.
Follow the directions for preparing and par-baking the crust. Let it cool completely, and then wrap it tightly in cling wrap, plus a layer of foil. These par-baked crusts will keep for up to a month in the freezer.
The semi-baked crusts can be topped and baked right from frozen, too. This makes them super easy to pull out at a moment's notice for quick last-minute pizza dinners! Just increase the baking time a little, as needed.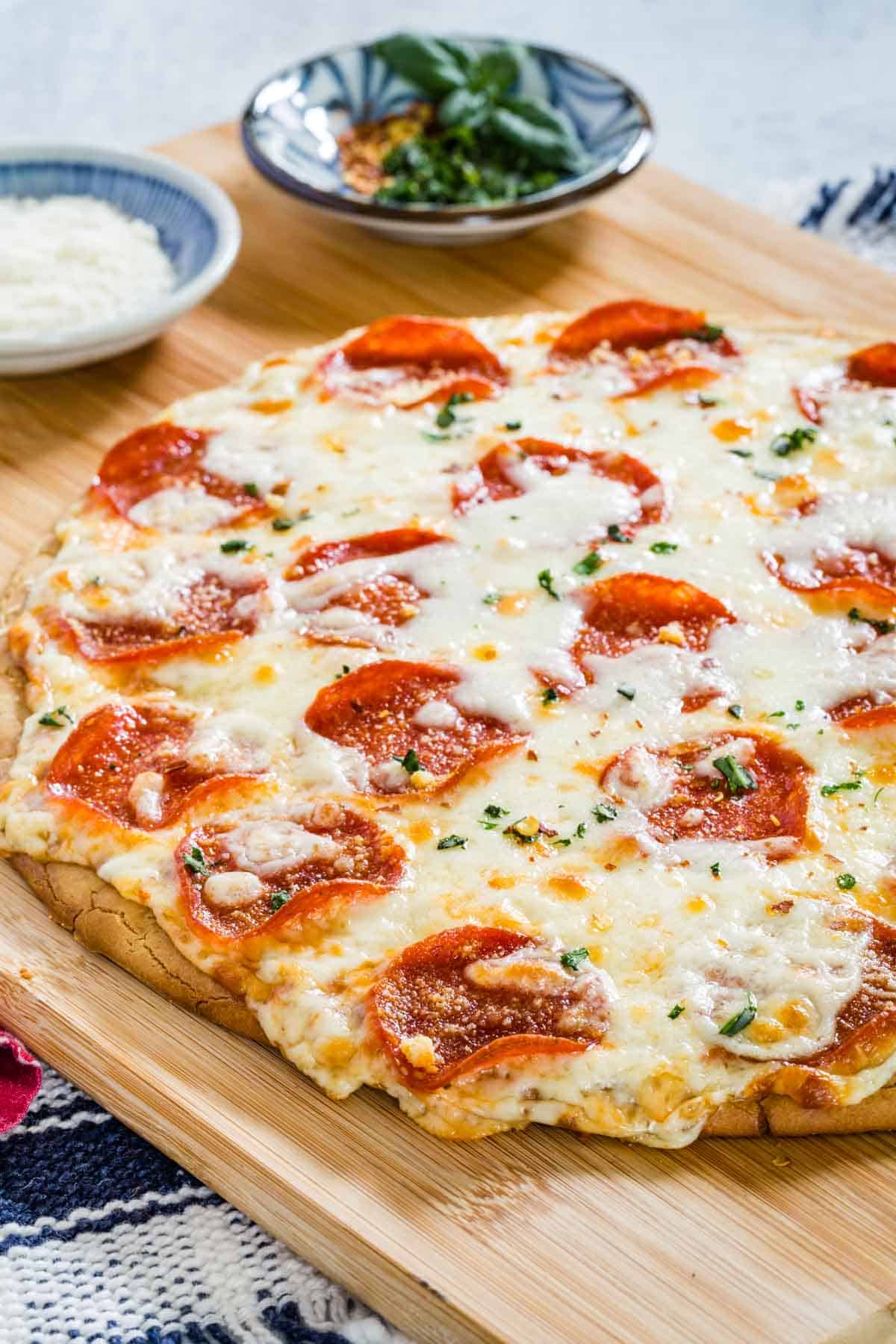 Tips for Success
You'll find that making your own healthy homemade pizza from scratch is way easier than you think! Here are my tips to ensure the best possible outcome:
Check Expiry Dates: Make sure to check the expiration dates on the yeast as well as the baking soda. If your yeast isn't activating in the warm water after a few minutes, chances are it's expired or you've come across a packet of dead yeast. When this happens, chuck the mixture out and start again with a fresh sachet.
If You're Making the Dough In Advance: Definitely make sure that the container you use to store your prepared pizza dough is sealed tightly, otherwise the dough can dry out.
If Your Dough Is Sticky: Sometimes gluten-free doughs can lean towards the sticky side when they're handled. If this is the case with your pizza dough, try chilling the dough in the fridge for a few minutes, or lightly oiling your hands.
Alternative Topping Options
We love a classic pepperoni pizza, but everyone knows that when it comes to pizza toppings, the limit does not exist. No pizza dream is too great. You can top your gluten-free pizza base with all the different toppings and garnishes you love, too! Here are some suggestions:
Diavola: Use spicy salami and top with hot peppers.
Margherita: Skip the pepperoni and go with a classic topping of Buffalo mozzarella and basil leaves.
Regina: Another classic, with ham and mushrooms. Sprinkle on some fresh thyme for even more flavor!
Hawaiian: Top your pie with diced pineapple and ham or prosciutto for sweet and simple Hawaiian Pizza with gluten-free crust.
Greek: Feta cheese, pitted olives, red onion and diced red bell peppers.
Tuscan: Diced cooked chicken, spinach, sun dried tomatoes and pine nuts.
Bacon and Blue Cheese: I'm a fan of a good bacon and blue cheese combo, and pizzas are no exception. Crumble on blue cheese and chopped smoky bacon, plus red onions and crushed walnuts. Give the pizza a drizzle of buffalo sauce while you're at it.
White Pizza: Also called pizza bianca. Leave off the tomato sauce and top your pizza with olive oil, garlic, and three types of cheeses: ricotta, mozzarella, and parmesan. Garnish with basil, or oregano!
Also check out my homemade recipes for Gluten Free BBQ Chicken Pizza and Gluten Free Supreme Pizza!
How to Store and Reheat Extras
Store any leftover pizza slices in the fridge, either wrapped or in an airtight container. They're great to enjoy cold for grab-and-go lunches! If I do reheat my pizza, I like to do it on a sheet pan in the oven, since it helps the crust to crisp up again. Alternatively, you can quickly zap leftover pizza slices in the microwave to warm them.
Can I Freeze Homemade Pizza?
Once the crust is par-baked and after the toppings are added, homemade pizza is great to freeze. It's an easy (and likely healthier) alternative to your favorite store bought frozen pizza!
This pepperoni pizza can be prepped with the sauce and toppings, and then wrapped tightly for freezing in plastic wrap with a layer of foil. Bake the frozen pizza directly from frozen, adding a few extra minutes to the baking time.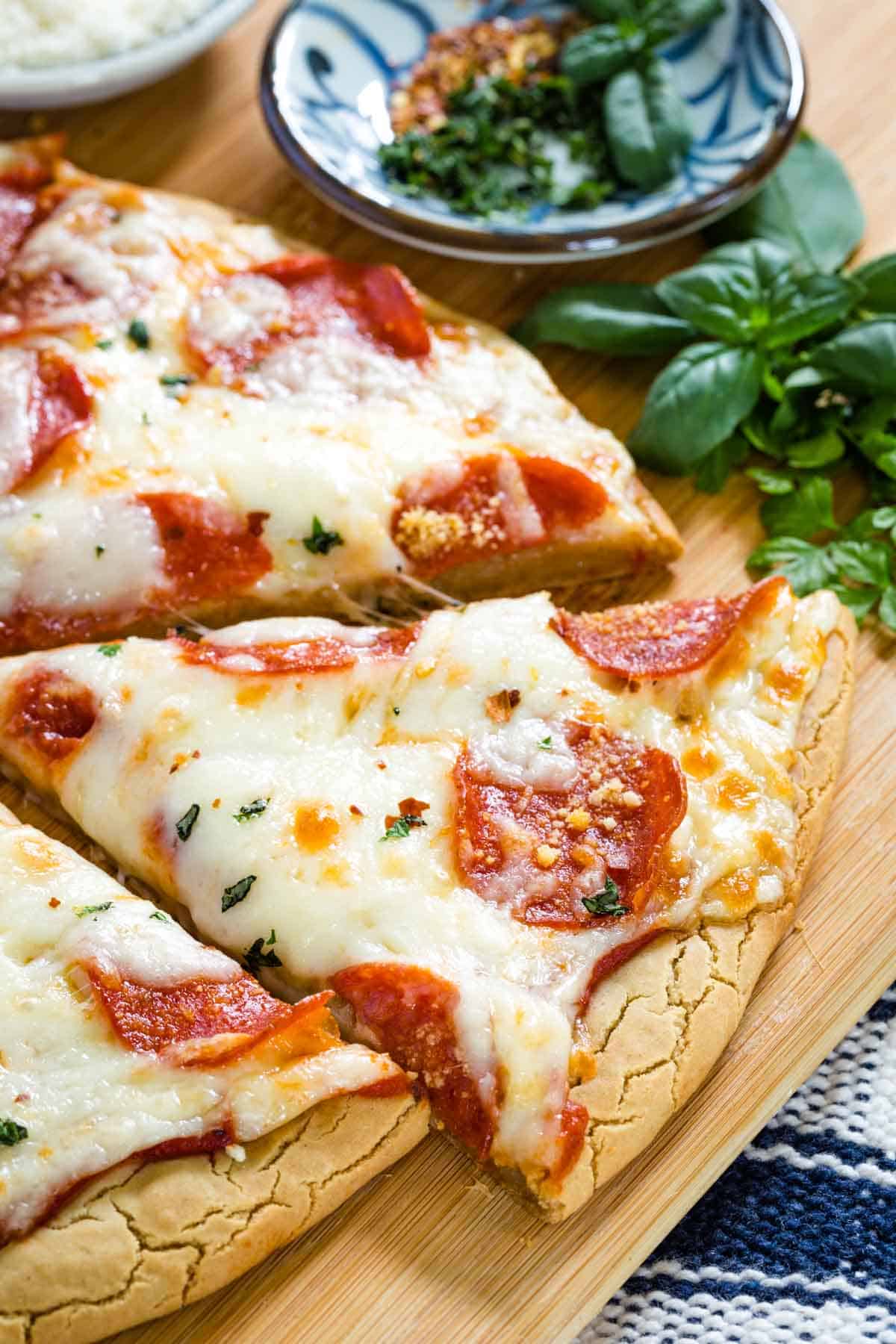 More Gluten-Free Family Dinner Ideas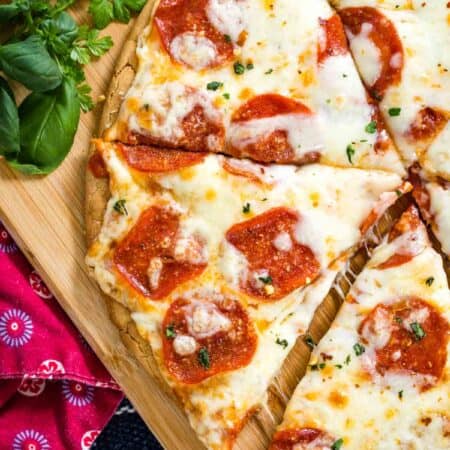 Gluten Free Pepperoni Pizza
This homemade Gluten Free Pepperoni Pizza is perfect for family pizza night! A classic oven-baked recipe with melty cheese and juicy pepperoni slices layered over a gluten-free pizza crust made from scratch.
Ingredients
For the Crust
1

cup

warm water

2

tsp

instant dry yeast

2

cups

gluten free 1:1 baking flour

1

tsp

salt

1

tbsp

sugar

¼

tsp

baking soda

1

tbsp

olive oil
For the Pizza
¼-½

cup

pizza sauce

to taste

2

cups

mozzarella cheese

shredded

20

slices

pepperoni

(about 1-1½ oz.)

1

tbsp

grated parmesan cheese

Minced oregano, basil or parsley, and red pepper flakes for garnish

(optional)
Instructions
For the Crust
Preheat the oven to 450°F, arrange a rack in the bottom third of the oven and line a baking sheet with parchment paper.

In a small bowl or jug, combine the warm water and instant dry yeast. Let sit for about 5 minutes to allow the yeast to dissolve and become foamy.

In a mixing bowl, whisk together the flour, salt, sugar, and baking soda.

Using a wooden spoon, create a well in the middle of the combined dry ingredients.

Pour in the yeast mixture and oil and mix everything together. Stir the dough until it is smooth and well combined, about 5 minutes.

Once the dough is ready, place it on the prepared baking sheet and press into a thin, even 10-inch circle (or 2 5-inch circles).

Par-bake for 8 – 10 minutes, or until the top of the base is dry and starting to brown.
For the Pizza
Prepare and par-bake the crust as directed above or following the directions of your favorite homemade or store-bought crust.

Spread an even layer of sauce over the crust.

Top with 1 cup of the mozzarella cheese and scatter the pepperoni over the cheese.

Top with the remaining mozzarella cheese and the parmesan cheese.

Return to the oven and bake for a further 10 – 12 minutes, or until golden brown.

Remove from the oven, garnish with oregano, basil, or parsley and red pepper flakes, if desired. Slice and serve.
Nutrition Facts
Gluten Free Pepperoni Pizza
Amount Per Serving
Calories 245
Calories from Fat 108
% Daily Value*
Fat 12g18%
Cholesterol 28mg9%
Sodium 630mg26%
Potassium 88mg3%
Carbohydrates 26g9%
Protein 12g24%
Vitamin A 228IU5%
Vitamin C 1mg1%
Calcium 171mg17%
Iron 1mg6%
* Percent Daily Values are based on a 2000 calorie diet.
Categories: