This post may contain affiliate links. Read my disclosure policy.
You won't believe how easy Homemade Marinara Sauce is to make! This simple and delicious tomato sauce recipe is full of flavor and so versatile. You'll be using it with all your favorite Italian-inspired recipes, or as a dipping sauce for breadsticks and appetizers!
You'll Put This Homemade Marinara Sauce on Everything!
I'm constantly giving the Italians due credit when it comes to simple, delicious homemade recipes. Common ingredients and easy directions really go a long way! And this perfect Italian-style marinara sauce recipe fits the bill.
One taste of this homemade marinara and I promise you, there's no going back to store bought. This tomato sauce is a little sweet, a little tangy, and loaded with zesty tomato flavor. It's so easy to make, you'll be wondering why you didn't start making marinara from scratch sooner!
I use this easy sauce in so many dishes. As a pasta sauce with spaghetti, as a pizza sauce, or even as a dipping sauce with breadsticks and more!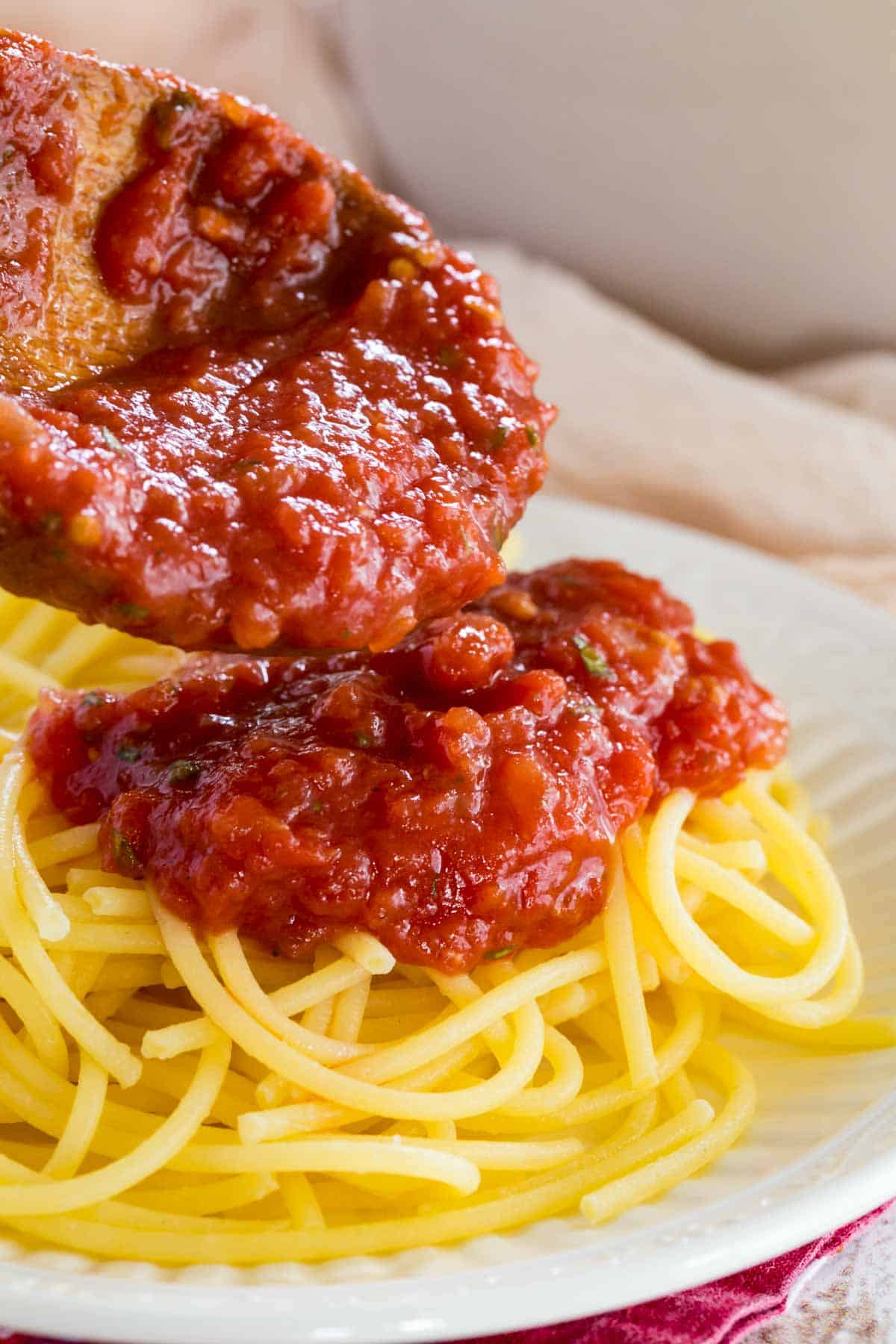 Why Should I Make My Own Marinara?
Making marinara sauce at home comes with countless benefits, really. Here are my main reasons, to name a few:
It's super easy. There's only a handful of ingredients and minimal prep involved in making your very own homemade marinara sauce.
It's inexpensive. Why pay a premium for something that you can make yourself in an hour or less? Save money and enjoy a fresher alternative to jarred marinara sauce.
It's healthier. Shelf-stable pasta sauces often come laden with preservatives, extra sugars and sodium. Homemade marinara has all of the flavor and none of the additives!
It's easy to keep. I love making a big batch of marinara sauce and storing half in the fridge while freezing the rest. This homemade recipe freezes super well!
What is the Difference Between Marinara Sauce and Spaghetti Sauce?
Marinara sauce and spaghetti sauce are very similar, though they aren't the same. Both are tomato-based and simmer over low heat. Marinara is meatless, while spaghetti sauce is known to have additional ingredients.
I like to think of marinara as the streamlined model of tomato sauces, while spaghetti sauce tends to have more complex ingredients (like meat and veg) as well as added spices.
More delicious Italian sauces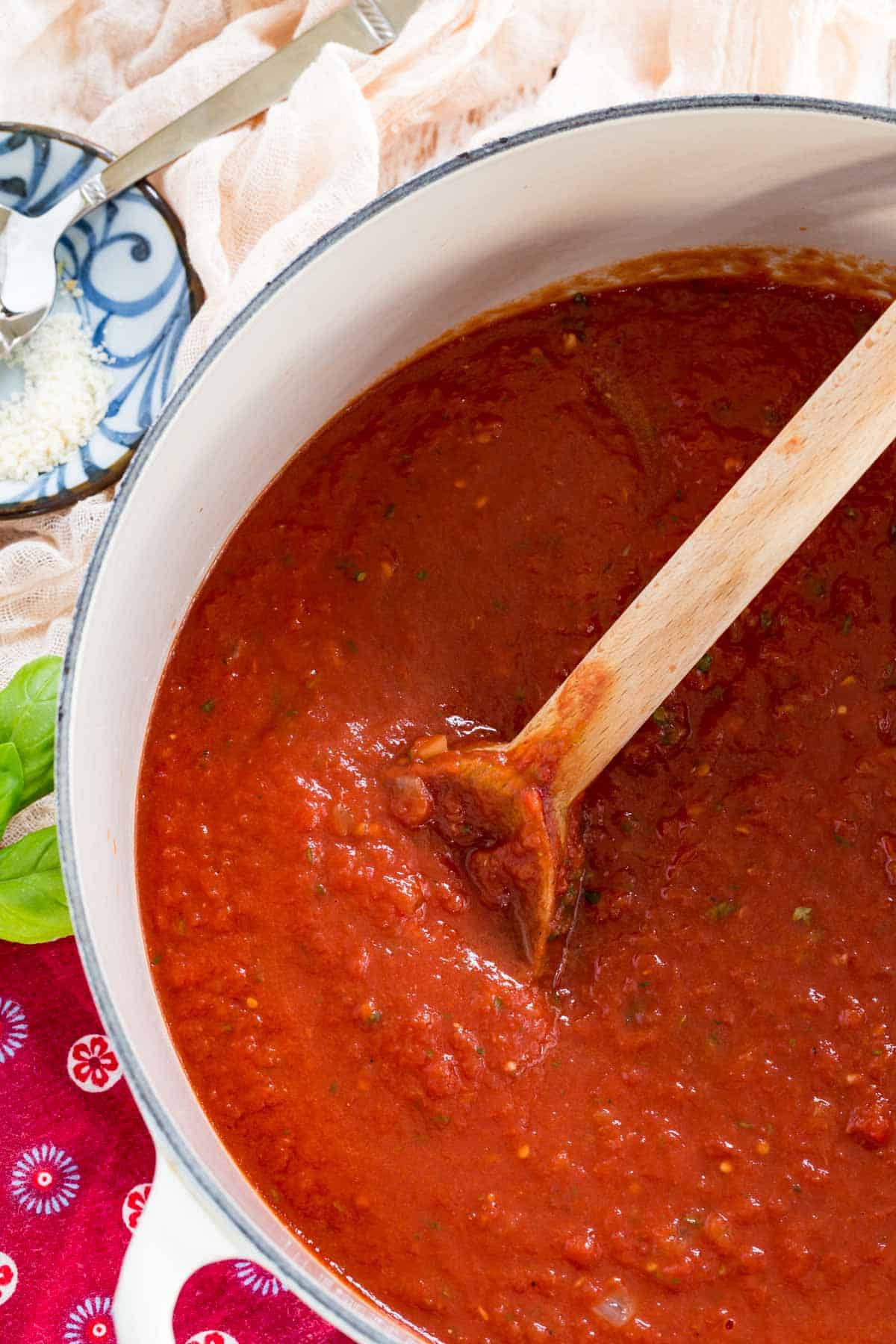 Recipe Ingredients
The beauty of marinara sauce is that it requires under 10 ingredients. Simple and delicious!
Tomatoes: I used canned whole tomatoes for convenience. You can definitely use fresh, peeled tomatoes if you prefer!
Tomato Paste: For the extra tomato flavor and to fill out the sauce a bit.
Onion & Garlic: Fresh onion and garlic bring great flavor to the sauce.
Herbs: Fresh basil leaves, plus fresh or dried oregano.
Sugar: Marinara sauce is traditionally a little sweeter than other tomato sauces, so this recipe includes a hint of sugar.
Olive Oil: Would it be Italian cooking if it didn't involve olive oil?
Salt & Pepper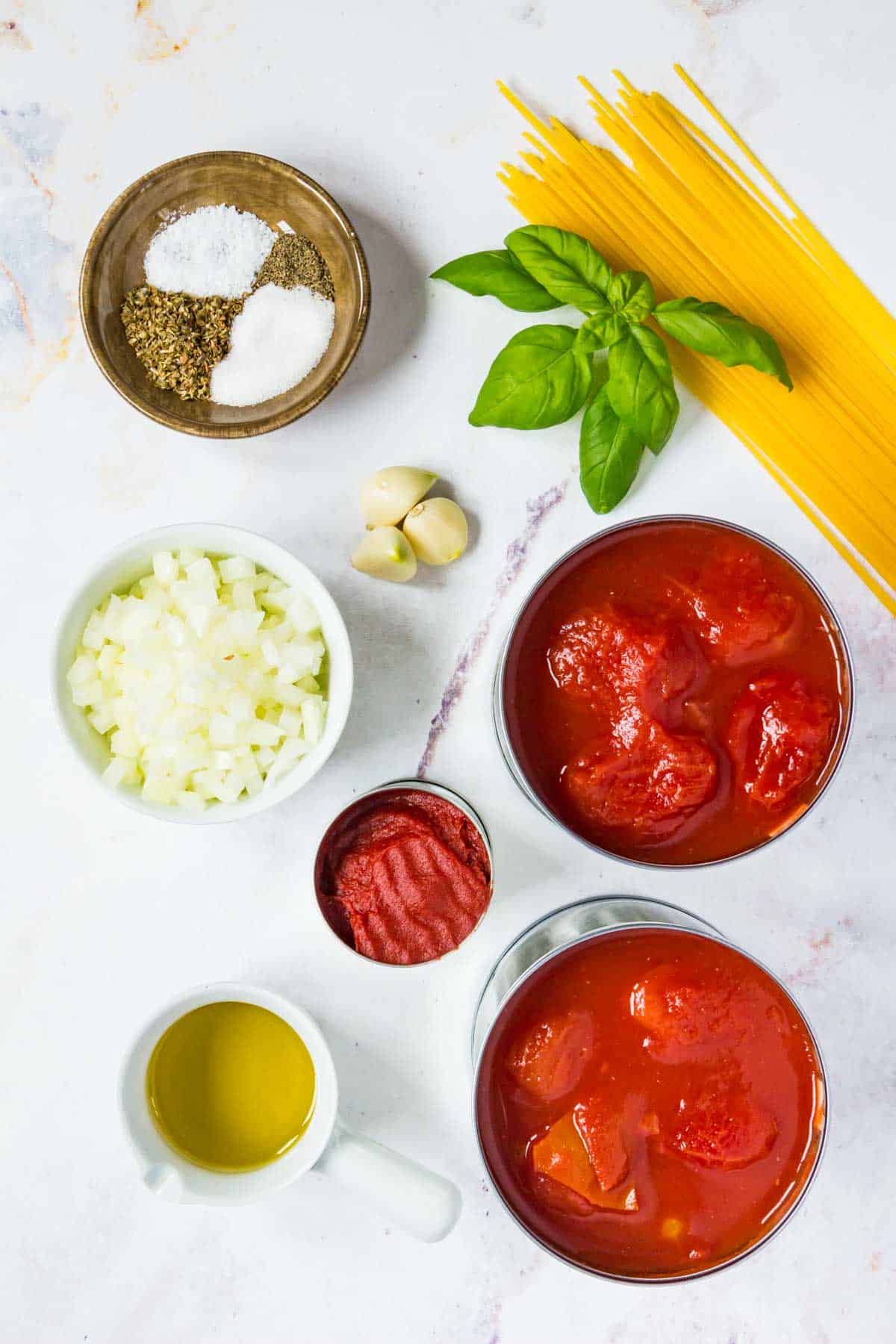 How to Make Marinara Pasta Sauce From Scratch
First, prepare a tomato puree by blending the tomatoes and their juices. Fun tip: If you don't have a food processor, use your hands to crush the tomatoes (just like Nonna would do!). Next, here's how to bring everything together for a tasty, vibrant homemade marinara:
Saute: Saute the onion in oil, then add in the garlic.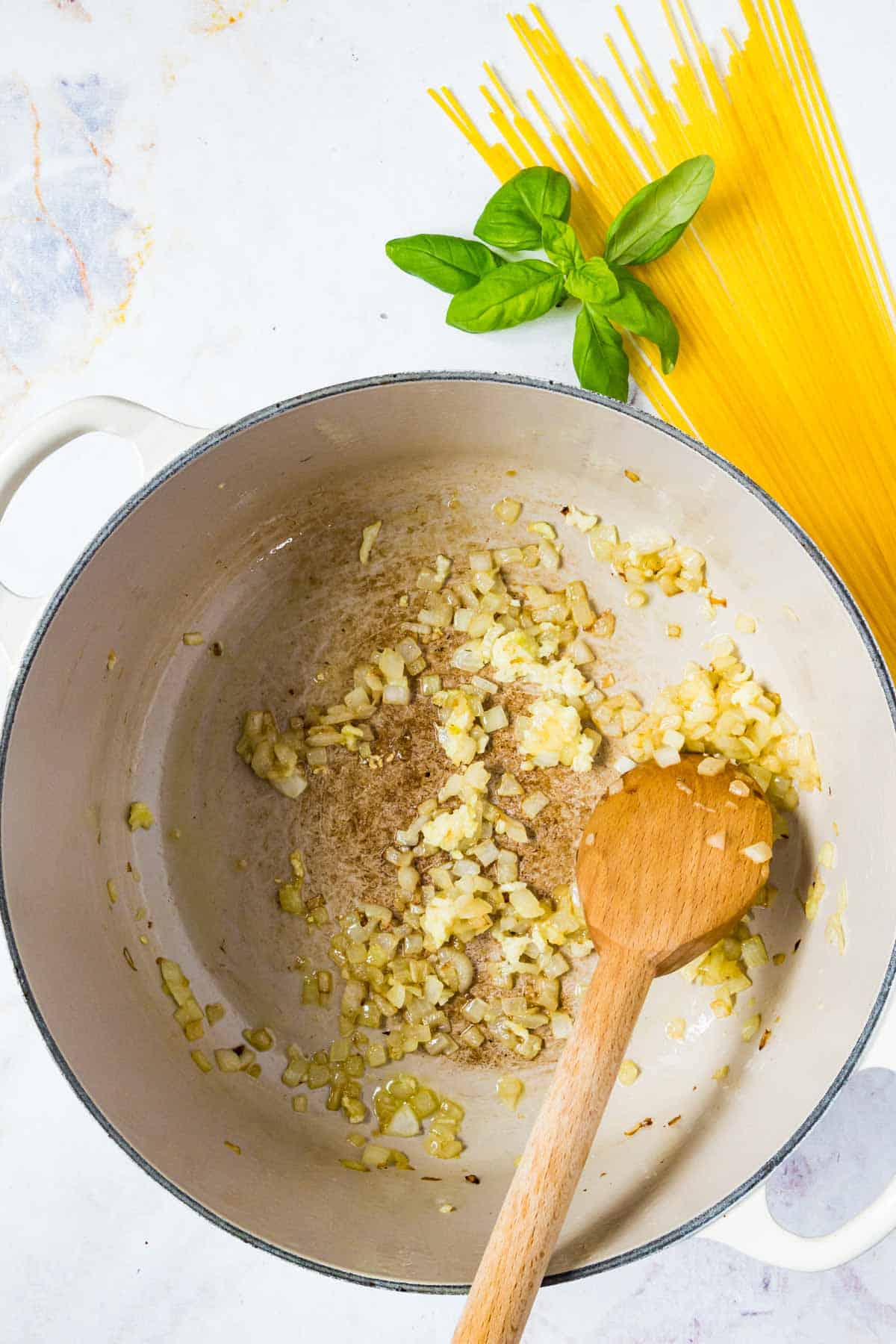 Combine: Stir in the tomato puree, along with the tomato paste, seasoning, and a pinch of salt.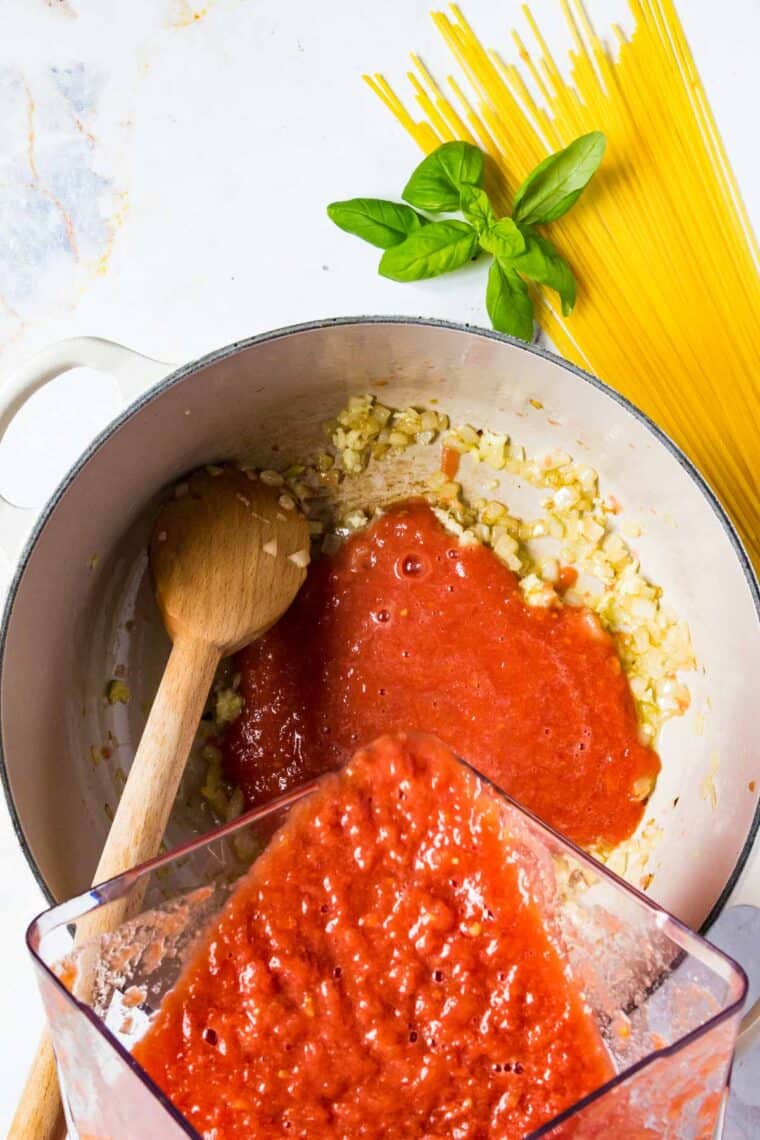 Simmer: Leave the sauce to simmer and thicken to your desired consistency. A good benchmark is when the oil on the surface of the sauce becomes a rich orange color.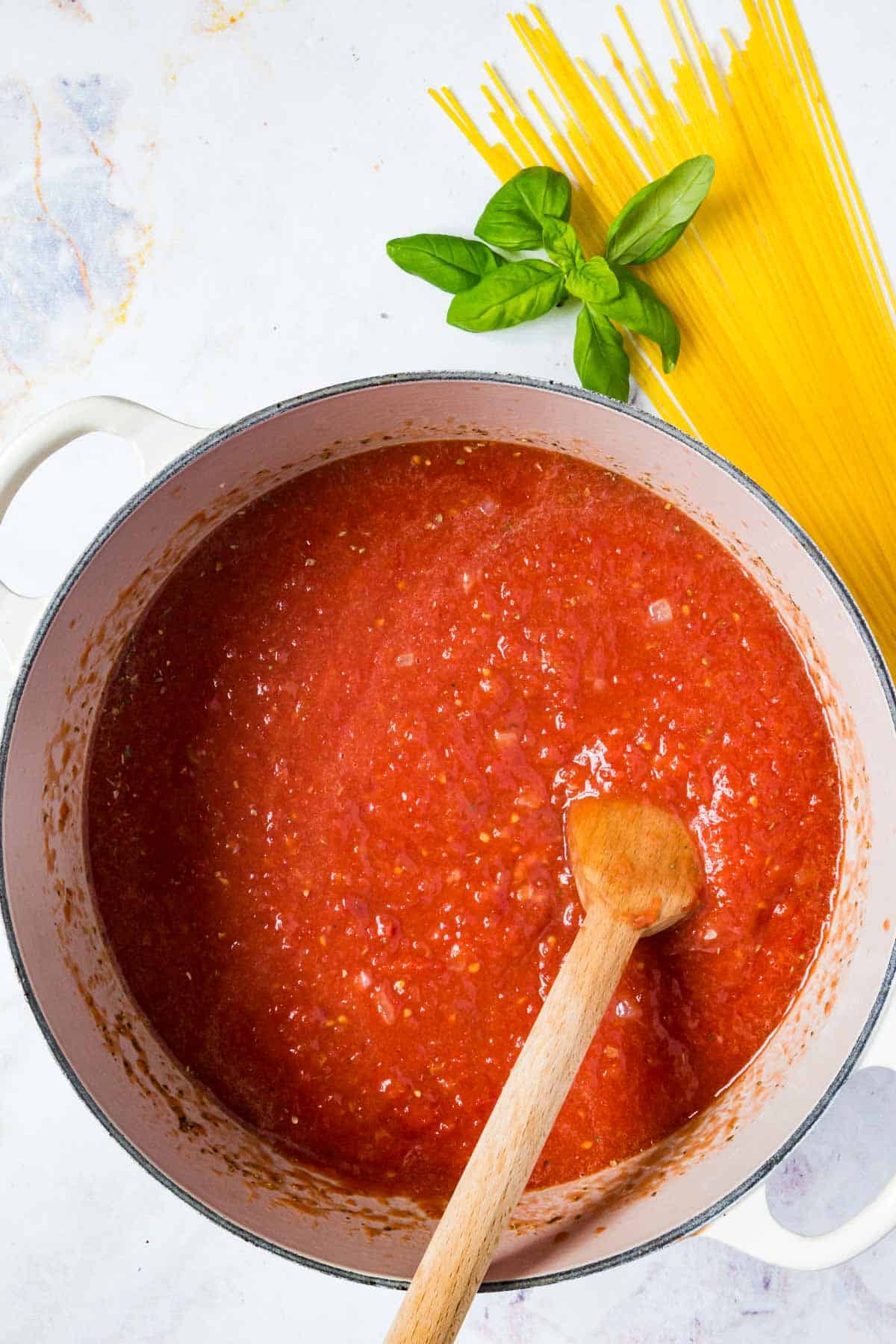 Finish: Once the sauce is ready, stir in the fresh chopped basil. Your homemade marinara is now ready to serve with any and all dishes your heart desires!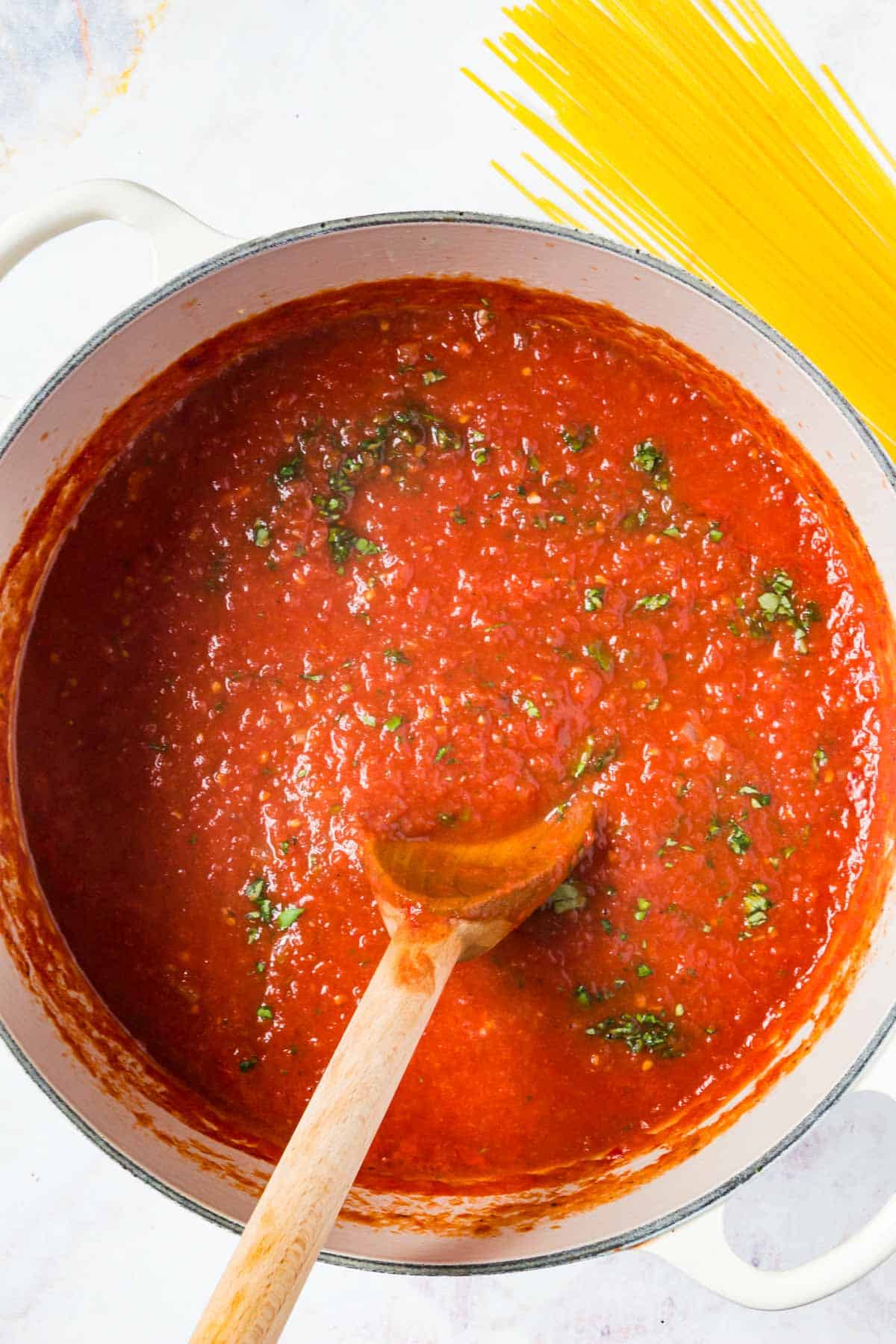 Tips for Success
Thicken Your Marinara Sauce: If you'd prefer a sauce with a thicker consistency, you can add more tomato paste. I'd recommend balancing the acidity with a little extra sugar. The easiest way to get the flavor right is to adjust and taste along the way!
Add Pasta Water: Another useful hack is to add in a spoonful or two of the water used to cook your pasta into the sauce. This water will be starchy and may also help with thickening up a runny sauce.
Use Fresh Tomatoes: Canned tomatoes are convenient and flavorful, but nothing beats the freshness of a ripe tomato! You can substitute about 6 fresh tomatoes per 28oz canned tomatoes. Remove the skins by blanching and peeling the tomatoes, before adding them to the blender.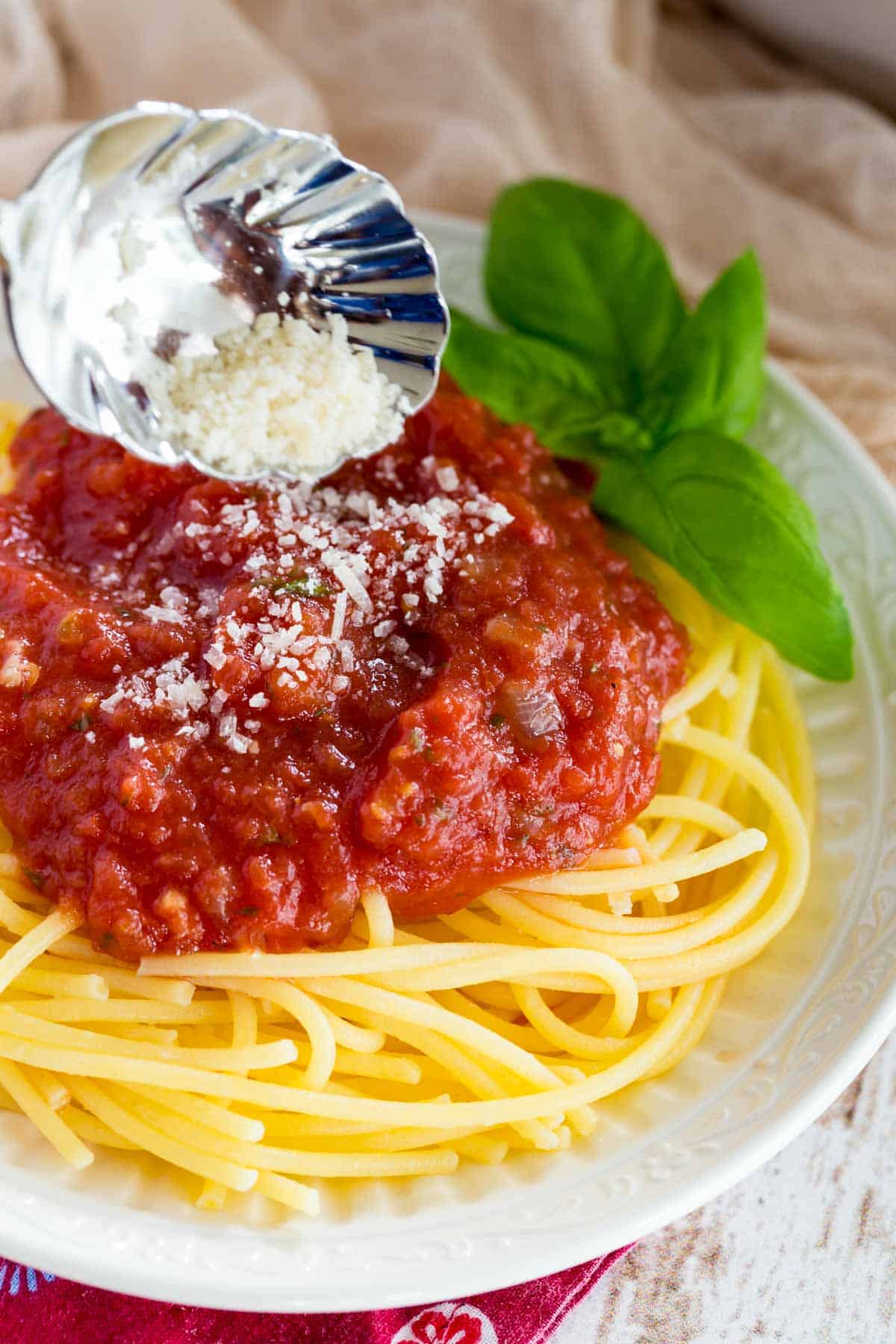 Make it a Meal
This marinara sauce is perfect to serve over spaghetti with a sprinkle of parmesan, or to use as a pizza base. It's also just as delicious as a marinara dipping sauce! Here are my favorite ways to use it: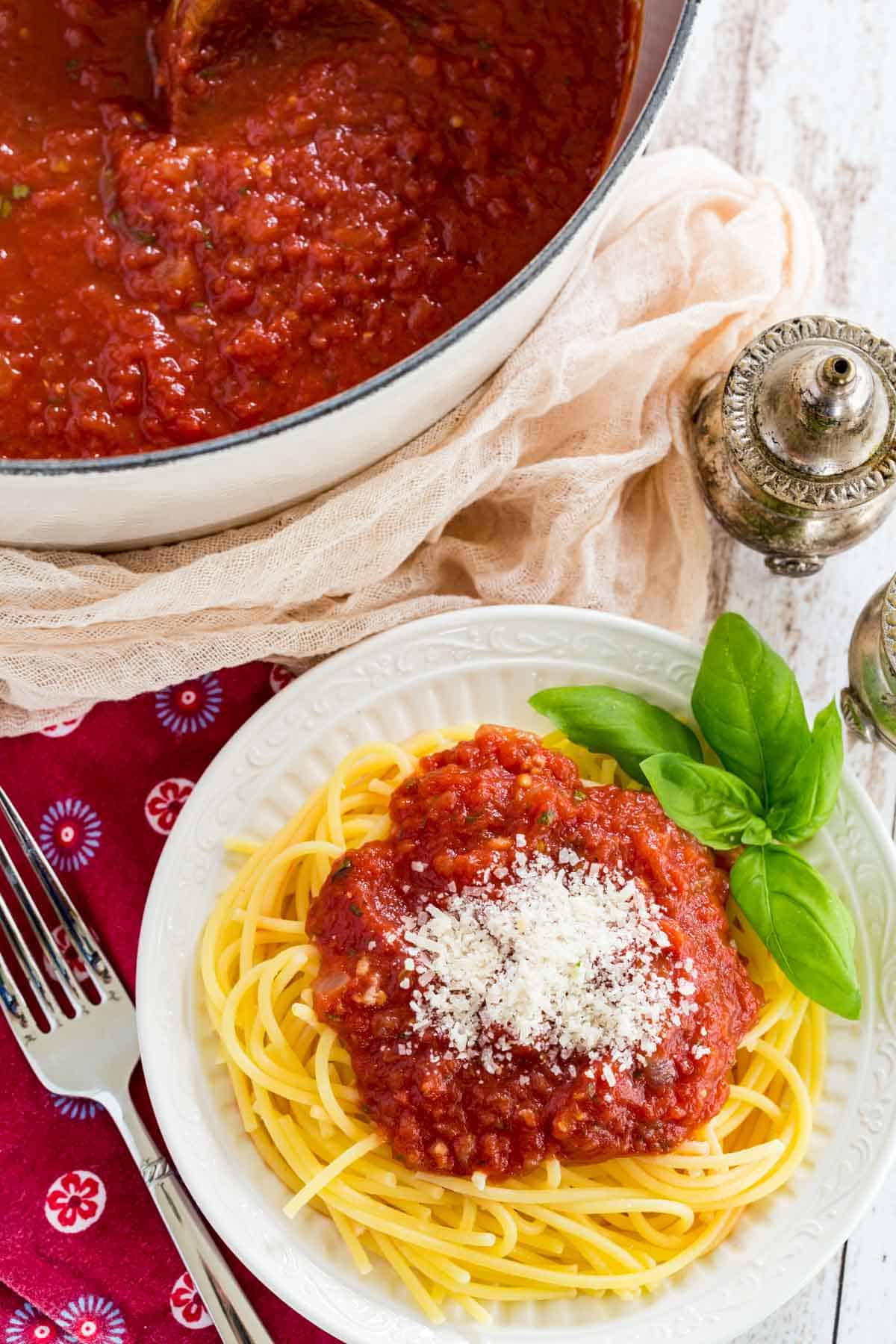 Storage Instructions
Marinara sauce is one of my best make-ahead recipes, it's just so easy to store and reheat! This recipe in particular makes a big enough batch that you can freeze any leftovers, too (see below).
Once the marinara sauce has cooled completely, store it in an airtight jar or container in the fridge for up to 4-5 days.
Reheat your marinara, covered, on the stovetop until warmed through. Work on medium-low heat and allow it to warm up slowly. I much prefer the stovetop to the microwave – the sauce tends to splatter if heated too quickly!
Does This Freeze Well?
Homemade marinara freezes really well! Store the cooled sauce in a freezer-safe container or freezer bag. Marinara will keep frozen for up to 4 months! Thaw the sauce in the fridge or heat it on the stove directly from frozen, on low, in a pot with a lid.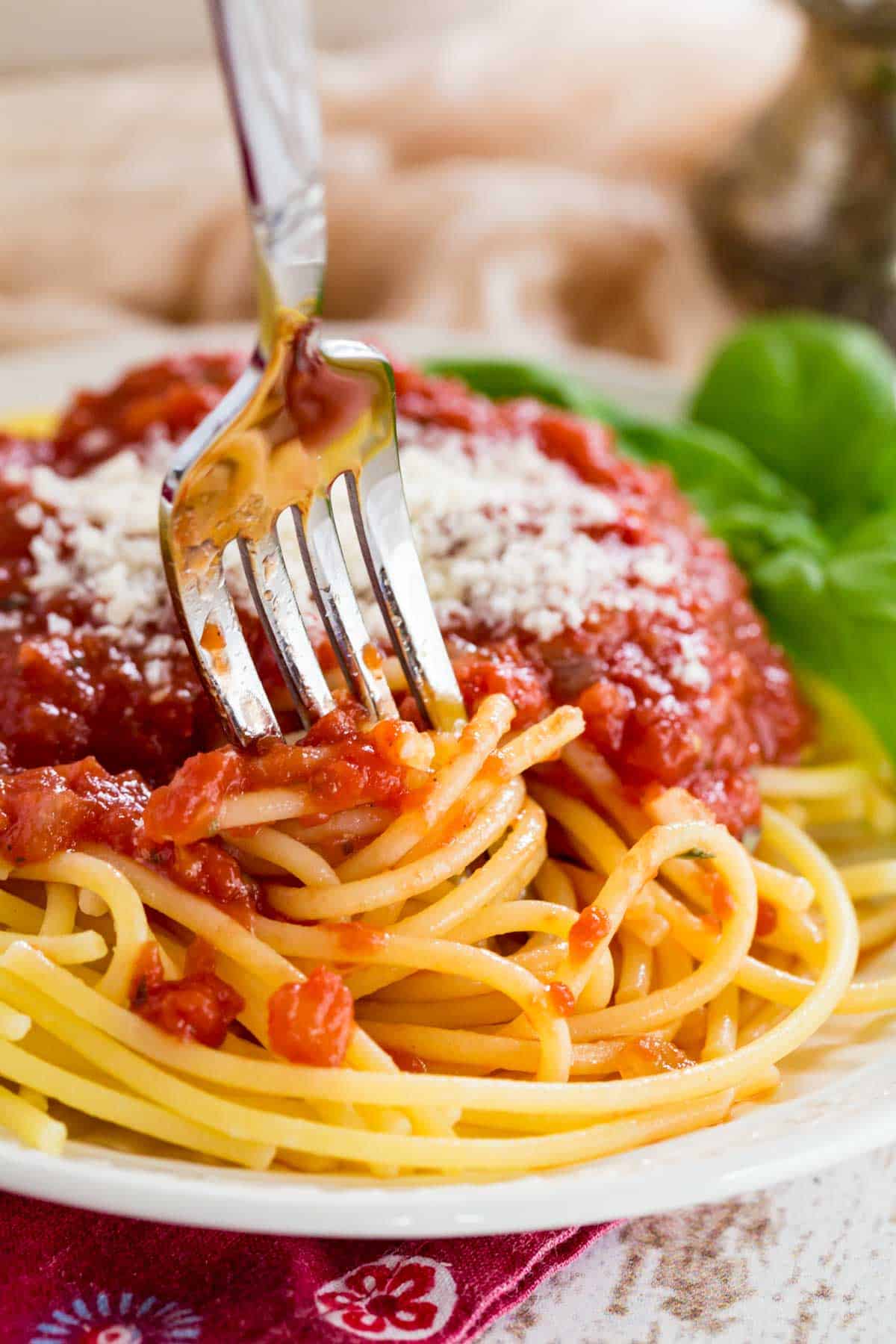 More Flavorful Condiments to Try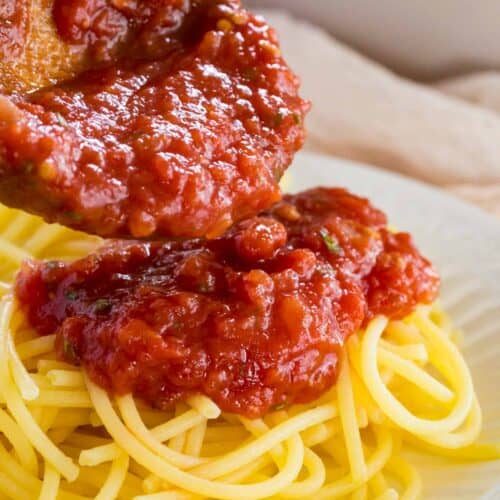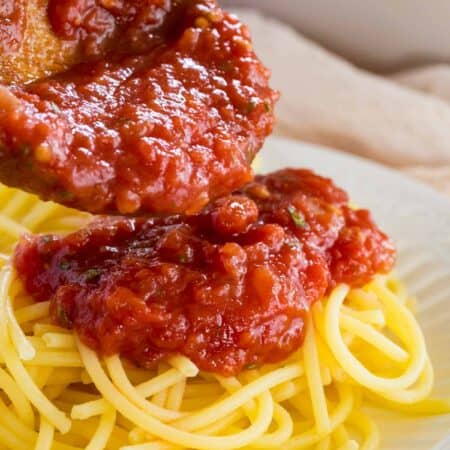 Homemade Marinara Sauce
You won't believe how easy this Homemade Marinara Sauce recipe is to make! Enjoy fresh, delicious tomato sauce with everything from pastas to appetizers!
Ingredients
2

28oz

cans whole tomatoes

in juice

2

tbsp

olive oil

1

medium onion

chopped

3

cloves garlic

minced

1

6oz

can tomato paste

1

tsp

dried oregano

1

tsp

sugar

1/2

tsp

Kosher salt

or to taste

1/4

tsp

freshly ground black pepper

or to taste

1/4

cup

packed basil leaves

finely minced
Instructions
Add the tomatoes with their juices into a blender and blend until almost smooth.

In a large, heavy-bottomed saucepan or Dutch oven, heat the oil over medium heat. Add the onion and saute until tender, stirring frequently, about 8-10 minutes. Add the garlic and cook for another minute or two, until fragrant.

Stir in the pureed tomatoes, tomato paste, oregano, sugar, salt, and pepper.

Bring to a simmer, then reduce the heat to low and simmer for 20-30 minutes, or until it reaches your desired consistency.

Stir in the fresh basil and serve over spaghetti or your favorite pasta, or use on pizza, for dipping breadsticks or appetizers, etc.
Notes
Store airtight in the fridge for up to 4-5 days.
Freeze for up to 4 months.
Based on Giada's Family Dinners by Giada DeLaurentiis and the Better Homes and Gardens New Cookbook, 10th Edition
Nutrition Facts
Homemade Marinara Sauce
Amount Per Serving
Calories 46
Calories from Fat 18
% Daily Value*
Fat 2g3%
Sodium 299mg12%
Potassium 309mg9%
Carbohydrates 7g2%
Protein 1g2%
Vitamin A 281IU6%
Vitamin C 12mg15%
Calcium 39mg4%
Iron 1mg6%
* Percent Daily Values are based on a 2000 calorie diet.