This post may contain affiliate links. Read my disclosure policy.
I guarantee that this moist, succulent Air Fryer Rotisserie Chicken will have you skipping the grocery store version from now on. A whole chicken is rubbed with a flavorful seasoning blend and roasted to perfection in just over one hour! This easy air fryer recipe is a great way to enjoy no-fuss, healthy rotisserie chicken made at home, that's perfect for leftovers!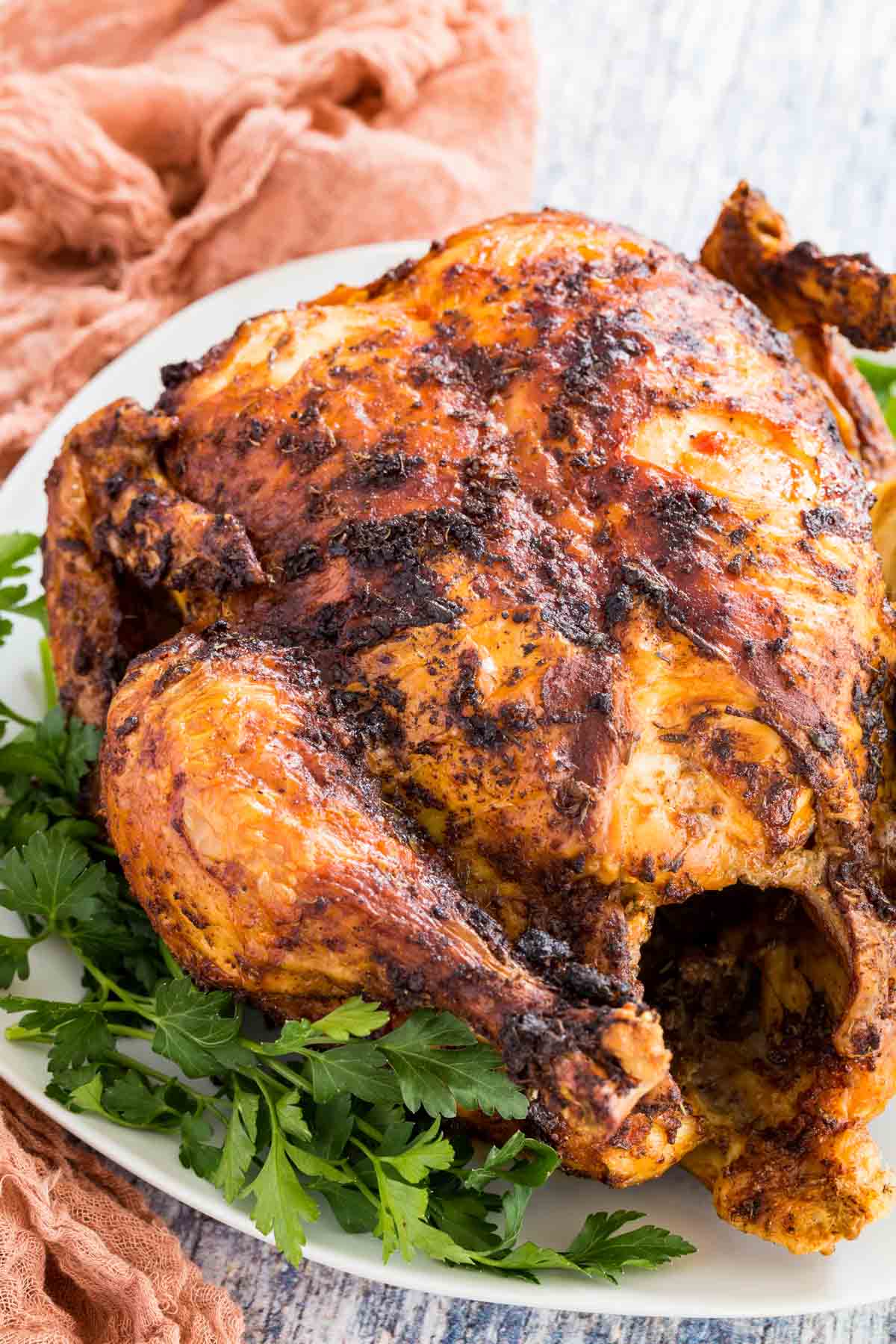 The Easiest Rotisserie Chicken Recipe Ever
Some might say that nothing beats the convenience of a grocery store rotisserie chicken. I hereby challenge that statement to a duel: grab your air fryers, we ride at dawn!
All joking aside, this air fryer recipe is by far the easiest way to make moist, juicy homemade rotisserie chicken. It's so easy, you'll never want to buy a chicken from the store again! This roasted chicken recipe turns out incredibly tender, and the skin crisps up all perfect and delicious in the air fryer in just over an hour.
I'm officially an air fryer rotisserie chicken convert. Weeknight dinners are a breeze, I have leftovers for days, and I can even make a wholesome bone broth from the leftover chicken bones! Plus, a whole bird looks impressive at the table whenever I'm entertaining. Winner, winner, chicken dinner, indeed.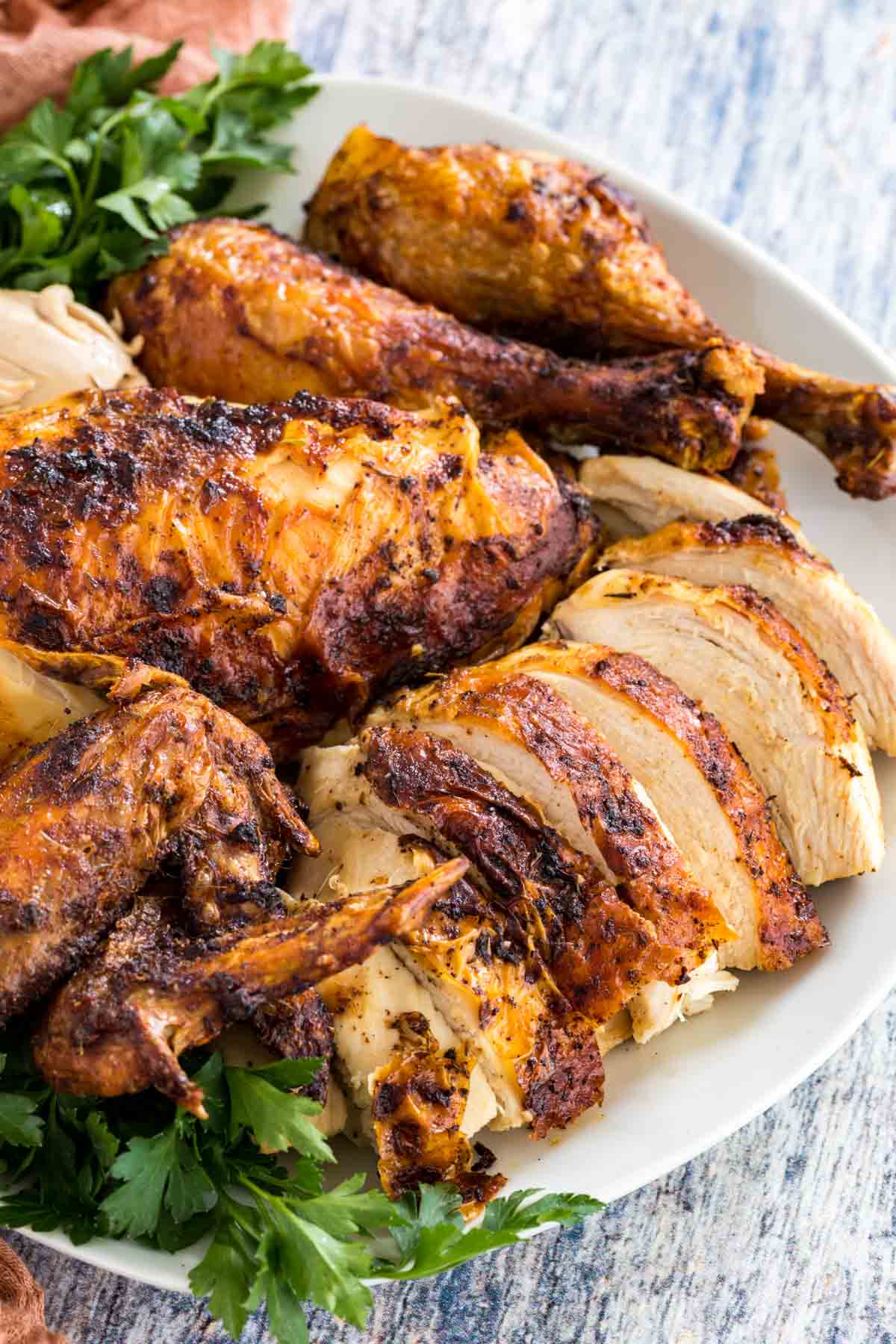 What You'll Need
Chicken recipes don't get more simple than a perfectly seasoned, perfectly roasted rotisserie chicken in the air fryer! Here's a quick run-down but be sure to scroll to the recipe card for specific amounts: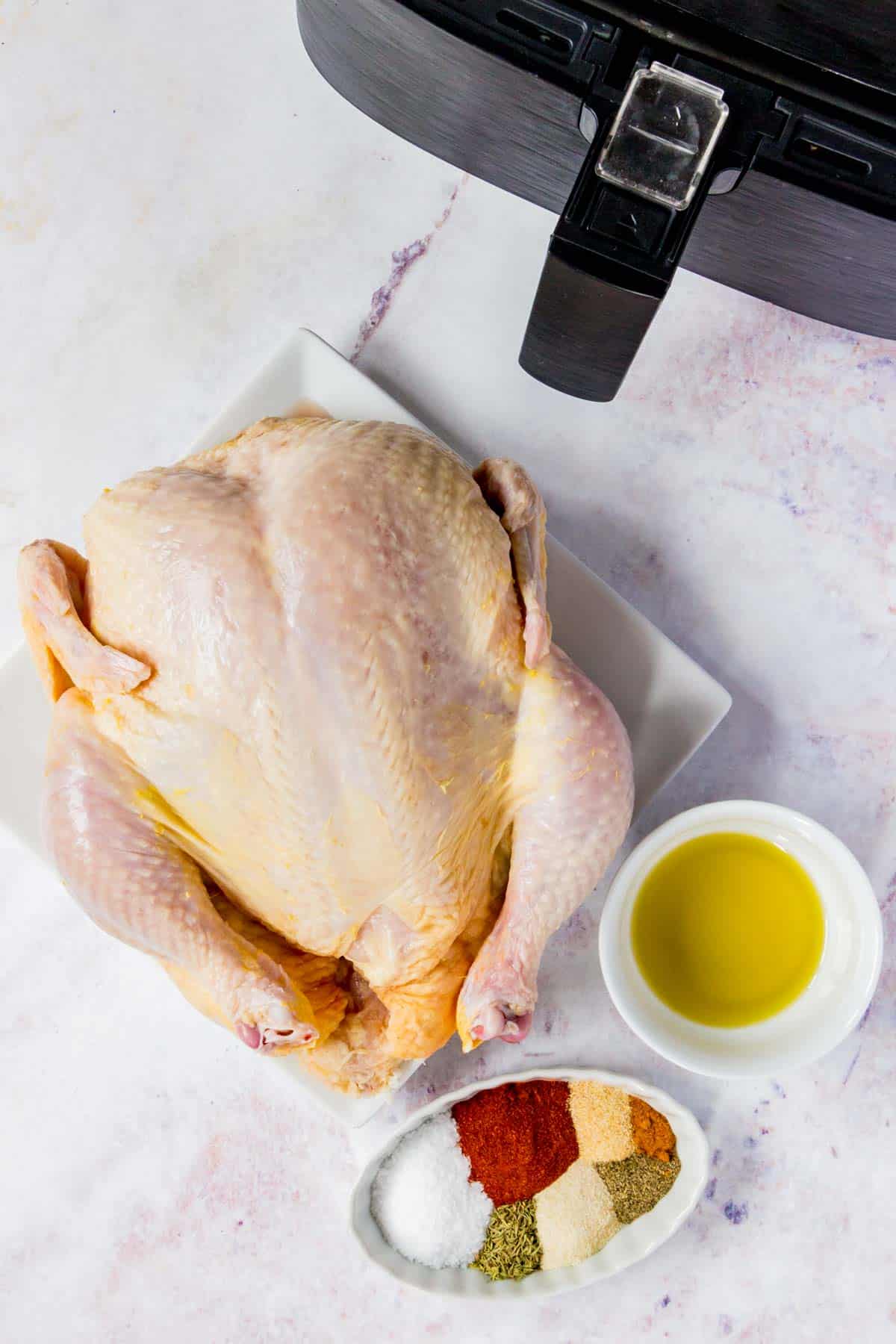 How to Make Air Fryer Rotisserie Chicken
Here's how to make your homemade rotisserie chicken in just a little over an hour:
Make a Rub: While your air fryer is preheating (some models don't require it), combine your herbs and spices in a bowl with olive oil.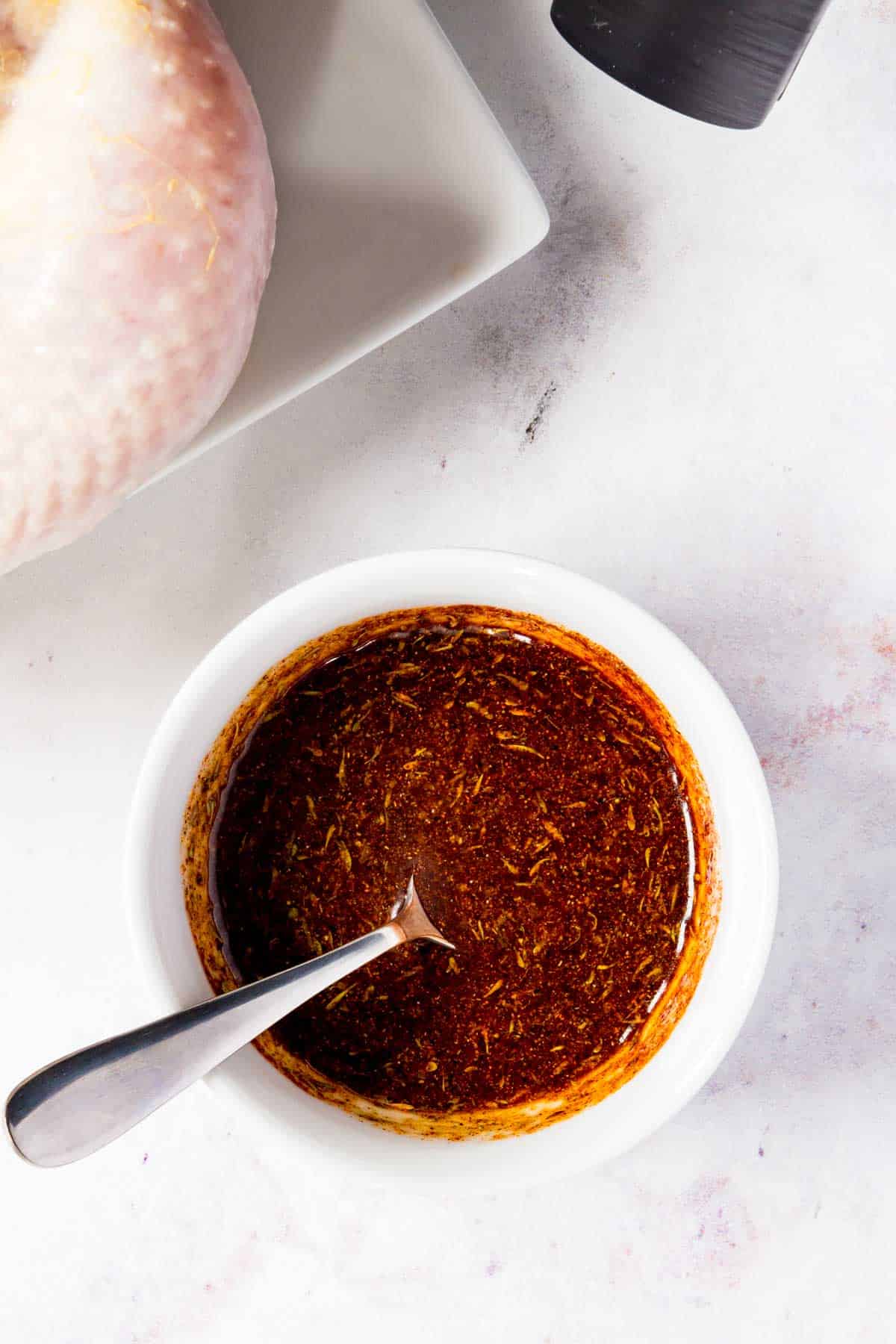 Prepare the Chicken: Remove any giblets and then pat the inside and outside of the chicken dry with a paper towel. Give the whole chicken a good rub over with your seasoned oil, inside and out. I even like to tuck a bit of the oil rub in between the chicken skin and meat layers for extra crispiness and flavor.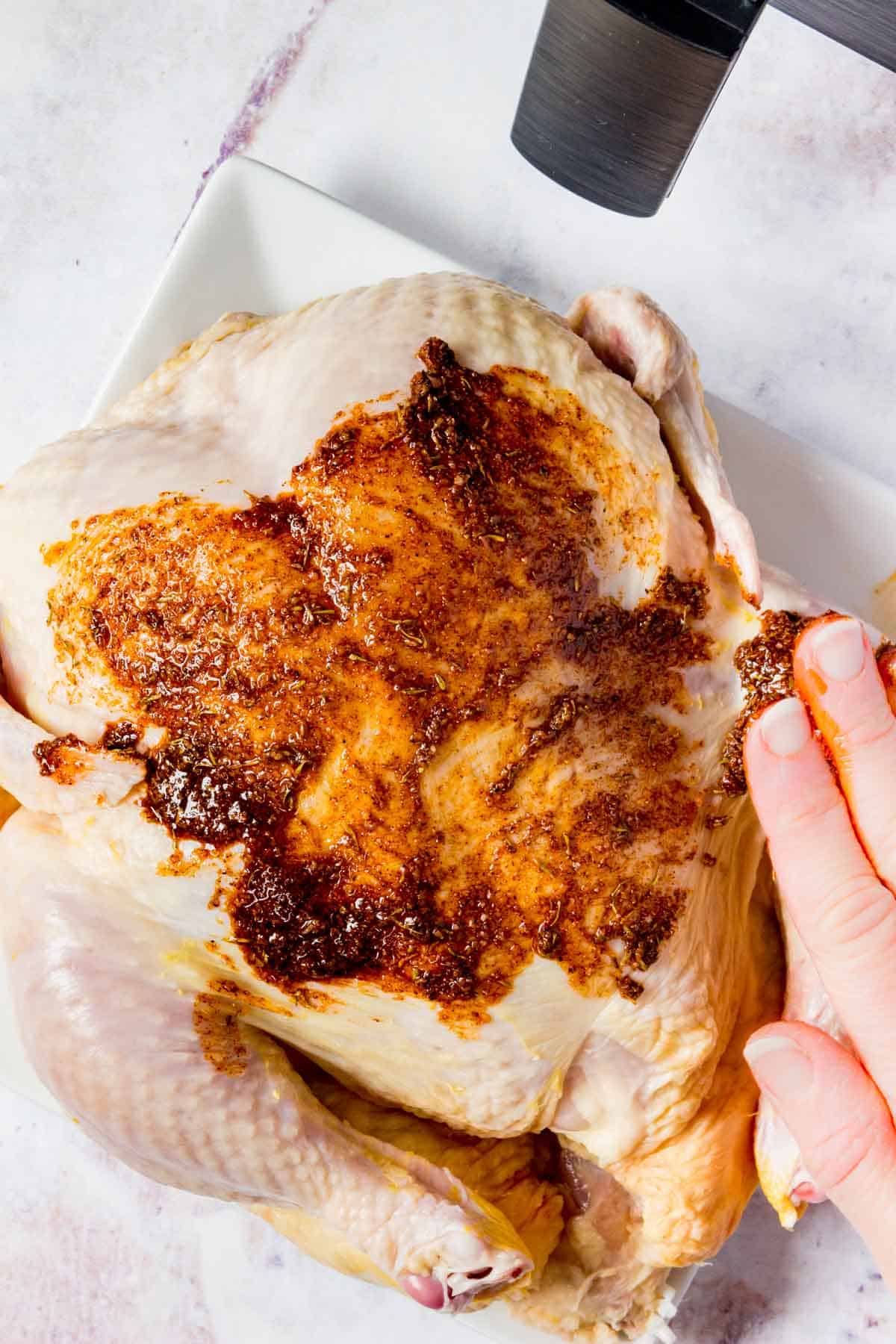 Cook: Place your prepped chicken into the air fryer, breast side down. Flip the chicken about half way through the cooking time. The exact cooking time will vary depending on your air fryer and the size of your chicken. Begin checking it after the first hour, and leave it in a bit longer as needed.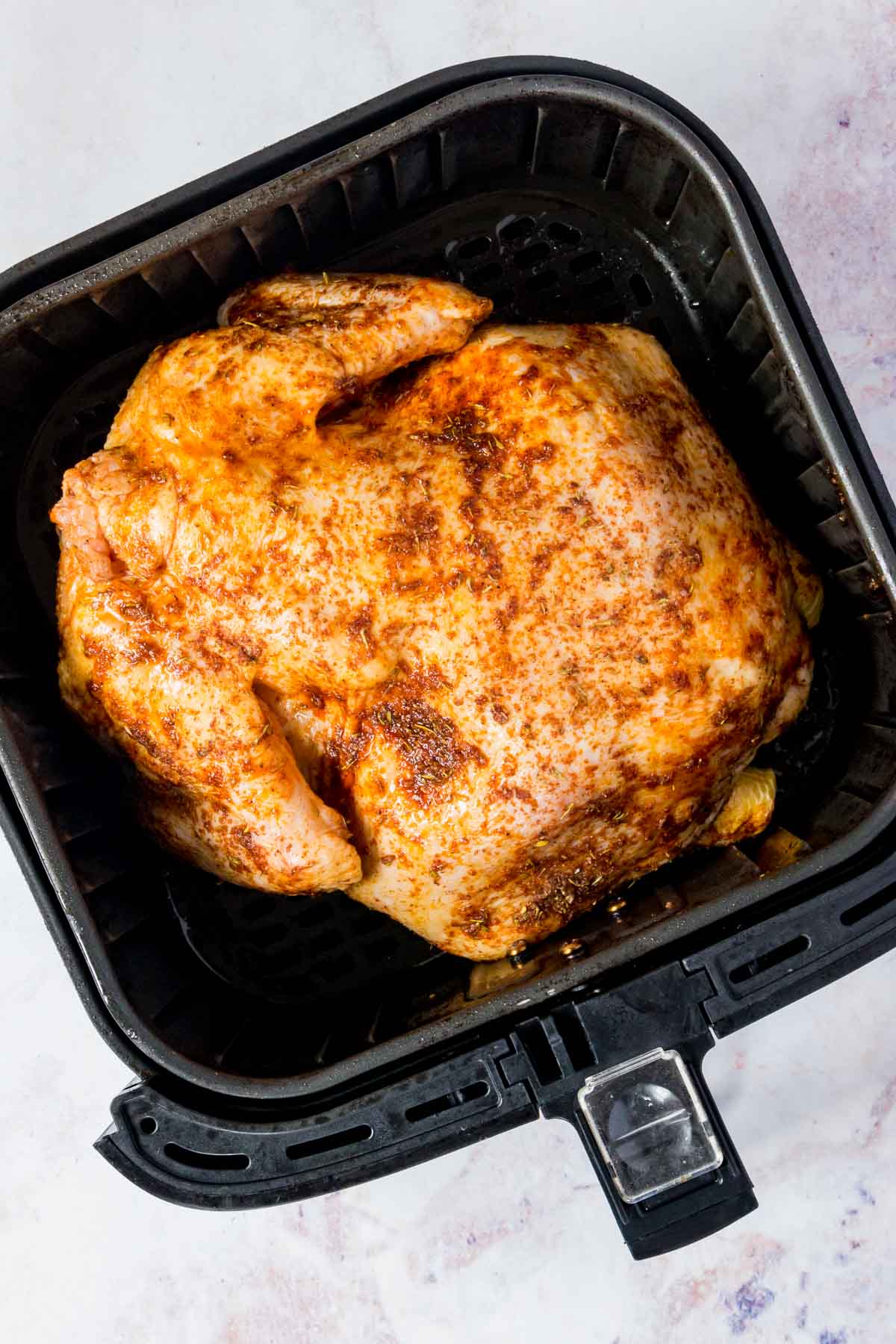 Let your chicken rest a little, and then carve and serve!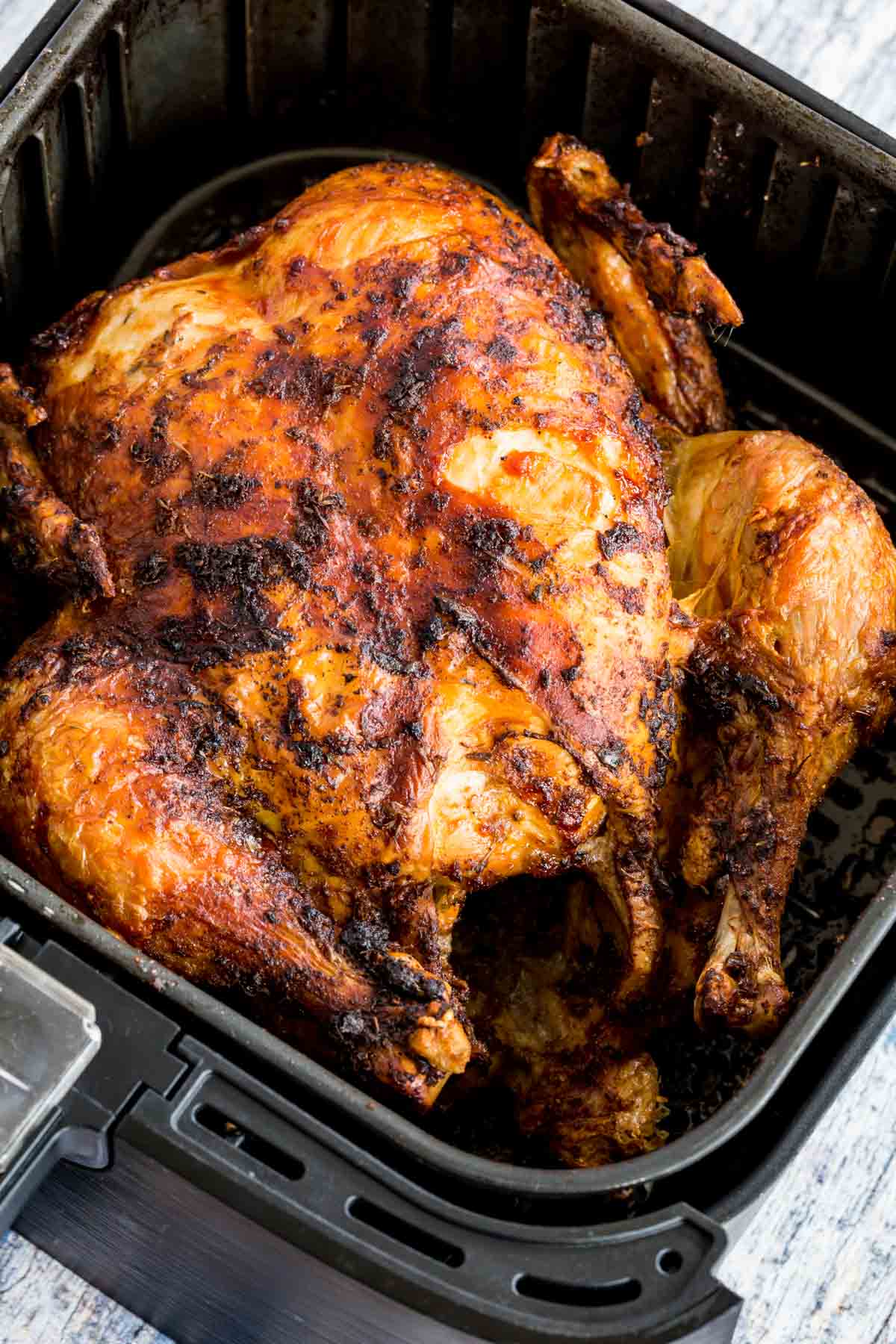 Tips for the Best Roast Chicken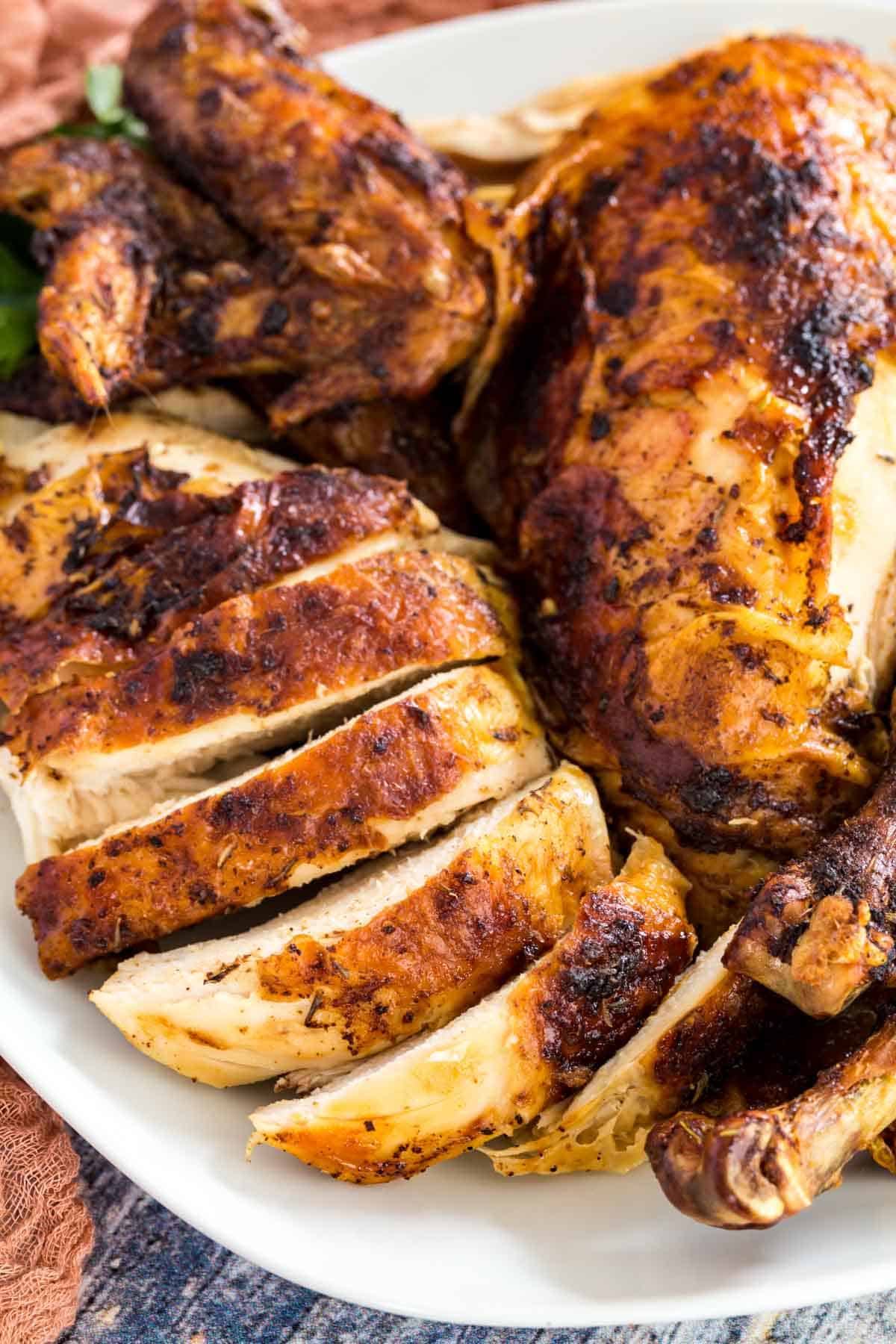 Variation Ideas
The beauty of making rotisserie chicken at home is that you can season it however you like! Here are just some ideas to change up your next chicken dinner: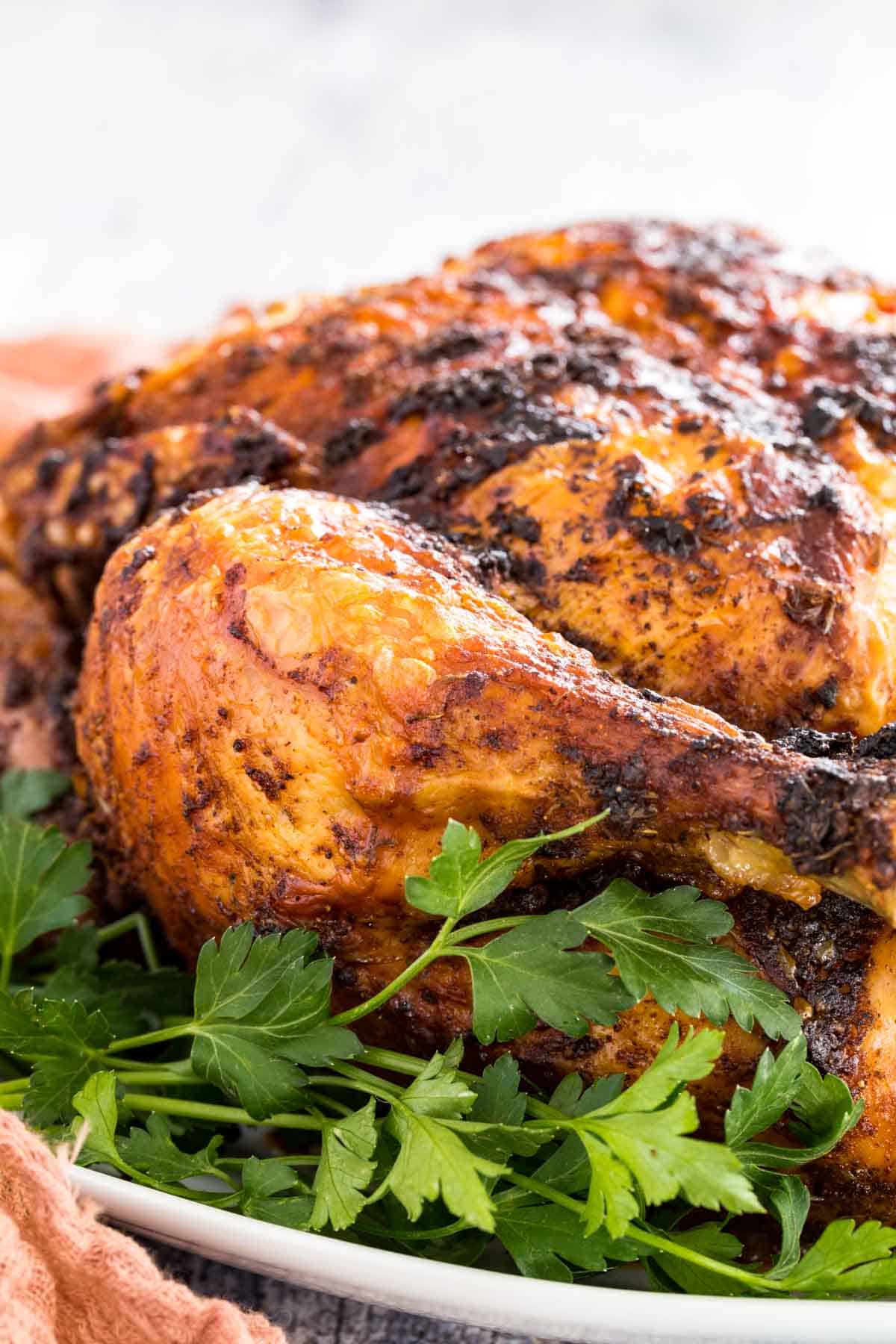 Serving Suggestions
Rotisserie chicken is an effortless main dish to serve alongside basics like Roasted Vegetables and French Fries or Baked Sweet Potato Fries on a busy weeknight. Or make it a meal…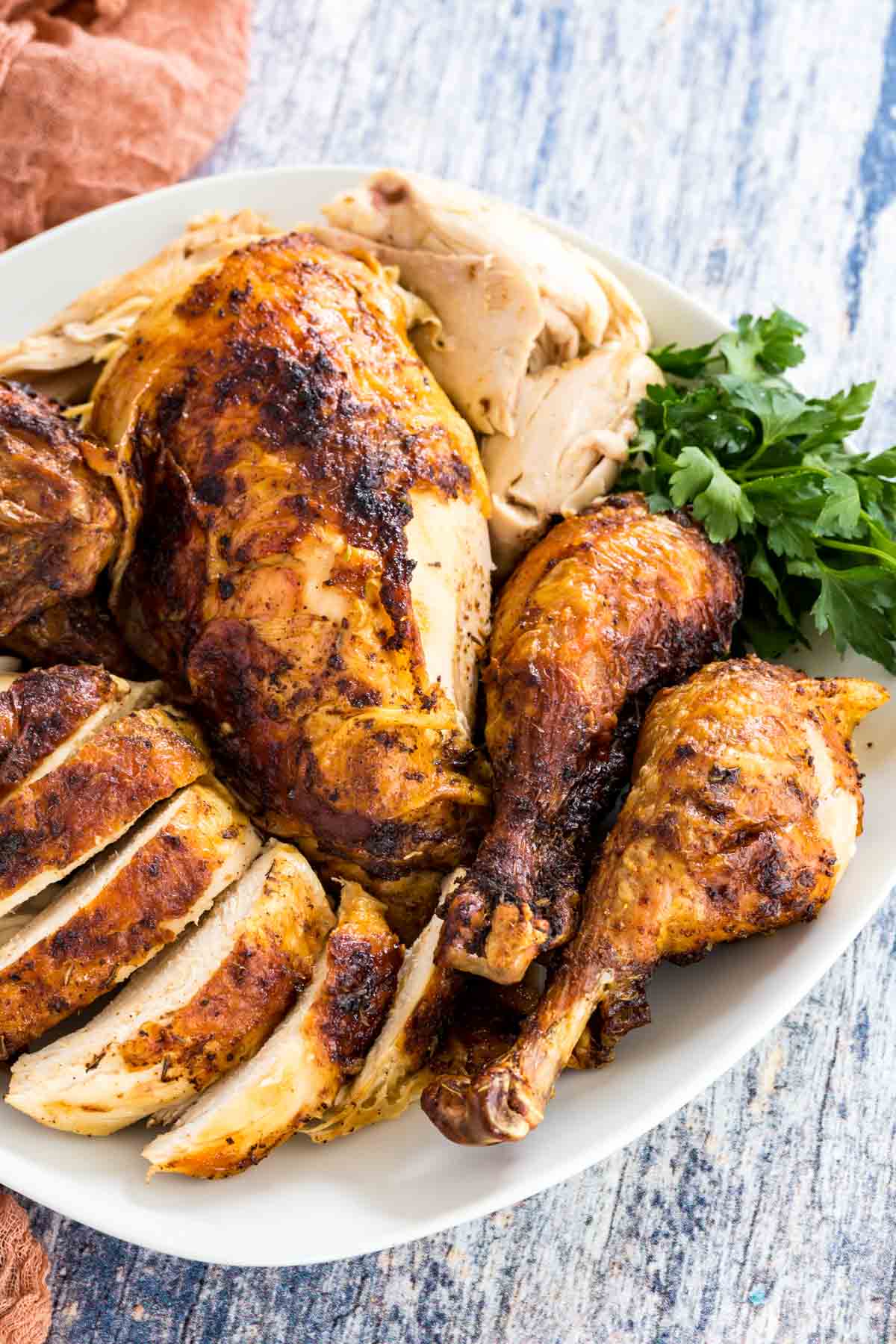 Storage and Reheating
Store any leftover chicken airtight in the fridge for up to 3 days. You can also freeze leftover chicken for up to 3 months (see below).
Reheat your chicken in the microwave, oven, or air fryer, or use the leftovers in tons of easy meals such as sandwiches, soups, stews, etc. See the next section for even more ideas!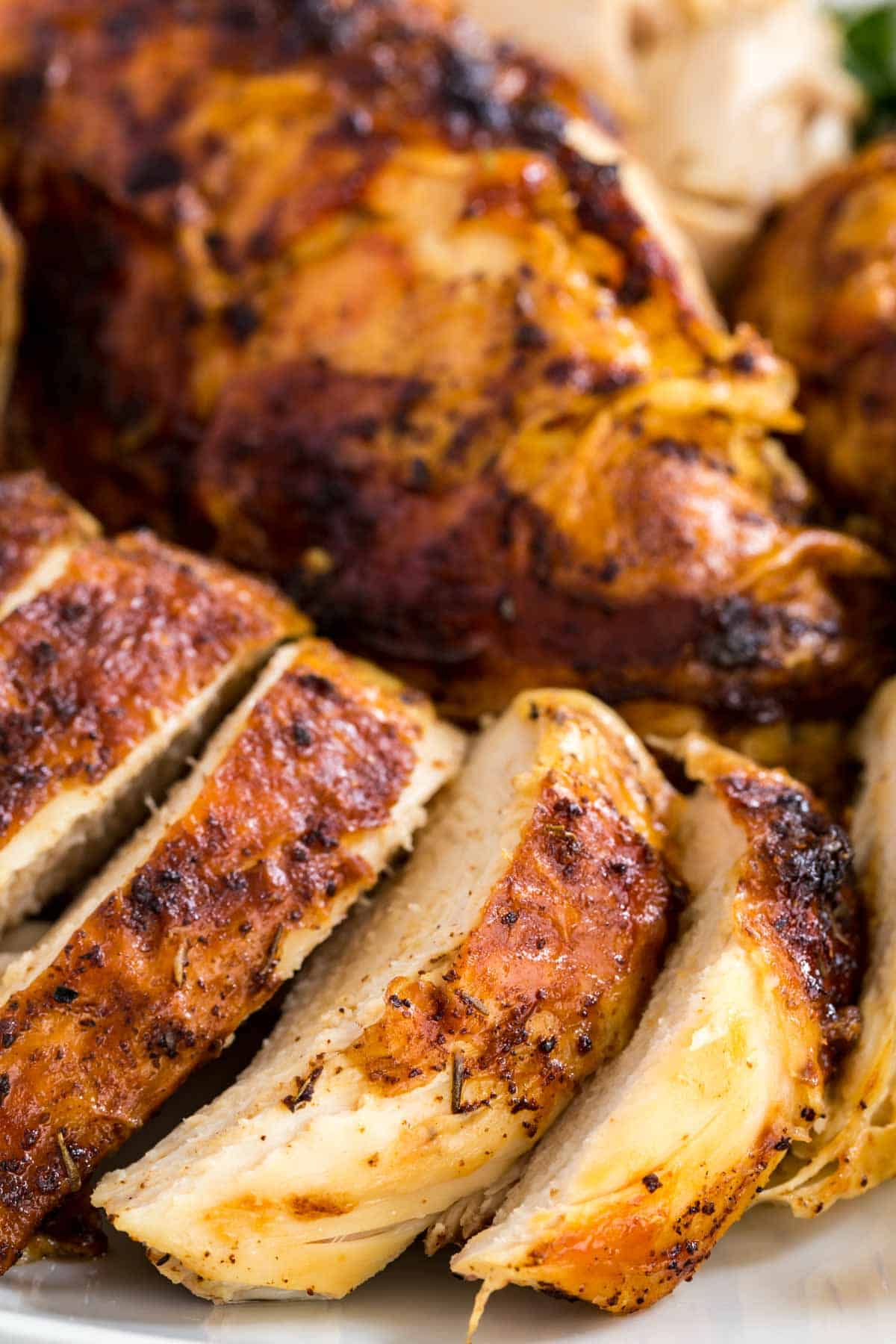 Ways to Use Leftovers
A whole chicken goes a long way in our household. I love to shred my rotisserie chicken leftovers to combine with salsa for an easy shortcut to Salsa Chicken! It's the perfect ingredient to throw into Chicken Tacos, Chicken Burrito Bowls, and Air Fryer Chicken Taquitos.
Another way to use chicken leftovers is in an easy homemade Chicken Salad to pile onto sandwiches, over greens, or into gluten free pita or wraps. Or try one of these other easy chicken recipes:
Check out my post on 35+ Easy Leftover Rotisserie Chicken Recipes for even more ideas!
Can I Freeze This?
Cooked rotisserie chicken can be frozen for up to 3 months! I love to air fry a whole chicken and then portion it out for easy meals, or freeze the whole cooked chicken for another occasion.
Seal the chicken in a freezer-safe bag or container to freeze, and thaw the chicken overnight in the fridge before reheating and serving.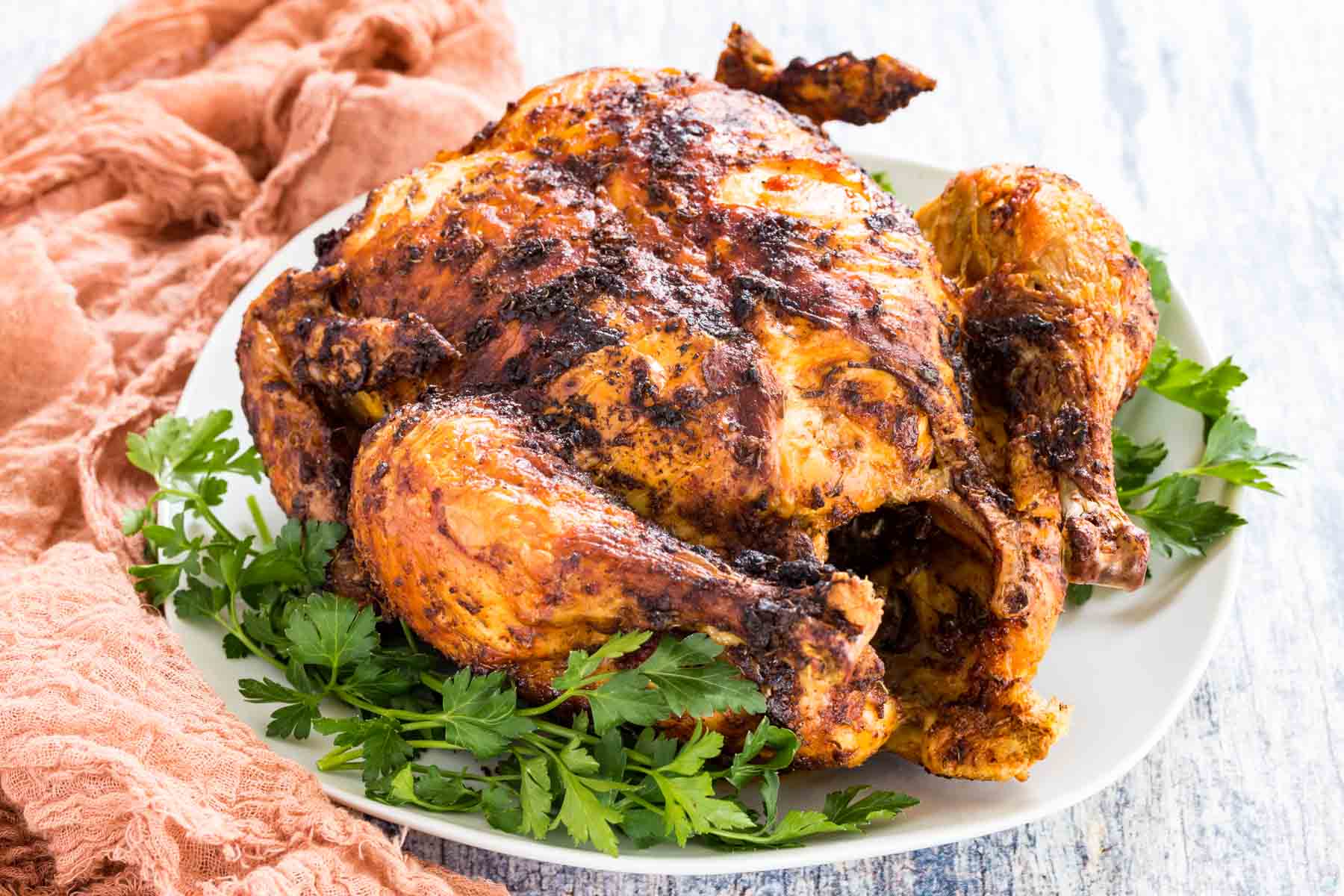 What Air Fryer Do I Recommend?
The Cosori XL 5.8 Qt air fryer has a regular spot on my countertop because I use it several times a week. It has a nice, large and deep basket. I can fit lots of veggies, potatoes, and yes, even this whole chicken!
$139.93
in stock
6 used from $142.45
as of June 10, 2023 11:52 am
Last updated on June 10, 2023 11:52 am
More Air Fryer Chicken Recipes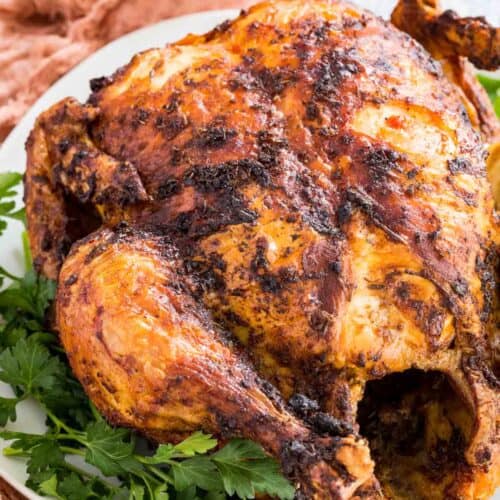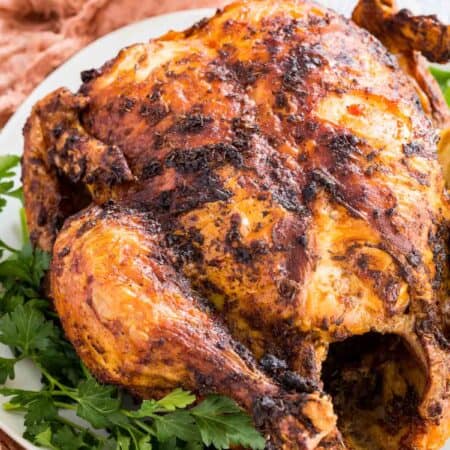 Air Fryer Rotisserie Chicken
This succulent Air Fryer Rotisserie Chicken is rubbed with a flavorful seasoning blend and roasted to perfection in just over an hour. This easy air fryer recipe is a great way to enjoy no-fuss, healthy rotisserie chicken made at home. Perfect for leftovers!
Instructions
Preheat the air fryer to 360°F.

In a small bowl, combine the oil, salt, paprika, thyme, onion powder, garlic powder, black pepper, and cayenne pepper. Stir it together until combined.

Remove the giblets from the chicken, if present and dry the inside and outside with a paper towel. Rub the seasoned oil all over the outside and inside of the chicken, pouring a little in between the skin and the meat, if desired.

Spray the air fryer with cooking spray and place the prepared chicken into the air fryer basket breast side down. Cook at 360°F for 30 minutes. Flip the chicken breast side up, and cook for an additional 30 minutes.

Check temperature, cook for an additional 10-20 minutes, if needed. Let rest 10 minutes before carving and serving.
Nutrition Facts
Air Fryer Rotisserie Chicken
Amount Per Serving
Calories 394
Calories from Fat 243
% Daily Value*
Fat 27g42%
Cholesterol 136mg45%
Sodium 128mg5%
Potassium 365mg10%
Carbohydrates 1g0%
Protein 34g68%
Vitamin A 600IU12%
Vitamin C 3mg4%
Calcium 23mg2%
Iron 2mg11%
* Percent Daily Values are based on a 2000 calorie diet.