This post may contain affiliate links. Read my disclosure policy.
Warm and hearty Gluten-Free Chicken and Orzo Stew is a comforting one-pot meal for a chilly evening. This easy and healthy homemade stew is a heartier riff on chicken and orzo soup, made on the stovetop from everyday ingredients.
Hearty and Gluten-Free Chicken Orzo Stew
I'm excited to share the most delicious gluten-free chicken and orzo stew to make when the weather gets chilly. It's a chunkier, heartier spin on a chicken noodle soup, made with tender gluten-free orzo pasta in a savory broth loaded with healthy veggies and shredded chicken.
This cozy homemade stew recipe is easy to throw together in a single pot on the stovetop, making it a perfect easy dinner or make-ahead meal. The pasta soaks up even more flavor the longer it's kept in the broth, so the leftovers are just as good!
Tuck into a bowl of gluten-free chicken orzo stew the next time you're feeling the winter blues for an instant cold-weather pick-me-up.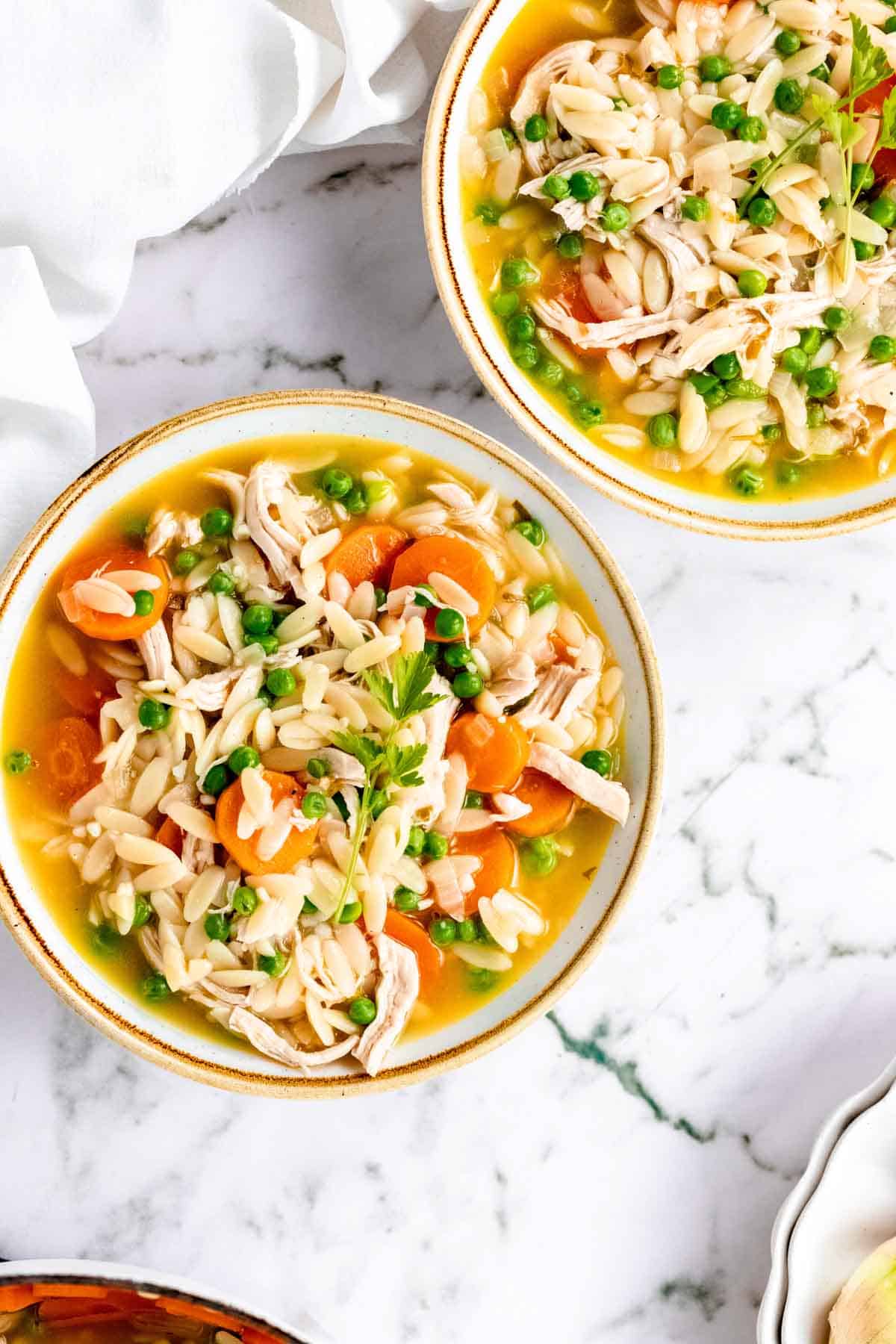 What Is Orzo? Is Orzo Gluten-Free?
Orzo might look a lot like rice, but it's actually a type of small Italian pasta. Traditional orzo pasta is made from semolina or wheat flour and isn't gluten-free.
Nowadays, you'll find variations of orzo made with gluten-free flour, that are safe for gluten-free diets. Gluten-free orzo is found alongside other gluten-free pasta in most major grocery stores, or you can order it online.
$14.99
in stock
6 new from $8.55
as of Dec 7, 2023 2:13 am
Last updated on Dec 7, 2023 2:13 am
What's a Good Gluten-Free Substitute for Orzo?
If you struggle to find gluten-free orzo where you are, all isn't lost! You can still make this delicious chicken stew with gluten-free alternatives like Arborio rice, quinoa, millet, or another type of small, gluten-free pasta.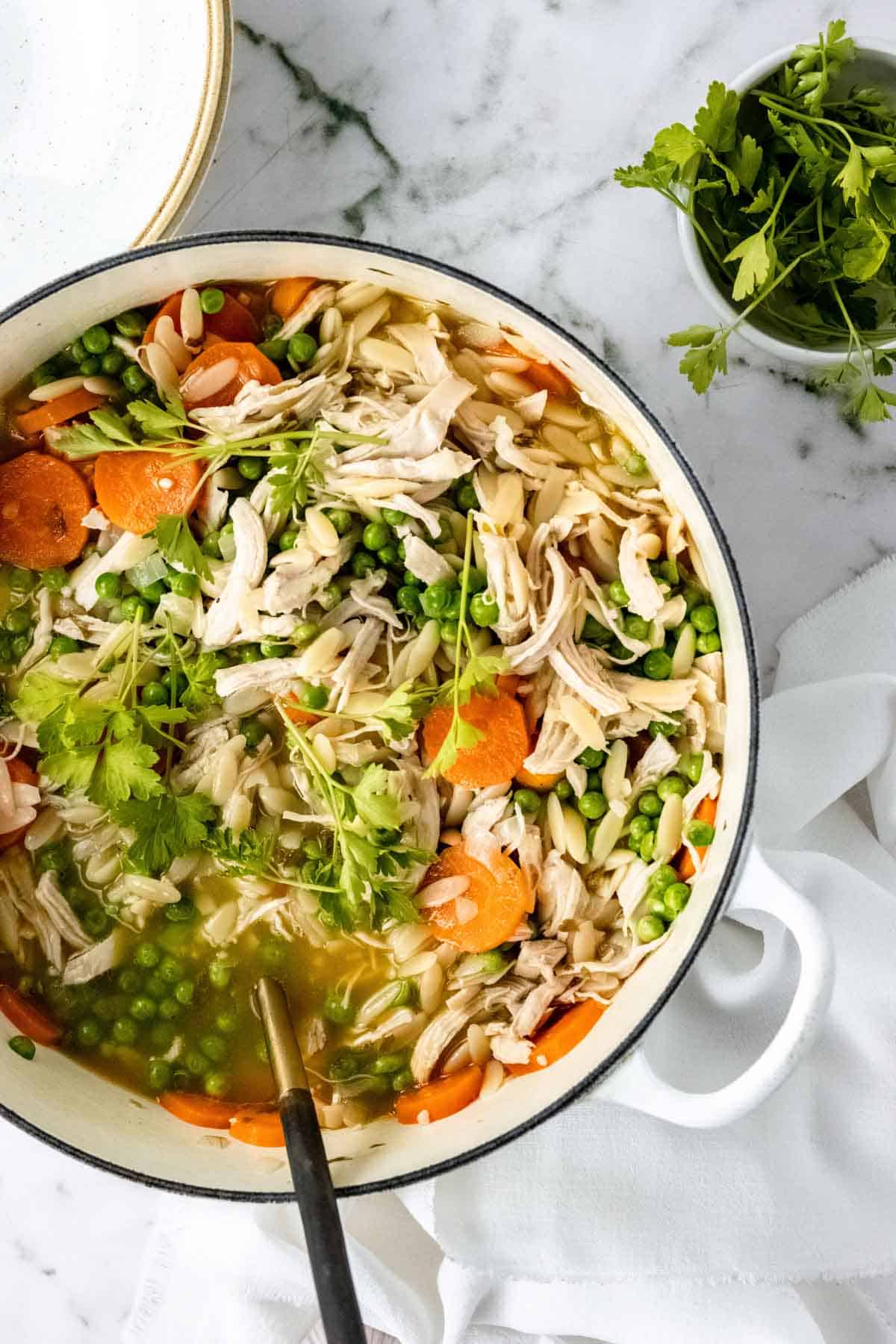 What You'll Need
This thick and chunky version of chicken orzo soup only calls for a few basic ingredients (that I'll bet you already have in your kitchen!). Below you'll find a brief overview of what you'll need. Don't forget to refer to the recipe card with the full recipe details:
Carrots, Onion, and Garlic: The perfect combination of chopped veggies for a delicious, aromatic flavor base in this stew.
Chicken Broth: Use a good-quality, low-sodium chicken broth or stock. Alternatively, your preferred vegetable broth will also work.
White Wine: Choose a dry white wine, like a sauvignon blanc or chardonnay. You don't need to spend a lot of money on the bottle you use to cook with, but the better quality wine it is, the better the flavor of the stew will be. Alternatively, if you'd prefer to make this recipe without alcohol, use equal parts chicken broth instead.
Frozen Peas: Peas add an appealing pop of green to the stew, as well as additional veggies.
Chicken: This chicken orzo stew is a great way to use up cooked chicken in the fridge. I'll often make a batch of soup whenever I have leftover Air Fryer Rotisserie Chicken.
Gluten-Free Orzo: If you're not making this recipe gluten-free, feel free to use regular orzo pasta.
Fresh Parsley: I love including a sprinkle of fresh, finely chopped parsley in my orzo soups and stews. It's totally optional, but it does bring some nice additional flavor. You can use another herb if you prefer, like fresh basil, thyme, or oregano.
Salt and Pepper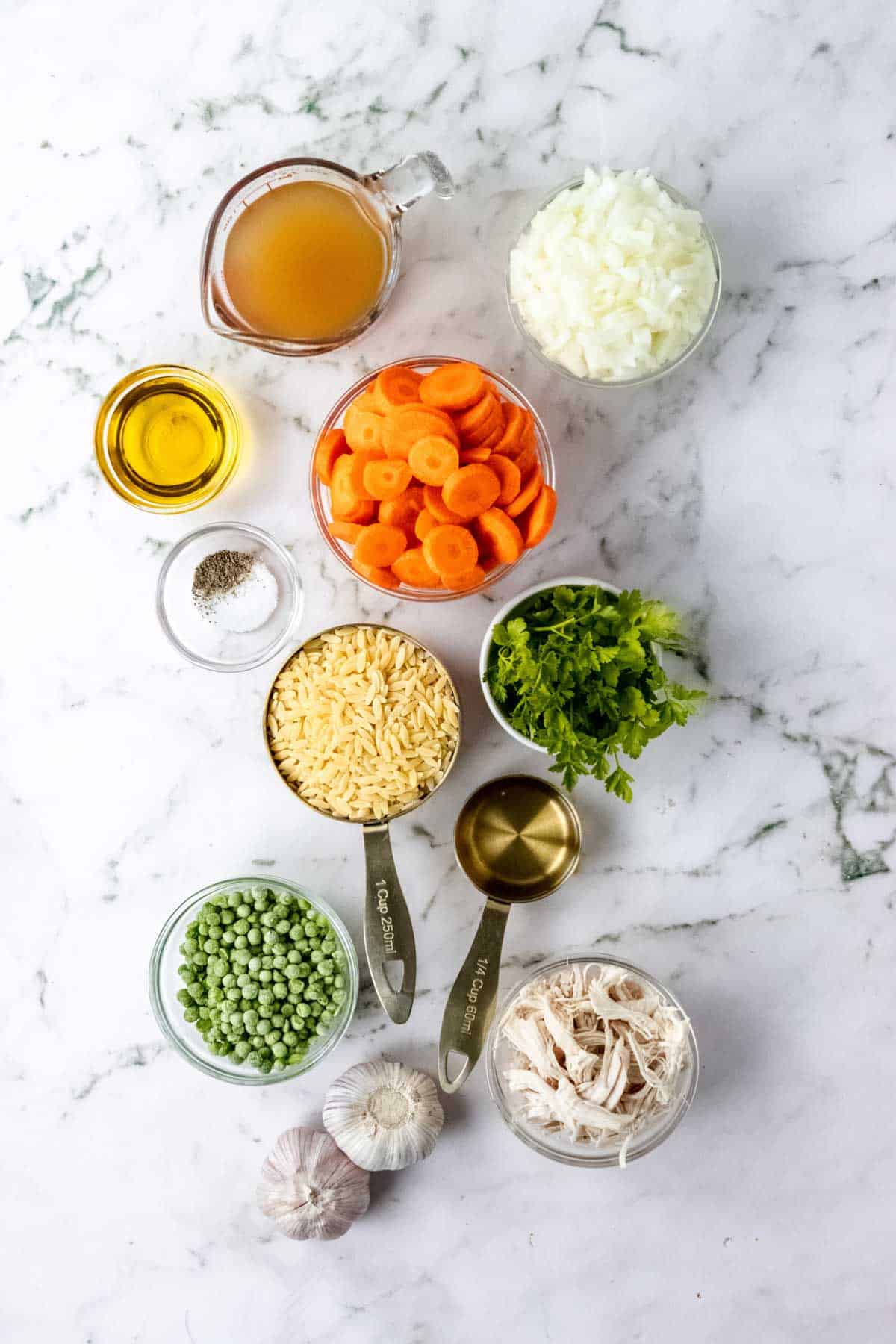 How to Make Chicken Orzo Stew
You can make this one-pot stew on the stovetop in a little over an hour, which makes it a great option for cozy, healthy lunches and dinners. Let's make some chicken orzo stew!
Saute the Veggies: Begin by sauteing the carrots and onions in a large soup pan with olive oil. After a couple of minutes, stir in the garlic, and continue to cook until the veggies are softened.
Add Wine: Afterward, deglaze the pot with white wine, scraping the bottom of the pot as you go. You'll cook off the wine for 10 minutes, or until it's evaporated.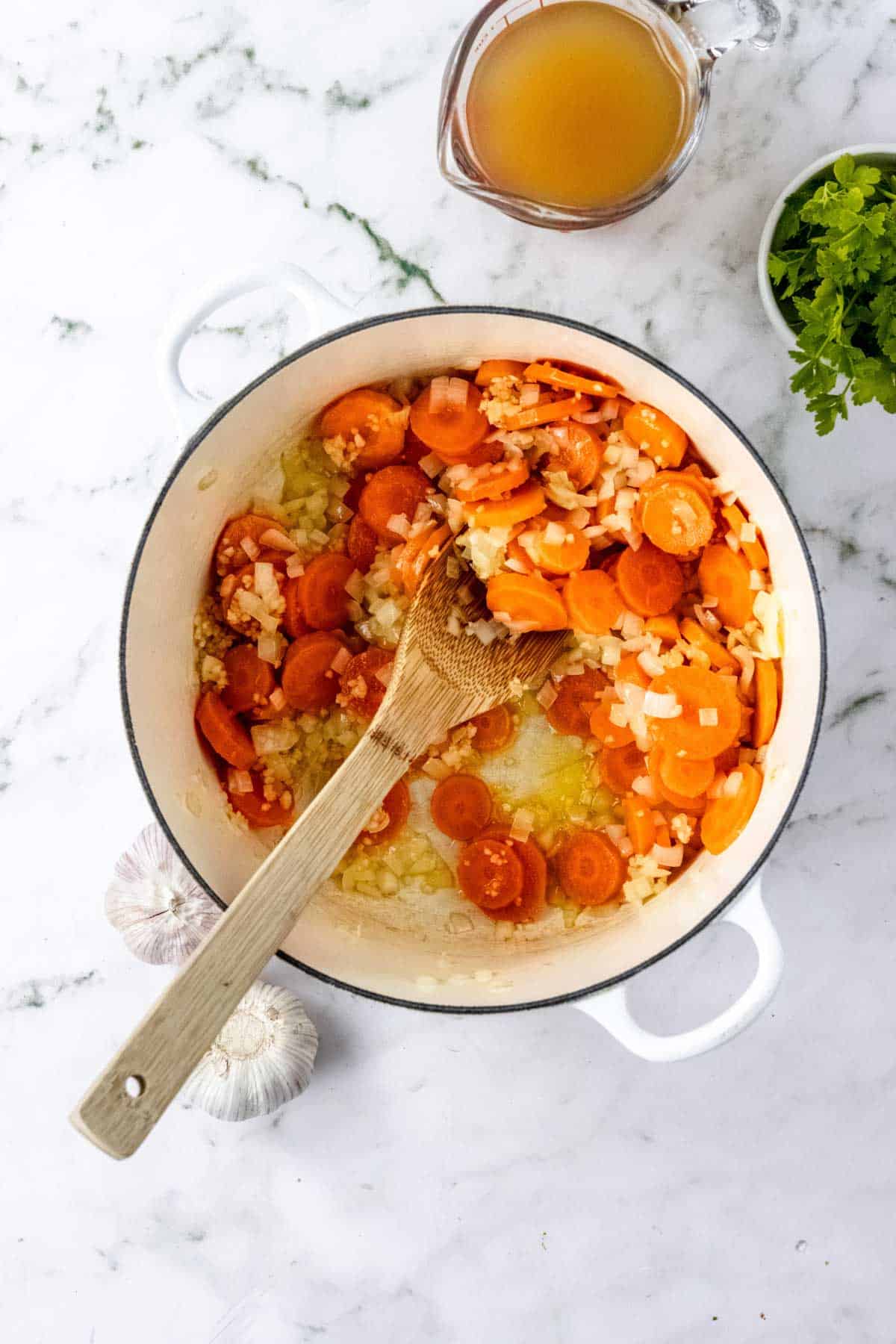 Add Broth: Next, stir in the broth, followed by the cooked chicken and parsley. Season the stew with a pinch of salt and pepper (or to taste), then bring everything to a slow boil.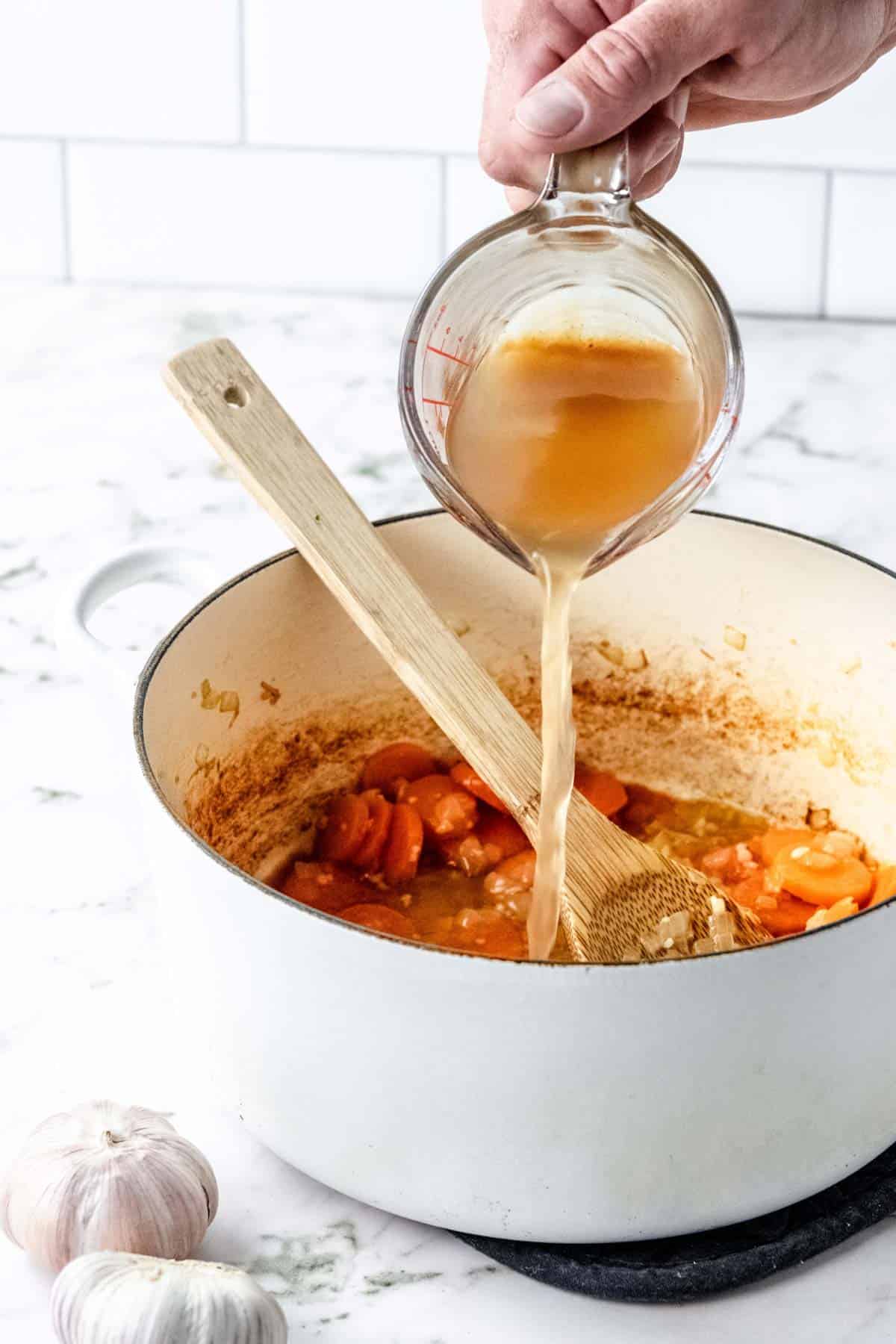 Add Orzo and Cook: Add the orzo to the boiling stew, cover the pot, and simmer until the pasta is al dente. You can refer to the package instructions to get an idea of the timing – it usually takes between 10-15 minutes.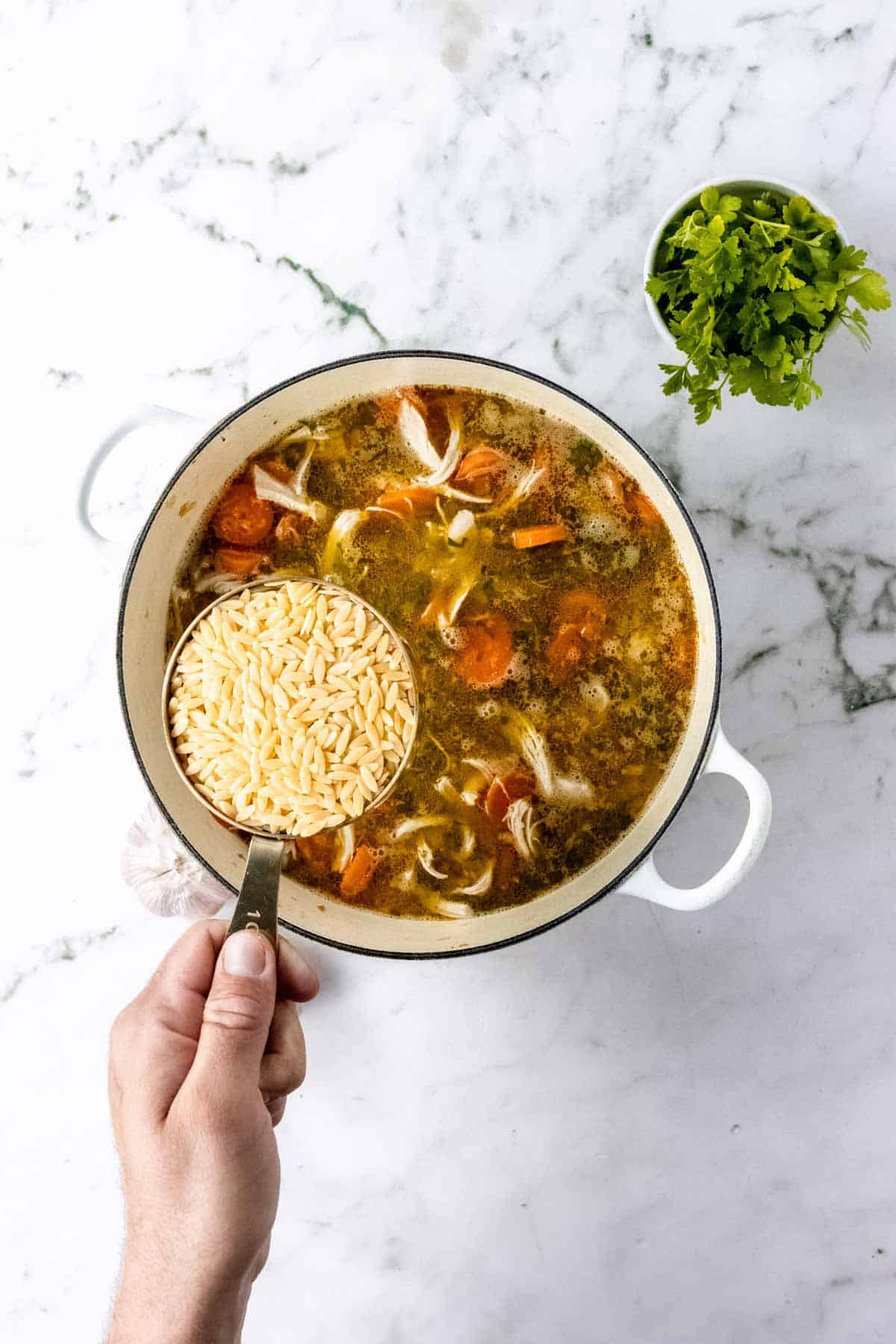 Finish and Serve: When the orzo is tender, add in the frozen peas. At this point, if you notice that the orzo is too thick for your liking, pour in a little water or broth and season to taste. After 5 minutes, your stew is ready to serve! Give it another sprinkle of fresh parsley if you'd like, and enjoy a hot bowl of homemade, chunky stew. See below for serving suggestions!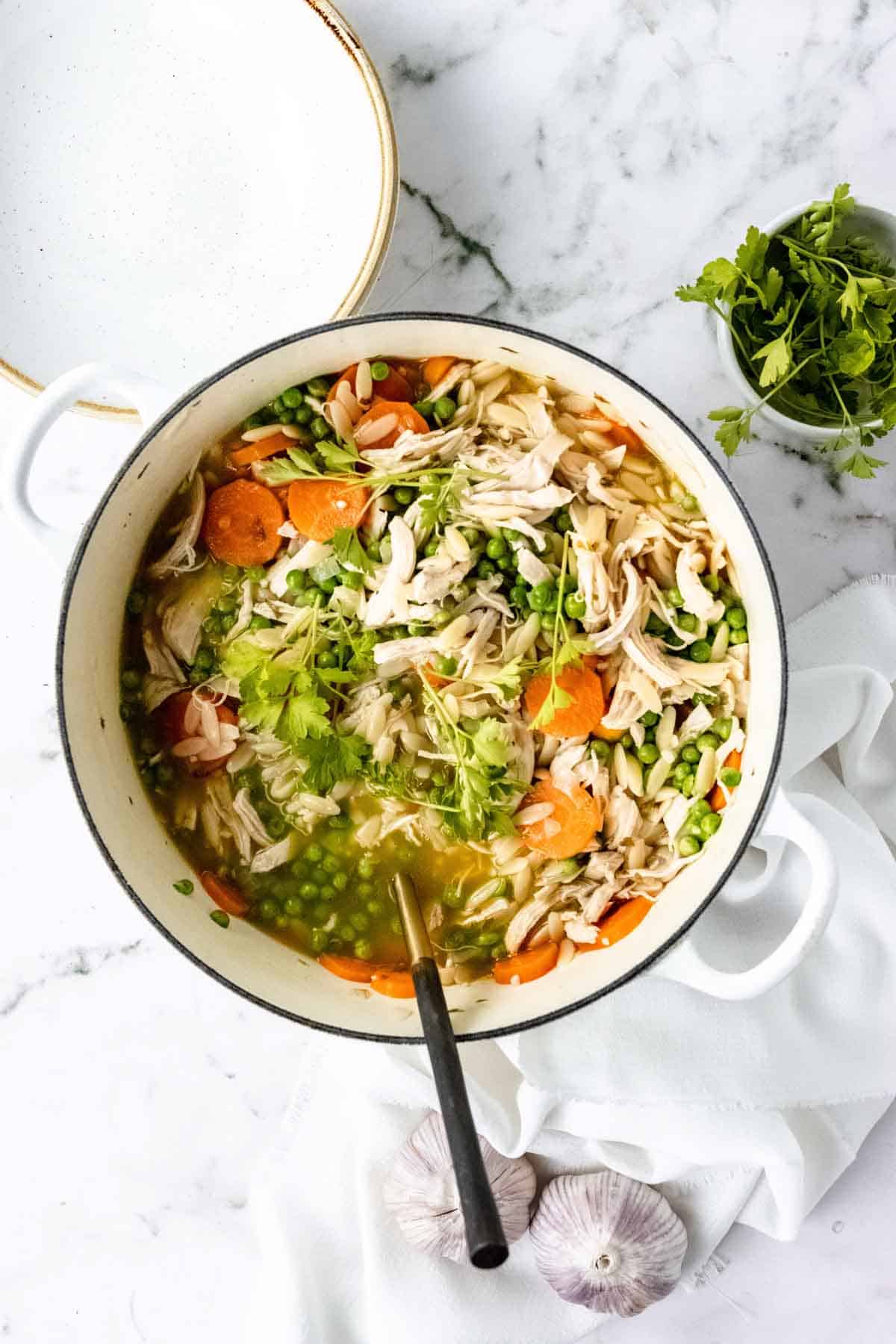 Tips for Success
Chicken orzo stew is an incredibly low-maintenance recipe, but here are some additional tips for making this cozy stew a success:
How do you keep orzo from getting mushy? The trick is to not overcook it. Since you boil the gluten-free pasta right in the stew, make sure to cook it until it's just al dente. This leaves a bit of wiggle room for the orzo to continue to soften while it sits in the soup, without turning to mush.
Double the recipe. I love making a BIG batch of soup ahead of time to store or freeze. It's easy to double the ingredients and enjoy cozy bowls of homemade chicken orzo stew all week long. Or, freeze it – see the section below for details.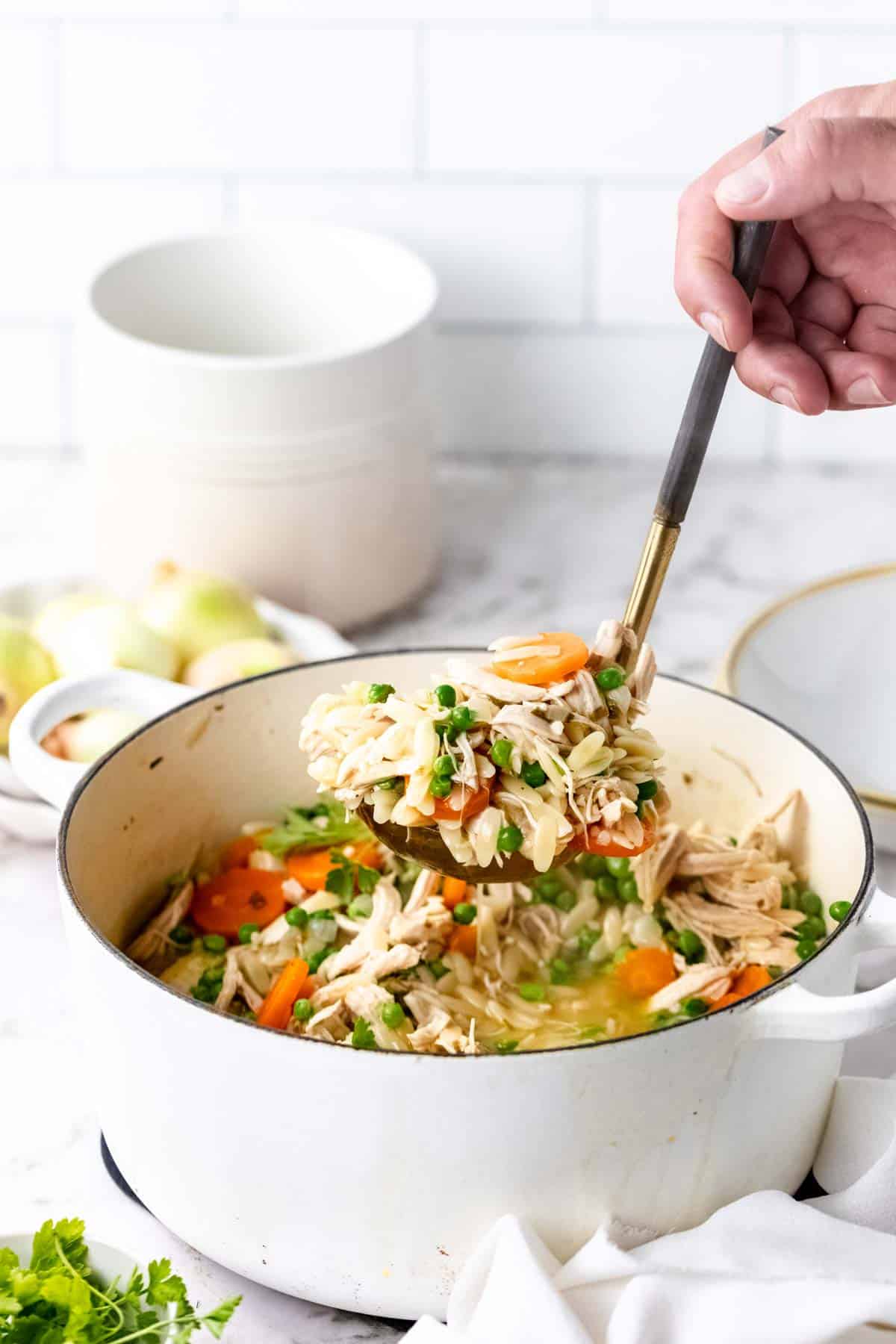 Easy Add-Ins and Variations
Like any homemade soup or stew recipe, this chicken stew is easy enough to make your own with add-ins and ingredient variations.
Make an easy lemon chicken orzo stew by squeezing fresh lemon into the soup before serving (adding lemon is also a great way to include extra cold-fighting vitamin C!). Or, for a richer flavor, grate in fresh parmesan cheese.
Here are more easy add-ins to try:
Other Veggies: Include diced zucchini, tomatoes, bell peppers, broccoli, kale, butternut squash, or spinach.
More Protein: In addition to or in place of chicken, stir in cooked and sliced Italian sausage, or diced ham.
Herbs: Fresh or dried basil, oregano, tarragon, thyme, or Italian seasoning are all good options that complement the stew.
Vegetarian: Use vegetable broth and swap the cooked chicken for cooked tofu (or leave it out altogether) for an easy vegetarian orzo soup.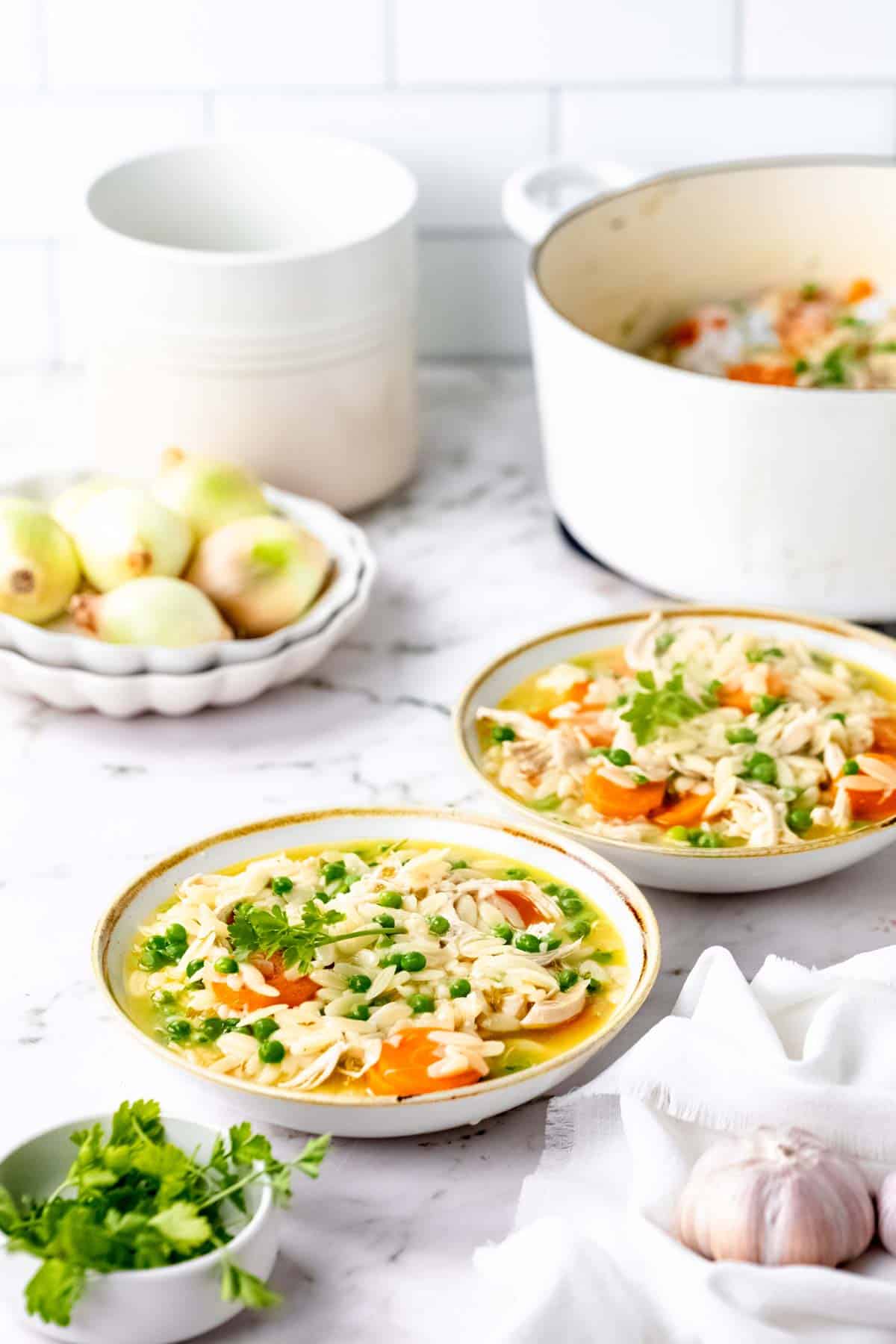 Make It a Meal
This chicken orzo stew is a filling light meal on its own, and just as wonderful to serve with more easy sides. We'll enjoy a hearty bowl of soup alongside a fresh Farmhouse Salad or Romaine Wedge Salad for a bistro-style dinner or lunch. Or, for something stick-to-your-ribs, serve a bowl with a side of Gluten Free Breadsticks.
As a starter, chicken orzo stew makes a wonderful lead-in to a meal of Slow Cooker Steak Pizzaiola or Beef Wellington Braciole paired with Lemon Parmesan Roasted Broccoli or Oven-Roasted Asparagus.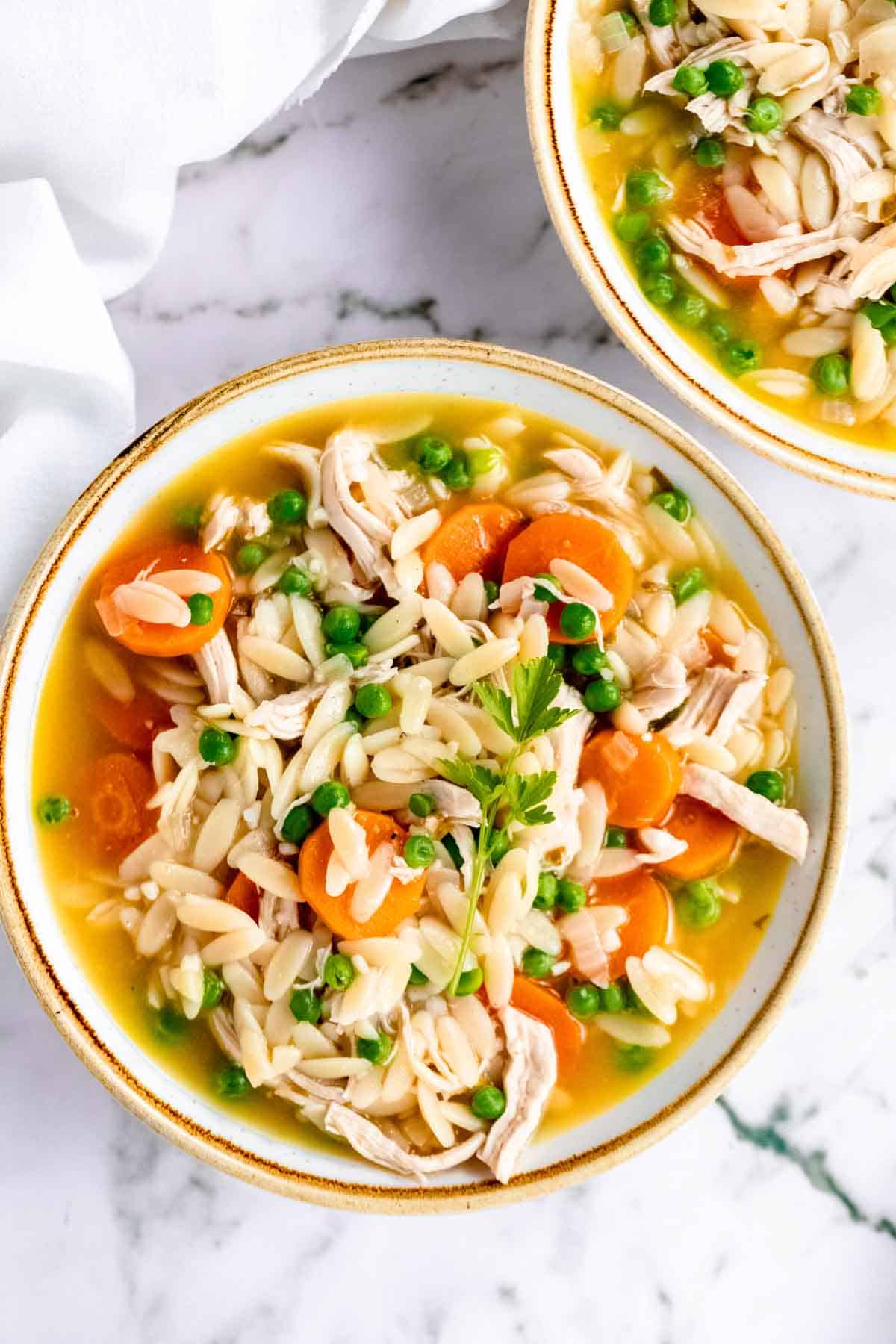 Storing and Reheating Leftover Stew
This chicken orzo stew recipe makes great leftovers. Store the stew airtight in the fridge for up to 3-4 days. It's perfect for reheating on the stovetop or in the microwave.
Note that the stew does thicken as the orzo pasta absorbs more of the broth. You can add additional water or broth before reheating and serving if you'd like to loosen the stew up a bit.
Can I Freeze Chicken Orzo Stew?
Yes! This gluten-free stew recipe freezes well for easy long-term storage and reheating. Simply store the chicken orzo stew airtight and freeze it for up to 3-4 months. Defrost the soup in the fridge before reheating it as usual.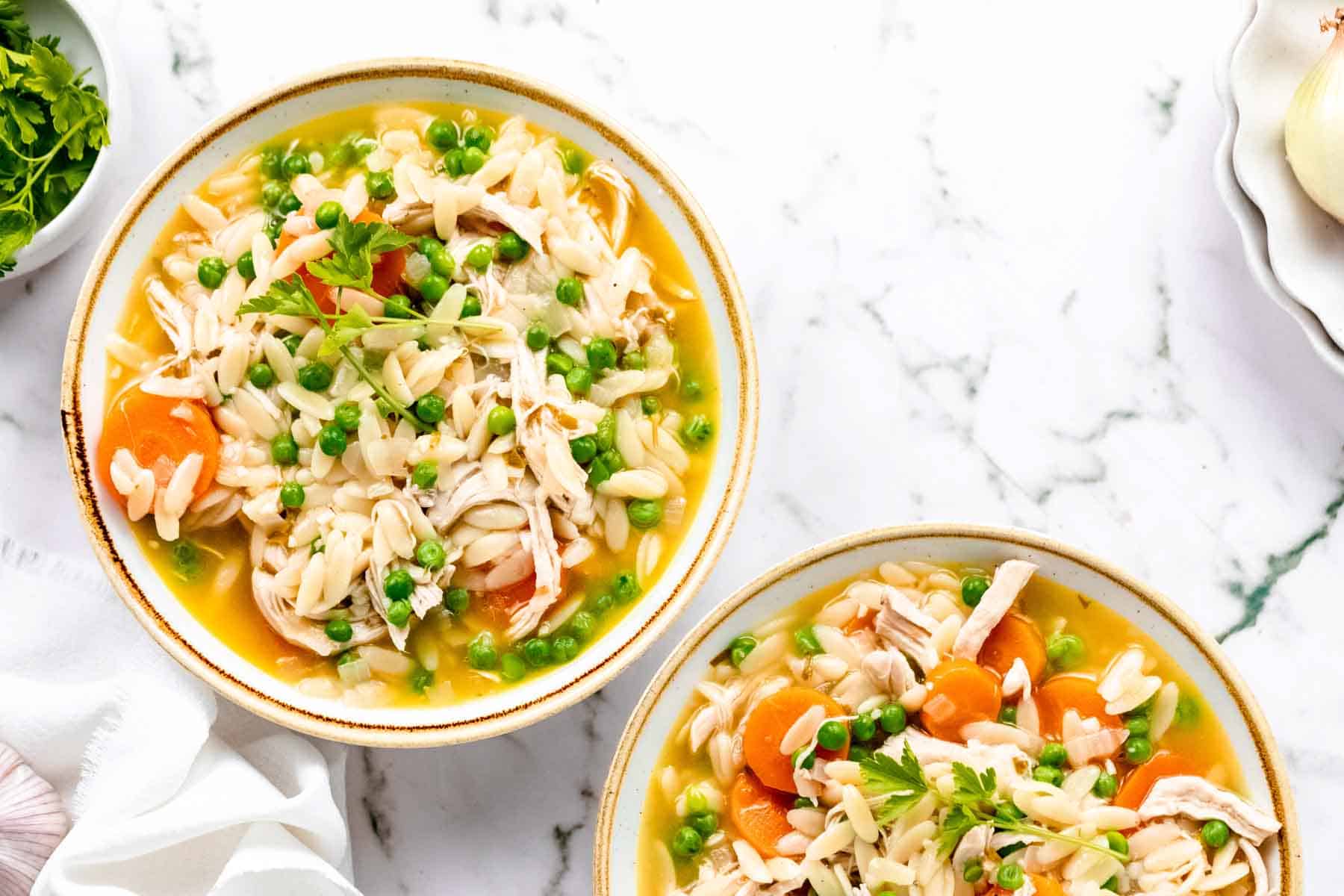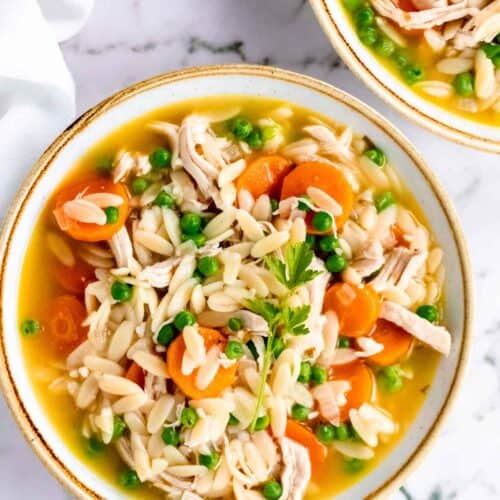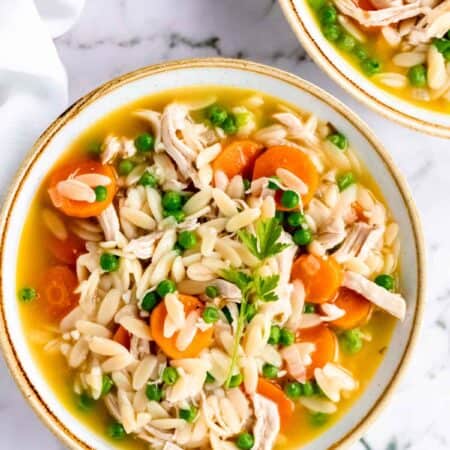 Gluten-Free Chicken Orzo Stew
This warm and hearty Gluten-Free Chicken Orzo Stew recipe will warm up your soul in chilly weather. It's quick and easy to throw together in one pot, and the leftovers are just as good!
Ingredients
4

carrots,

chopped

1

large

onion,

chopped

2

cloves

garlic,

minced

2

tbsp

olive oil

4

cups

chicken broth

1/2

cup

white wine

or additional chicken broth

1

cup

frozen peas

2

cups

chopped cooked chicken

1

cup

uncooked gluten free orzo

3

tbsp

minced fresh parsley

salt and pepper
Instructions
In a large soup pan heat the carrots, onions, and olive oil on medium heat. Saute for 2-3 minutes then add in the garlic.

Mix around sautéing the veggies for 10 minutes. Slowly add the in the wine scraping the bottom of the pan. Cook for another 10 minutes until wine is gone.

Add the broth, parsley and chicken, season with salt and pepper and bring to a slow boil and then add the orzo. Cover and let simmer on low for approximately 10-15 minutes, or until the orzo is tender but still firm (adjust cooking time based on package directions, as needed). Add in the peas and check the orzo, if it's too thick (to your liking) add a little water if not season with more salt and pepper and cook for 5 minutes.

Sprinkle with fresh parsley and serve hot!
Notes
This serves great as leftovers but be aware it becomes thicker, add broth or water if you desire, I liked mine as is!
Nutrition Facts
Gluten-Free Chicken Orzo Stew
Amount Per Serving (1 g)
Calories 310
Calories from Fat 99
% Daily Value*
Fat 11g17%
Cholesterol 35mg12%
Sodium 641mg27%
Potassium 529mg15%
Carbohydrates 30g10%
Protein 17g34%
Vitamin A 7180IU144%
Vitamin C 27.7mg34%
Calcium 52mg5%
Iron 1.9mg11%
* Percent Daily Values are based on a 2000 calorie diet.