This post may contain affiliate links. Read my disclosure policy.
Slow cooker turkey chili with pineapple and black beans is hearty and healthy comfort food that will satisfy a hungry family. And the perfect blend of sweet heat will surprise your tastebuds. Sure to be one of your favorite crock pot recipes, it has simmered-all-day without all the work, and it's gluten free.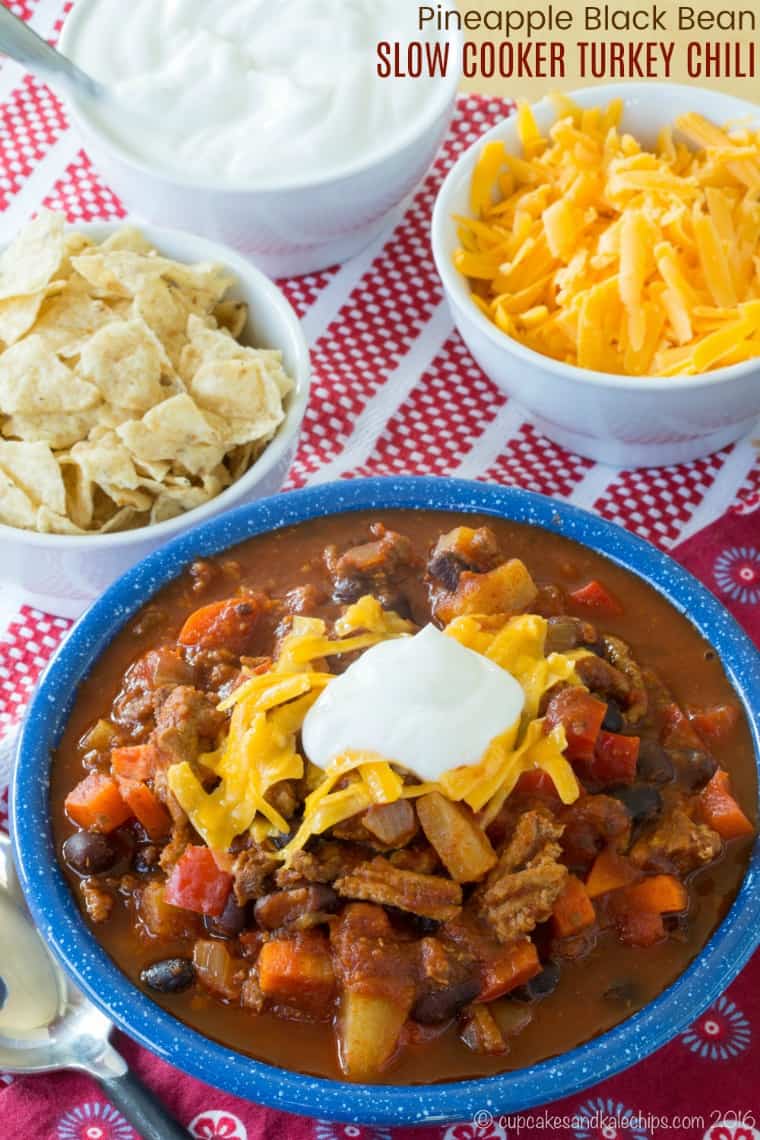 Disclosure: I'm partnering with Jennie-O to bring you this recipe. As always, all opinions are my own.
Pineapple Black Bean Crockpot Turkey Chili Recipe
Certainly, I am a huge fan of a hearty, long cooking chili recipe loaded with ground beef and stew meat and kidney beans. But when it comes to the preparation time and richness of the dish, I'll save the World's Best Chili for the weekends. With simple preparation and a shorter ingredient list, this healthy turkey chili is more what I consider "weeknight chili".
Add this crockpot chili recipe to your dinner menu, especially for those crazy nights. With just a little bit of preparation. you can walk in the door to a delicious and satisfying pot of deliciousness. Your family will love to dig into a bowl of this ground turkey chili. It's loaded with sweet and spicy flavors, as well as healthy protein, fiber, and vegetables.
Making slow cooker turkey chili is super easy, but it does require just a little bit of prep work. Spend a few minutes chopping your ingredients and browning your meat in the morning or even the night before. Then you can come home to the aromas of this delicious dinner wafting through the house. And you get all of the perfect blending of flavors that you expect from a pot of chili that's been simmering all day on the stove. But you don't have to sit around and babysit it.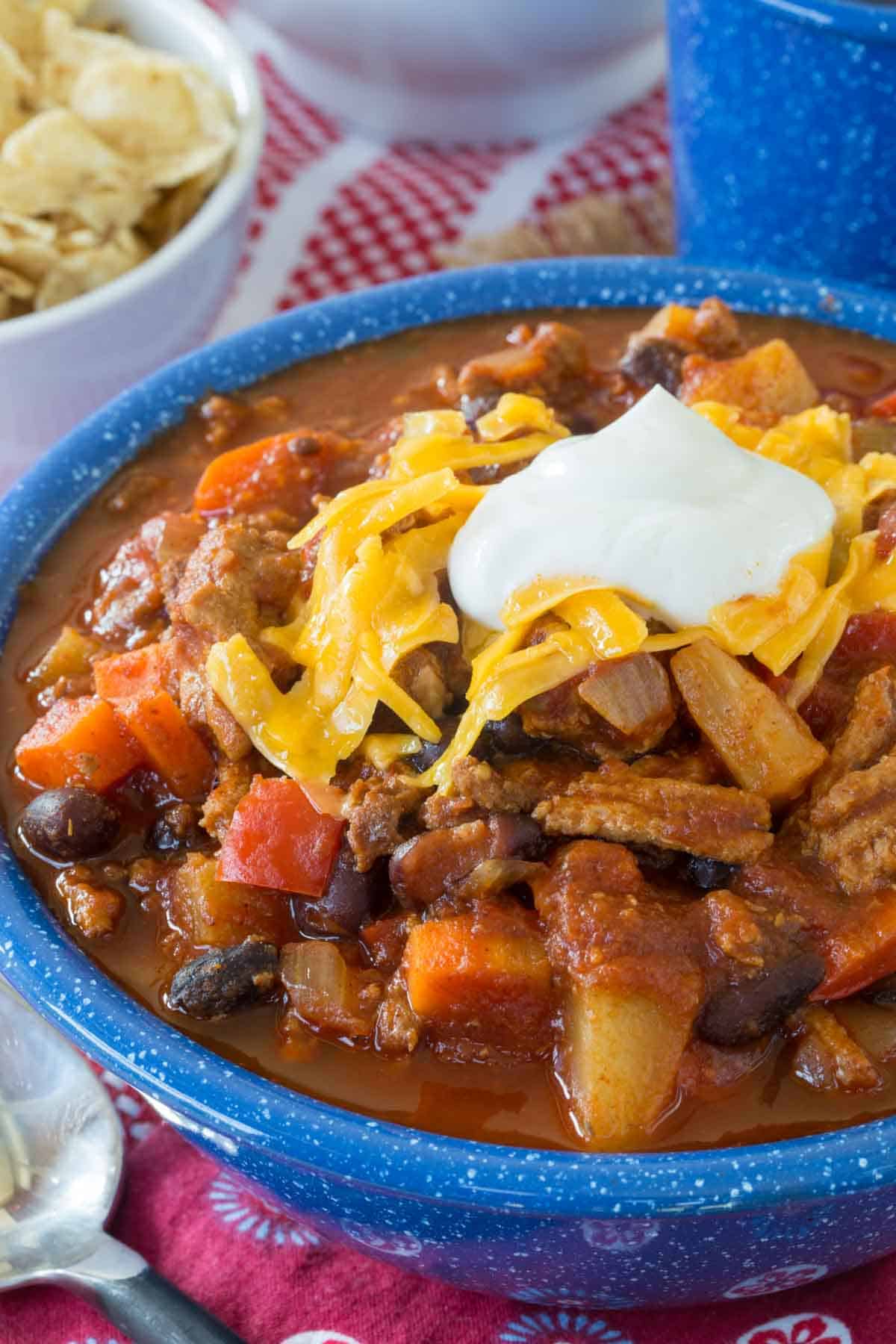 Ingredients for Turkey Chili
Ground turkey – lean ground turkey breast keeps the fat and calories low, but any ground turkey will work
Chili powder
Onion, red bell pepper, and carrots
Pineapple tidbits – I used canned, but you can also use 2 cups of fresh chopped pineapple.
Canned black beans – rinsed and drained. I prefer low sodium so I can control the salt content
Canned crushed tomatoes
How do you make Slow Cooker Turkey Chili?
In a skillet over medium heat, heat olive oil, then add the turkey, salt, pepper, and chili powder.
Then add in onions and sweet red peppers and saute for 2-3 minutes.
Transfer everything to the crockpot.
Add the carrots, pineapple, black beans, and crushed tomatoes.
Stir it all up and cook on low for 4-6 hours (you can also cook on high for about 2-3 hours).
Open the lid, scoop it into a bowl, and serve with your favorite fixings.
What are the best toppings for chili recipes?
Shredded cheddar cheese is always a classic.
Tortilla strips or crushed tortilla chips to add crunch.
Sour cream or plain Greek yogurt balances out the heat.
Chopped raw onions, peppers, or jalapenos can kick up the spice.
Avocado or guacamole gives it more richness.
Lime wedges will add a little zing.
Cilantro freshens and lightens the flavors.
And for something to go underneath the chili, you can always serve it in a bread bowl or even put chili in acorn squash bowls.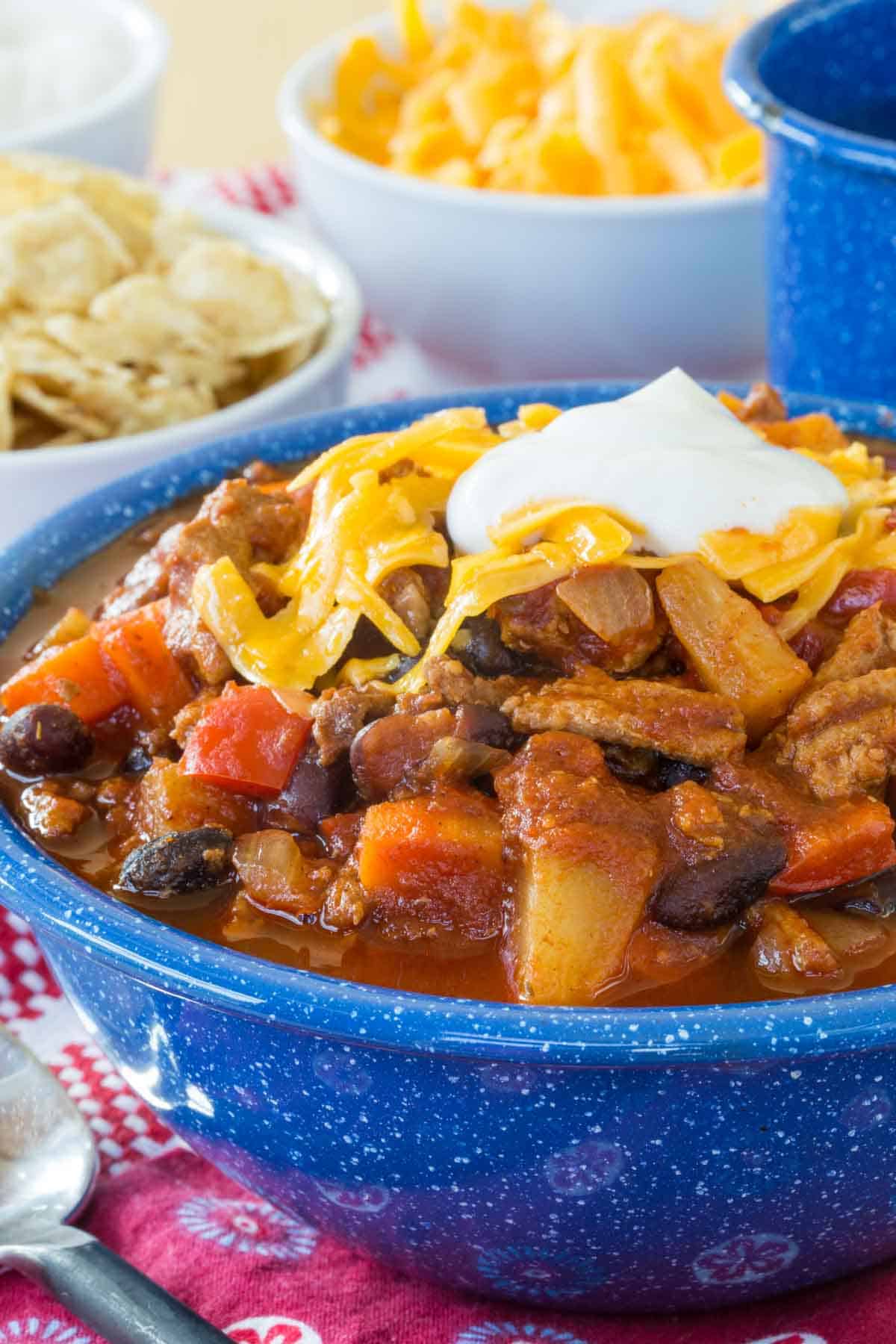 Pineapple Black Bean Slow Cooker Turkey Chili Recipe Tips…
To save on the prep time, you can chop your veggies while the turkey browns in the pan. Start with the onions and peppers, then chop the carrots while the onions and peppers cook.
The onions and peppers will cook through in the slow cooker, but I find that sauteeing them enhances the slow-cooked and caramelized flavor versus just adding them raw to the crockpot.
Don't have time in the morning? You can even do all of that the night before, store it in the refrigerator, then dump it in first thing in the morning and turn on the slow cooker.
About those carrots – it's a great way to sneak in some extra veggies while enhancing that sweet flavor.
Can you freeze turkey chili?
Yes, you can freeze it either before or after cooking. Chili is often even better when reheated, even after freezing.
Cook the meat and vegetables, then combine all of the ingredients in an airtight storage container or plastic freezer bag. Store in the freezer for up to several months. A day or two before, take the container from the freezer and put it in the refrigerator to thaw. Then transfer to the crockpot and cook as directed.
Or you can fully cook the chili and allow it to cool to room temperature. Place it in a container or bag and freeze. Then thaw and reheat in the slow cooker, microwave, or in a pot on the stove.
What slow cooker do I recommend?
This recipe makes enough to serve four to six people, so a basic 4-quart slow cooker is just fine. If you want to double it and have more features like being able to program it, I love the Hamilton Beach Programmable 6-Quart Slow Cooker.
And I know the slow cooker purists are crying "foul" on me because I brown the meat on the stove. But really, it is super fast. And if you have an Instant Pot, you can brown the meat right in there and then use the slow cooker setting.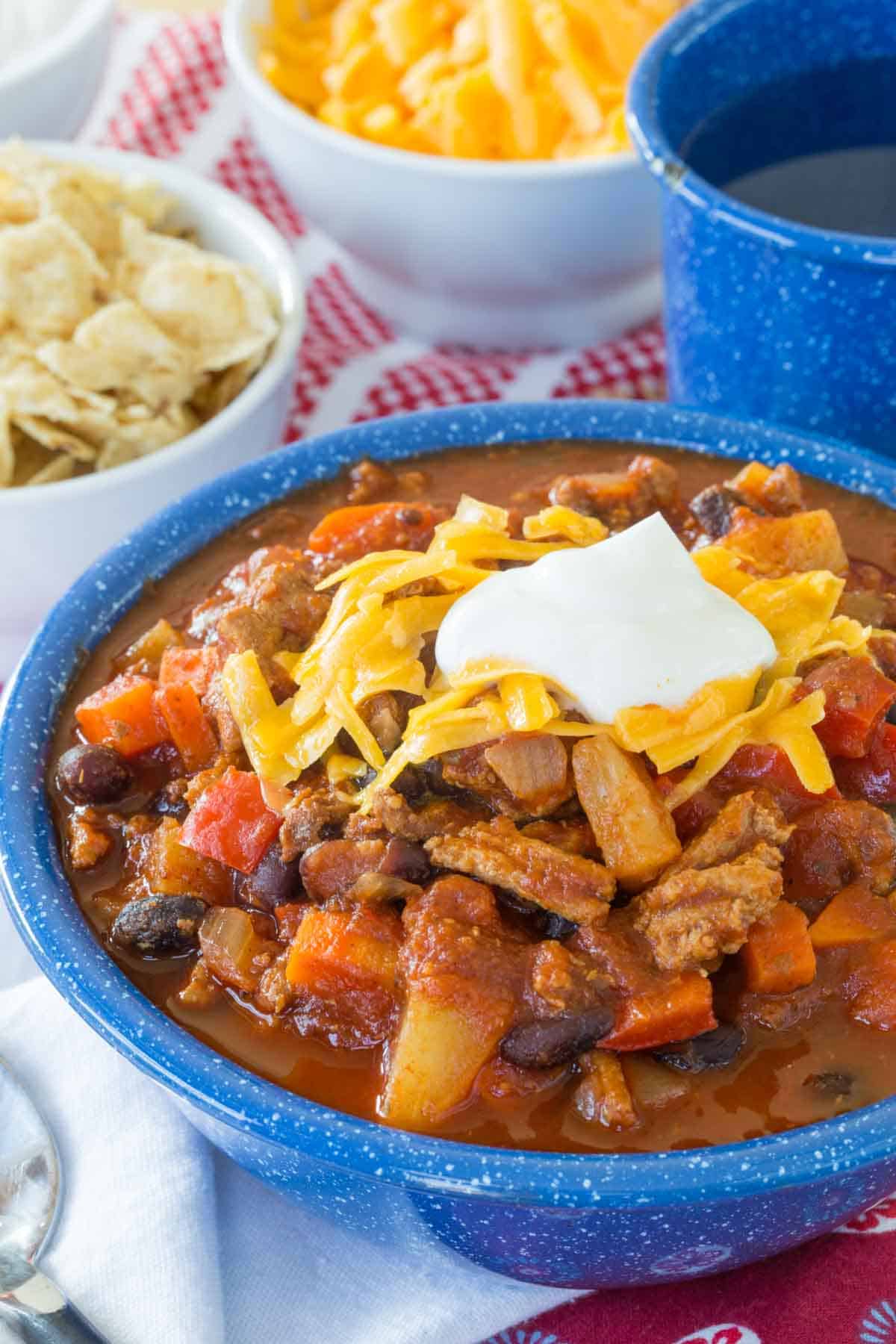 Can chili be healthy?
While you might think of chili as a dish loaded with extra fat and calories, it can definitely be a healthy option. It is chock full of protein and fiber from the meat and beans, and even has plenty of veggies. That makes it a complete meal in a bowl. Plus the typical beef is swapped out with Jennie-O Lean Ground Turkey. But with all those ingredients and spices, it still has plenty of delicious flavors.
Jennie-O Lean Ground Turkey is all-natural and naturally gluten free. With only 8 grams of fat per serving, you can indulge your comfort food cravings without any guilt. For more great recipes, please make sure you are following Jennie-O on Facebook, Twitter, Pinterest, and Instagram. Also, check out their collection of slow cooker recipes.
And unlike some chili recipes that use beer for flavor, flour for thickening, or a seasoning packet for spice, this one is healthy and gluten free!
Can you make this ground turkey chili with ground beef?
Yes, that would be just fine. It would be similar to this Aloha Chili Recipe, or you could even substitute ground chicken or ground pork.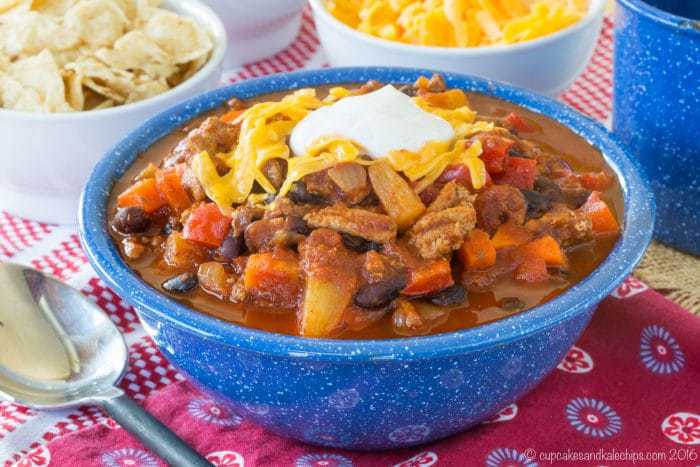 Pineapple Black Bean Slow Cooker Turkey Chili
A healthy, hearty, and comforting bowl of sweet heat with simmered-all-day flavor.
Ingredients
Optional toppings: shredded cheese, sour cream/Greek yogurt, chopped avocado, minced onion, tortilla chips, etc. for serving
Instructions
In a skillet over medium heat, heat olive oil, then add the turkey, salt, pepper, and chili powder.

Saute until the turkey is fully cooked, breaking up as it cooks.

Add onion and pepper, and saute for another 2-3 minutes, until onion starts to become translucent.

Transfer the mixture to your slow cooker, then add carrots, pineapple, black beans, and crushed tomatoes, and stir.

Cook on Low for 4-6 hours.

Serve with desired toppings.
Nutrition Facts
Pineapple Black Bean Slow Cooker Turkey Chili
Amount Per Serving (1 g)
Calories 330
Calories from Fat 45
% Daily Value*
Fat 5g8%
Cholesterol 41mg14%
Sodium 665mg28%
Potassium 1140mg33%
Carbohydrates 47g16%
Protein 28g56%
Vitamin A 3980IU80%
Vitamin C 49.7mg60%
Calcium 99mg10%
Iron 4.9mg27%
* Percent Daily Values are based on a 2000 calorie diet.
Enjoy