Pineapple Black Bean Slow Cooker Turkey Chili
Disclosure: This post may contain affiliate links. Cupcakes & Kale Chips is a participant in the Amazon Services LLC Associates Program, an affiliate advertising program designed to provide a means for us to earn fees by linking to Amazon.com and affiliated sites.
Slow cooker turkey chili with the perfect blend of sweet heat will surprise your tastebuds. This healthy crockpot chili is a hearty and comforting easy dinner recipe that has simmered-all-day without all the work. The whole family will love this gluten free Pineapple Black Bean Slow Cooker Turkey Chili.
It's one of my favorite back to school crock pot recipes. Watch the video below!
Disclosure: I'm partnering with Jennie-O to bring you this recipe. As always, all opinions are my own.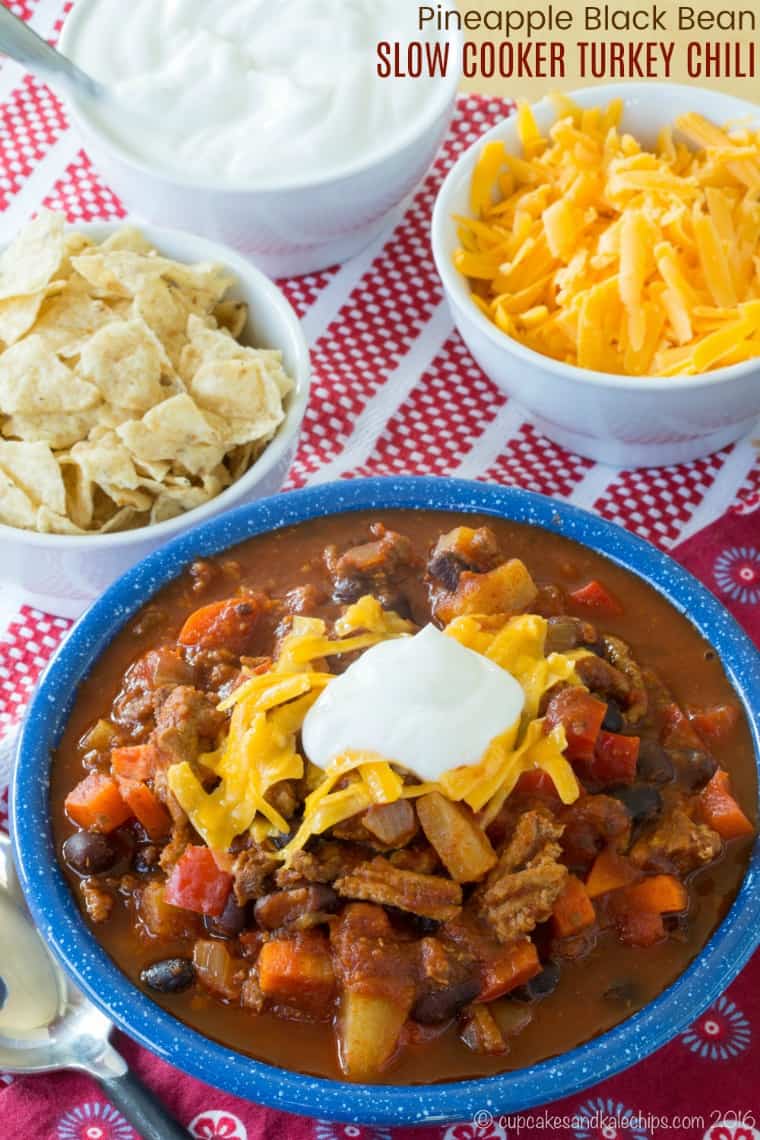 It never fails that when I am in the middle of making dinner and my three year old tells me he is hungry. Does he ever say this when it's a point in the meal preparation I can get him involved and help pass the time?
Of course not.
Naturally, he waits until it is simmering on the stove or baking in the oven to demand that he needs dinner NOOOOOOWWWWW! Either that or he is trying to reach his wee bitty fingers up on to the cutting board as I am about to slice into vegetables on said cutting board with my giant kitchen knife.
Awesome.
Every night it's the same thing. He tells me he is hungry. I tell him he had his afternoon snack at school so he can wait till dinner. He tells me he is hungry now. I tell him he can get some carrots or peppers and Greek Yogurt Ranch Dip out of the fridge. He tells me he doesn't like carrots and peppers anymore. I tell him dinner is cooking and there is nothing I can do to make it cook faster but he is welcome to snack on vegetables. He tells me he is not hungry for vegetables, and I tell him that I am sorry.
Except #sorrynotsorry
Then he storms off like the moody, sullen three-nager he usually is at 5:30 in the evening. And as soon as I tell him dinner is ready, he asks what it is and immediately tells me he doesn't like it, sulks once again, and then proceeds to eat two servings.
The story of my life.
So why do I love this slow cooker turkey chili recipe?
At least when I make dinner in the slow cooker, I can avoid some of the drama. It always helps to have easy dinners like this waiting for us…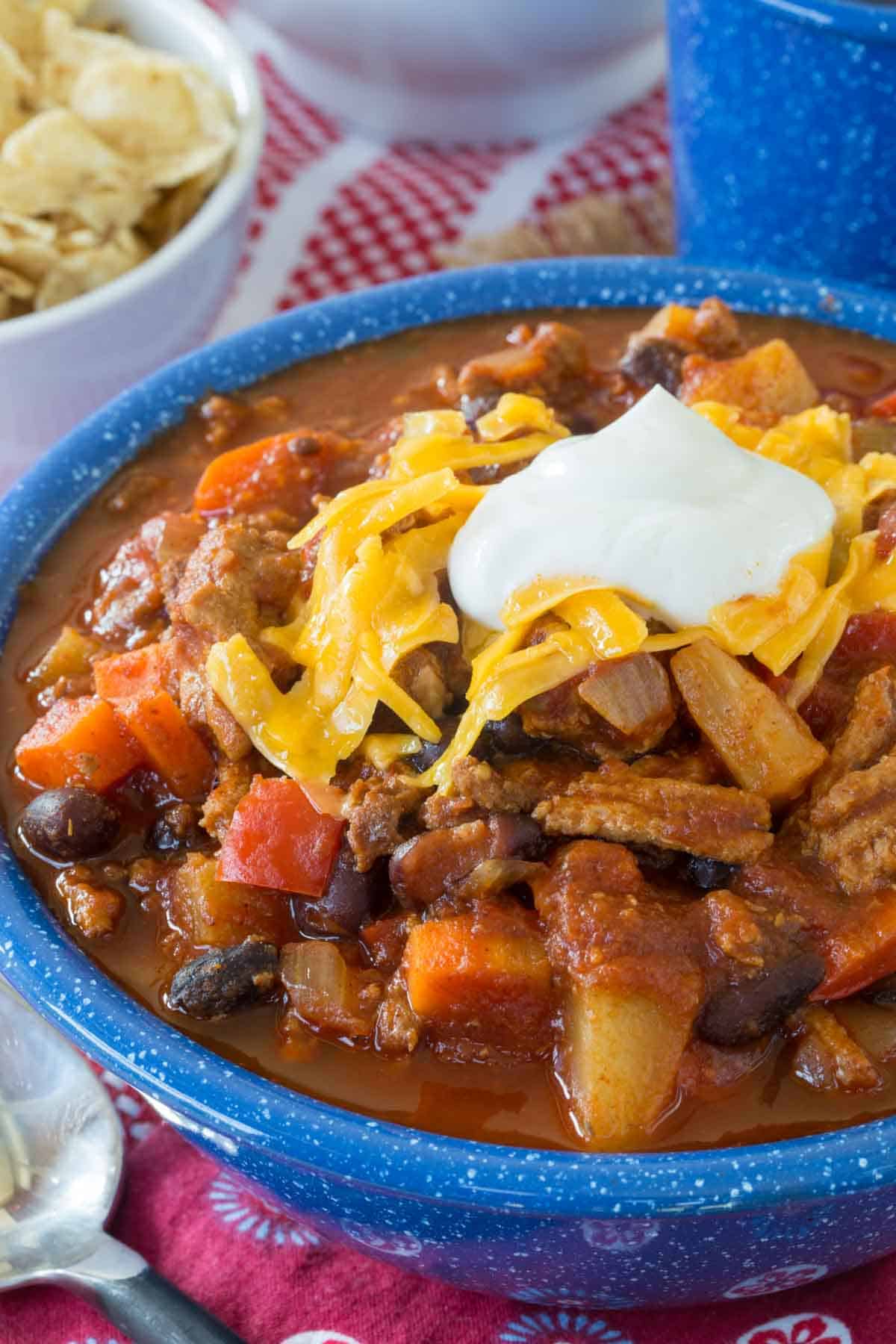 Pineapple Black Bean Crockpot Turkey Chili Recipe
Making slow cooker turkey chili is super easy, but it does require a few minutes of prep work. I know the slow cooker purists are crying "foul" on me because I brown the meat on the stove. But really, it only takes a few minutes. Spend a few minutes prepping your ingredients in the morning or the night before. Then you can come home to the aroma of slow cooker chili wafting through the house. And you get all of the perfect blendings of flavors that you expect from a pot of chili that's been simmering all day on the stove, but you don't have to sit around and babysit it.
How do you make Slow Cooker Turkey Chili?
As I mentioned, you do have to start out by browning your ground turkey meat with salt, pepper, and chili powder in a large skillet on the stove.
Then add in onions and sweet red peppers and saute just a bit. I find this enhances the slow-cooked and caramelized flavor versus just adding raw onions and peppers to the slow cooker.
Now transfer everything to the crock pot, add the carrots, pineapple, black beans, and a can of crushed tomatoes.
Stir it all up and cook on low for 4-6 hours (you can also cook on high for about 2-3 hours).
Open the lid, scoop it into a bowl, and add some of your favorite fixings, like cheese, plain Greek yogurt (in place of sour cream), and crushed tortilla chips.
[amazon_link asins='B004O07LRC,B074ZKTSNB,B00LMBRYTG' template='ProductCarousel' store='cupkalchi-20′ marketplace='US' link_id='f22cbde4-b472-11e8-99f1-2dd97067dcf5′]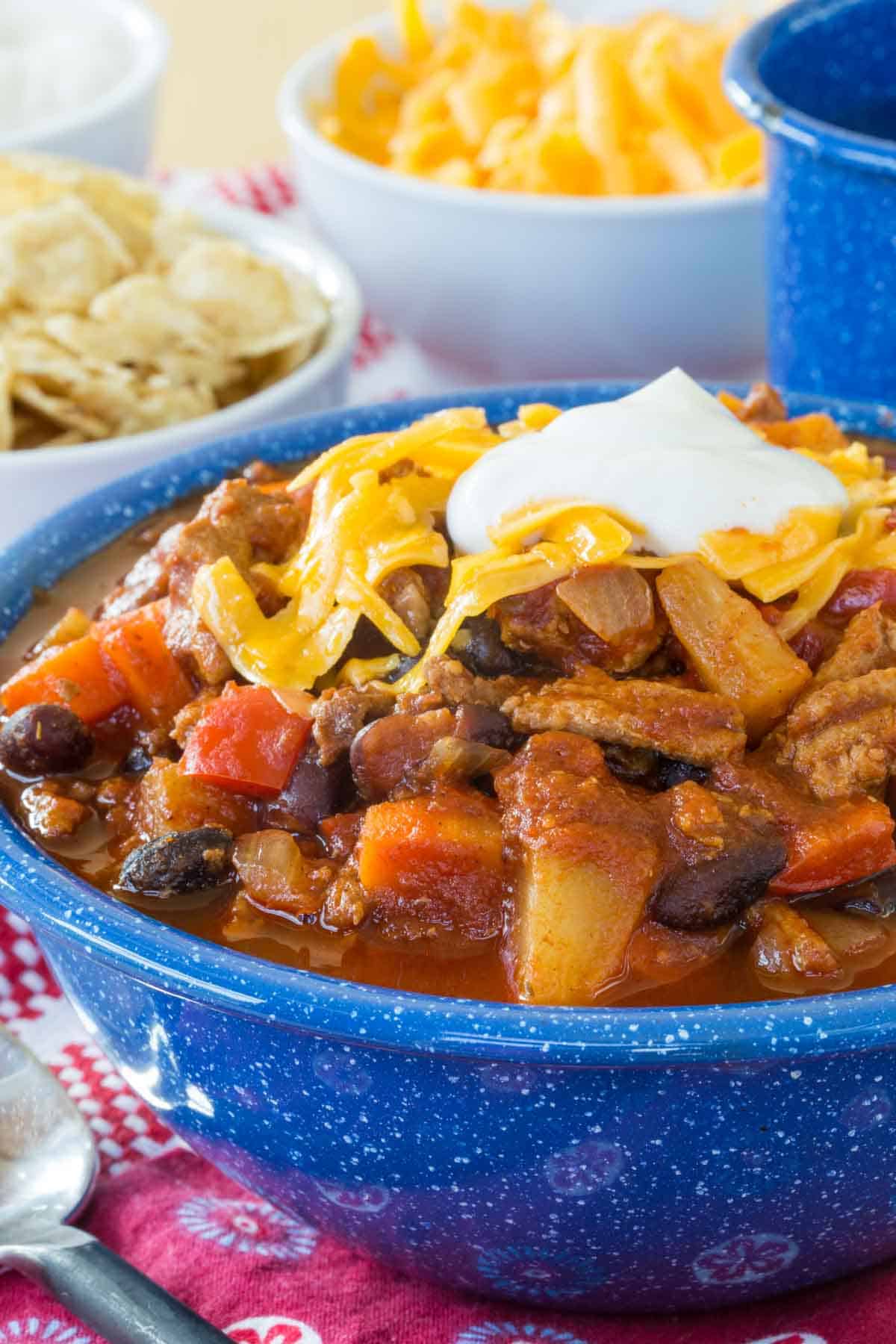 Pineapple Black Bean Slow Cooker Turkey Chili Recipe Tips…
To save on the prep time, you can chop your veggies while the turkey browns in the pan. Start with the onions and peppers, then chop the carrots while the onions and peppers cook.
Don't have time in the morning? You can even do all of that the night before, store it in the refrigerator, then dump it in first thing in the morning and turn on the slow cooker.
About those carrots – it's a great way to sneak in some extra veggies while enhancing that sweet flavor.
I used canned pineapple tidbits, but you can also use 2 cups of fresh chopped pineapple.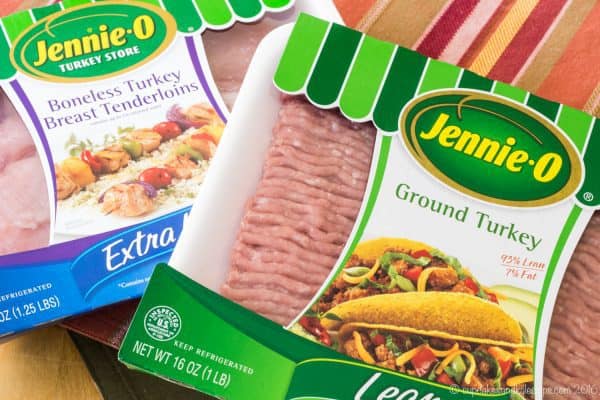 Certainly, I am a huge fan of a hearty, long cooking chili recipe loaded with ground beef and stew meat and kidney beans. But when it comes to the preparation time and richness of the dish, I'll save the World's Best Chili for the weekends. In contrast, this is what I'd consider a "weeknight chili". Not only is the preparation simple and ingredient list shorter, but it's definitely a healthier option. It is chock full of protein, fiber, and even plenty of veggies, making it a complete meal in a bowl. Plus I've made the switch to Jennie-O Lean Ground Turkey.
Jennie-O Lean Ground Turkey is all natural and naturally gluten free, with only 8 grams of fat per serving meaning you can indulge your comfort food cravings without any guilt. For more great recipes, please make sure you are following Jennie-O on Facebook, Twitter, Pinterest, and Instagram. Also, check out their collection of slow cooker recipes.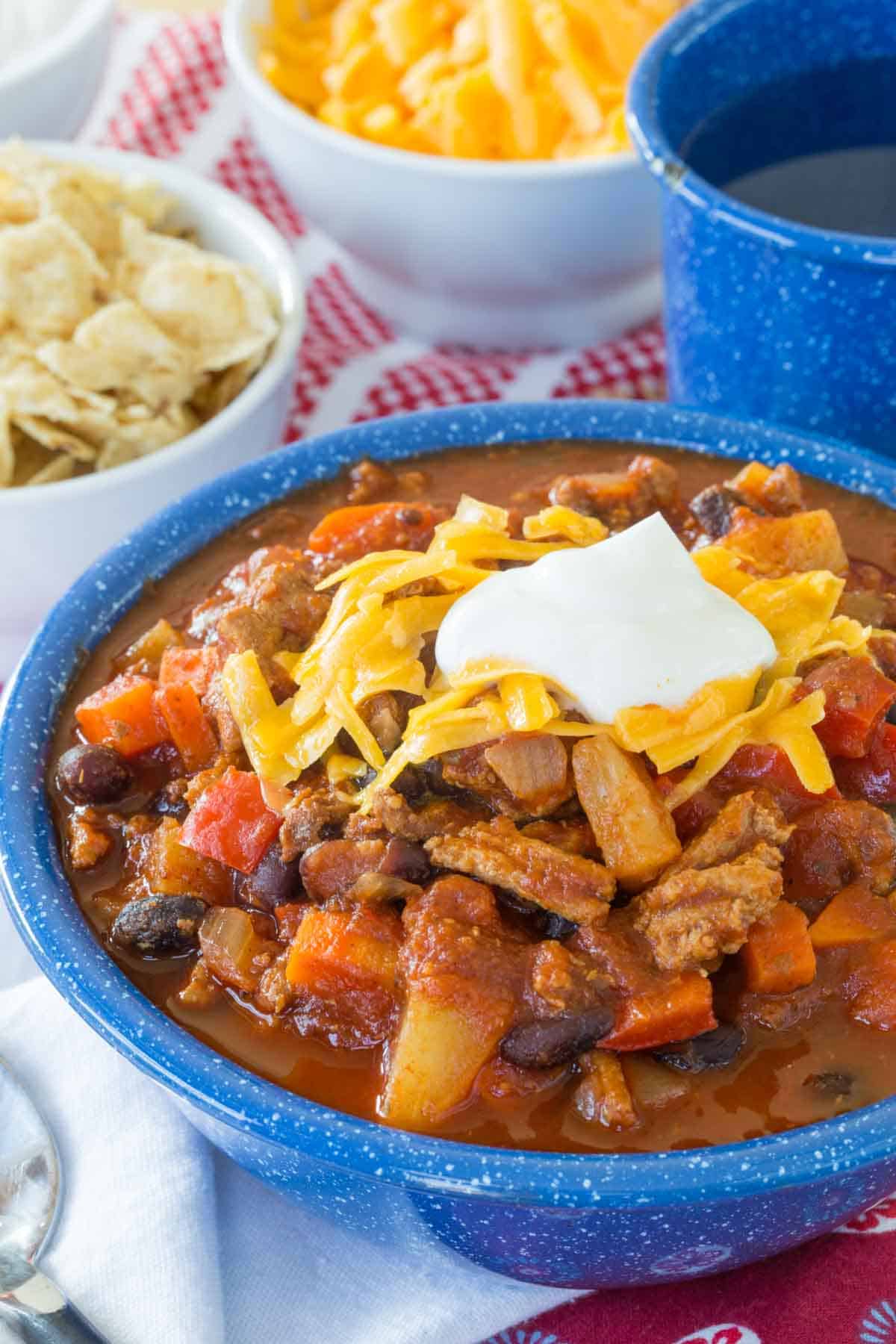 For more yumminess from me and my foodie friends, keep up with me on…
Or sign up to have Cupcakes & Kale Chips delivered straight to your Inbox!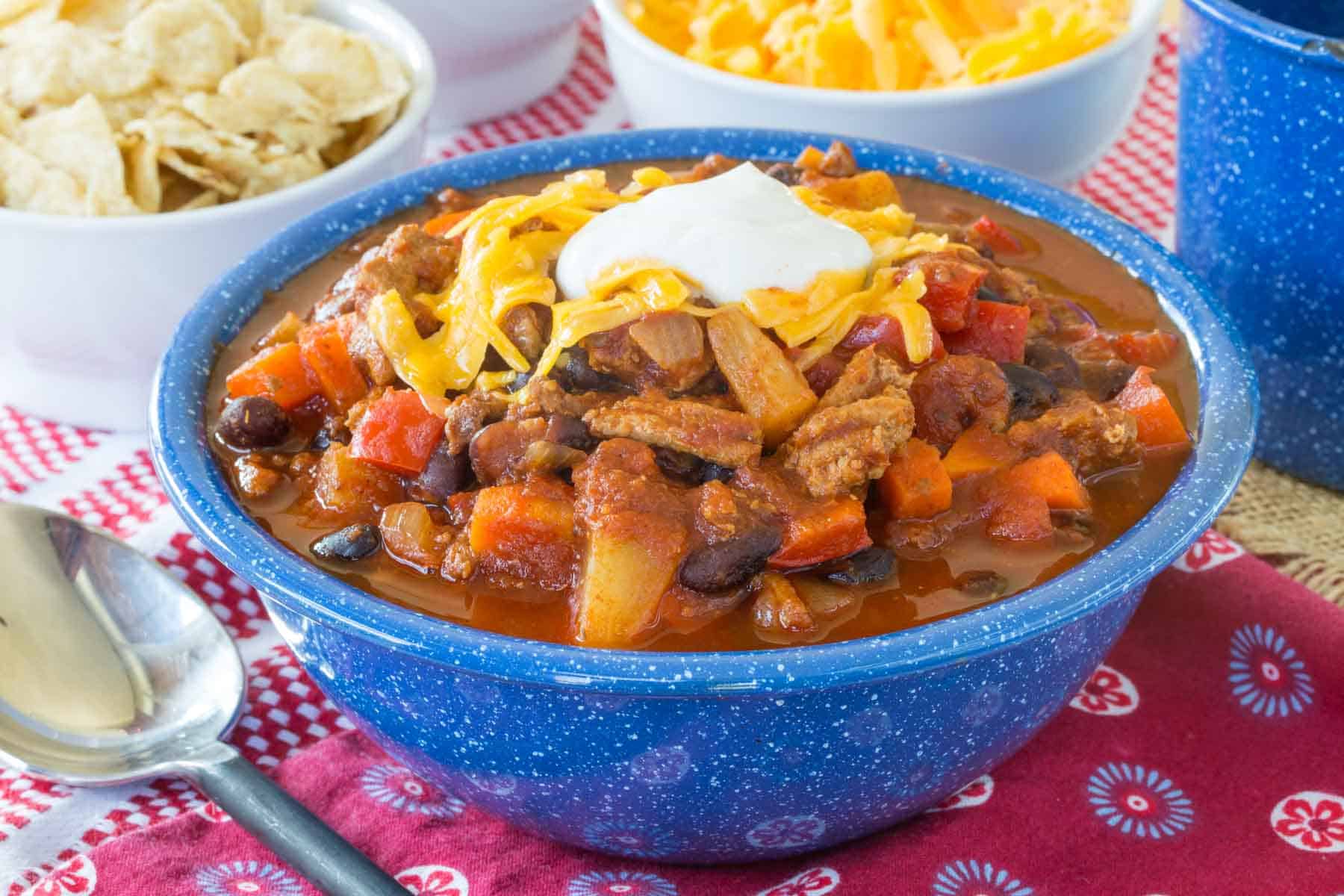 If you love this recipe, you might also like these crockpot recipes…
Pineapple Black Bean Slow Cooker Turkey Chili Recipe
Add this crockpot chili recipe to your dinner menu, especially for those crazy nights. You'll walk in the door to a delicious and satisfying pot of deliciousness. It has the perfect blend of spicy with just a bit of sweet. I can't promise it'll eradicate all hangry kid meltdowns, but at least there will be happy faces once you are gathered around the table. I know my family loves to dig into a bowl of this ground turkey chili. It's loaded with sweet and spicy flavors, plus black beans, sweet red peppers and pineapple, and chili powder for a little kick.
I hope you'll leave a comment and give it a FIVE STAR rating or share a photo on this pin on Pinterest!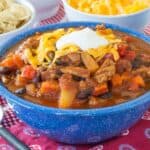 Print Recipe
Pineapple Black Bean Slow Cooker Turkey Chili
A healthy, hearty, and comforting bowl of sweet heat with simmered-all-day flavor.
Ingredients
Optional toppings: shredded cheese, sour cream/Greek yogurt, chopped avocado, minced onion, tortilla chips, etc. for serving
Instructions
In a skillet over medium heat, heat olive oil, then add the turkey, salt, pepper, and chili powder.

Saute until the turkey is fully cooked, breaking up as it cooks.

Add onion and pepper, and saute for another 2-3 minutes, until onion starts to become translucent.

Transfer the mixture to your slow cooker, then add carrots, pineapple, black beans, and crushed tomatoes, and stir.

Cook on Low for 4-6 hours.

Serve with desired toppings.
Nutrition
Serving:
1
g
|
Calories:
330
kcal
|
Carbohydrates:
47
g
|
Protein:
28
g
|
Fat:
5
g
|
Cholesterol:
41
mg
|
Sodium:
665
mg
|
Potassium:
1140
mg
|
Fiber:
12
g
|
Sugar:
20
g
|
Vitamin A:
79.6
%
|
Vitamin C:
60.2
%
|
Calcium:
9.9
%
|
Iron:
27.3
%
Enjoy!