This post may contain affiliate links. Read my disclosure policy.
Move over chili in a bread bowl, there's a healthier and tastier version in town! Today's #WeekdaySupper is super quick and easy, but still totally comforting and satisfying because I used McCormick's Skillet Sauces. On those busy evenings, in about thirty minutes you can be eating smoky, spicy Fire Roasted Garlic Turkey Chili Stuffed Acorn Squash.
Fire Roasted Garlic Turkey Chili Stuffed Acorn Squash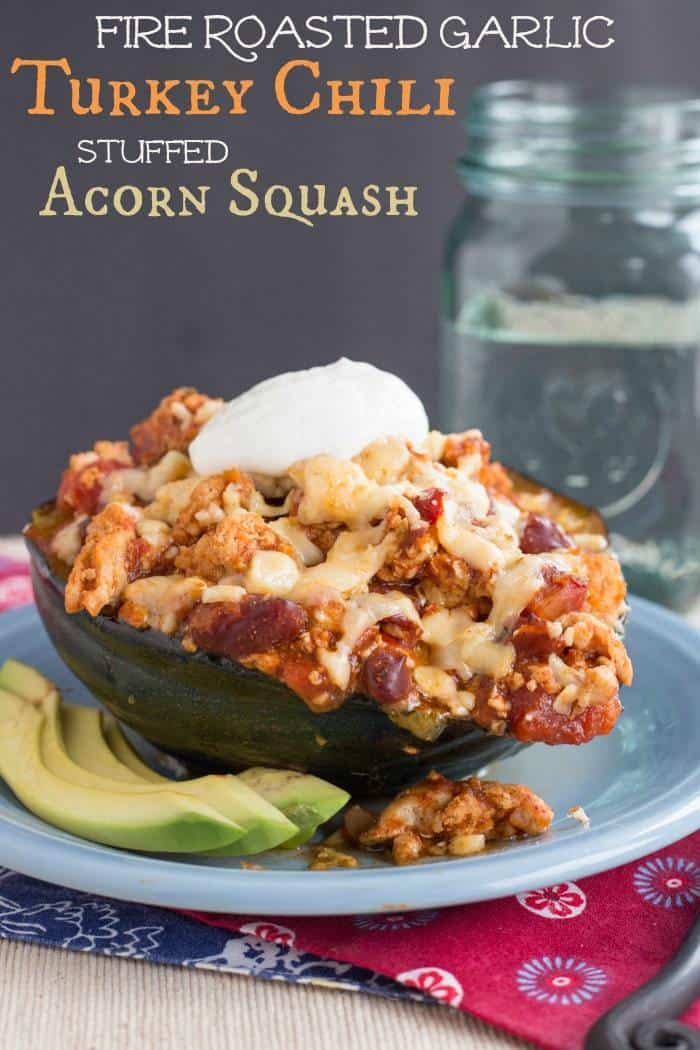 Disclosure: This post is sponsored by McCormick in conjunction with a social media campaign through Sunday Supper LLC. All opinions are my own.
You guys, I'm so excited! We have finally reached that point in life where I'm becoming the sports mom! The Bug just started karate, and in a few weeks the tee ball season will begin. I think it's so important to encourage an active, healthy lifestyle, plus it'll be a great way to meet new friends and discover unknown skills and interests. The tee ball will be perfect for getting outside after this long, cold winter, and for learning about being part of a team, and I can already see the karate classes helping with discipline and listening skills.
Plus, the karate classes are so fun to watch. He has only had two so far, but it's a riot to see these little dudes running laps, jumping through obstacle courses, and "ai-ya"-ing as they learn their jabs and kicks. And to hear them yell, "Yes, sir!" and count to ten in Korean is super cool. The coaches let them have a good time, but they also take it seriously. Karate is no joke, even for kids as young as four. You can have fun, but no goofing around. I think The Bug needs to learn that fine line.
Of course, as any tee ball mom or dad knows, it's typically not as serious, and not really the most exciting sport to watch. I know I did my fair share of sitting in the outfield picking pieces of grass when I was four and five years old. But it's kind of a kid and parent rite of passage, is it not?
What this also means, though, is three or four evenings a week of running around like a crazy person, which doesn't leave much time for cooking dinner. But all of this activity also makes us hungry, and craving something healthy and satisfying. You know, something like this…
Fire Roasted Garlic Turkey Chili Stuffed Acorn Squash is the perfect blend of hearty, smoky and spicy chili, balanced with the tender, subtly sweet, earthy flavor of the acorn squash. You could use the traditional beef, but to keep it a bit on the leaner side, I went with turkey, and eating out of an acorn squash bowl is super-fun – The Bug has been loving it!
Now I enjoy a long-simmering batch of chili as much as the next guy or gal. You know, the kind with a laundry list of secret ingredients that you've measured and chopped and then let cook for hours to develop all of those complex flavors that just dance on your tongue. But karate-mom doesn't have time for that everyday. Luckily it's McCormick's Skillet Sauce to the rescue. They've done al the work of putting together the perfect combination of ingredients, so all you have to do it add it to your recipe to make it taste like you've had it bubbling away all day! I used the Fire Roasted Chili Skillet Sauce in this recipe, and it definitely ranks up there with some of those championship chili recipes, I'm sure!
Besides the one I used today, McCormick has six more amazing flavors, like Sicilian Chicken with Tomato, Basil & Garlic Skillet Sauce, which I used in my Sicilian Chicken and Mushrooms Spaghetti Squash Casserole, plus Sweet & Smoky Sloppy Joes Skillet Sauce, Fajita with Roasted Chili, Garlic & Lime Skillet Sauce, and more. One package packs so much flavor, without a bunch of crazy ingredients – just lots of natural herbs and spices already perfectly blended! Just what you need for busy weeknights!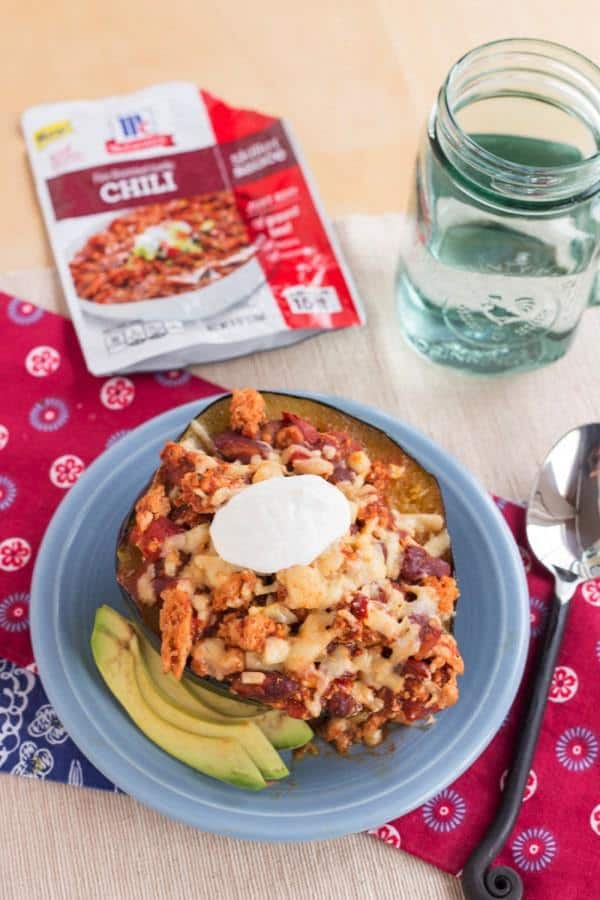 Find out more about all seven varieties of McCormick's Skillet Sauces on their website, and keep up with all of their tasty products and get fabulous recipe ideas on Instagram, Pinterest, and Facebook.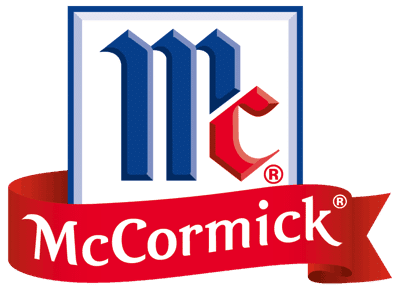 Need some more fast and tasty dinner ideas with the help of McCormick's Skillet Sauces? Check this week's fabulous lineup of #WeekdaySupper recipes at the bottom of this post and on the McCormick's Easy Skillet Dinners Pinterest board!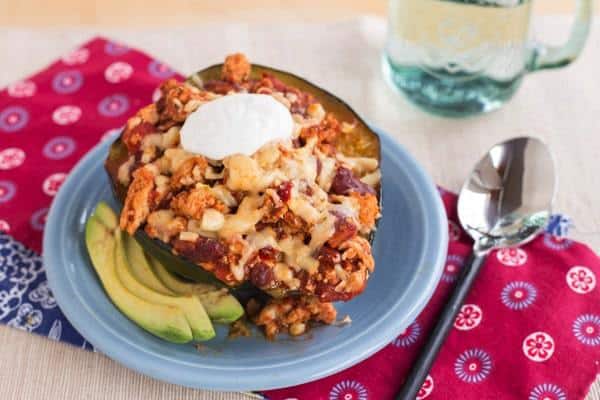 What sports do your kids play?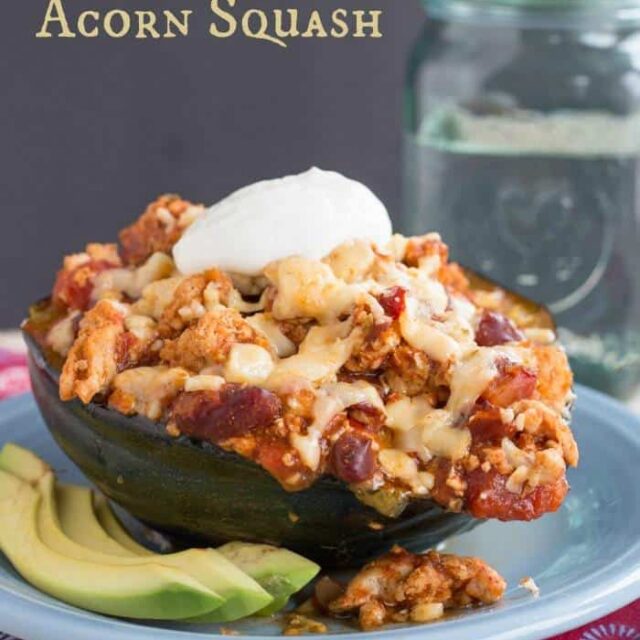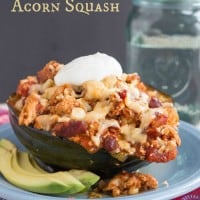 Fire Roasted Garlic Turkey Chili Stuffed Acorn Squash
Move over bread bowls, there's a healthier, tastier version in town with this smoky, spicy, quick and easy recipe!
Ingredients
2

large

acorn squash

1

tsp

olive oil

salt and pepper

1

package

McCormick Fire Roasted Garlic Chili Skillet Sauce

1

lb

ground turkey

15

oz

canned kidney beans

drained

14.5

oz

canned petite diced tomatoes

undrained

2

oz

(1/2 cup) shredded cheddar cheese
Optional Toppings
Sour cream or Greek yogurt, avocado, tortilla chips, etc.
Instructions
Preheat oven to 400°F. Coat a baking sheet with olive oil; set aside.

Cut each acorn squash in half, then scoop out and discard the seeds. Brush each cut half with 1/4 teaspoon olive oil, then sprinkle with salt and pepper. Roast the squash cut side down until tender, about 20-25 minutes.

While the squash is baking, prepare the chili by first placing a skillet over medium high heat, and adding the ground turkey, breaking up as it cooks until fully cooked through.

Stir in Fire Roasted Garlic Chili Skillet Sauce, beans and tomatoes.

Bring to a boil, then reduce heat and simmer uncovered, for 5-10 minutes or until the squash is ready.

Fill each squash half with chili, top with shredded cheese, and return to the oven for 5-7 minutes, or until cheese is melted and slightly browned.

Serve with sour cream or Greek yogurt, avocado, tortilla chips, or any other toppings, as desired.
Nutrition Facts
Fire Roasted Garlic Turkey Chili Stuffed Acorn Squash
Amount Per Serving (0.5 squash)
Calories 362
Calories from Fat 72
% Daily Value*
Fat 8g12%
Cholesterol 77mg26%
Sodium 283mg12%
Potassium 1077mg31%
Carbohydrates 31g10%
Protein 41g82%
Vitamin A 390IU8%
Vitamin C 10.7mg13%
Calcium 170mg17%
Iron 5.4mg30%
* Percent Daily Values are based on a 2000 calorie diet.
Categories:
And on days you have more time in the kitchen, you can always stuff one of these chili recipes in an acorn squash bowl…
Check out what else is cooking for #WeekdaySupper this week featuring McCormick's Skillet Sauces…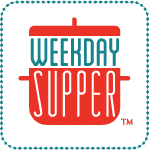 Monday – Sesame Chicken and Mushroom Lo Mein by kimchi MOM
Tuesday – Fire Roasted Garlic Turkey Chili Stuffed Acorn Squash by Cupcakes & Kale Chips
Wednesday – Skillet Sicilian Chicken Tortellini by The Weekend Gourmet
Thursday – Chicken Taco Grilled Cheese by Brunch with Joy
Friday – Chili Cheese Nachos by Cosmopolitan Cornbread