This post may contain affiliate links. Read my disclosure policy.
Romaine Wedge Salad is a modern update combining two retro recipes into one easy and impressive side dish. Hot bacon dressing, jazzed up with real maple syrup instead of refined sugar, is drizzled over a wedge salad. Only this one uses Romaine lettuce instead of iceberg. It's a combination of two vintage dishes, and it is absolutely delicious!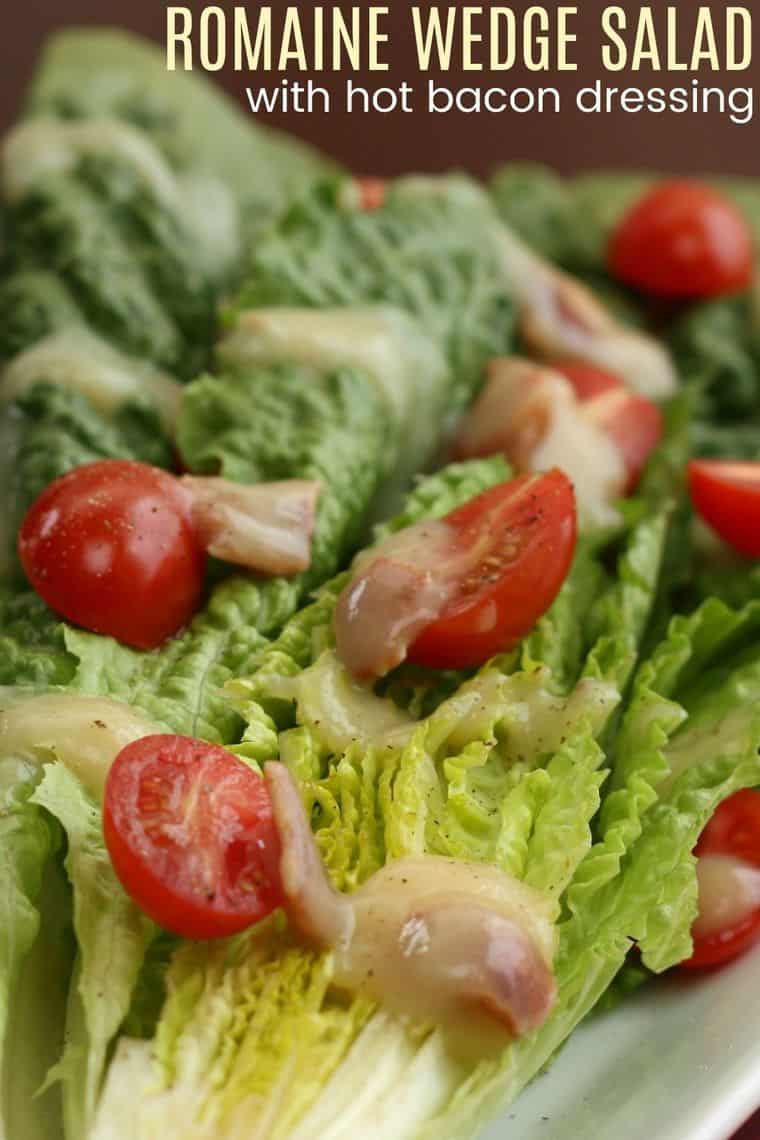 Is that nostalgia in the air? Or do I just smell…
BACON!!!
It's time for some Retro Recipes for #SundaySupper. You know, those recipes that bring us back to mom's or grandma's kitchen, or just remind us of a time gone by. This week we are sharing our favorites, either made as we remember them, for the sake of nostalgia and sentimentality, or remixing them to update them to be more modern, whether it is taste, ingredient availability, or healthy and nutrition considerations.
I sort of remixed two recipes in one – the classic lettuce wedge salad, and an old fashioned Pennsylvania Dutch Hot Bacon Dressing.
While not "bad" for you, I think we all know that iceberg lettuce is pretty much void of any nutritional value. Not only for the health benefits, but also for the flavor, I do prefer darker leafys, like romaine, baby spinach, arugula, or mixed greens. There are two places where I will consciously make the choice to get a wedge of iceberg. One is a restaurant near my mom's, Irish Eyes, in Lewes, DE, where they load up the wedge with blue cheese, bacon, and tomatoes. I usually opt for the blue cheese dressing over their recommended Ranch (since I swear I am one of the few Americans who hates Ranch dressing). This is my meal, it is so huge and tasty!
The other is a great local pub, Tumulty's, in New Brunswick, NJ with amazing burgers. I have been going there since I was a kid, and actually went for a burger when I was in labor with The Bug (talk about nostalgia!). Their house salad is a plain old wedge, but served with one of their delicious homemade dressings. I usually opt for their pungent honey mustard, or creamy and tangy blue cheese.
Hot Bacon Dressing was first introduced to me in the form of a jar of gloppy stuff from my mother-in-law's fridge.
It was warmed in the microwave and served over iceberg lettuce. But then I was digging in a box of recipes she had given to The Hubby years ago, and found a recipe for Pennsylvania Dutch Hot Bacon Dressing scrawled on a scrap of paper. I use the term "recipe" loosely, because it was basically a list of ingredients and some vague instructions. So one day, I decided to wing it, and the dressing, in its "original" form, turned out delicious! It is definitely a favorite of The Hubby.
So how did I remix these two classics? Instead of a quarter of a head of iceberg, I gave you half of a romaine heart with some halved grape tomatoes. The dressing is made gluten free by using cornstarch instead of flour, and made without refined sugar, by using super-flavorful real maple syrup. A leaner center cut bacon is also used, though I have made the original recipe with turkey bacon in the past, and have been quite pleased with the results. We also like a little more tang, so I upped the vinegar. Perfection!
I will admit though, hot bacon dressing is quite tasty over plain old iceberg and is lovely with the romaine. But I am thinking it would be perfect to slightly wilt a bed of baby spinach with either some raw button or cremini mushrooms, or some grilled portabellos. Oh, the possibilities! While the leftovers taste fine cold, heating it really does bring out the sweet, sour, smoky, and salty flavors. There really is no need to have anything other than some lettuce and this dressing. Though some blue cheese could never hurt…
No recommendations from The Bug, because while he is a pretty good eater, I cannot do anything to get him to eat anything raw, green, and leafy.
Even if I cover it in sweet, creamy, hot bacon dressing goodness….
Crazy kid! But from The Hubby – big thumbs-up! I also managed to polish off the leftovers for lunches the rest of the week. I will never turn down hot bacon dressing!
Make sure to check out all of the other super-fun Retro Recipes at the bottom of this post!
What is your favorite "retro" dish? Do you like the classic version, or have you updated it?
Please let me know what you think of the maple twist on the hot bacon dressing!
Romaine "Wedge" Salad with Hot Maple Bacon Dressing
A warm dressing that is sweet, salty, smoky, sour, and... BACON-Y!
Ingredients
For the dressing:
2

c

water

1/4

c

real maple syrup

or 1/3 c sugar

2

T

cornstarch

1

egg

or 1/4 c egg substitute

1/2

t

salt

1/4-1/3

c

cider vinegar

6

slices

well-cooked

crumbled bacon (I used center cut. Regular bacon or turkey bacon works fine, as well)
For each salad:
Half of a romaine heart

5

or 6 grape tomatoes

halved
Instructions
For the dressing:
In a small saucepan, whisk together the water, syrup, cornstarch, egg, and salt.

Heat over medium low heat to a simmer, then cook, whisking frequently, until it is hot and starts to thicken.

Increase the heat and allow to boil slightly to thicken completely.

Remove from the heat and stir in the vinegar and crumbled bacon.

Serve while still warm, or reheat on the stove or in the microwave.
For each salad:
Lay the romaine heart on a plate, cut side up.

Top with the tomatoes, pepper, and a few spoonfuls of the warm dressing.
Categories:
Enjoy!
Sunday Supper Retro Appetizers:
Sunday Supper Retro Salads:
Sunday Supper Retro Breads and Sandwiches:
SundaySupper Main Dishes:
Sunday Supper Retro Sides and Veggies:
Sunday Supper Retro Desserts and Cocktails: