This post may contain affiliate links. Read my disclosure policy.
Filled with mushrooms and gorgonzola and braised in red wine tomato gravy, Beef Wellington Braciole puts a twist on two classic dishes! Slice the stuffed flank steak pinwheels and serve an impressive dinner recipe that will make mouths water.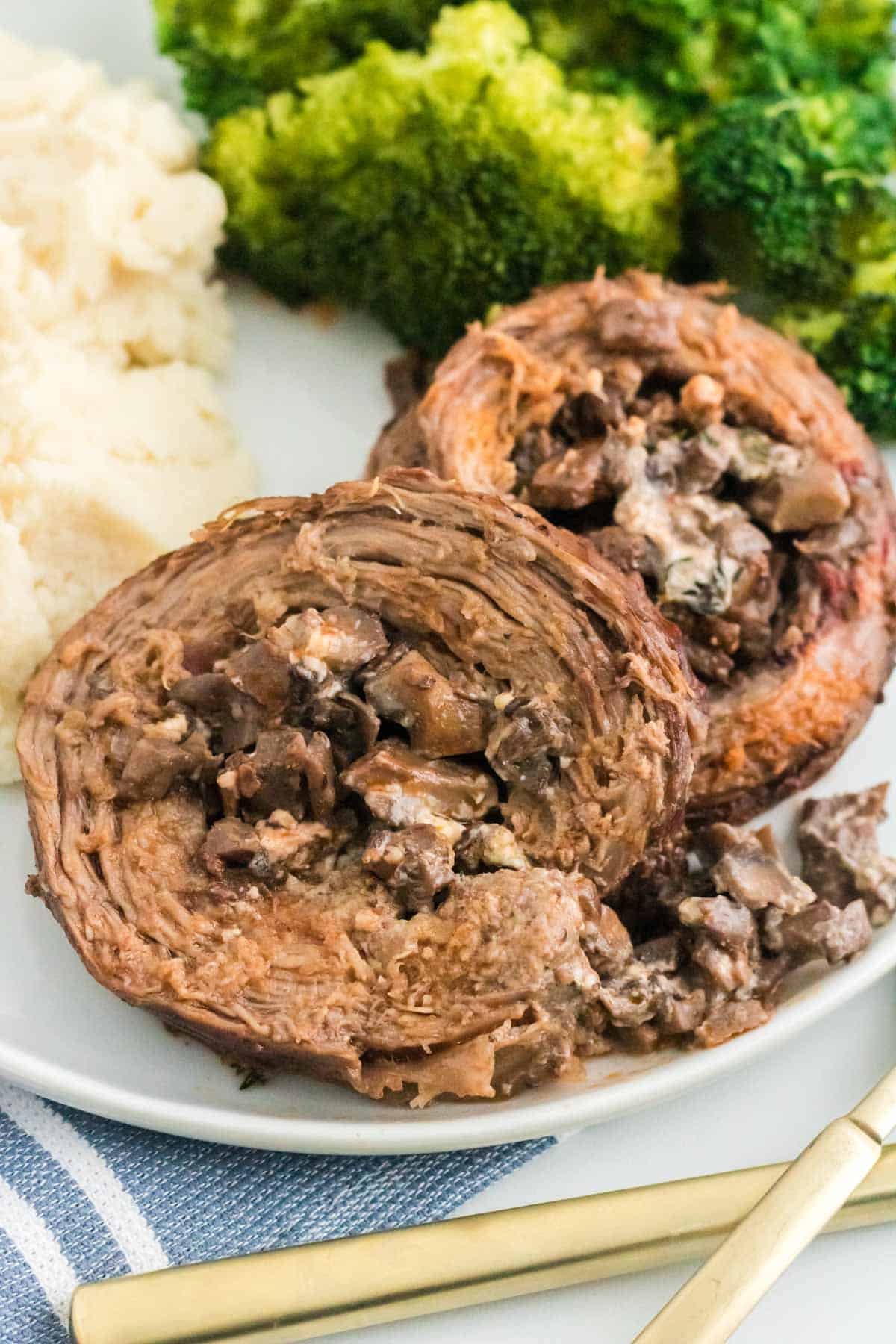 Hearty Beef Braciole with Red Wine Tomato Gravy
Sometimes I just want to spend the day in my kitchen, sautéing, searing, braising, slicing. And, of course, getting my camera out before serving the meal! Gratefully, I have friends and family who don't mind playing recipe critic and waiting patiently while I get the shot.
That's what happened here. I've often made my lightened up, easy Beef Wellington for dinner parties. Then recently, I saw this traditional recipe for Beef Braciole from Samantha of The Little Ferraro Kitchen, and was inspired to combine the two. So the Hubby took care of the boys. I took care of the beef. Our friends took care of the wine. And I think we achieved perfection.
These mushroom-stuffed flank steak pinwheels might be the most gorgeous savory dish to ever come out of my kitchen. I mean, look at that nearly perfect beef spiral soaked in rich red wine tomato gravy! This mashup of two classic beef recipes is moist and tender, and barely needs a knife.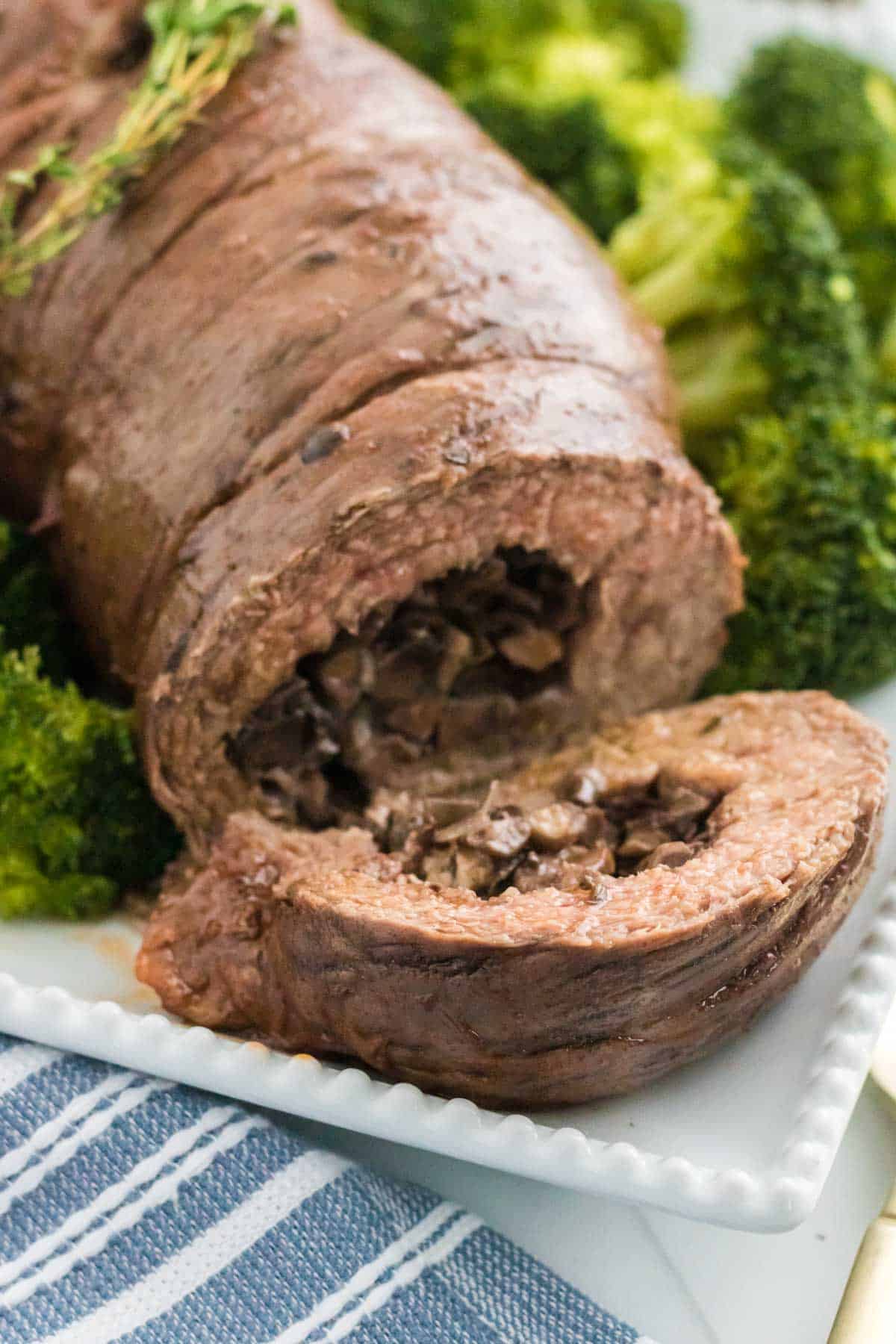 What is Braciole?
Braciole (pronounced "Bra-choh-leh") is a classic Italian dish traditionally made with a filling of parmigiano cheese, herbs and breadcrumbs, rolled up inside a thin slice of flank steak. Also called braciola, the stuffed steak roulade is then cooked in a tomato-based sauce.
This recipe takes the elements of Sicilian braciole and combines it with a home-style Beef Wellington, for an easy dinner that looks and tastes super impressive!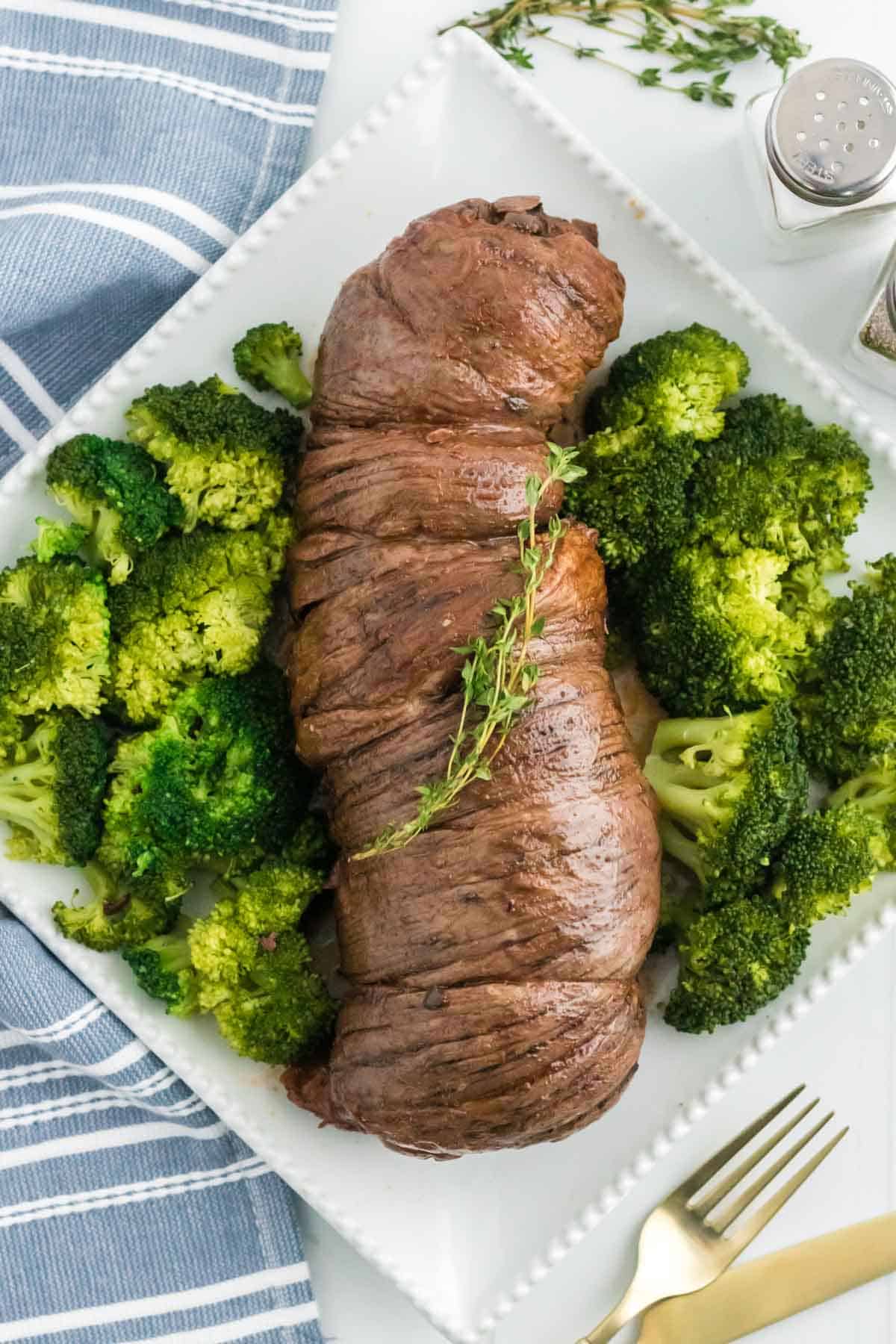 Recipe Ingredients
Here's everything you need to make this succulent, braised Beef Wellington braciole and gravy:
For the Stuffed Flank Steak
Olive Oil: It's always worth investing in a high quality extra virgin olive oil.
Shallot: Or yellow onion, minced.
Mushrooms: Just about any type of mushroom can be used for duxelles. White or brown mushrooms, cremini, portobello, chanterelles – whichever you choose, make sure they're finely chopped.
Thyme: Thyme is a classic ingredient in the mushroom filling for Beef Wellington. You can also substitute or include other fresh herbs like basil, parsley, or oregano if you wish.
Red Wine: The mushroom duxelles will cook down in a red wine reduction. Choose a dry red wine like a pinot noir, merlot, or cabernet sauvignon.
Flank Steak: Or another thin slice of beef. See below for recommendations.
Gorgonzola Cheese: Or a similar style of blue cheese, crumbled. Gorgonzola takes the place of pecorino in this version of braciole, and also brings a delicious creaminess to the mushrooms.
Salt & Pepper
For the Gravy
Red Wine: Additional red wine brings a nice depth and acidity to the tomato gravy.
Beef Broth: Or beef stock. Beef broth enriches the beefy flavor of the dish, but chicken broth or vegetable stock can also be used.
Tomato Paste: Tomatoes contrast the richness of the flank steak and mushroom duxelles. Definitely a good call with this recipe!
Thyme
Salt
What Cut of Beef is Best for Braciole?
I've found that the best cut of beef for this version of braciole is flank steak. It is also easy to come by in most grocery stores. Other popular options are individual slices of top round, or bottom round steak, which you can find in many butcher shops.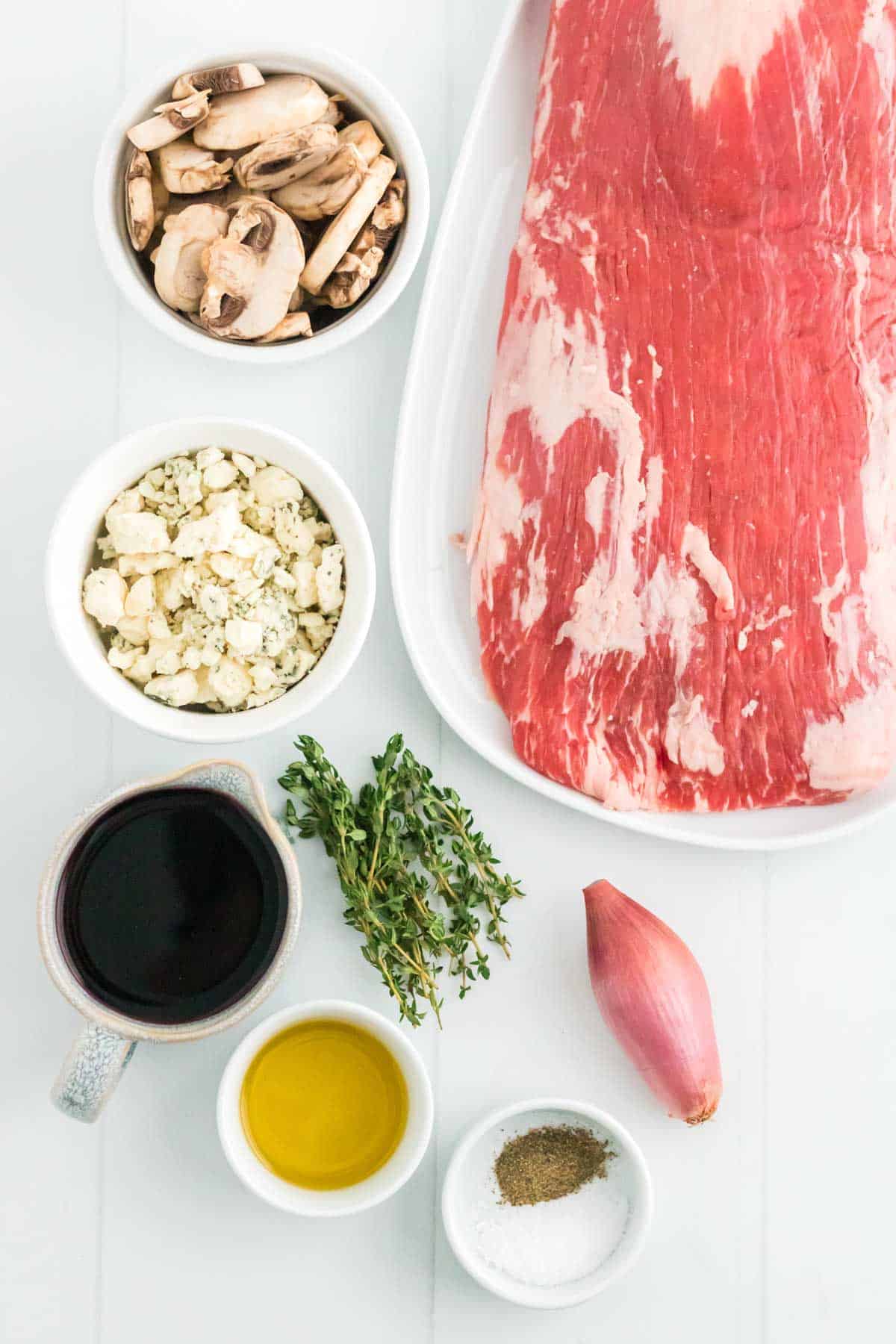 How to Make a Stuffed Steak Pinwheel
This rolled and stuffed flank steak is pretty unassuming while it cooks (though your house will smell amazing!). And once I sliced into it, there were audible "ooohs" around the table! Here's how to make this perfect stuffed flank steak:
Make the Filling: First, season and saute the shallot, mushrooms, and thyme in a pan with olive oil. Pour in the wine and simmer for about 10 minutes or so, or until most of the liquid has reduced.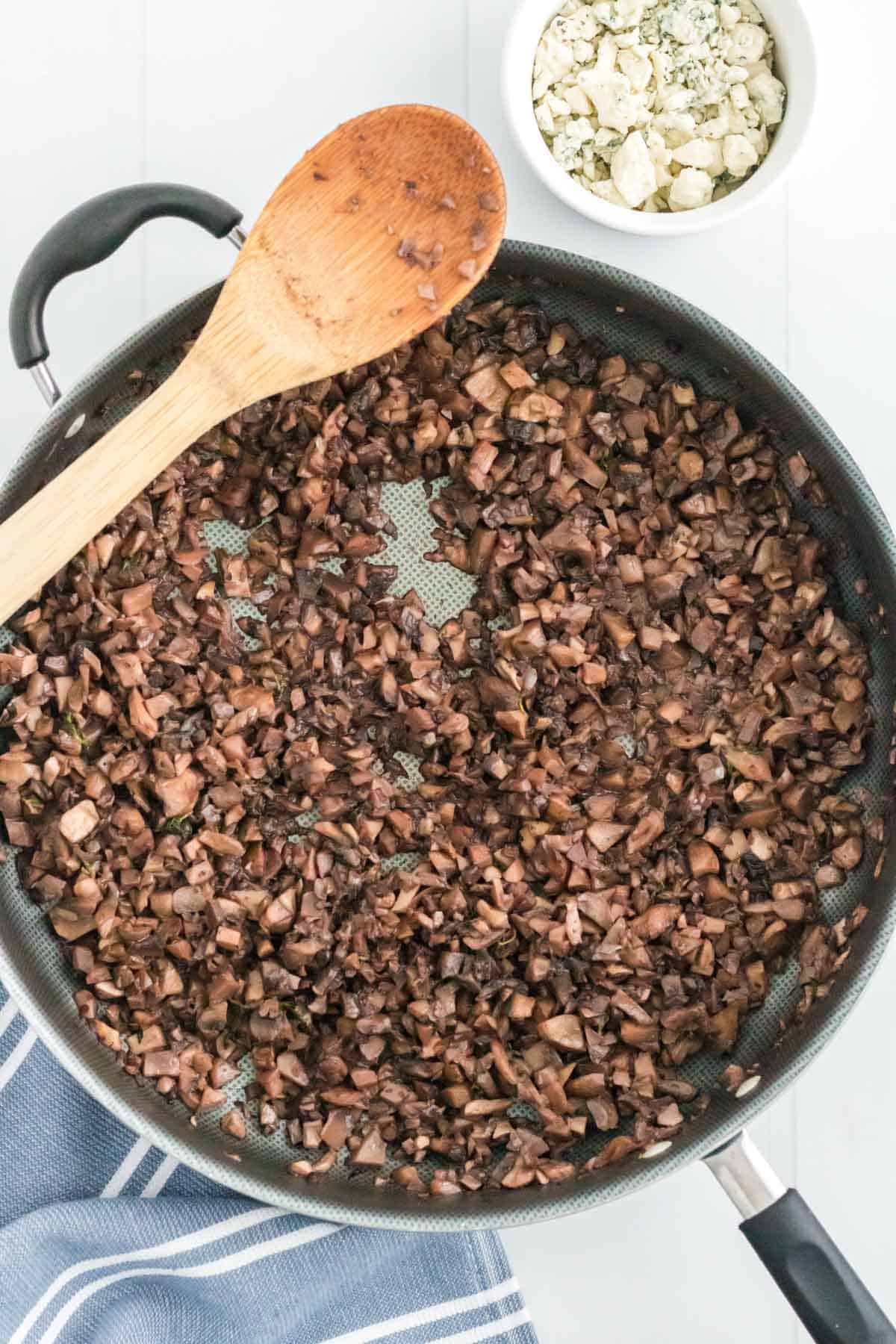 Prepare the Steak: Set aside the mushroom filling for now. Slice your flank steak horizontally, leaving one edge intact so that you can lay it open (a bit like a book!). Place a barrier of plastic wrap between the beef and your meat mallet while you tenderize and flatten it out a little. You can also use a heavy pan or a rolling pin to do this.
Stuff & Sear: Spread an even layer of mushroom filling over the steak, followed by the crumbled gorgonzola. Starting from one side, roll the steak up tightly and secure it with butcher's twine. Next, sear the beef on each side in a hot Dutch oven with olive oil.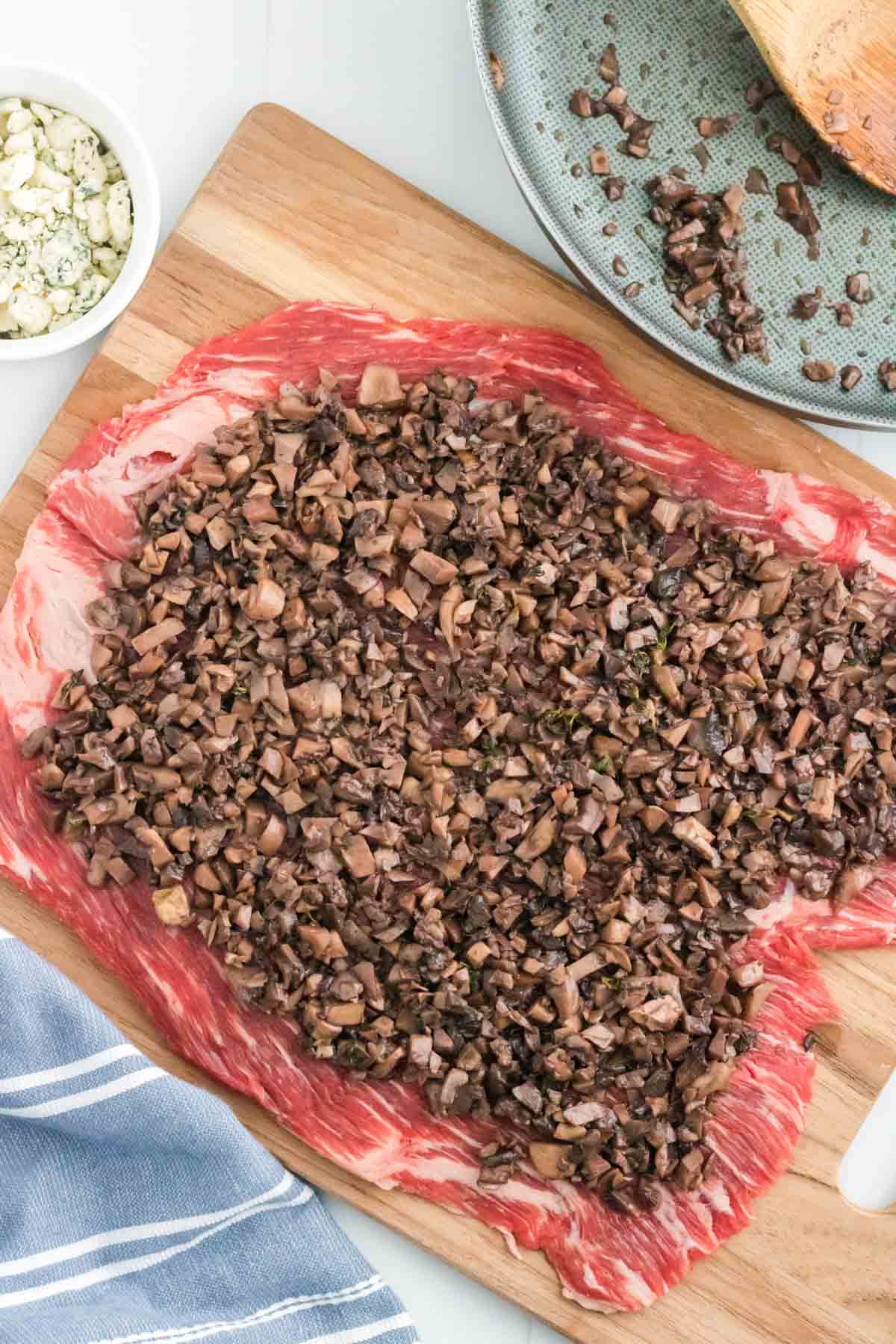 Make the Gravy: Whisk together the gravy ingredients, saving the thyme sprigs for now. In the Dutch oven, pour the gravy over the beef braciole and toss in the thyme.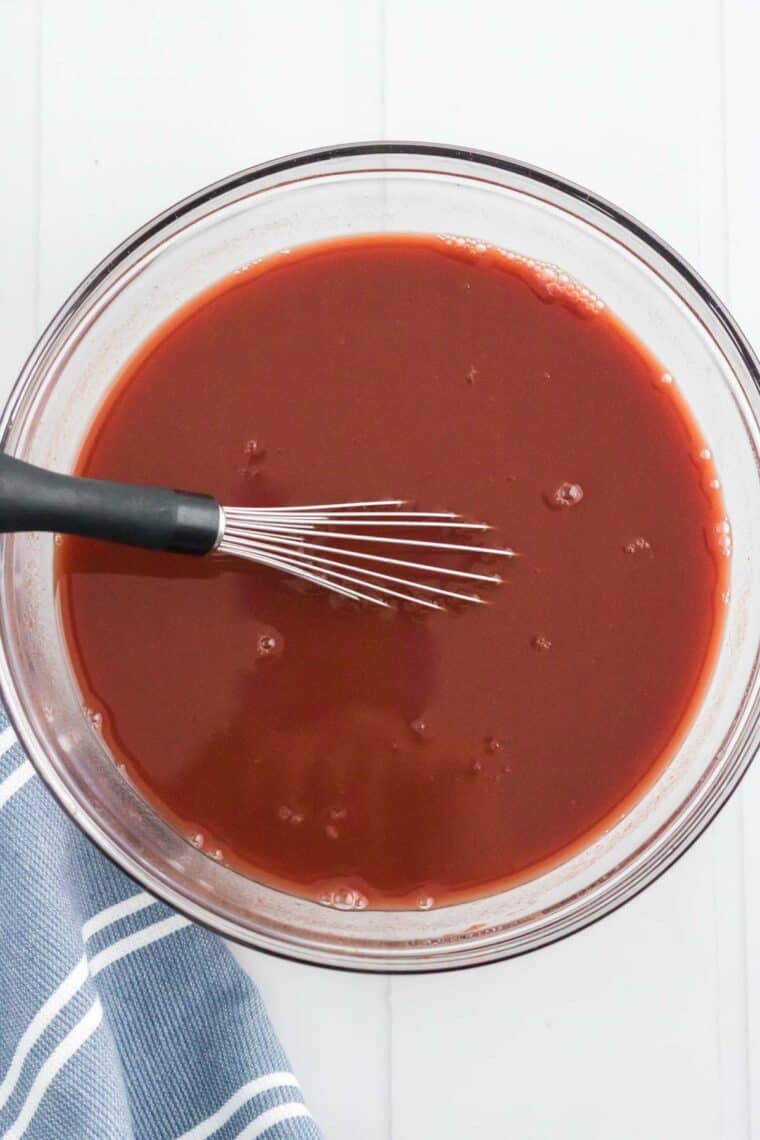 Braise: Cover and then let the stuffed flank steak simmer and braise for just over an hour. Slice the beef into pinwheels and then serve with a generous spoonful of tomato gravy!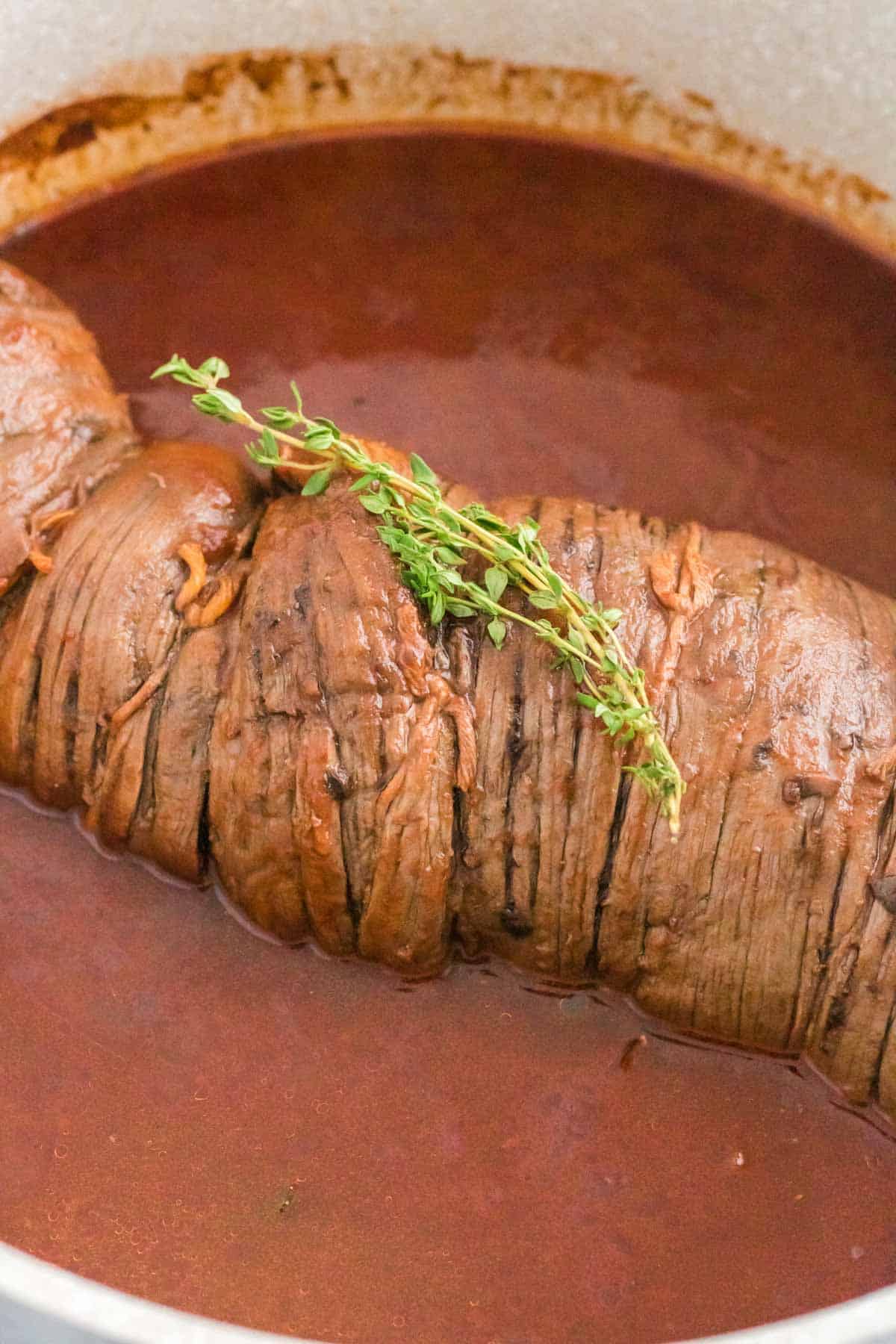 Tips for Success
When Tenderizing the Meat: Start from the center of the meat and work outwards until it's tenderized in an even layer.
To Prevent the Twine From Sticking: If you're worried about the twine sticking to the beef as it cooks, one quick fix is to dip your twine pieces in olive oil before tying them around the steak.
Rest the Beef: Like many steak recipes, for best results allow the beef to rest for a few minutes after it's done braising. This helps the filling to set up and keeps the beef juicy!
Can I Prep it Ahead of Time?
Absolutely! This stuffed flank steak braciole can be rolled up and tied, and then stored in the fridge up to one day ahead. Wrap the beef in plastic wrap, and then braise it as directed when you're ready to cook it.
You can also make it ahead to freeze, see freezing directions below for more details!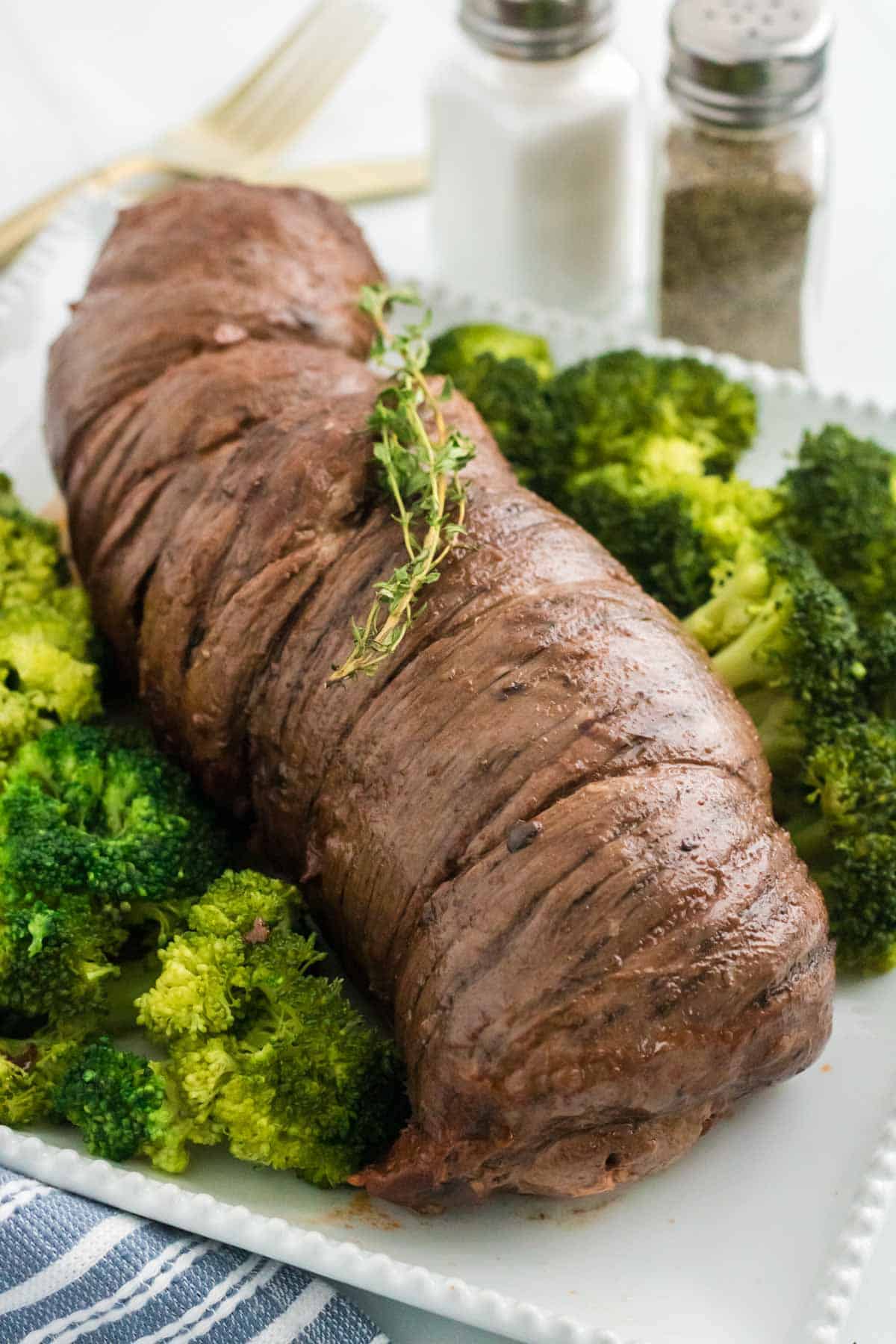 Serving Suggestions
I serve this Beef Wellington braciole sliced and drizzled with tomato gravy, next to a side of my favorite veggies! This recipe makes a lovely centerpiece for any meal, here are just some of the side dish ideas to serve with: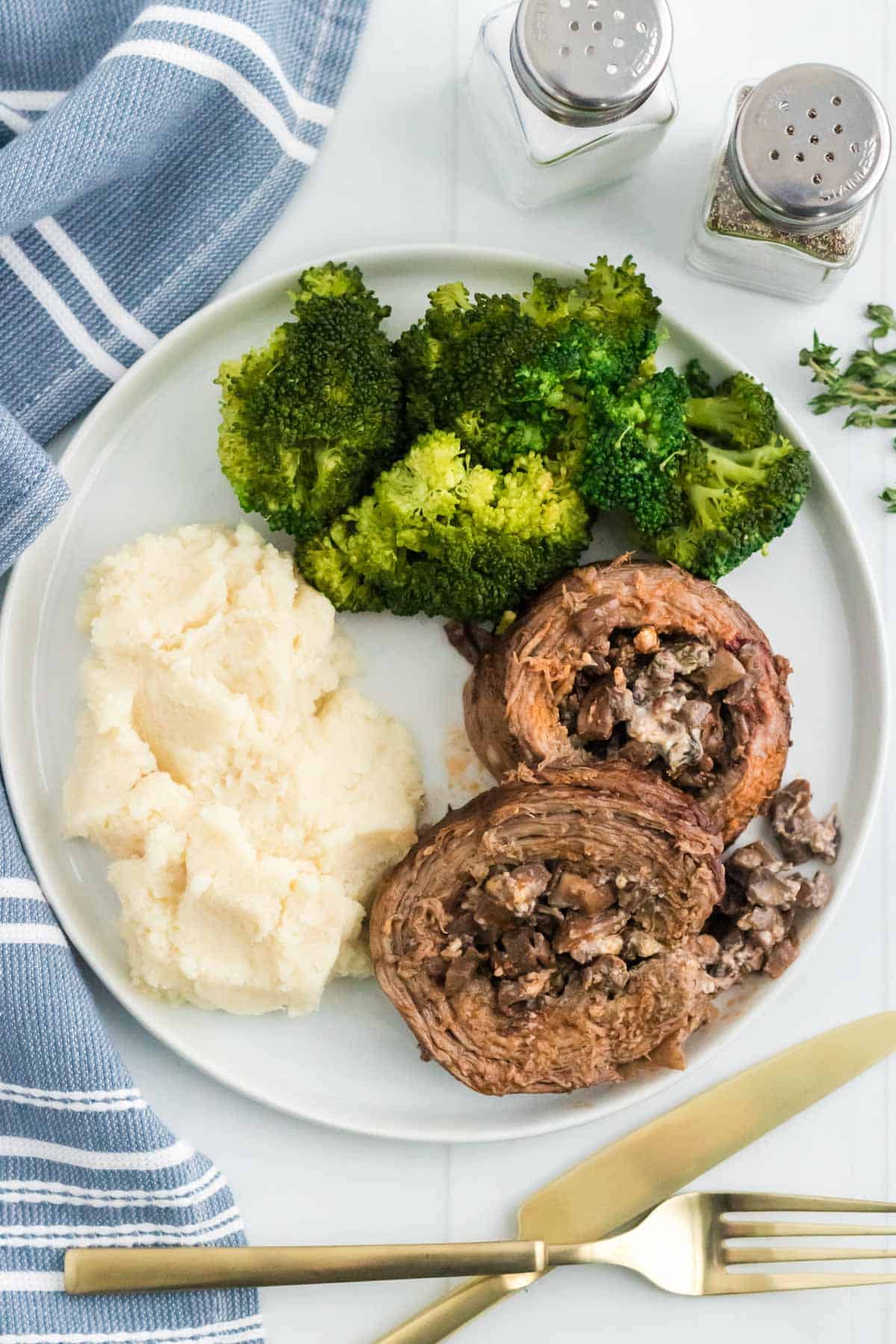 How to Store and Reheat Leftovers
Store leftover stuffed flank steak in an airtight container in the fridge for up to 3-5 days. Reheat the pinwheels either in the microwave or covered in the oven until heated through.
Can I Freeze Beef Braciole?
This beef braciole can be stored frozen, either cooked or uncooked, for up to one month. Wrap the rolled beef tightly in plastic wrap plus an extra foil layer to protect it from freezer burn. Defrost the braciole in the fridge before reheating, or following the rest of the cooking instructions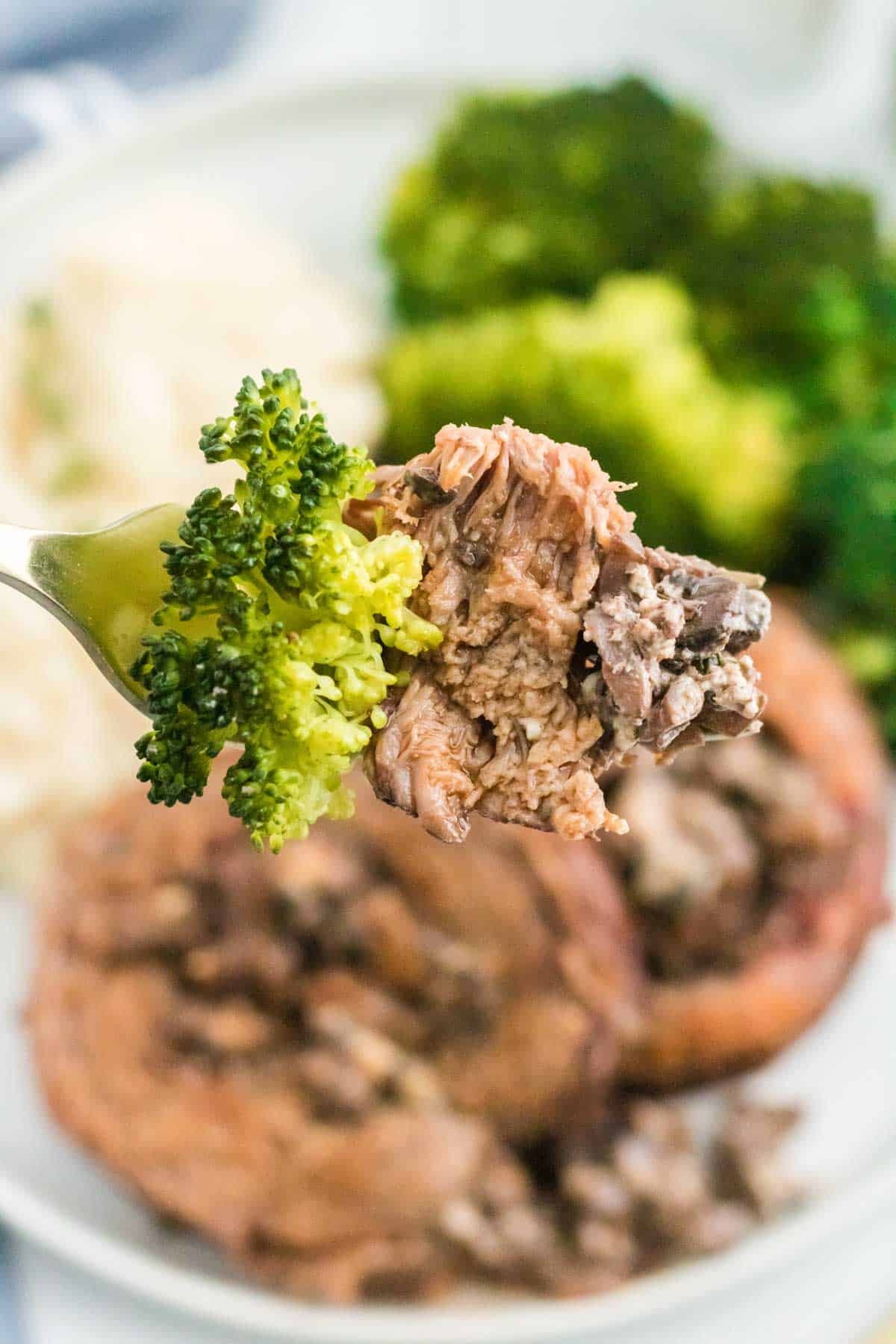 Things You'll Need
CARVING KNIFE: When slicing open the flank steak, I like to use a think, sharp knife like an 8-inch slicing or carving knife. This is also good for slicing the pinwheels.
MEAT MALLET: For pounding out your steak before stuffing in.
BUTCHER'S TWINE: You definitely need to tie up your braciole so it stays together while you braise it.
ENAMELED CAST IRON DUTCH OVEN: When searing and braising, you want a nice, heavy pot.
Last updated on September 24, 2023 9:12 pm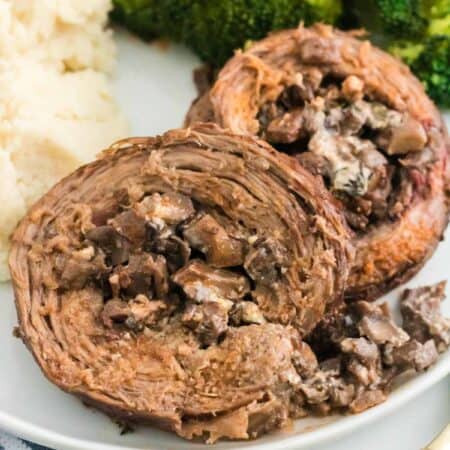 Beef Wellington Braciole
Filled with mushrooms and gorgonzola and braised in red wine tomato gravy, Beef Wellington Braciole is an impressive dish that puts a twist on two classics.
Ingredients
For the braciole:
2

Tbsp

olive oil

divided

one shallot

minced

About 24 oz. mushrooms

finely chopped

1

tsp

kosher salt

1

T

chopped fresh thyme

1/2

cup

dry red wine

2-2 1/2

lb

flank steak

4

oz.

gorgonzola or another blue cheese,

crumbled
For the gravy:
2

cups

dry red wine

2

cups

beef broth

one 4 oz. can tomato paste

1

tsp

kosher salt

2

sprigs thyme
Instructions
In a large saute pan, heat 1 Tbsp olive oil over over medium heat.

Add the shallot and saute for 2-3 minutes.

Add the mushrooms, salt, pepper, and thyme and saute for 5-7 minutes, or until the mushrooms are soft.

Add the wine and allow the liquids to reduce until there is very little excess liquid, about 10 minutes. Set aside.

Slice through the flank steak horizontally, but do not cut all the way through, in order to open it like a book. Place plastic wrap over it and flatten slightly with a meat mallet, heavy pan or rolling pin. Remove the plastic wrap.

Spread the mushroom mixture over the steak, about an inch from the edge, then scatter the crumbled blue cheese over the mushrooms.

Starting on one of the sides parallel to the grain, carefully roll the steak tightly, and tie in several places with butcher's twine.

In a bowl, whisk together all of the gravy ingredients except the thyme.

In a large dutch oven, heat 1 Tbsp olive oil over high heat and sear the braciole for 2-3 minutes on each side.

Once seared, pour the gravy over the braciole, add the sprigs of thyme, cover and bring to a boil.

Reduce to a simmer and braise for 1-1/2 hours.

When done, slice and serve with gravy.
Nutrition Facts
Beef Wellington Braciole
Amount Per Serving (1 slice)
Calories 375
Calories from Fat 135
% Daily Value*
Fat 15g23%
Cholesterol 96mg32%
Sodium 1159mg48%
Potassium 984mg28%
Carbohydrates 9g3%
Protein 38g76%
Vitamin A 378IU8%
Vitamin C 7mg8%
Calcium 122mg12%
Iron 3mg17%
* Percent Daily Values are based on a 2000 calorie diet.
Categories:
More Family-Favorite Dinners