Orange Saffron Grilled Chicken Legs (or Baked Chicken Legs)
Disclosure: This post may contain affiliate links. Cupcakes & Kale Chips is a participant in the Amazon Services LLC Associates Program, an affiliate advertising program designed to provide a means for us to earn fees by linking to Amazon.com and affiliated sites.
An easy marinade with exotic citrus flavors infuses juicy drumsticks that you can toss on the grill or in your oven. A little pinch of that fancy spice will make a simple dish extra special in these Baked or Grilled Orange Saffron Chicken Legs.

Orange Saffron Baked or Grilled Chicken Drumsticks
I don't know if it's my nature or just a typical mom thing to do, but most days I doubt myself and spend a good portion of the time convinced that if you had to apply for a license to be a parent, I would not have been granted one. My kid, the six-year-old who has had bouts of defiance, anxiety, and other behavioral issues and who has been bearing the brunt of my tendency to yell a little too quickly, to get immersed into cooking or laundry or whatever to the point where I tune everything else, including him, out until I am done, and to be easily distracted by social media, deadlines, dishes, and all of that when I should be focused on him, he is the one who reminds me that maybe I'm not as bad at this as I think.
So this kid who has definitely had a hard time learning how to be in control of his anger and frustration has emotions that run as deeply on the opposite end of the spectrum as well. He truly has a heart of gold. He loves deeply. He is very tuned in to people and how they act and react. He analyzes behaviors and picks up on little things people say, things that you figure will pass right through his brain and yet he remembers them.
Luckily a lot of the not-so-good aspects of his personality have been mellowing out as he is getting more mature, and he has been in a very loving and affectionate mood lately. Not that he doesn't get mad when his brother messes with his toys and not that they aren't roughhousing and running around like typical little boys. But in the midst of rambunctiousness he will just stop because he feels the sudden need to give or receive a hug.
Tonight was the best, though. As I was putting the boys to bed, he said that I was the Best Mommy. I told him that I'm not perfect, but I try my best to be the best, and even though I make mistakes, I realize when I do and just try to do better. A short while later, the little guy called me upstairs to cover him up again, as he typically does, and when I went into the room to cover the little one, the big one says, "Mommy, you know how you said a little while ago that you try to be the best mommy. Well, you don't have to try. You just are the best mommy."
I melted, you guys. Like, literally, I was reduced to a puddle on the floor. It's these moments, you guys. This is why we parents deal with sleepless nights, threenager tantrums, potty training, worrying about our country and our world and whether our children are going to be safe in it, food on the floor, endless piles of laundry, "you're so mean, mommy", and everything else, big and small. As my hubby says, parenting is a whole lot of work with moments of joy, but it's those moments of joy that make it all worth it.
I couldn't agree more.
You know what else is worth it…
Saffron is worth it so you can make these Baked or Grilled Orange Saffron Chicken Legs. This recipe is a super simple addition to your dinner table with tons of flavor all from an easy marinade. The key is a lot of orange juice and zest and just a bit of saffron. Saffron can be a little pricy, but you only need a pinch to add just the right amount of subtle but exotic flavor, as well as that gorgeous golden color. That nice long soak combined with a hot grill or oven leaves you with moist and juicy drumsticks that taste absolutely incredible. The whole family was digging into this pile of chicken legs!
So whether it's summertime and you are ready to fire up the grill, or winter and you want comfort food coming out of your oven, do yourself a favor and invest in a little package of saffron so you can make this Baked or Grilled Orange Saffron Chicken Legs recipe.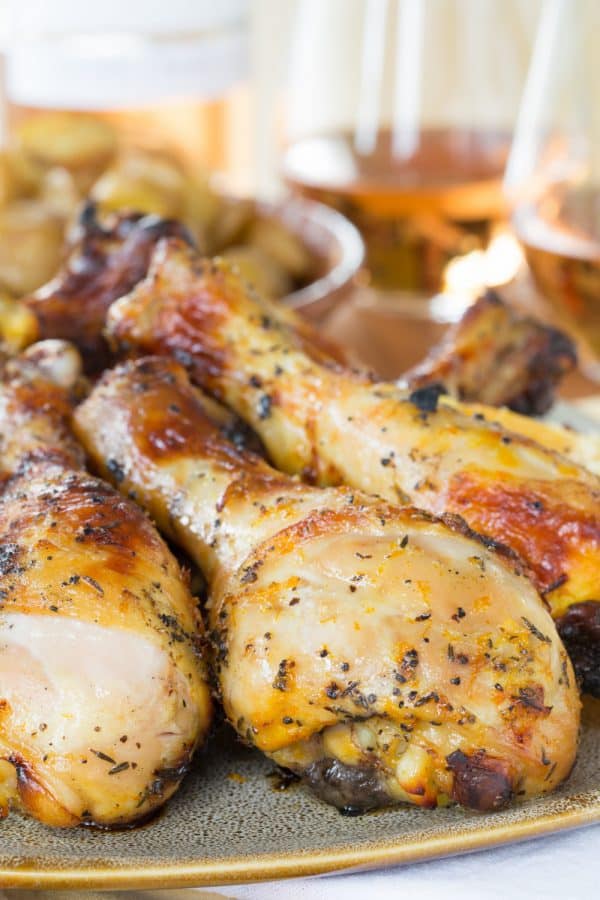 Want some more chicken on the grill?
And here are some from my friends…
Do you have any special memories of when you realized "it" was all worth it, whether "it" is your children, job, or anything else you are passionate about?
For more yumminess from me and my foodie friends, keep up with me on…
Or sign up to have Cupcakes & Kale Chips delivered straight to your Inbox!
Print Recipe
Baked or Grilled Orange Saffron Chicken Legs
An easy marinade recipe infuses exotic citrus flavors into juicy drumsticks you can cook on the grill or bake in the oven.
Ingredients
1/4

cup

olive oil

1

tablespoon

coarsely ground pepper

2

oranges

zested and juiced

1

clove

garlic

minced or crushed

1/2

teaspoon

dry thyme leaves

1/4

teaspoon

saffron threads

3

pounds

chicken legs
Instructions
Combine all ingredients except the chicken in a large plastic sip-top storage bag and mix to combine.

Add the chicken, seal the bag, and place in the refrigerator to marinate for at least 6-8 hours or overnight.

If you are baking, preheat the oven to 450°F, and place a cooling rack on top of a cooking sheet. Remove the chicken from the marinade, dry with paper towels, and place on the rack. Bake for 30 minutes, flip the legs, then bake for and additional 10-15 minutes, or until the juices run clear and the meat reaches a temperature of 165°F.

If you are grilling, preheat your grill, remove the chicken from the marinade, dry with paper towels, and place on the grill. Grill over indirect medium heat for 40-50 minutes, or until the juices run clear and the meat reaches a temperature of 165°F.
Nutrition
Serving:
2
drumsticks
|
Calories:
380
kcal
|
Carbohydrates:
6
g
|
Protein:
21
g
|
Fat:
29
g
|
Saturated Fat:
6
g
|
Cholesterol:
120
mg
|
Sodium:
109
mg
|
Potassium:
354
mg
|
Fiber:
1
g
|
Sugar:
4
g
|
Vitamin A:
215
IU
|
Vitamin C:
23.9
mg
|
Calcium:
34
mg
|
Iron:
1.1
mg
Enjoy this Baked or Grilled Orange Saffron Chicken Legs recipe!