This post may contain affiliate links. Read my disclosure policy.
This Easy Chilaquiles Verdes recipe is one of our favorite Mexican meals. It's a classic dish made with crispy corn tortillas drenched in bright salsa verde, topped with fried eggs, and more tasty toppings. But this recipe uses a few shortcuts and is naturally gluten free. Enjoy warm and zesty chilaquiles at breakfast, brunch, or any time of the day!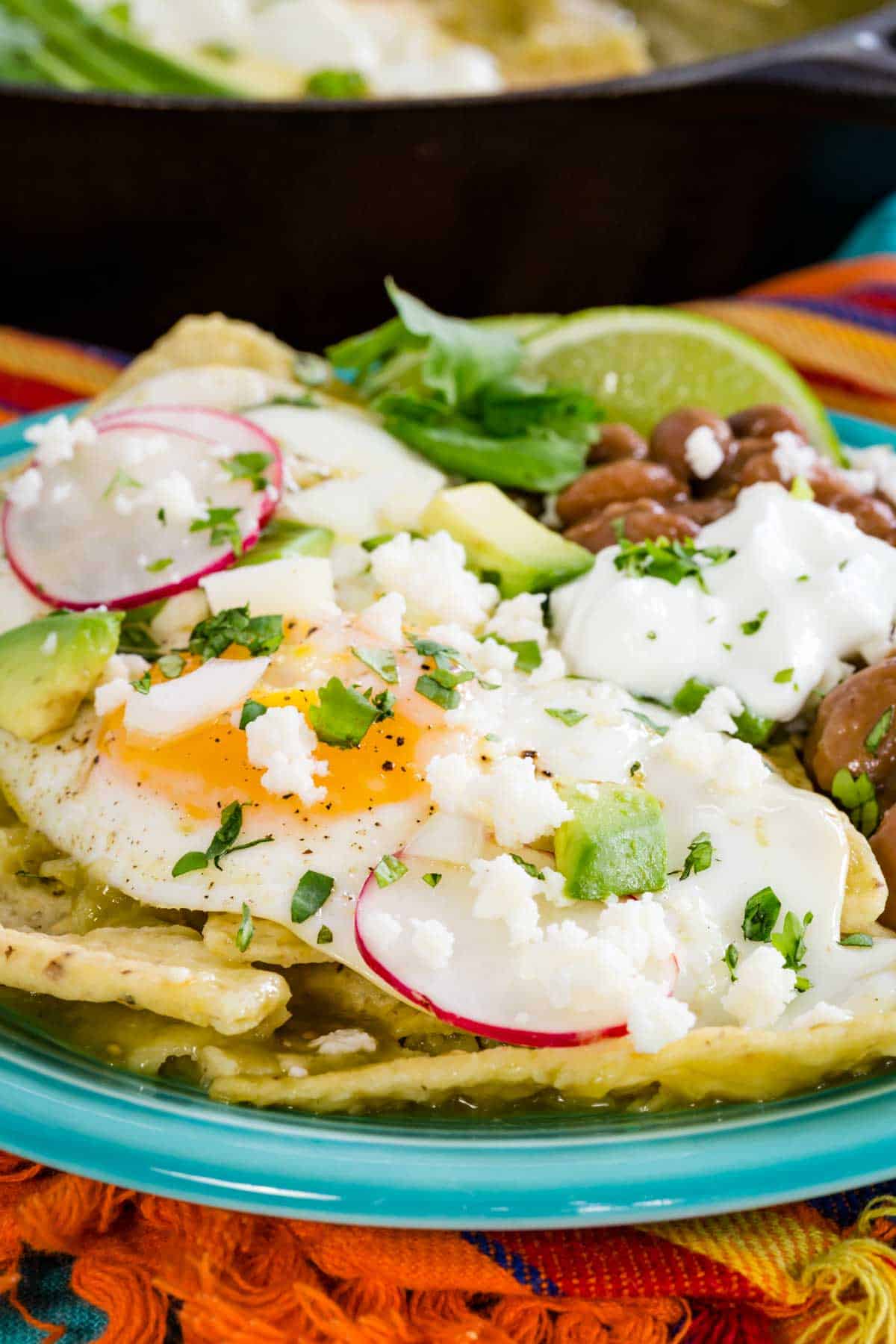 Zesty Chilaquiles Verdes with Fried Eggs
If you're looking for something a little different to bring out at brunch this spring, I can't wait for you to try this easy recipe for chilaquiles verdes! This traditional Mexican dish is simple to make, combining two classic ingredients: corn tortillas (or chips) and chili.
Chilaquiles are the best comfort food, and they're naturally gluten-free. You can use up leftover corn tortillas or make them easily with sturdy gluten-free corn chips from the store. All it takes is a few minutes on the stovetop to warm up some spicy and tangy salsa verde and then toss the chips to coat.
We love our chilaquiles topped with perfect sunny-side-up eggs, and we'll load them up with toppings like cotija cheese, Mexican crema, and avocado. Serve them at breakfast or as a Mexican-style brunch or dinner. Chilaquiles verdes are delicious any time of the day!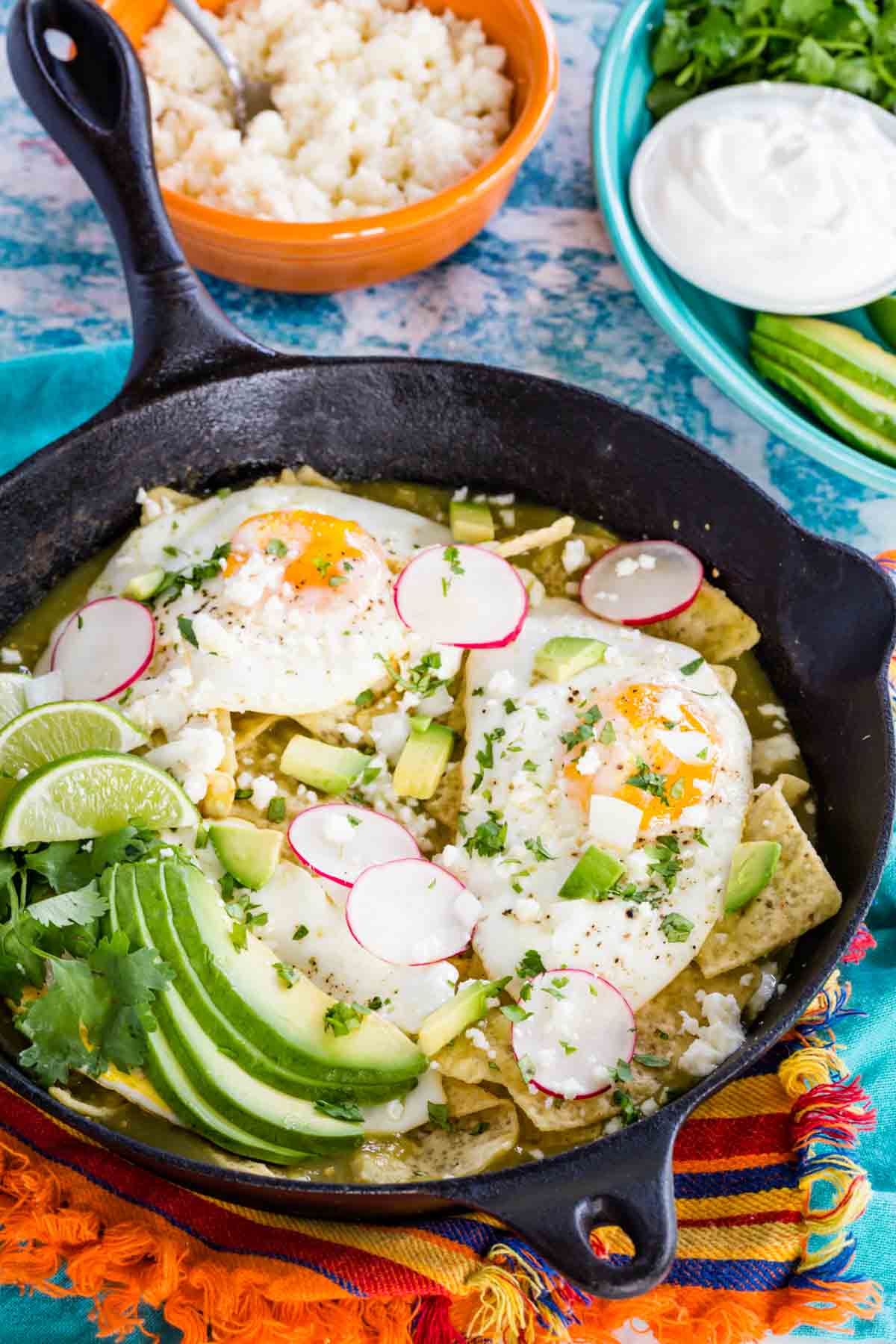 What Are Chilaquiles?
Chilaquiles, pronounced "chee-lah-kee-lehs", is a Mexican breakfast made from cut and fried corn tortillas that are simmered in chili sauce or salsa and served with eggs. The most common types are chilaquiles rojos (red chilaquiles), prepared with red salsa, and chilaquiles verdes (green chilaquiles) prepared with green tomatillo salsa. The latter is the kind we're making today!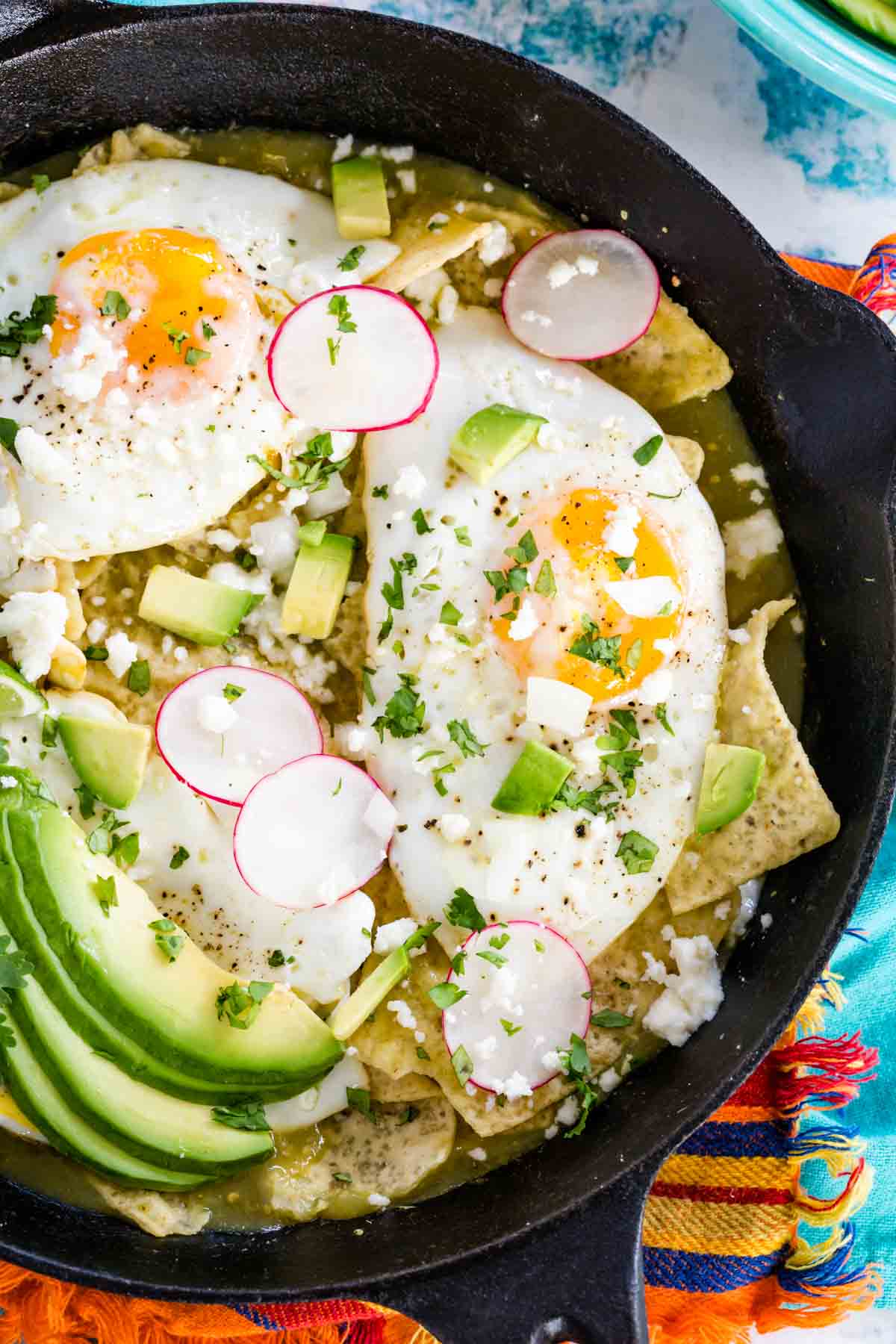 What You'll Need
Below are the simple ingredients you'll need to make this classic breakfast recipe. Don't forget to scroll to the recipe card for the full recipe details:
Oil: You can use olive oil or vegetable oil to fry your eggs, whichever you prefer.
Eggs: You'll need 4 large eggs if you're serving your chilaquiles for breakfast. You can also top them with refried beans, see further on in the post for more topping and serving suggestions.
Salsa Verde: Use your preferred brand of jarred salsa verde.
Tortilla Chips: You'll want to buy sturdy, thick corn tortilla chips. Many brands of corn chips are naturally gluten-free but always double-check the ingredients to be sure.
Toppings: Any toppings your heart desires! Some of our favorites are cotija cheese, avocado, onion, lime, and Mexican crema. See further on for more ideas.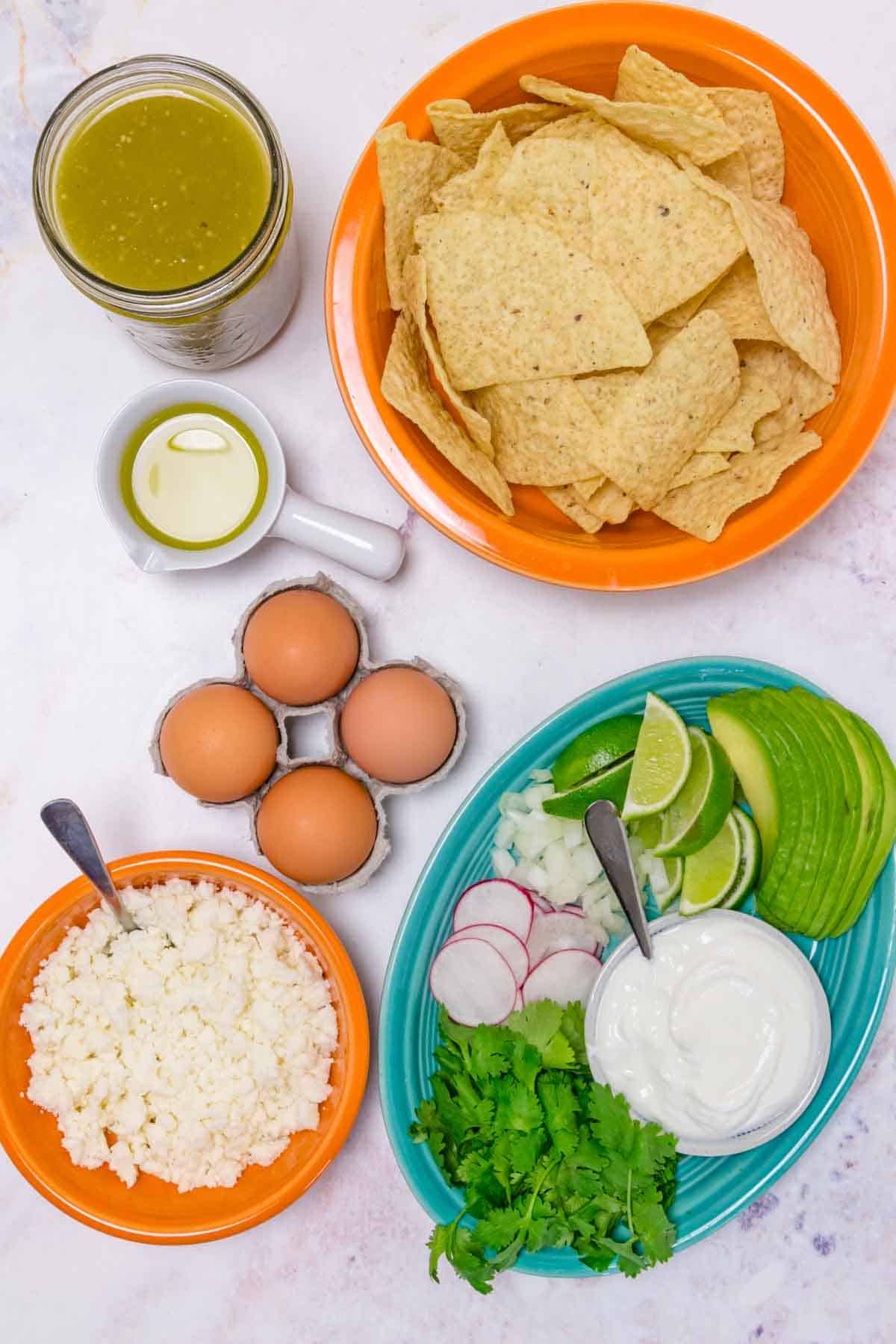 What Is Salsa Verde?
Salsa verde is a spicy Mexican green sauce made from tomatillos and green chilis. This sauce dates back to the Aztec Empire! You'll now find it readily available in the condiment aisle or international food aisle at most major grocery stores. You can also make your own, and there are plenty of recipes out there for homemade salsa verde.
How to Make Chilaquiles Verdes
Let's make some Mexican chilaquiles! Here's how easy it is:
Cook the Eggs: I always fry the eggs first, so that the chilaquiles won't need to sit too long after they're cooked. Start off by heating up a bit of oil in the skillet, then fry the eggs to your preference. I like my eggs soft and still a little runny. Fry the eggs in batches and set the cooked eggs aside on a plate beneath some aluminum foil.
Prepare the Chilaquiles: Next, lightly warm the salsa verde in a cast iron skillet. Add the tortilla chips and gently stir or toss to coat. Be careful to not break them up too much. You can continue to cook your chips in the sauce to your desired "doneness", they'll soften the longer they are in the pan.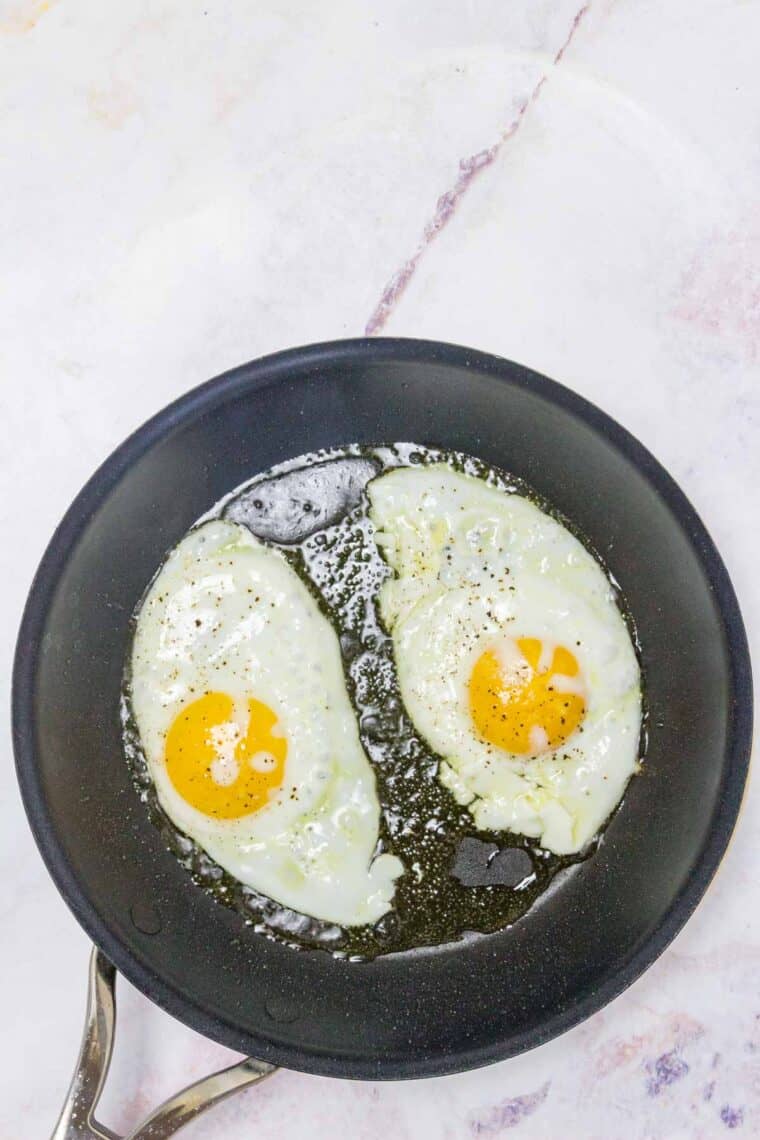 Serve: Take your skillet off the heat and place the eggs over top of your chips. Your chilaquiles are ready to serve! Dig in and garnish your breakfast with your choice of toppings (see below).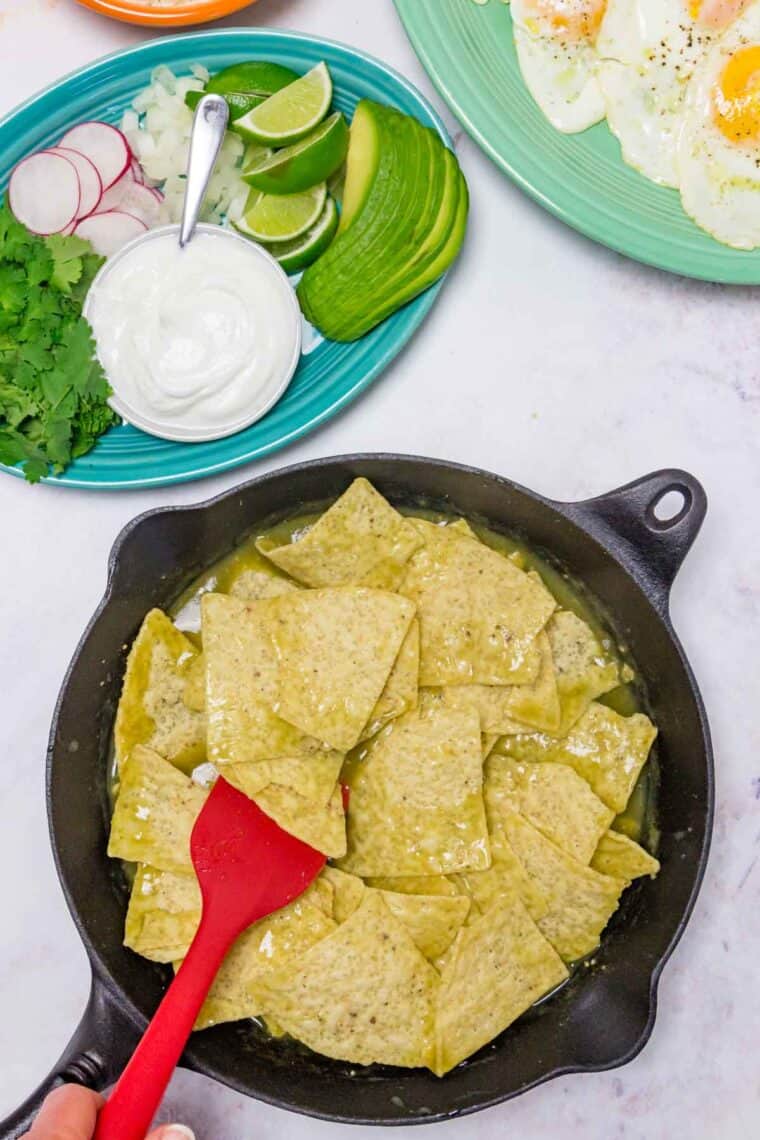 Tips and Variations
Chilaquiles verdes are a wonderfully simple dish with loads of potential for making it your own (see below for serving and topping suggestions). For now, here are some final tips and recipe variations:
Make your own tortilla chips. Cut corn tortillas into wedges, brush them with olive oil and bake them in a single layer at 400ºF for 10-15 minutes, until crispy.
How to avoid soggy chilaquiles: Make sure to use a brand of thick and sturdy, lightly salted tortilla chips. Thinner corn chips will break and become soggy quickly in the sauce.
Prep ahead. While the chilaquiles are best served right away, you can always make baked eggs in advance versus frying them at the last minute.
Adapt the heat levels to taste. You can choose to use hot or mild salsa verde, or up the heat by adding hot sauce, diced jalapeños, or crushed red chili flakes.
Make chilaquiles rojos. Instead of salsa verde, use your favorite brand of jarred tomato salsa instead. I recommend using the blended kind rather than chunky salsa.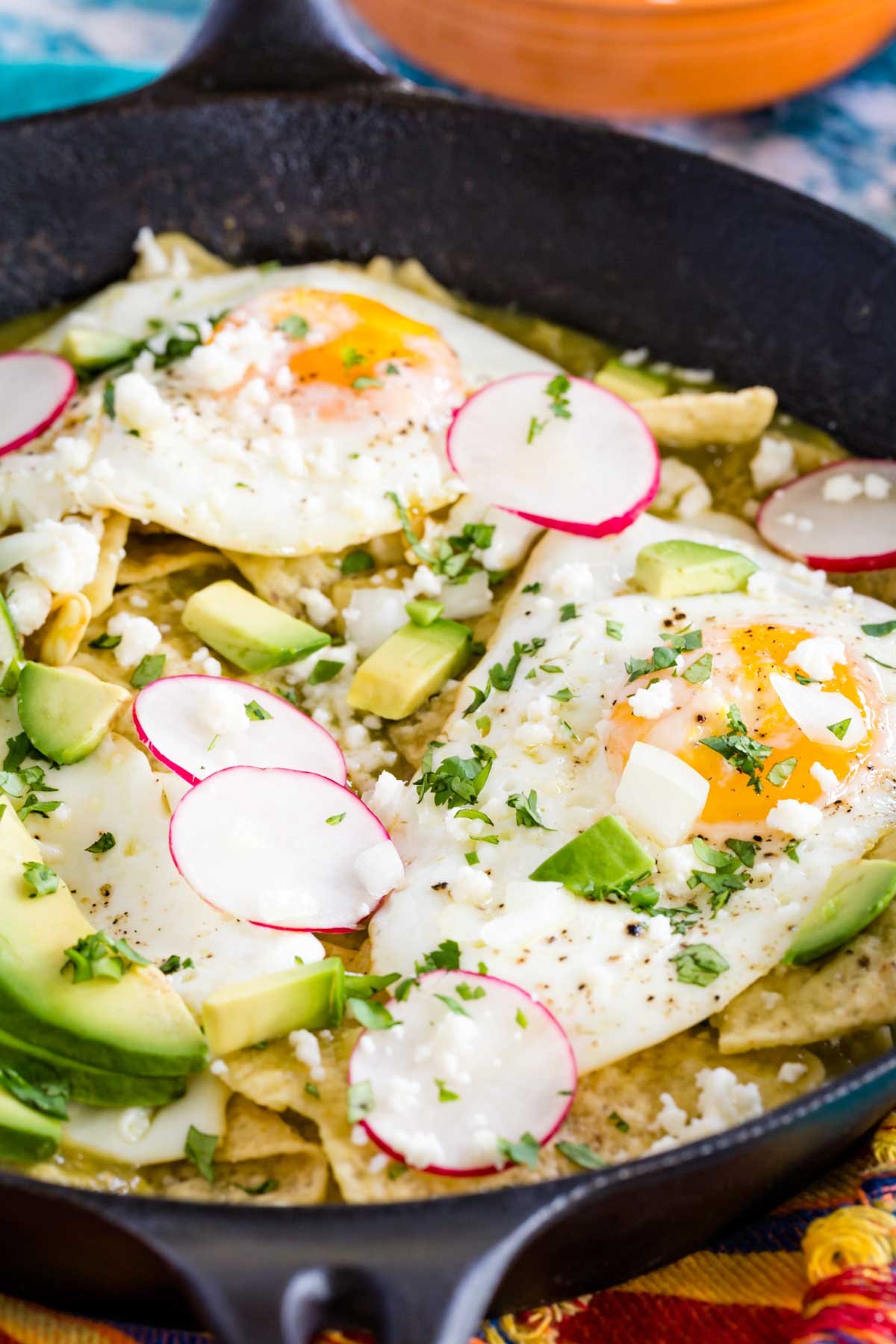 Common Questions
In case you're new to Mexican-style recipes like this one, check out these chilaquiles FAQs:
What are the two types of chilaquiles?
Chilaquiles verdes and chilaquiles rojos are the two most popular.
What's the difference between nachos and chilaquiles?
In short, you eat nachos with your hands and chilaquiles with a fork! Nachos are also crispy and made with melted cheese, while chilaquiles are tortilla chips that have been softened in salsa.
Should chilaquiles be crunchy or soft?
Chilaquiles should be both crunchy and soft. You don't want to cook them until they're soggy, but they'll naturally soften the longer they soak up the salsa verde. Take them off the heat earlier and eat them right away if you'd like them crispier.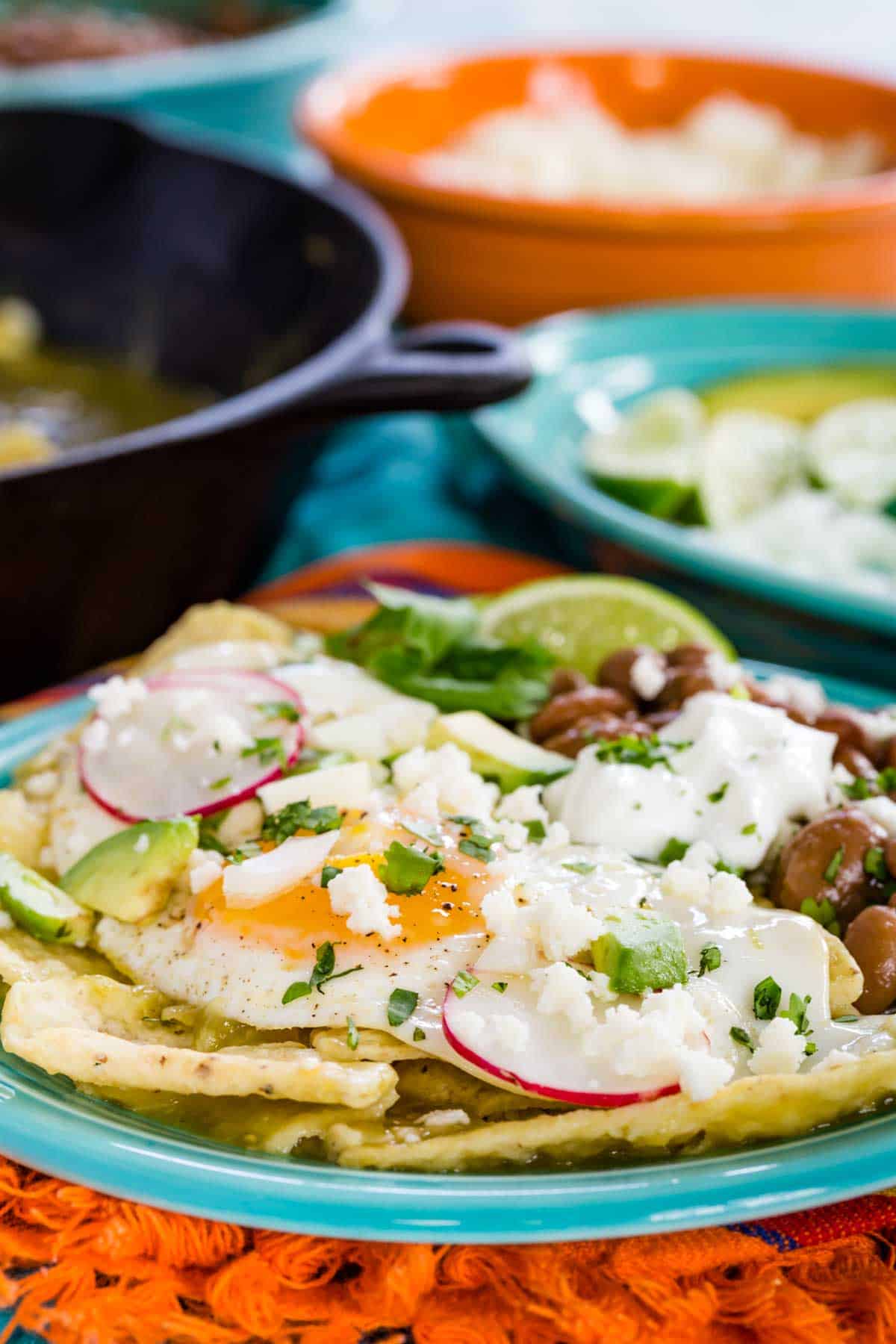 Make It a Meal
Chilaquiles verdes are best served fresh off the stovetop. This way the salsa verde will still be warm and the chips slightly crisp when you load them up with toppings.
What can you serve with chilaquiles? We love these at breakfast served with a side of refried beans, spicy Mexican chorizo, and zesty Chili Lime Sweet Potato Home Fries or some Instant Pot Spanish Rice. 
Chilaquiles are also delicious to make for a fiesta-style brunch. Pair them with Chili Lime Corn and wash everything down with a Skinny Grapefruit Margarita!
If you'd like to serve these for dinner, chilaquiles pair great with chicken. We serve ours with a side of Slow Cooker Salsa Chicken or Instant Pot BBQ Chicken for added protein. You can leave the eggs off or keep them, it's up to you.
Chilaquiles Toppings
Of course, we can't forget the toppings! Try any or all of these easy chilaquiles topping ideas:
Avocado or Avocado Crema
Queso Fresco or Cotija Cheese
Mexican crema, sour cream, or plain Greek yogurt
Diced onion
Minced cilantro
Thinly sliced radishes
Lime wedges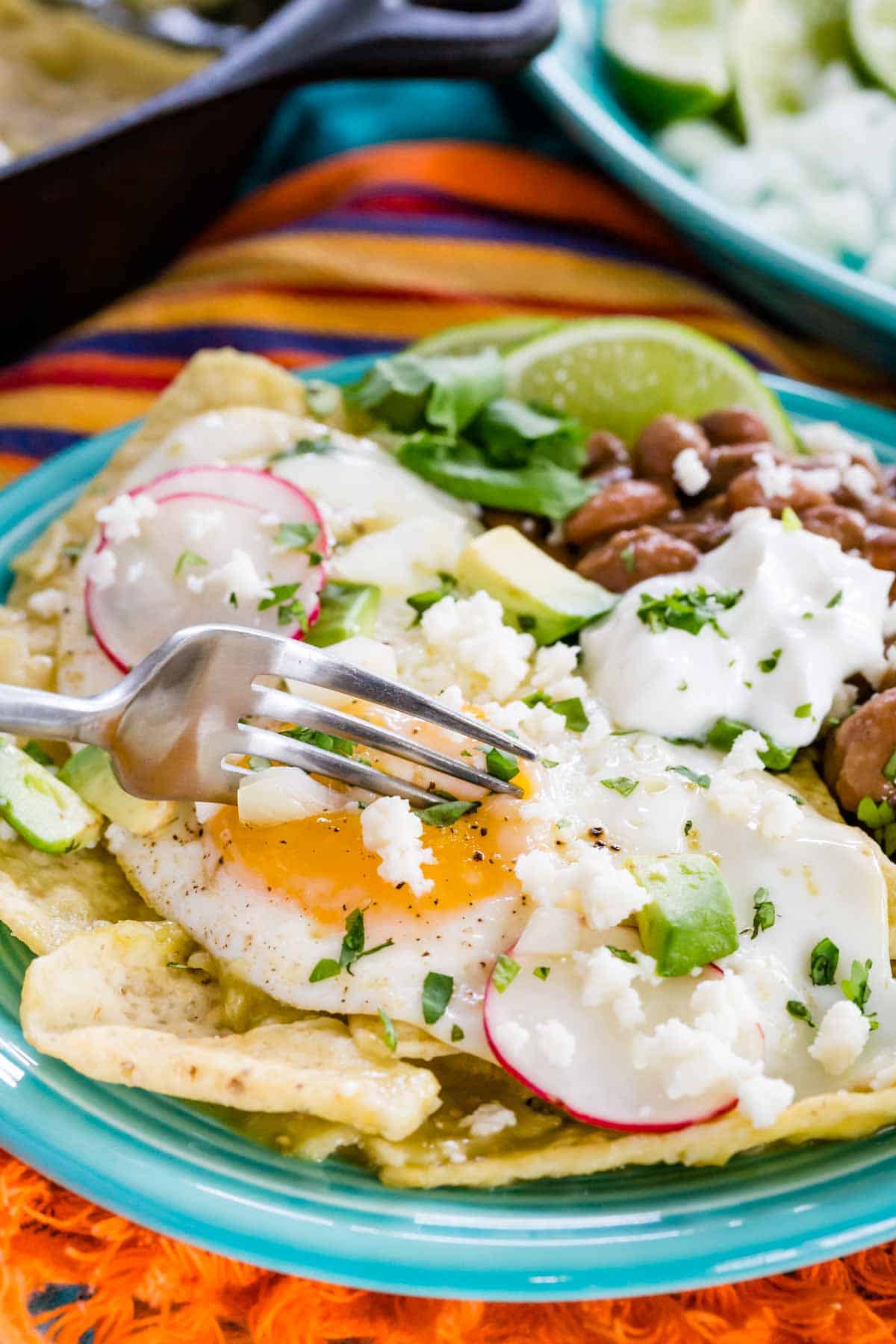 Storing and Reheating Chilaquiles
Chilaquiles are best enjoyed fresh since the tortilla chips become soggy when stored. Of course, you can still enjoy leftover chilaquiles! They'll still taste great, the texture will just be different. Store any leftovers airtight for up to 2 days, and reheat them in the microwave.
If you'd prefer to reheat chilaquiles on the stove, I recommend adding a bit more salsa verde as the existing sauce will dry up in the pan.
Can I Freeze Chilaquiles Verdes?
I don't recommend freezing chilaquiles. They become far too mushy once they're thawed.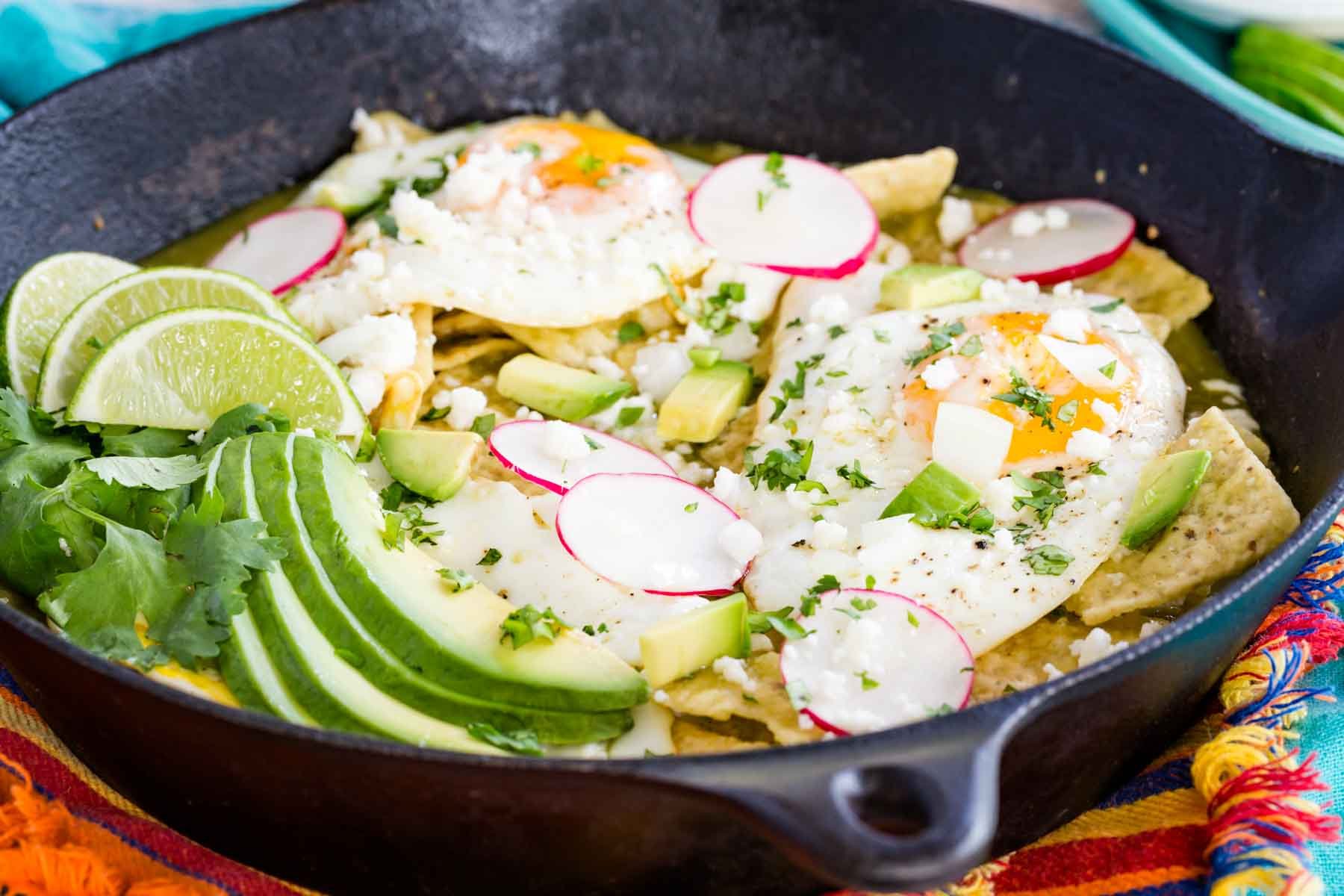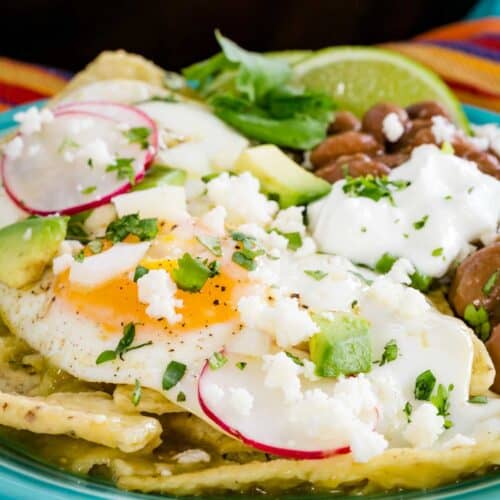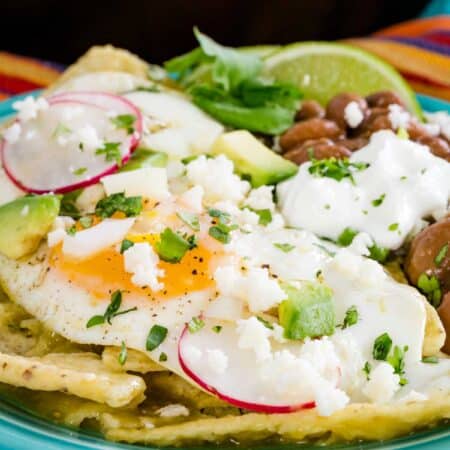 Easy Chilaquiles Verdes
Chilaquiles Verdes is a classic Mexican dish made from thick corn tortilla chips drenched in bright salsa verde and topped with fried eggs. Enjoy this warm and zesty chilaquiles recipe loaded with toppings for breakfast or brunch!
Ingredients
2

Tablespoons

olive oil

or vegetable oil, divided

4

eggs

Salt and pepper

, to taste

16

oz.

salsa verde

(about 2 cups)

4

cups

tortilla chips

(about 4 oz.), choose a brand of thick, sturdy chips
Topping Ideas:
Sliced avocado

or Avocado Crema

Queso Fresco or Cotija Cheese

Mexican crema, sour cream, or plain Greek yogurt

Diced onion

Minced cilantro

Thinly sliced radishes

Lime wedges

Pinto beans
Instructions
Heat 1 Tablespoon of oil in a large nonstick skillet over medium-low heat. Swirl around to coat the bottom of the pan.

Add 2 eggs to the skillet. When the edges of the eggs turn white, season them lightly with salt and pepper. Add 1 Tablespoon of water to the pan and cover it with a lid. Remove the eggs from the heat when they are still soft and runny. Slide the cooked eggs onto a plate and tent them with foil.

Drain any liquid from the pan and add the remaining 1 Tablespoon of oil to the hot skillet. Repeat the steps with the remaining eggs.

Place a 10-inch cast iron skillet over medium heat. Add the salsa verde to the skillet and allow it to warm slightly.

Add the chips to the skillet and toss to coat in the sauce, trying not to break the chips too much. Let it cook for another minute or two, depending on how soft you would like the chips. If they aren't soft enough for you, cover the pan for 1-5 minutes, or until done to your preference.

Remove the skillet from the heat and top with the eggs and any other desired toppings.
Nutrition Facts
Easy Chilaquiles Verdes
Amount Per Serving
Calories 721
Calories from Fat 333
% Daily Value*
Fat 37g57%
Cholesterol 164mg55%
Sodium 1255mg52%
Potassium 500mg14%
Carbohydrates 85g28%
Protein 14g28%
Vitamin A 950IU19%
Vitamin C 4mg5%
Calcium 147mg15%
Iron 3mg17%
* Percent Daily Values are based on a 2000 calorie diet.
Categories:
More Gluten-Free Tex-Mex Recipes