This post may contain affiliate links. Read my disclosure policy.
Sheet Pan Chicken Nachos are perfect for a game day snack, easy dinner, or party appetizer! Start with super simple slow cooker Mexican chicken, then add layers of chips, toppings, and plenty of cheese. Pop it in the oven, then top it all off with salsa, sour cream, and even a delicious Avocado Lime Crema!
What else can you make with the slow cooker chicken and black beans? Try Chicken Burrito Bowls and Slow Cooker Chicken Tacos!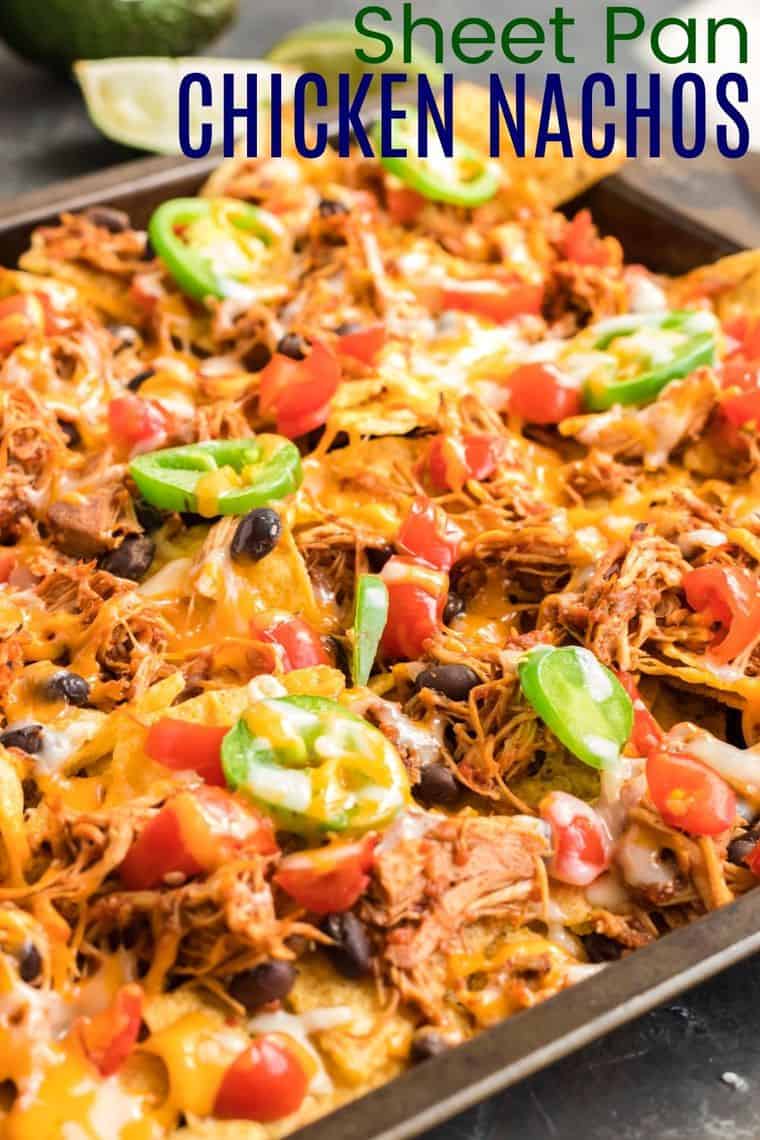 Sheet Pan Nachos with Chicken and Black Beans
Is there anything more fun than gathering friends and family around a huge pile of nachos and digging in?
Whether you are having a big fiesta, game day gathering, or just a weeknight dinner, it's easy to make nachos part of the celebration.
This recipe is definitely part of my strategy for Back Pocket Meals. You know, my basic ingredients, staple recipes, and simple strategies to make dinner appear in a snap.
And this one starts with Slow Cooker Mexican Chicken and Black Beans. One batch of this flavorful shredded chicken makes enough for at least two meals, especially when you stretch the meat (and your budget) with some fiber- and protein-packed black beans.
And it is super easy to to double. So make a big batch to turn it into tacos, salads, sliders, taquitos, and, of course, nachos…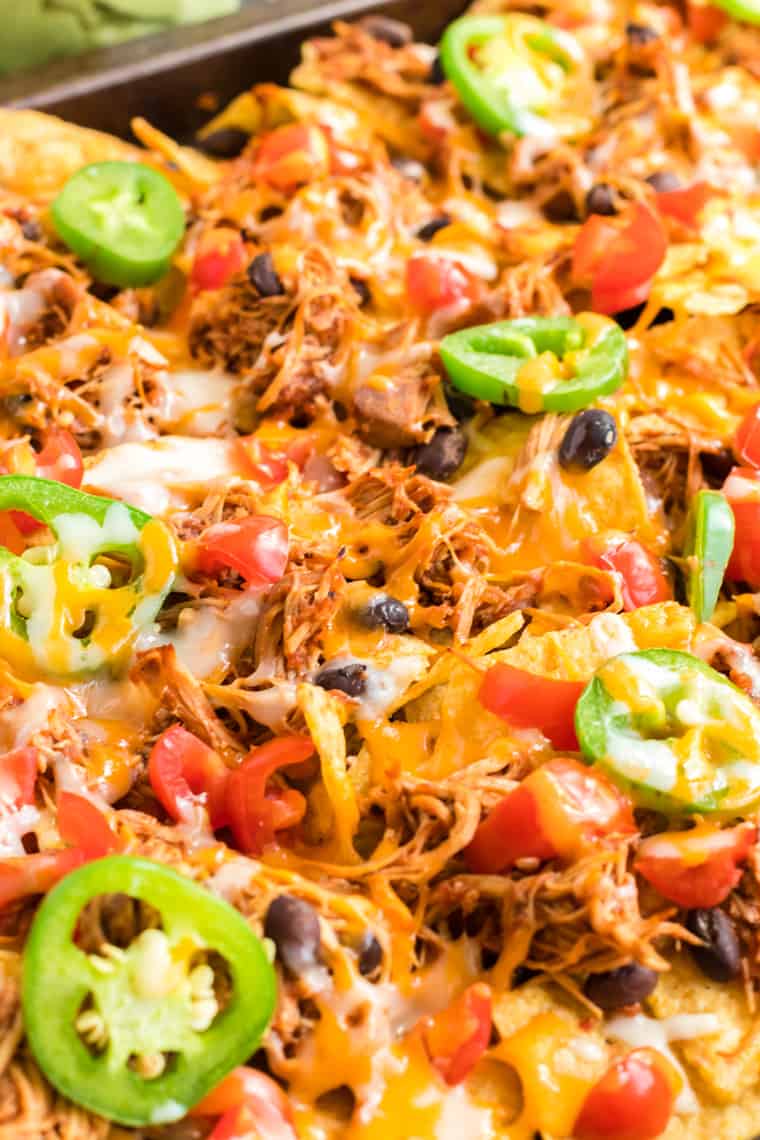 How to Make Sheet Pan Chicken Nachos
It really couldn't be easier. Toss a few ingredient in your crockpot to make tender and flavorful shredded chicken. Pile it all on top of tortilla chips with your favorite toppings and, of course cheese. Then pop them in the oven!
Here is a brief overview so you can see just how easy it is to make. Scroll down to the printable recipe card for the full quantities and details.
But don't skip my PRO TIPS below!
What you'll need
INGREDIENTS
For the slow cooker chicken and black beans:
Boneless skinless chicken breasts
Chili powder
Cumin
Salt
Pepper
Salsa – you can use your favorite kind, and as mild or hot as you prefer.
Black beans – drained and rinsed.
For the sheet pan chicken nachos:
Slow cooker Mexican chicken and black beans – you'll need about half of the total batch for one pan of nachos.
Tortilla chips – use your favorite, but I recommend a thicker chip versus thin ones so they don't get soggy.
Jalapeno pepper – optional, depending on how spicy you like your nachos. You can always replace this with some slices of sweet red bell peppers or even onions
Cherry or grape tomatoes – chopped
Shredded sharp cheddar cheese
Shredded Monterey Jack cheese
Your favorite nacho toppings – salsa, sour cream, guacamole, cilantro, or even the Avocado Lime Crema in the recipe card.
EQUIPMENT
Slow Cooker – you can make this in your basic 4-quart slow cooker. It's also fine to use a 6-quart slow cooker, and I especially recommend that if you are going to double it to feed a crowd or freeze leftovers.
12×18-inch Baking Sheet – Nordicware baking sheets are my favorite. I use them for everything from roasting veggies to baking cookies. They are big and sturdy, but not super heavy, and easy to clean
How to make the chicken and black beans
Add the chicken breasts to the slow cooker, and season with chili powder, cumin, salt, and pepper. Pour the salsa over the top.
Cover and cook on low for 6-8 hours.
Shred the chicken, then stir in the rinsed and drained beans.
Set aside or freeze half for another time (or make two pans of nachos!).
How do you layer nachos?
Start by spreading the chips on the sheet pan.
Top with the chicken and black bean mixture.
Sprinkle with jalapenos, tomatoes, or any other veggie toppings.
Then add the cheese.
Do you bake or broil nachos?
Now it's time to bake your sheet pan chicken nachos. And yes, you should bake them instead of broiling. Putting nachos under the broiler will just cause the edges of the chips to burn and the cheese to get too brown and hard before it has a chance to get warmed through and perfectly melty.
You'll only need to pop them in the oven at 400°F for 5-7 minutes.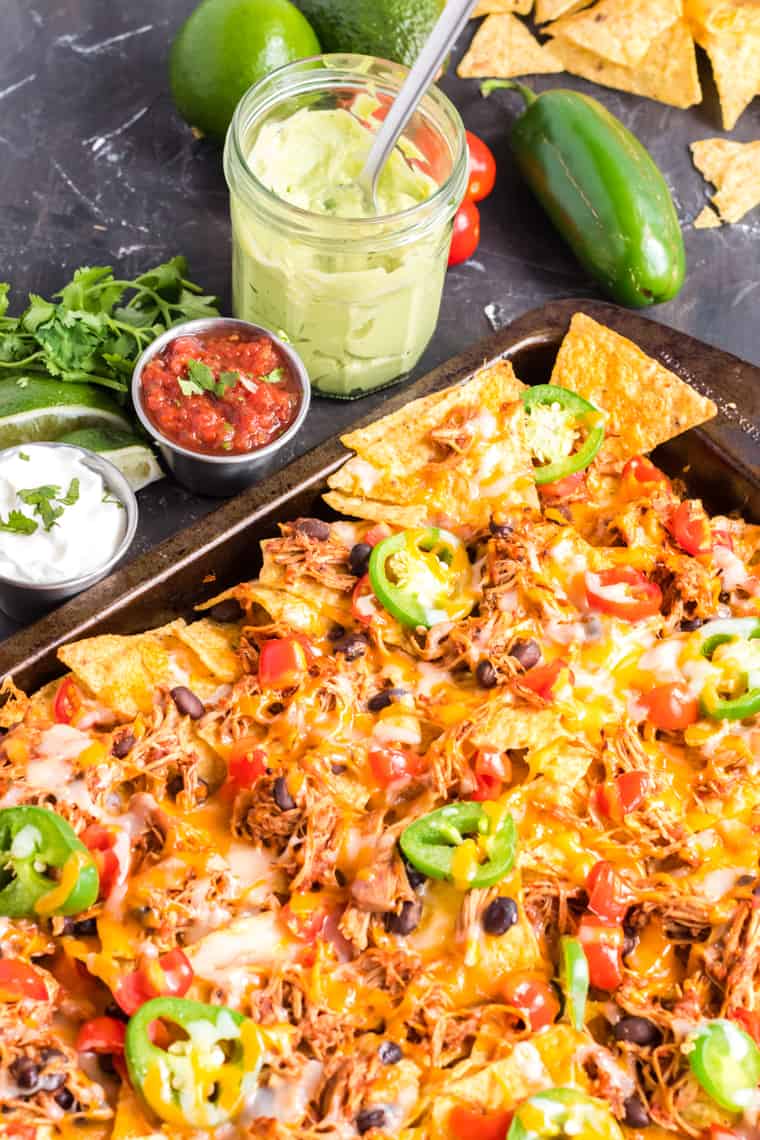 Make it a Meal
What toppings do you put on sheet pan nachos?
Of course nachos can be a meal on their own, but you can truly customize them by adding your favorite toppings.
Salsa – use your favorite jar or homemade recipe, or try something different like Mango Avocado Salsa.
Guacamole – again, your favorite store bought variety will work, or you can make Kid-Friendly Guacamole. For something a little different, the Avocado Lime Crema in the recipe card adds that richness of avocado with the zingy flavor of lime.
Sour cream – if you don't have any, plain Greek yogurt is a great substitute.
Veggies – add more jalapenos or tomatoes, sprinkle on sliced red onions or scallions, or even freshen it up with shredded lettuce.
Herbs, etc. – a sprinkle of cilantro or a squeeze of lemon juice can add a burst of flavor.
What goes with nachos for dinner?
If you need to round out your meal, try some vegetables side dishes.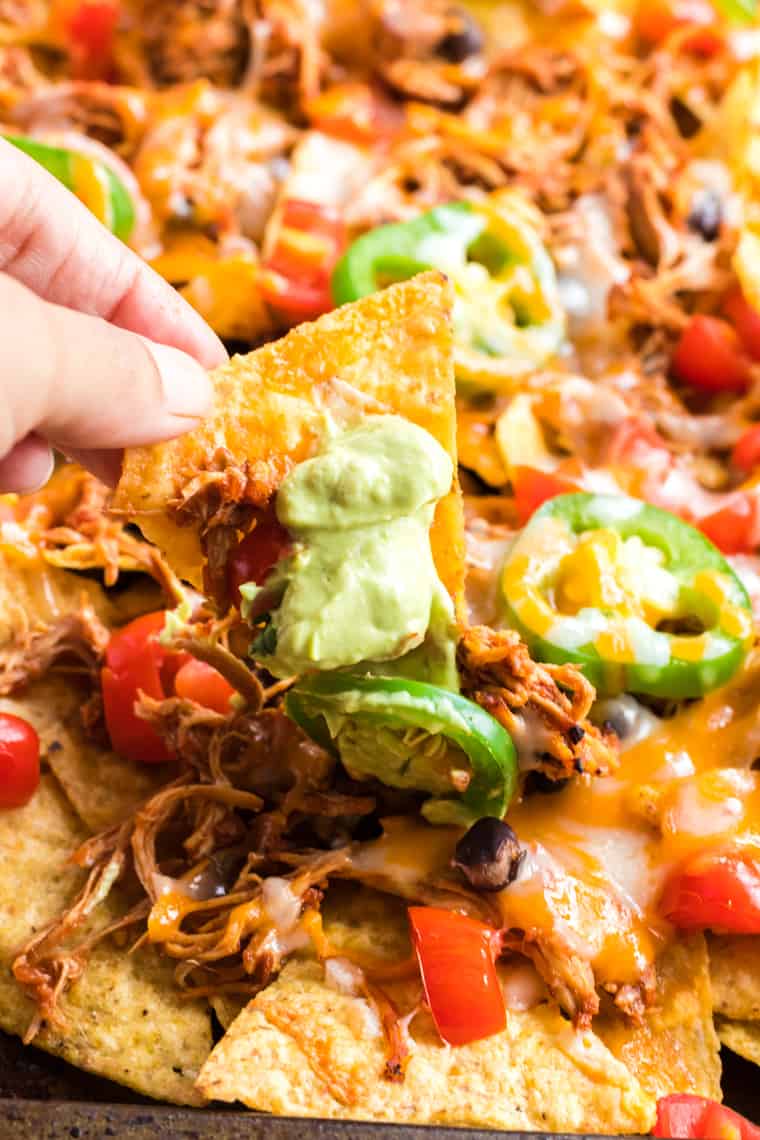 Frequently Asked Questions
Are nachos gluten free?
Gluten Free Disclaimer: I am not a medical professional. This information is solely based on my research and personal experience, and I provide it as a courtesy to my readers. Please consult your doctor or medical professional for any questions as it relates to your needs, particularly if you have celiac disease or a severe gluten allergy or intolerance. Products, manufacturing facilities, and ingredients change frequently, so you should always contact the manufacturer for the latest information.
The nachos that you get in restaurants might not be gluten free. This can be for several reasons. They may make chips our of flour tortillas, or even fry corn chips in a shared fryer that is used for breaded items. The seasoning blends or marinades they use for the meat could contain gluten from flour, soy sauce, or other added ingredients. And some places use a cheese sauce or queso that is often thickened with flour.
By making them at home, it's easy to enjoy gluten free nachos. Many brands of corn tortilla chips are gluten free, such as Tostitos. But do beware of multigrain chips that may contain gluten.
You have control over the seasonings and sauces for the meat. In this case, the chicken is flavored simple with chili powder, cumin, salt, and pepper, and cooked with salsa. All of these items are readily available gluten free.
And these chicken nachos are topped with shredded cheese instead of a sauce.
What is the best kind of cheese for nachos?
You can really use your favorite type of cheese. I prefer a blend of cheddar and Monterey Jack. The Jack cheese melts nice and creamy. And sharp cheddar also melts nicely, and adds that tangy flavors that pairs perfectly with the spices.
If you like a little heat, try adding some Pepper Jack!
Can you make the chicken ahead of time?
Yes, this slow cooker Mexican chicken is great to make ahead. Since you only need half of the batch, you can even freeze the rest to use for making tacos or salads another night.
Just store it in a tightly covered container. It will stay good in the fridge for 3 or 4 days. And it can be frozen for up to 2 months. Thaw it by placing it in the refrigerator overnight.
If your chicken has been in the fridge, you might want to warm it up slightly on the stove or microwave before making the nachos.
Can you make sheet pan chicken nachos in advance?
For the best flavor, I do recommend layering the nachos and baking them just before you plan to serve them. Over time, and especially if stored in the refrigerator, the moisture from the toppings can cause the chips to become soggy.
But you can have your chicken and toppings all prepared in advance. Then it takes just minutes to layer and bake them when you are ready to dig in.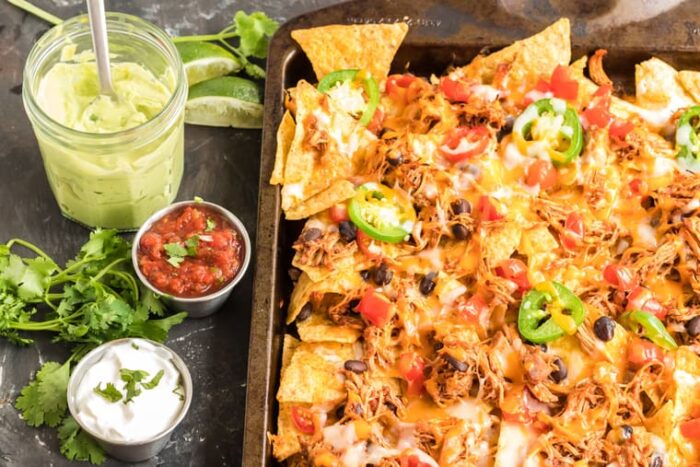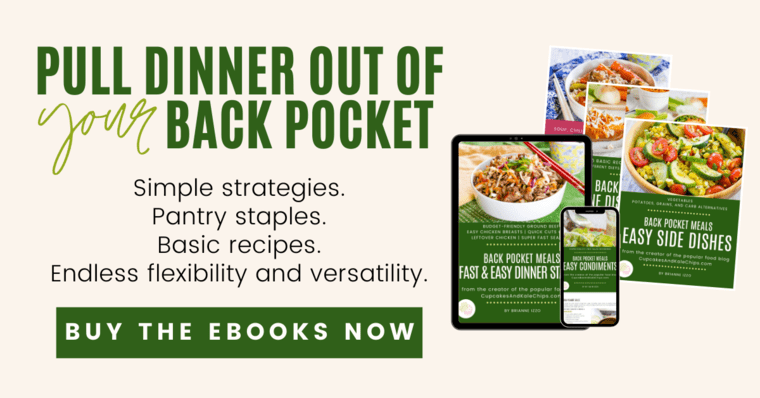 More easy Mexican dinners
More cheesy game day snacks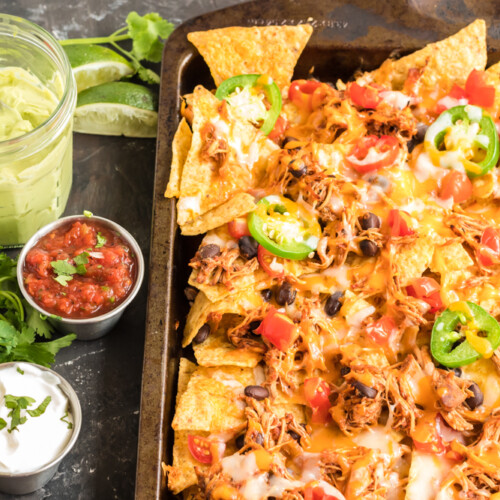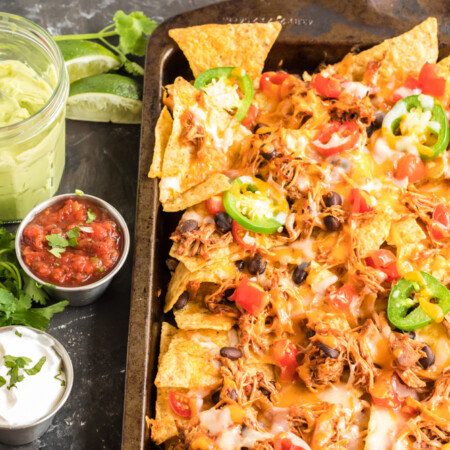 Sheet Pan Chicken Nachos
Just toss three ingredients into your slow cooker to make moist, tasty chicken & black beans for tacos, nachos, enchiladas, salads, rice bowls…
Ingredients
For the slow cooker chicken (you'll need about half of this for one pan of nachos):
1 1/2-2

lbs

boneless

skinless chicken breasts

1-2

teaspoons

chili powder,

to taste or preferred level of spice

1/2

teaspoon

cumin

1/2

teaspoon

kosher salt

1/4

teaspoon

pepper

16

oz.

jar of your favorite salsa,

mild, medium or hot, as desired

15

oz.

can of black beans,

drained and rinsed
For the nachos:
about half of the slow cooker chicken

one 13-16

oz.

bag of tortilla chips

1

jalapeno pepper,

thinly sliced (optional)

1/2

cup

cherry or grape tomatoes,

chopped

1

cup

shredded sharp cheddar cheese

1/2

cup

shredded Monterey Jack cheese

Desired toppings such as

salsa, sour cream, guacamole, Avocado Lime Cream (see below) etc.
For the avocado lime crema:
one

avocado

1/2

cup

plain Greek yogurt

or sour cream

2

Tablespoons

fresh lime juice

Salt and pepper,

to taste
Instructions
For the slow cooker chicken (you'll need about half of this for one pan of nachos):
Season your chicken with salt, pepper, cumin and chili powder, and place in your slow cooker.

Pour salsa over the chicken. Cover and cook on low for 6-8 hours.

Shred the chicken with two forks, then stir in the black beans.

Set aside or freeze half for another time (or make two pans of nachos!).
For the nachos:
Preheat oven to 400°F. if desired, line a 12 x 18-inch baking sheet with parchment paper. If you are using leftover chicken that has been refrigerated, warm it slightly in a bot on the stove for for a couple of minutes in the microwave.

Sprinkle tortilla chips on the sheet pan and spread into an even layer.

Scatter the chicken and black beans over the chips, then top with the jalapenos, tomatoes, and cheese.

Bake nachos for 5 to 7 minutes until cheese is melted. Serve immediately with desired toppings, such as salsa, , sour cream, cilantro, guacamole, or the Avocado Lime Crema.
For the avocado lime crema:
Slice the avocado in half lengthwise. Remove the pit and scoop out the flesh into a small food processor or blender. Or you can put it in a bowl if you re going to use a hand blender or just mash it with a fork.

Add the Greek yogurt or sour cream, and lime juice , the puree or mash until smooth. Season to taste with salt and pepper.
Notes
Nutrition Information does not include additional toppings or the Avocado Lime Crema.
Nutrition Facts
Sheet Pan Chicken Nachos
Amount Per Serving (1 serving (about one-sixth of the nachos))
Calories 558
Calories from Fat 243
% Daily Value*
Fat 27g42%
Cholesterol 76mg25%
Sodium 966mg40%
Potassium 698mg20%
Carbohydrates 50g17%
Protein 32g64%
Vitamin A 625IU13%
Vitamin C 6mg7%
Calcium 344mg34%
Iron 3mg17%
* Percent Daily Values are based on a 2000 calorie diet.