This post may contain affiliate links. Read my disclosure policy.
Make your own Gluten Free Everything Bagels at home! This is a super easy recipe for homemade bagels that are so perfectly soft and chewy, you'll never resort to store bought again. Slice these and serve them for an easy and healthy breakfast.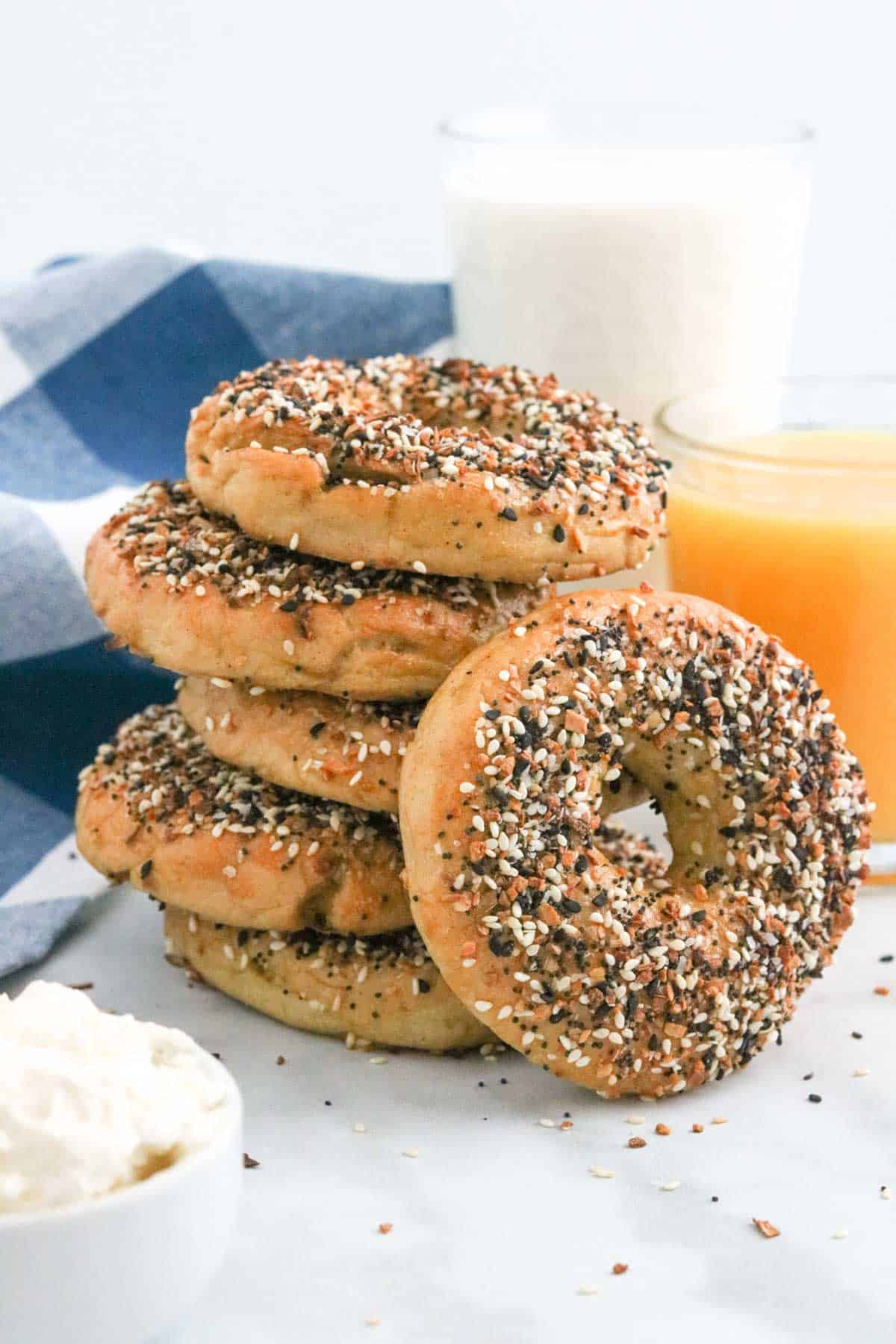 The Best Gluten Free Bagels You'll Ever Taste
There's a great debate over where you can find the best bagels. Some swear it's New York, others will tell you Montreal bagels are where it's at. Allow me to officially put that debate to rest: the BEST bagels you'll ever taste are these ones, right here. Even better, they're gluten free and straight from your own oven!
These homemade bagels are something special. They're big, doughy and chewy, topped with Everything Bagel seasoning and perfect to enjoy for breakfast. Just give them a smear of cream cheese or swap out the bread when you make Gluten Free Avocado Toast. Or add some Baked Eggs for an epic breakfast sandwich.
Once you've made this easy bagel recipe at home, you won't want to go back to store bought, let alone venture to another city! With only a few ingredients, making your own gluten-free bagels is actually so easy to do.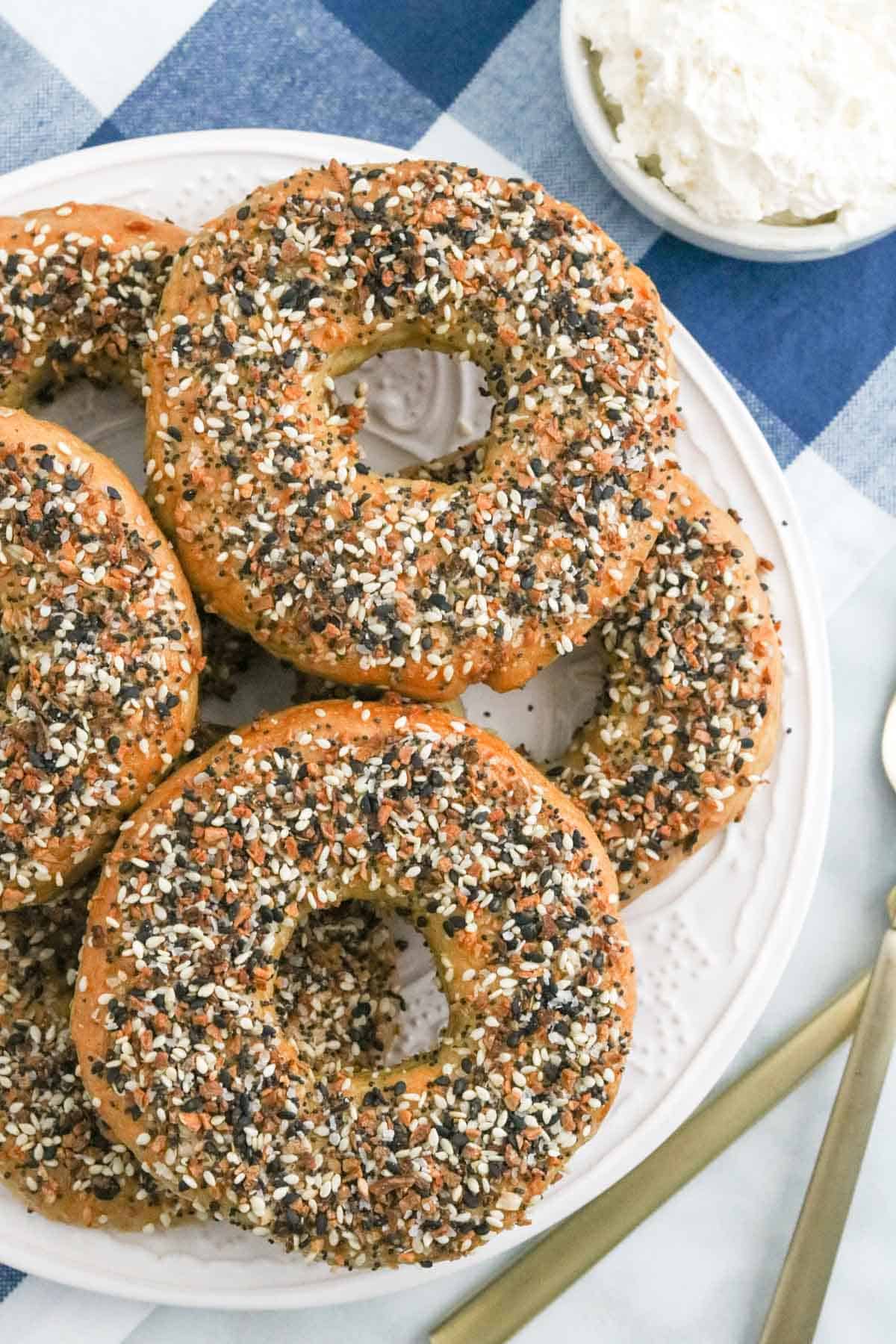 Are Everything Bagels Healthy?
Another perk of making your own homemade bagels? Less calories! You can leave out all the processed ingredients and sugars that come with store bought versions. This recipe for Everything bagels is naturally dairy-free and easy to make gluten-free, with no crazy amounts of sodium or excess sugars.
As a little bonus, Everything Bagel seasoning itself is actually packed with benefits: protein and fiber from poppy seeds, iron and vitamin B6 from sesame seeds, plus vitamins and antioxidants from the dried garlic and onions.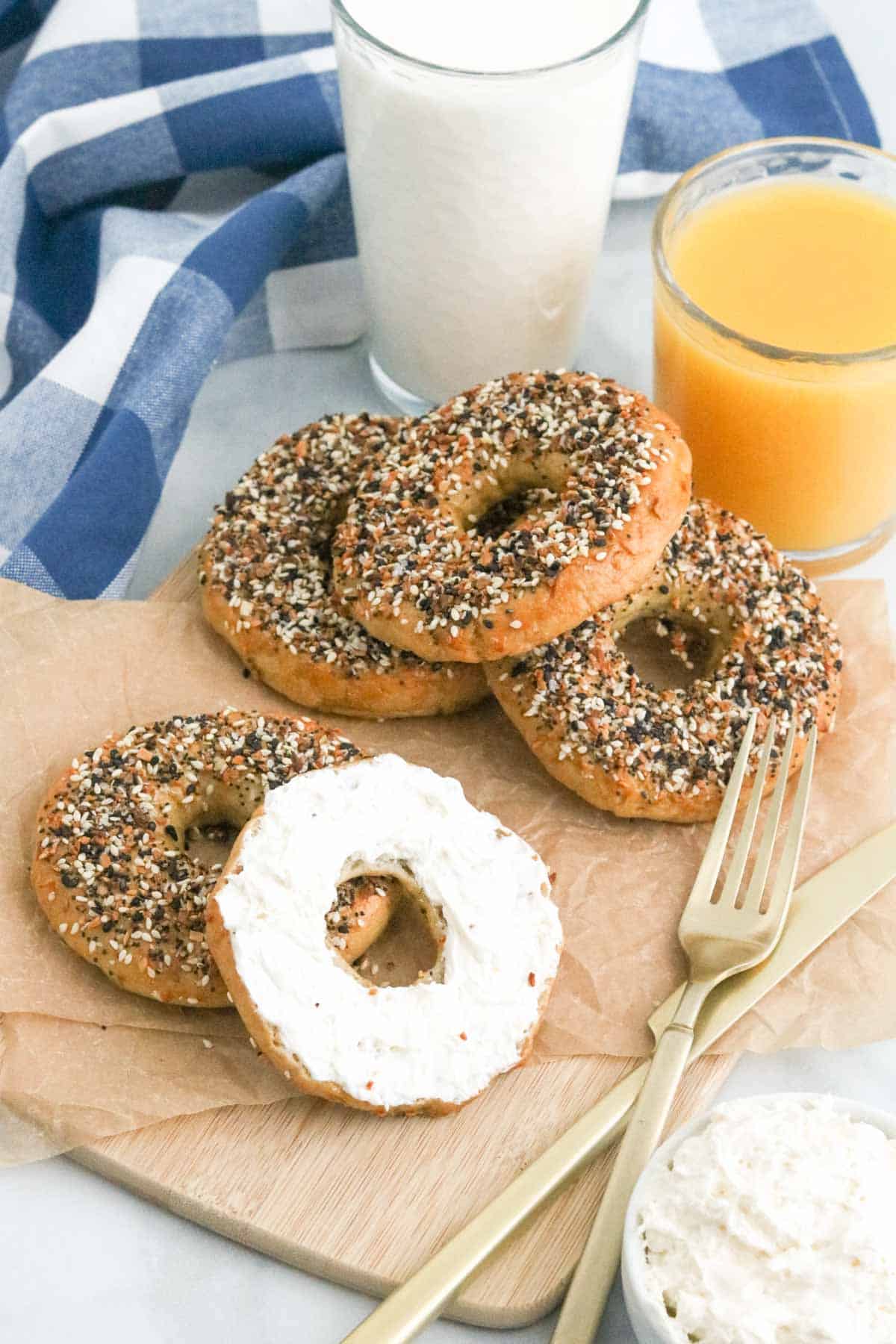 What You'll Need
This homemade bagel recipe is going to become a staple, I just know it! Gluten-free, naturally dairy-free, and overall just a delicious and healthy breakfast or brunch option. Here's the short list of ingredients:
Gluten-Free All-Purpose Flour: I use Bob's Red Mill 1:1 Gluten-Free Flour Blend as its texture is closest to wheat flour.
Instant Yeast: Or the same amount of dry active yeast, activated in water with a pinch of sugar beforehand.
Sugar: Granulated sugar for the dough, plus a tablespoon of brown sugar for boiling the bagels.
Kosher Salt
Water
Egg: A single egg, beaten, for brushing on the bagels.
Everything Bagel Seasoning: You can find this premixed, or you can make your own Everything Bagel mix by combining poppy seeds, sesame seeds, garlic flakes, and onion flakes.
Baking Soda: For boiling the bagels, not to go into the dough.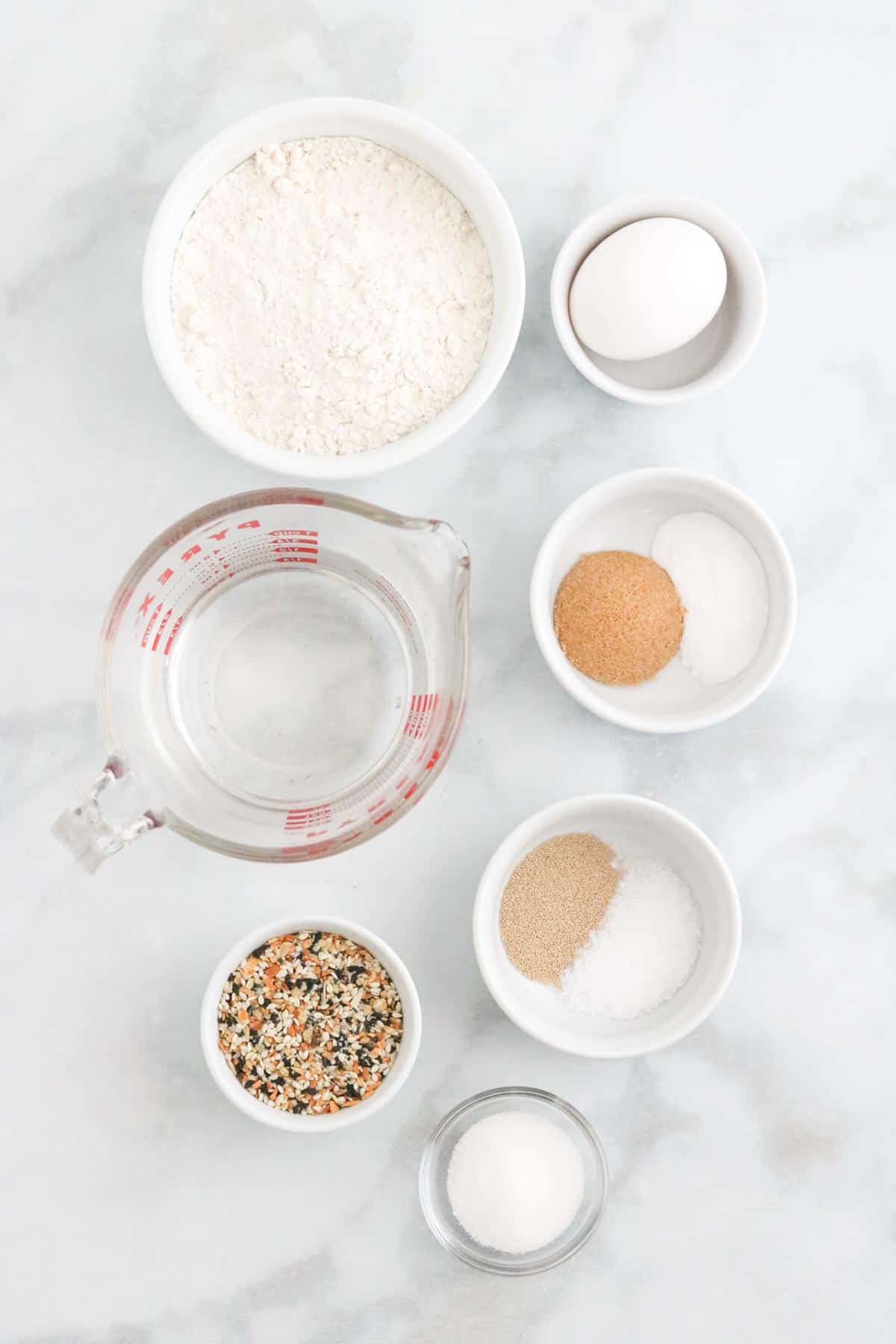 How to Make Gluten Free Everything Bagels
Here are the simple steps to make your very own homemade, gluten-free bagels.
Combine the Dry Ingredients: Mix together the flour, salt, yeast, and sugar.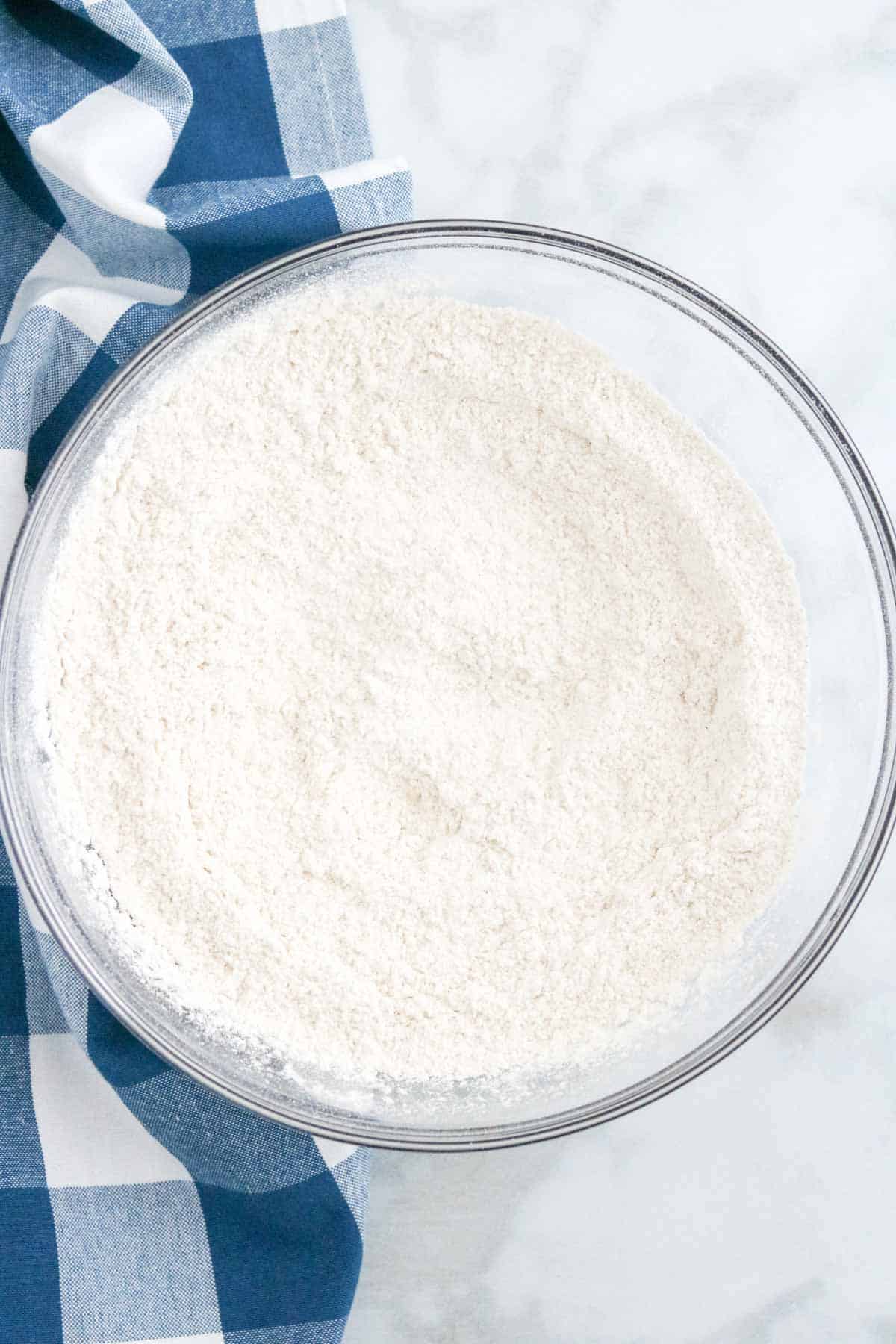 Add Water & Mix: Add in the water, and a little more at a time, as needed until the dough comes together. Mix the dough for a few minutes, until it has a smooth and slightly sticky consistency.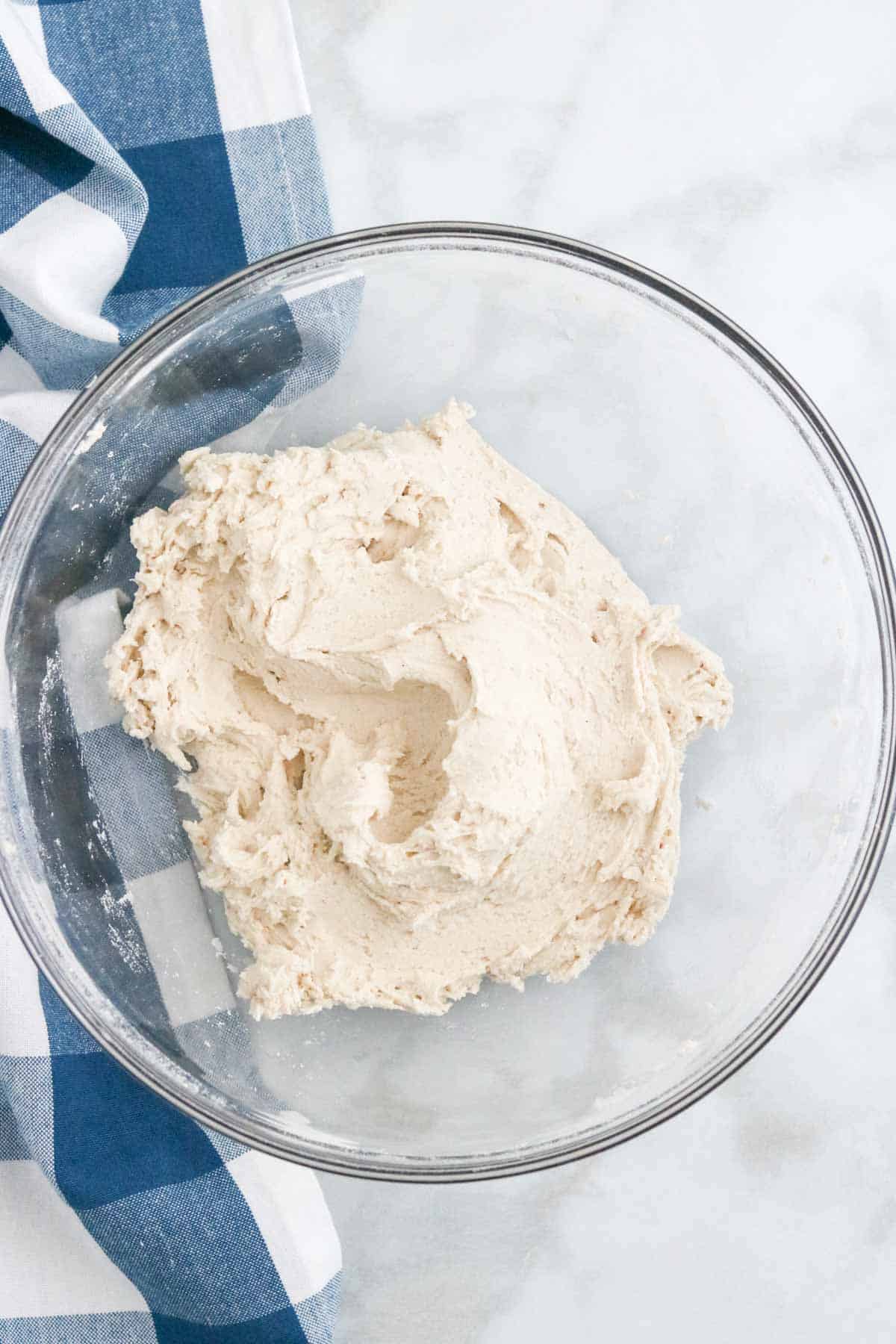 Let the Dough Rise: Leave the dough to rise in a greased bowl covered with a dishcloth, for about an hour. It should be doubled in size.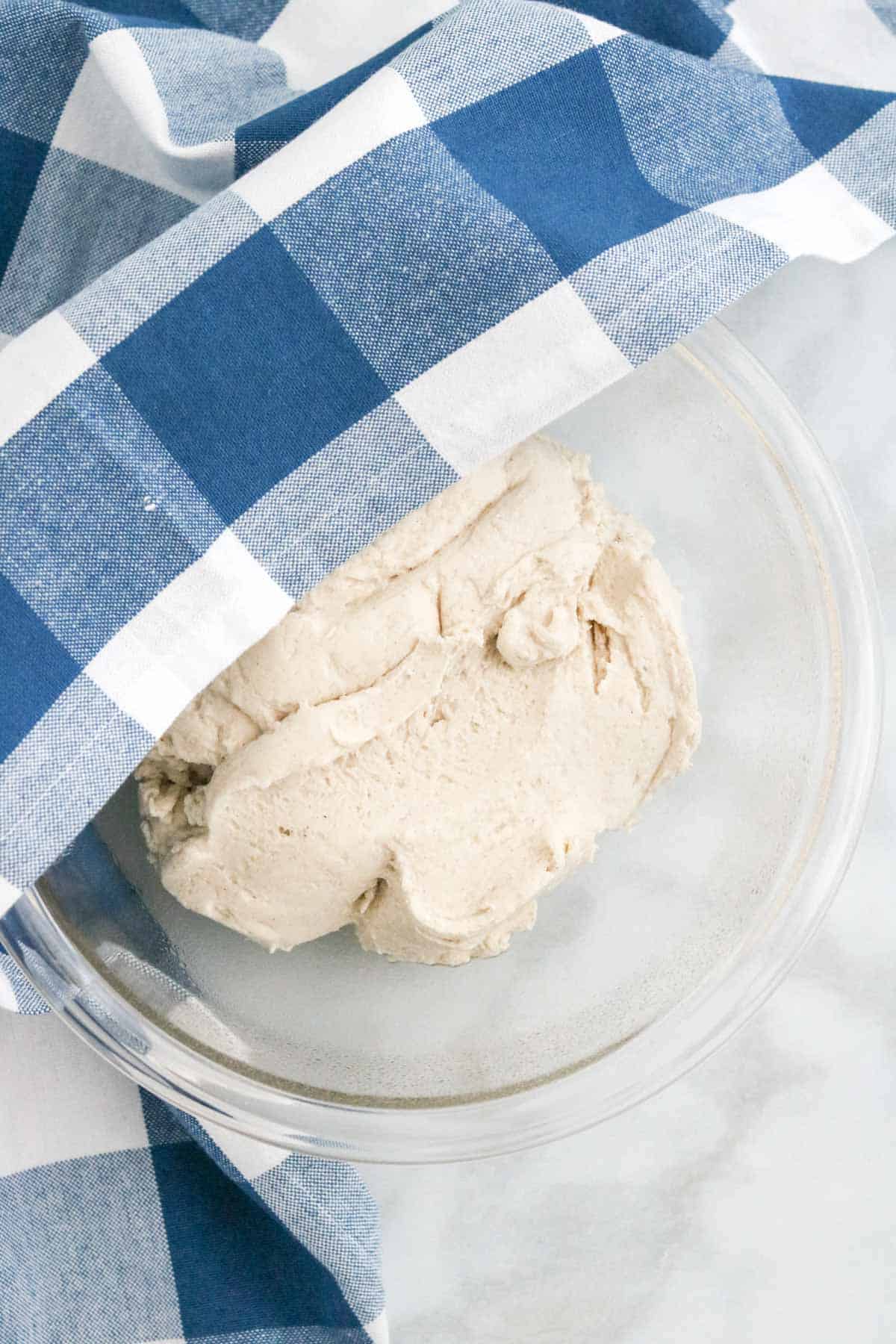 Roll Out the Dough: Divide the dough on a floured work surface and roll each piece into a ball, poking a hole in the center. Stretch the hole so that the dough forms a wider ring and place the shaped bagels onto a parchment lined baking sheet.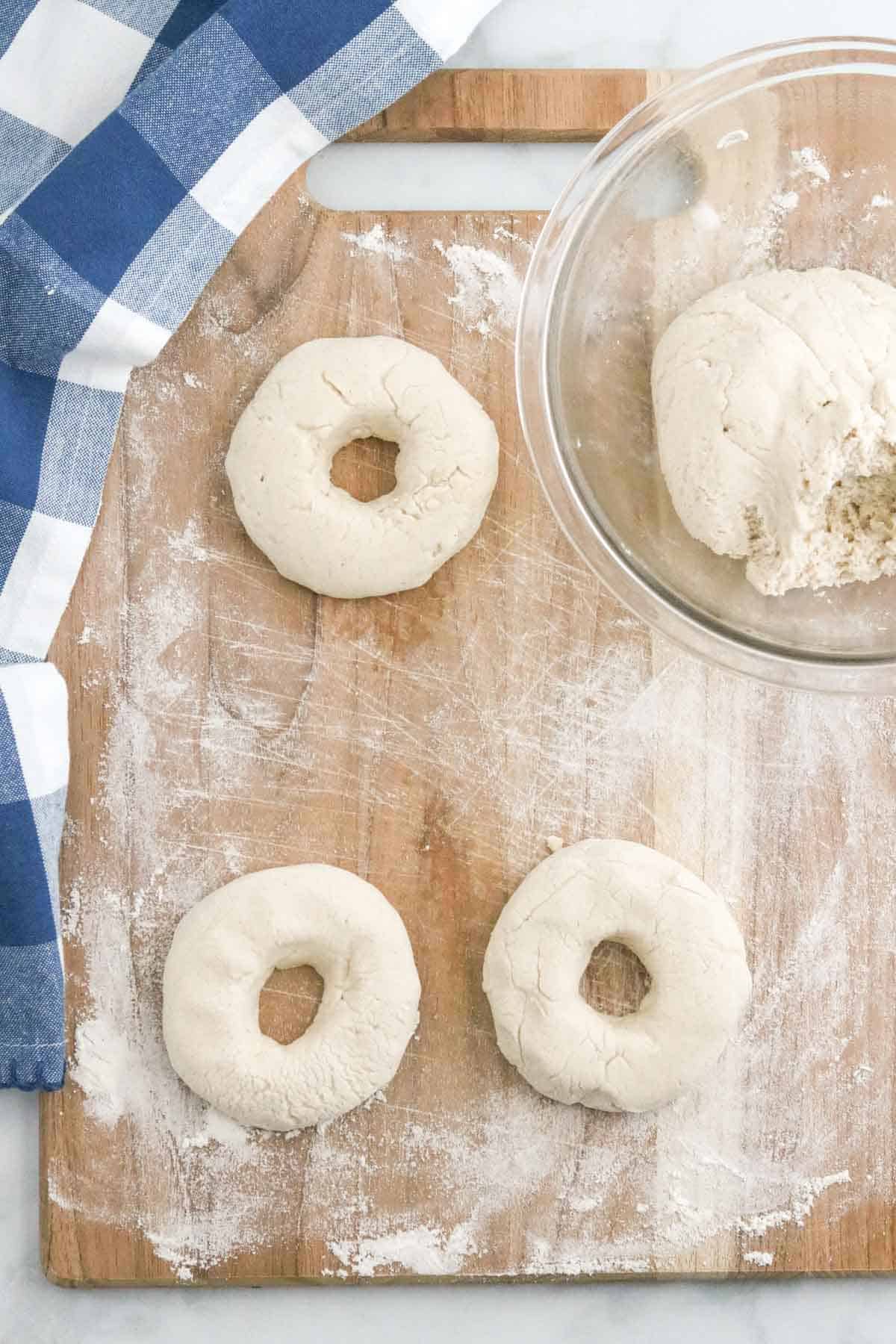 Boil the Bagels: Boil the bagels in a simmering water bath with baking soda. Work in batches, transferring the bagels back to the baking sheet when they're done.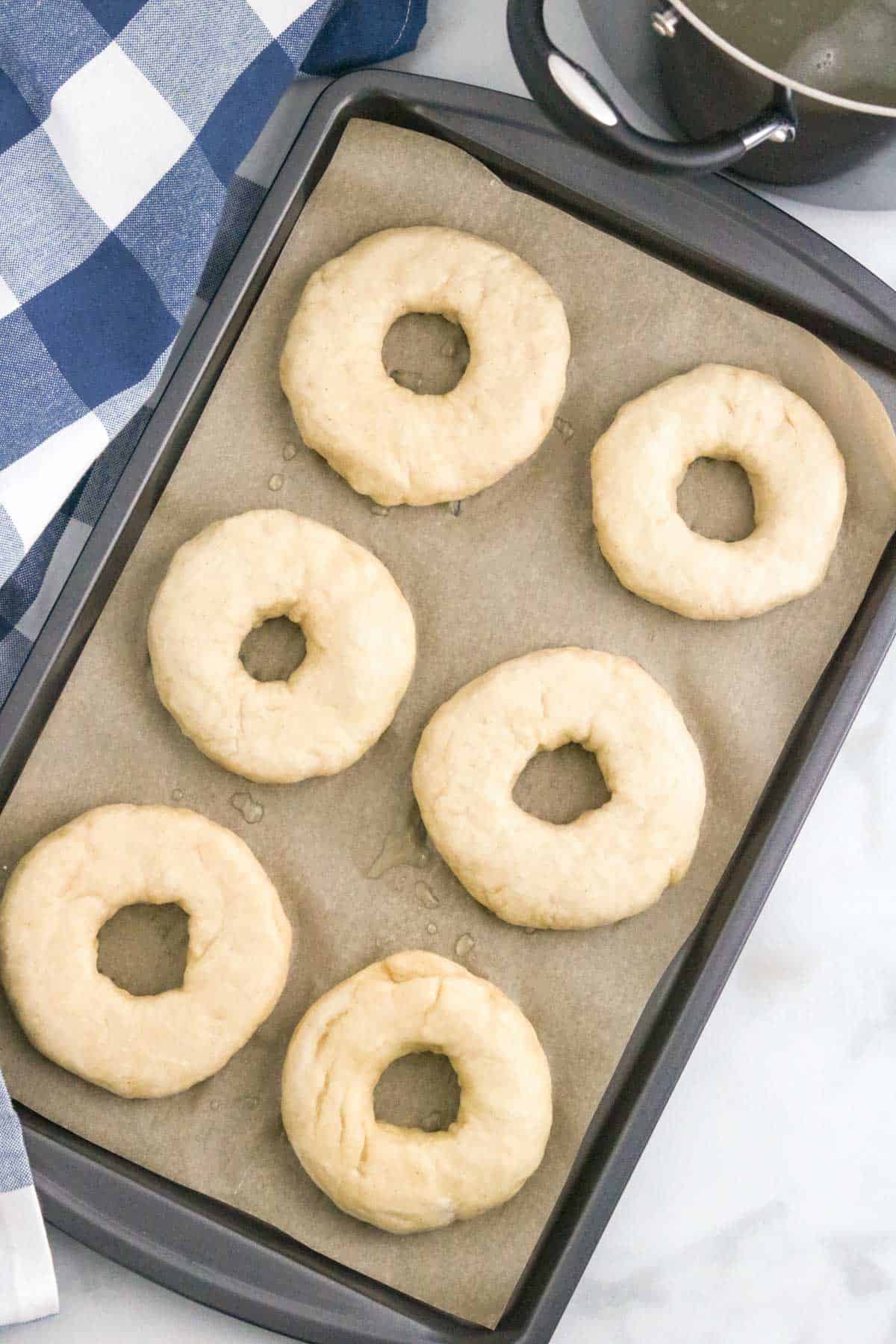 Brush & Bake: Brush the tops of the bagels with the egg wash and give them a sprinkle with the Everything bagel seasoning. Finally, bake them in a preheated oven until they're golden and firm to the touch.
Tips for Success
Use the "Spoon & Sweep" Method: This is the most accurate way to properly measure your flour! Rather than scooping out the flour using the measuring cup, spoon the flour into the cup instead and then use the back of a knife to level it off.
Use Your Hands: I use a stand mixer when making the dough for these bagels, however if you don't have one, you can mix the dough together and then knead it by hand.
Note the Differences in Flour: Depending on the type of gluten-free flour blend you use, you may end up with different results when baking, so adjust as you go!
Variation Ideas
Swapping out the Everything Bagel seasoning for your favorite bagel toppings couldn't be easier. After the egg wash, try these other bagel variations:
Sesame Bagels
Poppyseed Bagels
Garlic and Herb Bagels
Cheddar or Asiago Bagels
Cinnamon Sugar Bagels (bake the bagels first, and coat in cinnamon sugar afterwards)
If you love these homemade Everything Bagels, you can try your own Gluten-Free Cinnamon Raisin Bagels on for size!
This bagel recipe can also be adapted to fit other dietary needs. These bagels are naturally gluten and dairy-free, but you can make a vegan version by skipping the egg wash step.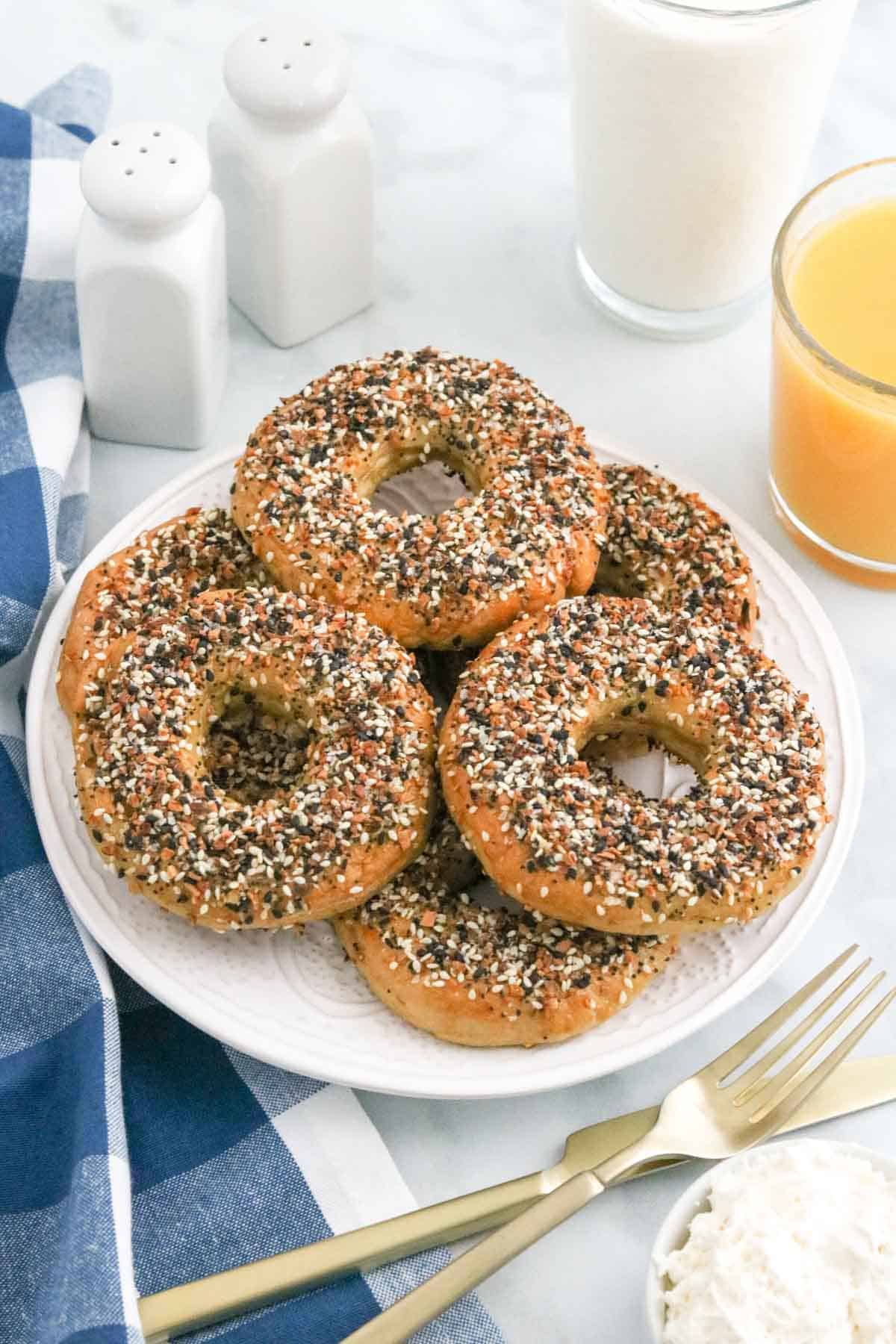 How to Store and Reheat Homemade Bagels
These gluten free bagels can be stored in a rolled up paper bag at room temperature for a day or two. They may become a bit chewy, but they'll stay fresh enough overall. If you're planning to store them longer, freezing is the best way forward!
Reheat the bagels by slicing them and toasting them as you would, or warming them in the microwave for a few seconds.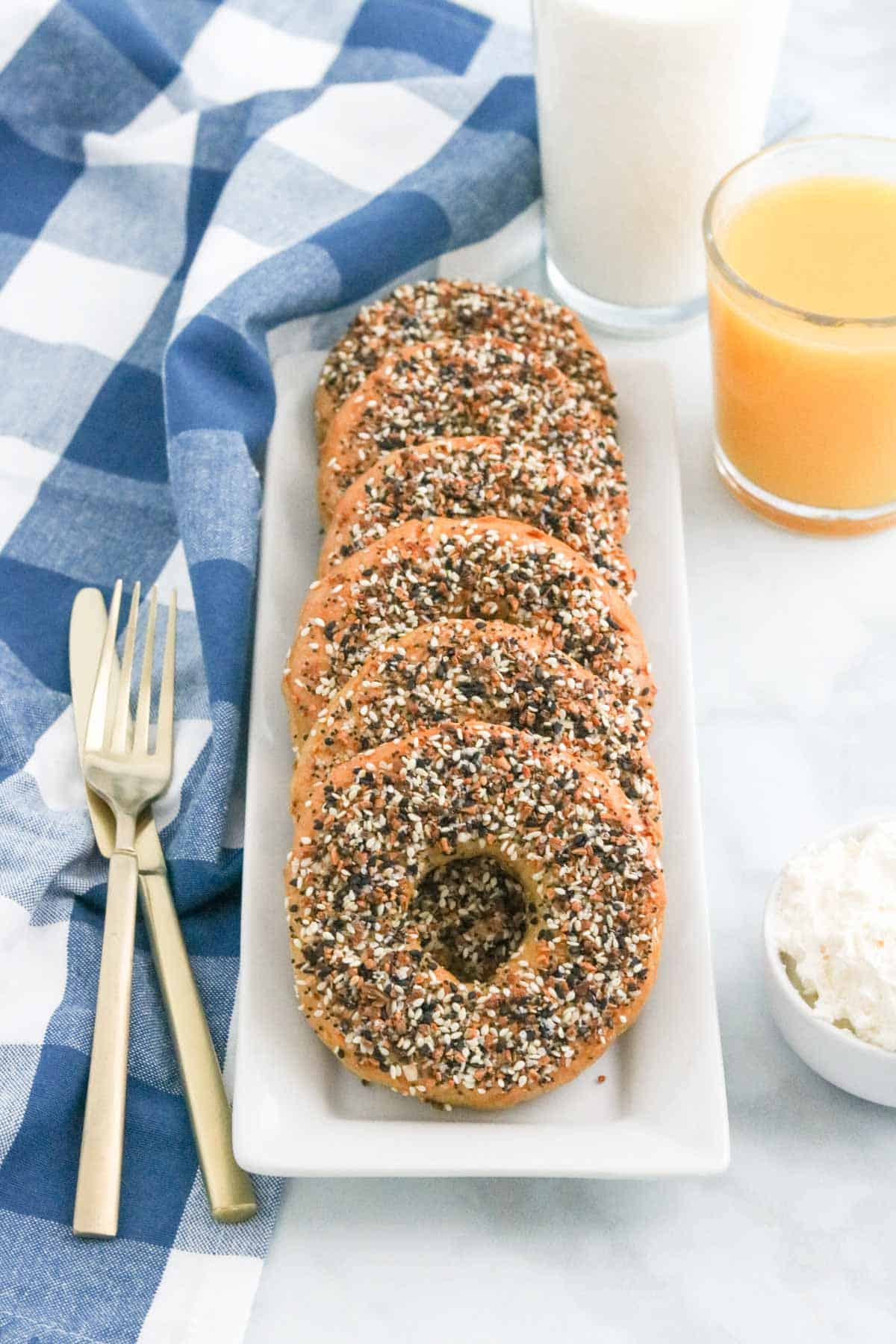 Can I Freeze These?
Homemade bagels can be frozen for up to 1 month in a resealable freezer bag. Whenever you're ready to serve them, remove the bagels from the bag and thaw them either in the fridge or in the microwave. Once thawed, slice them and toast as usual.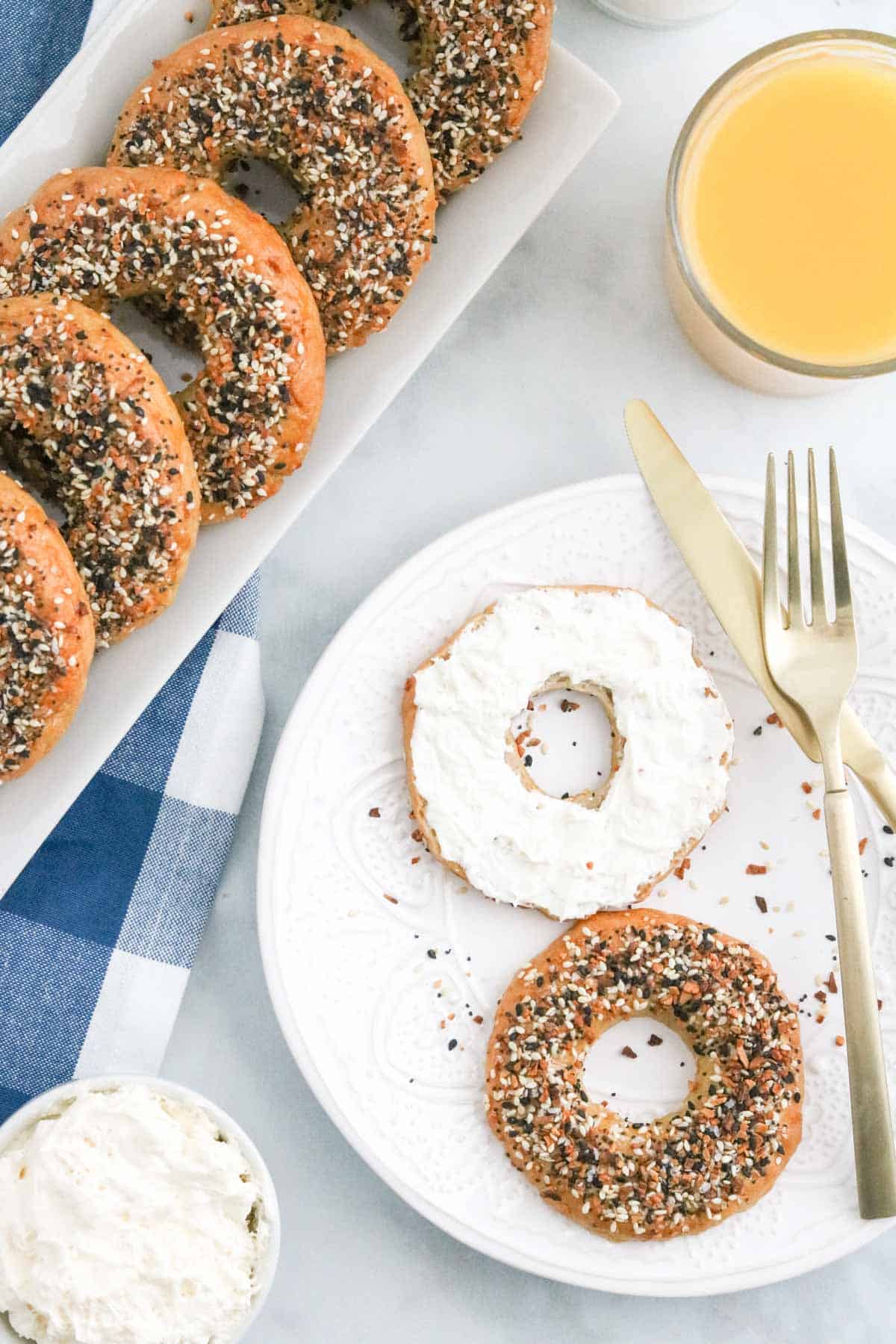 Things You'll Need
Last updated on September 20, 2023 8:37 am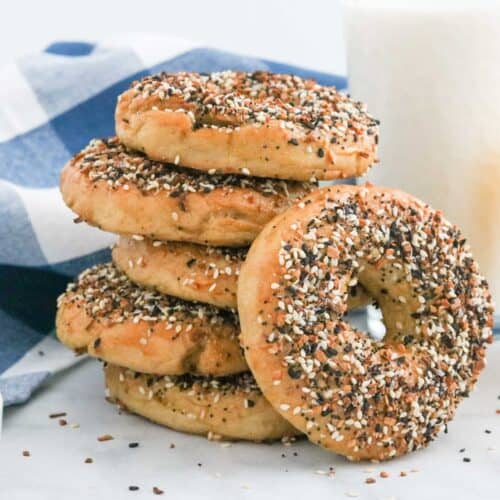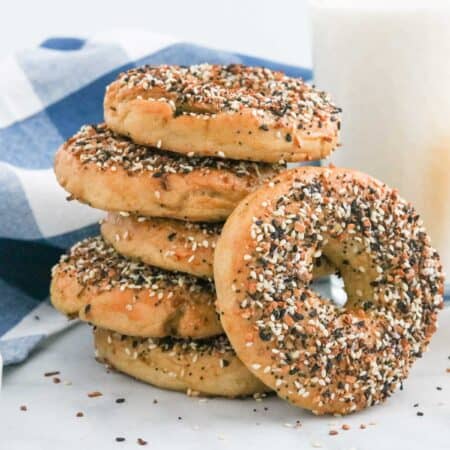 Gluten Free Everything Bagels
These soft and chewy, homemade gluten free bagels are topped with Everything Bagel seasoning and so delicious! Bake up a batch for a quick and easy, healthy breakfast.
Ingredients
2

cups

gluten-free all-purpose flour

plus more for work station (I used Bob's Red Mill)

3/4

tbsp

kosher salt

3/4

tbsp

instant yeast

1/2

tbsp

granulated sugar

3/4

cups

warm water

plus more as needed

1

tbsp

baking soda

1

tbsp

brown sugar

1

egg

beaten
Instructions
In a mixing bowl, combine the flour, salt, yeast, and sugar.

Pour in the water and mix on medium speed. If necessary, add more water, 1 tablespoon at a time, until the dough comes together in a smooth ball. Mix for 4 minutes to incorporate all of the ingredients. The dough should be smooth and a bit sticky.

Place the dough in a greased mixing bowl and cover with a dishcloth. Place somewhere warm to rise for 60 minutes, until doubled in size.

Preheat the oven to 425°F. Line a baking sheet with parchment paper.

Place the dough on a work surface and divide into 6 portions. Roll each piece of dough into a ball, then use your finger to carefully poke a hole in the center. Stretch the ring slightly to make a wider hole, being careful not to tear the bagel. Place the shaped bagels on the prepared baking sheet and rest for 10 minutes.

Bring a large pot of water to a boil. Add the baking soda and brown sugar and wait until the foaming subsides. Reduce the heat to a simmer. Gently lower the bagels into the water bath for one minute per side, working in batches to keep track of the bagels and avoid crowding the pot. Transfer the bagels back to the baking sheet.

Brush the bagels with the beaten egg and sprinkle with Everything bagel seasoning. Bake for 25-30 minutes, until golden brown and firm.
Nutrition Facts
Gluten Free Everything Bagels
Amount Per Serving (1 bagel)
Calories 157
Calories from Fat 18
% Daily Value*
Fat 2g3%
Cholesterol 27mg9%
Sodium 1432mg60%
Potassium 18mg1%
Carbohydrates 32g11%
Protein 5g10%
Vitamin A 40IU1%
Vitamin C 1mg1%
Calcium 34mg3%
Iron 2mg11%
* Percent Daily Values are based on a 2000 calorie diet.
Categories:
More Gluten Free Breakfast Ideas