This post may contain affiliate links. Read my disclosure policy.
From coast to coast and even around the world, #SundaySupper is bringing you a menu of Hometown Favorites this week. You don't have to let a wheat allergy keep you from enjoying one of my favorite breakfast foods. Break out the cream cheese, because it's much easier than you'd think to make a batch of Gluten Free Cinnamon Raisin Bagels.

Gluten Free Cinnamon Raisin Bagels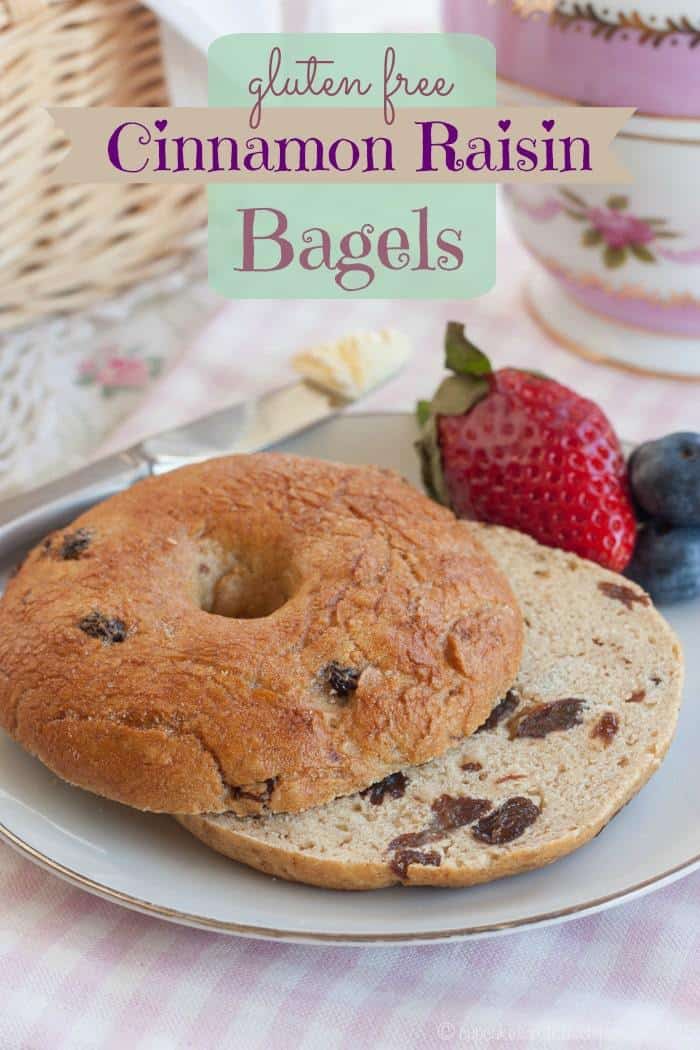 <
span id="more-9630″>
Say what you want about New Jersey, but there are some iconic and deeee-licious foods from my home state, as well as an amazing food culture with options from high end cuisine to local family-friendly places to authentic ethnic joints. And of course diners. 'Nuff said. Now that I am in Maryland, I am realizing how lucky I was in New Jersey. I could pretty much have anything I wanted right around the corner, and it was good!! Like really good.
As far as those foods that just scream "New Jersey", they are plentiful. My hometown was primarily Polish, so our little pocket of the world is certainly symbolized by kielbasa and of course pierogies. My friends from South Jersey introduced me to Panzarotti and seriously people, that may be something I'll have to take on to make a gluten free version because it's basically like a pizza-filled donut. Pure cheesy deep fried heaven. We've got the pork roll, egg, and cheese sandwiches, and down the shore (yes, "down the shore", NOT "at the beach") it's all about the saltwater taffy, Kohr's frozen custard and Johnson's Popcorn, which is, basically, in the opinion of anyone who knows anything, the hands-down best caramel corn in the entire world. Pizza, well, let's not even go there. In the NY/NJ area where I am from, things like Papa John's and Pizza Hut aren't even considered actual pizza.
Then there's bagels…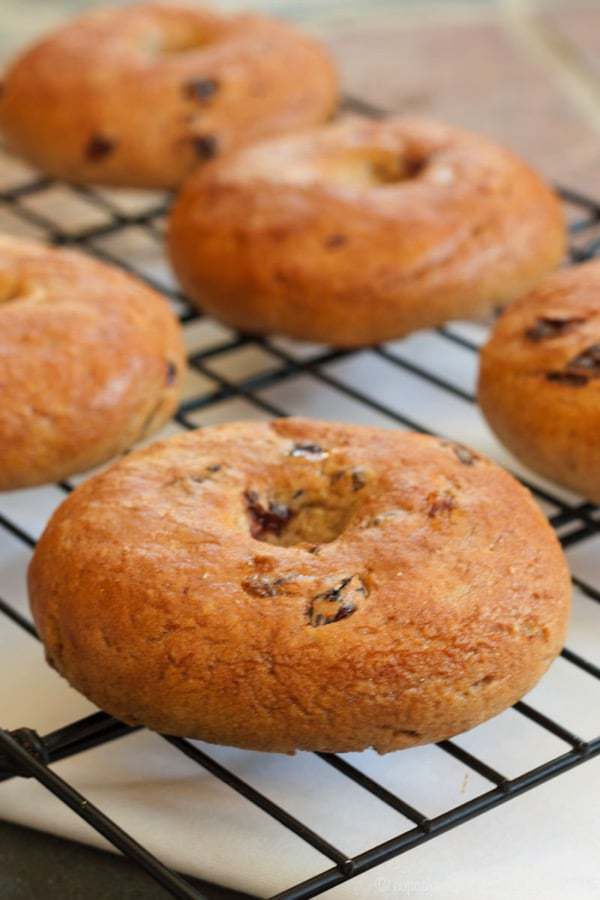 What most people know as "bagels" is really just round bread with a hole in the middle. In NY/NJ, we know bagels. Bagels must be boiled before they are baked to get that chewy extrerior that is almost difficult to rip apart with your teeth, but once you break through, the interior is soft and fluffy. For me, prior to my wheat allergy days, there was nothing like a run to the local bagel shop on a Saturday or Sunday morning and getting a warm cinnamon raisin bagel fresh out of the oven and slathering it with an obscene amount of cream cheese. As in, have a little bagel with your cream cheese.
And honestly, it isn't the move to Maryland that had me missing bagels. After I found out I had a wheat allergy, I would occasionally allow myself to indulge in one as a treat. But for almost a year now I've completely stayed away from all things gluten, so I've really missed bagels. I haven't attempted gluten free bagels because I'm still kind of a novice with both yeast and gluten free baking, so combining the two scared me. But the other reason is that I'm a bagel snob. I've bought those frozen gluten free bagels, and really, they are just not worth the calories. I'd rather go without.
But this week's Sunday Supper theme was just the kick in the butt I needed to attempt to recreate this hometown favorite. Truthfully, unless there are some food science or medicinal breakthroughs that either come up with a way to mimic gluten in baked goods or can treat my allergy, then I'll never have a real, honest-to-goodness bagel again. But in the meantime…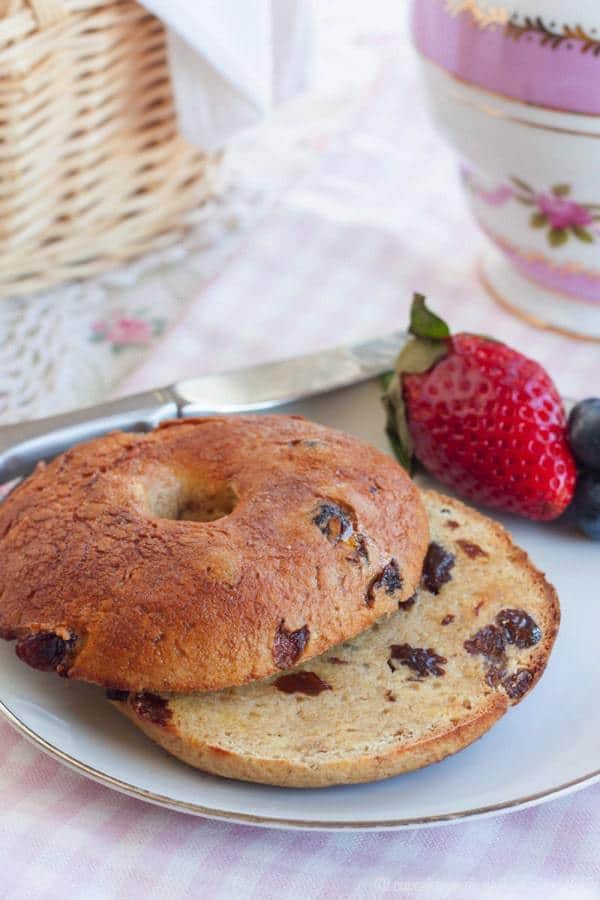 Gluten Free Cinnamon Raisin Bagels definitely had the chewy exterior, subtle hint of cinnamon, and pockets of sweet raisins that I know and love. Certainly they aren't as light and fluffy and my favorite bagels, but they come darn close. Slightly warm with some cream cheese or toasted with butter, and it was so awesome to experience one of my favorite foods again. The boys have been chowing down on them too.
And I don't know if this is a good thing or a bad thing, because I probably don't need all of those unnecessary bagel-with-cream-cheese-calories, but they were actually much easier than I expected. And yummier too! I can't wait to make some more varieties. Stay tuned… 🙂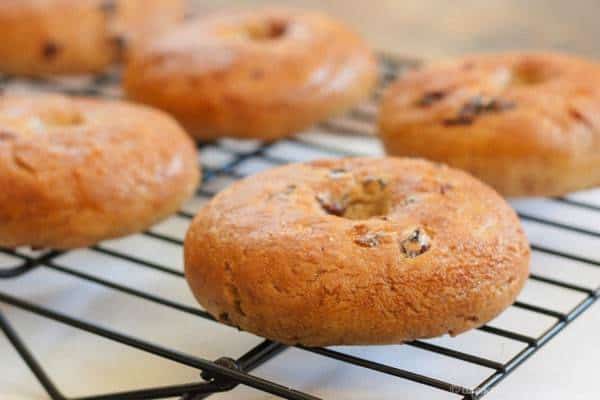 What is one of your Hometown Favorite foods?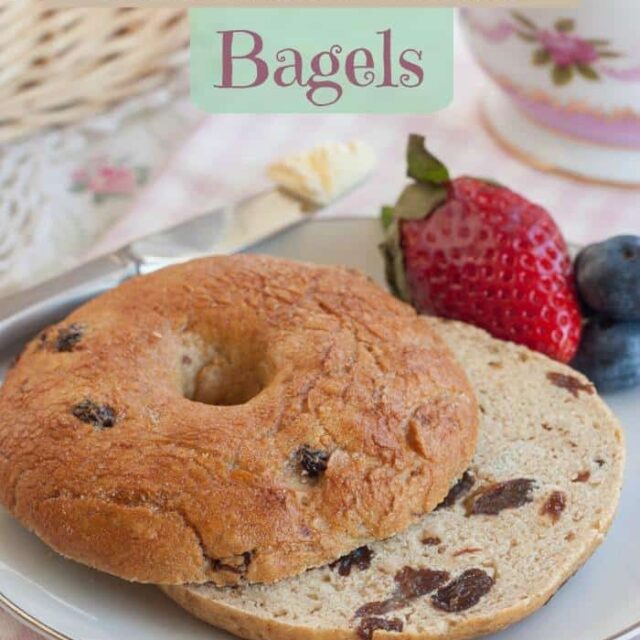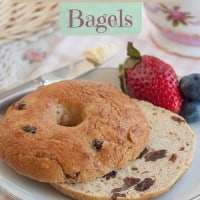 Gluten Free Cinnamon Raisin Bagels
You don't have to miss out on bagels any longer. This gluten free bagel recipe is easier and yummier than you'd think.
Ingredients
For the dough:
2

cups

brown rice flour

5/6

cup

tapioca starch

also called tapioca flour, divided (1/3 cup + 1/2 cup)

2/3

cup

potato starch

not flour

1/2

cup

millet flour

2

Tablespoons

light brown sugar

packed (see notes)

1

Tablespoon

active dry yeast

2

teaspoons

xanthan gum

1 1/2

teaspoons

kosher salt

2

large

eggs

2

large

egg yolks

(reserve the whites for brushing the bagels)

1

tablespoon

grapeseed oil

or canola oil

1

cup

warm water

plus 1-4 additional tablespoons if needed

1

Tablespoon

cinnamon

3/4

cup

raisins
To finish:
1 1/2

quarts

water

¼

cup

granulated sugar

1

Tablespoon

baking soda

2

Reserved egg whites

lightly beaten
Instructions
For the dough:
Line a baking sheet with a silicon baking sheet or lightly oiled parchment paper.

Place the dry ingredients (brown rice flour through salt) in the bowl of your stand mixer.

With the paddle attachment, slowly mix ingredients until evenly distributed, about 30 seconds, and set aside

In a small bowl, whisk together the eggs, yolks, oil, and water.

Add the wet ingredients to the dry ingredients and slowly increase the mixer speed to medium-high, and mix for about two minutes. Dough will be slightly sticky, so if it is to dry, add additional water one tablespoon at a time until it is a bit sticky and not too stiff.

Stop mixer, add cinnamon and raisins and mix on medium until incorporated.

Lightly dust your counter with tapioca starch - you don't need much, as they roll easier if they remain a little sticky.

Measure out approximately one half cup portions of dough at a time and roll the dough on the counter or in your hands into a smooth ball. Place on the counter and press straight down in the center with your thumb to form the hole, moving it around a bit to widen the hole a little.

Place the bagel on the prepared sheet pan and press it down to flatten slightly. Repeat with remaining dough.

Lightly cover the bagels with oiled plastic wrap and allow them to rise in a warm place for about and hour and 15 minutes to an hour and a half until they are puffy and almost double in size. I warmed my oven to about 80°F and kept them in there.
To finish:
As you approach the end of the rise time, preheat your oven to 450°F and bring a large pot of water to a boil (about 1 1/2 quarts). Add sugar and baking soda to the water.

Drop about 3 or 4 bagels at a time into the pot and boil for about 30 seconds, flipping about halfway through.

Remove them with the slotted spoon, draining off the excess water, and return them to the sheet pan.

Brush the tops of the bagels gently with the egg whites.

Bake the bagels on the center rack of the oven for 5 minutes at 450°F. Reduce the heat to 425°F and bake for 15-20 more minutes, until dark golden brown.

Remove from the oven and cool bagels on racks.
Notes
brown sugar is an important ingredient as it helps with the hint of malt flavor in a traditional bagel
Nutrition Facts
Gluten Free Cinnamon Raisin Bagels
Amount Per Serving (1 bagel)
Calories 390
Calories from Fat 45
% Daily Value*
Fat 5g8%
Cholesterol 92mg31%
Sodium 914mg38%
Potassium 403mg12%
Carbohydrates 79g26%
Protein 7g14%
Vitamin A 130IU3%
Vitamin C 1.2mg1%
Calcium 47mg5%
Iron 2.2mg12%
* Percent Daily Values are based on a 2000 calorie diet.
Here are some other gluten free breakfasts you might enjoy…
And here are all of the #SundaySupper Hometown Favorites…
Breakfast
Drinks
Appetizers and Snacks
Main Dishes
Side Dishes
Desserts