This post may contain affiliate links. Read my disclosure policy.
This Gluten-Free Chocolate Hazelnut Crumb Cake is an irresistible homemade coffee cake full of ooey-gooey chocolate decadence and topped with a luscious Nutella glaze. It's one of our favorite dessert-for-breakfast recipes, and always a stunner at the brunch table!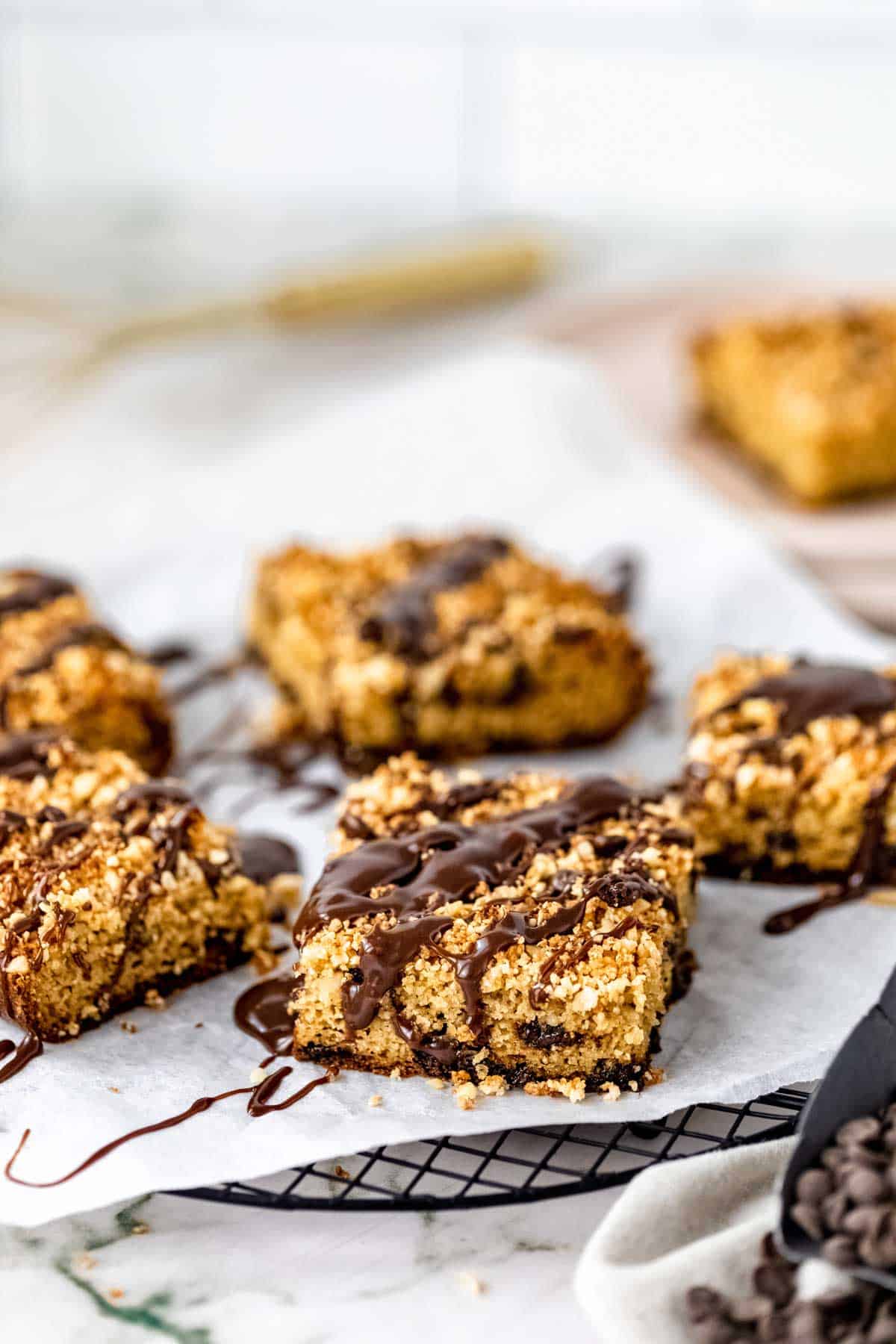 Gluten-Free Hazelnut Crumb Cake with Chocolate Glaze
This moist and tender Gluten-Free Chocolate Hazelnut Crumb Cake is the best dessert that doubles as breakfast! It doesn't get better than the irresistible combination of chocolate and hazelnut, and you'll find it all, plus a bit of crunch along with loads of chocolate decadence in this easy hazelnut crumb cake.
My hazelnut crumb cake recipe joins the ranks of "dessert, but make it breakfast" in our household. It's shamelessly up there with gluten-free cupcakes that lose their frosting and suddenly become muffins. Or milkshakes that swap ice cream for Greek yogurt to become chocolate smoothies. A layer cake with frosting for breakfast? Never. But ditch the frosting and make it a coffee cake, and we'll call it brunch.
As a result, it's totally acceptable to indulge in a slice of this delicious crumb cake in the morning. That's my truth and I'm sticking to it.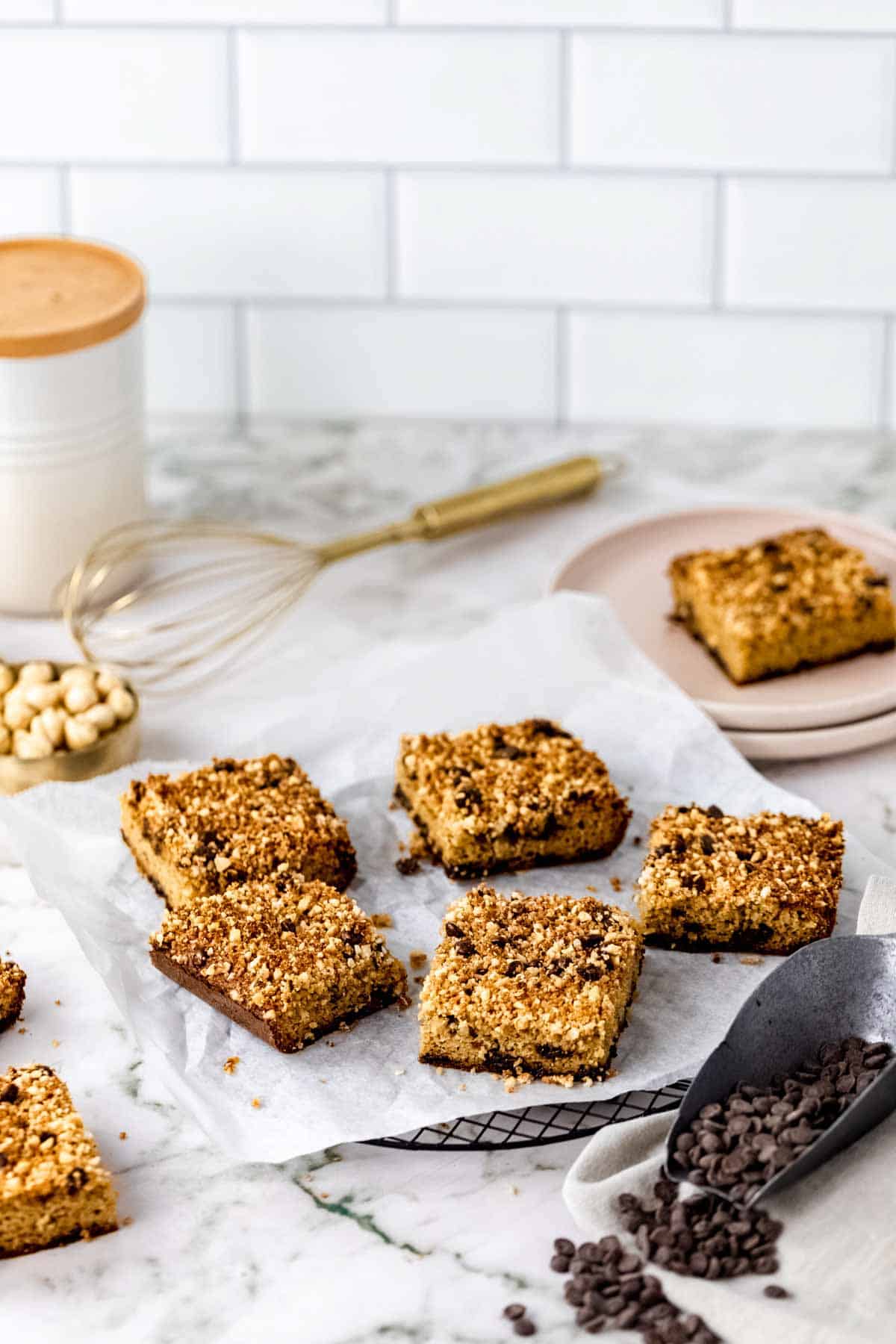 Why You'll Love This Recipe
Oh my goodness, people, there are no words for the experience of biting into this cake. In case dessert for breakfast isn't enough of a selling point, this chocolate hazelnut crumb cake is amazing for so many reasons:
The cake is moist and crumbly. This gluten-free crumb cake has a deliciously light, tender texture that's still rich in flavor, with a buttery chocolate hazelnut crumb topping. Once the chocolate glaze is in the picture? Fabulous.
The food processor makes it easy. Pulsing the ingredients in a food processor speeds up the mixing process.
The flavor is nuts. Literally. There's an irresistible nuttiness throughout this cake thanks to Bob's Red Mill Hazelnut Flour, plus chopped nuts for additional crunch. The crumb is dotted with chocolate chips. It's just the best.
Then, there's the glaze. You'll want to drink the chocolate hazelnut glaze in this recipe. Consider this a fair warning!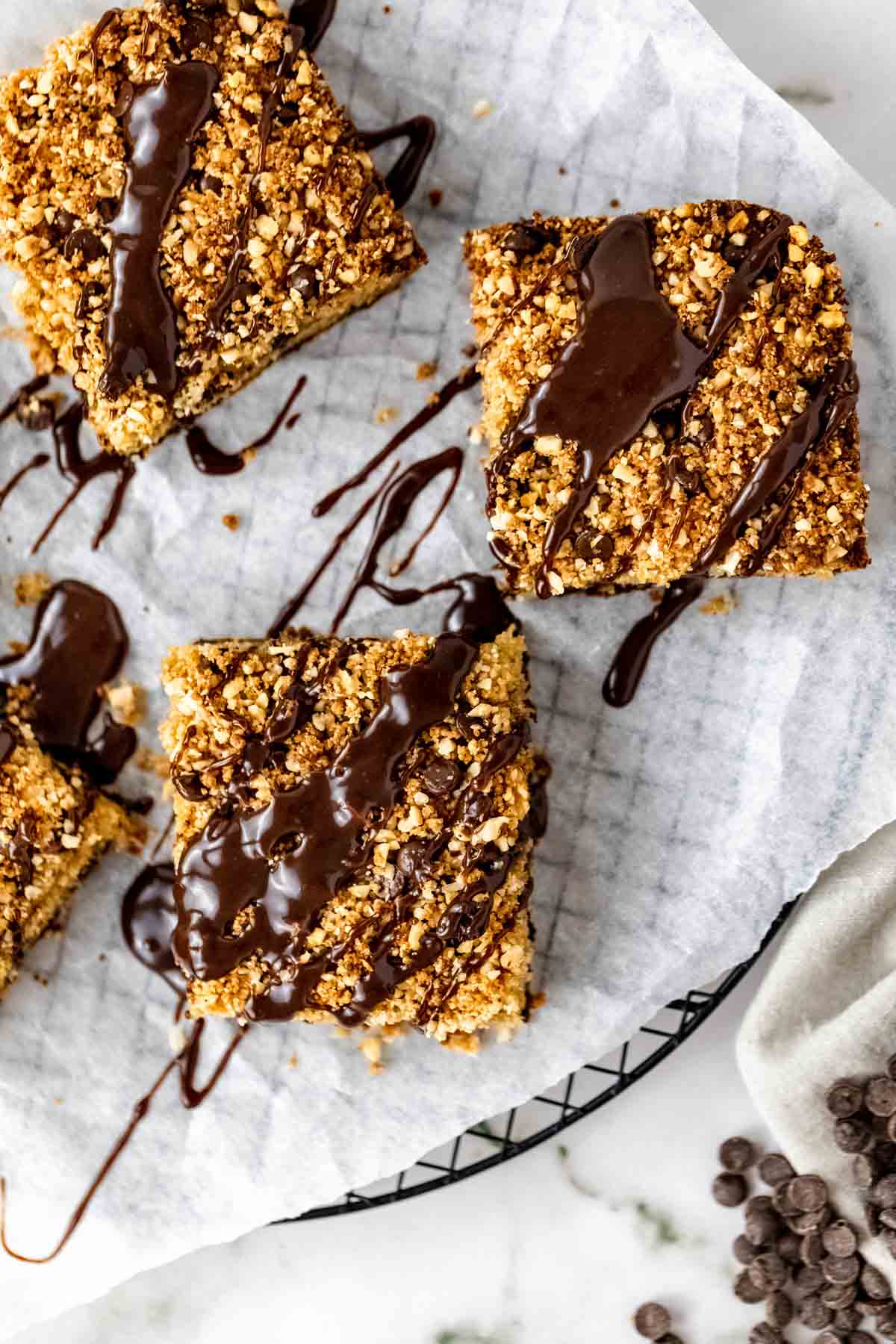 What You'll Need
This gluten-free hazelnut crumb cake was originally inspired by my Pumpkin Swirl Pecan Crumb Cake recipe. It trades out almond flour for hazelnut flour and, naturally, where hazelnuts go in my kitchen, chocolate follows!
Hazelnut Flour: The hazelnut flour not only works as a great alternative to wheat flour in this gluten-free cake but also infuses every inch of the cake with a subtle hazelnut flavor. I use Bob's Red Mill Hazelnut Flour Meal as it's by far my favorite. If you can't find it, you can substitute almond flour.
Oat Flour and Coconut Flour: I make my own oat flour by grinding up Bob's Red Mill Gluten Free Oats in my food processor to form a fine powder. This recipe also calls for a small amount of coconut flour.
Sugar and Salt: Light brown sugar offers just enough caramelization and moisture in this crumb cake. You'll also need a pinch of salt to balance the flavors.
Butter: Unsalted is best. Melt the butter in the microwave and allow it to cool a little beforehand, this way it will combine more easily with the rest of the ingredients. 
Greek Yogurt: My favorite secret ingredient in baking recipes. Greek yogurt adds a bucket-load of moisture to the cake crumb, not to mention a subtle, tangy flavor that perfectly plays off the nuttiness and chocolate.
Chocolate Chips: I add semi-sweet chocolate chips to the gluten-free cake batter for an extra boost of chocolate throughout.
Baking Soda and Baking Powder: For leavening. Make sure to check the expiry dates on the packages!
Eggs and Vanilla: Eggs bind the ingredients, while vanilla enhances the flavor. For the best results, use pure vanilla extract.
Almond Milk: Sticking with the nut theme, I use almond milk in this hazelnut crumb cake. Other dairy-free alternatives like oat, macadamia, or even regular milk will also work.
Chocolate Hazelnut Spread: Use your favorite brand of chocolate hazelnut spread, like Nutella. You'll combine it with a bit of milk to make a simple glaze to drizzle all over the finished crumb cake.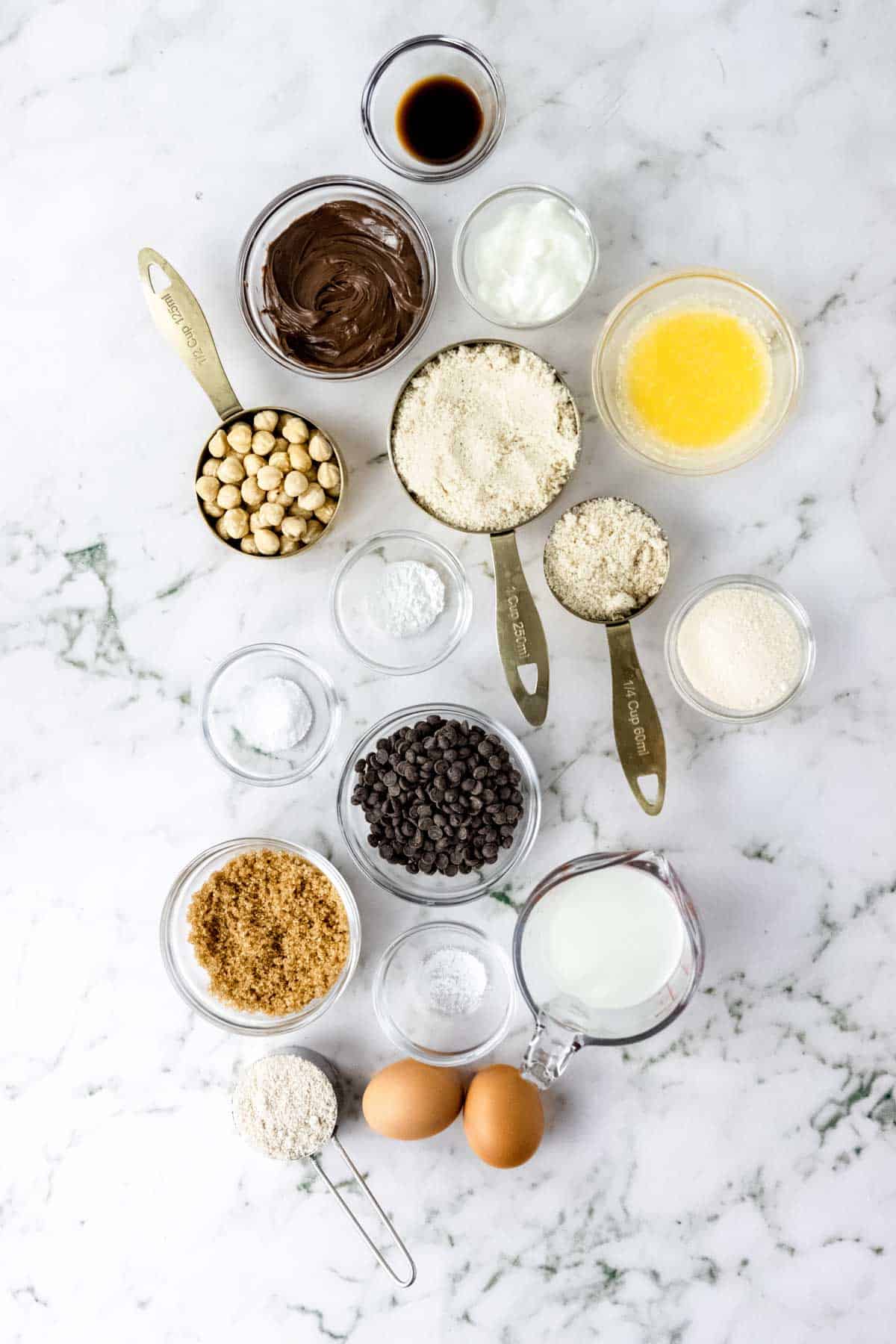 How to Make Chocolate Hazelnut Crumb Cake
Like any crumb cake, this recipe comes together in two parts: the cake, and then the crumbly hazelnut topping that's added before baking. Both are super simple, and begin with the food processor. Here's how to make this rich and decadent chocolate hazelnut crumb cake:
Combine the Dry Ingredients: Add the three flours to a blender or food processor, and pulse them together with brown sugar.
Add Wet Ingredients: Next, blend in the melted butter and Greek yogurt, then scrape the mixture out into a bowl and set it aside for now.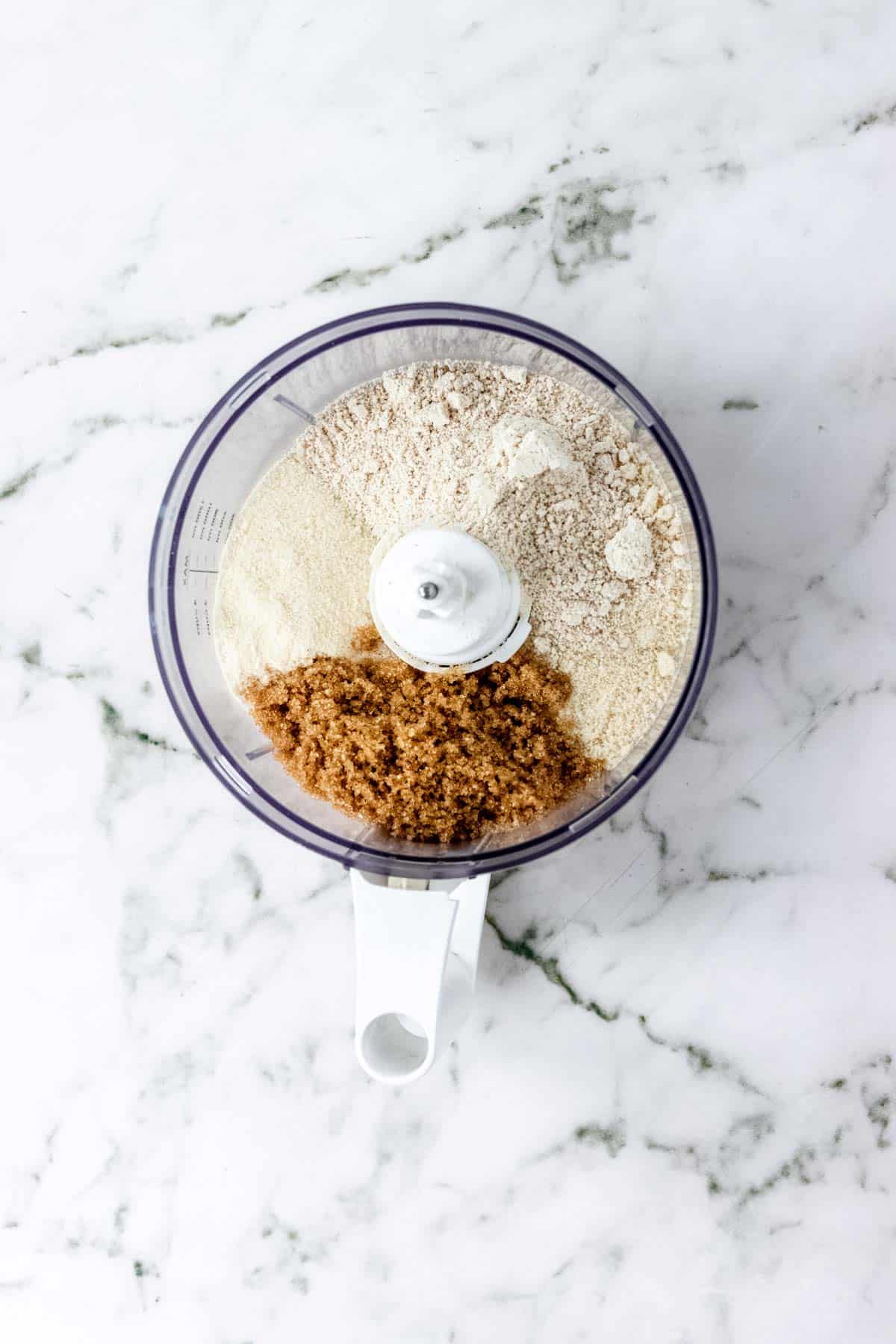 Make the Crumb Topping: Return about a quarter cup of the mixture to the food processor, add hazelnuts, and pulse to form loose crumbs. Afterward, stir in some semi-sweet chocolate chips.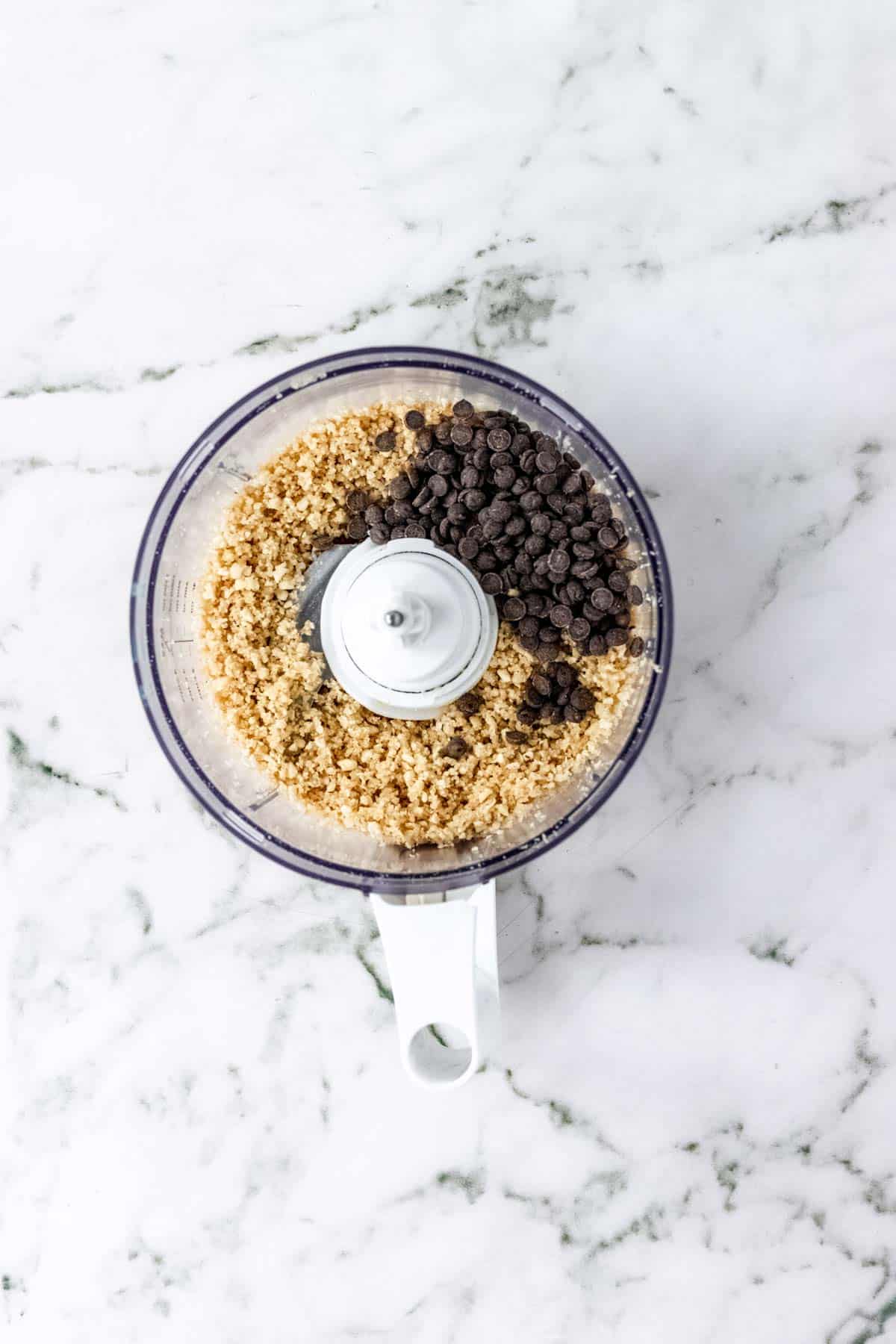 Make the Cake Batter: Add baking soda and baking powder to the remaining flour mixture, followed by the eggs, vanilla, and milk. Stir until the batter is combined and smooth, then fold in the last of the chocolate chips.
Finish and Bake: Transfer the crumb cake batter to a greased square baking pan. Sprinkle the prepared hazelnut crumb topping generously over top. Finally, bake the crumb cake at 325ºF for 35 to 40 minutes, until the center is set. Leave the cake to cool completely before glazing it.
Glaze: Combine chocolate hazelnut spread with milk until you reach your desired consistency. You can use a spoon to drizzle the glaze over the cooled crumb cake, or transfer the glaze to a ziplock bag with the corner snipped off and pipe it over top.
Cut Into Squares: Afterward, cut your gluten-free chocolate hazelnut crumb cake into squares and serve. See below for easy serving suggestions!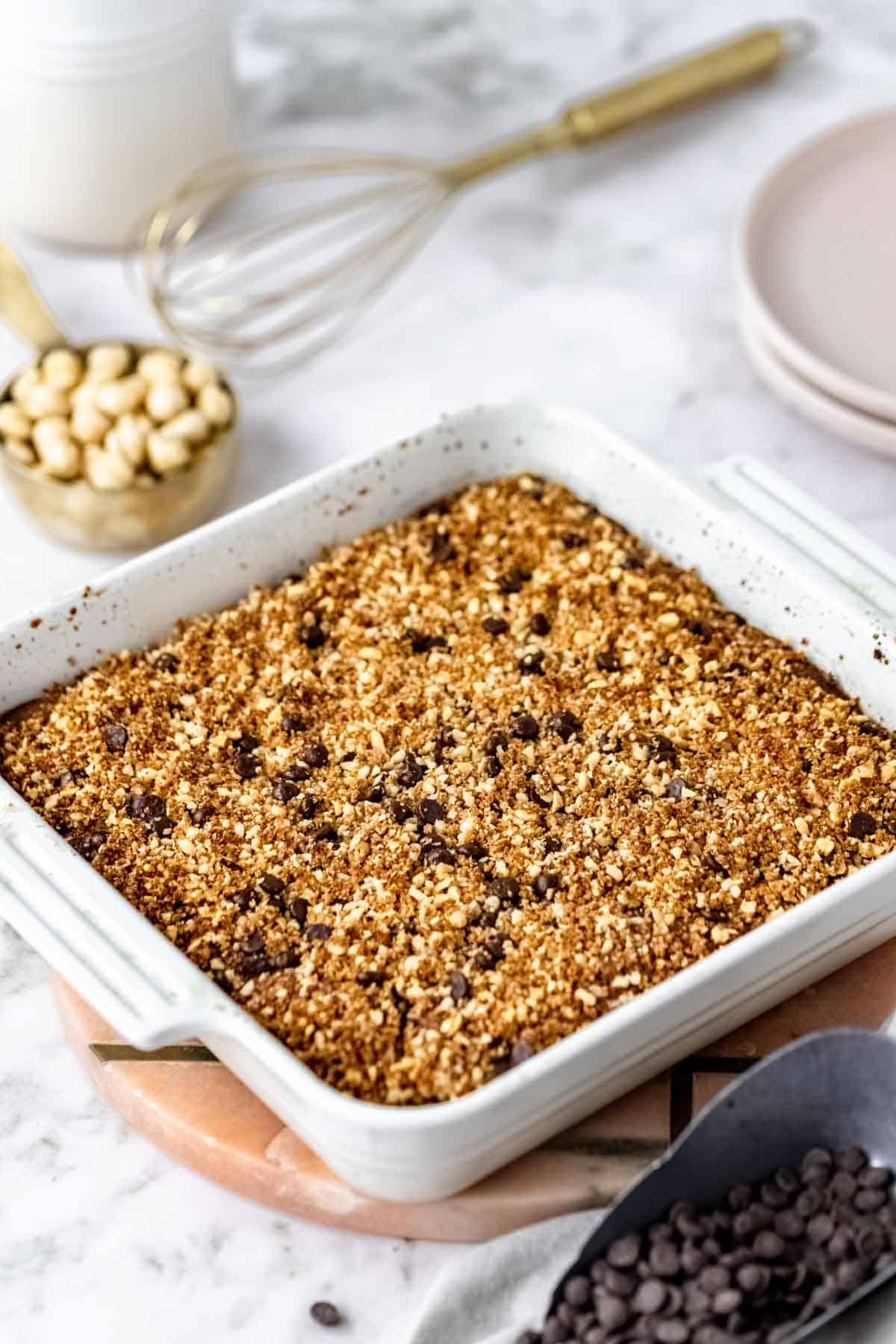 Tips for Success
There aren't any big mysteries involved in making this easy gluten-free cake. Here are my tips for the perfect homemade chocolate hazelnut crumb cake:
Measure ingredients correctly. Using the right amount of flour makes a major difference in the overall texture of this crumb cake. Instead of scooping the flour directly from the bag using the measuring cup, use a spoon to fill the measuring cup with flour, and then level it off with the back of a knife.
If your crumb cake is browning too quickly, tent the baking dish with foil while it finishes baking.
Double the glaze recipe. If you're hooked on this chocolate hazelnut glaze like we are, go ahead and double the recipe so that you'll have even more to drizzle over!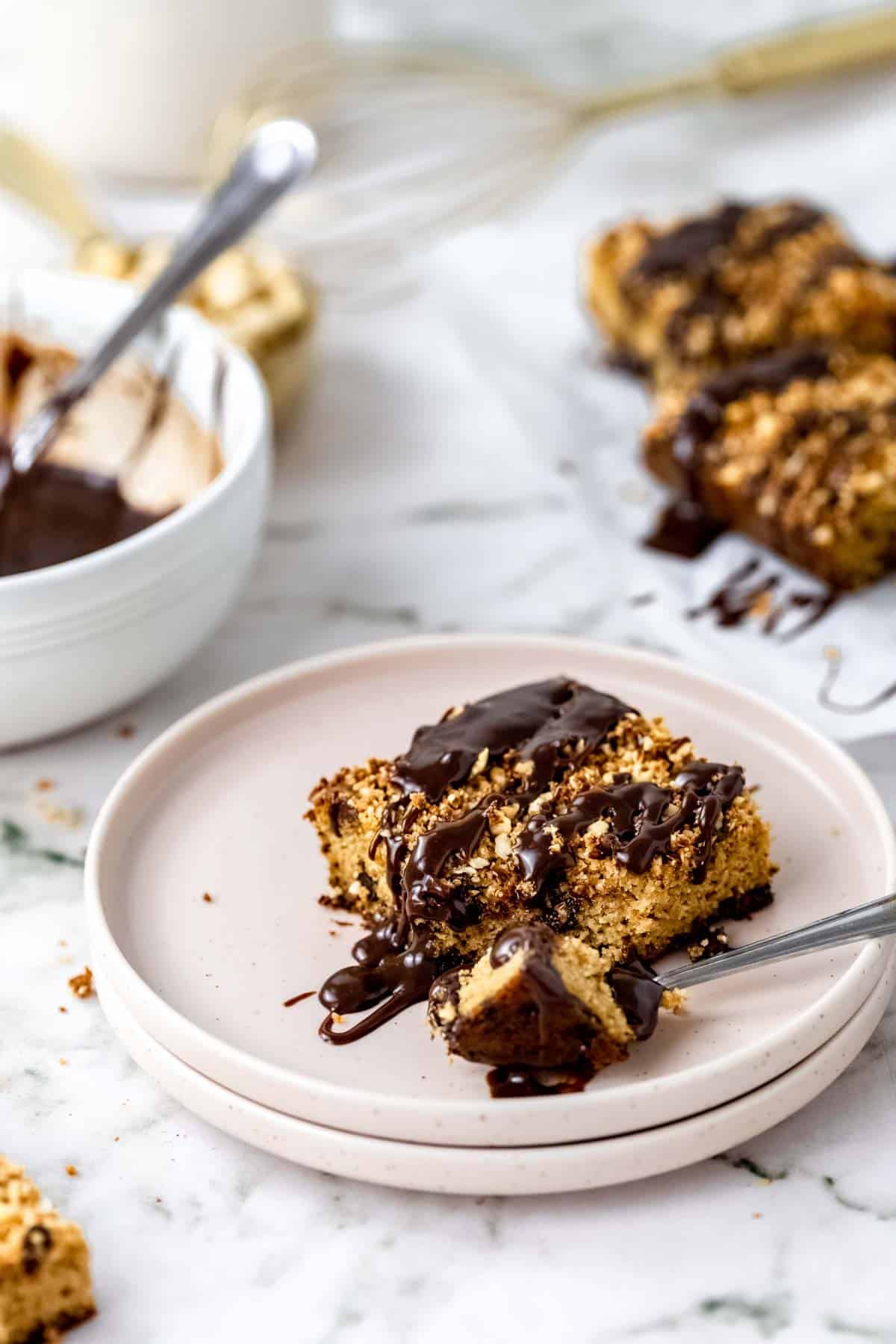 Serving Suggestions
In the days after baking, I can't resist a slice of chocolatey crumb cake with my morning coffee. It's the perfect mid-morning pick-me-up and a welcome addition to our family brunches. The sweetness balances out savory dishes like Eggs Benedict or Ham and Cheese Strata.
This gluten-free chocolate hazelnut crumb cake also makes an equally delicious dessert, served slightly warmed and topped with vanilla ice cream. Or, if you're as Nutella-obsessed as we are, with homemade Nutella Swirl Ice Cream.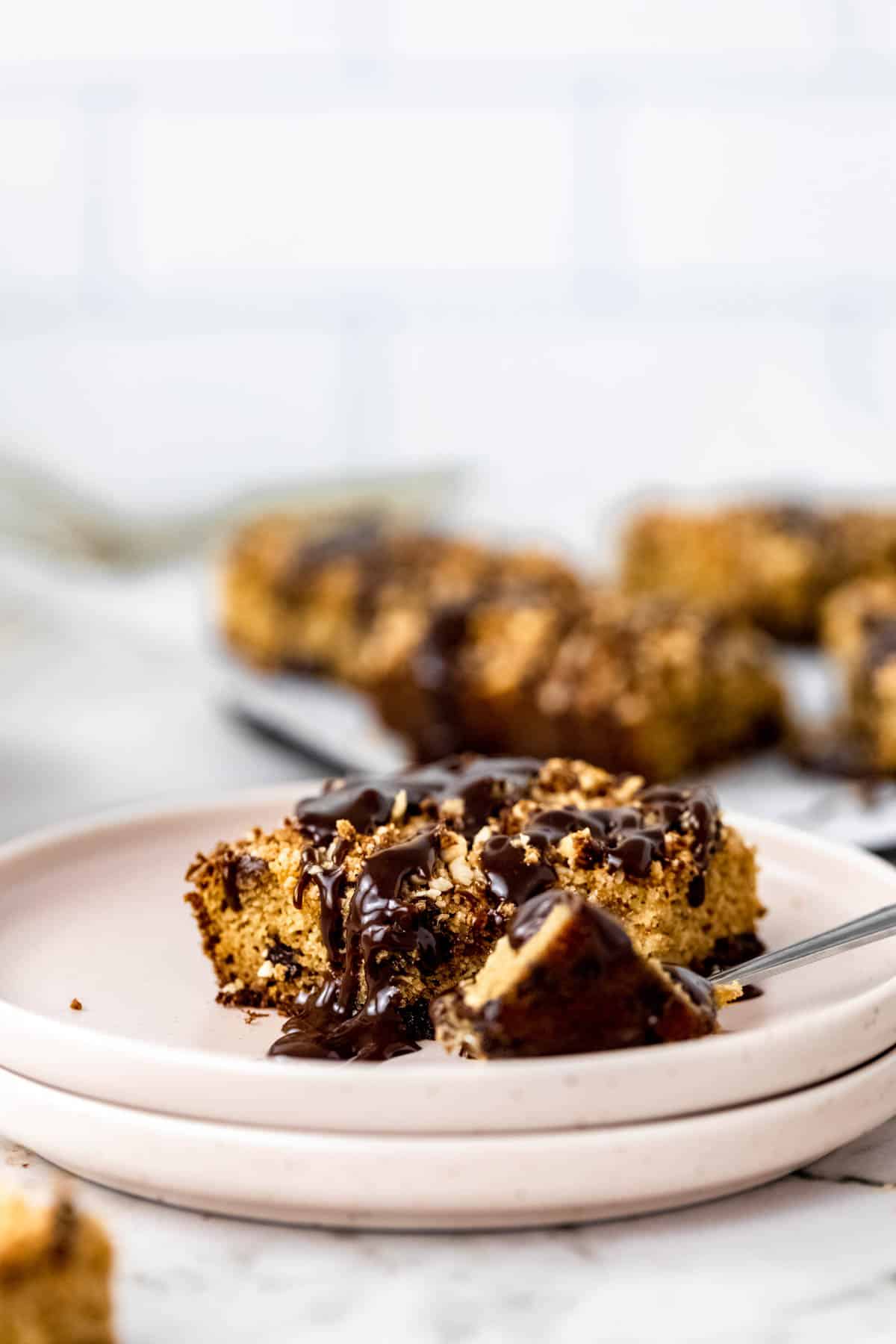 How to Store Gluten-Free Crumb Cake
Store any leftover chocolate hazelnut crumb cake refrigerated in an airtight container. It keeps well for up to 4 days.
Can I Freeze Crumb Cake?
Yes! Wait until the baked gluten-free crumb cake is completely cooled, and wrap it airtight in a layer of plastic wrap, plus a layer of foil. You can add the glaze before or after freezing, whichever you prefer. Freeze the crumb cake for up to 3-4 months, and defrost it overnight in the refrigerator before serving.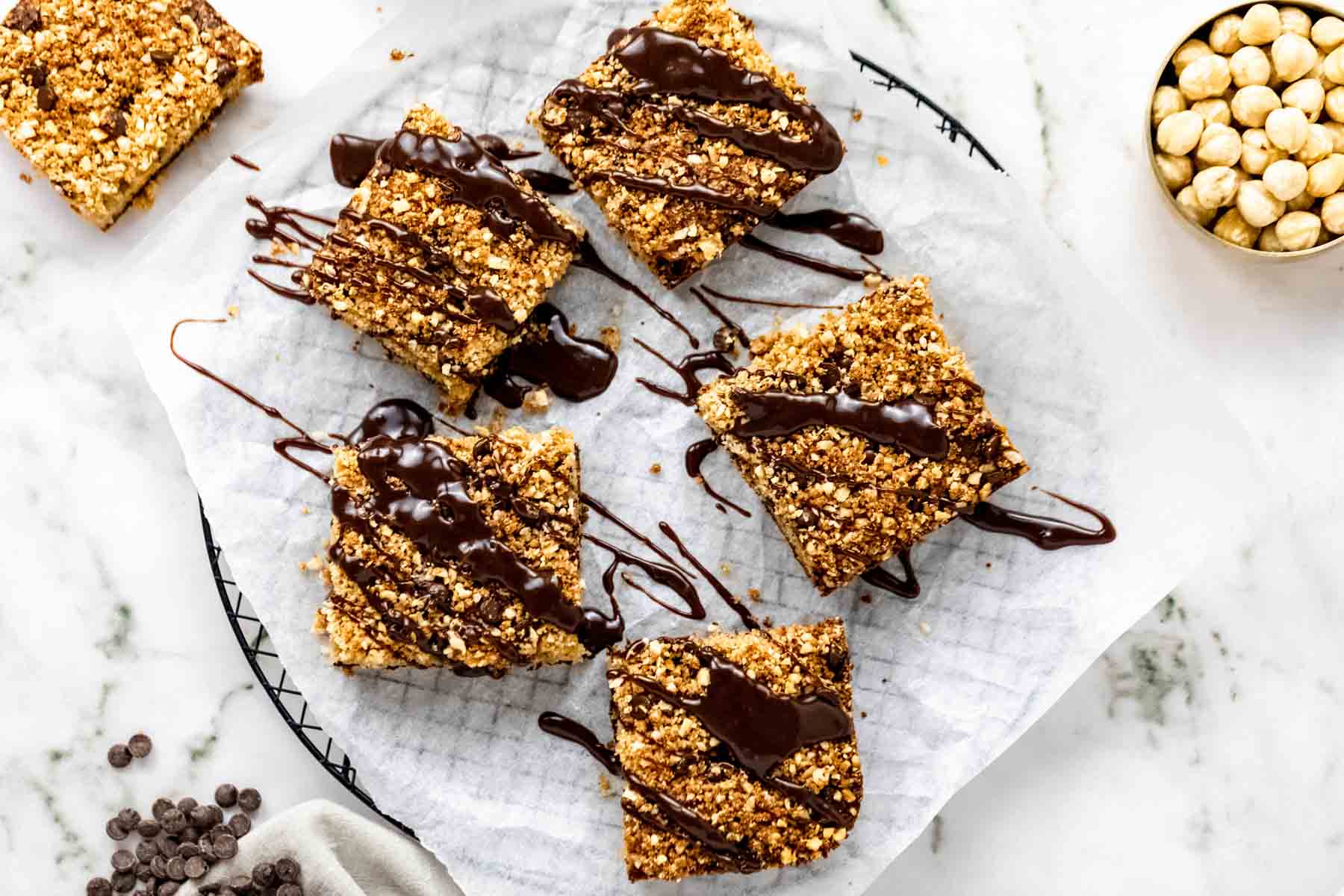 Get Your Gluten Free Ingredients
Last updated on September 29, 2023 1:36 am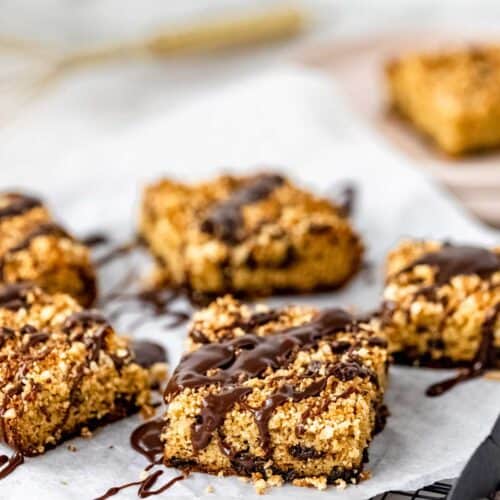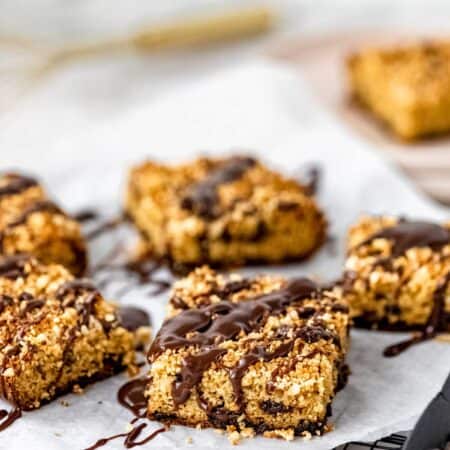 Gluten-Free Chocolate Hazelnut Crumb Cake
A bit of hazelnut crunch, a lot of chocolate, and a drippy, chocolatey glaze make this moist, tender Gluten-Free Chocolate Hazelnut Crumb Cake utterly decadent.
Ingredients
For the crumb cake:
1¼

cup

hazelnut flour

(recommended Bob's Red Mill Hazelnut Flour/Meal), or substitute almond flour

¼

cup

oat flour

(place instant or old-fashioned oats in a food processor and pulse until it forms a flour)

3

tablespoons

coconut flour

⅛

teaspoon

salt

⅓

cup

light brown sugar,

firmly packed

2

Tablespoons

unsalted butter,

melted and cooled

2

Tablespoons

plain Greek yogurt

½

cup

hazelnuts,

chopped

1/2

cup

mini semisweet chocolate chips,

divided

½

teaspoon

baking soda

½

teaspoon

baking powder

2

large

eggs

1

teaspoon

vanilla extract

½

cup

milk

(dairy or non-dairy milk such as almond milk can be used)
For the chocolate hazelnut glaze:
2

Tablespoons

chocolate hazelnut spread,

such as Nutella

1/2-1

Tablespoon

milk

(dairy or non-dairy milk such as almond milk can be used)
Instructions
For the crumb cake:
Preheat oven to 325°F. Grease an 8″x8″ baking pan or line it with parchment paper.

In the bowl of a food processor, pulse together the hazelnut flour, oat flour, coconut flour, salt, and brown sugar until combined.

Add the butter and Greek yogurt, and pulse until well combined. Transfer this mixture to a large bowl and set aside.

For the topping, return ½ c of the flour mixture to the food processor. Add the hazelnuts and pulse a couple of times to combine and form loose crumbs. Stir in 1/4 cup of mini chocolate chips.

To the reserved dry mixture, stir in the baking soda and baking powder. Add the eggs, vanilla, and milk and stir until smooth.

Stir in the remaining 1/4 cup of mini chocolate chips.

Pour batter into the prepared pan. Sprinkle the hazelnut crumb mixture evenly over the top of the batter.

Bake for 35-40 minutes. A toothpick inserted in the middle should come out clean (provided you don't hit a chocolate chip) and it will not jiggle in the middle.

Cool the cake completely, and while it is cooling, prepare the glaze. Use a spoon or fork or transfer it to a plastic bag and cut the corner off. Drizzle the chocolate hazelnut glaze over the cake.

Cut into squares and serve.
For the chocolate hazelnut glaze:
Stir together the chocolate hazelnut spread and milk, adding a little at a time until you reach your desired consistency.
Nutrition Facts
Gluten-Free Chocolate Hazelnut Crumb Cake
Amount Per Serving (1 square)
Calories 343
Calories from Fat 216
% Daily Value*
Fat 24g37%
Cholesterol 50mg17%
Sodium 148mg6%
Potassium 219mg6%
Carbohydrates 26g9%
Protein 7g14%
Vitamin A 162IU3%
Vitamin C 1mg1%
Calcium 88mg9%
Iron 3mg17%
* Percent Daily Values are based on a 2000 calorie diet.
Categories:
More Delicious Gluten-Free Coffee Cakes