This post may contain affiliate links. Read my disclosure policy.
Nobody can resist a healthy breakfast or snack that tastes like dessert. Especially when it is the irresistible combination of chocolaty goodness and cherries from the classic Black Forest Cake. Toss a few simple and wholesome ingredients into your blender for a rich and creamy Cherry Chocolate Smoothie recipe with enough protein to fuel you through a busy day while satisfying your sweet tooth!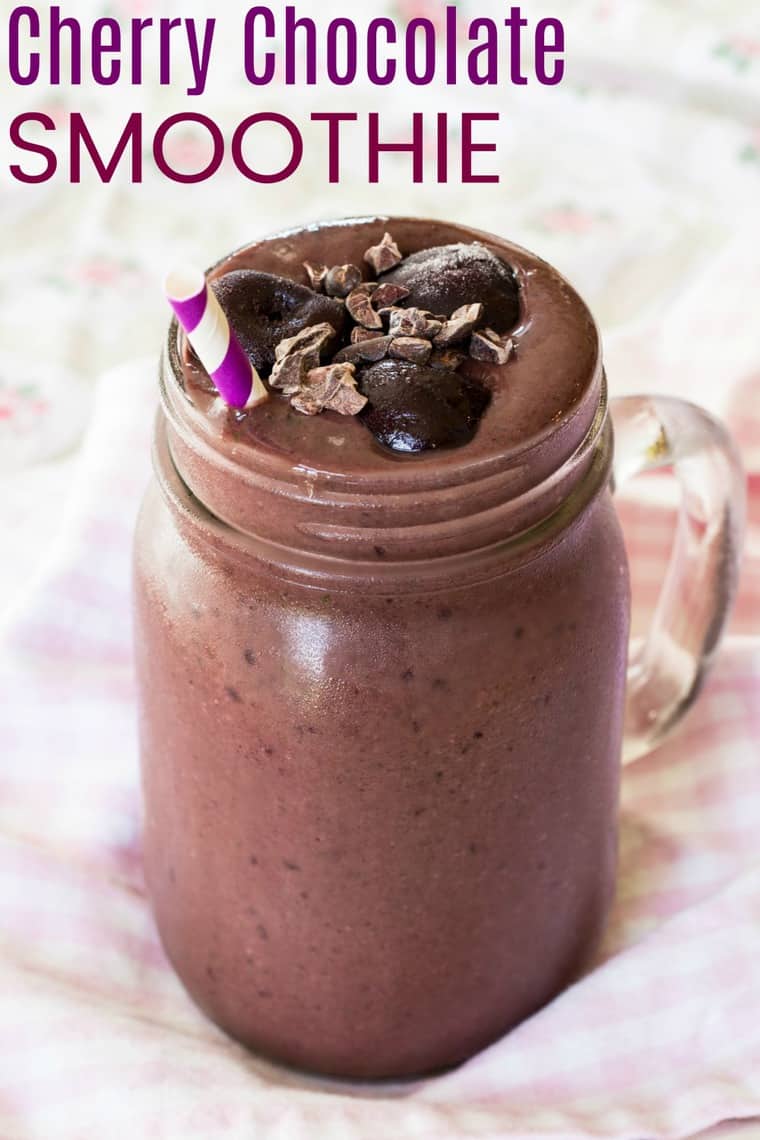 Originally published Feb 4, 2015.
I am a total smoothie girl. Literally, I have one every day, and I used to have two. And while some people may switch up their smoothies on a daily or weekly basis, alternating from blueberry smoothies to banana smoothies to strawberry smoothies, I tend to stick with one fruit for weeks, months, oh maybe even years at a time.
For the longest time, it was frozen mixed berries. Every day I would alternate between adding peanut butter or cocoa powder to make a Chocolate Mixed Berry Smoothie or what I called my Peanut Butter and Jelly Smoothie.
Now, I am all about the cherries. I will go to Costco and literally buy three of the giant bags of frozen cherries at a time. I love the cherry chocolate version of my easy fruit and yogurt parfaits. I'll drizzle them with almond butter and a little sprinkle of sea salt as a frozen snack. And, of course, use them in smoothies.
Since it is based on a classic cake, a Black Forest Smoothie seems like a special treat with its chocolate and cherry flavors and creamy texture. This means the kids will think you are a super-mom for basically giving them what tastes like dessert first thing in the morning.
But really it's packed with nutritious ingredients. Cherries, Greek yogurt or cottage cheese for protein, and yes, you can even blend in those ubiquitous dark, leafy greens. And chocolate. I mean, we are talking antioxidants here. And it's just a tablespoon of cocoa powder. With only ten calories for a burst of chocolaty deliciousness, it's a great way to up the indulgence factor while still keeping it light and good-for-you!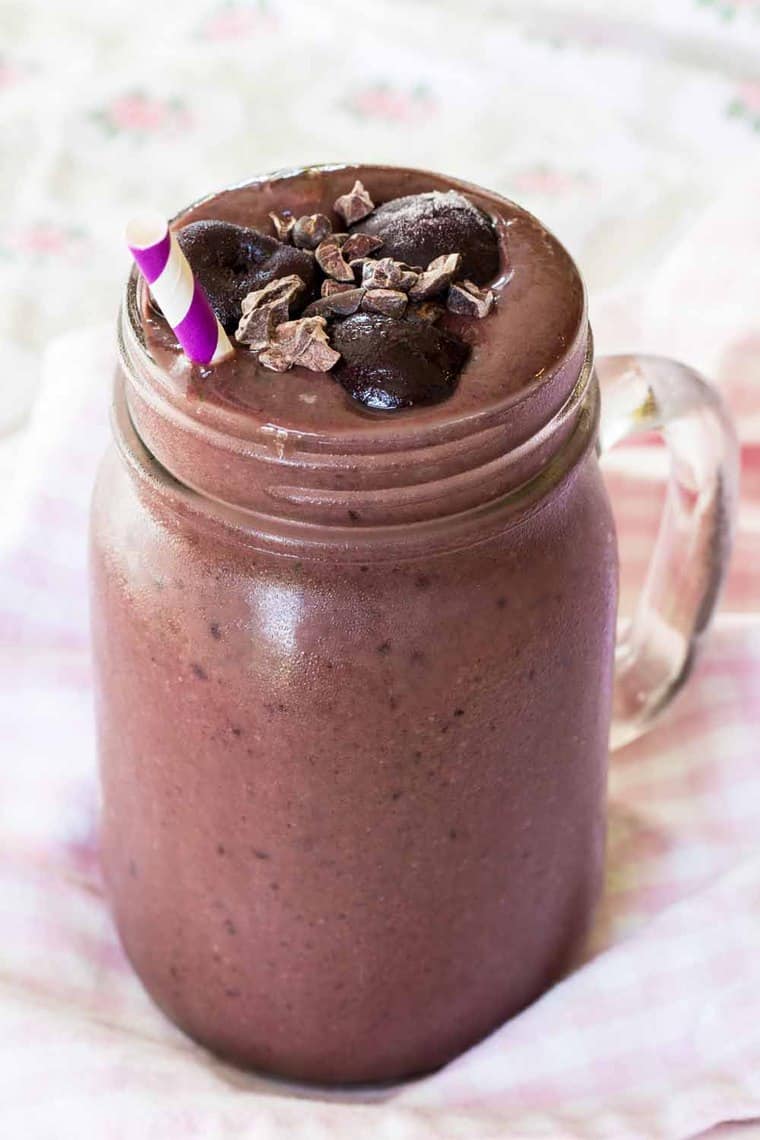 Black Forest Smoothie Recipe
Combine the classic flavors of Black Forest cake in this Cherry Chocolate Smoothie recipe that makes a healthy breakfast or snack, but tastes like dessert.
Here is a brief overview so you can see just how easy it is to make. Scroll down to the printable recipe card for the full quantities and details.
But don't skip my PRO TIPS below!
Ingredients
I'll dive more into the ingredients, my favorite brands, alternatives, and more in a minute. But here is what you'll need to gather together.
Spinach or other dark leafy greens
Milk – dairy or non-dairy
Plain Greek yogurt or cottage cheese
Cocoa powder
Frozen cherries
Ice
Vanilla extract – optional
Tiny pinch of salt – optional
Optional sweetener – optional, but you can add a bit of honey, maple syrup, Stevia, Swerve, or your favorite sweetener if needed
I list the ingredients in this order because this is how you should add them to your blender.
Why?
The leafy greens are added first, if you choose to use them, followed by the milk so that they get fully submerged and then broken down. Soft ingredients like the cottage cheese or yogurt and cocoa powder go next so that they get evenly distributed in the liquid. Then the frozen ingredients, in this case, the cherries and ice, are last so that they blend just enough to keep a thick texture and don't melt completely. The small amounts of vanilla, salt, and sweetener are listed last but can be added at any time, even stirred in after blending if you need to adjust the taste or sweetness.
But really, if you do it in a different order, it'll still be delicious. And it's as simple as…
Directions
Add everything to your blender in the order listed and blend until smooth. Then enjoy right away!
I always recommend a high-powered blender like the Blendtec for the smoothest, most creamy smoothies. The Mini Wildside+ Jar is the perfect size for one or two smoothies. You can even use the "Smoothie" setting to have it gradually increase the speed to perfectly incorporate the liquids and frozen ingredients. Note, I do usually stop it a little before the cycle is over because I prefer an extra thick smoothie.

I am a Blendtec ambassador, and should you make any purchases through my Blendtec Store link, I will receive a small commission, but that also means you can use the code CUPCAKESANDKALECHIPS to receive 20% off.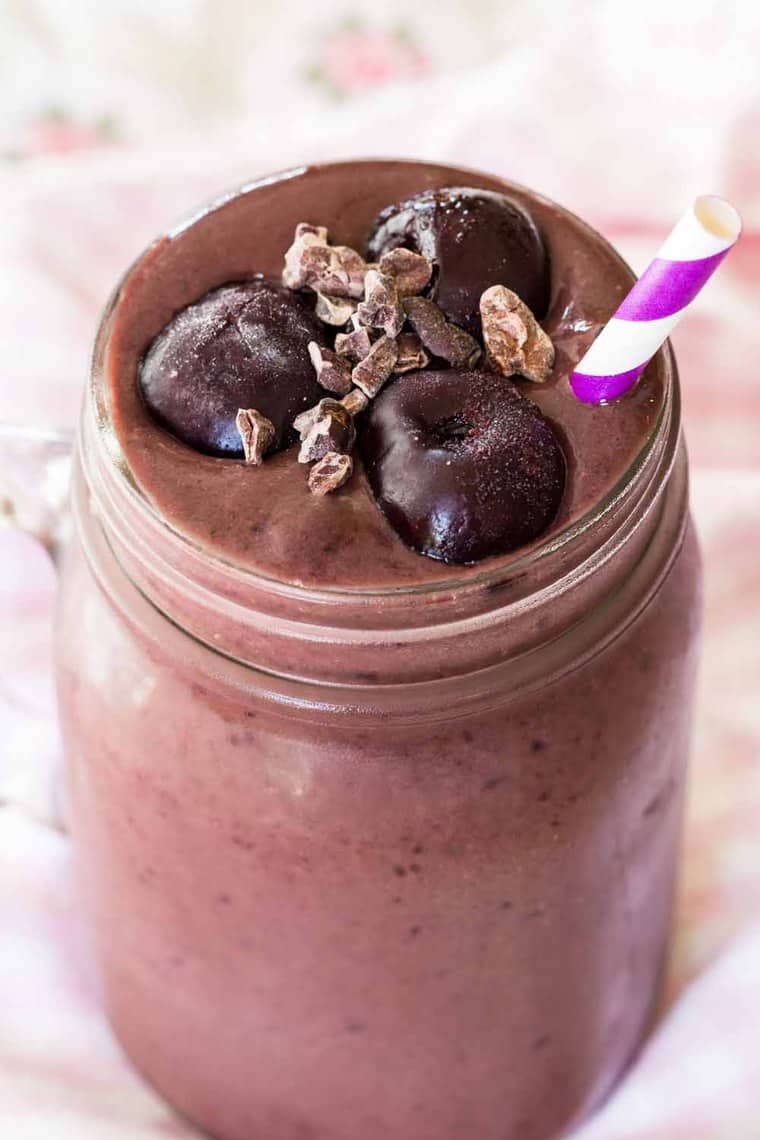 About the ingredients
Let's talk a little more about the simple ingredients that make this chocolate cherry smoothie so amazingly delicious and healthy. Plus I will share some substitutions you can make to customize your smoothie.
Milk
I like to use Silk Unsweetened Vanilla Almondmilk in my smoothies since it is so low in calories but still has a lot of calcium. Cashewmilk is another great option. If you want to add more protein, you can use regular dairy milk, and anything from skim to 1% to 2% to whole milk will work. And any non-dairy milk can be substituted as well.
Leafy greens
Adding dark leafy greens to your smoothie is totally optional, but it's a great way to sneak in extra vitamins, minerals, and fiber.
I prefer to use baby spinach since it has a milder flavor and basically disappears once you blend it. But others like to use kale because it is a nutritional powerhouse. Feel free to use your favorite dark leafy green, or omit it completely.
Cottage cheese or Greek yogurt
For many people, Greek yogurt is the go-to in smoothies to add protein and more creaminess. You can definitely use that in this recipe, but I actually prefer cottage cheese.
Many people aren't fans of cottage cheese, but trust me on this. It has become my go-to for pretty much any kind of smoothie recipe. It blends up so super smooth, without that bit of tartness from the yogurt. And the salt in the cottage cheese just enhances the sweetness of the fruit, as well as the nuttiness of the peanut butter in this recipe.
If you avoid dairy, substitute a non-dairy yogurt like coconut or soy yogurt. You can even use a banana. If it is frozen, it will make it thicker and creamier.
Cocoa powder
Cocoa powder is a great ingredient to add a ton of chocolate flavor with minimal calories. I use plain old Hershey's Cocoa Powder which only has 10 calories per tablespoons and is easy to find. But you can use cacao powder for even more of a nutritional punch of antioxidants.
Vanilla extract, salt, and sweetener
None of these is totally necessary. But vanilla does make chocolate taste a little more chocolaty. And a hint of saltiness enhances the natural sweetness of the fruit. Both also give it a little more of that "cake" flavor.
Adding something else to sweeten your smoothie is up to you. It depends on how sweet your cherries are, and your own personal tastebuds and sweet tooth. You can use honey, sugar, Stevia, or an erythritol sweetener, like Swerve. I often use just a pinch of Stevia. I don't like the flavor of Stevia in many things, but when just a little is used with fruit, it really accentuates the sweetness of the fruit and the fruit makes the bitterness some people find with Stevia.
Frozen cherries
If you have a lot of fresh cherries in the summer, you can use a cherry pitter to remove the pits from the cherries, then freeze them in a single layer on a sheet pan. Once frozen, you can then transfer them to a zip-top freezer storage bag.
But most often you'll just find me getting a big bag from Costco or Wegman's.
Ice
I like a thick, frosty smoothie. So I do usually add several ice cubes. You will need to decide how much to add based on the size of your ice cubes and your preferred texture. If you leave them out, you will have a slightly thinner smoothie (though you could reduce the amount of milk), but a richer flavor.
Garnishes
Feel free to garnish your smoothie with some more frozen cherries or even a maraschino cherry. I like to use Tillen Farms Cherries because they have no artificial colors or flavors and no high fructose corn syrup
Sprinkle on some mini chocolate chips or cacao nibs.
If you are enjoying this as a healthy dessert, feel free to add a bit of whipped cream.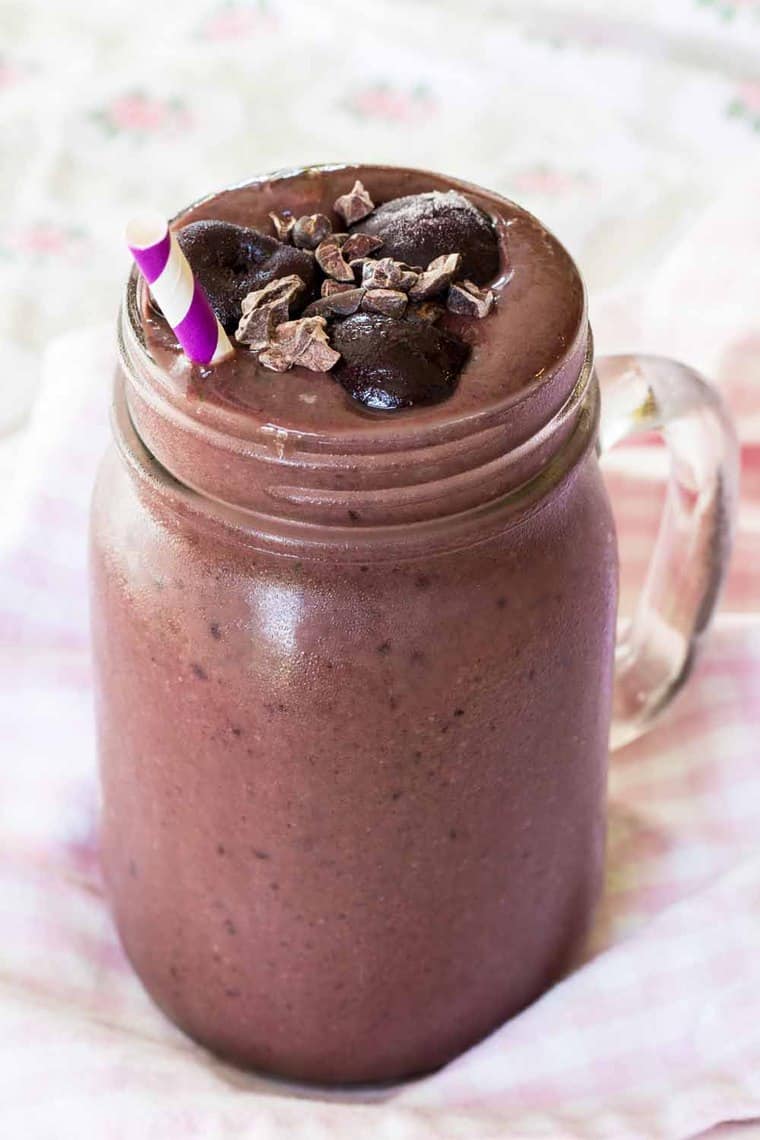 Variations
It's easy to add, subtract, or swap ingredients to make all kinds of cherry smoothies!
Use a frozen banana in place of the Greek yogurt or cottage cheese and stick with almond or cashew milk to make a Dairy Free Black Forest Smoothie.
Up the omega-3's by adding flax seed or chia seeds.
Skip the cocoa powder and try cream cheese for a Cherry Cheesecake Smoothie.
Use almond butter instead of cocoa powder for an Almond Cherry Vanilla Smoothie.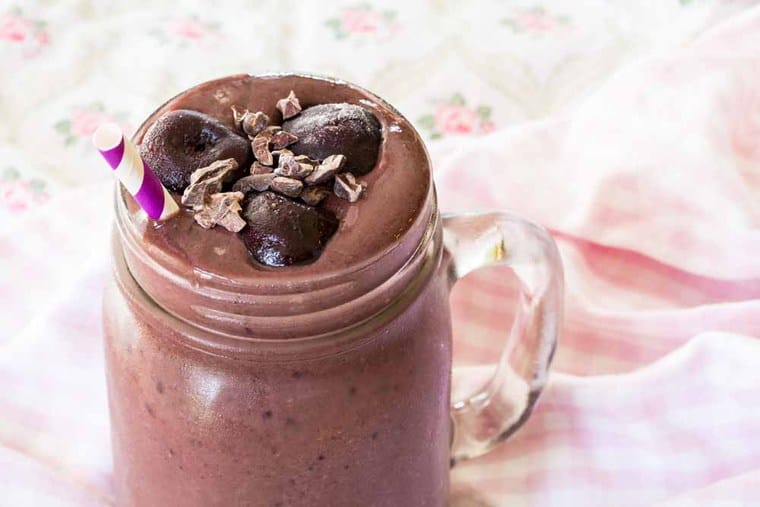 More smoothies that taste like dessert…
Chocolate Cherry Smoothie Recipe
Combine cherries and chocolate into one healthy smoothie recipe with the classic Black Forest flavor combo. The perfect protein-packed breakfast or snack, but it will satisfy your sweet tooth like dessert.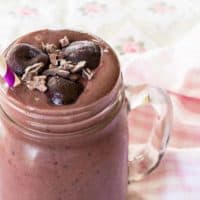 Black Forest Cherry Chocolate Smoothie
The classic combination of chocolate and cherries in a dairy-free creamy smoothie.
Ingredients
1

cup

unsweetened Almondmilk

or Cashewmilk or regular dariy milk

1

cup

baby spinach

or other dark, leafy greens (optional)

1/2

cup

cottage cheese

or plain Greek yogurt

1

tablespoon

unsweetened cocoa powder

1

cup

frozen cherries

several ice cubes

(add more ice for a thicker, shake-like consistency and less for a thinner consistency)

1/4

teaspoon

vanilla extract,

optional

1

pinch

salt

Honey, sugar, stevia, or other sweetener,

to taste, if needed

cherries, cacao nibs, mini chocolate chips, or whipped cream for garnish,

if desired
Instructions
Add all of the ingredients to your blender in the order and blend until smooth.

Pour into a glass and serve immediately. Add more cherries, cacao nibs, mini chocolate chips, or whipped cream for garnish, if desired.
Nutrition Facts
Black Forest Cherry Chocolate Smoothie
Amount Per Serving (1 g)
Calories 224
Calories from Fat 45
% Daily Value*
Fat 5g8%
Cholesterol 5mg2%
Sodium 847mg35%
Potassium 647mg18%
Carbohydrates 30g10%
Protein 19g38%
Vitamin A 2901IU58%
Vitamin C 18mg22%
Calcium 417mg42%
Iron 2mg11%
* Percent Daily Values are based on a 2000 calorie diet.
Categories:
Enjoy!