Black Forest Smoothie
Disclosure: This post may contain affiliate links. Cupcakes & Kale Chips is a participant in the Amazon Services LLC Associates Program, an affiliate advertising program designed to provide a means for us to earn fees by linking to Amazon.com and affiliated sites.
Chocolate and cherries may be synonymous with Valentine's Day, but you don't have to wait to treat the ones you love to something special when it is also packed with healthy ingredients. Nourish the body, heart, and soul with this Black Forest Smoothie.
Black Forest Smoothie

Disclaimer: This is a sponsored post written by me on behalf of Silk®. All opinions are 100% mine.
Valentine's Day is coming up, and obviously our celebrations have evolved over the years. The first year The Hubby and I were dating, we made a big deal out of it, as I think pretty much all couples do. It fell on a Sunday, as I recall, so we spent a weekend in Philadelphia, exchanged lavish gifts, went for a fabulous dinner, the whole nine yards. The emphasis on just this one day has tapered off a bit over the years. We soon realized that restaurants were crowded, if it was a weekday there was no guarantee that we wouldn't be swamped at work, and celebrations got spread throughout the year as we got married and had an anniversary to celebrate, as well as other occasions and milestones.
Now, really, it's about the kids, especially this year. As we were selling our house, looking for a new one, packing, and moving, we spent the last several months of 2014 pretty much just getting by. Doing the bare minimum, you know? While we had a nice Christmas, I still felt like it didn't quite have that special, magical feel, and there were some things that I love to do with the little guys that just didn't get done. Heck, we just got the tree up in the nick of time. So after months of barely keeping our heads above water, as 2015 has started, my focus has been on emphasizing the positive, fostering happiness, and being joyful for those that bring the most joy into my life – my kids. And I think it is paying off in that joy being returned to me tenfold – more smiles, more random hugs and spontaneous kisses, just a sparkle in their eyes that I felt like had been missing for awhile. Or maybe I just wasn't seeing it.
So this year for Valentine's Day, it's not going to be about finding a babysitter or even putting the boys to bed early so that The Hubby and I can have a date night in (though maybe I will make a special dessert and pop in a movie after they are asleep). It's going to be about celebrating these special little boys that bring a love to me that I have never experienced before. Maybe we'll make the sugar cookie bars and gingerbread house that we didn't make for Christmas. Or go to the park. Or maybe we'll build an entire town of blocks. Or we might just curl up on the couch with a few favorite DVDs. Whatever makes them happy! But first, the morning has to kick off with a special breakfast, including these.
A Valentine's Day Black Forest Smoothie seems like a special treat, with its chocolate and cherry flavors and creamy texture, so the kids will think I'm the best mom ever for giving them dessert first thing in the morning. But really it's packed with nutritious ingredients. Cherries, bananas, and yes, I blended in those ubiquitous dark, leafy greens – it may be a holiday, but I still think the best way to spread love is to give the little guys something that's good for their little growing bodies. It may be a murky color, but it tastes so sweet and yummy. Plus you could always leave out the green stuff, and it's more of a Valentine's Day purply-pink. Luckily my kids only care what it tastes like, and I can guarantee they'll slurp it down in seconds. I know I do! And while you can swap the banana for Greek yogurt or cottage cheese if you eat dairy foods, don't like bananas, or just want to get in a little more protein, what's the key ingredient here for irresistibly smooth creaminess even in a dairy-free smoothie? Silk® Cashewmilk!
I've been on the Almondmilk bandwagon for a while, but when I saw that my favorite brand, Silk®, was now making a milk out of my favorite nut I had to try it. Silk® Cashewmilk is made with the special creaminess of cashews, with no saturated fat or cholesterol or anything that I try to avoid giving to my boys, like artificial colors, flavors or preservatives, and high-fructose corn syrup. It's also free of gluten, soy, casein, peanuts, egg and MSG, is responsibly produced, and is verified by the Non-GMO Project. But the best part about it is how smooth and creamy it is! I love the subtle cashew flavor and especially the richness for blending into smoothies like this, mixing into hot chocolate, cooking my morning oatmeal, and even just drinking a cold glass or a warm mug with nothing else added. Next I really want to try it in some savory recipes, as I think the texture and flavor would be perfect in sauces, or for infusing flavor and creaminess into rice or quinoa side dishes. Plus, you get all of this with only 25 calories per serving in Unsweetened variety, which is the one I usually drink. That's 1/3 the calories of skim milk*. But even in the Original, there's just 60 calories per serving; 25% fewer calories than skim milk**. Which means I can use those spare calories to add in other goodness. You know, like chocolate 🙂 Oh hush, it's only a tablespoon of cocoa powder!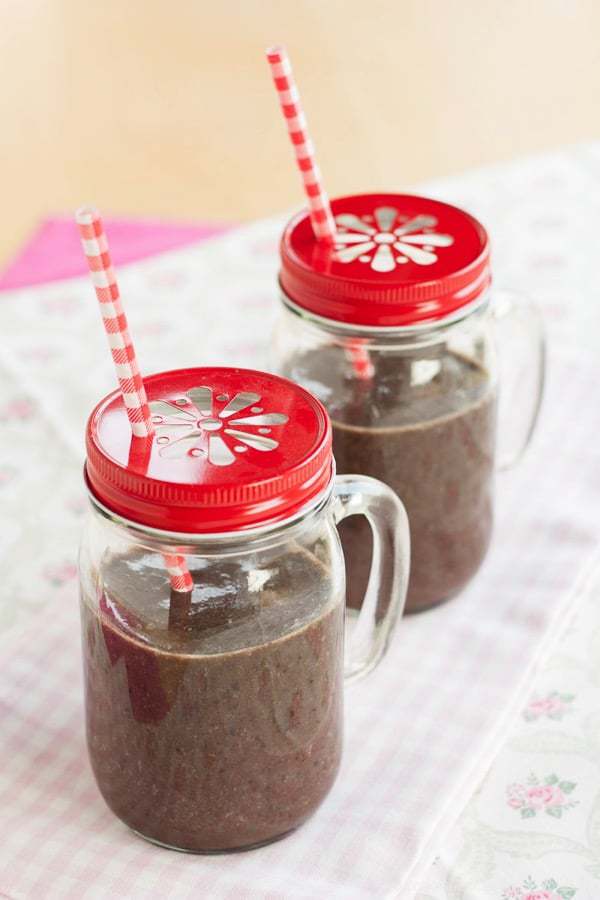 Want to chat with fellow foodies? Join my No-Fuss Food and Fun group on Facebook. Everyday we have fun topics, share recipes and ideas, ask and answer questions, and see all of my new Cupcakes & Kale Chips creations! If you'd like to check it out, you can request to join HERE.

For more yumminess from me and my foodie friends, keep up with me on…

Or sign up to have Cupcakes & Kale Chips delivered straight to your Inbox!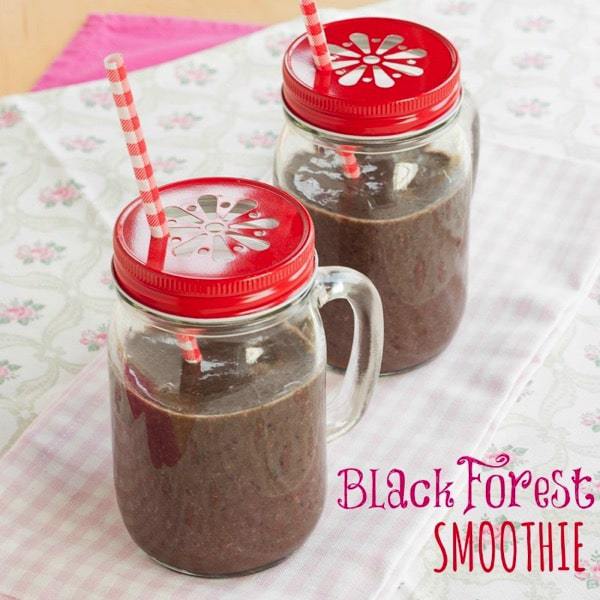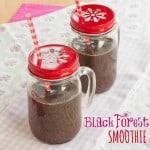 Print Recipe
Valentine's Day Black Forest Smoothie
The classic combination of chocolate and cherries in a dairy-free creamy smoothie.
Ingredients
1/2

cup

baby spinach

or other dark, leafy green

1

small

banana

can be frozen

1

cup

cherries

frozen

1

tablespoon

unsweetened cocoa powder

1/4

teaspoon

vanilla extract

1

pinch

salt

1

cup

Silk® Unsweetened Almondmilk

or Cashewmilk

several ice cubes
Instructions
Combine all of the ingredients except the ice cubes in a blender and blend until smooth.

Add ice cubes and blend to achieve the desired texture. Add more ice for a thicker, shake-like consistency and less for a thinner consistency.
Nutrition
Serving:
1
g
|
Calories:
211
kcal
|
Carbohydrates:
45
g
|
Protein:
5
g
|
Fat:
4
g
|
Sodium:
377
mg
|
Potassium:
756
mg
|
Fiber:
7
g
|
Sugar:
28
g
|
Vitamin A:
1545
IU
|
Vitamin C:
21
mg
|
Calcium:
333
mg
|
Iron:
1.8
mg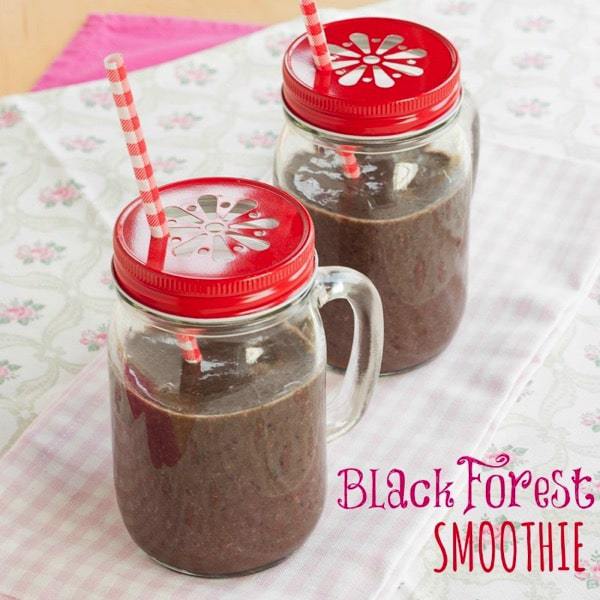 Irresistibly smooth, Silk® Unsweetened Cashewmilk is creamier than skim milk but with 1/3 of the calories. You + Cashewmilk = True Love. To celebrate, Silk® will be giving away hundreds of The Perfect Match Gift Sets for you and a friend at PerfectMatch.Silk.com
This is a sponsored post written by me on behalf of Silk®. All opinions are 100% mine.