This post may contain affiliate links. Read my disclosure policy.
Cherry Cheesecake Smoothie lets you indulge in the rich, sweet flavors of a favorite dessert in a lighter way. If you love cherry smoothie recipes, you'll go crazy for this delightfully creamy and pretty-in-pink version as a healthy breakfast, snack, or dessert. Plus it is naturally gluten free!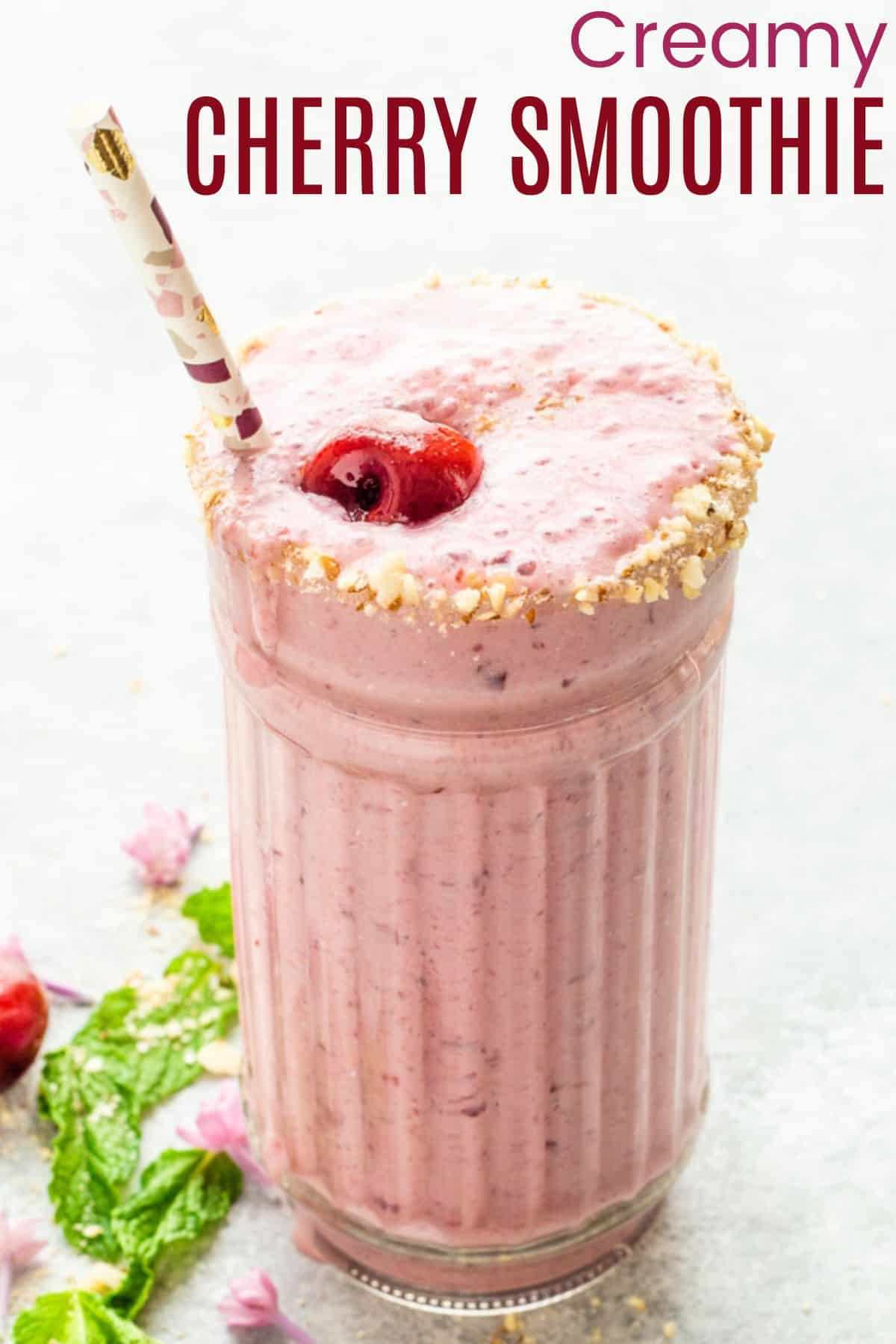 Just down the road from us is a big farm. From spring through summer, they have rotating banners.
It starts with "Pick Your Own Strawberries". Then it moves on to "Pick Your Own Blackberries". Next is "Pick Your Own Blueberries". And somewhere in between is "Pick Your Own Cherries".
I always think it would be a fabulous idea to go pick baskets and boxes and bushels of fresh fruit, make some cobbler or berry crisp or fruit salad. Or stuff a bunch inside Strawberries and Cream Cake.
But do I take my kids to pick our own anything? No. And every time I drive by and see families or groups of school or camp kids, I feel kinda bad.
But I know both my own tolerance for heat and my kids' tolerance for anything that involves patience, a gentle touch, and food that they aren't supposed to eat immediately and in its entirety.
We wait until the temperature drops below seventy degrees and then go for their pumpkin festival. Because my kids can pick pumpkins without wanting to sink their teeth into them right in the middle of the field.
I mean, why torture all of us. Especially when I can buy delicious bags of frozen cherries from Costco to make these…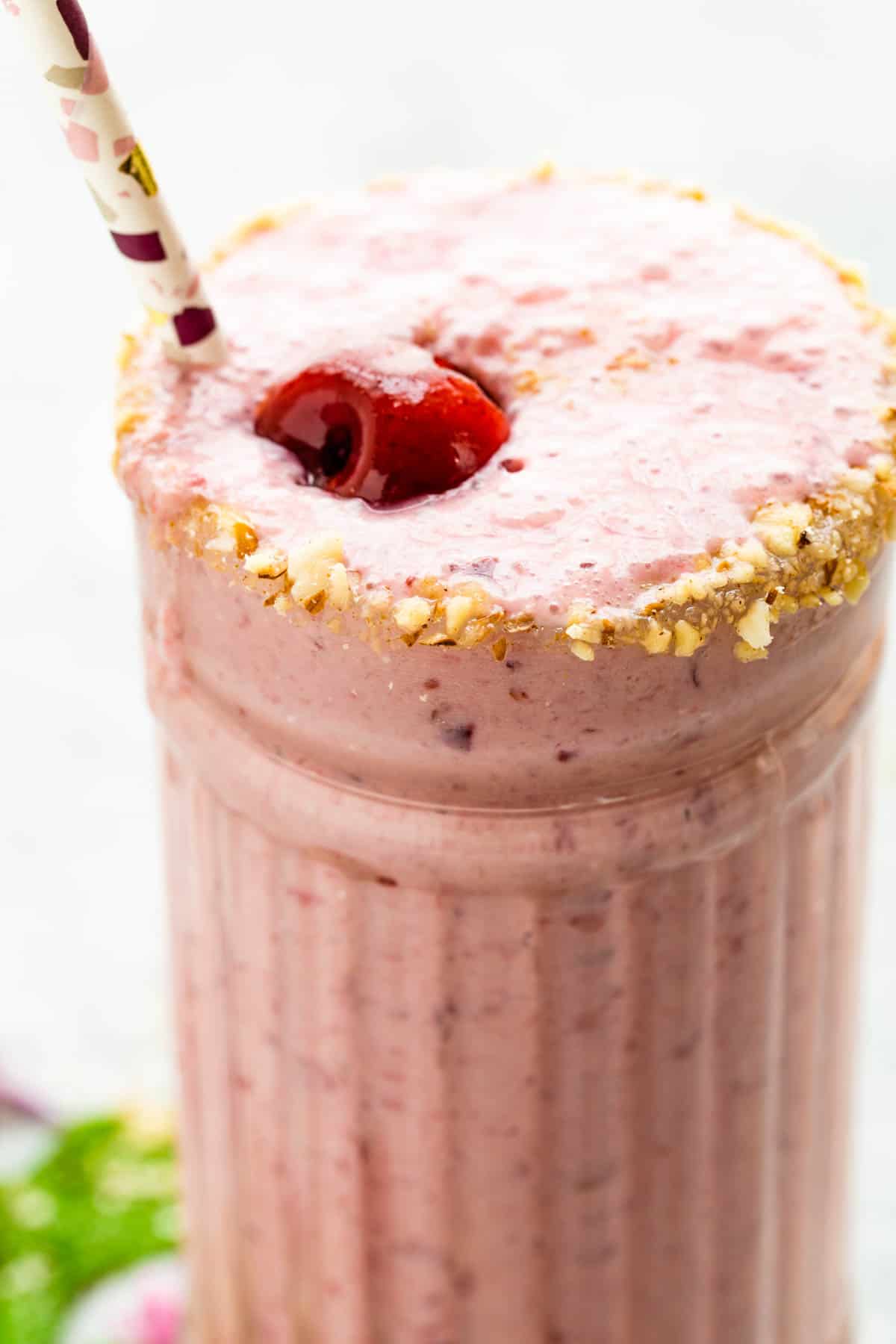 Cheesecake-Flavored Cherry Smoothie Recipe
The tangy flavor of cheesecake, the sweetness of cherries, and a deliciously creamy texture. What's not to love? OK, well, maybe you don't love yogurt, which is a common ingredient in smoothies.
Can you make a cherry smoothie without yogurt?
Many people like to add Greek yogurt to smoothies to make them thick and creamy, as well as to add protein. But if you don't like Greek yogurt, try cottage cheese!
Even if you don't like cottage cheese, just trust me. It works amazingly well in smoothies.
You don't get that tartness that some people don't like about Greek yogurt. It blends completely smooth and creamy. There is a TON of protein. And the salt in the cottage cheese perfectly enhances the natural sweetness of the fruit you use for your smoothie.
While you are at the store buying frozen cherries, grab a bag of blueberries too so you can make these blueberry smoothie recipes!
What do you need to make cherry cheesecake smoothies?
Spinach or other dark leafy greens (optional, but a great way to sneak in extra nutrition)
Milk – I prefer Silk Unsweetened Almondmilk, but use your favorite non-dairy or dairy milk
Plain Greek yogurt or cottage cheese
Cream cheese – regular or low fat
Frozen cherries
Ice
Tiny pinch of salt
Optional sweetener – you can add a bit of honey, maple syrup, Stevia, Swerve, or your favorite sweetener if needed
Add everything to your blender in the order listed and blend until smooth!
What order do you add ingredients to a smoothie?
While you can just toss all the ingredients in the blender in any order all willy nilly, there is a reason I recommend this order.
If you choose to use leafy greens, by putting them in first, they get the maximum blending so that they get fully broken down since they are fully submerged in the liquid, which is added next.
Soft ingredients go next because they break down and distribute in the liquid.
Then the frozen ingredients, in this case, the cherries and ice, are last so that they blend just enough to keep a thick texture and don't melt completely.
The small amounts of salt and sweetener are listed last but can be added at any time, even stirred in after blending if you need to adjust the taste or sweetness.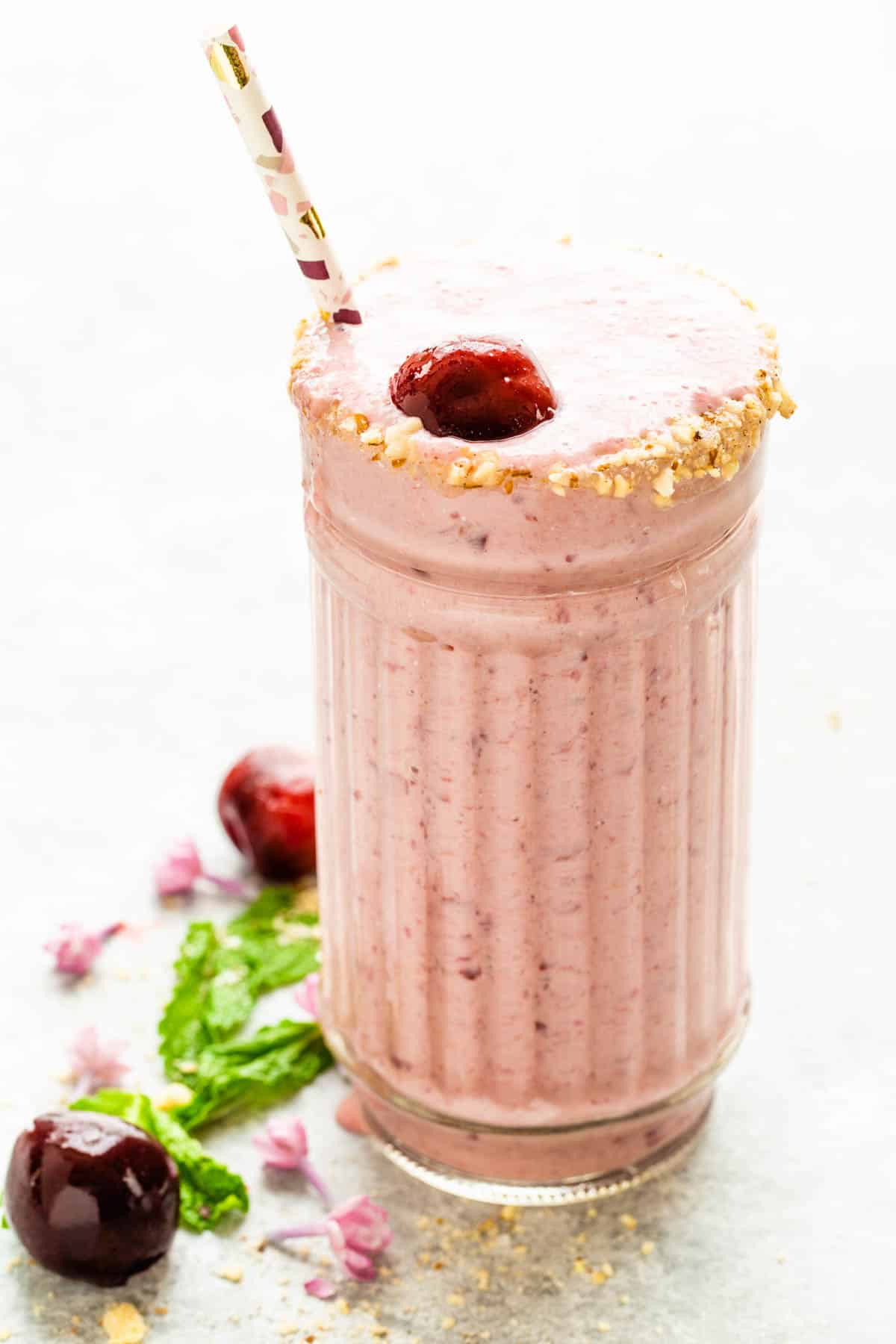 How to garnish a cherry cheesecake smoothie:
Before pouring the smoothie into a glass, coat the rim in a bit of honey. Then roll it in crushed graham cracker crumbs.
For a gluten free option, you can use almond meal or finely chopped nuts.
Give it a squirt of whipped cream.
Float a fresh cherry or thawed frozen cherry on top.
Sprinkle it with a little more graham cracker crumbs, almond meal, or nuts.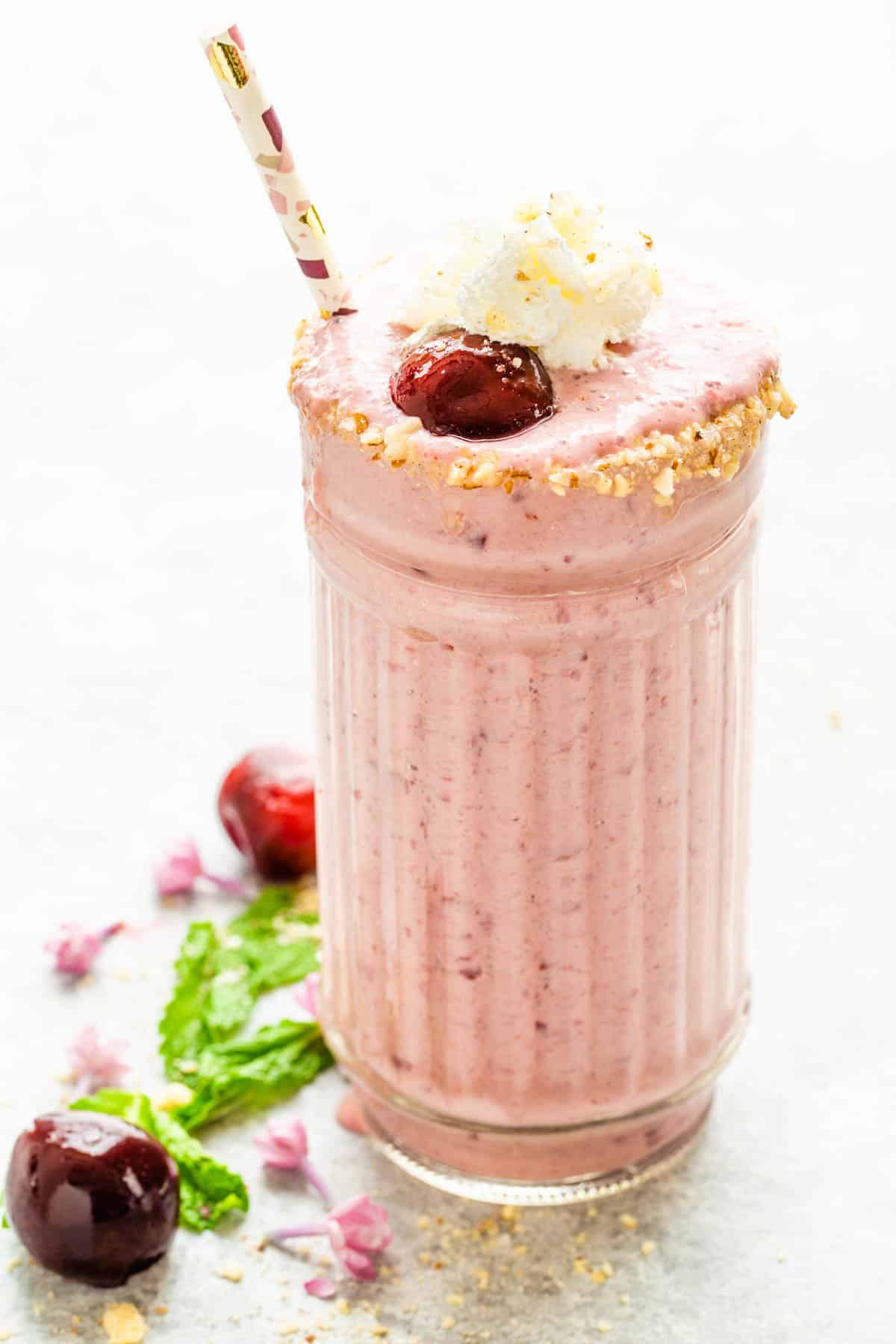 How do you freeze cherries for smoothies?
If you are a better person than I am and actually go pick cherries, you can freeze them to make cherry smoothies all year long.
Thoroughly wash and dry your cherries and remove the stems.
Remove the pits from the cherries. A cherry pitter is extremely helpful if you are pitting a large number of cherries.
Line a baking sheet with wax paper and place the cherries in a single layer on the sheet pan.
Place the pan in the freezer and freeze for 4-6 hours or until frozen solid.
Transfer the frozen cherries to a freezer storage bag and keep in the freezer until ready to use.
What kind of blender do I use to make smoothies?
I always recommend a high-powered blender like the Blendtec for the smoothest, most creamy smoothies. The Mini Wildside+ Jar is the perfect size for one or two smoothies. You can even use the "Smoothie" setting to have it gradually increase the speed to perfectly incorporate the liquids and frozen ingredients. Note, I do usually stop it a little before the cycle is over because I prefer an extra thick smoothie.

I am a Blendtec ambassador, and should you make any purchases through my Blendtec Store link, I will receive a small commission, but that also means you can use the code CUPCAKESANDKALECHIPS to receive 20% off.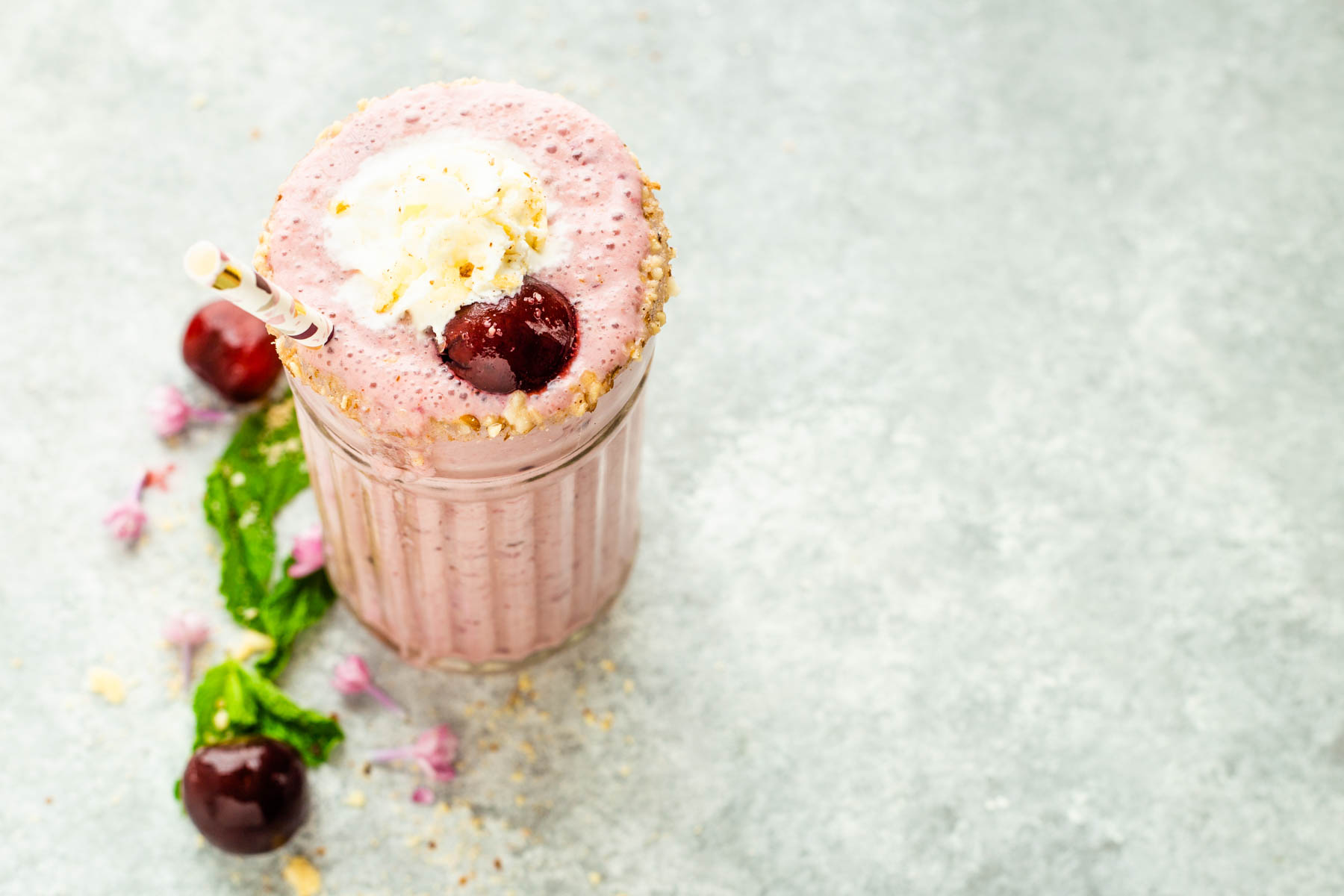 For more yumminess from me and my foodie friends, keep up with me on…
Or sign up to have Cupcakes & Kale Chips delivered straight to your Inbox!
Want more healthy cheesecake treats?
Here are more smoothies you might like:
Cherry Cheesecake Smoothie Recipe
A healthy snack or breakfast on-the-go makes everyone happy. You can blend up this creamy and dreamy cherry smoothie in no time, and it'll be just like you are sipping on an indulgent slice of cheesecake!
I hope you'll leave a comment and give it a FIVE STAR rating or share a photo on Pinterest!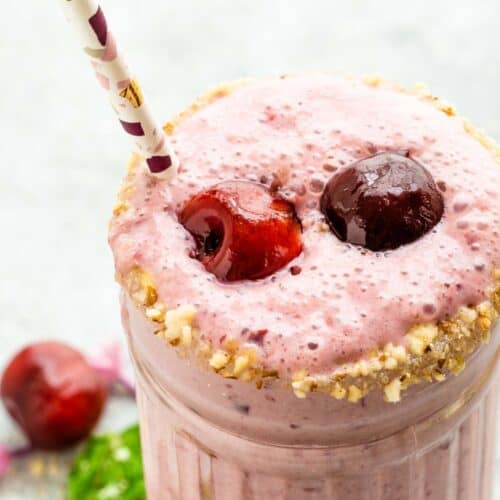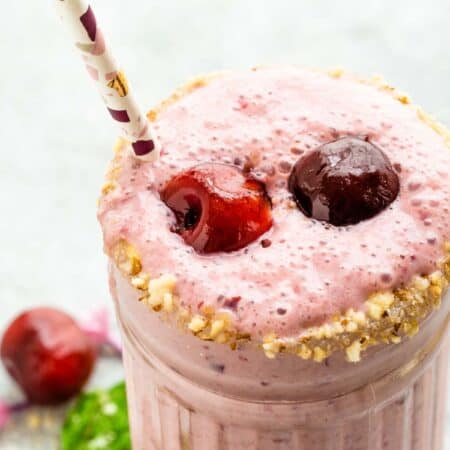 Cherry Cheesecake Smoothie
Indulge in the rich, sweet flavors of a favorite dessert without all the calories. This delightfully creamy and pretty-in-pink smoothie is a healthy breakfast, snack, or dessert.
Ingredients
A couple handfuls of spinach

(optional)

1

cup

almond milk

(or your preferred dairy or non-dairy milk)

1/2

cup

plain Greek yogurt

or cottage cheese

2

Tablespoons

regular or light cream cheese

1

cup

frozen cherries

3-5

ice cubes

tiny pinch of salt

honey, stevia, or other sweetener to taste,

if needed

Optional honey and crushed graham crackers, almond meal, or finely chopped nuts for garnish

Optional whipped cream,

if desired
Instructions
Add the ingredients to your blender jar in the order listed.

Turn on the blender and blend until smooth.

If you would like a "crust" rim garnish, rub a tiny amount of honey around the rim of your glass, then roll in crushed graham crackers, almond meal, or finely chopped nuts.

Pour into a glass and drink immediately.

You can garnish with more crushed graham crackers, almond meal, or finely chopped nuts and whipped cream, if desired.
Notes
Nutrition facts do no include optional garnishes.
Nutrition Facts
Cherry Cheesecake Smoothie
Amount Per Serving (1 smoothie)
Calories 241
Calories from Fat 72
% Daily Value*
Fat 8g12%
Cholesterol 21mg7%
Sodium 504mg21%
Potassium 521mg15%
Carbohydrates 29g10%
Protein 15g30%
Vitamin A 255IU5%
Vitamin C 9.7mg12%
Calcium 472mg47%
Iron 0.5mg3%
* Percent Daily Values are based on a 2000 calorie diet.
Categories:
Enjoy!