This post may contain affiliate links. Read my disclosure policy.
An easy Strawberry Cheesecake Smoothie recipe turns a favorite dessert into a healthy treat you can enjoy any time of the day. So creamy and delicious with only 5 ingredients!
Originally published May 17, 2012. Updated with new photos and more useful information.
I can't help it. I love dessert. I could totally eat a giant ice cream sundae every night.
Except that really I can't. My tummy and my mental state would not love me if I had that kind of sugar overload daily.
But that doesn't mean I don't want something that tastes like dessert everyday.
Enter smoothies! I can get my Reese's fix with a Chocolate Peanut Butter Banana Smoothie. I can satisfy a creamsicle craving with a Creamy Orange Smoothie. Forget McDonald's when I can have a Healthy Shamrock Shake Smoothie.
And now, cheesecake. I'm not even a huge cheesecake fan because I find it heavy. But I love the flavor, so I've made a Cherry Smoothie that tastes like cheesecake, a Blueberry Smoothie that tastes like cheesecake, and this, the one that started it all.
The one that, when I first photographed it back in 2012 had my then-toddler staring at me and whining "Want more smoooothieeee!!"
Looks good, doesn't it?
Cheesecake-Flavored Strawberry Smoothie Recipe
Yes, you can make your basic strawberry smoothie taste like a rich and dreamy slice of cheesecake just by adding some cream cheese. It adds that perfect amount of tangy flavor to balance the sweetness.
And while we all need to treat ourselves something as decadent as cheesecake every once in awhile, this recipe actually makes it good-for-you to indulge as often as you like.
So how do you make one?
Here is a brief overview so you can see just how easy it is to make. Scroll down to the printable recipe card for the full quantities and details.
But don't skip my PRO TIPS below!
What You'll Need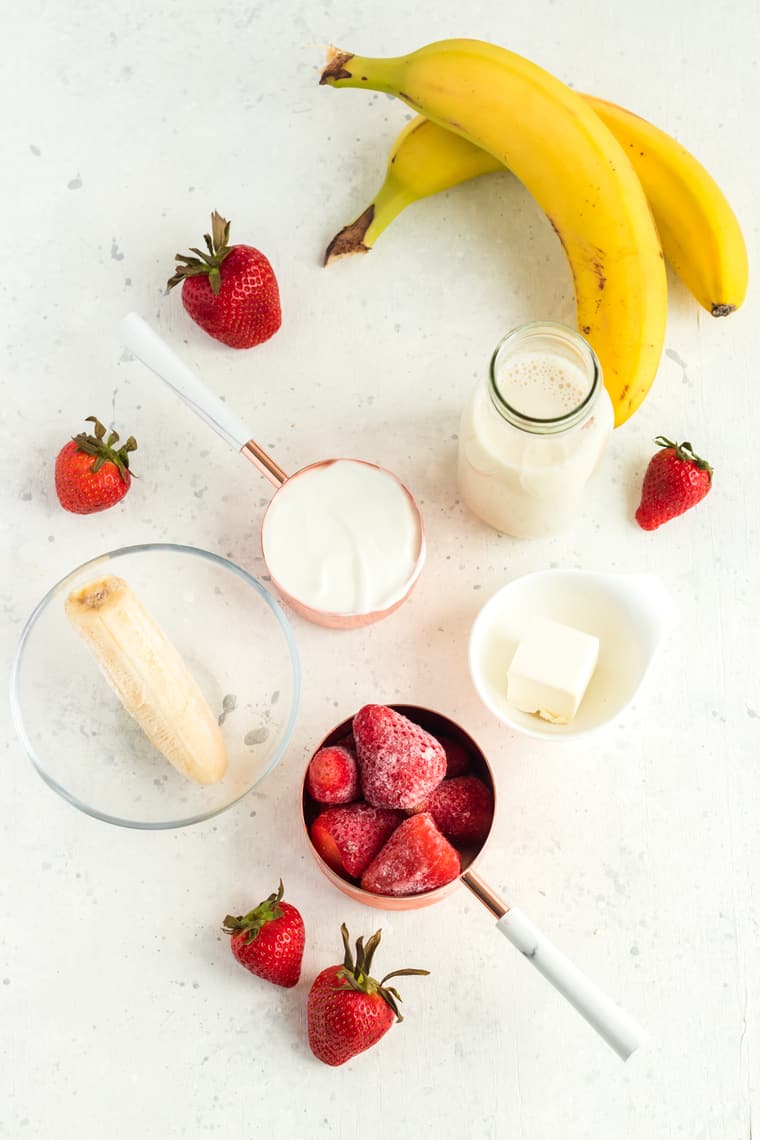 Spinach or other dark leafy greens – these are optional, but it is a great way to sneak in extra nutrition. You won't end up with that nice pink color, though.
Milk – I prefer Silk Unsweetened Almondmilk, but use your favorite non-dairy or dairy milk
Vanilla or plain Greek yogurt or cottage cheese – if you use plain yogurt or cottage cheese, you may want to add ½ teaspoon vanilla and a couple of teaspoons sugar, honey, or your sweetener of choice, to taste.
Cream cheese – regular or low fat
Frozen strawberries
Frozen banana – see the Pro Tips below if you aren't a fan of bananas
Ice
Directions
Add everything to your blender in the order listed and blend until smooth!
QUICK NOTE, if you are using a blender cup that you flip upside down, often it is better to reverse the order, or at least add the greens after the dairy ingredients so they don't get packed down in the bottom and not get fully blended.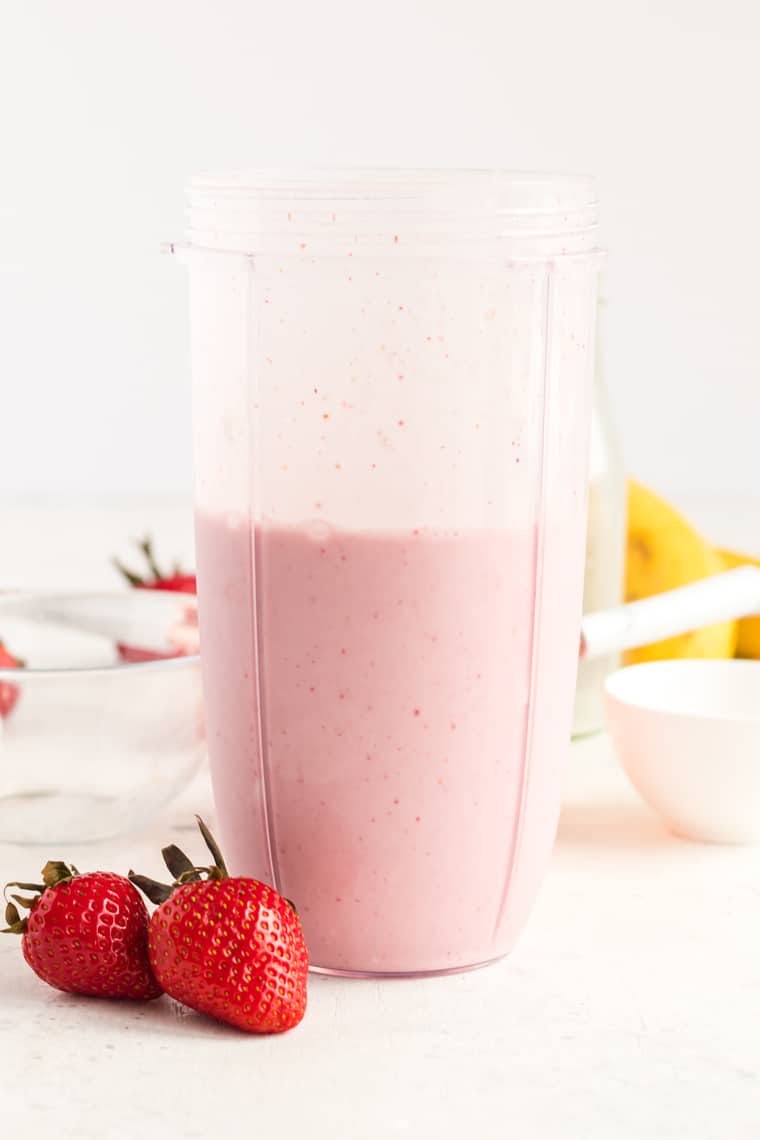 Strawberry Smoothie Garnish Ideas
While you can just stop right there, stick in a straw, and enjoy if you really want to feel like you are treating yourself to something special, why not dress it up a bit?
Before pouring the smoothie into a glass, coat the rim in a bit of honey. Then roll it in crushed graham cracker crumbs.
For a gluten free option, you can always buy or make gluten free graham crackers, but you can also use almond meal or finely chopped nuts.
Top it with a bit of whipped cream.
Skewer or float some fresh strawberries or strawberry slices on top.
Sprinkle it with a little more graham cracker crumbs, almond meal, or nuts.
You can even up the superfood factor by using chia seeds, ground flax seeds, or hemp seeds.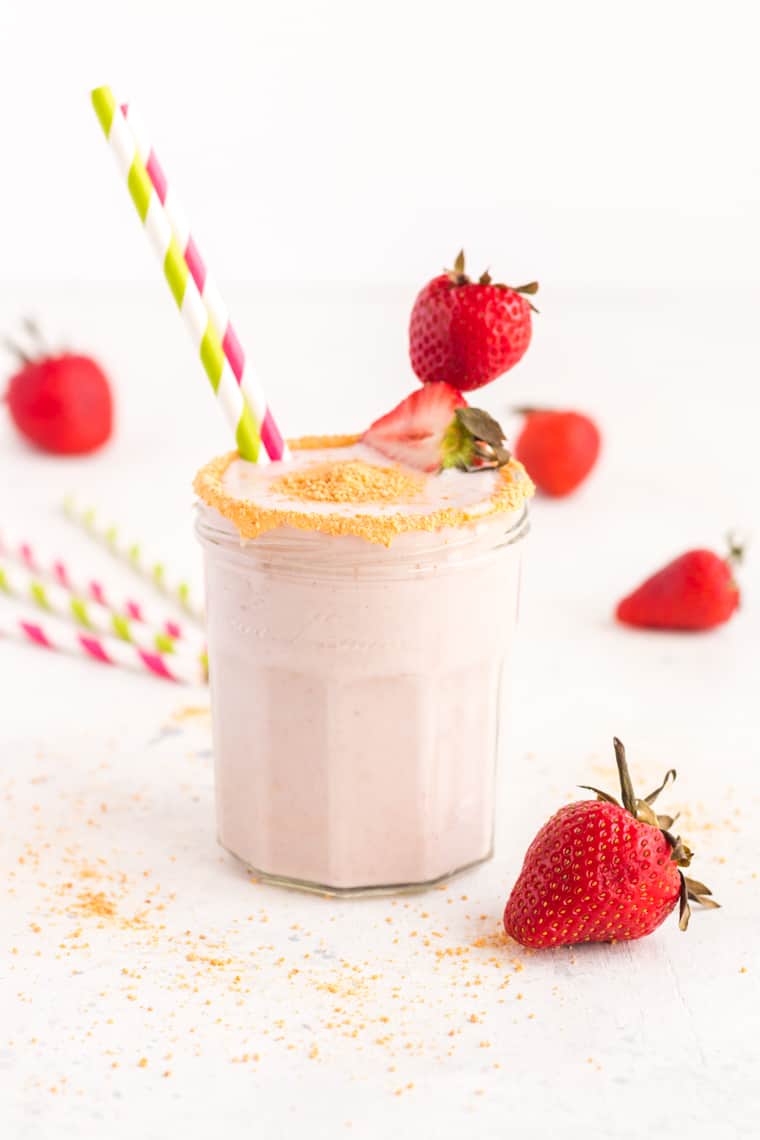 Why to add the ingredients in this order
If you choose to use leafy greens, by putting them in first, they get the maximum blending so that they get fully broken down since they are fully submerged in the liquid, which is added next.
Soft ingredients go next because they break down and distribute in the liquid.
If you are going to add in any nutritional boosters like protein powder, collagen powder, chia seeds, or anything else, do that now.
Then the frozen ingredients, in this case, the strawberries, banana, and ice, are last so that they blend just enough to keep a thick texture and don't melt completely.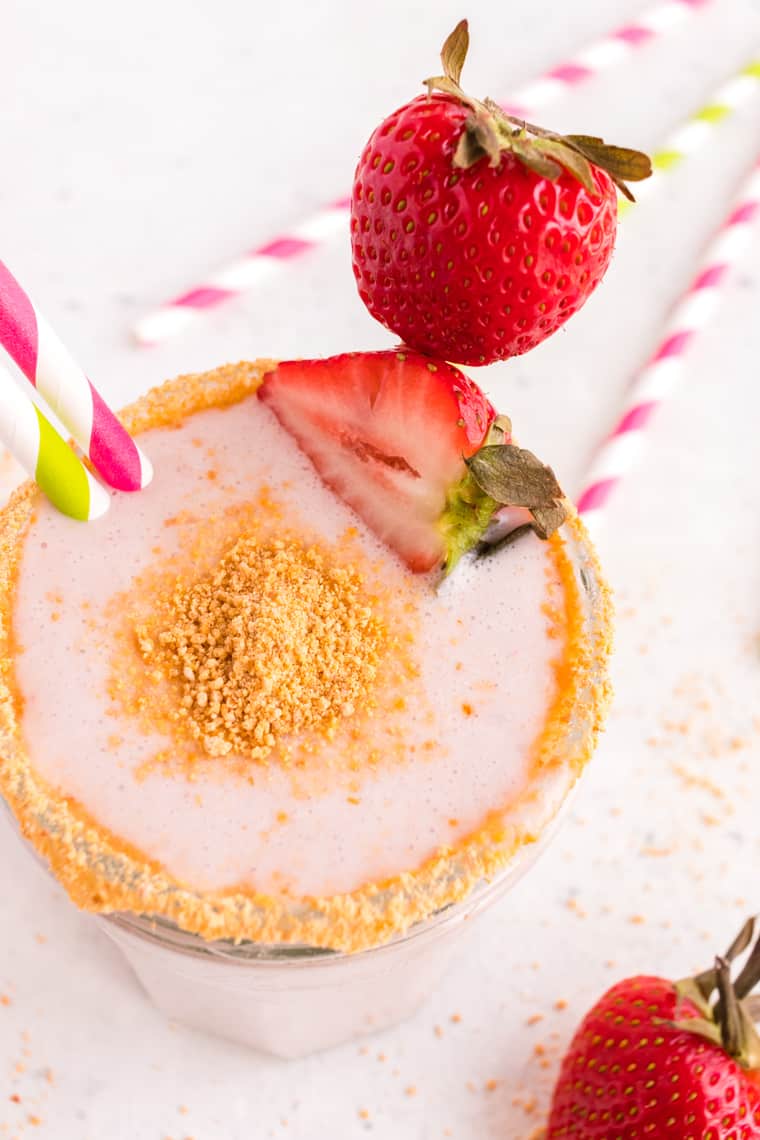 Brianne's pro recipe tips
What kind of blender do you use to make a smoothie?
A standard blender or even one of those single-serve blenders like the Ninja personal blender work just fine for this smoothie recipe. Personally, most of the time I use a Blendtec.
I always recommend a high-powered blender like the Blendtec for the smoothest, most creamy smoothies. The Mini Wildside+ Jar is the perfect size for one or two smoothies. You can even use the "Smoothie" setting to have it gradually increase the speed to perfectly incorporate the liquids and frozen ingredients. Note, I do usually stop it a little before the cycle is over because I prefer an extra thick smoothie.

I am a Blendtec ambassador, and should you make any purchases through my Blendtec Store link, I will receive a small commission, but that also means you can use the code CUPCAKESANDKALECHIPS to receive 20% off.
Do you need to use banana in a strawberry smoothie?
With cherry or blueberry smoothies or even other types, I typically just use the main fruit that is the featured flavor. However, due to their high water content, frozen strawberries tend to have a more muted and less sweet flavor. Therefore, I like to use a frozen banana to up the fruity flavor and sweetness.
If you don't like bananas, you can leave it out and toss in a couple of extra strawberries or ice cubes for extra thickness. But you might find you need to sweeten it up a bit, especially if you use plain yogurt.
Can I make a strawberry smoothie without yogurt?
Believe it or not, in most cases I actually love to use cottage cheese in smoothies instead of yogurt. Even if you don't typically like the texture of cottage cheese, it completely breaks down and just makes the smoothie extra creamy. Plus the hint of salt enhances the natural sweetness of the fruit.
That being said, since part of the appeal of a cheesecake smoothie is that tangy flavor to balance the sweetness, you might want to stick with the Greek yogurt in this case. But either way, it's still delicious.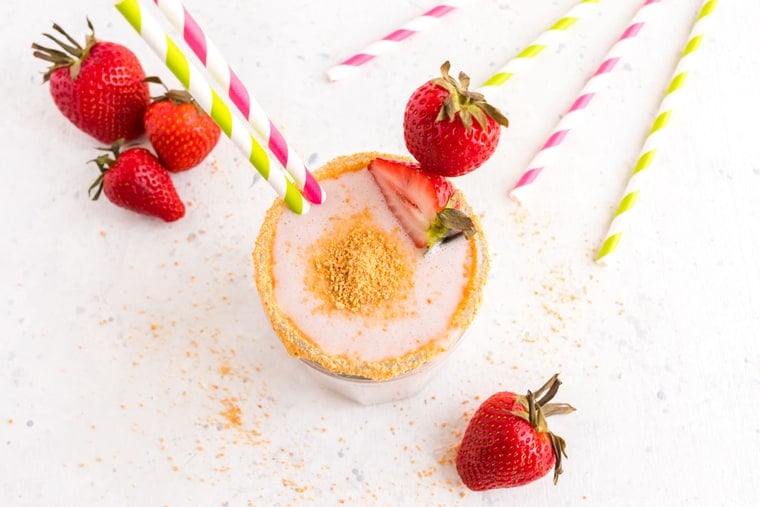 More strawberry cheesecake recipes
Strawberry Cheesecake Smoothie Recipe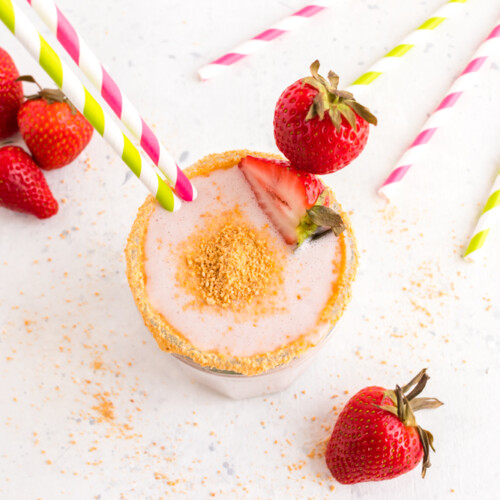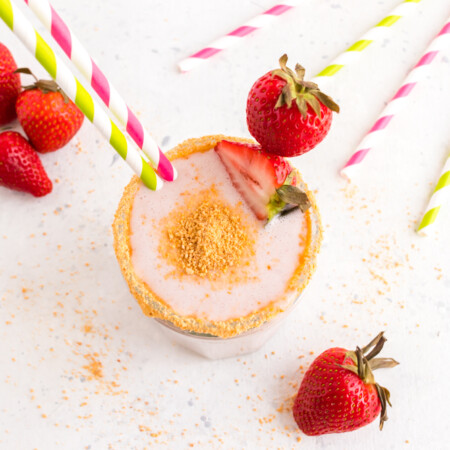 Strawberry Cheesecake Smoothie
Ingredients
A couple of handfuls of spinach

(optional)

1

cup

unsweetened almond milk or your dairy or non-dairy milk of choice

1/2

cup

vanilla or plain Greek yogurt or cottage cheese

(if you use plain yogurt or cottage cheese, you may want to add ½ teaspoon vanilla and a couple of teaspoons sugar, honey, or your sweetener of choice, to taste)

2

Tablespoons

cream cheese

(1 oz.), you can use light cream cheese

1

cup

frozen strawberries

1/2

very ripe banana

, frozen

Optional crushed graham crackers or finely chopped almonds or almond meal

, sliced strawberries, or whipped cream for garnish
Instructions
Add the ingredients (other than the optional garnishes) to your blender jar in the order listed.

Turn on the blender and blend until smooth.

If you would like a "crust" rim garnish, rub a tiny amount of honey around the rim of your glass, then roll in crushed graham crackers, almond meal, or finely chopped nuts.

Pour into a glass and drink immediately.

You can garnish with more crushed graham crackers, almond meal, or finely chopped nuts and whipped cream, if desired.
Nutrition Facts
Strawberry Cheesecake Smoothie
Amount Per Serving (1 smoothie)
Calories 339
Calories from Fat 135
% Daily Value*
Fat 15g23%
Cholesterol 39mg13%
Sodium 454mg19%
Potassium 472mg13%
Carbohydrates 40g13%
Protein 15g30%
Vitamin A 465IU9%
Vitamin C 90mg109%
Calcium 465mg47%
Iron 1mg6%
* Percent Daily Values are based on a 2000 calorie diet.
Categories:
Enjoy!