Healthy Shamrock Shake – Naturally Green Mint Smoothie Recipe
Disclosure: This post may contain affiliate links. Cupcakes & Kale Chips is a participant in the Amazon Services LLC Associates Program, an affiliate advertising program designed to provide a means for us to earn fees by linking to Amazon.com and affiliated sites.
A Healthy Shamrock Shake recipe will satisfy your minty milkshake craving, but without the extra sugar, crazy ingredients, or artificial colors. Yes, this naturally green mint smoothie has the refreshing flavor and creamy texture you love. But this good-for-you copycat is made with all real ingredients. So you can feel good about enjoying a Shamrock Shake smoothie for breakfast, as a protein-packed snack, or even a healthy dessert!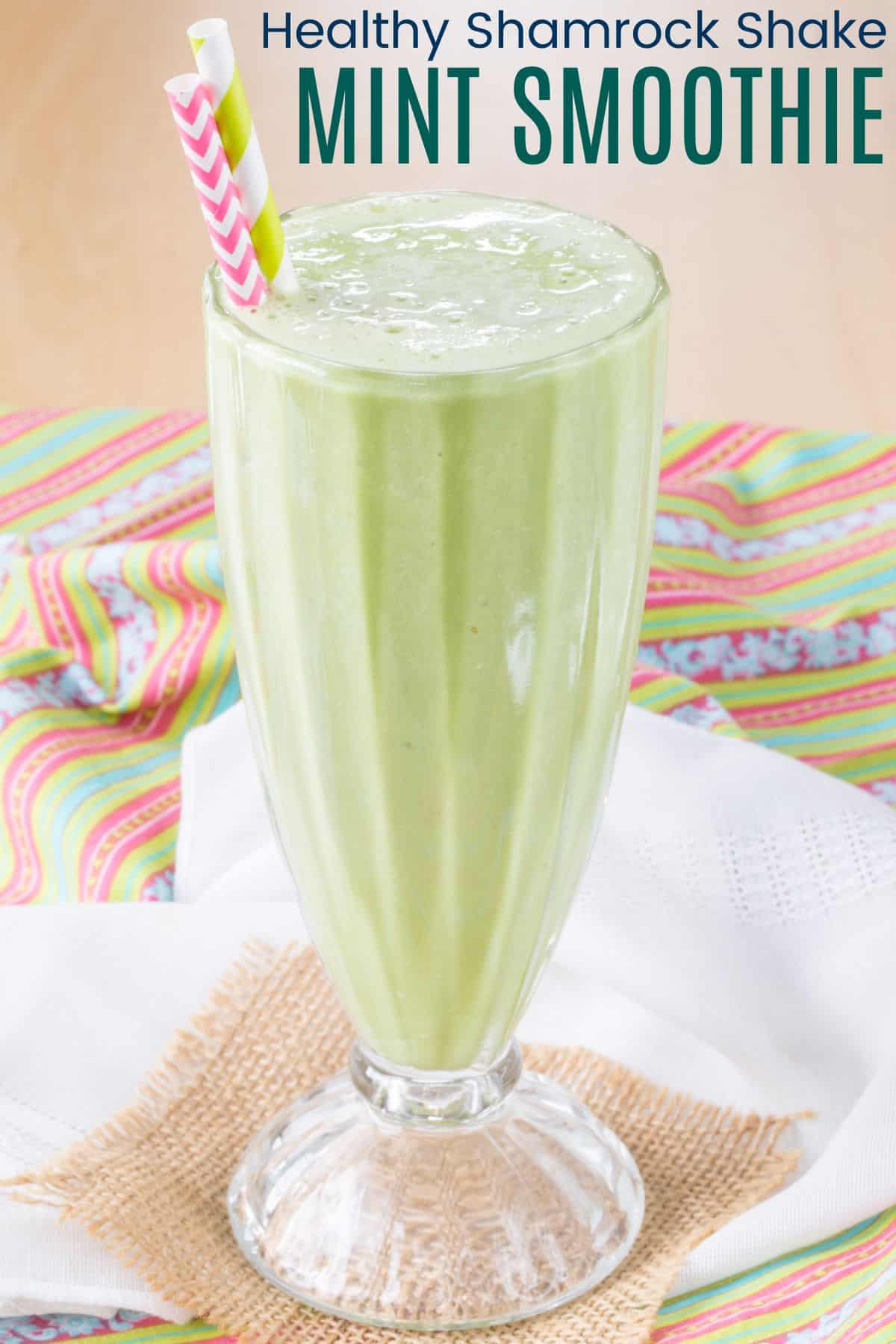 I have been dying to get myself a Shamrock Shake from McDonald's. But then I remember that the last time I had one, I wasn't thrilled.
I rarely indulge in a McDonald's milkshake, but I don't think they have been the same since they started putting whipped cream and a cherry on top. I mean, this is McDonald's, not an ice cream parlor, or even a diner. Their food isn't supposed to come with garnish.
Then I saw someone post the list of what is in a Shamrock Shake. Not that I don't ever consume those ingredients – I do love McDonald's plain old vanilla ice cream from time to time. And the ice cream is the main component of the shake.
But it wasn't worth the calories or chemicals for something I don't really love.
Yet on St. Patrick's Day, the idea of a Shamrock Shake for breakfast seems like the way to celebrate. And then after Easy Crockpot Corned Beef or Easy Shepherd's Pie for your gluten free St. Patrick's Day dinner, why not have another one for a healthy dessert?!
Shamrock Shake Green Smoothie
This healthy Shamrock Shake smoothie will totally satisfy your craving for that minty milkshake. It's sweet and creamy, and, in my opinion, perfectly minty. And definitely better and better-for-you than McDonald's!
Honestly, I am not a huge mint person, so this is admittedly a little light on the mint. If you like things really minty, go ahead and add more mint extract. And no, you can't taste the spinach or kale, and if you blend it up, you don't even know it is there, other than the lovely green color it gives the smoothie.
Are Shamrock Shakes gluten free?
Gluten Free Disclaimer: I am not a medical professional. This information is solely based on my research and personal experience, and I provide it as a courtesy to my readers. Please consult your doctor or medical professional for any questions as it relates to your needs, particularly if you have celiac disease or a severe gluten allergy or intolerance. Products, manufacturing facilities, and ingredients change frequently, so you should always contact the manufacturer for the latest information.
McDonald's does not promote any of their food products as gluten free. However, Shamrock Shakes do not have any gluten-containing ingredients. And the risk of cross-contamination is fairly low.
But if you want to be 100% sure, your best bet is to make it a home. Then you can be totally confident your mint smoothie is safe since all of these ingredients are gluten free.
Additionally, if you make a healthy Shamrock Shake, you can get the flavors you love without all the extra sugar and artificial ingredients.
What is in a Healthy Copycat Shamrock Shake?
Spinach or kale – I prefer to use baby spinach. You get the nutrition of dark leafy greens but without an undertone of flavor. And it completely disintegrates when you blend it. But you can use kale or your choice of greens.
Milk – you can use your favorite dairy or non-dairy milk of choice. For smoothies, I prefer Silk unsweetened vanilla almond milk.
Plain Greek yogurt or cottage cheese – most people like to use yogurt in their smoothies. I actually prefer cottage cheese. It blends totally smooth without the tartness of yogurt. It has just as much protein. And the bit of salt enhances the sweet flavors of the smoothie recipe.
Banana – prepare in advance by making sure you have a nice ripe and sweet banana in your freezer. Break it into chunks and throw it in the freezer at night for a breakfast smoothie. Or if you forgot at night, freeze it in the morning so you can have one as a healthy dessert.
Mint extract and vanilla extract – these are typically gluten free, but do be sure they are not made with grain alcohols if you are sensitive. McCormick and Nielsen & Massey are safe options.
Ice cubes
Optional sweetener – if your banana isn't ripe and sweet enough, you might choose to add a bit of honey, Swerve, stevia, or another sweetener.
BRIANNE'S FAVORITE BLENDER
I always recommend a high-powered blender like the Blendtec for the smoothest, most creamy smoothies. The Mini Wildside+ Jar is the perfect size for one or two smoothies. You can even use the "Smoothie" setting to have it gradually increase the speed to perfectly incorporate the liquids and frozen ingredients. Note, I do usually stop it a little before the cycle is over because I prefer an extra thick smoothie.

I am a Blendtec ambassador, and should you make any purchases through my  Blendtec Store link, I will receive a small commission, but that also means you can use the code CUPCAKESANDKALECHIPS to receive 20% off. 
How to make a healthy Shamrock Shake smoothie:
Add spinach or kale, milk, Greek yogurt or cottage cheese, frozen banana, mint extract, vanilla extract, and ice to your blender.
Then all you have to do is blend until smooth. You can also adjust the sweetness if needed with your desired sweetener.
What other mint recipes can you make?
Healthy Shamrock Shake Recipe
With natural, real ingredients, this mint smoothie is definitely healthy enough to be breakfast-worthy. But it's definitely still sweet and yummy enough for dessert, just like your favorite mint milkshake. And that's without any added sugar, or even any green food coloring. It's made with all real and gluten free ingredients, so you can enjoy a naturally green smoothie any time of the day and year!
I hope you'll leave a comment and give it a FIVE STAR rating or share a review on Pinterest or photo on Instagram!
Tag me @cupcakekalechip and use #cupcakesandkalechips!

Print Recipe
Healthy Shamrock Shake Mint Smoothie
This St. Patrick's Day Green Smoothie lets you have a Shamrock Shake the healthy way!
Ingredients
1

cup

baby spinach

or kale or other dark, leafy green of your choice

1

cup

milk of choice

1/2

cup

plain Greek yogurt

or cottage cheese

1

frozen

really ripe banana

1/2

teaspoon

vanilla extract

1/4

teaspoon

mint extract

(or more, if desired)

4

ice cubes

I used 4 regular-sized ones. This was probably about 3/4 cup. Adjust accordingly based on the size of your ice cubes and how icy you want it.

Optional, honey, stevia, etc., if needed, depending on how ripe and sweet your banana is
Instructions
Put all ingredients into a blender in the order listed, and blend until smooth.

Pour into a glass to serve.
Nutrition
Serving:
1
g
|
Calories:
211
kcal
|
Carbohydrates:
32
g
|
Protein:
13
g
|
Fat:
3
g
|
Cholesterol:
5
mg
|
Sodium:
377
mg
|
Potassium:
647
mg
|
Fiber:
4
g
|
Sugar:
18
g
|
Vitamin A:
1480
IU
|
Vitamin C:
14.5
mg
|
Calcium:
425
mg
|
Iron:
0.7
mg
Enjoy! Originally published on March 17, 2012. Photos updated on March 3, 2016.