This post may contain affiliate links. Read my disclosure policy.
Whether you like your smoothies light and fruity, packed with protein, sneaky with green veggies, or rich and decadent, I've got a recipe for you in this roundup of 50+ Recipe for Smoothies from some of my favorite bloggers.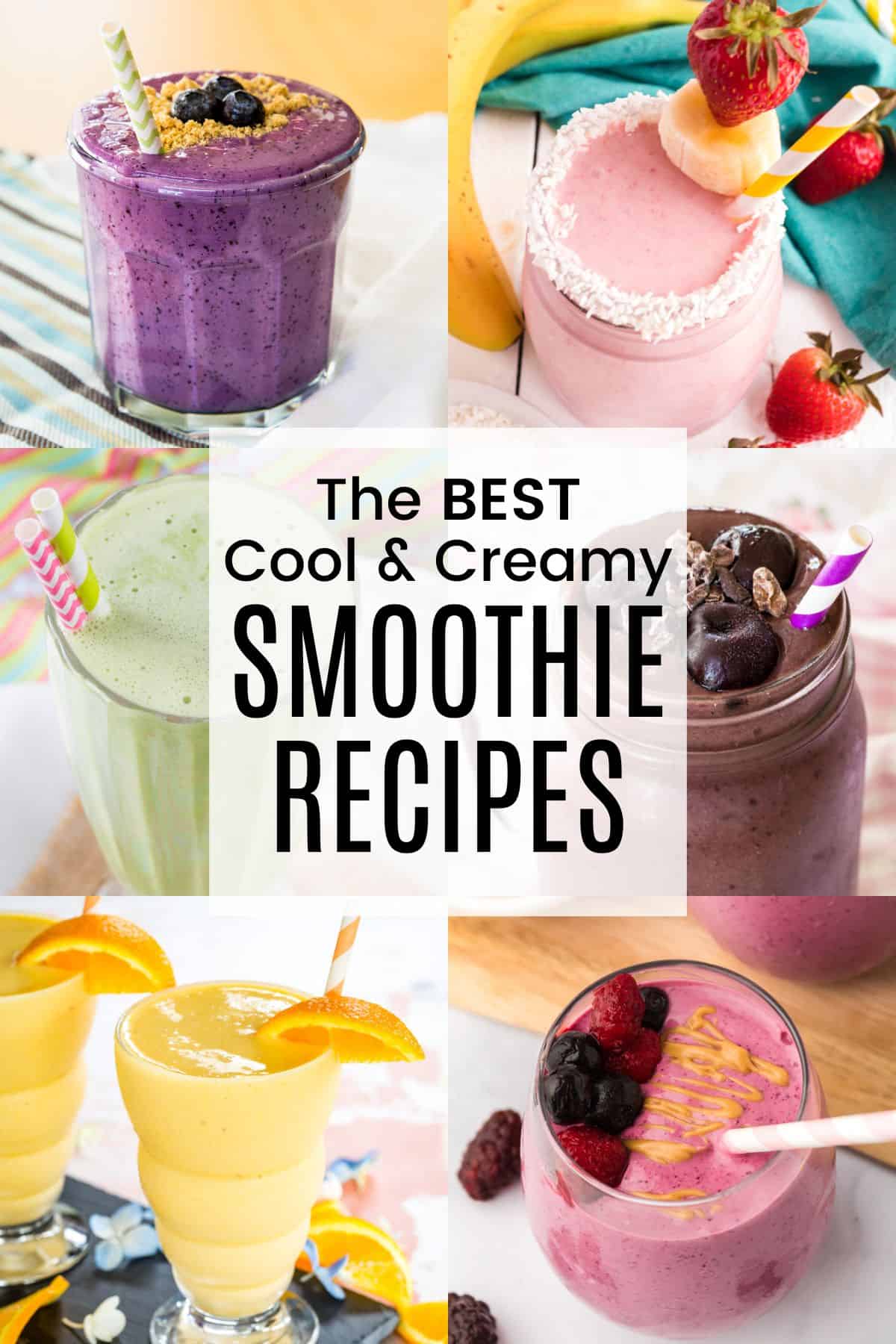 I love making smoothies as snacks or dessert for myself and The Bug. Well, with his tonsil surgery last week, I've been whizzing up lots of fruits, veggies and other ingredients to try to get him as much nutrition as possible while he is stuck eating mostly soft and cold food. So to get inspiration, I went to my bloggy friends, and I am excited to share these great finds with you.
Please note: Most of these photos do not belong to me. If you want to pin a specific recipe/image, please click on the link to visit its original source. If you want to pin this entire collection please pin the collage above.
Strawberry Cheesecake Smoothie from Cupcakes & Kale Chips
Blueberry Banana Yogurt Smoothie from Jeanette's Healthy Living
Lemon Berry Mint Smoothie from Hezzi-D's Books and Cooks
Pomegranate Berry Smoothie from WIll Cook for Smiles
Healthy Blackberry Shake from Shockingly Delicious
Chocolate Raspberry Smoothie from 52 Kitchen Adventures
Layered Strawberry Mango Smoothies from What's Cooking Love?
Strawberry Banana Coconut Smoothie from Cupcakes & Kale Chips
Dairy Free Summer Fruits Smoothie from Fearlessly Creative Mammas
Fresh Pineapple Peach Smoothie from A Family Feast
Vietnamese Avocado Smoothie from In Search of Yummyness
Peaches & Vanilla Cream Smoothie from Snappy Gourmet
Cranberry Peach Smoothie from Lori's Culinary Creations
CocoMelon Cooler from Happy Food, Healthy Life
Shamrock Green Smoothie from Cupcakes & Kale Chips
Fruit & Vegetable Smoothie from The Haas Machine
Banana, Cherry, Blueberry, Spinach Vegan Smoothie from Vegan Mother Hubbard
Tropical Green Smoothie from 52 Kitchen Adventures
Detox Beet and Carrot Smoothie Recipe from Jeanette's Healthy Living
Mixed Berry Coconut Green Smoothie from FoodBabbles
Dreamy Pumpkin Spice Smoothie from Delightful E Made
Banana Funky Monkey Smoothie from Cupcakes & Kale Chips
Nutella Strawberry Smoothie from 52 Kitchen Adventures
Chocolate Banana Smoothie from Chocolate, Chocolate and More
Chocolate Cherry Breakfast Silk Smoothie from Will Cook For Smiles
Skinny Mexican Frozen Hot Chocolate from Wine and Glue
Almond Joy Smoothie from Edible Perspective
Clean Eating Chocolate & Peanut Butter Smoothie from The Tasty Fork
Chai Tea Smoothie from Cupcakes & Kale Chips
Pumpkin Pie Cookie Butter Smoothie from The Frugal Foodie Mama
Skinny Oreo Milkshake from Will Cook for Smiles
Banana Split Smoothie from Shugary Sweets
Pistachio Banana Pudding Smoothie from Mother Thyme
Guilt Free Pumpkin Pie Smoothie from The Tasty Fork
Looking for more great Smoothie recipes? I have an entire Pinterest board to help, and I am always adding to it. So check it out, and while you are there, I'd love for you to Follow me. I am always pinning all kinds of tasty goodness!