Skinny Peanut Butter Chip Smoothie
Disclosure: This post may contain affiliate links. Cupcakes & Kale Chips is a participant in the Amazon Services LLC Associates Program, an affiliate advertising program designed to provide a means for us to earn fees by linking to Amazon.com and affiliated sites.
#SundaySupper is going On the Hunt this week with a menu featuring interesting or exotic or rare or wild ingredients, whether "hunting" means game meats, foraged mushrooms, or jut searching in a specialty store or, in my case, on the internet for something that's hard to find. There's nothing better than the combination of peanut butter and chocolate, except when you can get it in a healthy but still decadent treat like this Skinny Peanut Butter Chip Smoothie.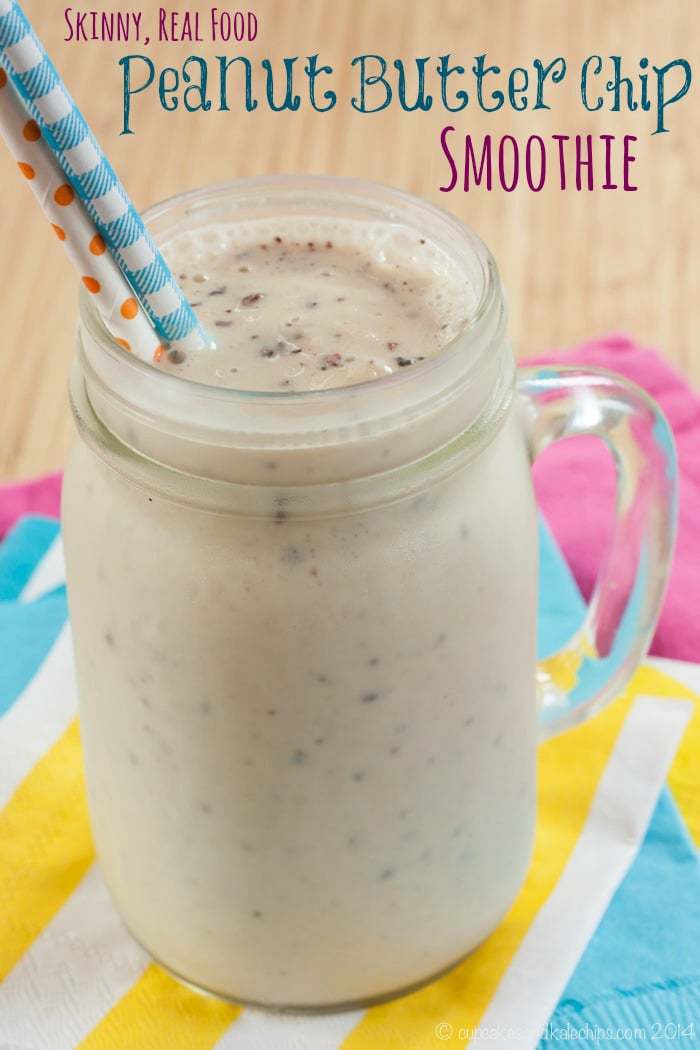 Skinny Peanut Butter Smoothie
I'm a total wannabe health nut. Sure, I've dabbled in gluten free baking and I'll add some flax seeds or chia seeds or coconut oil into recipes. I'll sometimes opt for pure maple syrup or dates to sweeten things naturally. But I've mentioned before that I'm a bit of a kale hypocrite, and I'm also cheap and occasionally afraid to venture outside my comfort zone – I hate wasting food on epic recipe fails. So I'm hesitant to pay the prices for some of those "crunchy" ingredients, like coconut sugar and succanat, and sometimes even almond butter. I even avoid cheap and seemingly simple things like lentils and beans that just were never staples for me growing up, so cooking with them does not come naturally to me now. Plus, I like to feel like I've eaten some sort of volume of food, and as nutrient dense as some of these healthy foods are, I sometimes don't feel like you get much quantity for the calories.
I'm sure I've got it all backwards, and post-move, after I adjust to life in December, I'm hoping to refocus and maybe reinvent a little in the new year in my new kitchen in a new home. I'll tell you more about what's driving that in the coming weeks. But know that I will continue to give you recipes that are tasty, healthy, AND made with affordable and accessible foods.
That doesn't mean that sometimes I don't want to experiment. So you may see the occasional recipe that calls for things that you may not find in your local grocery store. More and more grocery stores are carrying expanded lines of health food products and gluten free ingredients, but there are a few things that mine doesn't carry, and it's not like I even live in the middle of nowhere. And I don't even have one of those fancy shmancy grocery stores nearby. You know the ones. Their names rhyme with Pole Dudes and Crater Toes. So I hit up the interwebs, let my fingers do the "hunting", and thanks to free two-day shipping, they show up at my doorstep a couple days later.
The other thing that gets in the way of being an actual health nut – I loves me some real (or not-so-real, depending on your definition of "real"), honest-to-goodness, sugar-laden ice cream. I'd seriously eat it everyday. And I don't mean the "suggested" half cup serving. I'm talking bring on the cereal bowl and fudge and chips and let's trash it all up. LOVE, people. Serious comfort food LOVE! Especially when I'm stressed, which I have been lately.
Since making everyday a "sundae" is not really such an awesome idea for my waistline, pancreas, heart, or really anything except my mental state, I'll satisfy the cool and creamy cravings with this…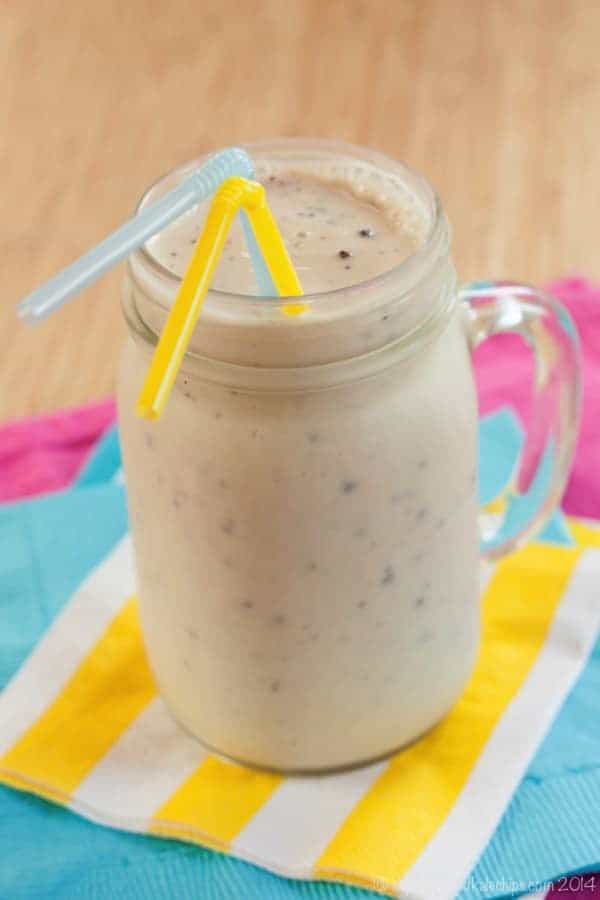 This, my friends, is my Skinny, Real Food Peanut Butter Chip Smoothie. OK, I'll be honest. It's not super duper, like zero-calorie skinny. But if you use almond milk, it's about 300-350 calories of healthy, wholesome, nutrient-dense delicious awesomeness. As in, melt a pint of ice cream, add peanut butter and chocolate chips and slurp it through a straw awesomeness. It would definitely be a bigger sugar and calorie bomb if you used the traditional ingredients, so enter a couple of my new favorite ingredients – cacao nibs and peanut flour. It does also make enough for two smaller smoothies if you want to split it.
I don't.
Anyway, I love bitter, deep dark chocolate, and I adore texture and crunch when I'm eating something creamy, so I am loving sprinkling cacao nibs over fruit and yogurt or banana "ice cream". They aren't sweet at all, but if you are eating them with something sweet, what really stands out is that intense chocolaty flavor and the crunchy texture. And they are filled with fiber, antioxidants, iron, and magnesium.
Peanut flour is made solely from roasted peanuts. There are other powdered peanut butters out there, but they have salt and sugar and who knows what else added in, which I also find mutes the peanutty-ness. If you buy actual peanut flour, you get such an intense peanut butter flavor, and you can control the sweet and salt depending on your recipe. I love adding this to yogurt and smoothies, and I want to experiment with using it in baking.
But let's forget all that health food mumbo jumbo. This smoothie is just plain yummy. I mean, who doesn't want to drink creamy, dreamy peanut butter?! Especially with chocolate. Even more especially when it's healthy enough for breakfast!
And grab a big straw, because sucking up those crunchy little nibs makes for such a great texture contrast. And I'll be honest, if you don't want to go seeking out cacao nibs, throw in a few mini chocolate chips. Shhh, I won't tell.
Oh, my other secret is cottage cheese. I've made this smoothie with both cottage cheese, plain Greek yogurt and a combination of both. Do what you like, but you won't believe the whipped creaminess that comes from using cottage cheese in your smoothies. You don't even have to like cottage cheese. Trust me!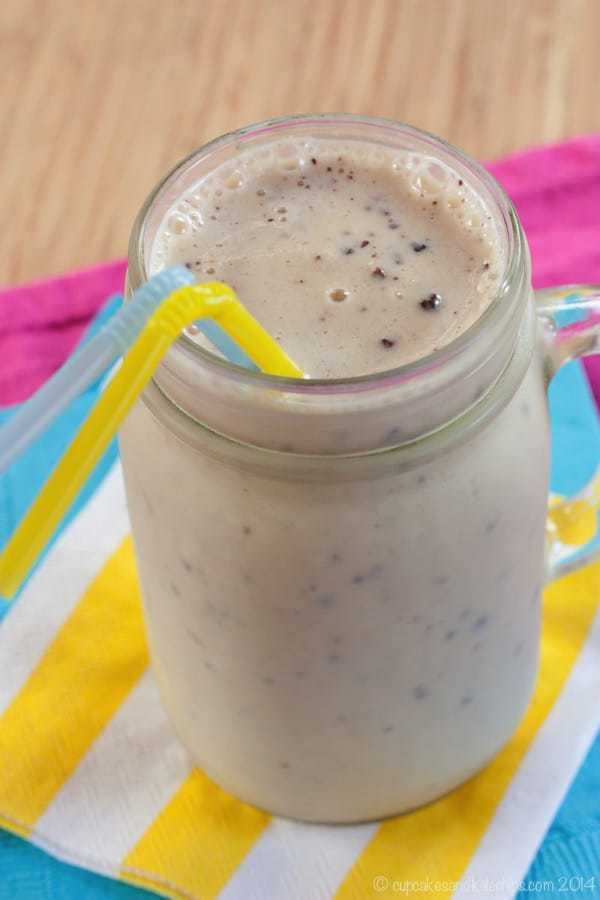 Join the #SundaySupper conversation on twitter on Sunday! We tweet throughout the day and share recipes from all over the world. Our weekly chat starts at 7:00 pm ET. Follow the #SundaySupper hashtag and remember to include it in your tweets to join in the chat. To get more great Sunday Supper Recipes, visit our website or check out our Pinterest board.
Would you like to join the Sunday Supper Movement? It's easy. You can sign up by clicking here: Sunday Supper Movement.
And get the rest of today's On the Hunt menu at the bottom of this post.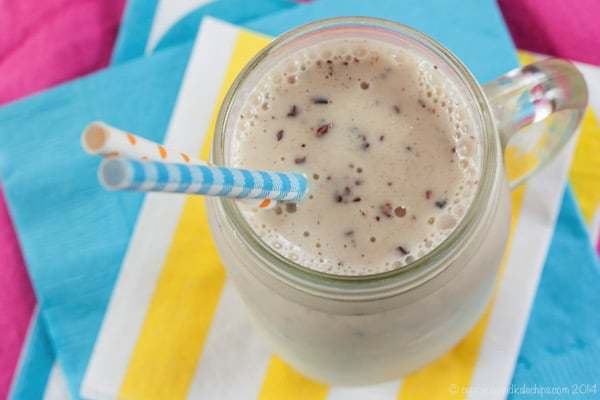 What is your favorite ingredient that you have to "hunt" for?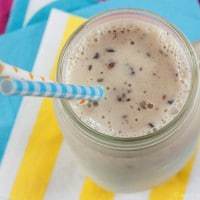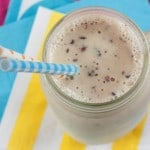 Print Recipe
Skinny Peanut Butter Chip Smoothie
Peanut butter and chocolate is even better when it's in a healthy but decadent treat that's perfect for a snack, dessert, or even breakfast!
Ingredients
one very ripe banana

frozen and cut into chunks

1/2

cup

cottage cheese or plain Greek yogurt

1/2

cup

milk

I used Silk Unsweetened Vanilla Almond Milk

2

Tablespoons

peanut flour

a tiny pinch of salt

1

teaspoon

raw honey or maple syrup

if needed, depending on how sweet your banana is

a few ice cubes

1

Tablespoon

cacao nibs

or mini chocolate chips
Instructions
Combine all ingredients except ice cubes and cacao nibs in a blender and blend until smooth.

Add enough ice (I like three "average" sized ice cubes) and blend to achieve desired texture.

Add cacao nibs and pulse a few times to slightly break up the nibs.

Pour into a glass and serve with a wide straw.
Enjoy!
Looking for some more smoothies that can totally double as dessert?
And here is the the rest of the #SundaySupper On the Hunt menu…
Spread it on Thick
Nibbles and Sides
The Main Event
Sweet Treats