This post may contain affiliate links. Read my disclosure policy.
A cool and creamy Peanut Butter Smoothie is the perfect way to satisfy your cravings with a protein-packed treat. Frozen banana makes it super creamy, adding mini chocolate chips makes it special, and a few simple swaps can make it either light or decadent. Enjoy it as a healthy breakfast, a skinny snack, or an indulgent dessert.
Originally published on November 16, 2014.
Healthy Peanut Butter Smoothie
That's why this Peanut Butter Banana Smoothie is the ultimate treat, especially if you go the extra mile and add some chocolate chips. The little bits makes for such a great texture contrast compared to your basic creamy smoothie. Since I'd really love to enjoy a chocolate and peanut butter sundae every day, this is the perfect way to indulge my sweet tooth in a healthy way.
Whether you make the skinny smoothie option or the more decadent dessert smoothie recipe, you're only looking at about 300-350 calories. And that's if you keep it all to yourself. It actually does make enough for two smaller smoothies if you want to split it.
It is also packed with healthy, wholesome, nutrient-dense goodness, fresh fruit, and plenty of protein to keep you satisfied. All while it tastes like a melted pint of ice cream with peanut butter and chocolate chips and slurped through a straw awesomeness. But if you add the chips for, be sure to grab a big straw!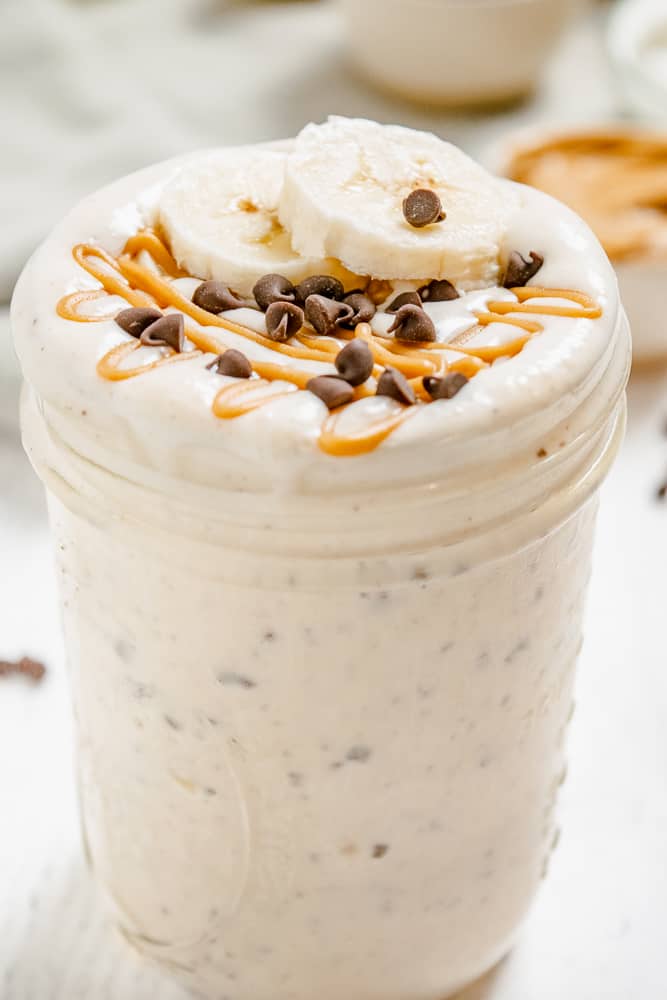 Ingredients
Here is the list of what you need to make the banana peanut butter smoothie recipe. Keep reading for more details on the ingredients and the different substitutions.
Spinach, kale, or other leafy greens. Optional, but a great way to add extra fiber and vitamins. Your smoothie won't be the same color as the one in the photos though. These were taken without any greens added.
Plain Greek yogurt or cottage cheese. For creaminess and protein, many people like to use Greek yogurt in their smoothies. I actually prefer to use cottage cheese. This peanut butter smoothie has been tested with both, and even a combination.
Dairy or non-dairy milk. To save some calories, I usually use unsweetened vanilla almondmilk. Silk is my favorite brand. But you can use any dairy or non-dairy milk you like.
Peanut butter or powdered peanut butter. A tablespoon of peanut butter adds a good burst of peanut flavor, healthy fats, and protein. For fewer calories, try powdered peanut butter or peanut flour.
Frozen banana. The more ripe your banana, the sweeter your smoothie without the need to add additional sweetener.
Ice cubes. I usually start with two or three standard size ice cubes. You can always add more if needed if you prefer a thicker or frostier smoothie.
Honey or another sweetener. Optional dpending on how sweet your banana is. You can use honey or maple syrup, or a sweetener like Stevia or erythritol. You can always taste the smoothie first before deciding to add it.
Salt. You just need a pinch, but it really enhances the peanut flavor and balances the sweetness. If you use cottage cheese, which usuall has salt, you may not need it.
Mini chocolate chips or cacao nibs. Optional, but a fun addition.
Garnishes. Optional, bt you can usemore peanut butter, chocolate chips, or cacao nibs, banana slices, whipped cream, etc.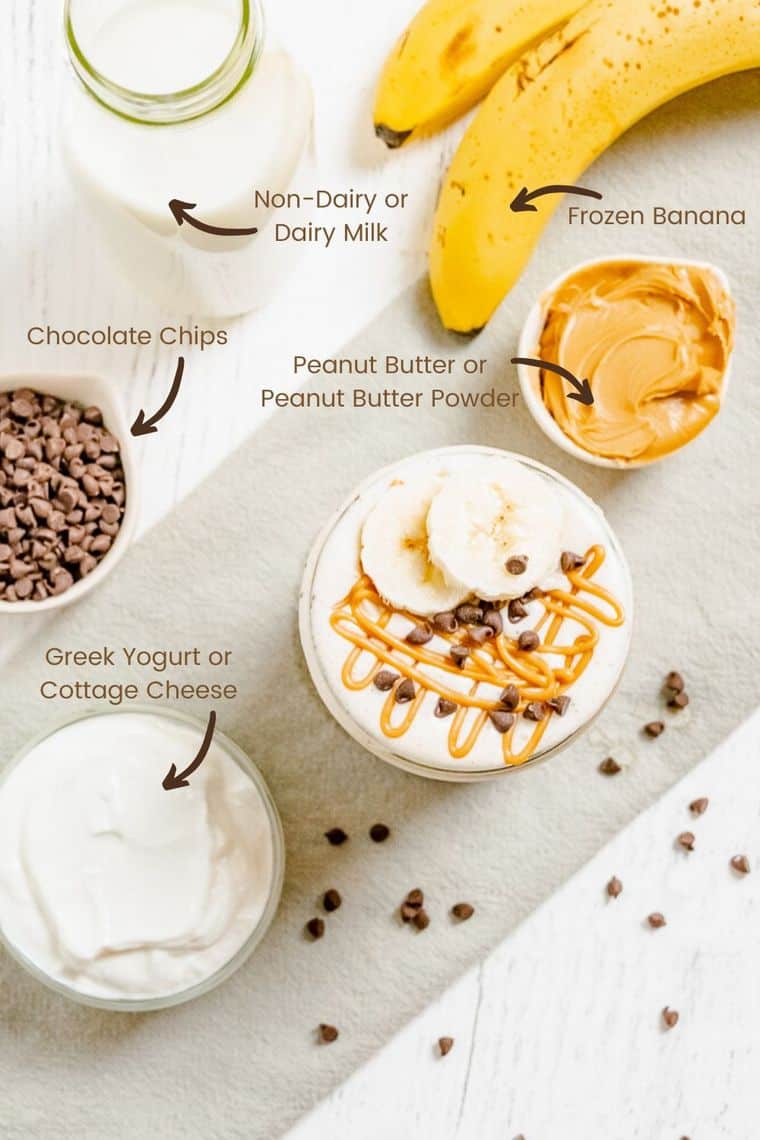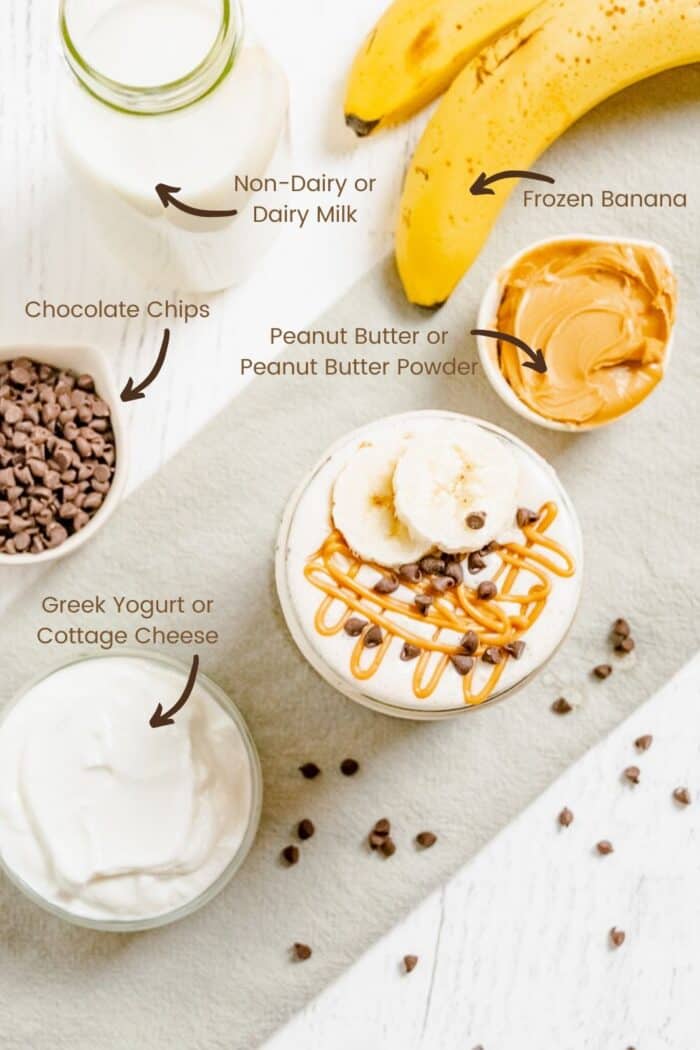 How to Make a Peanut Butter Smoothie
Combine the ingredients except for the chips and garnish in a blender. I like to add the greens first if I am using them. Then add the yogurt, milk, and peanut butter, as well as the sweetener or salt, if needed. Finally, add the frozen banana and ice cubes.
Blend until smooth, adding additional ice, sweetener, or salt to taste.
Add the chocolate chips or cacao nibs and pulse a couple of times.
Pour into a glass and garnish as desired. Drizzle the top with more peanut butter. Sprinkle it with extra mini chooclate chips or cacao nibs. Float a few slices of banana on top. And if you want to go with a dessert-like smoothie, give it a squirt of whipped cream!
Enjoy with a wide straw!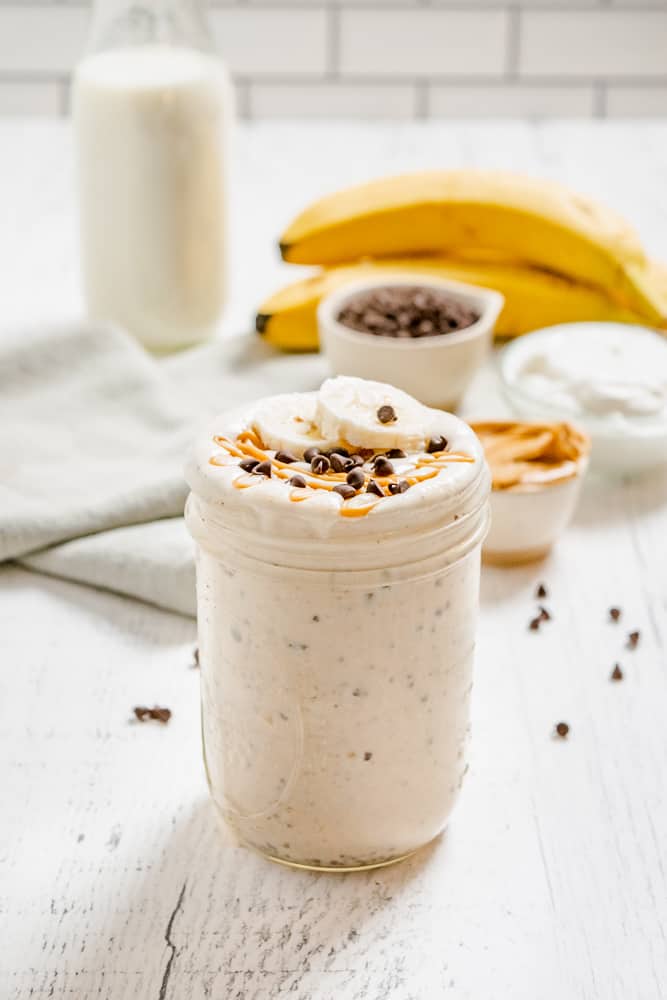 Tips for the Best Smoothies
Choose your greens. When I do add greens, I like to use baby spinach because I find it has the mildest taste and breaks down completely when you blend it. But other greens such as kale are more nutrient-dense. But they can be tougher and not blend as thoroughly.
Try cottage cheese. If you think sometimes Grek yogurt is a bit too tart, you won't believe the whipped creaminess that comes from using cottage cheese in your smoothies. You don't even have to like cottage cheese because it blends totally smooth and the salt enhances the sweetness and peanut butter flavor. Trust me!
Choose your peanutty option. I try to stick with a natural peanut butter where the only ingredient is peanuts for the strongest flavor in my peanut butter smoothie. Powdered peanut butter, such as PBFit, are great to add to smoothies. However, they do have added salt and sugar that can actually mute some of the strong PB flavor. So if you want to avoid that, try peanut flour which is made solely from roasted peanuts, giving you an intense peanut butter flavor with fewer calories like the powdered peanut butter, but you can control the sweet and salt.
Freezing bananas. Peel your banana before freezing it. You can either cut it into chunks before or after it is frozen. Personally, I prefer to freeze while bananas so that I don't have to worry about portioning them out.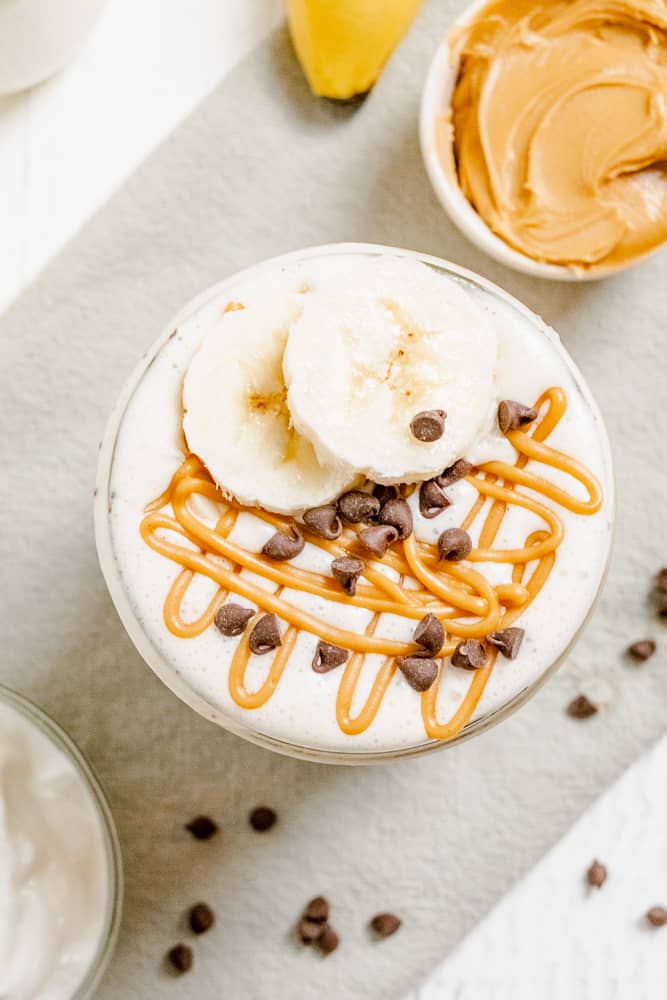 Brianne's Favorite Blender
I always recommend a high-powered blender like the Blendtec for the smoothest, most creamy smoothies. The Mini Wildside+ Jar is the perfect size for one or two smoothies. You can even use the "Smoothie" setting to have it gradually increase the speed to perfectly incorporate the liquids and frozen ingredients. Note, I do usually stop it a little before the cycle is over because I prefer an extra thick smoothie.
I am a Blendtec ambassador, and should you make any purchases through my  Blendtec Store link, I will receive a small commission, but that also means you can use the code CUPCAKESANDKALECHIPS to receive 20% off.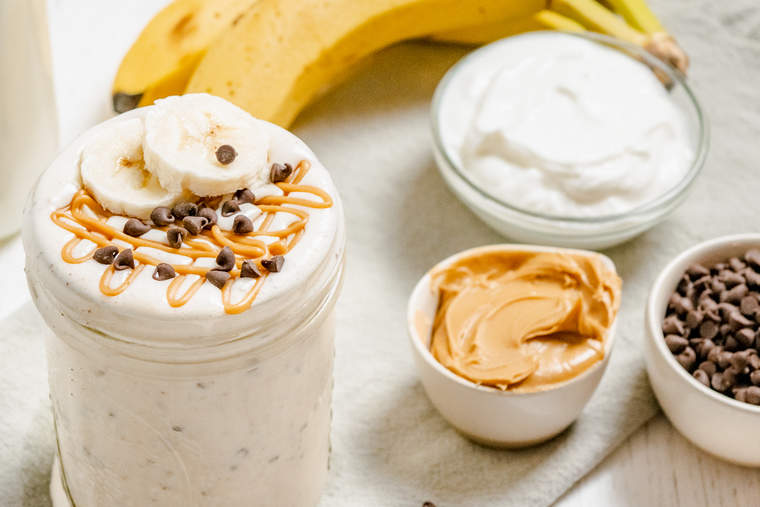 More healthy smoothies that taste like dessert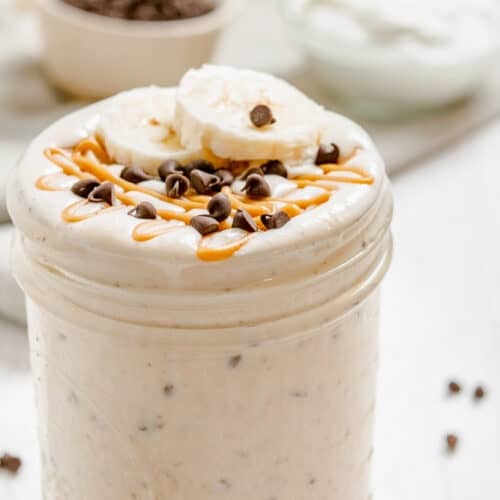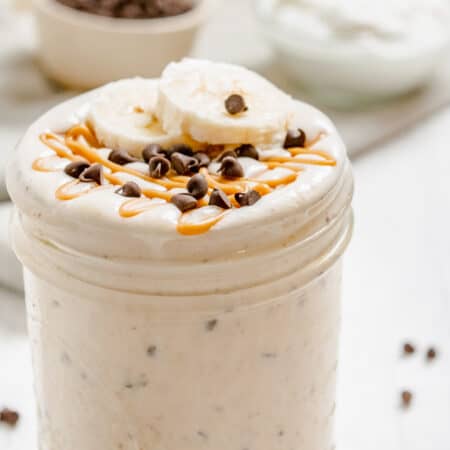 Peanut Butter Smoothie with Chocolate Chips
Peanut butter and chocolate is even better when it's in a healthy but decadent treat that's perfect for a snack, dessert, or even breakfast!
Ingredients
spinach, kale, or other dark, leafy greens,

optional

1

very ripe banana,

frozen and cut into chunks

1/2

cup

cottage cheese or plain Greek yogurt

1/2

cup

unsweetened almondmilk

or regular dairy milk

2

Tablespoons

powdered peanut butter

(such as PB Fit or PB2) or peanut flour, or 1 Tablespoon peanut butter

a tiny pinch of salt

1

teaspoon

honey or maple syrup,

if needed, depending on how sweet your banana is

a few ice cubes

(start with two or three, and add more if needed)

1

Tablespoon

mini chocolate chips

or cacao nibs

Additional peanut butter, banana slices, mini chips, cacao nibs, or whipped cream for garnish,

if desired
Instructions
Combine all ingredients except chocolate chips or cacao nibs in a blender and blend until smooth.

Add additional ice cubes and blend if needed to achieve your desired texture.

Add mini chocolate chips or cacao nibs and pulse once or twice to slightly break them up.

Pour into a glass, garnish if desired, and serve with a wide straw.
Nutrition Facts
Peanut Butter Smoothie with Chocolate Chips
Amount Per Serving (1 smoothie)
Calories 345
Calories from Fat 72
% Daily Value*
Fat 8g12%
Cholesterol 7mg2%
Sodium 727mg30%
Potassium 520mg15%
Carbohydrates 52g17%
Protein 22g44%
Vitamin A 76IU2%
Vitamin C 10mg12%
Calcium 236mg24%
Iron 1mg6%
* Percent Daily Values are based on a 2000 calorie diet.
Categories:
Enjoy!