This post may contain affiliate links. Read my disclosure policy.
The best combination of late summer fruit blended up in an easy smoothie recipe! I'm going to give you a few tips for freezing berries, plus my secret ingredient for how to make the creamiest green smoothie.
Blueberry, Peaches & Cream Green Smoothies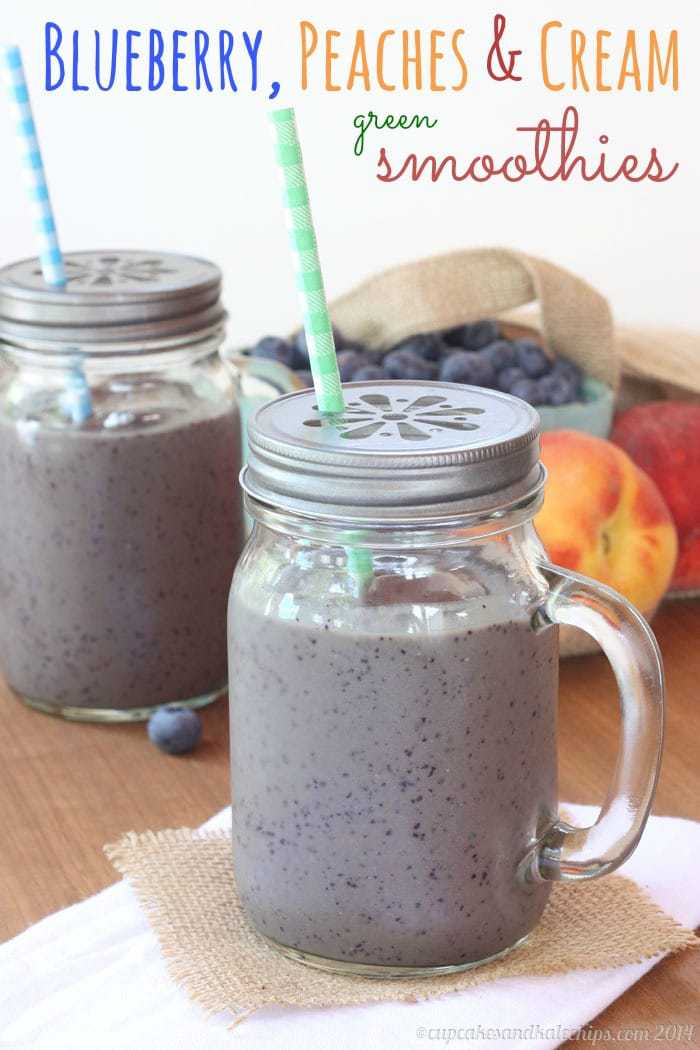 Perhaps it's a terms that has gotten a bit overused, but I do consider myself a foodie. And not just a foodie that enjoys that flavors and aromas of food, but a foodie that enjoys making and experimenting with food – different foods, different preparations, different combinations, different techniques. But sometimes I feel like I haven't earned that "foodie" title because there are some things I haven't mastered, and many that I haven't even attempted.
I can't make a pie crust to save my life. Though I have worked with it, I'm scared of yeast, unless I'm just dumping it in my bread machine. I've only dabbled in gluten-free baking. Haven't even attempted a macaron. Canning? Forget it. Nevermind the time and effort, which is usually spent on Facebook cleaning up after spending quality time with my kids, and the fact that I can't grow anything to save my life, I am scared to death of exploding glass jars, botulism, and all of the risks that everyone assures me are not really risks if you follow a few simple instructions. So while I do someday hope to perfect pie crust and make a swoon-worthy macaron, I'll leave canning to the pros.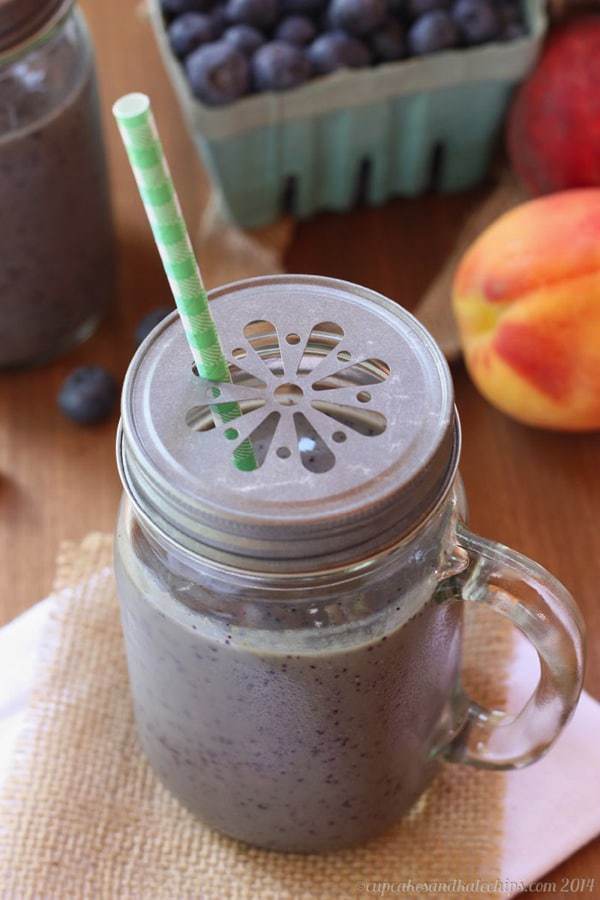 But one thing I can do is freeze stuff. I know you're thinking that you can just chuck food in the freezer, right? What's so difficult? Well, I'm not saying it's rocket science, but after making homemade baby and toddler food in bulk for two kids, I have learned a thing or two. So here are a couple of my suggestions.
For berries, wash and dry them thoroughly, place in a single layer on a sheet pan that you've lined with plastic wrap or parchment and place it in the freezer. Once frozen solid, transfer them to a freezer-safe storage container or plastic freezer bags, press out any excess air, and seal. The berries can then be easily measured out to put into smoothies, muffins, pancakes, and other recipes. This single-layer tip also works with steamed cubes of carrots or winter squash, and even broccoli and cauliflower florets or pear and apple slices. These are great to have on hand for not only the babes as they are first getting introduced to solid foods, but also for quick toddler snacks and lunches.
And while the "green" side of me wants to use as few plastic storage bags as possible, don't try to cram as much as possible in them because every time you open it up to get out some frozen fruit, you let in air and moisture. If it takes you awhile to get to the bottom of that bag, the last of its contents will be full of ice crystals and freezer burn, and you'll just want to throw it away anyway, defeating the whole purpose of saving produce when it is at the peak of ripeness and the lowest cost.
You can also great "smoothie packs" by portioning out just the right amount of fruit for your smoothie recipe into individual sandwich bags. Using frozen fruit gives it that frosty texture without needing to water it down with a ton of ice.
So now that you know how to freeze your fruit, you can make summer smoothies all year long. Oh wait, I promised you a secret ingredient for making a green smoothie extra creamy…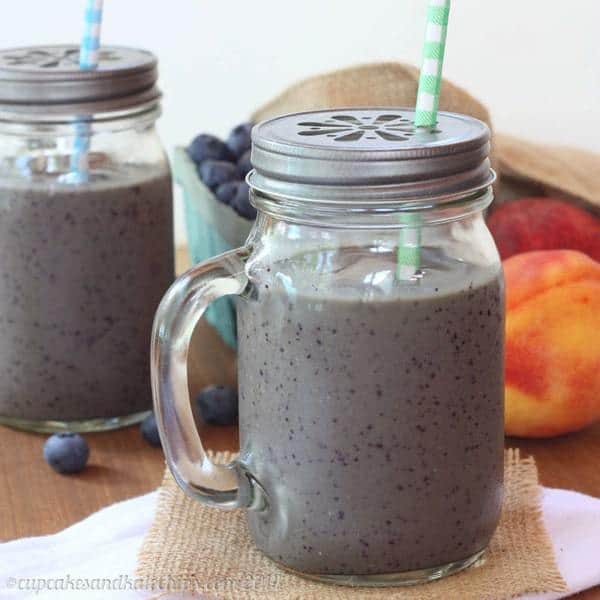 What makes these Blueberry, Peaches & Cream Green Smoothies the creamiest, dreamiest ever? OK, I may loves me some Greek yogurt in pretty much everything, and while I do often put it in smoothies, like my Strawberry Cheesecake Smoothie, I actually love to use… wait for it… cottage cheese!
Wait, stop, hold everything! Cottage cheese? That curdly, funky stuff that you either love or hate (I happen to be on the love side, but that's another story for another day)? OK, all you haters out there, just trust me on this one. I mentioned it to a cottage cheese hater, and this is the text I got back from her.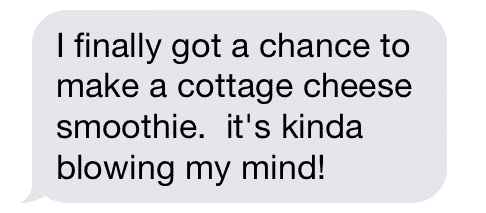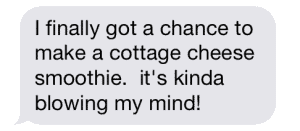 See! Trust me on this one, people! The curds disappear into a creamy base, there is no tartness like you can get from Greek yogurt, and the bit of salt really enhances the sweetness of the fruit, just like when you add salt to a brownie, cookie, or cake recipe. If you just can't wrap your head around it, go on and use Greek yogurt. It's all good. You'll still enjoy my favorite late summer fruit combination in this yummy green smoothie.
And if you still aren't on the green smoothie bandwagon, leave out the greens, or go with baby spinach. That what I always use. My grocery store was out of the big containers of organic baby spinach last week, so I picked up baby kale, and I'm sorry, people, I just can't get over the taste of it in my fruity smoothies. But spinach and I are totally cool.
#kalehypocrite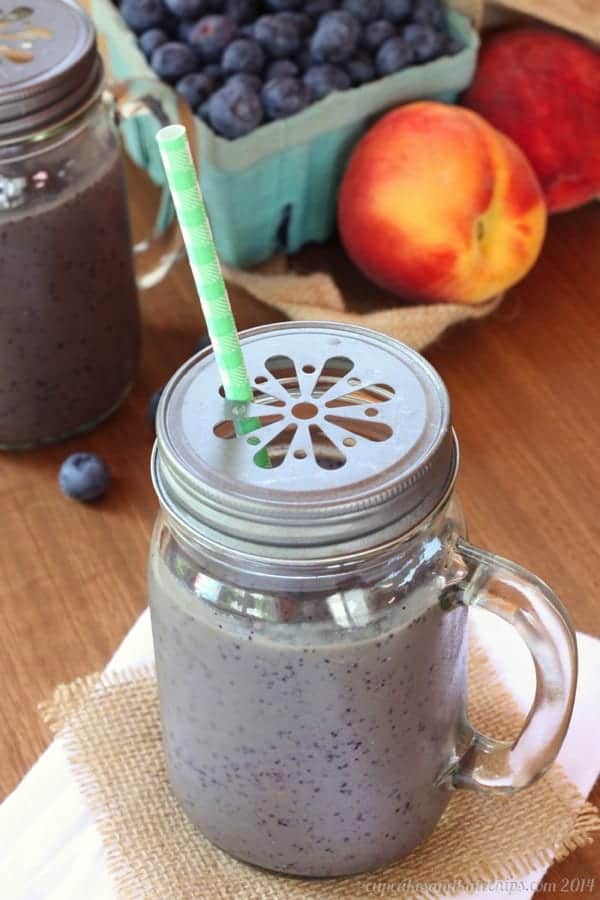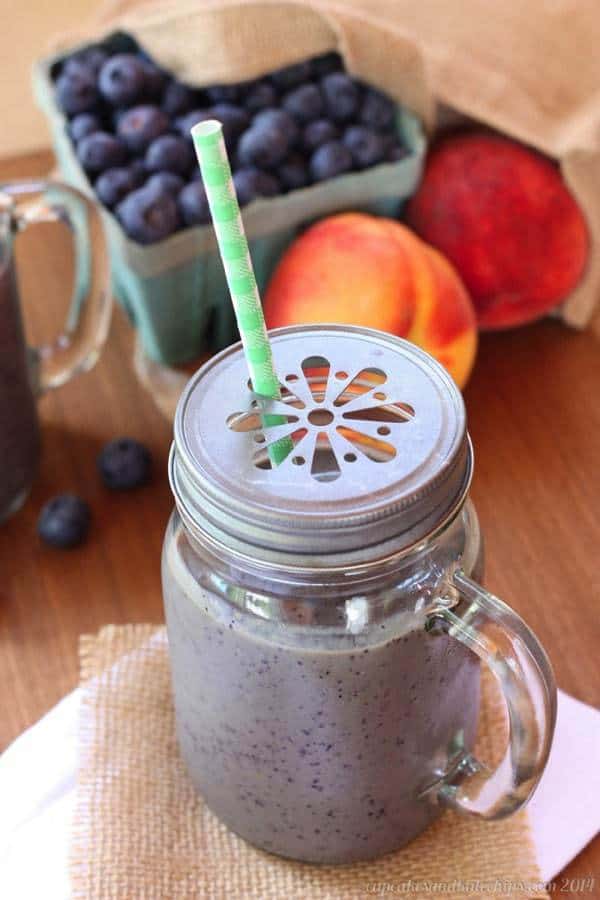 How do you preserve summer's bounty?
You can save this or any of my recipes and those from many of your favorite brands, blogs and website to your own personal recipe box. After creating your account, simply click 'Save Recipe'below. It will then be saved in your personal recipe box which you can access at any time, and even create meal plans and grocery lists.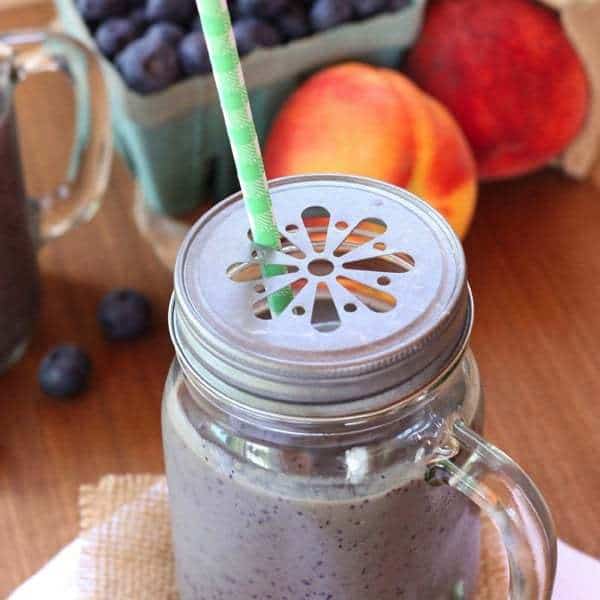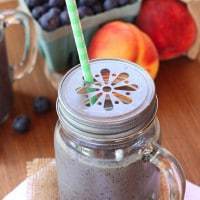 Blueberry Peach Smoothie
The best combination of late summer fruit blended up in an easy smoothie recipe! Plus a secret ingredient for the creamiest green smoothie.
Ingredients
A large handful of baby spinach or another dark

leafy green

1/2

cup

cottage cheese

or plain Greek yogurt

1

cup

milk

(dairy or nondairy)

1

cup

frozen blueberries

1

peach

cut into cubes, fresh or frozen

1-2

teaspoons

honey or maple syrup

if needed, depending on how sweet your fruit is

Optional 1-3 ice cubes if you want a frostier texture

Optional 1 teaspoon flax or chia seeds
Instructions
Place all of the ingredients except the honey and ice in your blender in the order listed, and puree until smooth.

Add honey or maple syrup, if needed, and ice cubes, if desired, and puree again until smooth.
Categories:
Enjoy!
Want some more smoothies?
Plus here are a ton of great tips, tutorials, and recipes for "Saving Summer" from the #SundaySupper contributors:
Learn how to …
Sip sunny cocktails and smoothies
Scoop up special salsas and sauces
Jump into jellies, jams and preserves
Pucker up for pickles
Slurp and spoon soup and a side dish
Dive into divine desserts