This post may contain affiliate links. Read my disclosure policy.
A chocolate pumpkin spice smoothie is one of the best gluten-free pumpkin recipes to enjoy in the morning, or any time you want a creamy chocolate smoothie with the taste of fall spices!
Mmm, chocolaty goodness, pumpkin spiciness, creamy, dreamy, and yet totally healthy enough for breakfast – this Chocolate Pumpkin Spice Smoothie is all of the above! Add the optional "green" and you get two veggies before you even walk out the door in the morning.
There are affiliate links in this post, meaning that the cost to you is the same, but if you click and make a purchase, I will receive a few pennies. I use the money to help maintain this website and to bring you new recipes!
You caught me. I'm guilty. Lately I've been partaking of a liquid lunch…
No, not THAT kind of liquid lunch! I have to be a responsible mama. I've got two little boys I have to keep up with all day. Of course, sometimes that makes me feel like I need THAT kind of liquid lunch, but that's another story for another day.
What I mean is that these days, I usually end up having a smoothie for lunch. Besides my whacked out tummy that used to love salad for lunch, and now just doesn't seem to want to digest them, I usually am trying to cram in some combination of any or all of the following into the 3 1/2 hours that The Bug is at pre-school: two baby feedings, putting baby down for a nap, grocery shopping, doctor appointments, laundry, dishes, blogging, playing with baby, general straightening up of things, occasional exercise.
That really doesn't leave a lot of time for lunch. Factor that in with the fact that Baby Smiles and I are both usually ready for lunch at exactly the same time, and always about twenty minutes before we have to leave to pick up The Bug, and clearly quick and easy drinks like this chocolate pumpkin spice smoothie are the best option. Feeding a baby and trying to eat salad is nearly impossible, and anything hot is just way too dangerous. Especially when you've got arms and legs sprawling all over you.
That's why this chocolate pumpkin spice smoothie recipe is genius!
Pumpkin AND spinach – two veggies in one. Plus banana and Greek yogurt for fruit and dairy and protein. Cinnamon is awesome for blood sugar control. Then, you know…  chocolate! Because what nutrition-packed lunch doesn't include chocolate? Am I right?
For the longest time, I wouldn't eat pumpkin. Then I started to love pumpkin, but still couldn't fathom chocolate and pumpkin. Nor could I really do chocolate and spice, till I started eating Mexican Chocolate Oatmeal every single day of my life. Then one day I decided to add chocolate chips to pumpkin bread, and I was hooked. I now understand all of you Pumpkin Spice Mocha Latte and Pumpkin Chocolate Chip Cookie freaks out there. This was clearly an inspired combination, and I had to do more with it. Hence, this smoothie (oh, and these cookie cups, but I am trying to stay on the healthy track here).
If you've never combined pumpkin and autumn spices and chocolate, you've gotta try a chocolate pumpkin spice smoothie.
I can't put my finger on it, but it just works. No one flavor overpowers the other, and they all work in a glorious harmony.
And seriously, just add the spinach or kale or whatever. I like baby spinach, because it completely blends up and disappears, and you don't taste it at all.
Oh, and, umm, yeah, clearly I consume ridiculous quantities of cocoa powder and cinnamon. This probably is not advised, but I am a busy mama of two little boys. The fact that I eat drink my veggies is a big enough accomplishment in my book.
What is your favorite on-the-go lunch?
You may need these things to make the chocolate pumpkin spice smoothie:
[amazon_link asins='B00939FV8K,B00A8FH3UM' template='ProductCarousel' store='cupkalchi-20′ marketplace='US' link_id='a3a990ed-a607-11e7-abac-fbe3c7e55360′]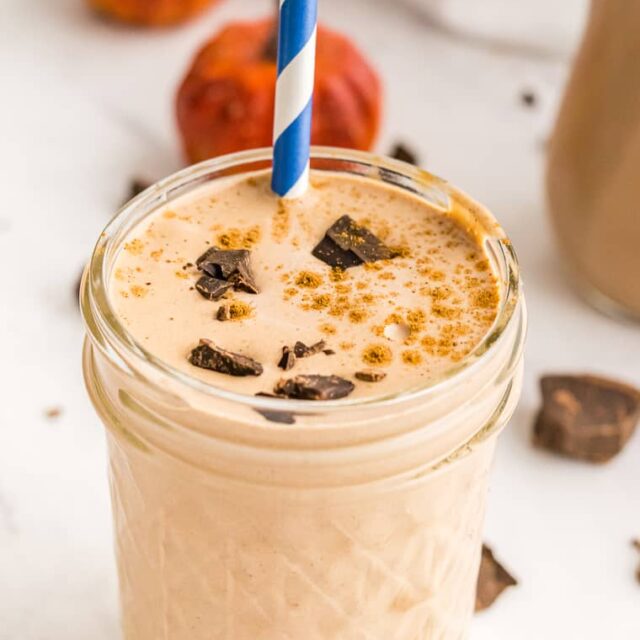 Chocolate Pumpkin Spice Smoothie (with optional "Green")
Creamy chocolate & pumpkinny spice, yet this Chocolate Pumpkin Spice Smoothie is healthy enough for breakfast. You can even add the optional "green"!
Ingredients
1/2-3/4

c

milk of choice

I use unsweetened almond milk

1/2

c

canned pumpkin puree

not pumpkin pie filling

1/2-1

t

pumpkin pie spice

I like the full 1 t, or use 1/2 t cinnamon, 1/4 t ginger, 1/8 t nutmeg, pinch cloves

2

T

cocoa powder

half frozen ripe banana plus one 5.3-6 oz container vanilla Greek yogurt OR one full frozen ripe banana plus 1/2 c plain Greek yogurt

Optional handful of baby spinach

or regular spinach or kale or other leafy green of choice

3-4

ice cubes
Instructions
Combine 1/2 c milk and all of the ingredients except the ice cubes in a blender and blend until smooth.

Add enough ice cubes and additional milk, if needed, and blend to achieve your desired consistency.
Enjoy!
Chocolate Pumpkin Spice Smoothies aren't your thing? Here are some other smoothie options for you…
But if you do love the chocolate pumpkin combo, here are some recipes from my friends…