This post may contain affiliate links. Read my disclosure policy.
Who doesn't love a good peanut butter and jelly sandwich? Then why not combine the yummy flavors of a classic PB&J – berries and, of course, peanut butter – with another kid favorite – smoothies – to give your little (or big) ones all kinds of nutrition from protein-packed Greek yogurt and vitamin-rich spinach or kale, or other dark, leafy greens. This Peanut Butter and Jelly Green Smoothie recipe is perfect for an on-the-go breakfast or a yummy and nutritious after school snack.
Peanut Butter and Jelly Green Smoothie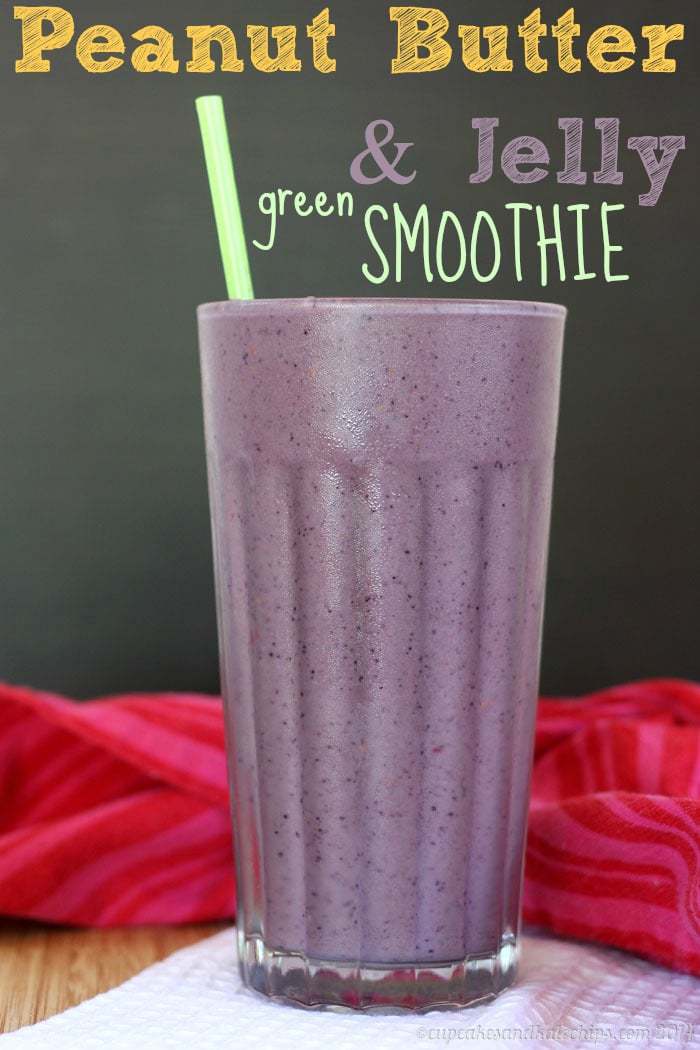 Oh my goodness, I am soooo sick of winter. I know I'm not the only one, but seriously. The 3 1/2 year old is climbing the walls. He has had school cancelled more times than I can count, is dying to play in his sandbox, and spends his days torturing his baby brother. So what does that mean? Well, let's just say that Baby Smiles is not always an appropriate nickname anymore. He hasn't even been able to play out in the snow much because it's been sooo frigid, and unless The Hubby is home, I can't really take him out since undoubtedly the second we get all bundled and ready to head out, you know the little guy will wake up from his nap. The television and iPad have been used way more than I care to admit. And The Hubby is not one of those stereotypical men who whines and complains with the littlest runny nose, but with all the time he has spent shoveling the driveway, he has had a nagging cold for the past month, which is now starting to make him grumpy.
It's so bad that, get this, when, after a morning of "Mommy mommy mommy I want I want I want waaahhhh wahhhhhhhh Daddy Daddy Mommy I want I want now now now now now", I said in an exasperated huff to The Hubby, "You know what I want? A tropical vacation… ALONE!", and he told me I deserved it! The man who has been doing all the shoveling, working a stressful job, commuting with the raging New Jersey drivers, and still coming home and taking out trash, doing the bedtime routine, helping with baths when he can.
Either he is really awesome, or the kids have been that insane? Not sure which.
So with all the ice and now and wind and polar vortexing going on, clearly a smoothie is appropriate. What, you don't drink icy beverages when the flakes are flying and the mercury is dropping? I totally do…
Followed by donning another fleece and boiling water for a cup of tea. No, I'm not kidding.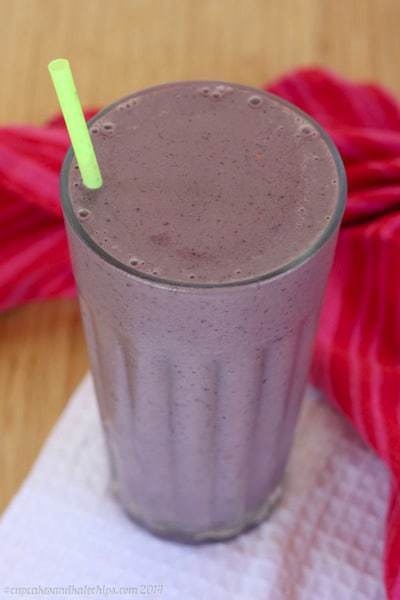 This is such a versatile smoothie recipe. I've made it tons of different ways – strawberry yogurt, blueberry, even vanilla or honey or plain (of course with plain, you may need to add a little something to sweeten it up, depending on your tastes). I've used fresh strawberries, frozen mixed berries, and one of my favorite is fresh or frozen blueberries. Is there a peanut allergy in your house? Just change it up with almond, cashew or sunflower seed butter. Or if you want to cut the calories a bit, try powdered peanut butter or peanut flour (my new favorite ingredient). Oh, go ahead, throw in some Nutella – I won't tell. I'm kind of partial to baby spinach – I find it has a more neutral flavor, and since I don't have a super high powered blender, it breaks down better than something like kale. But use what you have or like.
This Peanut Butter and Jelly Green Smoothie recipe is a favorite in our house. While I can certainly enjoy the entire thing by myself, I usually hear a little voice politely requesting some of my smoothie (i.e. "Mommy, I want some of your smooooooothieeeeeeeee!" – the aforementioned winter weather has led to excessive whining lately).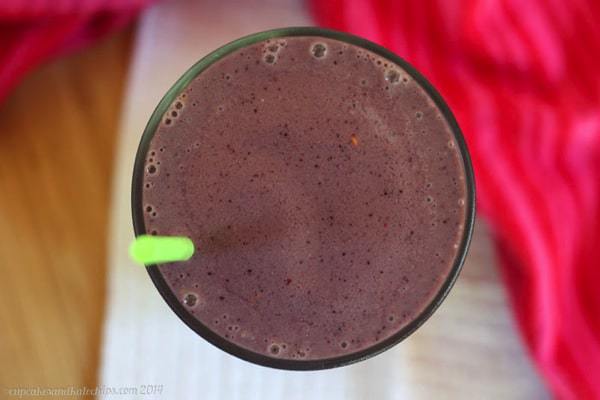 Have you been dealing with bad weather this winter? How are you holding up?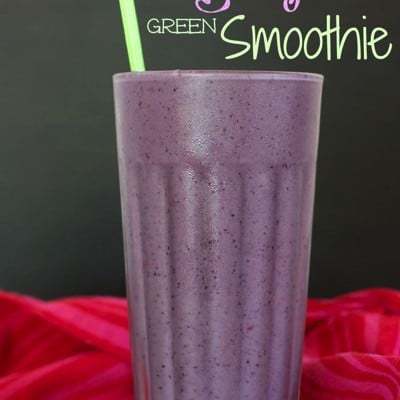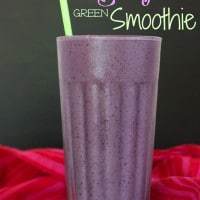 Peanut Butter and Jelly Green Smoothie
A nutritious and delicious breakfast or snack with all the flavors of the classic PB&J sandwich, this smoothie will be a favorite of kids of all ages.
Ingredients
One individual serving container

5-6 oz. of your favorite vanilla or berry-flavored Greek yogurt

1

cup

fresh or frozen berries of choice OR ½ c frozen berries and half of a banana

fresh or frozen, cut into chunks

1

Tbsp

peanut butter or 2 Tbsp powdered peanut butter or peanut flour

1/2-3/4

cup

milk of choice

I like unsweetened almond milk, based on your preferred thickness

Handful of leafy greens

baby spinach, kale, etc.

Small handful of ice cubes
Instructions
Combine all of the ingredients in a blender and blend until smooth.
Enjoy!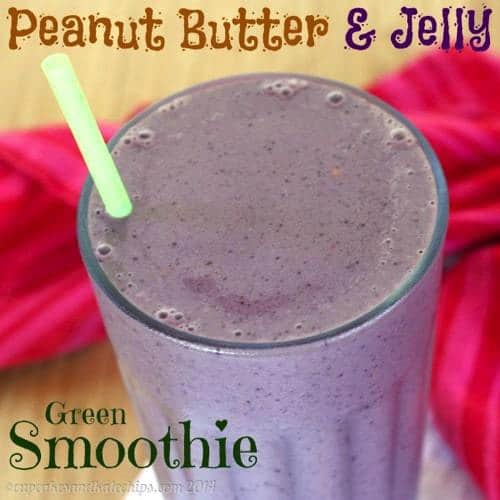 Looking for some more smoothies? Try these…
Or I've got an entire Pinterest Board, this great collection of 50+ Smoothies…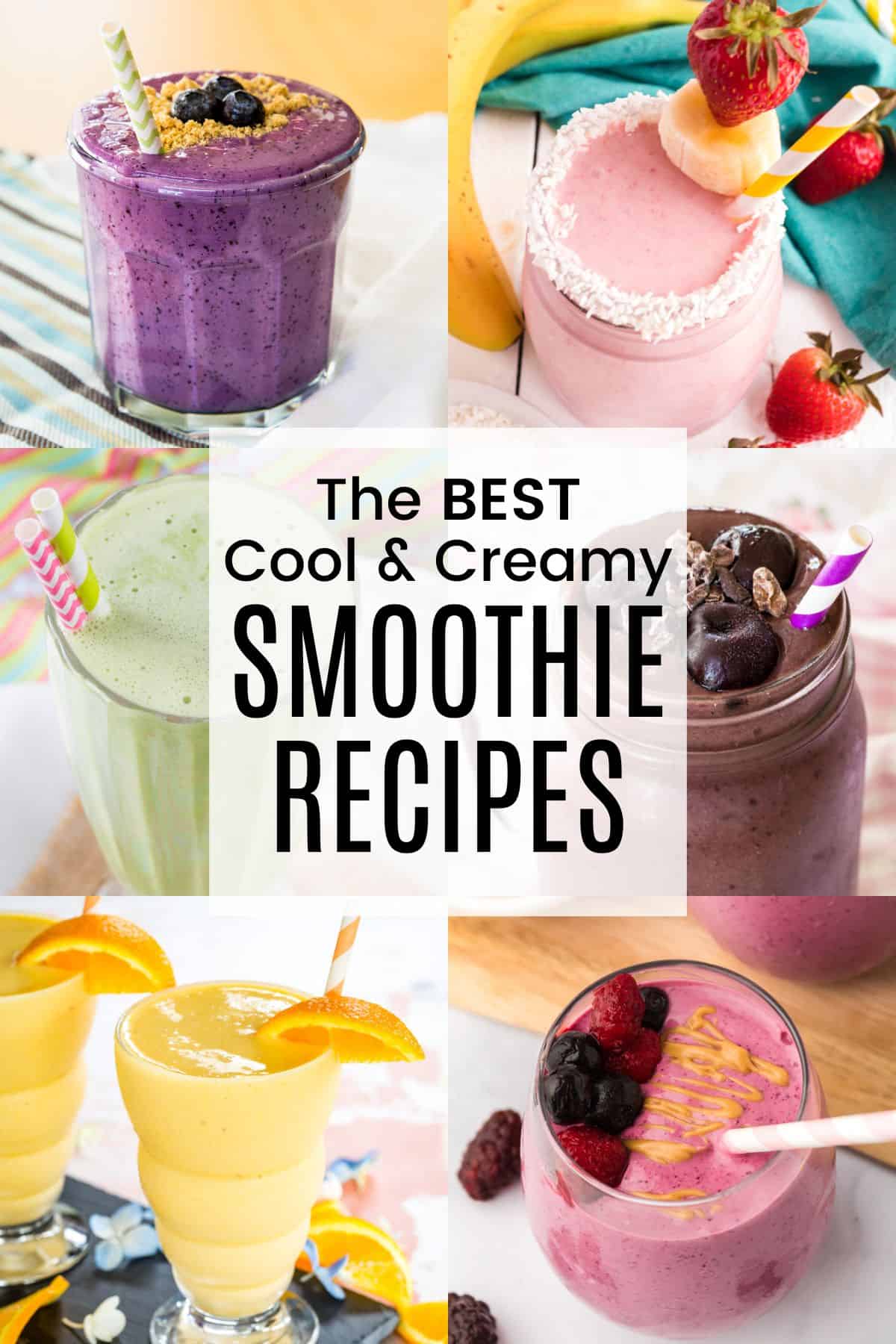 And here are even more from my friends…