Strawberry Banana Coconut Smoothie
Disclosure: This post may contain affiliate links. Cupcakes & Kale Chips is a participant in the Amazon Services LLC Associates Program, an affiliate advertising program designed to provide a means for us to earn fees by linking to Amazon.com and affiliated sites.
For a sweet and satisfying healthy breakfast, snack or dessert, blend up a gluten free, dairy free and vegan Strawberry Banana Coconut Smoothie.
Strawberry Banana Coconut Smoothie
Crazy Cooking Challenge Day is one of my favorite days of the month in the blog world. I like to see everyone's take on the same theme. The Crazy Cooking Challenge from Moms Crazy Cooking is a monthly blog  hop where all of the participants post a recipe that they have made from another blog, based on that month's assigned theme. So far, I have participated in the Spaghetti with Red Sauce, Blueberry Muffin, and Grilled Cheese challenges. This month, it is fruit smoothies.
I love smoothies. In fact, I even have a few smoothies on the blog already. Heck, I just posted one a couple of days ago. Almost every night I make a frozen banana, cocoa powder, and milk smoothie, since really I would prefer to eat ice cream every night, but this is a bit healthier. Except on nights when I decide to replace some of the milk with Bailey's, but that's another story.
Well, as I was looking around the blogosphere for a smoothie to make for the challenge, I came across this Blueberry, Banana, Coconut Smoothie from Once a Mom, Always a Cook. It sounded really yummy, but right now, blueberries cost $5 for half a pint. And we had just been strawberry picking…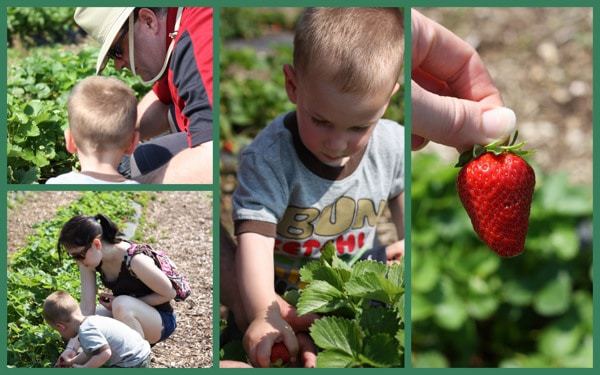 So we had a few strawberries sitting around that needed to be used.
Thus, you get a Strawberry Banana Coconut Smoothie.
One other slight change I made was that, after making this Fresh Corn Saute with Coconut Milk & Sriracha from Oh My Veggies, I had part of a can of light coconut milk left. So I used that instead of the Coconut Dream called for in the original recipe. Also, since my banana was pretty ripe and my strawberries were super-sweet, I didn't add the additional sweetener called for in the original recipe, so it is your call if you need some honey or stevia or something else.
Since I used both a frozen banana and frozen strawberries, the smoothie was very thick, almost like ice cream. And I am down with ice cream for breakfast. But if you want it a bit thinner, either only freeze one of the fruits, or add more milk.
It was so delicious! I totally hid this one from The Bug. I know this does not make me a very good example, but I did not want to share! Remember last time, when I could barely take a photo, because he was watching me and begging? Not only was it delicious, but it was also very satisfying, probably because of the coconut milk. And I even used light coconut milk. If you use full-fat, then this would easily be two servings. Of course, it probably should have been two servings. But I was hungry. And then didn't eat lunch until way late.
And I will totally make this later in the summer when I can get delicious, local, cheap blueberries.
Have you gone strawberry picking? What did you do with all of your berries?
Print Recipe
Strawberry Banana Coconut Smoothie
Ingredients
1

cup

frozen strawberries

1

frozen very ripe banana,

cut into chunks

1

cup

canned coconut milk

(I used light coconut milk)
Instructions
Place all of the ingredients into a blender, Vita-Mix, or Magic Bullet, and blend until smooth.
Nutrition
Calories:
318
kcal
|
Carbohydrates:
45
g
|
Protein:
2
g
|
Fat:
14
g
|
Saturated Fat:
13
g
|
Sodium:
169
mg
|
Potassium:
643
mg
|
Fiber:
6
g
|
Sugar:
21
g
|
Vitamin A:
76
IU
|
Vitamin C:
95
mg
|
Calcium:
23
mg
|
Iron:
1
mg
Adapted from Blueberry, Banana, Coconut Smoothie from Once a Mom, Always a Cook
Enjoy!