This post may contain affiliate links. Read my disclosure policy.
When you need a road trip or after-school snack for kids and adults, you can't go wrong with homemade energy bars. These Apricot Chia Bars are sweet, chewy, and have only six ingredients. Plus this recipe is gluten-free, vegan, peanut- and tree nut-free making them the perfect allergy-safe and healthy no-bake snacks to pack in a lunch box for school or camp.
The Best Homemade Energy Bars
Fast, easy, and healthy, snack bars are portable and packable. It's also great to keep them in the fridge for when the afternoon hunger pangs start. But what are the keys to perfect homemade energy bars?
Keep the ingredient list short, simple, and nutrient dense. Make them easy to prepare and relatively mess-free to grab on the go. And, if course, they have to be delicious!
These Apricot Chia Energy Bars tick all of those boxes. They are sweet and tangy with just a hint of crunch. You just have to grab the six ingredients, your food processor, and a pan. And all you have to do is pulse everything together, press it into a pan, chill, and cut into squares.
In no time you'll be ready to calm the kiddos, whether you toss them into the back seat during a road trip or when they run in the house after school saying they are starving!
Energy Bar Ingredients
Yes, you only need 6 ingredients to make these easy no-bake bars! Be sure to read the labels for cross-contamination risks so that you can ensure they are gluten free, if needed. And you can also make them without nuts or dairy, too!
Dried dates – provide the sweetness and sticky factor to keep the bars together.
Dried apricots – the tangy flavor keeps these sweet bars from being too sweet.
Pepitas (raw pumpkin seeds) – add crunch and protein but keep these bars peanut-free and nut-free.
Cinnamon – adds a hint of warm spice.
Chia seeds – most of the time you see chia in overnight oats like Hummingbird Cake Overnight Oats or smoothies or chia pudding where it swells up and gets gel-ish, but here it's like little bits of crunch. Plus, superfoods for the win!
White chocolate chips – provide a creamy bit to balance the fruit, but if you don't want the added sugar (though it is only a bit), you could leave them out.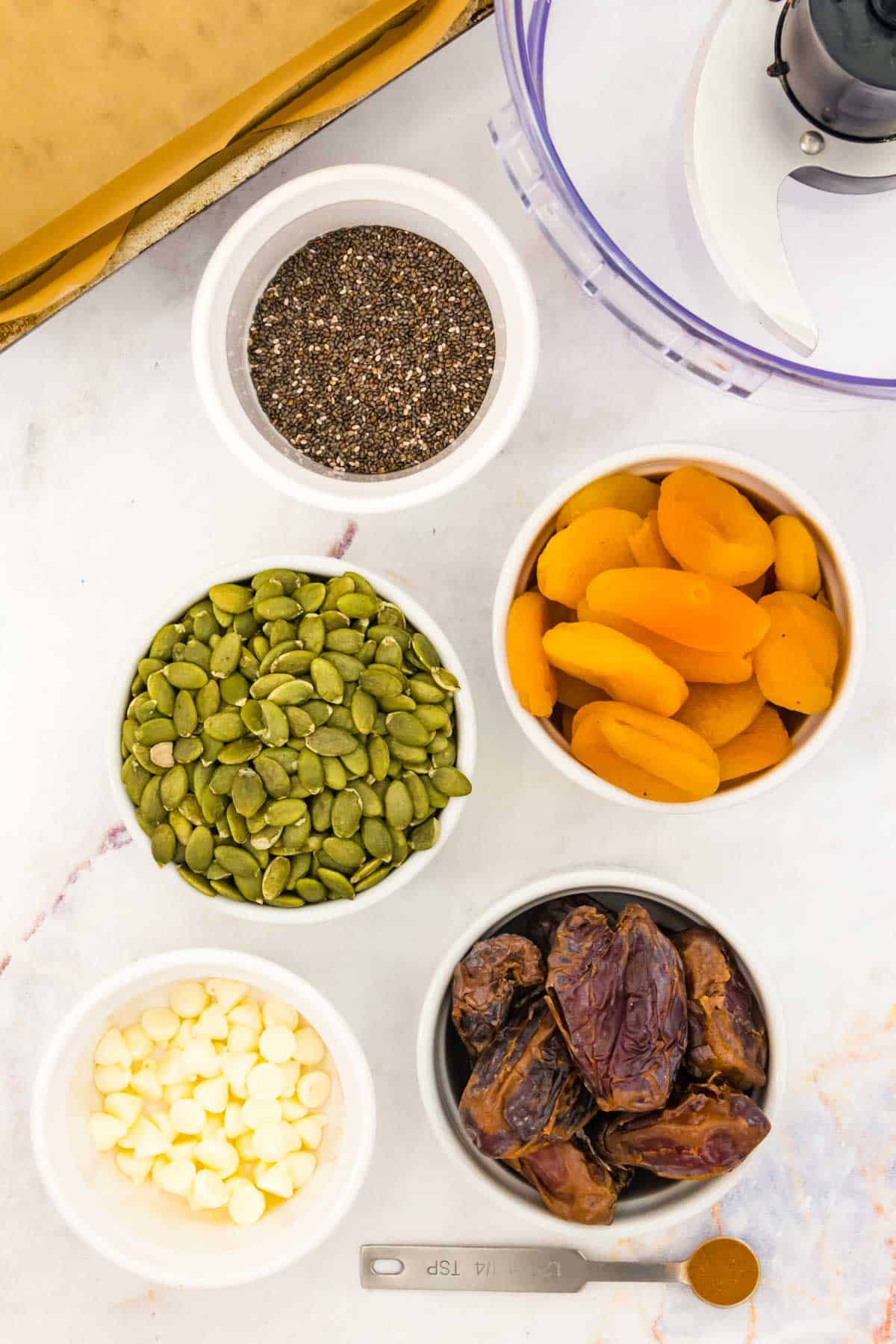 How to Make Homemade Energy Bars
These healthy snack bars come together in no time.
Make the mixture: Combine the dried fruit, cinnamon, and chia seeds in a food processor and pulse until it forms almost a thick paste, but where you can still see individual bits of each of the separate ingredients. You might need to stop the processor a few times to scrape it down with a spatula.
Add the seeds and chips: Add the pepitas and pulse a few times tp incorporate them, followed by the white chocolate. Only pulled a couple of times to mix it in so the chocolate doesn't melt.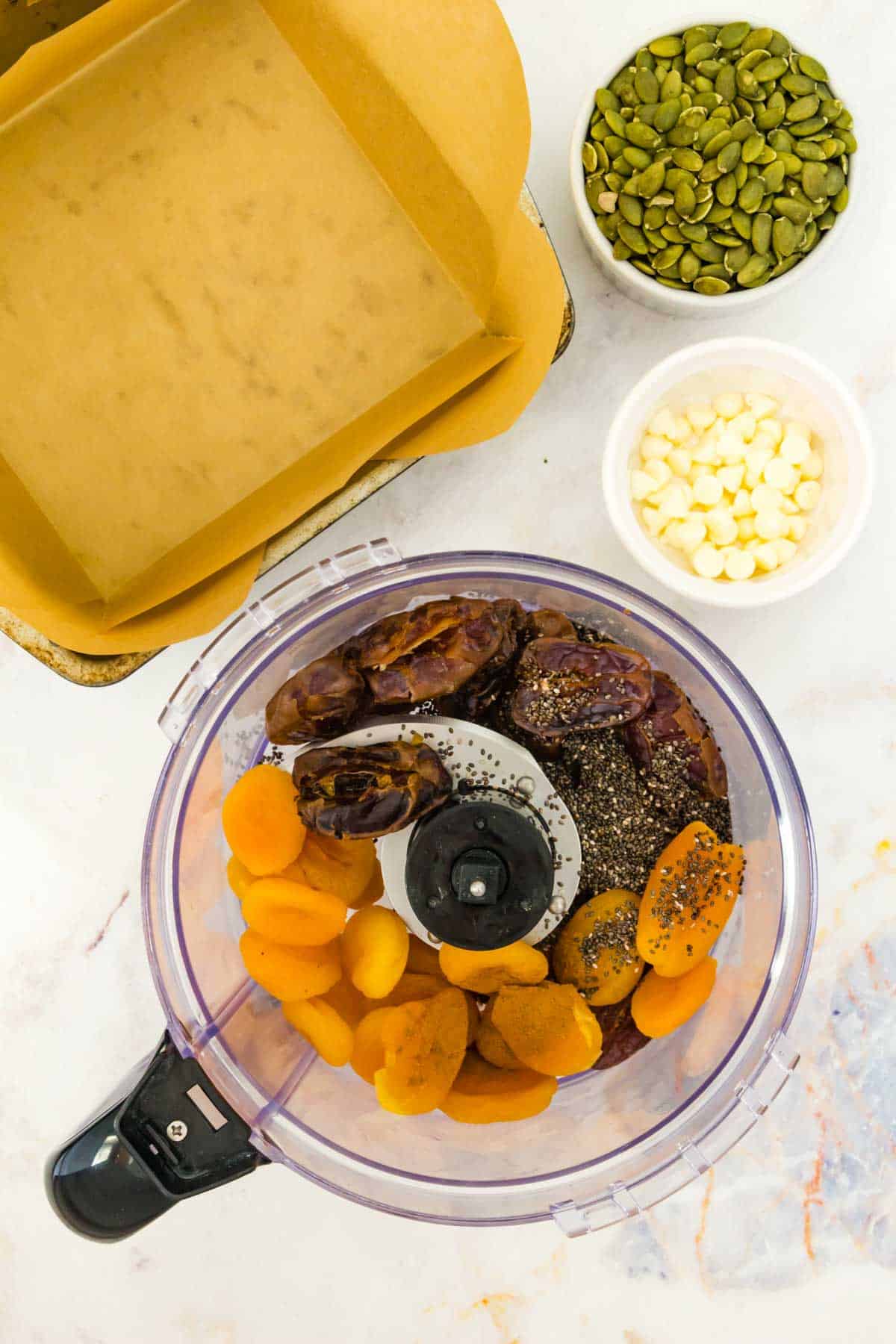 Press into the pan. Transfer the mixture to a square pan lined with wax paper or parchment paper. Press it down firmly.
Cool and cut. Refrigerate until firm before cutting into squares.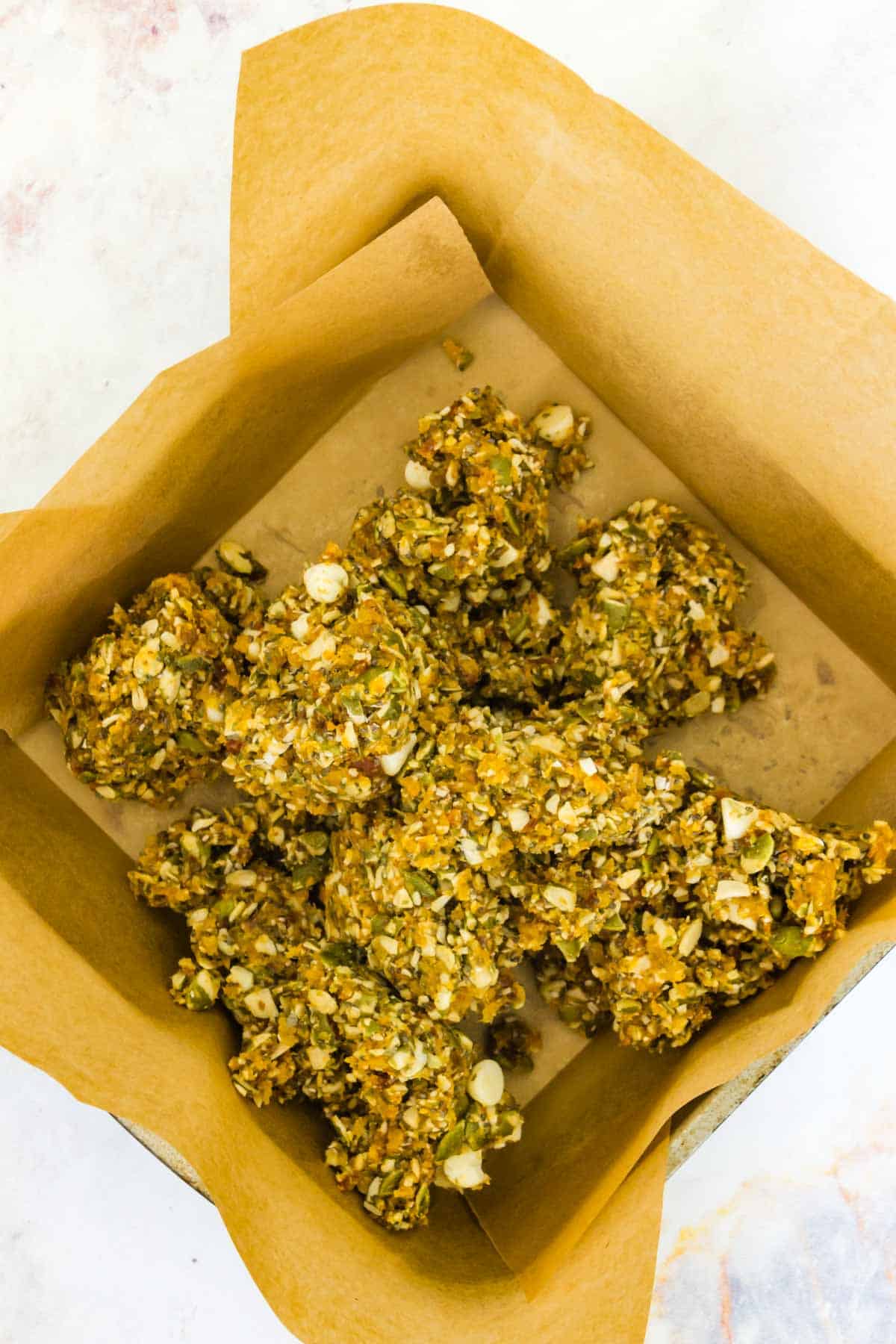 Storing Apricot Chia Bars
Transfer your bars to a container with a lid and seal them well. They will keep at room temperature for several days, and a couple of weeks in the refrigerator. You can even individually wrap them or place them in plastic baggies and freeze them for up to two months. Pull out as many as you need the night before, or pop a frozen bar into a lunchbox – it'll thaw by lunchtime!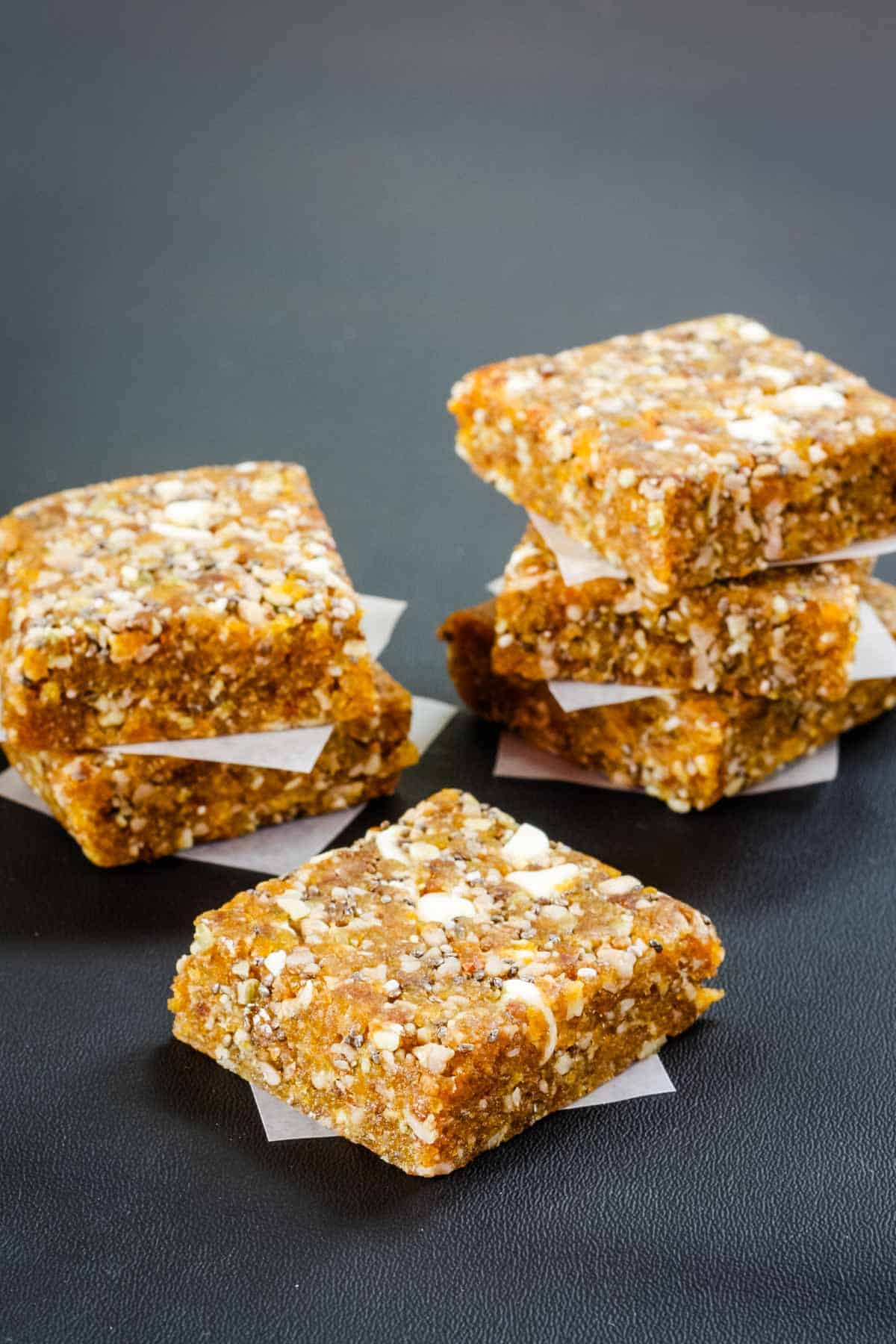 Tips for Success
Get the kids involved. They are so quick and easy that the kids can definitely help you make them. They can measure out the ingredients and dump them into the food processor – keep their fingers away when you are pulsing it. Then let the kids press it into the pan.
Don't over-process. You want to leave some texture, which is why I like to add the pumpkin seeds after getting the dried fruit worked into apaste. Also, you don't want to run the food processor too long after adding the chocolate because the warmth it generates will melt it.
Line the pan. You'll need a layer of wax or parchment paper or even plastic wrap to be able to lift the bars out of the pan.
Try the double pan trick. One thing I do every time is to use another pan of the same size and place it on top to press the mixture tightly into the pan. That packs it in tightly and gives it a nice, even surface.
Make variations. You can use roughly the same ratio of dried fruits, seeds, and mix-ins to make all kinds of homemade energy bars with your favorite flavor combinations.
More energy bar recipes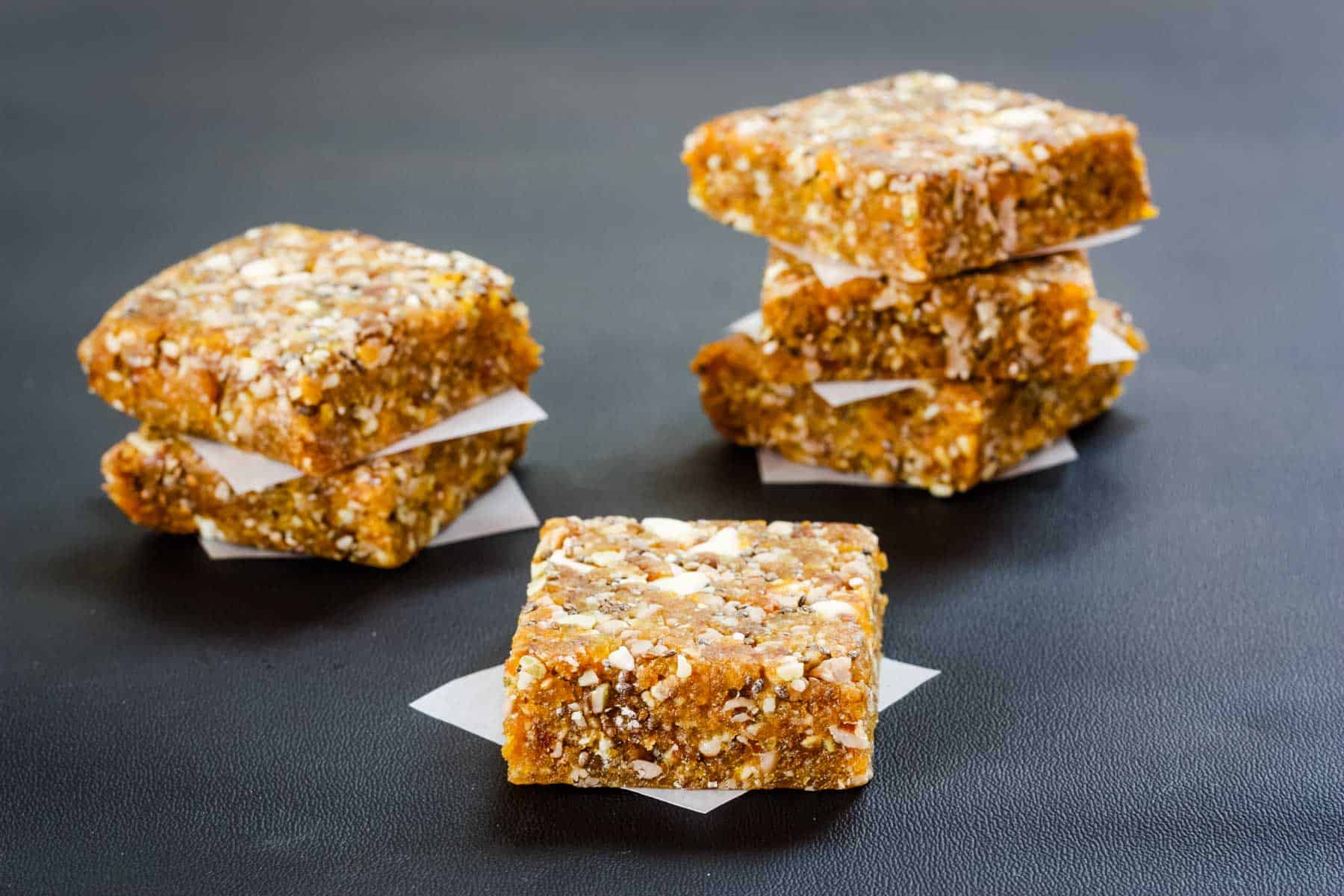 Shop the Recipe
Brianne Recommends
FOOD PROCESSOR: I use the Hamilton Beach Stack & Snap Food Processor.
MINI SPATULAS: These are my favorite for getting into nooks and crannies.
SQUARE PANS: Remember, I like to have two so I can use one to press down the bars that are in the other one.
PARCHMENT PAPER: Don't forget to line your pan so you can get the bars out easily.
Last updated on Dec 7, 2023 1:03 pm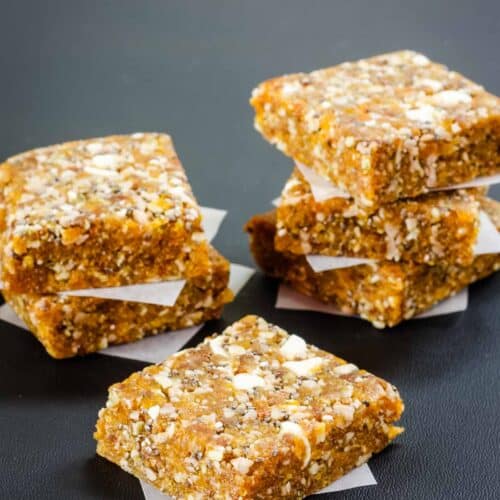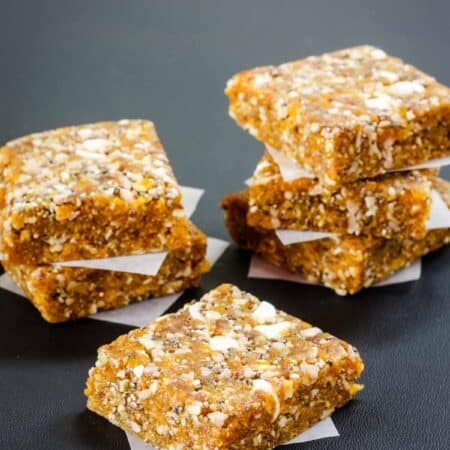 No-Bake Apricot Chia Energy Bars
It only takes minutes to make this sweet and chewy snack with just a bit of crunch. Perfectly portable, plus they are gluten free, vegan, and nut-free.
Instructions
Line a 8×8 or 9×9 square pan with wax or paper.

Place dates, apricots, chia seeds and cinnamon in a food processor, and process until the mixture forms a large mass.

Break up slightly with a spatula, add pepitas to the mixture in the food processor, and pulse until there are small chunks of pepitas.

Break up the mixture one more time, add white chocolate chips and pulse a few times to slightly break and distribute the chips.

Press the mixture into the prepared pan. You can cover the top with more paper and press an equal sized pan to roll the top with a glass to flatten completely.

Refrigerate for 30-45 minutes, then slice into bars or squares.
Nutrition Facts
No-Bake Apricot Chia Energy Bars
Amount Per Serving (1 bar)
Calories 84
Calories from Fat 27
% Daily Value*
Fat 3g5%
Sodium 3mg0%
Potassium 202mg6%
Carbohydrates 14g5%
Protein 2g4%
Vitamin A 305IU6%
Vitamin C 0.2mg0%
Calcium 25mg3%
Iron 0.8mg4%
* Percent Daily Values are based on a 2000 calorie diet.
Categories: