No-Bake Apricot Chia Energy Bars
No-bake apricot chia energy bars are healthy no-bake snacks that are gluten-free, dairy-free, nut-free, and vegan. They make great healthy after-school snacks for kids!
Sweet and chewy with little bits of crunch (and white chocolate, if you like), it literally takes minutes to make this healthy snack recipe. But don't let all those scary buzzwords scare you away, because these might be one of my favorite snack recipes to date. My boys and have been munching away on No-Bake Apricot Chia Energy Bars.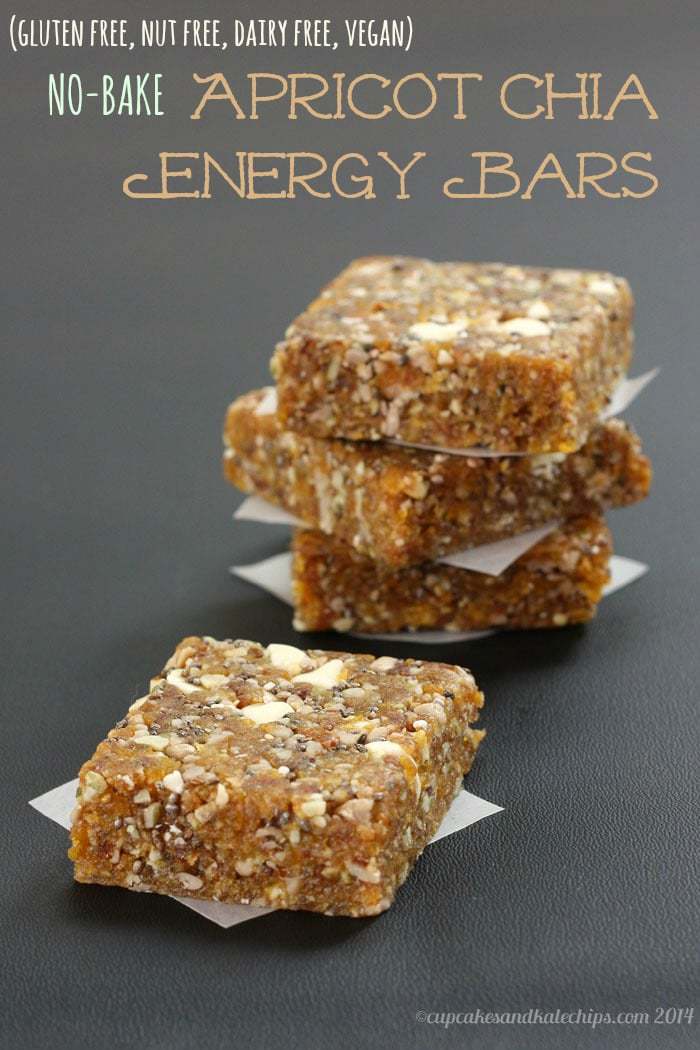 I seriously hate driving. Not just driving. I don't even like being in the car. As a kid, long road trips were the worst because I'd try to read a book to pass the time, but that made me so nauseous that after awhile I'd feel my tummy turning just by reading road signs. My first long drive on my own was about five hours from Central New Jersey to visit my friend in Syracuse, and every time I went, I'd drive as long as I possibly could before I stopped, would run into Subway, and then somehow eat a sub while driving, just to minimize my time in the car. A few days later when I was ready to head home, we would usually go get a big breakfast, and then I'd try to make it all the way without so much as a bathroom break.
When it was just The Hubby and I, I always made him drive. I still do, except when I take the boys on my own to make the 3 1/2 hour trek to my moms. And let me tell you, that's always such a joy. Especially when the 31/2 hour trek takes 5 or 6 hours. When it was just The Bug, I kind of lucked out because I could easily time our trips around nap time, and he would crash and sleep almost the entire way. Oh, well except that one time when we drove down in a snowstorm, it took something like six hours, and he slept for 40 minutes.
Awesome.
And now it's even more fun and excitement. King Stuff clearly inherited my feelings about being in the car, and The Bug no longer naps unless he is super exhausted. So basically he spends the entire time nagging me. Ten minutes into the ride he wants a snack. Twenty minutes later he wants to know if we are still in New Jersey. Thirty minutes later he has shut his mouth just long enough for King Stuff to finally fall asleep. And thirty minutes after that I'm doing 70 mph on the interstate with a million other cars around, because this is Jersey, and he has to have a snack NNNOOOOOOWWWW. And BAM, King Stuff is up and whining for the next 2 1/2 hours.
Not that King Stuff would have slept much longer anyway. Forty minutes is about his maximum in the car. And if he does sleep longer, Mr. I Don't Have to Pee I Don't Have to Pee I Don't Have to Pee obviously DOES have to pee. Repeatedly.
Double awesome.
Actually the best was when he didn't have to pee until we were twenty minutes away from my mom's with literally nowhere to stop. OMG! Both of them were screaming. "I HAVE TO PEE!" "I NEED A SNACK!" "MAMAMAMAMAMA! MA-MAAAAAAAA!" "WAAAAAHHHHH!!!!!"
Luckily, to calm the natives, food usually works. Even speeding down the highway, I can just toss them one of these no-bake apricot chia energy bars!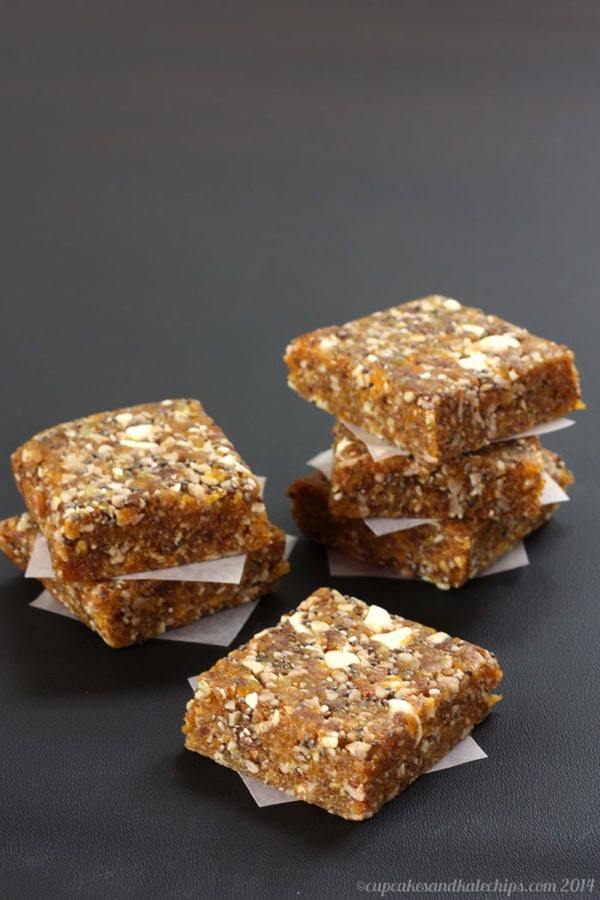 So I know this may seem like a random combination, but out of all of the energy bars, balls and bites I've made, this no-bake apricot chia energy bars recipe might be my absolute favorite.
They are definitely sweet, but I think the apricot flavor keeps them from being too sweet. I'm a total texture girl, so I love the bits of pepitas (raw pumpkin seeds) and especially the chia seeds. Most of the time you see chia in overnight oats or smoothies or chia pudding where is swells up and get gel-ish, but here it's like little bits of crunch. I like just a little bit of white chocolate for a creamy bit to balance the fruit, but if you don't want the added sugar (though it is only a bit), you could leave out the white chocolate chips.
Though I wouldn't recommend that. 😉
What I would recommend, though, is making a batch of these to bring along when you are in the car, at the park, anywhere on-the-go, because they are super portable, super tasty, but not super messy. Always a good thing when you are stuck in a car with two cranky kids.
Need some more healthy snack ideas?
Plus here are a few from my friends…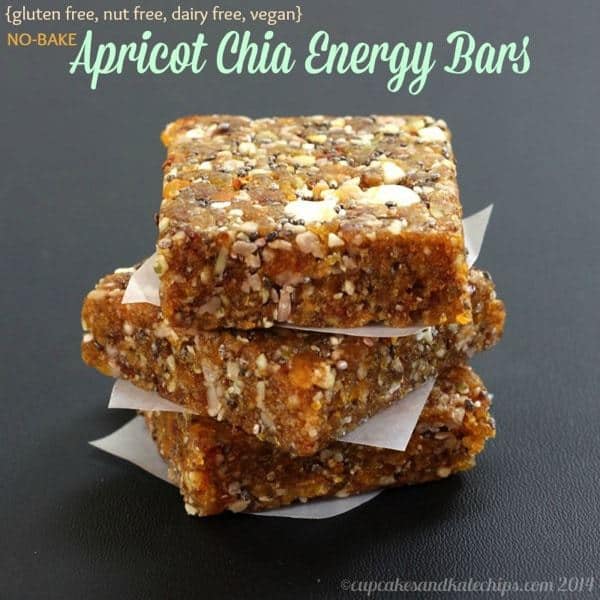 Here's the No-Bake Apricot Chia Energy Bars Recipe…
No-Bake Apricot Chia Energy Bars
Sweet and chewy with little bits of crunch, it literally takes minutes to make this healthy snack
Ingredients
1

cup

Medjool dates

pitted

1

cup

dried apricots

2

Tablespoons

chia seeds

¼

teaspoon

cinnamon

1

cup

raw pumpkin seeds/pepitas

2

Tablespoons

white chocolate chips

use vegan, if desired
Instructions
Line a 8x8 or 9x9 square pan with wax or paper.

Place dates, apricots, chia seeds and cinnamon in a food processor, and process until the mixture forms a large mass.

Break up slightly with a spatula, add pepitas to the mixture in the food processor, and pulse until there are small chunks of pepitas.

Break up the mixture one more time, add white chocolate chips and pulse a few times to slightly break and distribute the chips.

Press the mixture into the prepared pan. You can cover the top with more paper and press an equal sized pan to roll the top with a glass to flatten completely.

Refrigerate for 30-45 minutes, then slice into bars or squares.
Enjoy these no-bake apricot chia energy bars!