This post may contain affiliate links. Read my disclosure policy.
Homemade energy bars are a great road trip or after-school snack for kids and adults! No-Bake Apricot Chia Bars are sweet, chewy, and have only six ingredients. Plus this recipe is gluten-free, vegan, peanut- and tree nut-free making them the perfect healthy no-bake snacks to pack in a lunch box as an allergy-safe snack for school or camp.
I seriously hate driving. Not just driving. I don't even like being in the car.
My first long drive on my own was about five hours from Central New Jersey to visit my friend in Syracuse. Every time I went, I'd drive as long as I possibly could before I stopped. I would run into Subway, and then somehow eat a sub while driving, just to minimize my time in the car. A few days later when I was ready to head home, we would usually go get a big breakfast, and then I'd try to make it all the way without so much as a bathroom break.
When it was just The Hubby and me, I always made him drive. I still do, except when I take the boys on my own to make the trek to my mom's.
And let me tell you, that's always such a joy. Especially when the 3 1/2 hour trek takes 5 or 6 hours. When it was just the older one, I kind of lucked out because I could easily time our trips around nap time, and he would crash and sleep almost the entire way.
And now it's even more fun and exciting. The little guy clearly inherited my feelings about being in the car, and The Bug no longer naps unless he is super exhausted. So basically he spends the entire time nagging me.
Ten minutes into the ride he wants a snack. Twenty minutes later he wants to know if we are almost there. Thirty minutes later he has shut his mouth just long enough for his brother to finally fall asleep.
And thirty minutes after that I'm doing 70 mph on the interstate with a million other cars around, and he has to have a snack NNNOOOOOOWWWW. And BAM, the little guy is up and whining for the next 2 1/2 hours.
Luckily, to calm the natives, food usually works. Even speeding down the highway, I can just toss them one of these no-bake apricot chia energy bars!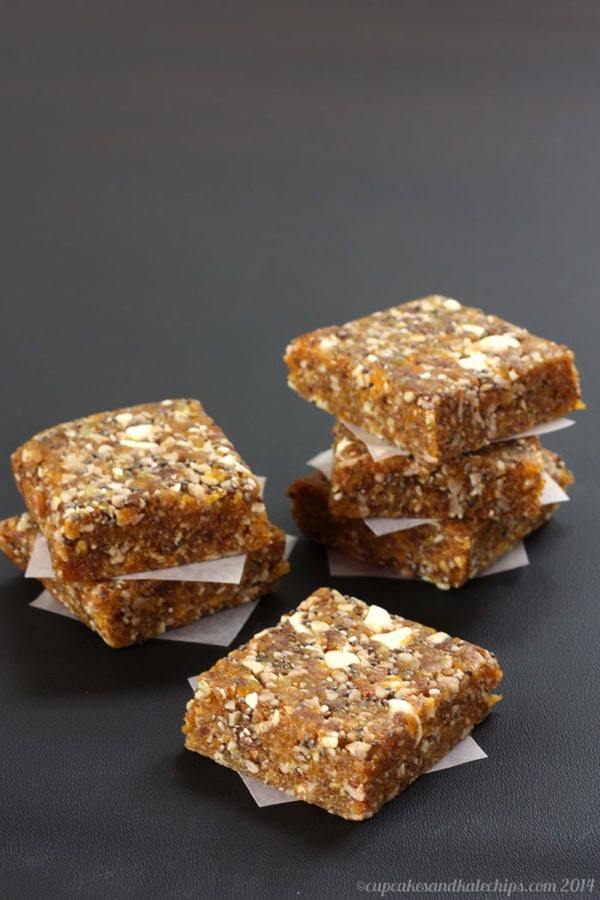 Apricot Chia No-Bake Energy Bars Recipe
Fast, easy, and healthy, these snack bars are portable and packable. Or keep them in the fridge for when the afternoon hunger pangs start. I know this may seem like a random combination, but out of all of the healthy energy bars, balls and bites I've made, this no-bake apricot chia energy bar recipe might be my absolute favorite. OK, maybe the Funky Monkey Banana Chocolate Peanut Butter Energy Balls rank pretty high because I'm a sucker for peanut butter and chocolate. They are sweet and tangy with just a hint of crunch, but are free from peanuts, tree nuts, dairy (if you get dairy-free chips), and gluten.
But there are a few keys to perfect homemade energy bars. Keep the ingredient list short, simple, and nutrient dense. I like to stick with dried fruit, some sort of nut or seed, a superfood like chia seeds or flax seeds, and yes, I do like to sneak in a bit of chocolate for a hint of sweetness. Just grab the six ingredients, your food processor, and a pan, then make these easy bars.
[adthrive-in-post-video-player video-id="znevrzzp" upload-date="Fri Apr 27 2018 00:00:00 GMT+0000 (Coordinated Universal Time)" name="No-Bake Apricot Chia Energy Bars" description="No-Bake Apricot Chia Energy Bars are the perfect road trip, lunch box, or after school snack because they have only six ingredients and are ready in minutes. Plus they are gluten free, nut free, and vegan."]
Ingredients
Dried dates – provide the sweetness and sticky factor to keep the bars together.
Dried apricots – the tangy flavor keeps these sweet bars from being too sweet.
Pepitas (raw pumpkin seeds) – add crunch and protein but keep these bars peanut-free and nut-free.
Chia seeds – most of the time you see chia in overnight oats like Hummingbird Cake Overnight Oats or smoothies or chia pudding where it swells up and gets gel-ish, but here it's like little bits of crunch. Plus, superfoods for the win!
White chocolate chips – provide a creamy bit to balance the fruit, but if you don't want the added sugar (though it is only a bit), you could leave them out.
Overview
Combine the ingredients (except the chocolate) in a food processor and pulse until it forms almost a thick paste, but where you can still see individual bits of each of the separate ingredients. You might need to stop the processor a few times to scrape it down with a spatula.
Add your chocolate chunks or chips at the end and pulse just a couple of times so the chocolate doesn't melt.
Transfer the mixture to a square pan lined with wax paper or parchment paper. Press it down firmly. One trick is to use another pan of the same size and place it on top to press the mixture tightly into the pan.
Refrigerate until firm before cutting into squares.
These healthy energy bars will keep for several days at room temperature and a couple of weeks in the refrigerator.
How can kids help make energy bars?
They are so quick and easy that the kids can definitely help you make them. They can measure out the ingredients and dump them into the food processor.
I'd suggest an adult run the food processor until everything comes together in a ball and scrape down the sides as needed because the blades can be quite sharp.
Let the kids press it all down firmly in a pan and pop the no-bake energy bars in the refrigerator.
M a batch of these to bring along when you are in the car, at the park, anywhere on-the-go, because they are super portable, super tasty, but not super messy. Always a good thing when you are stuck in a car with two cranky kids.
So now that you've bought that big bag of chia seeds to make these Apricot Chia Bars, I know you are wondering…
What can I make with chia seeds?
What are more energy bar recipes?
No-Bake Apricot Chia Homemade Energy Bars Recipe
I hope you'll leave a comment and give it a FIVE STAR rating or share a photo on Pinterest!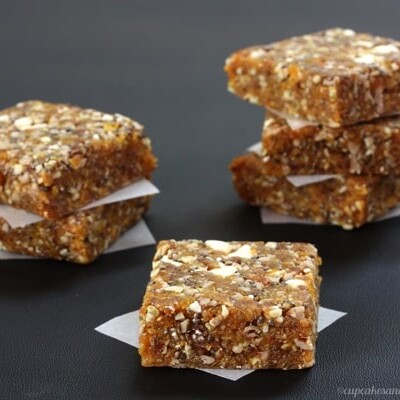 No-Bake Apricot Chia Energy Bars
It only takes minutes to make this sweet and chewy snack with just a bit of crunch. Perfectly portable, plus they are gluten free, vegan, and nut-free.
Instructions
Line a 8×8 or 9×9 square pan with wax or paper.

Place dates, apricots, chia seeds and cinnamon in a food processor, and process until the mixture forms a large mass.

Break up slightly with a spatula, add pepitas to the mixture in the food processor, and pulse until there are small chunks of pepitas.

Break up the mixture one more time, add white chocolate chips and pulse a few times to slightly break and distribute the chips.

Press the mixture into the prepared pan. You can cover the top with more paper and press an equal sized pan to roll the top with a glass to flatten completely.

Refrigerate for 30-45 minutes, then slice into bars or squares.
Nutrition Facts
No-Bake Apricot Chia Energy Bars
Amount Per Serving (1 bar)
Calories 84
Calories from Fat 27
% Daily Value*
Fat 3g5%
Sodium 3mg0%
Potassium 202mg6%
Carbohydrates 14g5%
Protein 2g4%
Vitamin A 305IU6%
Vitamin C 0.2mg0%
Calcium 25mg3%
Iron 0.8mg4%
* Percent Daily Values are based on a 2000 calorie diet.
Enjoy!
For more yumminess from me and my foodie friends, keep up with me on…
Or sign up to have Cupcakes & Kale Chips delivered straight to your Inbox!