This post may contain affiliate links. Read my disclosure policy.
Banana caramel cashew no-bake energy bars are the best healthy no-bake snacks for kids! You only need five ingredients and a few minutes to have a healthy, gluten-free snack stash in the fridge when you make these vegan-friendly Banana Caramel Cashew No-Bake Energy Bars.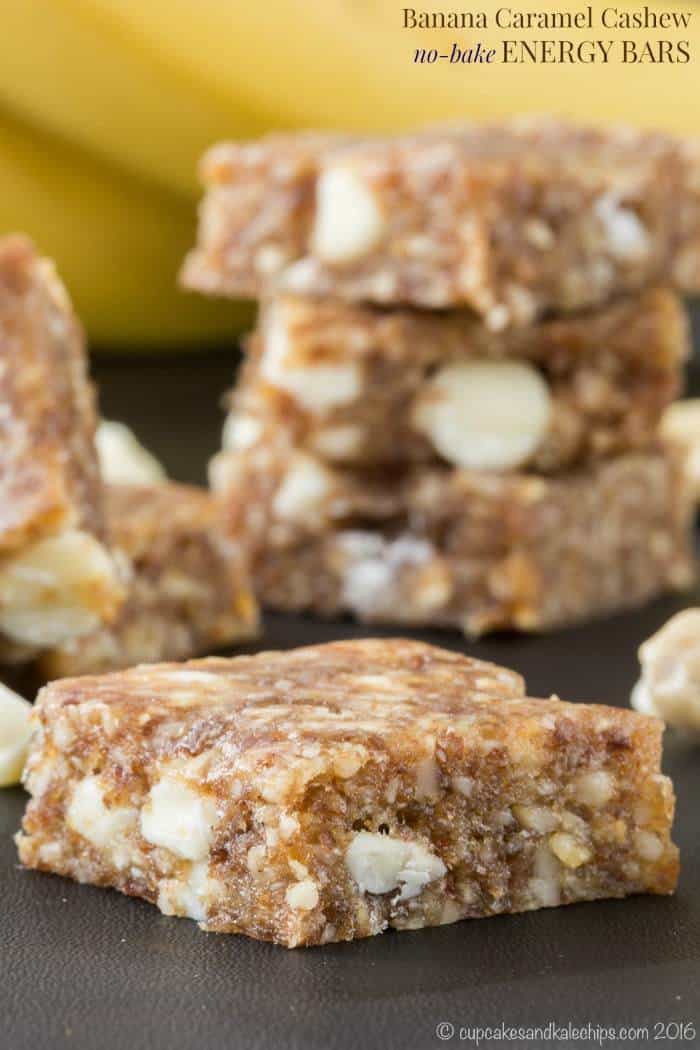 Remember last week when I said I would tell you a story about cashews in my Flourless Caramel Cashew Cheesecake Swirl Brownies post? No? Go ahead and refrsh your memory. I'll wait.
Well I'm sure I had you all hanging on the edge of your seat, so here is my super captivating story about cashews.
Back in my pharmaceutical outsourcing days, I ran a project that had me leading a team on a two-week trip through China and India visiting chemical manufacturing facilities. Exciting stuff, right?
My point exactly because at that time I should have already known life would lead me in a different direction since the most interesting and exciting part of the trip was the food I had the opportunity to try. Notice I said "opportunity to try". That was intentional, because there were some things I definitely was given the opportunity to try, but I did not seize that opportunity. Fish lip soup comes to mind. No, that's not a typo.
But I did have some interesting and amazing meals – traditional dim sum, this egg tomato thing that I wish I could recreate, some seriously tasty chicken and veggie dishes, and although traditionally American, the hotels we stayed at knew how to put out a breakfast buffet. Plus one of the best French meals I've had in my life in a high rise in Shanghai.
At one of the plants we visited in India, someone, perhaps it was even the CEO himself, mentioned that in addition to owning the chemical company, he also owned a cashew plantation. As a cashew-lover, I was totally intrigued. And hungry – you see, Indian food and my stomach (especially after over a week of travel, unusual foods, crazy schedules, and a course of prophylactic malaria medication) are not friends. I would have given anything for a handful or two of those cashews.
Well, the CEO, perhaps hoping it might get him some pharmaceutical manufacturing business, sent us off at the end of the day with each of our suitcases two pounds heavier from a giant bag of the biggest, most delicious cashews you've ever tasted. Let me tell you, I am so glad they made it through customs because I loved snacking on those tasty nuts, and was quite sad the day I took the last handful out of the bag.
I will probably never get cashews as fresh and amazing as those ever again, but if I do, I'm sure I'll just eat them straight up and save my regular store-bought, albeit quite yummy, cashews for these banana caramel cashew no-bake energy bars!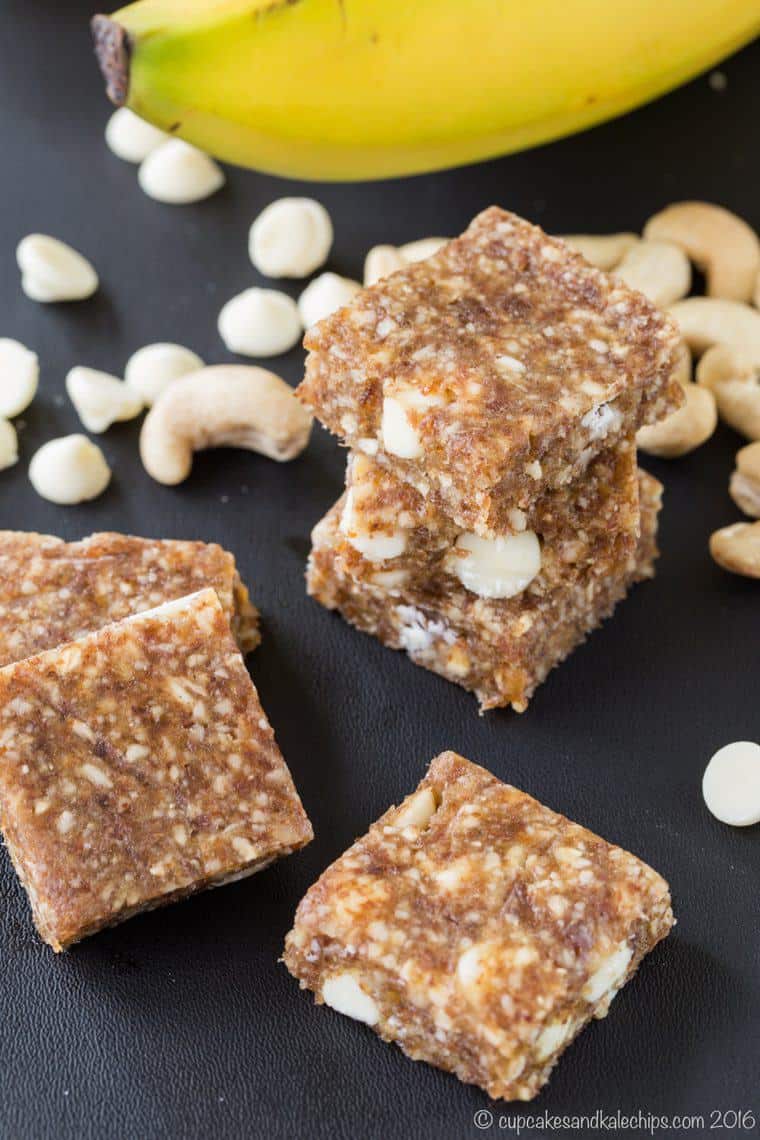 These Banana Caramel Cashew No-Bake Energy Bars are super simple to make and super sweet, but are made with nutritious CLEAN FOOD ingredients, like banana, dates, cashews, and flax seed. And the best part is, that's all that's in there! Well, I did toss in a few white chocolate chips, just for fun, but you can skip those if you want to. So where's the caramel? Well have you eaten dates, especially when they are pureed? They totally taste like caramel, especially with the creamy, buttery flavor of cashews and the sweetness of the ripe banana.
It's so easy to whip up a batch of these and keep them in the fridge to put into lunchboxes and take on road trips. The Bug has been devouring them!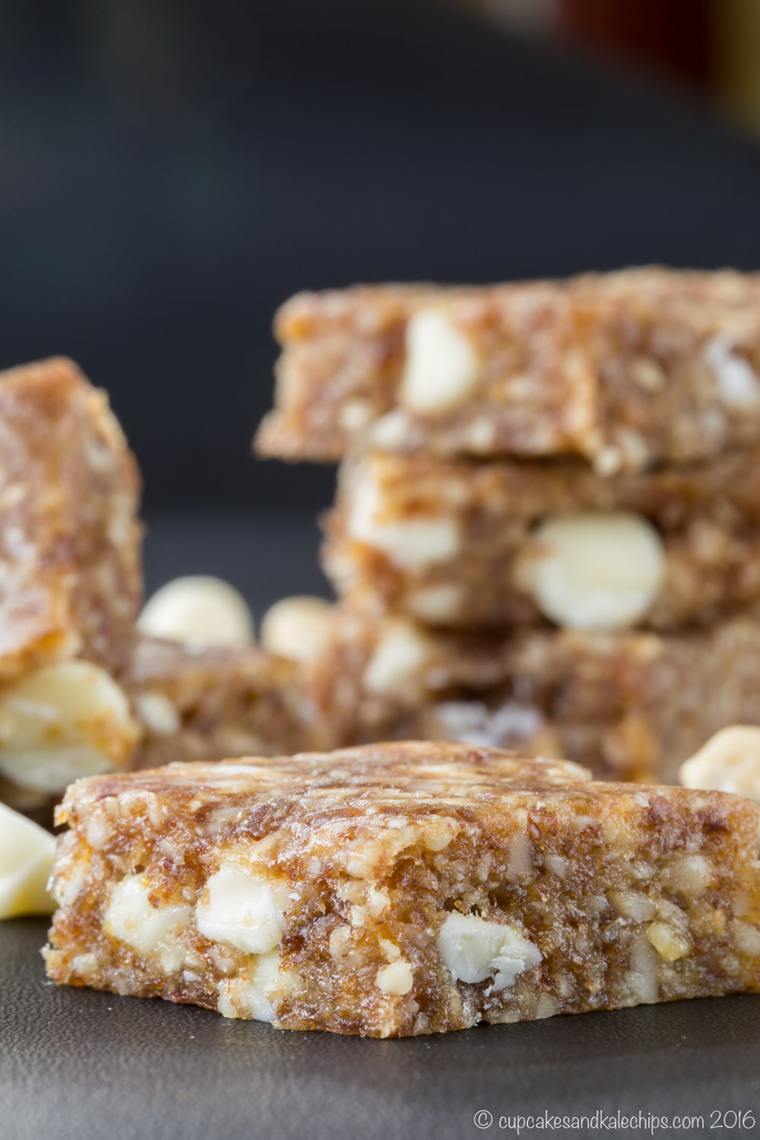 And I'm sure your kids will too! Here's a couple things you might need to make the Banana Caramel Cashew No-Bake Energy Bars: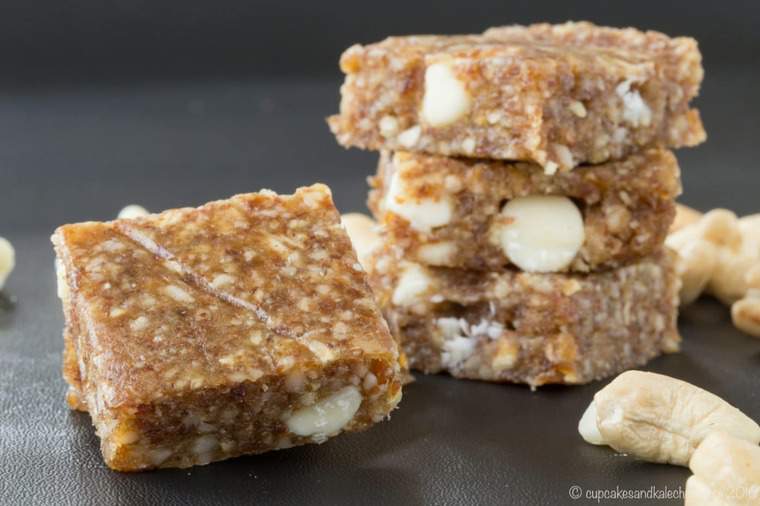 For more yumminess from me and my foodie friends, keep up with me on…
Or sign up to have Cupcakes & Kale Chips delivered straight to your Inbox!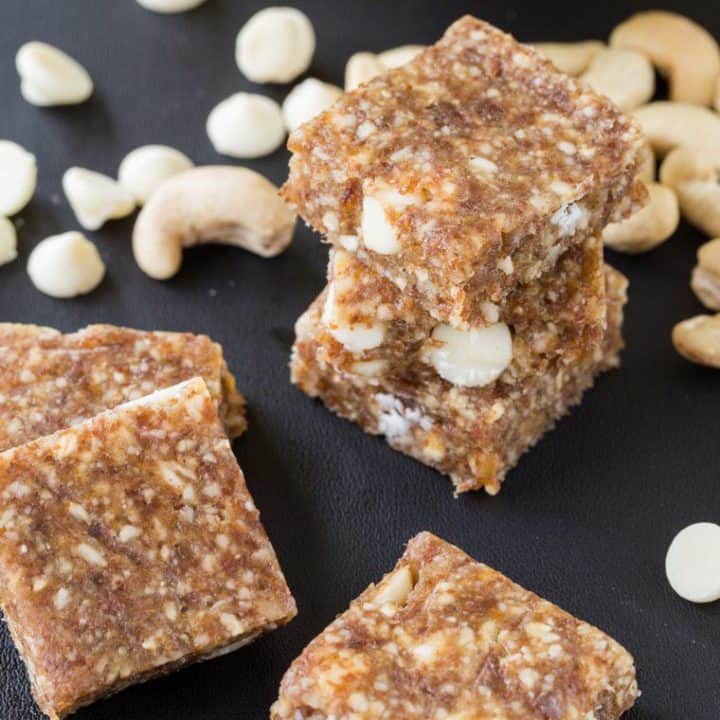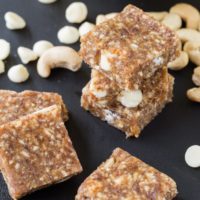 Banana Caramel Cashew No-Bake Energy Bars
There's only five ingredients in these chewy homemade energy bars! A healthy snack that's gluten free, grain free, and can be made vegan.
Instructions
Line an 8×8 inch square pan with wax or parchment paper.

Place all ingredients except chocolate chips in a high-powered blender (such as a Blendtec) or food processor, and process until the mixture forms a thick mass. you may need to break up with a spatula once or twice.

Break up the mixture with a spatula, add white chocolate chips and pulse a few times to distribute the chips, or simply stir in the chips.

Press the mixture into the prepared pan. You can cover the top with more paper and press an equal sized pan to roll the top with a glass to flatten completely.

Place in refrigerator for a few hour or overnight, until firm (the longer your store them, the more they firm up. Cut into squares and store in an airtight container in the refrigerator.
Nutrition Facts
Banana Caramel Cashew No-Bake Energy Bars
Amount Per Serving (1 bar)
Calories 101
Calories from Fat 45
% Daily Value*
Fat 5g8%
Sodium 4mg0%
Potassium 158mg5%
Carbohydrates 12g4%
Protein 2g4%
Vitamin A 15IU0%
Vitamin C 0.3mg0%
Calcium 21mg2%
Iron 0.8mg4%
* Percent Daily Values are based on a 2000 calorie diet.
Categories:
Enjoy this Banana Caramel Cashew No-Bake Energy Bars recipe!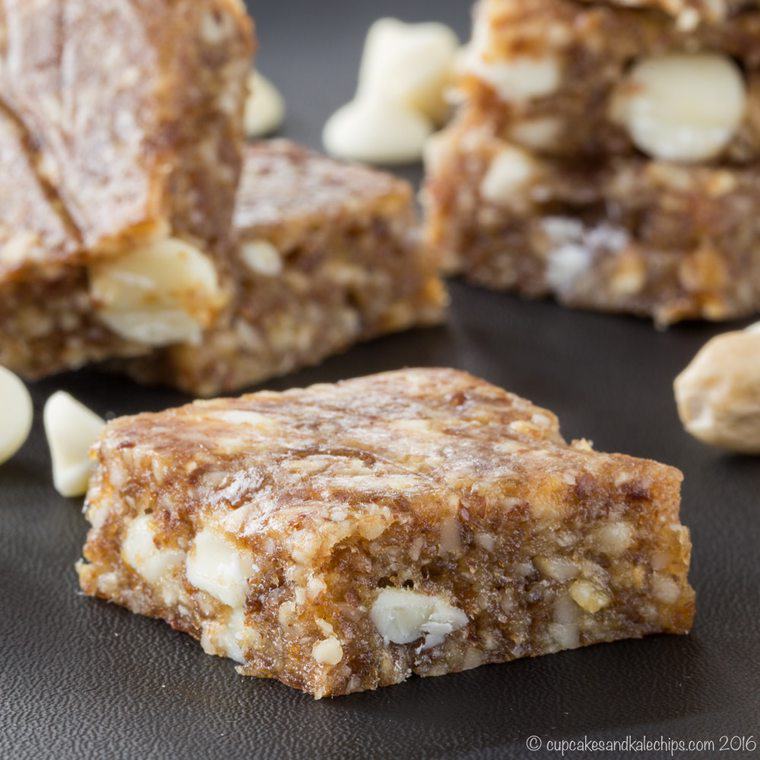 Want some more energy bars recipes?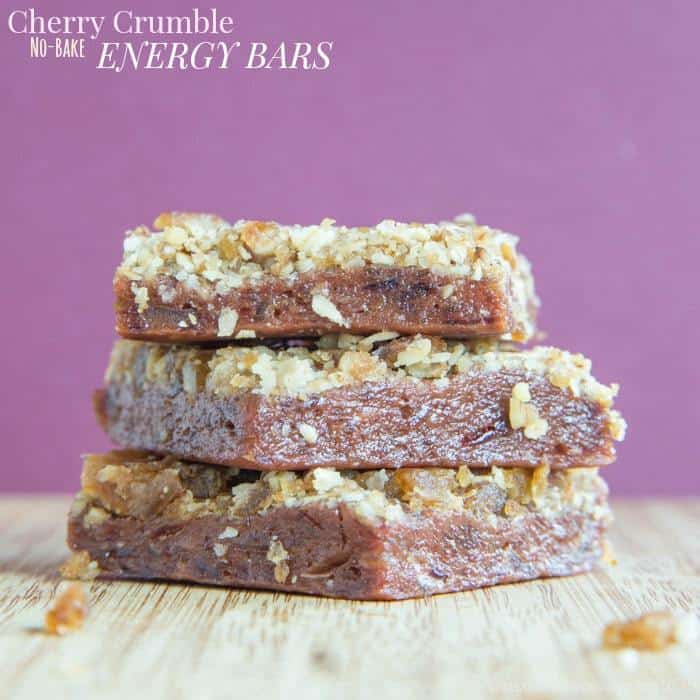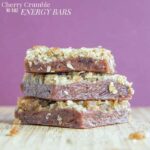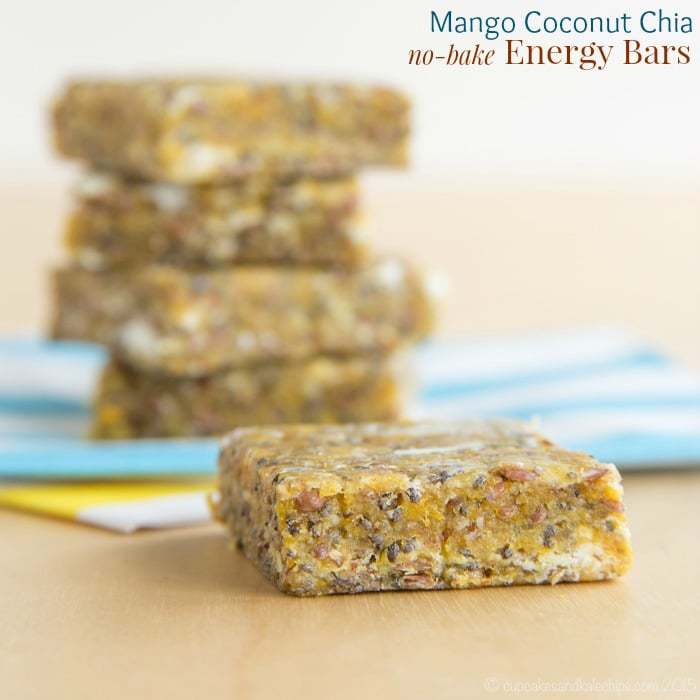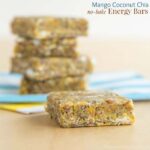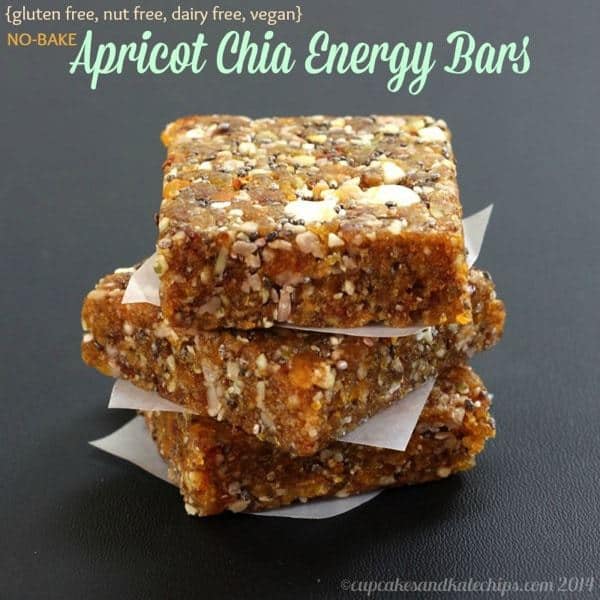 And here are some from my friends…