This post may contain affiliate links. Read my disclosure policy.
Cherry lime chia no-bake energy bars are sweet and zingy and loaded with superfood deliciousness! They're gluten free, nut free, and dairy-free/vegan, made in just a few minutes, and without turning on your stove or oven! These are healthy no-bake snacks, perfect for packing into lunch boxes or taking with you on the hiking trail.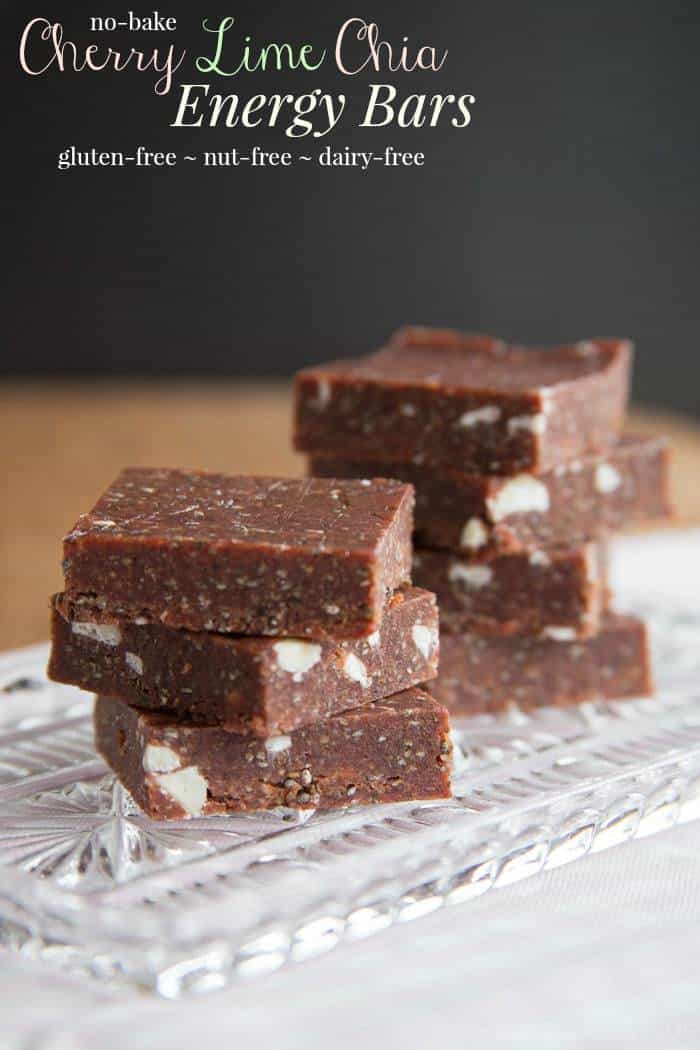 You all know I keep things real around here, so it's time for a little update for you. When I got involved with essential oils, I was honestly skeptical. But I was curious. As you know, I am a scientist, so I like to experiment, especially in recipes. Playing around with the Lemon Essential Oil to make this Lemon Meringue Pie Fudge was so much fun. And I've been making so many Chocolate Mint Smoothies (like, literally, every night) that even though I just use a couple of drops, my bottle of Peppermint Oil is nearly empty! And while so far I've only had the sample packs of Ningxia Red that I've been adding to my Black Forest and Chocolate Covered Berries Smoothies, I will be adding a bottle to my next order – it's so good and adds a bit of natural sweetness and antioxidants – yes, Young Living sells more than just essential oils! Plus I start each day with a glass of water with a bit of Lemon and Orange to give me and my metabolism a little kick start.
But as far as incorporating essential oils into my overall lifestyle, well, I've taken a much more "fly by the seat of my pants" approach. Some of my bloggy friends have been amazing in creating cleaning products, lotions, lip balms, and the like. I've been so busy lately that I don't really think ahead about what I'm going to need to clean or moisturize with. I just use what I can get my hands on. But I have been able to get my hands on these oils I have in my cabinet. So when shin splints starting flaring up as I am starting my 10K training, I've been reaching for the PanAway. And I mixed up some coconut oil with Lavender, Frankincense, and PanAway to help heal some dry, cracked heels (sorry – TMI, but I said I was being honest!).
And just last weekend when we had a houseful of guests and a sick baby cousin, grandpa with pinkeye, and I even woke up feeling a little off, I had to diffuse some Thieves to help keep the germs at bay. Plus it smelled good!
But no random, spur of the moment ideas with this cherry lime chia snack bar recipe. When I started to think about what I wanted to make with Lime Essential Oil, I knew just what I wanted to do…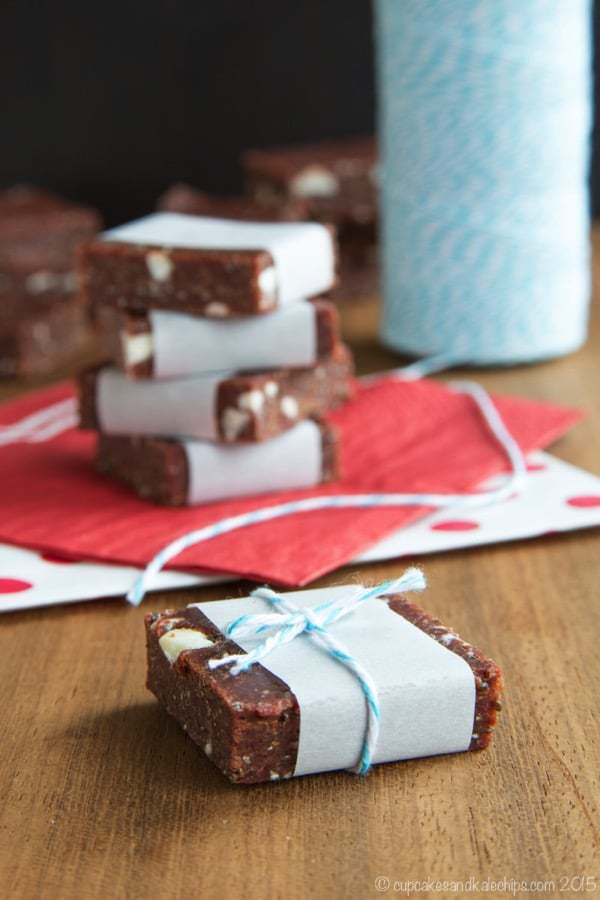 Energy bars!! Cherry Lime Chia No-Bake Energy Bars are definitely a healthy snack that my boys have been absolutely loving!
The dates and cherries makes them naturally super sweet with the tangy twist of lime and a bit of texture from the chia seeds. Just like my Apricot Chia Energy Bars, I really love chia in bars like this – they give a nice little crunch. Plus a wee bit of white chocolate never hurts! And pretty much anybody can enjoy these treats. Not only are they no-bake and super easy, but they are gluten free, grain free, vegan, and nut-free! Make up a bunch to bring to your kids ballgames!
And yes, that zip of lime I mentioned, it's my Young Living Lime Essential Oil…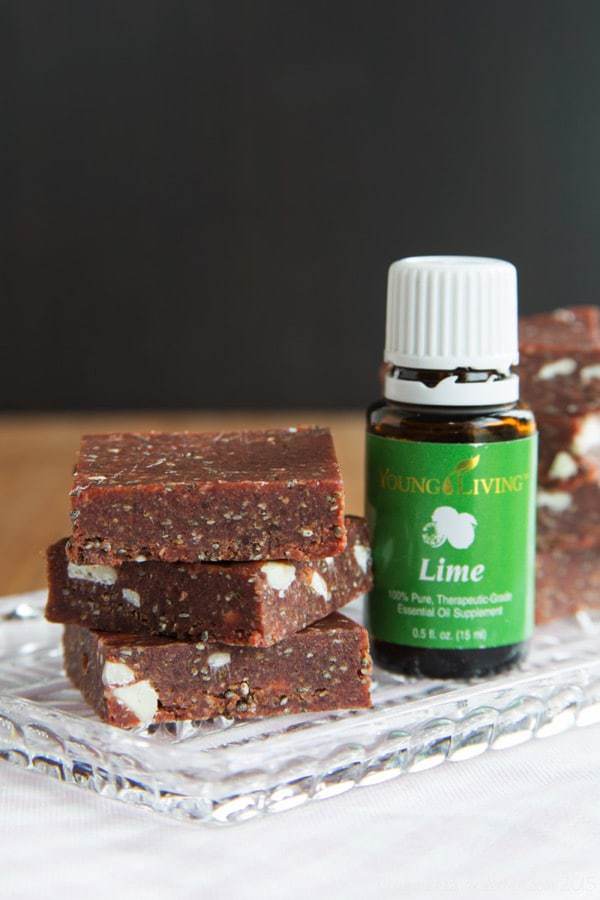 I'm telling you, it only takes a few drops to get tons of lime flavor. And it's so easy to just keep this little bottle in your cabinet versus worrying about whether you have fresh limes in your fridge should you get the sudden urge for a frosty limey beverage, some fresh salsa, or even some lime-flavored sweets, like cupcakes or cookies. No need to break out a whole mess of limes and a grater just to get a teensy little pile of zest. And then if you have a recipe that just calls for the zest, what do you do with the rest of the lime? I usually end up tossing it in the fridge till it gets all gnarly and dried out, and then I just throw it away. Such a waste. And way less work!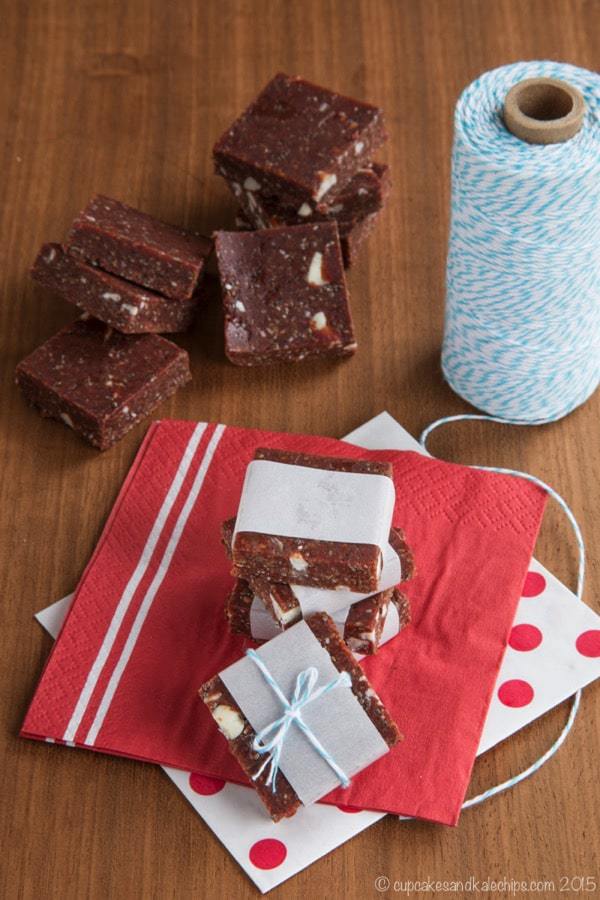 Want to see what else my friends have been whipping up in their kitchens for this month's edition of the Essential Oils Cooking Series? Check out these…
Coconut Lime Spritzer // Blackberry Lime Margaritas // Strawberry Limeade
Cherry Lime Chia Energy Bars // Strawberry Margarita Cheesecake // Creamy Lime Pie Bites
Margarita Crepe Cake //Edible Watermelon Bowl // Margarita Cookies
Southwestern Black Bean & Corn Salad  // Lime Cheesecake Shooters
Wow, these recipes look so perfect for SPRING! And I don't know about you, but those Margarita-inspired recipes have me planning for Cinco de Mayo! Meanwhile, I'm still thinking about 10K training and fueling my workouts (and my boys-in-perpetual-motion) with quick and easy no-bake snacks I can always keep on hand!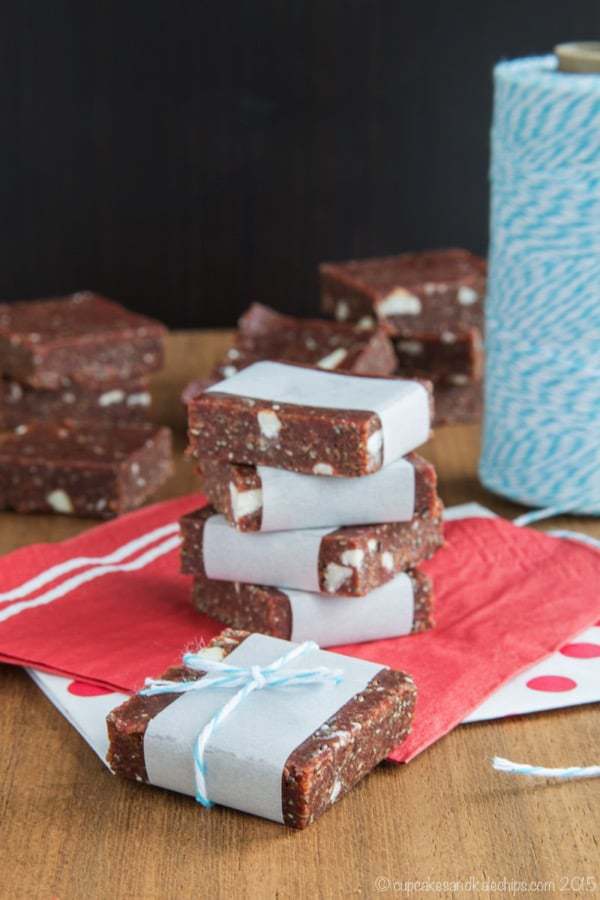 Disclaimer: These statements have not been evaluated by the Food and Drug Administration. This information is not intended to diagnose, treat, cure, or prevent any disease. The information on this site is not intended or implied to be a substitute for professional medical advice, diagnosis or treatment. Please confirm any information obtained from or through this web site with other sources, and review all information regarding any medical condition or treatment with your physician. Never disregard professional medical advice or delay seeking medical treatment because of something you have read on this website.
Not all essential oils are edible. Due to lack of purity, 98% of essential oils sold should NOT be ingested. An edible essential oil will be labeled "therapeutic-grade" and have a "Supplement Facts" box on the label showing the nutritional value – do NOT use just any brand of essential oil for cooking/flavoring foods. Be sure to use pure oils from reliable sources, not synthetic scents or flavorings.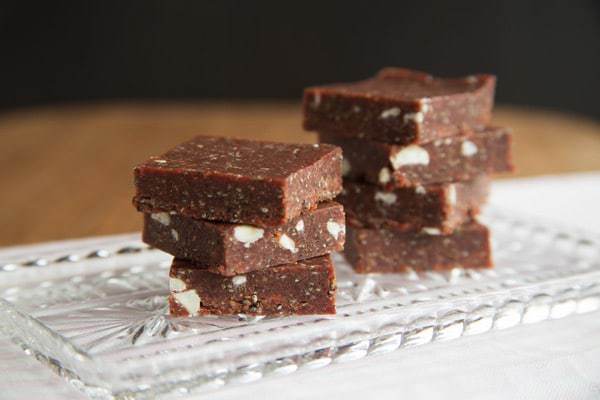 I made these in my Hamilton Beach Stack & Snap Food Processor.
Get Cupcakes & Kale Chips delivered to your Inbox! Every Friday you'll see all of the Yummy Eats & Tasty Sweets from the week. Sign up HERE.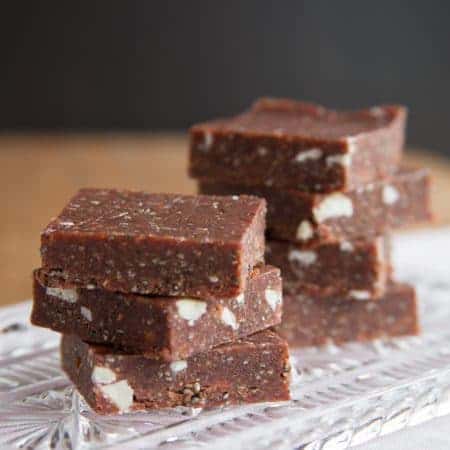 No-Bake Cherry Lime Chia Energy Bars
A super easy and healthy snack, perfect for busy days! Plus they are gluten free, grain free, nut free, vegan and dairy free!
Instructions
Line a 8x8 or 9x9 square pan with wax or paper.

Place dates, cherries, chia seeds coconut and lime oil or zest in a food processor, and process until the mixture forms a large mass, breaking up as needed with a spatula.

Break up the mixture one more time, add white chocolate chips and pulse a few times to slightly break and distribute the chips.

Press the mixture into the prepared pan. You can cover the top with more paper and press an equal sized pan to roll the top with a glass to flatten completely.

Refrigerate for 30-45 minutes, then slice into bars or squares.
Nutrition Facts
No-Bake Cherry Lime Chia Energy Bars
Amount Per Serving (1 bar)
Calories 121
Calories from Fat 36
% Daily Value*
Fat 4g6%
Sodium 6mg0%
Potassium 82mg2%
Carbohydrates 19g6%
Protein 2g4%
Vitamin A 540IU11%
Vitamin C 0.2mg0%
Calcium 44mg4%
Iron 0.7mg4%
* Percent Daily Values are based on a 2000 calorie diet.
Categories:
Here are a few more of my lime recipes, perfect for integrating Young Living Essential Oils…