This honey nut no-bake granola bars recipe is part of a sponsored post, written by me, on behalf of Jamba Juice for IZEA. All opinions are 100% mine.
You may be on-the-go, but you don't want to settle for a substandard snack. You still want healthy, fresh, and, of course, tasty. So stop by Jamba Juice to grab one of their Fresh Juice options to pair with a healthy no-bake snack you've packed to bring along with you, like these Honey Nut No-Bake Granola Bars.
Keep reading for your chance to win a Jamba Juice gift card! Giveaway has ended.

A few weeks ago, I thought it was a food blogger disaster when my camera started acting up on me. Well, that was nothing compared to what followed shortly thereafter. I had not one, but two laptops stop working. Back in October, my old one needed its logic board replaced. Since it was a few years old, I decided to get it fixed for the boys to use and so I would have a backup, and I got a new one. Well, apparently I have as much luck with logic boards as I do with plants. Meaning, I have no luck at all. So while the new laptop was in the computer hospital having a logic board transplant, I tried to use the backup…
Until the battery chose this exact moment to reach the end of its expected life span, rendering the laptop utterly useless. Awesome. A list of deadlines, two broken computers, and three trips to the mall in four days putting me way behind schedule, not to mention throwing a curveball to my normal eating habits with all of the running around I had to do.
Luckily there's a Jamba Juice in the Westfield Montgomery Mall in Bethesda, Maryland! With their line of Fresh Squeezed Juices, I knew I could get in some servings of fruit, and, if I chose, even some veggies too. There wasn't a Jamba Juice nearby where I lived in New Jersey, so I wasn't super familiar with the menu. Luckily the manager Danielle was super sweet and helpful. One of her favorites is the Tropical Kick-Start, which takes your usual orange juice on a tropical vacation! She loves the sweetness of the mangoes.`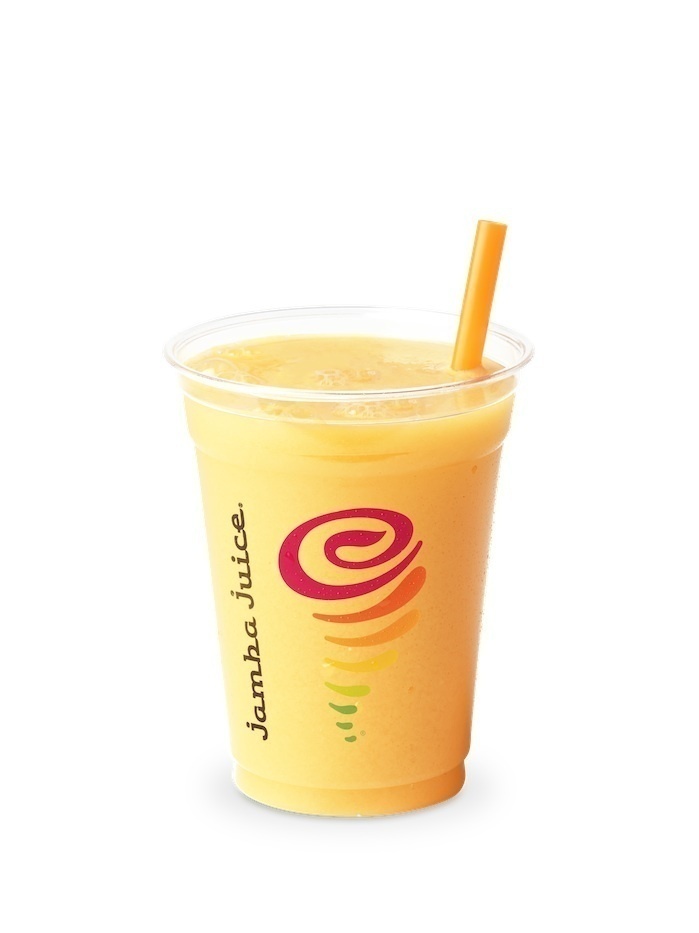 Her other favorite is the Orange Berry Antioxidant, which she told me is slightly more tart because of the orange and double berry blend. This is the one I chose, because with all of the crazy winter germs floating around, I can use all of the antioxidants I can get! My flu buster vegetable soup works well too, but I won't ever turn away delicious healthy drinks!
I loved that all of the fresh ingredients were right there sitting in front of me. I saw every ingredient go into the blender, and the best part is that all that went in was fresh fruit and fresh juice. Nothing else. Well, unless you choose something like the Tropical Greens or Garden Medley, where you get s superfood kick of greens and chia seeds.
And since I always pack snacks, I had the perfect thing to pair with my Orange Berry Antioxidant juice…
Honey Nut No-Bake Granola Bars are so easy to prepare, and packed with whole grains and protein, plus they are gluten free and dairy free.
They literally take minutes to make! Once I cut and wrapped up the squares, they were super portable, and oh so yummy, with their naturally sweet and salty, deliciously nutty flavor. And totally satisfying.
I cut them a little bigger for the sake of the photos, but at this size, they are super filling. So you could definitely make them a bit smaller. And even better, there's not a lot of extra sugar and other crazy stuff…
Just like a Fresh Juice from Jamba Juice! It was so delicious and refreshing, and definitely gave me a little pep in my step after the frustrations of my past several days! And paired with my Honey Nut No-Bake Granola Bars, it was a totally satisfying snack!
Do you want to try one of the Jamba Juice Fresh Squeezed Juices? You can Find Your Closest Store, and tell me which of the Fresh Squeezed Juices you would want to try for a chance to win a Jamba Juice gift card! You have until 11:59 pm on Friday, February 27th to enter! Open to U.S. Residents 18 and over.

Giveaway has ended.

Honey Nut No-Bake Granola Bars
12-18
adjust servings
A crunchy, chewy, nutty snack that takes minutes to make.
Ingredients
1

cup pitted dates

1 1/4

cups crisp brown rice cereal

1

cup uncooked quick-cooking oats

2

tablespoons almond meal and/or ground flaxseed (I used a tablespoon of each)

1/4

cup chopped walnuts, toasted

1/4

cup chopped pecans, toasted

1/3

cup honey

1/2

cup peanut butter

pinch salt

1/2

teaspoon ground cinnamon

1

teaspoon vanilla extract
Instructions
Line an 8x8-inch pan with plastic wrap or parchment paper
Place the dates in a food processor and pulse until finely chopped.
In a large bowl, toss together the dates, cereal, oats, almond meal and/or flaxseed, walnuts, and pecans. Set aside
Combine the honey and peanut butter in a small microwave-safe bowl and microwave for 30 second to one minute stirring every 15-20 seconds until melted and smooth. Or combine in a saucepan over medium heat, stirring until melted and smooth.
Remove from heat and stir in the salt, cinnamon, and vanilla extract.
Pour the peanut butter mixture over the oat mixture and stir until thoroughly coated and combined.
Transfer the mixture into the prepared pan and press firmly into the pan.
Let cool completely to room temperature, at least one hour.
Cut into bars and store in an airtight container. Refrigerate for longer storage.