This post may contain affiliate links. Read my disclosure policy.
A Cherry Almond Butter Smoothie is the perfect healthy, protein-packed breakfast or snack. This easy green smoothie recipe is also made with a hint of vanilla to enhance the sweet flavor plus almond milk to get a double dose of delicious nutty flavor.
Disclaimer: Blendtec provided me with a Blendtec 725 blender and Twister Jar to use and review, as well as one to give away to a reader. As always, all opinions are my own.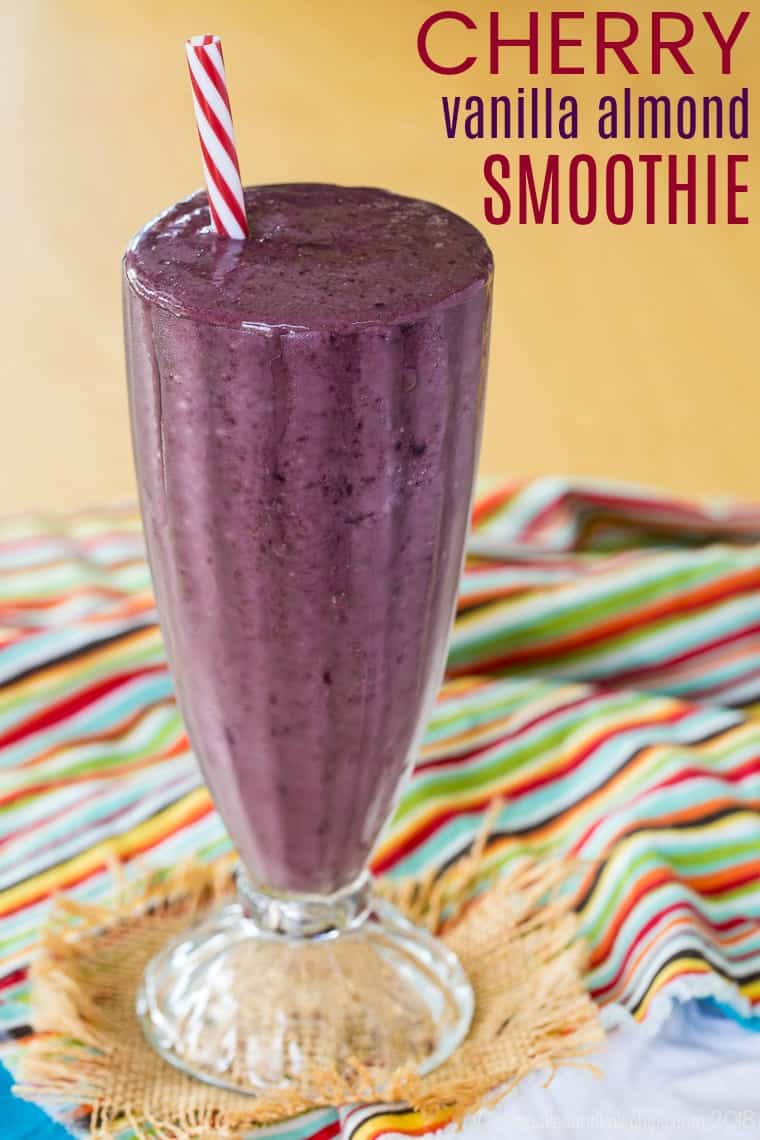 Originally published on Jun 14, 2015
I don't do well with change. Moving from the place where you've lived the entire 35 years of you live to a completely different state was a pretty major change. But I don't even like the small ones.
I keep clothes forever because they are comfortable and I know what goes with what. I tend to eat the same things over and over for breakfast and lunch. Heck, I even put away the dishes in the same order. What can I say? I'm a creature of habit.
So even when this amazing new Blendtec 725 came into my life, I felt our relationship was a bit rocky at first. With my old blender, I had the perfect formula for my ideal smoothie, just like this Maple Cinnamon Blueberry Smoothie. But when I tossed all of my usual ingredients in, hit the "Smoothie" button and let her rip, it was entirely to thin. It was not the thick, creamy almond milk smoothies I love.
Nevertheless, I persevered…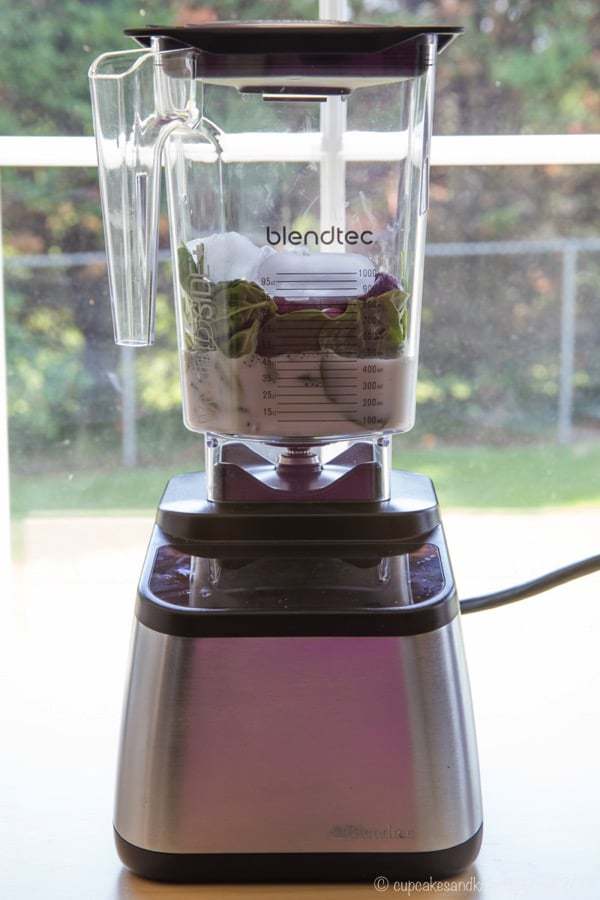 Cherry Almond Butter Smoothie Recipe
With a little experimentation, I perfected my smoothie recipe and technique. And now this cherry smoothie is one of my favorite smoothie recipes The key? Just stop the Blendtec before it reaches the end of the Smoothie cycle.
Well, there are a few other things.
How do you make a Cherry Vanilla Almond Smoothie?
First, add the following ingredients to your blender in the exact order listed below. This will ensure that the greens get completely pulverized, so you aren't chewing on bits while you sip your smoothie. And it doesn't get too thin because all of the other ingredients get blended before it starts to completely pulverize the frozen fruit and ice cubes.
Spinach or other dark leafy greens – some people opt for kale, but I prefer baby spinach as it is milder in taste and smoother in texture.
Milk – I prefer to use unsweetened vanilla almond milk.
Cottage cheese or plain Greek yogurt – cottage cheese actually blends completely smooth and thick, and the bit of salt enhances the sweetness of the fruit and the nuttiness of the almond butter. It also packs a protein punch like the usual Greek yogurt.
Chia seeds and/or protein/collagen powder – I used to use chia seeds primarily for thickening, but I've started opting for collagen powder lately to add extra protein and even a bit more creaminess.
Almond butter – an easy way to get that almond flavor without grittiness from using almonds, which you would have to blend so long that you'd end up with a watery smoothie. Plus, you only need a teaspoon to still get enough nutty flavor.
Vanilla extract
Salt – just a pinch, just trust me.
Frozen cherries
Ice Cubes – you will need to experiment based on the size of your ice cubes and how thick you like your smoothies. Typically it's about 3-5 ice cubes.
Sweetener – Stevia, honey, or your preferred sweetener, to taste, depending on how sweet your cherries are.
Then just blend until smooth. If using a Blendtec, I recommend stopping the blender with about 15-20 seconds left on the Smoothie cycle. For a traditional blender, you may need to start by pulsing to break down the ingredients before letting it run.
This Cherry Almond Butter Smoothie is so good that I think I went about eight months where I had one every day. Though occasionally I did swap the cherries for blueberries to make an Almond Blueberry Smoothie.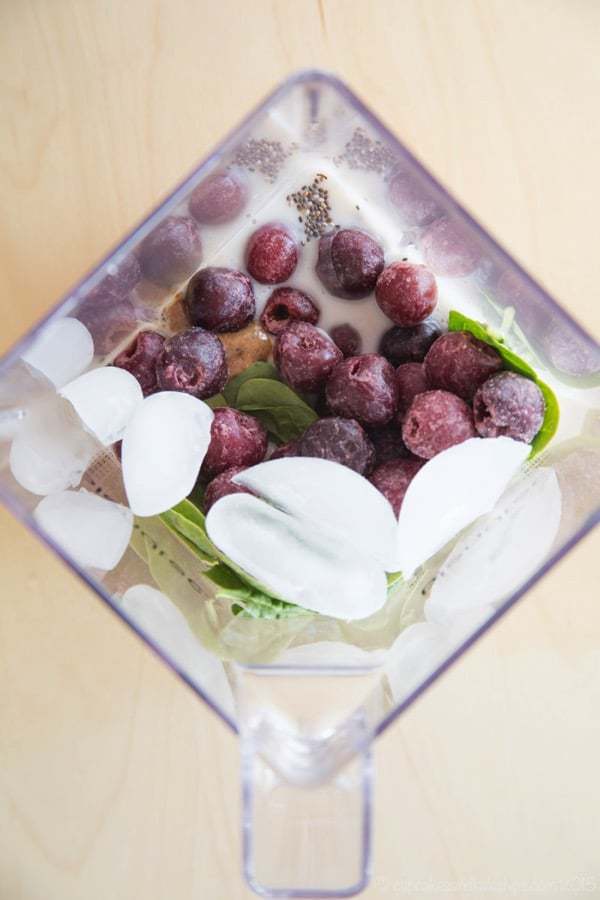 How do you freeze cherries for smoothies?
I'll be honest, most of the time I make this cherry smoothie with frozen cherries I buy in a bag at Costco. It definitely makes life easy since the cherries are already pitted. But if you can get your hands on some fresh cherries at a good price when they are in season, freezing them is a great way to save money and preserve the amazing fruit.
Line a baking sheet with wax paper so you can easily remove the cherries later.
Wash and dry your cherries thoroughly.
Remove the stems.
Remove the pits from the cherries. I don't buy a lot of single-use gadgets, but for a large number of cherries, a Cherry Pitter is a lifesaver. I have a single cherry pitter, but now there are some that do six at a time.
Spread the cherries in a single layer on the baking sheet. It's best if they aren't touching so they can freeze more thoroughly and not stick together.
Place in the freezer until frozen solid, which will take at least several hours, though it's probably best to leave them overnight.
Transfer the frozen berries to a resealable plastic freezer storage bag.
Label and store the bag in the freezer, removing as needed to make smoothies.
Are frozen cherries good for you?
Since cherries and other fruits are typically frozen at their peak of ripeness, it preserves all of their nutritional benefits.
They are low in calories.
Plus they are high in fiber, which is good for gut and heart health.
They are a good source of antioxidants.
Cherries reduce inflammation.
And they are a great source of potassium.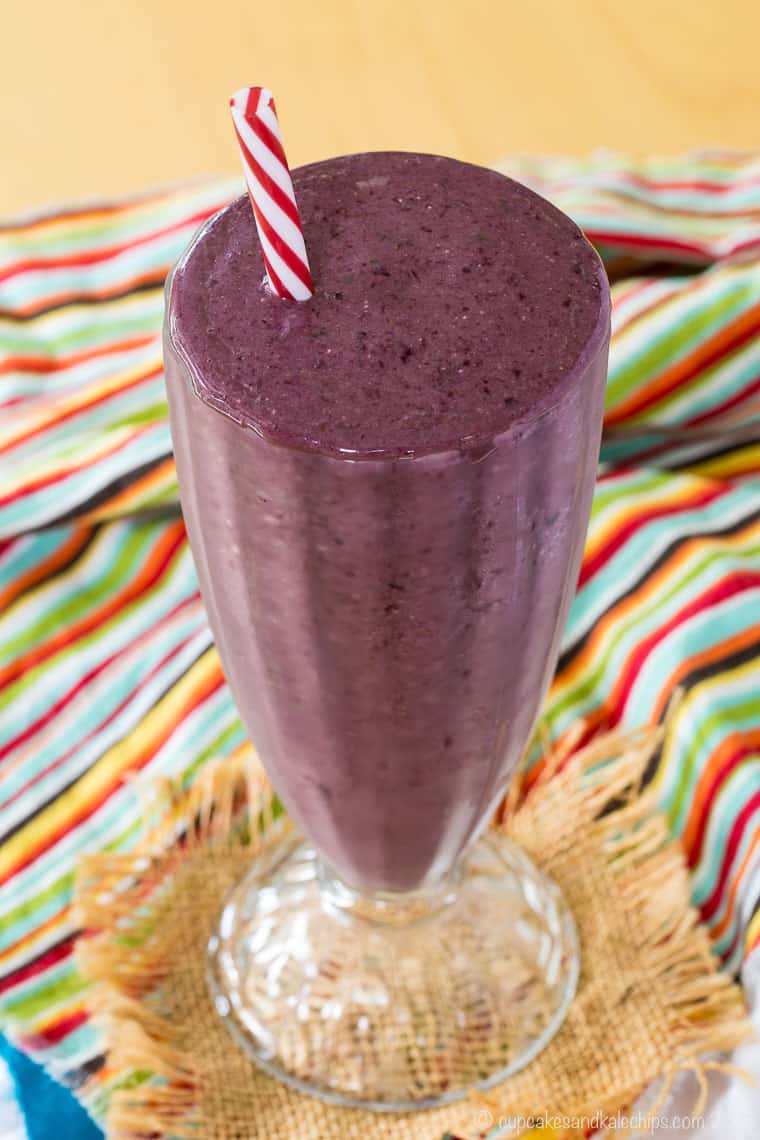 For more yumminess from me and my foodie friends, keep up with me on…
Or sign up to have Cupcakes & Kale Chips delivered straight to your Inbox!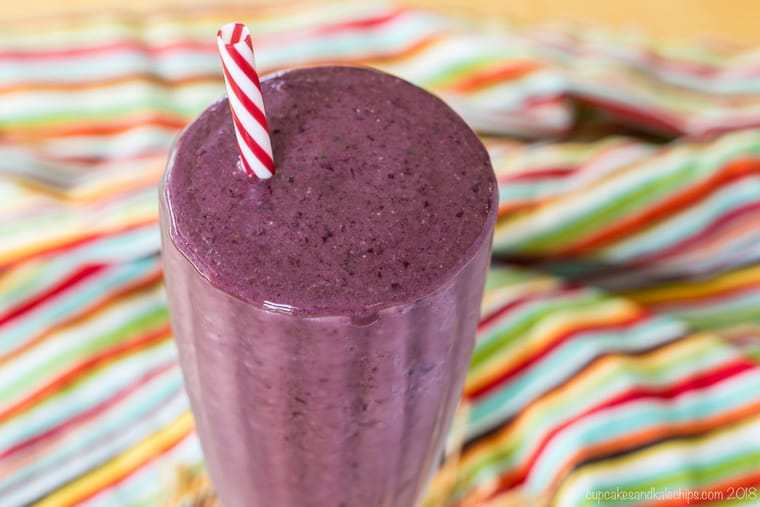 What can you do with frozen cherries?
Love the nutty flavor of almond butter in this smoothie? Try these almond butter recipes…
Cherry Vanilla Almond Milk Smoothie Recipe
Just a bit of almond butter and vanilla extract gives it a ton of flavor that just complements the fruit. Plus it adds a richness without a ton of calories. And with all of the protein, this cherry smoothie recipe will definitely be a satisfying breakfast or snack.
I hope you'll leave a comment and give it a FIVE STAR rating or share a photo on Pinterest!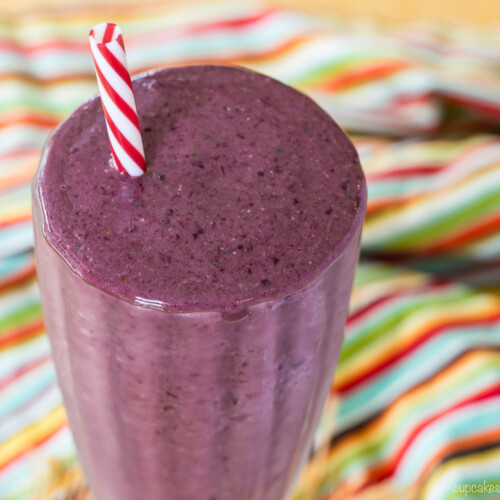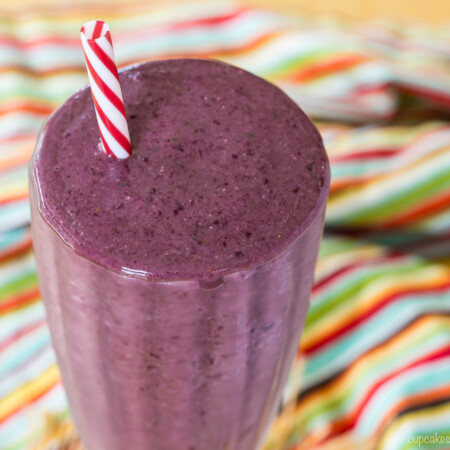 Cherry Vanilla Almond Smoothie
This sweet, creamy and refreshing green smoothie makes a healthy and protein-packed breakfast or snack.
Ingredients
1/2

cup

baby spinach

1

cup

milk

I use unsweetened almond milk

1/2

cup

cottage cheese

or plain Greek yogurt

1

teaspoon

chia seeds

and/or 1 scoop protein powder or collagen powder

1

teaspoon

almond butter

1

teaspoon

vanilla extract

tiny pinch salt

1

cup

frozen cherries

3-5

ice cubes

based on desired texture

honey,

sugar, stevia, or desired sweetener, if needed to taste
Instructions
Place the ingredients in your blender in the order listed.

Use the Smoothie cycle, or pulse a few times then slowly increase to maximum speed, stopping once desired texture is achieved.
Nutrition Facts
Cherry Vanilla Almond Smoothie
Amount Per Serving (1 g)
Calories 268
Calories from Fat 72
% Daily Value*
Fat 8g12%
Cholesterol 4mg1%
Sodium 799mg33%
Potassium 524mg15%
Carbohydrates 29g10%
Protein 18g36%
Vitamin A 1495IU30%
Vitamin C 13.9mg17%
Calcium 444mg44%
Iron 1.2mg7%
* Percent Daily Values are based on a 2000 calorie diet.
Categories:
Enjoy!