Cherry Vanilla Almond Smoothie
Disclosure: This post may contain affiliate links. Cupcakes & Kale Chips is a participant in the Amazon Services LLC Associates Program, an affiliate advertising program designed to provide a means for us to earn fees by linking to Amazon.com and affiliated sites.
Refreshing and flavorful, everyday for a healthy and protein-packed breakfast or snack I enjoy a sweet and yummy Cherry Vanilla Almond Smoothie.
Cherry Vanilla Almond Smoothie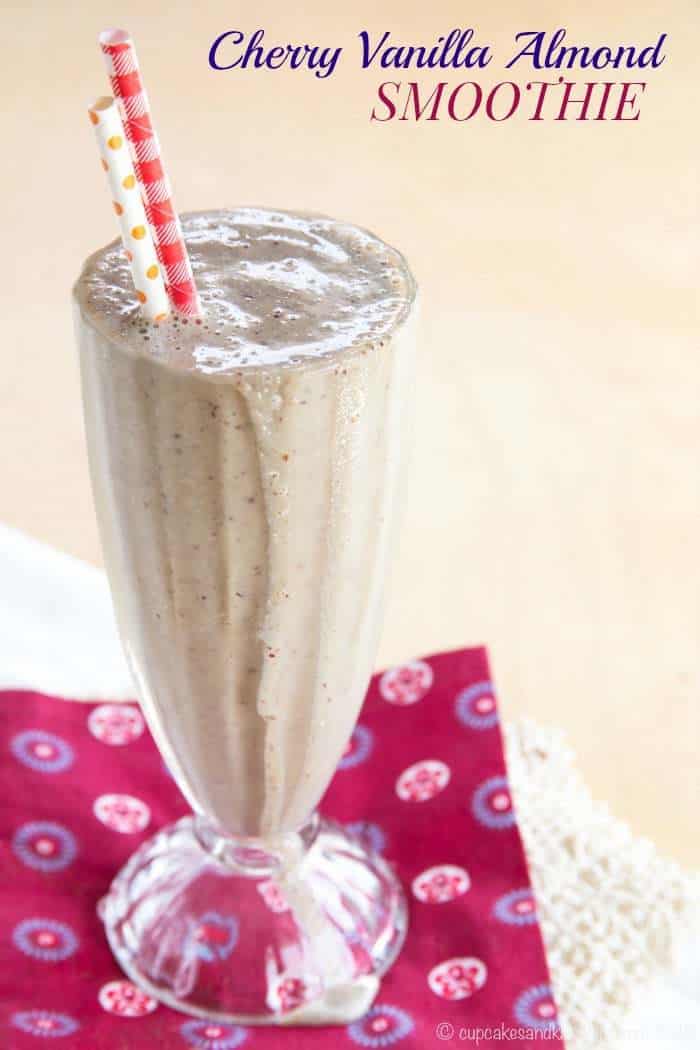 Disclaimer: Blendtec provided me with a Blendtec 725 blender and Twister Jar to use and review, as well as one to give away to a reader. As always, all opinions are my own.
I don't do well with change. You've probably figured that out if you've been reading along at any point during the last year through our whole moving process. Now moving from the place where you've lived the entire 35 years of you live to a completely different state is a pretty major change, but I don't even like the small ones. I keep clothes forever because they are comfortable and I know what goes with what. I eat the same things over and over for breakfast and lunch (though I do change up dinner) because I know what I like and what my tummy likes. I put away the dishes in the same order. What can I say, I'm a creature of habit.

MY LATEST VIDEOS
Well recently something new came into my life.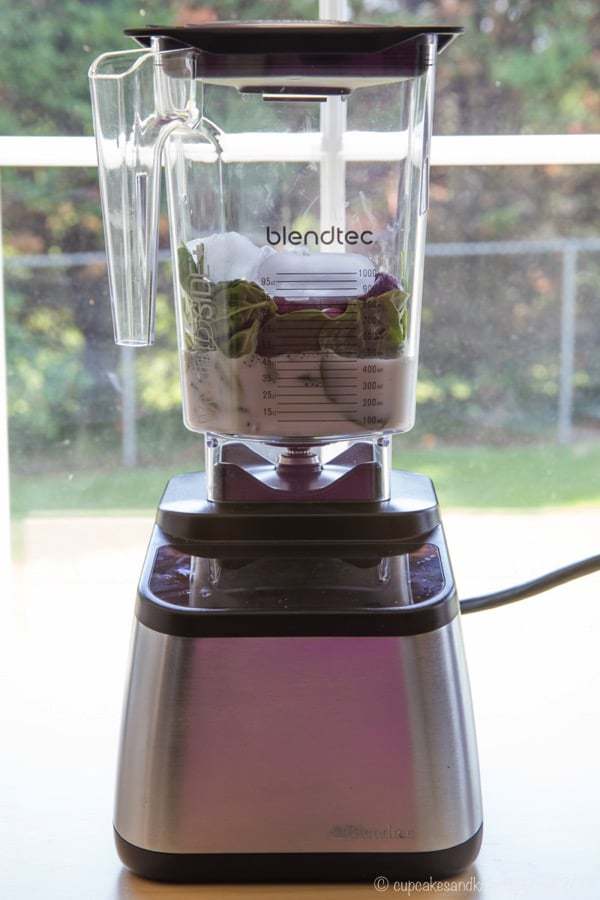 Yes, you guys, I am the proud owner of a Blendtec 725 and Twister Jar. I have to be honest, our relationship was a bit rocky at first. I'd been using my old blender for years. I knew the right ratios and speeds and techniques to achieve my perfect smoothie – slightly thick and super cold and a bit frothy. So I ripped open the box tossed all of my usual ingredients in, hit the "Smoothie" button, and let her rip. With eager anticipation I took off the lid and began to pour, and what I had was basically a berry milk, not the healthier alternative to a milkshake that I'm usually looking for. So I tried again in the Twister jar, thinking that would be a better size container for my single serving smoothie. Same result. I couldn't believe it. I'd been waiting for ages to have a Blendtec of my very own, and I was disappointed. I actually left my old blender on my counter, because I thought I might not be able to fully commit to her replacement. Sure, I figured I'd find some uses for the new gal, but I thought I'd just keep making smoothies in my old faithful.
But I decided to reach out to my friends. Some said they like thin smoothies, so if that's you, then you are good to go. Just follow any of my smoothie recipes or your favorite, hit that magic button, and there you go. Other gave me some other tips. Obvious ones, like reduce the liquid or add more ice obviously work, but, again being the resistant-to-change-type that I am, I like how my usual amounts of ingredients perfectly fill my favorite smoothie cup and my belly, and of course adding more ice dilutes the perfectly balanced flavor I've achieved. And who wants a watered down smoothie. So I tried freezing my almond or cashew milk and replacing a quarter cup of the milk with a quarter cup of milk cubes, but keeping the amounts of everything else the same. That worked, but required way too much forethought.
I still wasn't sure about this until I went to my mom's for a weekend. She has the same blender I previously used and I remembered what I did NOT love about the old one. To make those nice, thick smoothies, I had to pulse and stop and stir and start again and pulse again and press everything down, then give it its final blend with whip it all up. Ten minutes later there I was, chewing my smoothie because there were still berry seeds and bit of spinach. Bleh! I was suddenly reminded that although I wanted thick, I also wanted smooth.
So I perservered.
And now, I am totally on Team Blendtec! I big fat puffy heart this thing. In fact, I have officially retired the old girl. She no longer sits on my counter. You know that's huge for me.
The key for my smoothies – add a teaspoon of chia seeds and turn it off with about 13 seconds remaining on the Smoothie cycle. No, not ten, not fifteen. Thirteen seconds.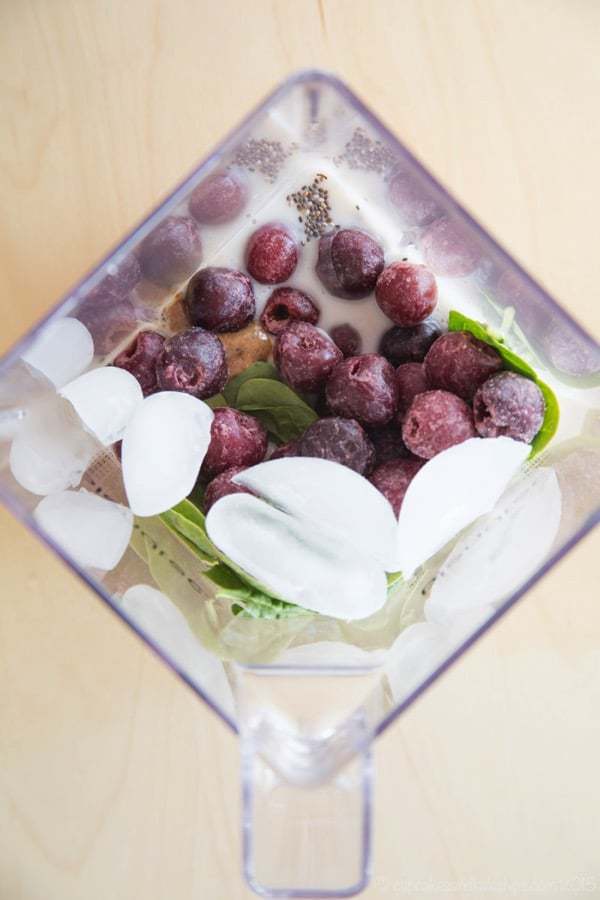 Smoothie perfection! To make it slightly thicker and frostier, toss it into the freezer to chill and to allow the chia seeds to work their thickening magic even more while you clean the blender. And I've done this in both my Wildside jar and my Twister jar. If you use the Twister jar it'll be pretty full, so just make sure you put the lid on super tight. Don't ask how I know this. But I actually prefer to make these single serving smoothies in the Twister jar. And then just stick my straw right through the hole in the lid.
Don't judge.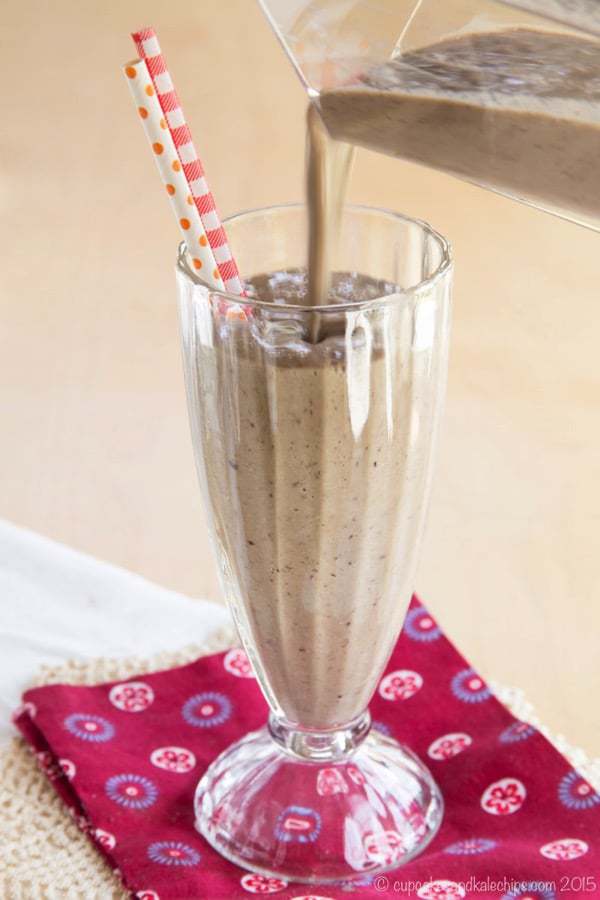 And this, my friends, despite it's murky-colored appearance, is my super duper (current) favorite – my Cherry Vanilla Almond Smoothie. With cherries coming into season, you can certainly throw some fresh ones in the freezer, but all winter I've been picking up big bags of frozen cherries at Costco. Recently they seem to have changed brands and while this smoothie used to be a pretty purply-pink, even when I tossed in a handful or two of spinach, now it's kinda brownish. Smoothies with the new brand of cherries still taste just as good, but it's not as pretty. As I always say, I prefer cottage cheese in my smoothies versus Greek yogurt to totally amp up the creamy factor, but that's your call. And just a bit of almond butter and vanilla extract gives it a ton of flavor that just complements the cherries and adds a richness without a ton of calories. No kidding you guys, this is a daily occurrence in my Blendtec, though occasionally I will swap out the cherries for blueberries. Just sayin'.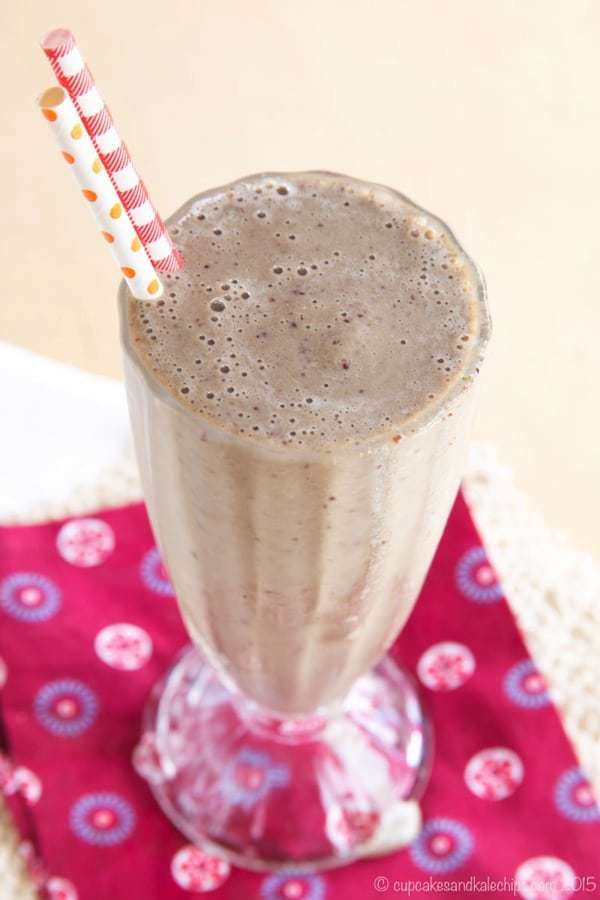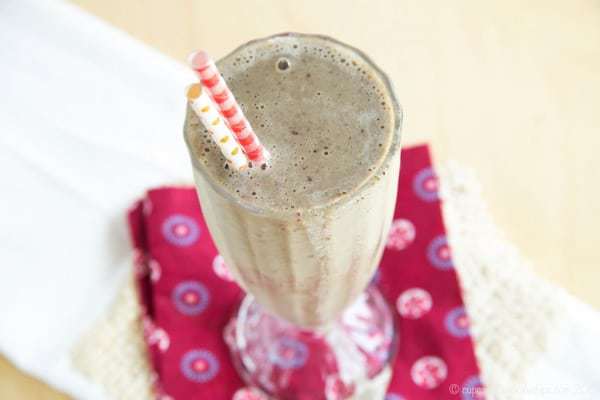 Do you like thick or thin smoothies?
Get Cupcakes & Kale Chips delivered to your Inbox! Every Friday you'll see all of the Yummy Eats & Tasty Sweets from the week. Sign up HERE.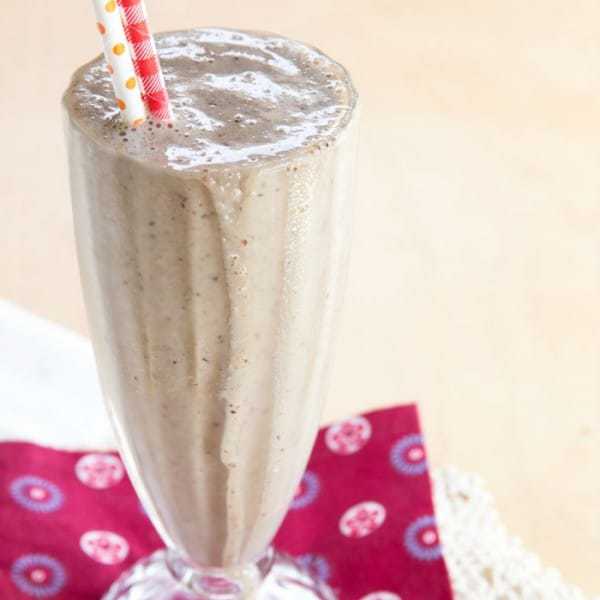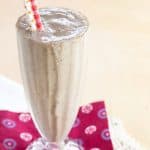 Print Recipe
Cherry Vanilla Almond Smoothie
This sweet, creamy and refreshing green smoothie makes a healthy and protein-packed breakfast or snack.
Ingredients
1

cup

milk

I use unsweetened almond milk

1/2

cup

cottage cheese

or plain Greek yogurt

1/2

cup

baby spinach

1

teaspoon

chia seeds

1

teaspoon

almond butter

1

teaspoon

vanilla extract

tiny pinch salt

1

cup

frozen cherries

3-5

ice cubes

based on desired texture

honey

sugar, stevia, or desired sweetener, if needed to taste
Instructions
Place the ingredients in your Blendtec or other blender in the order listed.

Use the Smoothie cycle, or pulse a few times then slowly increase to maximum speed, stopping once desired texture is achieved.
Nutrition
Serving:
1
g
|
Calories:
268
kcal
|
Carbohydrates:
29
g
|
Protein:
18
g
|
Fat:
8
g
|
Saturated Fat:
1
g
|
Cholesterol:
4
mg
|
Sodium:
799
mg
|
Potassium:
524
mg
|
Fiber:
5
g
|
Sugar:
21
g
|
Vitamin A:
29.9
%
|
Vitamin C:
16.8
%
|
Calcium:
44.4
%
|
Iron:
6.7
%
Here are more of my favorite smoothie recipes that I've made in my Blendtec (just add the chia seeds!)…
And a few from my friends…
And my Smoothie boards…
Follow Brianne @ Cupcakes & Kale Chips's board Smoothies, Shakes & Frappes Inspiration on Pinterest. Follow Brianne @ Cupcakes & Kale Chips's board Drinks & Smoothies from Cupcakes & Kale Chips on Pinterest.