This post may contain affiliate links. Read my disclosure policy.
Chocolate Chip Granola Bars are anything but basic when you add peanut butter and banana. This trifecta of flavors is always a kid-approved favorite. But this easy granola bar recipe is a mom-approved healthy snack too. Made with only 9 ingredients and naturally gluten free, every little monkey will love to find Banana Chocolate Chip Peanut Butter Granola Bars in their lunchbox or as an after school snack.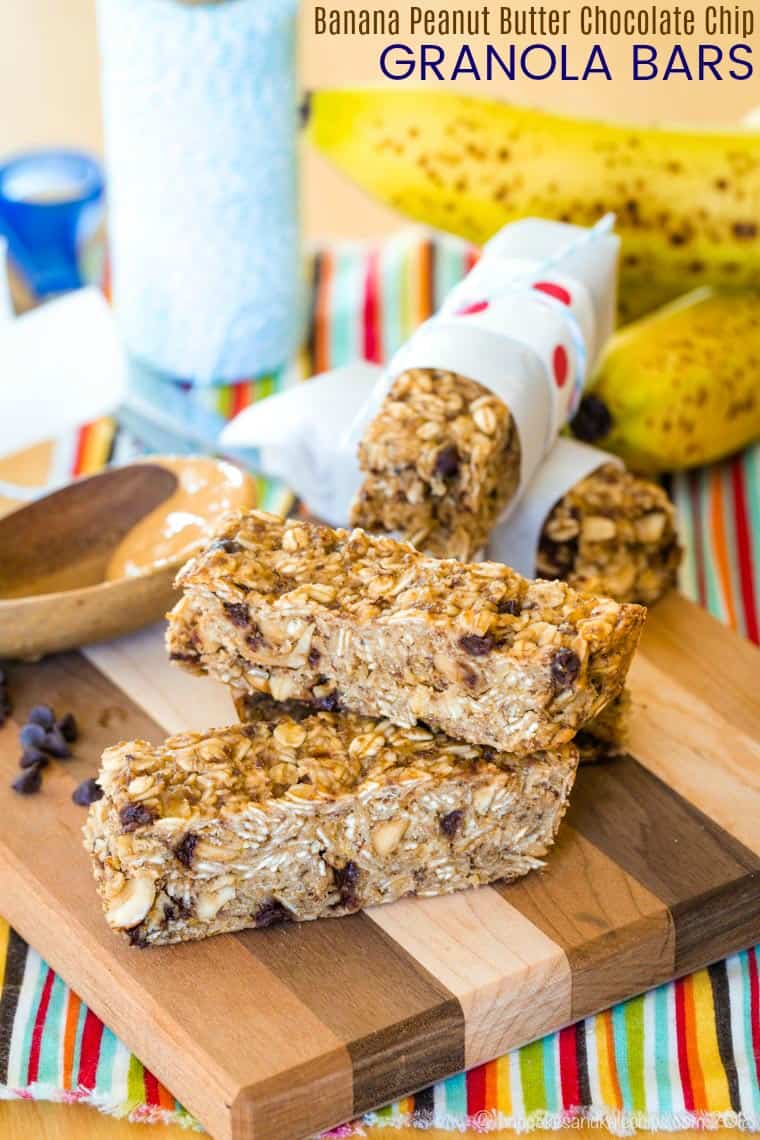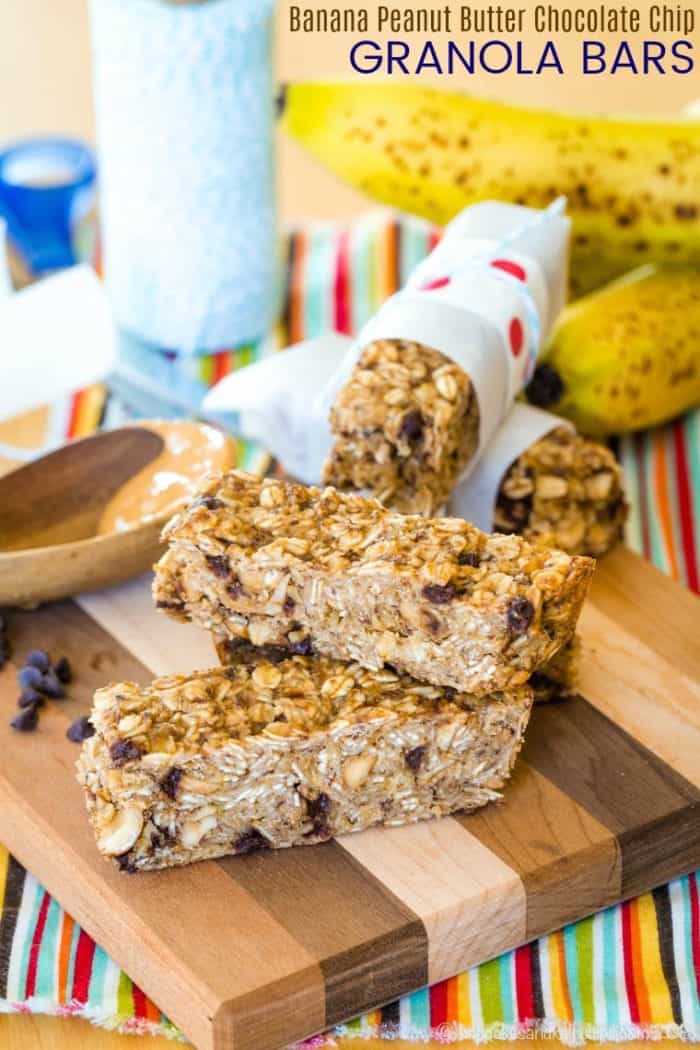 I started leaving a basket of snacks on the counter for the kids to grab something after school. But I also remind them all the time that there are fruit and cheese in the fridge, and dried fruit and nuts in the cabinet.
What do they always beeline for? The granola bars.
I guess I should figure they'll take the path of least resistance when it comes to settling those afternoon rumbly tummies.
Let's be real, though. Granola bars try to hide behind a healthy-sounding name and some wholesome ingredients. But sometimes they are really just glorified candy bars. And of course, they cost like four times as much as candy bars.
So before another Costco-sized box disappears from your house, it's time to take a few minutes to mix up nine pretty basic ingredients and make your own.
And when you control what's going into them, you can actually make healthy granola bars. These pack in oats for whole grains, flax seed for omega-3s, peanut butter and peanuts for protein and healthy fats, and bananas for natural sweetness and potassium.
Yes, there is some honey to sweeten them just a bit more and help them hold together, and a few mini chocolate chips. But that's it!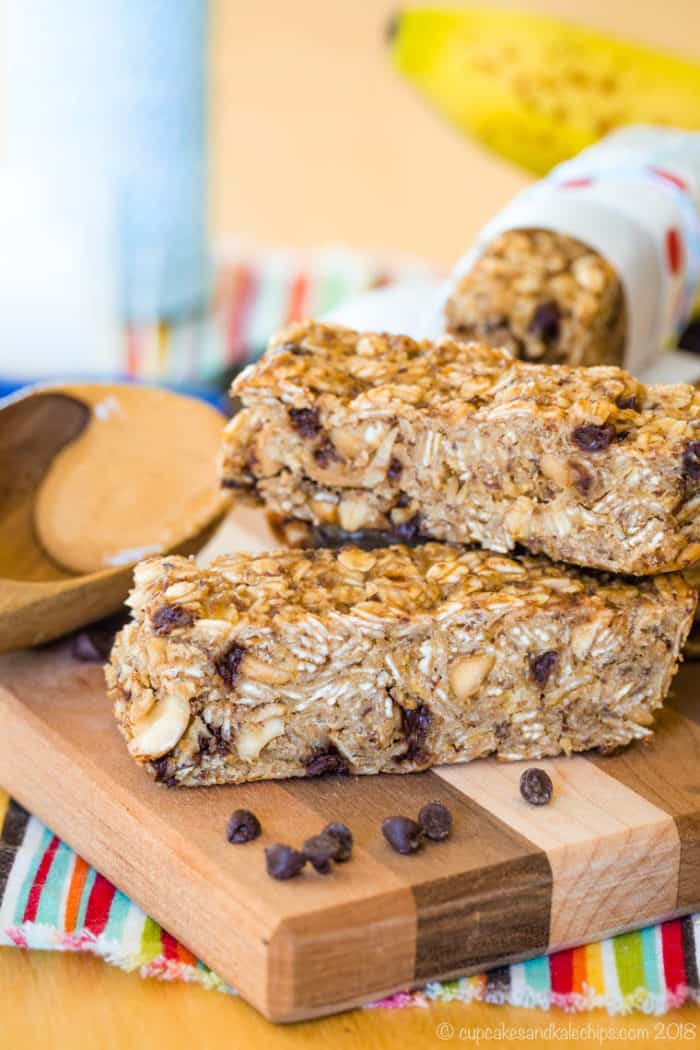 Banana Peanut Butter Chocolate Chip Granola Bars Recipe
These yummy bars are chewy and delicious with the little bursts of chocolate, and perfect amount of crunch from the peanuts. They also have a great balance of salt with sweet. And there is nothing like that ultimate trifecta of flavors – banana, chocolate, and peanut butter.
In fact, I love it so much that I've given it its own name – these are Funky Monkey Granola Bars to go with all of my other funky monkey recipes, like this Healthy Chocolate Peanut Butter Banana Smoothie.
Here is a brief overview so you can see just how easy it is to make. Scroll down to the printable recipe card for the full quantities and details.
But don't skip my PRO TIPS below!
Ingredients
Old-fashioned oats – not quick or instant oats. Use certified gluten free oats if needed.
Overripe bananas – the more black spots, the sweeter and softer they will be. You'll need to mash these up.
Honey
Creamy peanut butter
Ground flax seed
Salt
Chopped peanuts – I like to use roasted, salted peanuts for that sweet and salty flavor, but you can use unsalted too.
Mini chocolate chips
Directions
Line an 8×8 inch square baking pan with parchment paper and preheat the oven to 350°F
Place the oats in a large bowl.
In a smaller bowl, stir together the mashed banana, honey, creamy peanut butter, flax seed, and salt.
Pour the mixture over the oats and stir until moistened.
Stir in the peanuts and chocolate chips.
Press the mixture firmly into the prepared pan and bake until golden brown.
Cool in the pan for about 10 minutes, then cut into bars.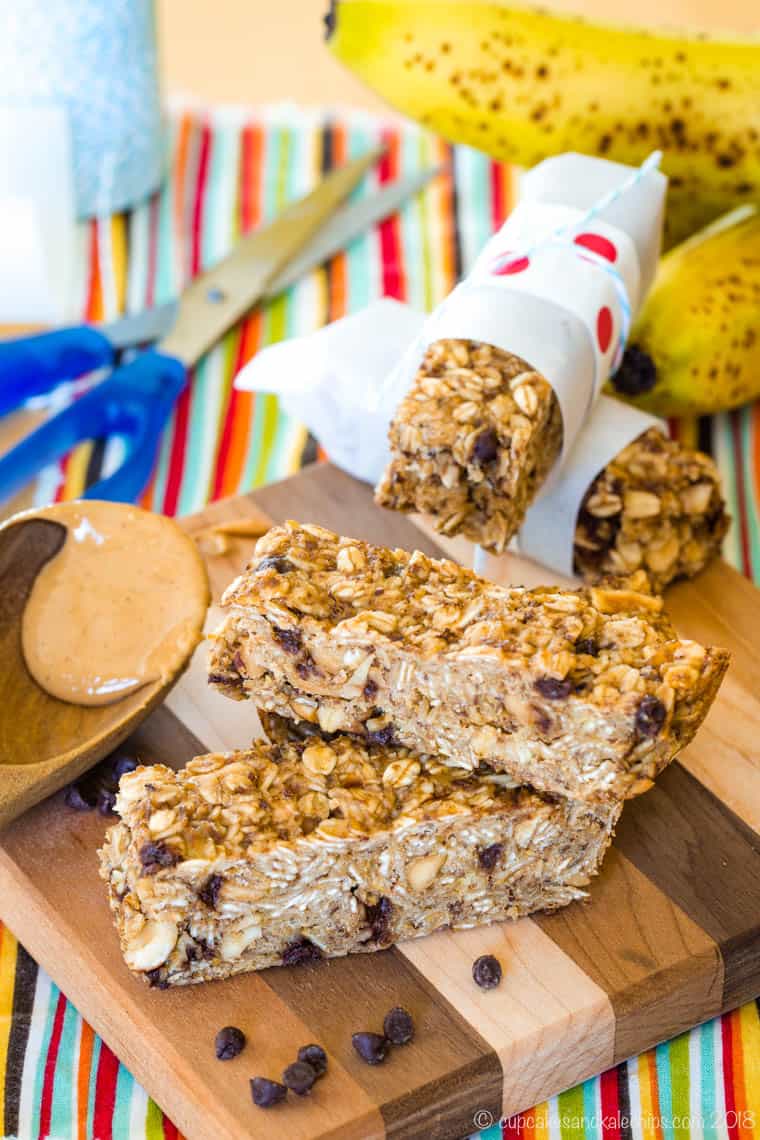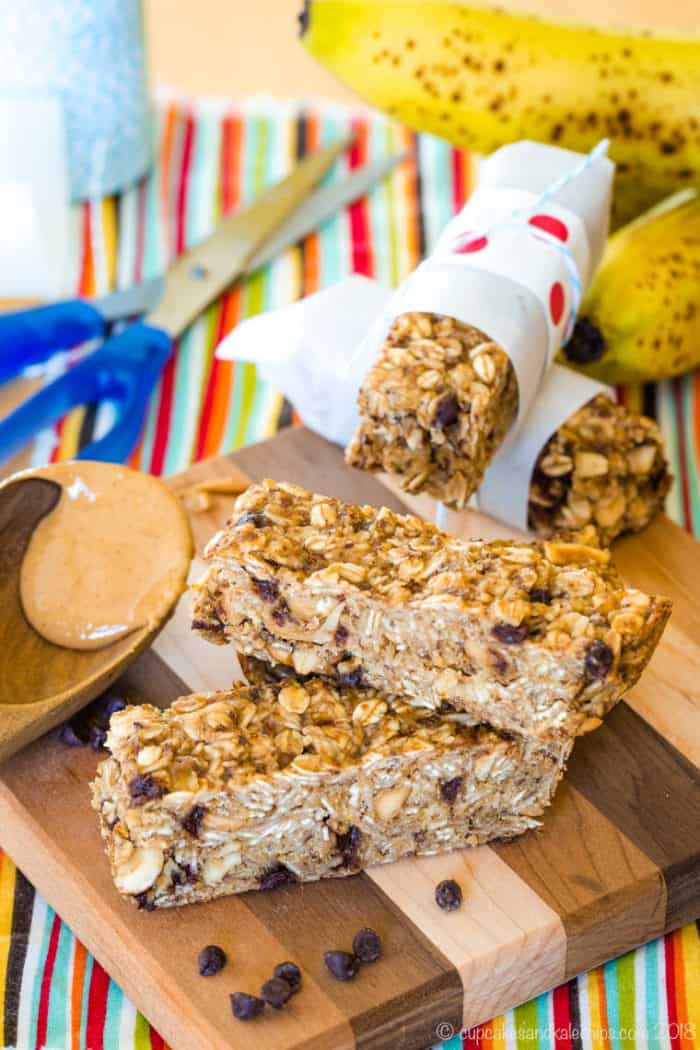 Brianne's Recipe Pro Tips
Keep them from falling apart
These chocolate chip granola bars are held together by the combination of moisture and stickiness from the mashed bananas, honey, and peanut butter.
To make sure they stay together, be sure you stir the mixture well to ensure the oats are fully moistened. You'll also want to press the mixture very firmly to pack it tightly into the pan before baking.
But first, make sure you've lined the pan with parchment paper. This will ensure you can lift the bars out of the pan easily so you can cut them on a cutting board versus trying to slice them in the pan and wedge them out.
Cooling and cutting them properly will also help keep the bar shape.
Cutting the granola bars
I recommend ensuring the bars are completely cool, then using a serrated knife to gently saw through them.
To get the classic granola bar shape, you can cut the entire square in half, then cut each half into bars that are a little over an inch wide. Or you can just cut them into small squares.
Storage
Store the banana chocolate chip peanut butter granola bars in an airtight container at room temperature for up to 2 or 3 days, or in the refrigerator for up to a week. Because of the banana, they don't last as long at room temperature as other chocolate chip granola bars.
They do stay fresher and are easier to quickly grab and pack if they are wrapped individually in plastic wrap or wax paper first.
They can also be frozen for up to two months. If you are freezing the granola bars, I do recommend wrapping them individually to avoid freezer burn or moisture collecting on the bars when you open the container to remove one. Then place the wrapped bars in a plastic freezer storage bag or another airtight container.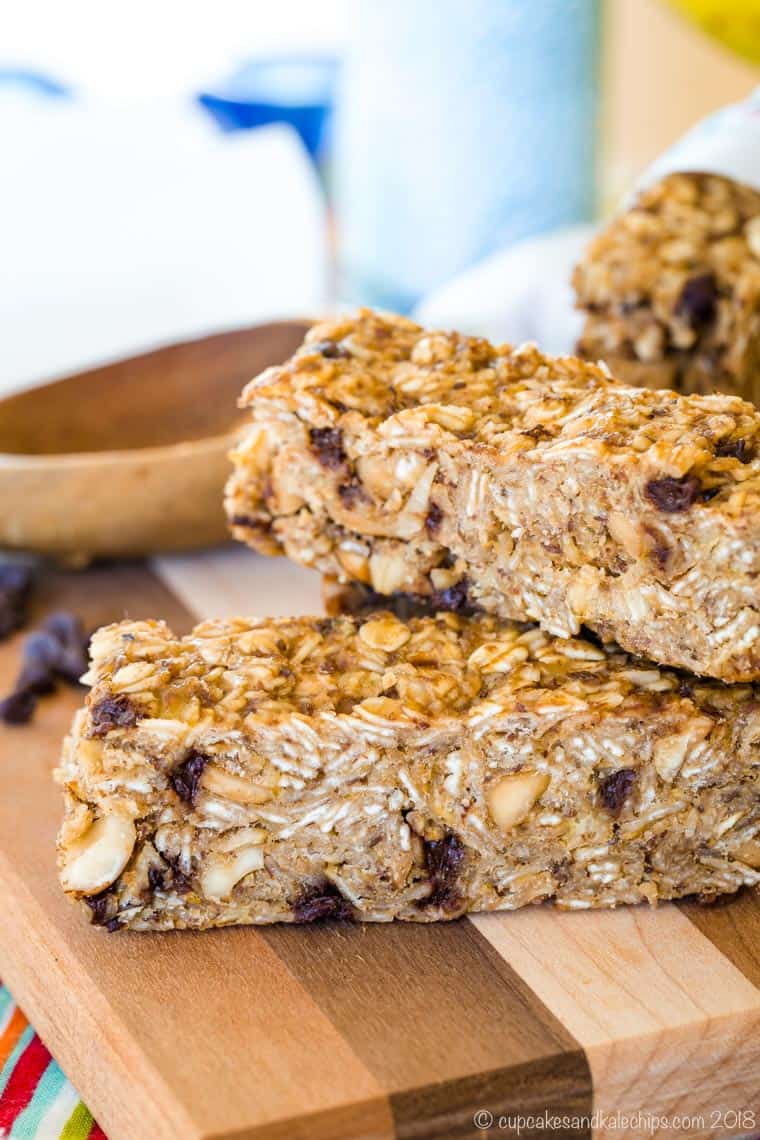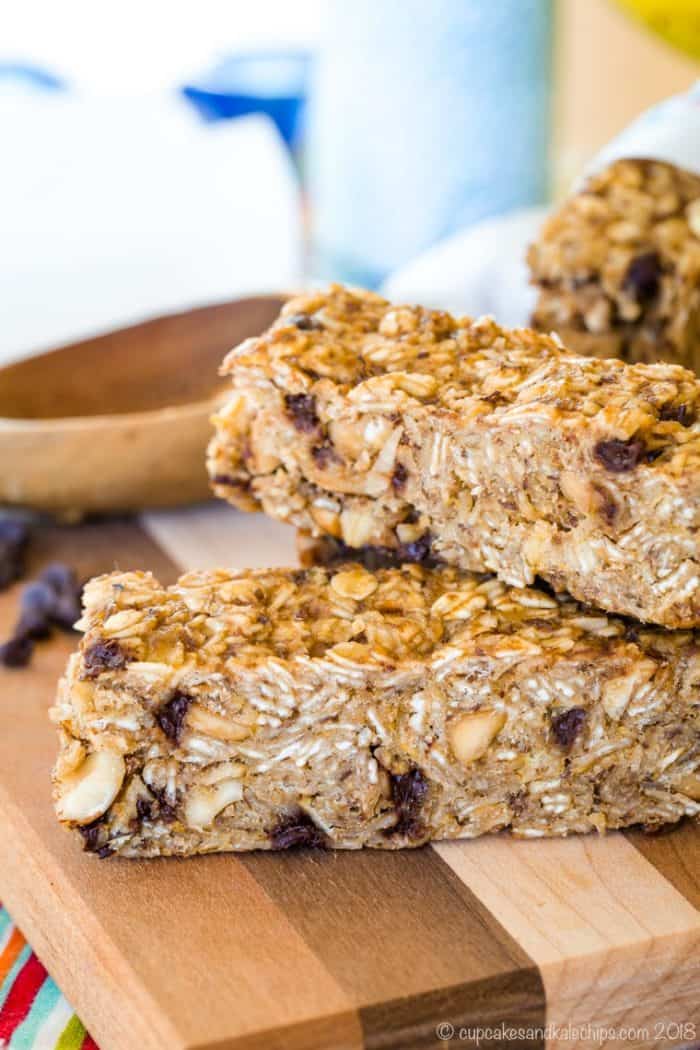 Variations
Granola bar recipes are pretty versatile, and you can easily change up the flavors and mix-ins. In fact, the same base recipe is used for both my Pumpkin Spice Granola Bars and Banana Nut Granola Bars.
Other flavors
Swap the peanut butter for almond butter or your favorite nut butter. You can also switch up the nuts and use walnuts, pecans, or sliced almonds.
Instead of chocolate chips, you can mix in raisins, dried cranberries, or just add more nuts.
But if you want extra chocolate, add a drizzle of melted chocolate on the top.
Gluten free
Gluten Free Disclaimer: I am not a medical professional. This information is solely based on my research and personal experience, and I provide it as a courtesy to my readers. Please consult your doctor or medical professional for any questions as it relates to your needs, particularly if you have celiac disease or a severe gluten allergy or intolerance. Products, manufacturing facilities, and ingredients change frequently, so you should always contact the manufacturer for the latest information.
Just be sure to use gluten certified gluten free oats. Typically the other ingredients are gluten free, but you may want to check the package for your ground flax seed or flax seed meal, as I have seen brands that are processed on shared equipment.
Vegan
To make a vegan banana peanut butter chocolate chip granola bars recipe, swap the honey for agave nectar and use dairy-free chips such as those from Enjoy Life.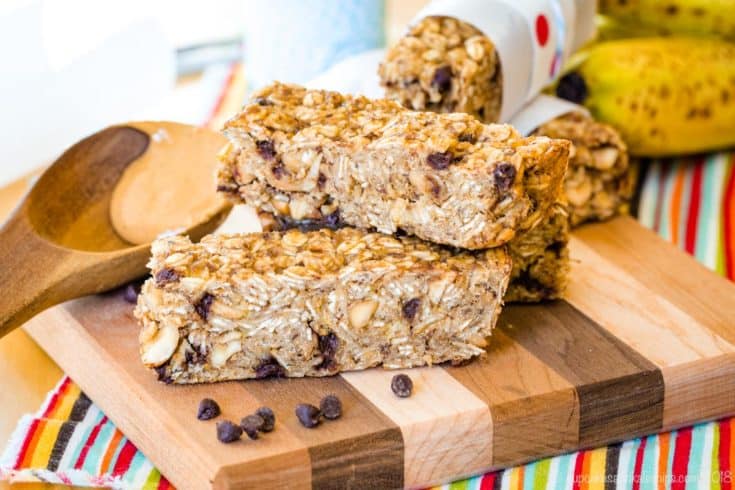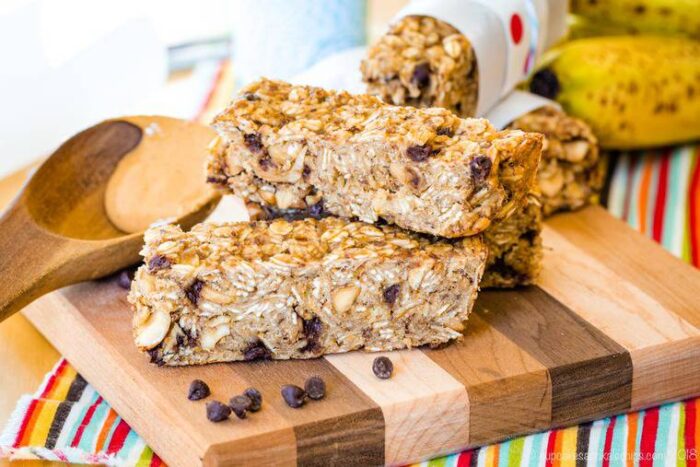 What to make with overripe bananas
More snack bars you might like
Banana Peanut Butter Granola Bars with Chocolate Chips
Perfectly chewy, sweet, and salty, these protein- and fiber-packed snacks are more than just your basic chocolate chip granola bar recipe. The addition of banana and peanut butter, plus the crunch of peanuts gives them a tasty flavor combination that nobody can resist. And with only nine ingredients and a few minutes of prep time, you can make them healthier, fresher, and tastier than anything from the store.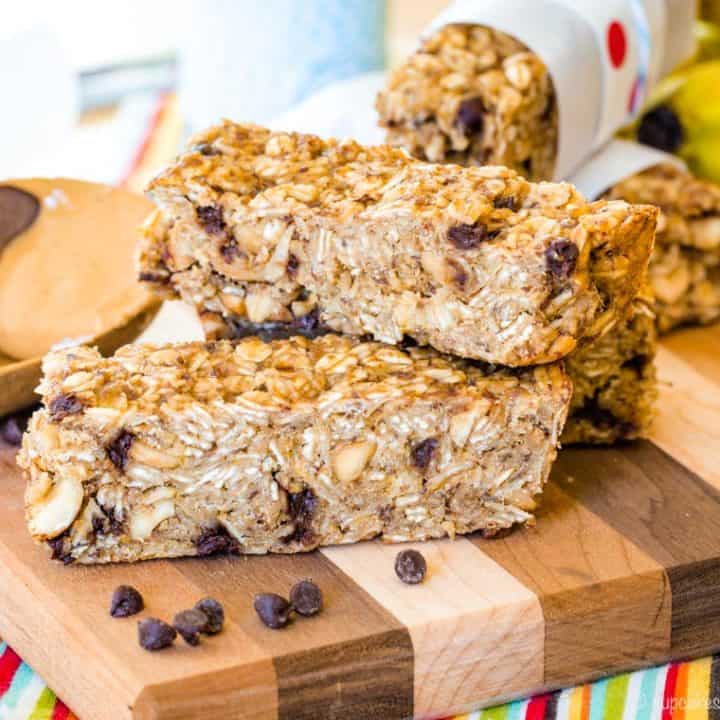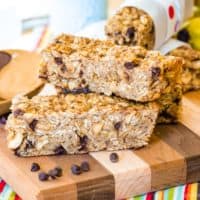 Banana Peanut Butter Chocolate Chip Granola Bars
Everyone loves this easy Banana Peanut Butter Chocolate Chip Granola Bars recipe. It is a healthy snack with the triple flavor combo nobody can resist!
Ingredients
3 1/2

cups

old-fashioned oats

(certified gluten free, if needed)

1

cup

mashed overripe bananas

(about 2)

1/4

cup

honey

(can use agave nectar for strict vegan)

1/4

cup

creamy peanut butter

1

teaspoon

vanilla extract

1/4

cup

ground flax seed

1/4

teaspoon

salt

1/2

cup

chopped peanuts

(roasted and salted or natural, depending on your preference)

1/4

cup

mini chocolate chips

(can use dairy-free for vegan)
Instructions
Preheat oven to 350°F.

Coat line an 8×8 in. baking pan with parchment paper and lightly coat with cooking spray.

Place the oats in a large bowl.

In a medium bowl, stir together banana, honey, peanut butter, vanilla, flax seed, and salt until smooth and well combined.

Pour the liquid mixture over the oats, and stir until evenly coated and the oats are moistened.

Stir in the peanuts and mini chocolate chips.

Press the mixture firmly into the prepared pan.

Bake for 30-35 minutes, or until golden brown, and firm.

Cool completely in the pan. Then use the parchment paper to lift the entire thing out of the pan.

Cut into bars. Store in an airtight container at room temperature for up to 2 or 3 days, or in the refrigerator for up to a week. They can be wrapped individually in plastic wrap and frozen for up to two months.
Nutrition Facts
Banana Peanut Butter Chocolate Chip Granola Bars
Amount Per Serving (1 bar)
Calories 233
Calories from Fat 90
% Daily Value*
Fat 10g15%
Cholesterol 1mg0%
Sodium 105mg4%
Potassium 269mg8%
Carbohydrates 32g11%
Protein 7g14%
Vitamin A 21IU0%
Vitamin C 2mg2%
Calcium 35mg4%
Iron 2mg11%
* Percent Daily Values are based on a 2000 calorie diet.
Categories: