This post may contain affiliate links. Read my disclosure policy.
Banana nut breakfast granola bars are a healthy, tasty, gluten free snack that parents can feel good about giving to their kids!
"Daddy, are you hungry?" "Yes, I am hungry."
"Are you gonna have a baaaarrr?" "Yes, I am going to have a bar."
"Can I have some?" "Yes, I'll save you a bite." "Can I have the one with chocolate?" Ugh!!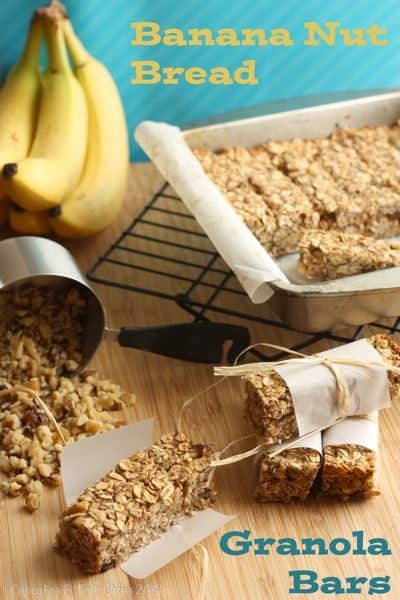 This is the first father/son conversation of the day any day that The Hubby has not already left for work or the gym by the time The Bug wakes up. I have helped The Hubby improve some of his eating habits, but the one thing I cannot change and so have give up trying is his daily breakfast of Clif and/or Zone bars. I've suggested oatmeal, offered to make some nice yogurt and fruit, heck, I buy whole wheat English muffins and peanut butter. Heck, we even have cereal in the house.
But he wants his bars. He just has no interest in sitting for even 10 minutes to eat breakfast. I know he is usually running out the door during the week, and he also wants something filling in case his morning is full of meetings, but even on the weekends, this is his usual breakfast, with the occasional break for some toast or something.
And if The Bug sees him, he always wants some too. I don't protest a bite or two or three, especially since 5 or 6 days a week, he has plain yogurt with fruit and nuts or chia seeds or flax seeds or something like that, and it is actually to the point where he considers oatmeal or cream of wheat a "treat" and pancakes are super-special. But I would prefer to give him some bars that are a bit more wholesome, and don't have weird things like some of these protein or energy bars.
So I am working a a mini-repertoire of granola bar recipes. I loved the sound of these Pumpkin Chocolate Chip Granola Bars from Two Peas & Their Pod, and used this recipe as the basis for my Maple Pumpkin Spice Granola Bars, and then just switched it up again for this recipe. I like how they are dense but chewy. As I mentioned last time, you want to pack the mixture pretty tightly into the pan, don't overbake, and, especially with the banana in these, if you aren't going to eat them right away, keep them in the fridge. I have them individually wrapped, then put them all in a big storage bag.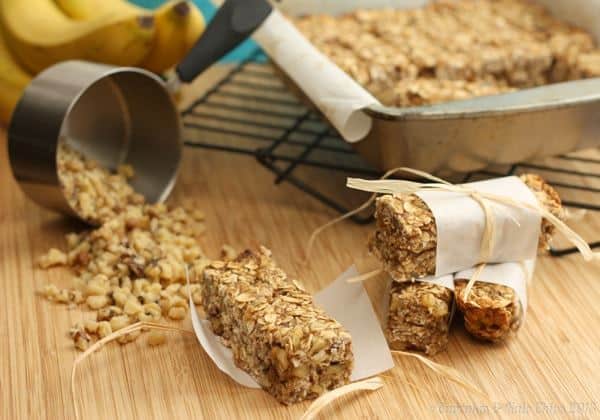 Banana nut bread granola bars are not overly sweet, so if you like them sweeter, or don't have super-ripe bananas, you may want to use a little more honey or agave nectar. And, naturally, you could switch up the nuts, swapping in chocolate chips or raisins. But to me, classic banana nut bread, which is the flavor I was going for, is bananas and walnuts.
This recipe is part of the Improv Challenge. If you've been reading my blog since the earlier days, you may remember the Improv Challenge, and some of my submissions, like PB&J Cookie Dough Dip, Strawberry Cheesecake Smoothie, Almond Crusted Chicken with Cherry Balsamic Sauce, or "Bobby Flay" Corn. But for the newer folks, and as a reminder for those that have been around for awhile, the Improv Challenge is a blog hop hosted by Kristen of Frugal Antics of a Harried Homemaker.
A theme is given, which is two assigned ingredients. Then it is up to the participating bloggers to let the creative juices flow, and see what they can come up with. Then on the third Thursday of the month, we will all publish our new recipes based on the theme.
This month's theme is bananas & nutmeg.
Check out what the other Improv-ers are cooking up with bananas & nutmeg at the bottom of this post.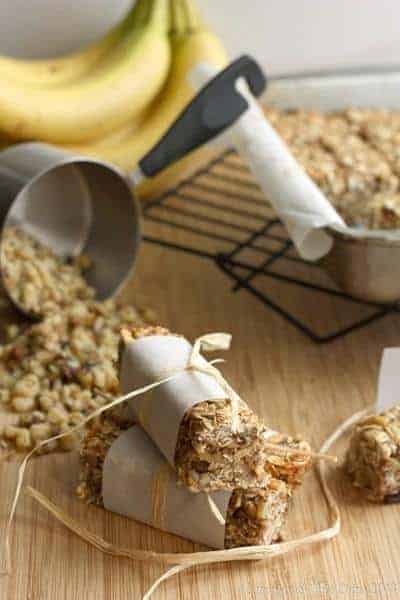 And, as you would expect, the banana nut bread granola bars are totally Bug-Approved!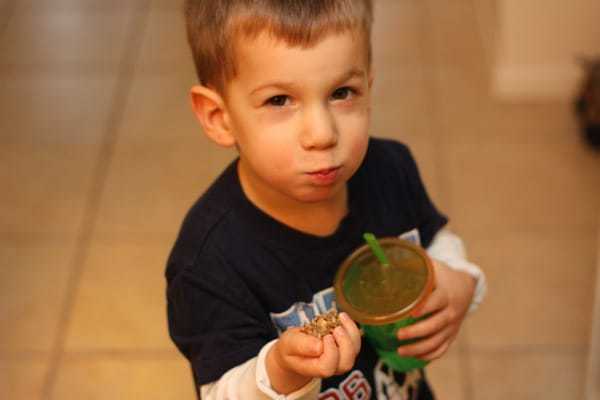 Does your significant other have any habits (eating or otherwise) that you have tried to change improve modify oh I give up with finding the right word, but you have decided it is not worth the battle?
I hope you and your kids love this banana nut bread granola bars recipe!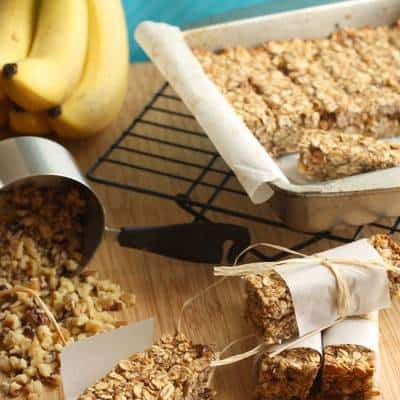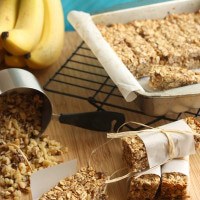 Banana Nut Breakfast Granola Bars
A chewy homemade granola bars are filled with flavors reminiscent of classic banana nut bread! Grab one in the mornings for a healthy and filling breakfast that your whole family will love.
Ingredients
3¼

c

old-fashioned oats

*See Note

¼

c

ground flax seed

optional

1

c

mashed banana

**See Note

¼ -½

c

honey or agave nectar

***See Note

½

t

cinnamon

¼

t

nutmeg

½

t

salt

1

t

vanilla extract

1

c

chopped walnuts
Instructions
Preheat oven to 350°F.

Coat an 8×8 in. baking pan with cooking spray.

In a large bowl, toss together the oats and flax seed.

In a medium bowl, stir together banana, honey, vanilla, cinnamon, nutmeg, and salt until well combined.

Pour the liquid mixture over the oats mixture, and stir until evenly coated and the oats are moistened.

Stir in the walnuts.

Press the mixture firmly into the prepared pan.

Bake for 30-35 minutes, or until golden brown, and firm.

Cool in pan for about 5-10 minutes, cut into bars, and remove from pan to finish cooling completely.
Notes
*If you need these to be gluten-free, ensure that you are using oats that are certified gluten-free.
**I used 1/4 c honey because my bananas were very ripe and sweet.
***I was using thawed frozen bananas, so they were quite soft. If yours were not frozen, you want to mash to a pulp, or put in a food processor.
Nutrition Facts
Banana Nut Breakfast Granola Bars
Amount Per Serving
Calories 238
Calories from Fat 99
% Daily Value*
Fat 11g17%
Sodium 120mg5%
Potassium 239mg7%
Carbohydrates 31g10%
Protein 6g12%
Vitamin A 12IU0%
Vitamin C 2mg2%
Calcium 38mg4%
Iron 2mg11%
* Percent Daily Values are based on a 2000 calorie diet.
Categories:
Enjoy!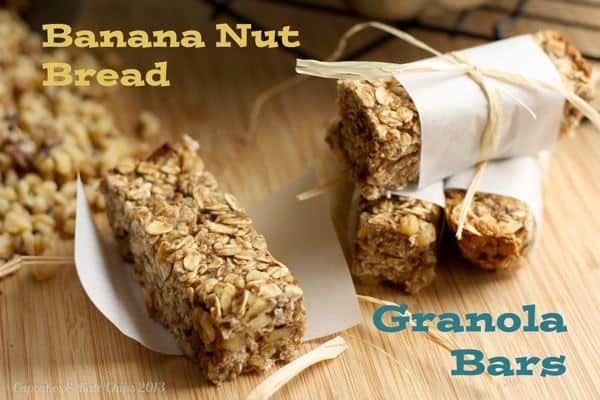 The banana nut bread granola bars recipe are on #glutenfreefridays #25, at Vegetarian Mama.