This post may contain affiliate links. Read my disclosure policy.
American Family Insurance is inspiring all of us to #ChooseDreams, and that means sitting down not only to #SundaySupper with our families, but also throughout the week. So we are also bringing you a month of #WeekdaySupper Family Favorites Turned Healthy. For a cool dinner or lunches all week, make a big batch of rich and healthy, sweet and tangy with just a hint of spice, super colorful Mango Avocado Quinoa Chicken Salad.
Mango Avocado Quinoa Chicken Salad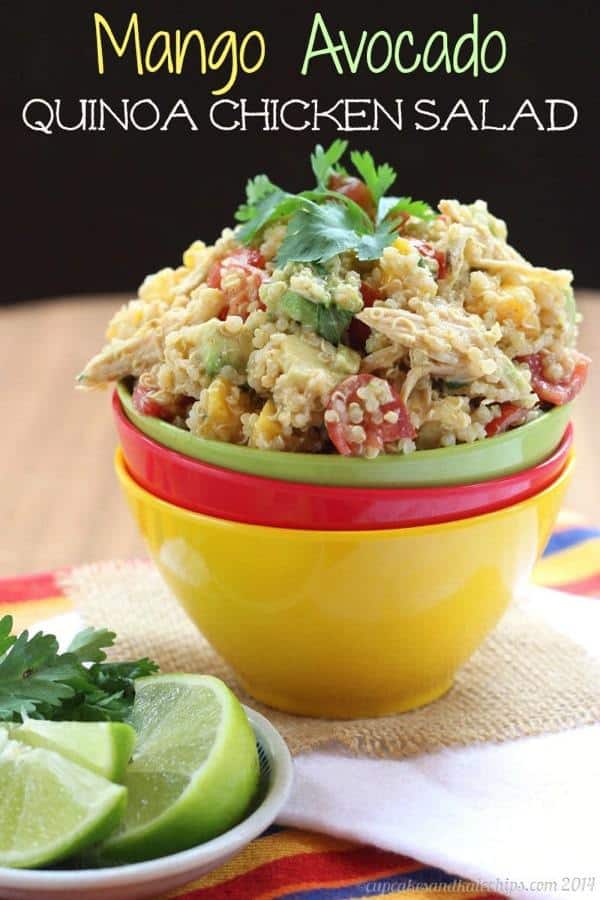 I know I've mentioned many times that I am so lucky that my kids are very good eaters. I think I mention it so much because it truly shocks me. I mean, I know I present them with a wide variety of foods, and have since the day they first started solid food, so all of these things are just normal, everyday components of our regular diets. It's not "weird" or "healthy" in their minds. It's just "food". But The Hubby and I both grew up pretty much despising any fruit or vegetable that was not white or yellow, and eating many casseroles involving packaged stuffing and cream of mushroom soup. And lots and lots of cookies. Luckily we have changed our ways as adults, and enjoy a much wider variety.
But there are a few things that I've struggled to get my family to eat. One of them is quinoa. I love it, and it is so good for you. Packed with protein, a whole grain, and gluten free, which is awesome for my wheat allergy. I mean, nutrition-wise, what more could you want? But The Hubby has never been a fan of the texture, and the boys, well, I'm not sure what their issue is, but they don't dig it.
However, I refused to give up. So I've cheese-ified it, which works OK. I've granola-fied it (with chocolate), which is super yummy, but not really the "normal" way to eat quinoa. Finally I tried chilling it, to change the texture slightly, adding some chicken for my meat-loving hubby, and combing it with other favorite foods, and it was a total win! I was soooo shocked and excited when all of my boys just absolutely devoured Strawberry Lime Quinoa Chicken Salad.
So naturally once you find something that works, just make it over and over and over again in slightly different variations, right?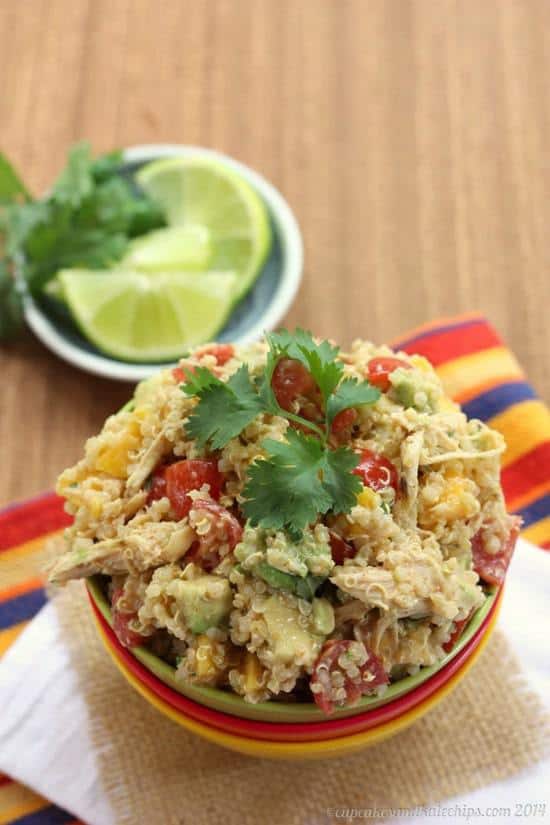 Mango Avocado Salsa has been a family favorite for a few years, so I combined that with the quinoa chicken salad, and we had another quinoa success story! Well, I'll call it a 95% success. The Bug required complete tomato removal because there is absolutely nothing I can do to get him to eat anything tomato other than ketchup and pizza. But Little King Stuff was happy to polish off The Bug's share of tomatoes.
I love quinoa, I love chicken salad, but I really love combining the two. The quinoa adds such an interesting texture to the chicken salad, and tossing in all of the components of the salsa recipe brings in the rich creaminess of the avocado, the sweetness of the mango, the juicy pop of tomatoes, and a bit of tang and a just a hint of spice. I wouldn't even call it spice. Warmth, maybe? And the colors just can't be beat. Gorgeous, right? And so tasty, too!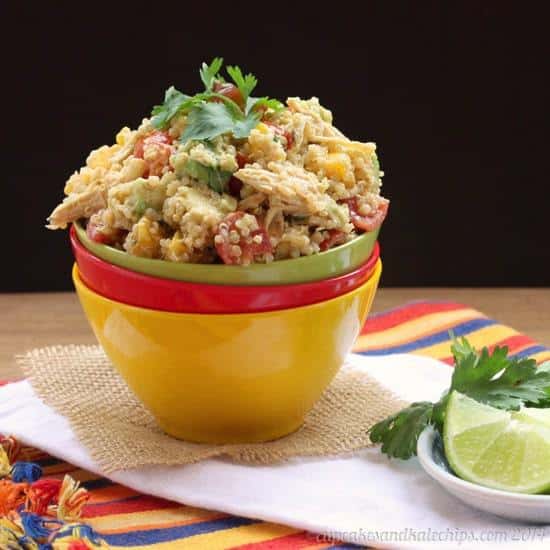 American Family Insurance not only wants to inspire everyone to #ChooseDreams, they also want to help you pursue those dreams. Throughout their social media communities, they will be providing tips and tools, inspiration, statistics and encouragement for dreamers on various topics, and encouraging you to share your stories as we grow this community of dreamers.
That is where Sunday Supper (and Weekday Supper) comes in. Together with American Family, we are giving you recipes for Family Favorites Turned Healthy, whether this means making traditional comfort foods healthier, sneaking in some extra veggies, giving the kids healthy snacks, or accommodating different food allergies. So I hope you'll try this and many of the other nutritious and delicious recipes on the Family Favorite Recipes #ChooseDreams Pinterest board. We will be pinning lots of amazing Sunday Supper and Weekday Supper recipes, from appetizers and salads to main dishes and desserts, all summer long!
Follow along with American Family on Linkedin, Youtube, Google+, Twitter, Facebook, and Pinterest, and #ChooseDreams!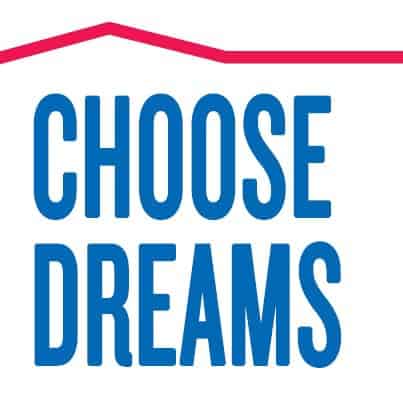 And make sure you check out all of this week's Family Favorites Turned Healthy at the bottom of this post.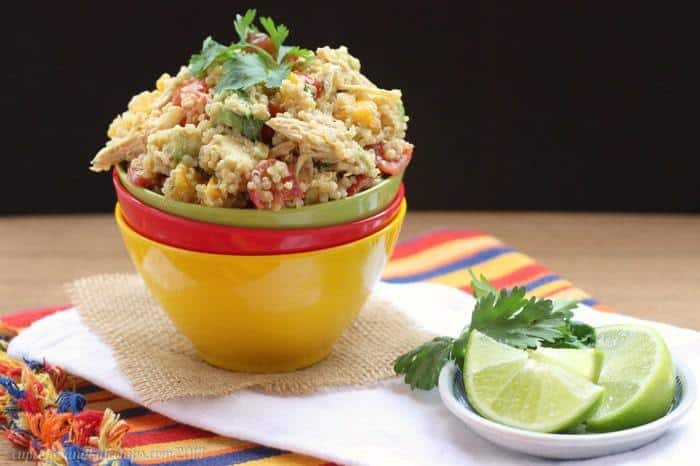 How have you gotten your family to eat something they previously didn't like?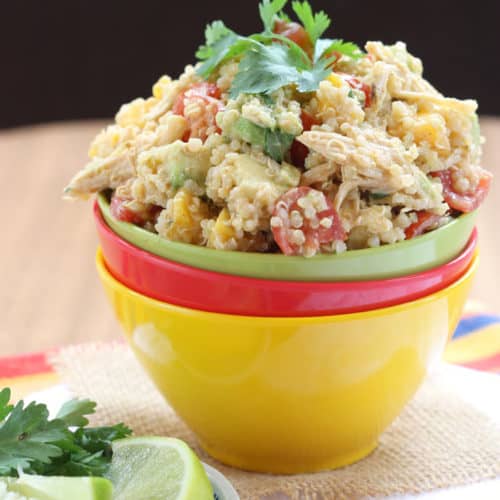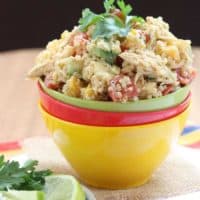 Mango Avocado Quinoa Chicken Salad
Sweet and tangy with just a hint of spice, super colorful, and perfect for a cool dinner or lunches all week.
Ingredients
For the Mango Avocado Quinoa Chicken Salad:
2

cups

cooked and cooled quinoa

previously prepared as per package instructions

1

cup

shredded cooked and cooled chicken

½

cup

Honey Lime Chili Cumin Dressing

1

mango

chopped (about 1½ cups)

1

avocado

chopped (about 1 cup)

¾

cup

chopped tomatoes

I like to use grape tomatoes

1-2

Tablespoons

chopped cilantro

salt and pepper

to taste

Salad greens and additional dressing for serving

if desired
For the Honey Lime Chili Cumin Dressing:
¼

cup

freshly squeezed lime juice

1

Tablespoon

honey

1/2

cup

plain Greek yogurt

2

Tablespoons

olive oil

1

teaspoon

chili powder

1/2

teaspoon

cumin

½

teaspoon

salt

pepper

to taste
Instructions
For the Mango Avocado Quinoa Chicken Salad:
Combine the quinoa, chicken, and dressing in a large bowl and toss to coat evenly.

Add the mango, avocado, tomatoes and cilantro, and toss to combine. Add salt and pepper, to taste.

Serve over salad greens with additional Honey Lime Chili Cumin Dressing, if desired.
For the Honey Lime Chili Cumin Dressing:
Combine all of the ingredients in a bowl or jar and whisk or cover and shake. Adjust seasoning with salt and pepper to taste.
Categories:
Enjoy!
Here are a few other ways I got my family eating quinoa…
And check out the rest of this weeks fast, fresh, healthy #ChooseDreams #WeekdaySupper recipes:
Monday – Mashed Cauliflower and Arugula Stuffed Portobello from Run DMT
Tuesday – Loaded Mediterranean Sweet Potato Fries from Neighborfood
Wednesday – Grilled Salad with Skirt Steak from Country Girl in the Village
Thursday – You're HERE!
Friday – Tex-Mex Shrimp Skillet from The Weekend Gourmet