This post may contain affiliate links. Read my disclosure policy.
Dark cocoa for breakfast is good for you when you use it in healthy granola made with nuts, oats, quinoa, flax seeds and more. You'll love this Dark Cocoa Superfood Granola recipe.
Disclosure: This author received a free sample of walnuts from California Walnuts for sample and recipe development purposes only. All thoughts are my own.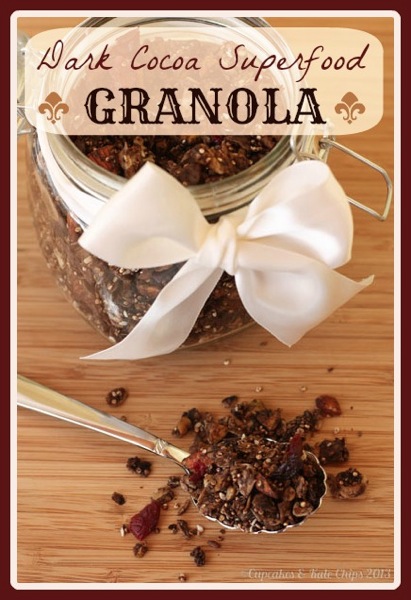 One thing I can say for sure, though – this Dark Cocoa Superfood Granola certainly is good for you. I mentioned yesterday that I was going to share some recipes this week for packing in the protein with Greek yogurt. Now, this isn't a recipe with Greek yogurt in it, like yesterday's Funky Monkey Smoothie, but it is certainly something I love to put ON my Chobani.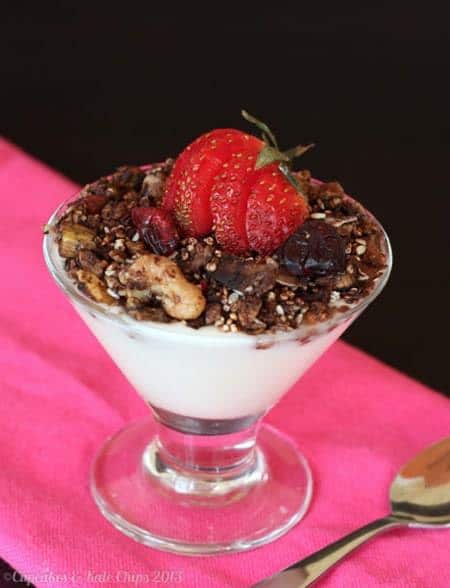 The folks at California Walnuts contacted me about sampling some of their delicious nuts, and I was happy to take a bag off their hands and have a little fun.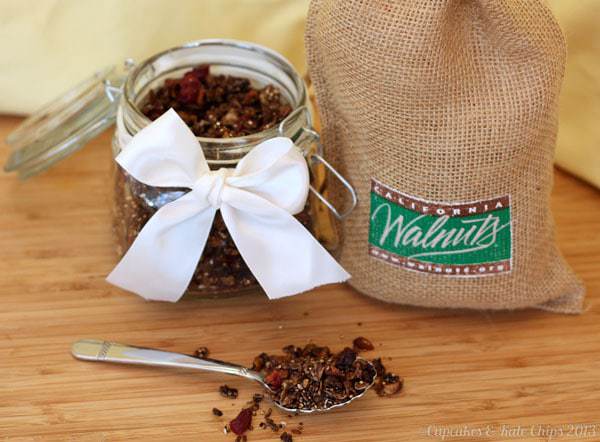 The walnuts are huge, fresh, and delicious. And sooo good for you – all those good fatty acids and omega-3s. They would be delicious on a salad, or mixed into Maple Pumpkin Spice or Banana Nut Bread Granola Bars. Or even into Maple Nutty Granola. And I know we are talking healthy here, but heck, throw them in some Snowball Cookies.
After receiving the sample, I knew I wanted to make a new kind of granola. One that would make the most of all the nutritional benefits of the walnuts, especially when combined them with every other superfood I could find in my pantry. You know, like chocolate, in the form of dark cocoa powder.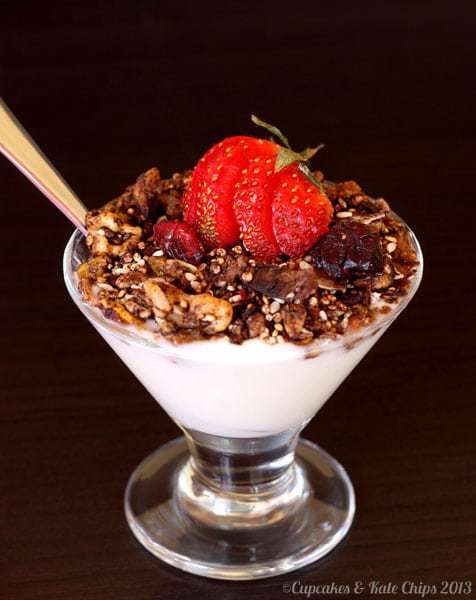 But I also added other goodness to truly make it a Dark Cocoa SUPERFOOD Granola.
Things like oats, quinoa, flax seeds, chia seeds, pistachios, almonds, dried cranberries and blueberries, coconut oil, raw honey. Since I am pregnant, getting the most nutrition out of every bite I take is so key. That was my goal in making this granola – just keep packing in all the antioxidants, vitamins, minerals, healthy fats, and protein I could. And with these delicious California walnuts to start with, I knew it would turn out fabulous.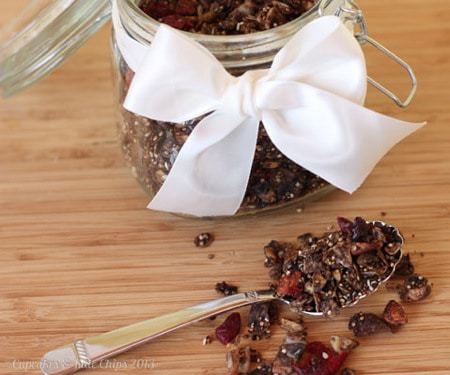 Sure, you can buy tons of fancy granola in the store… and pay an arm and a leg for it. But often it is mostly oats or rice puffs or wheat flakes, loaded with unnecessary fat and sugar, and maybe you just don't like raisins or peanuts, or some other ingredient. When you make it at home, you can control the quantity, quality, and types of ingredients. Like me – I love lots of nuts, and don't want any wheat products in it, due to my allergy. So I wrote the recipe in a very flexible way. I'll tell you what I did, but you can easily mix it up base don what you love. Or just what you can dig out of your kitchen cabinets.
And while I often have this for dessert with my Chobani Greek yogurt (and oftentimes just by the handful), I can even feel good about letting The Bug eat something chocolaty for breakfast!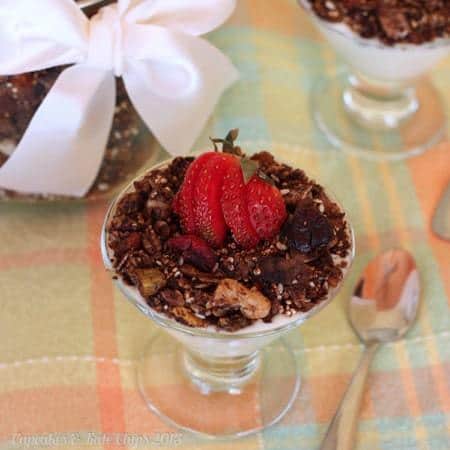 What is your favorite way to enjoy walnuts? In salads, granola, or just by the handful?
Maybe you will enjoy them in the form of dark cocoa superfood granola. You won't know until you try it. 😉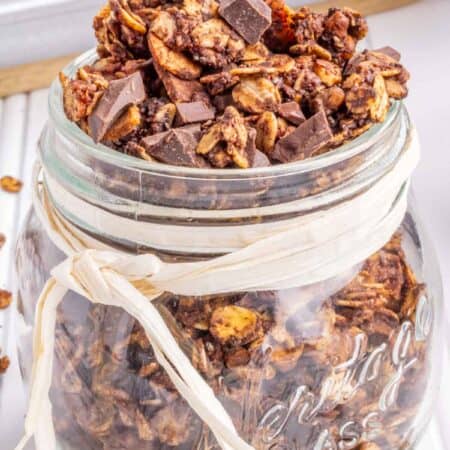 Chocolate Granola
Nutty, seedy Chocolate Granola packs a protein punch and is rich with plenty of dark chocolate! Eat it for a hearty breakfast or indulge in a snack that will leave you feeling satisfied without a sugar crash.
Ingredients
Wet Mixture Ingredients
¼

cup

dark cocoa powder

I used Hershey's Special Dark Cocoa Powder

¼

cup

water

¼

cup

coconut oil

melted and cooled (or use olive or even walnut oil)

½

cup

honey

preferably raw, local honey, or for strict vegans, agave nectae or maple syrup

1

teaspoon

vanilla

1

teaspoon

kosher salt
Dry Mixture Ingredients
2

cups

old fashioned oats

1

cup

uncooked quinoa

½

cup

ground flax seeds

½

cup

seeds

I used ¼ cup each chia seeds and sesame seeds

3

cups

chopped nuts

I used 1 cup each walnuts, pistachios, and almonds

1-1 ½

cup

dried fruit

I used ⅓ cup each dried cranberries, cherries, blueberries, and pomegranate juice infused cranberries
Instructions
Preheat your oven to 250°F. Line a large cookie sheet with parchment paper or a Silpat.

In a small bowl, combine the wet mixture Ingredients.

In a large bowl, combine the dry mixture Ingredients, leaving out the dried fruit.

Add the wet ingredients to the dry ingredients, and toss until it is evenly distributed and moistened.

Bake for 1 to 1 ½ hours, stirring every 20 minutes, or until dry.

Toss the dried fruits in with the granola mixture.

Allow to cool and store in an airtight container.
Nutrition Facts
Chocolate Granola
Amount Per Serving
Calories 837
Calories from Fat 486
% Daily Value*
Fat 54g83%
Sodium 330mg14%
Potassium 594mg17%
Carbohydrates 82g27%
Protein 18g36%
Vitamin A 17IU0%
Vitamin C 1mg1%
Calcium 102mg10%
Iron 5mg28%
* Percent Daily Values are based on a 2000 calorie diet.
Categories:
Enjoy!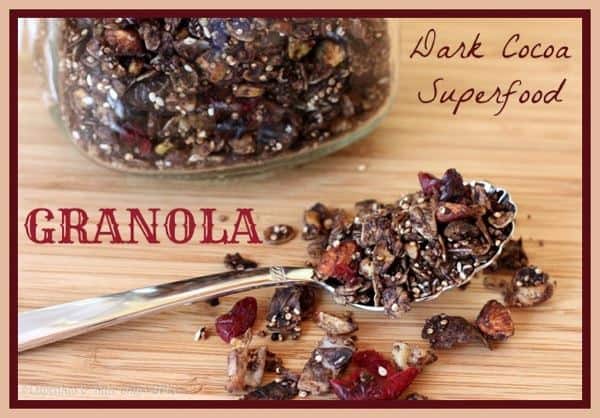 This recipe was shared with: Thursdays Treasures, #glutenfreefridays #28, I'm Lovin' It, nifty thrifty sunday #97}