This post may contain affiliate links. Read my disclosure policy.
Chocolate Almond Banana Oatmeal is a healthy breakfast that tastes like dessert!
Chocolate Almond Banana Oatmeal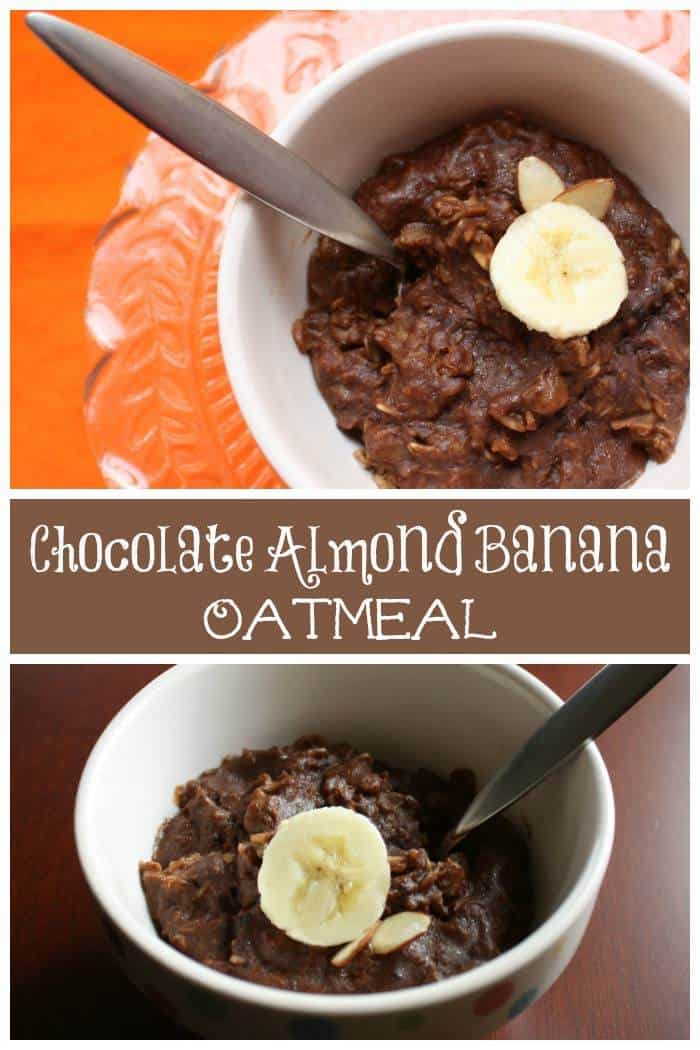 So I had planned a completely different post to go up today – a nice, healthy snack/breakfast for you or your kids, no measuring involved. Well, that will go up tomorrow. I just had to share what I had for breakfast today. If you have been following the March Foodie Photo a Day on Instagram, Facebook or Twitter, started by The Purple Carrot, then you may have already seen a preview. But here it is in all of it's chocolaty, nutty goodness.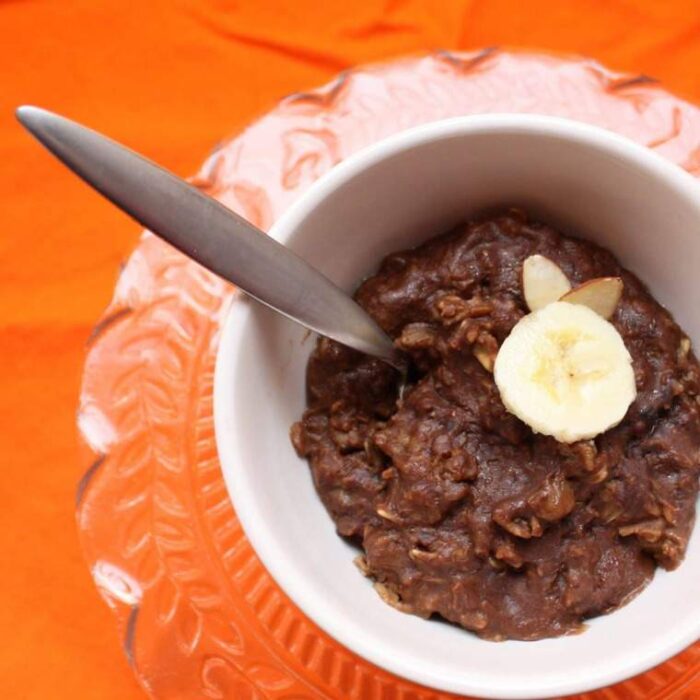 My new bloggie friend, Nescett, at Bananaoats eats oatmeal with bananas cooked into it pretty much everyday (hence, the name of her blog). Before even finding her blog, I tried this, just with bananas in plain oatmeal. I was not a fan. Typically I like my oatmeal plain, cooked with a little milk, a pinch of salt, and some sort of sweetener – used to be Splenda, but I am trying to get away from artificial sweeteners, so now it is usually agave nectar. But I also do like occasionally treating myself to a nice chocolaty breakfast by stirring in some cocoa powder. But then yesterday I saw this Nutella Banana Oatmeal. Sumptuous Spoonfuls has been inspiring a few of my meals lately, and when I saw this, I knew I had to try it.
The problem. No, it wasn't that I don't have Nutella. It's that Nutella is like a gateway drug for my. I open the jar to take out a tablespoon, and somehow the jar would magically be empty, and I would be curled in the corner with chocolate all of my fingers, denying any involvement. And then I would be moving on to the bag of Ghirardelli chocolate chips in the pantry. So I thought I would go with a version that utilizes jars that are already open, and won't lead me down a  path of consumption followed by self-loathing. Plus, she uses quick oats, and I typically only have regular Quaker Old-Fashioned Oats in the cabinet. And I am obsessed lately with Blue Diamond Almond Breezes Unsweetened Almond Coconut Milk. But, you could definitely use plain almond milk, or regular milk (maybe with a little almond extract added). And I am sure it would be equally as good with any other nut butter of your choosing.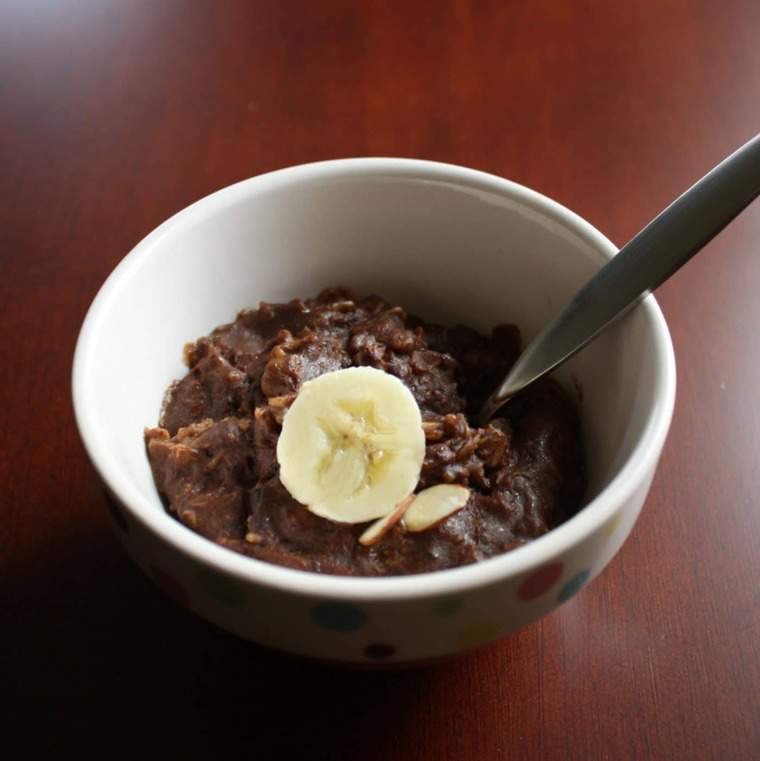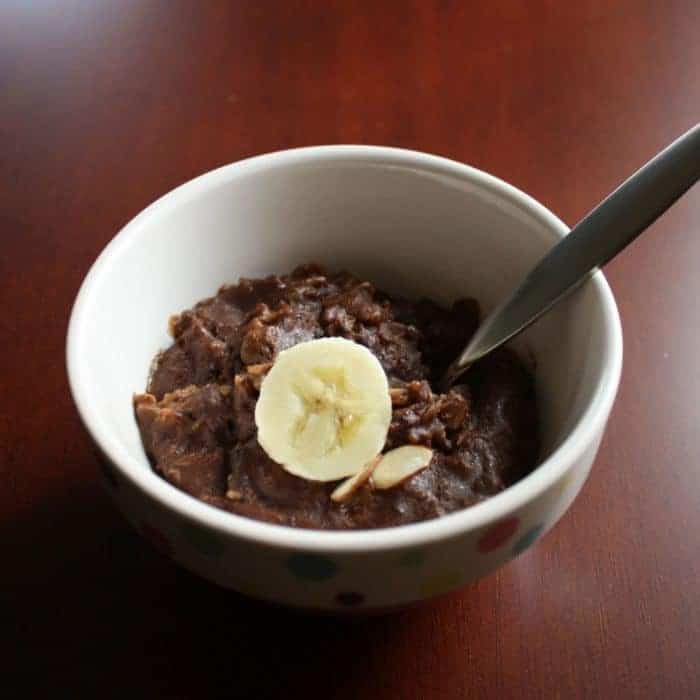 You really should try this. It's like dessert… at breakfast… but with no guilt in the form of added sugars or artificial sweeteners. Or an empty jar of Nutella.
Never miss any Yummy Eats & Tasty Sweets! Have new Cupcakes & Kale Chips recipes delivered to your email by clicking HERE!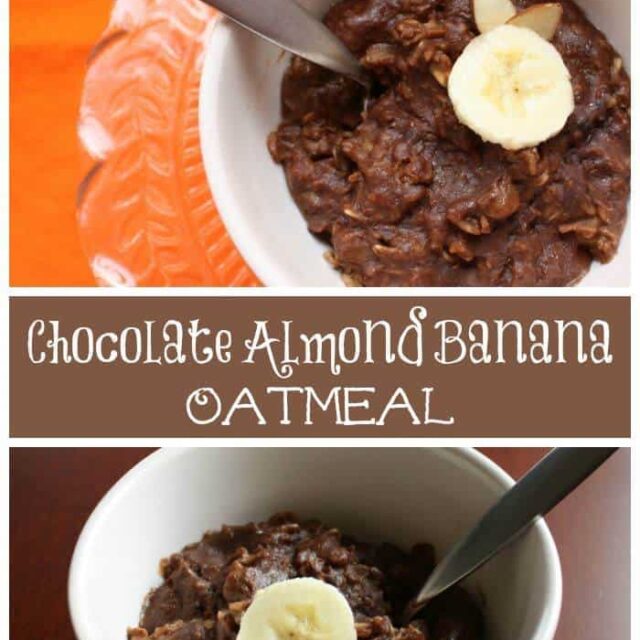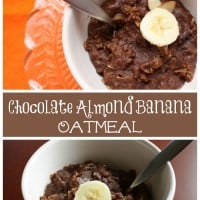 Chocolate Almond Banana Oatmeal
A healthy breakfast that tastes like dessert!
Ingredients
Half of an over-ripe banana

mashed up a bit

1/3

cup

old-fashioned oats

2/3

cup

milk

I used Blue Diamond Almond Breezes Unsweetened Almond Coconut Milk, but you could use any almond milk, or even regular milk, but the you may want to add a little almond extract

1/2

teaspoon

vanilla

1

Tablespoon

almond butter

or other nut butter of your choice

1

Tablespoon

cocoa powder

Pinch

of salt

Slices

of bananas and/or almonds

if desired
Instructions
Combine all of the ingredients in a bowl.

Microwave on High for 2 minutes. Stir.

Microwave for another 2 minutes, or to desired doneness. If you like it really soft, you may want to add a little water and cook longer.

Top with banana and almond slices, if using.
Enjoy!