This post may contain affiliate links. Read my disclosure policy.
Pumpkin spice chocolate pudding oatmeal – Using actual pumpkin is optional, but it never hurts to sneak vegetables into your breakfast. Totally necessary are the warm autumn spices and chocolaty goodness in this totally decadent yet healthy breakfast recipe. It's one of fall's best gluten free pumpkin recipes that you'll want to enjoy all winter long!
Pumpkin Spice Chocolate Pudding Oatmeal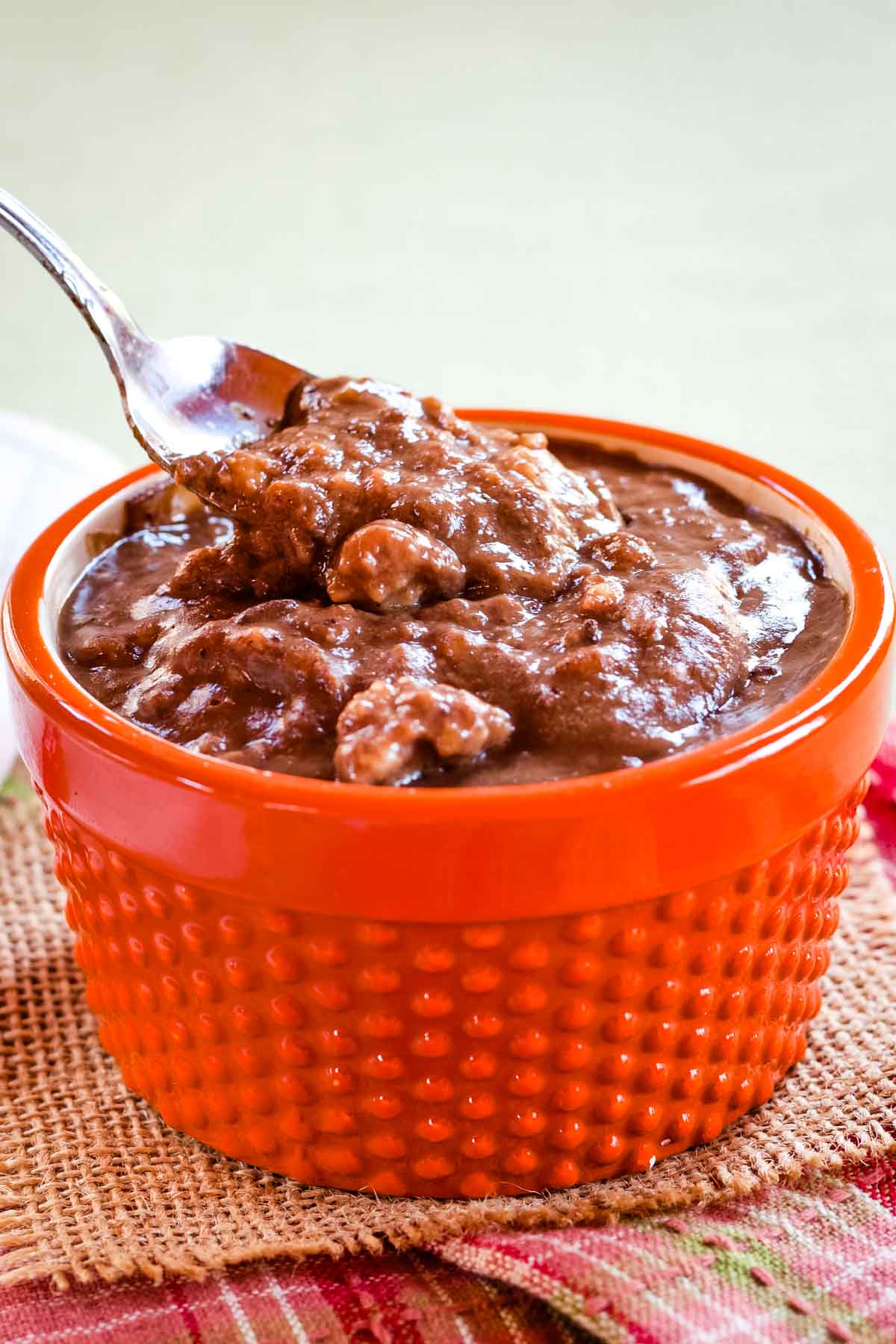 There are affiliate links in this post, meaning that the cost to you is the same, but if you click and make a purchase, I will receive a few pennies. I use the money to help maintain this website and to bring you new recipes!
You will just not believe this. If you've been following along at all for the past, oh, three months, you know that we are moving out of state. Well, this week it finally happens. The movers show up on Wednesday to start packing us, they ship out on Friday, I drop the boys at my mom's over the weekend, and The Hubby and I meet at the new house on Monday night, with the truck showing up on Tuesday. I can't believe it's finally showtime. I'm cranking out stuff for the blog, The Hubby is doing the heavy lifting, I'm getting clothes packed for the kids, he's making sure all the paperwork and everything else is in place. Needless to say, we're pretty busy.
And in the midst of all this, guess what happens…
The Bug breaks his hand! Total freak accident, and let's just say that Daddy is feeling pretty bad about it. And, you know, not that there is ever a good time for your child to break a bone or really sustain any kind of injury, but this is, like, awesomely bad timing. I'm just thanking God that it wasn't worse, because it could have been. It's not displaced, just fractured, and he only needs a soft cast. The hand doctor was able to get him in for a follow-up appointment on Thursday, and he has been in really good spirits. Almost too good, since he is already jumping around on the couches.
You know, basically trying to give me a heart attack.
#momofboys
I'm just hoping that we can get through the rest of the week without any more trips to the ER or urgent visits to the pediatrician or ENT doctor or after hours calls to the plumber or anything else of that sort. I'll believe THAT when I see it.
You know what you're also not going to believe? That this bowl of rich, chocolaty, spicy Pumpkin Spice Chocolate Pudding Oatmeal is totally healthy. Annnnd, I've pretty much been eating it daily…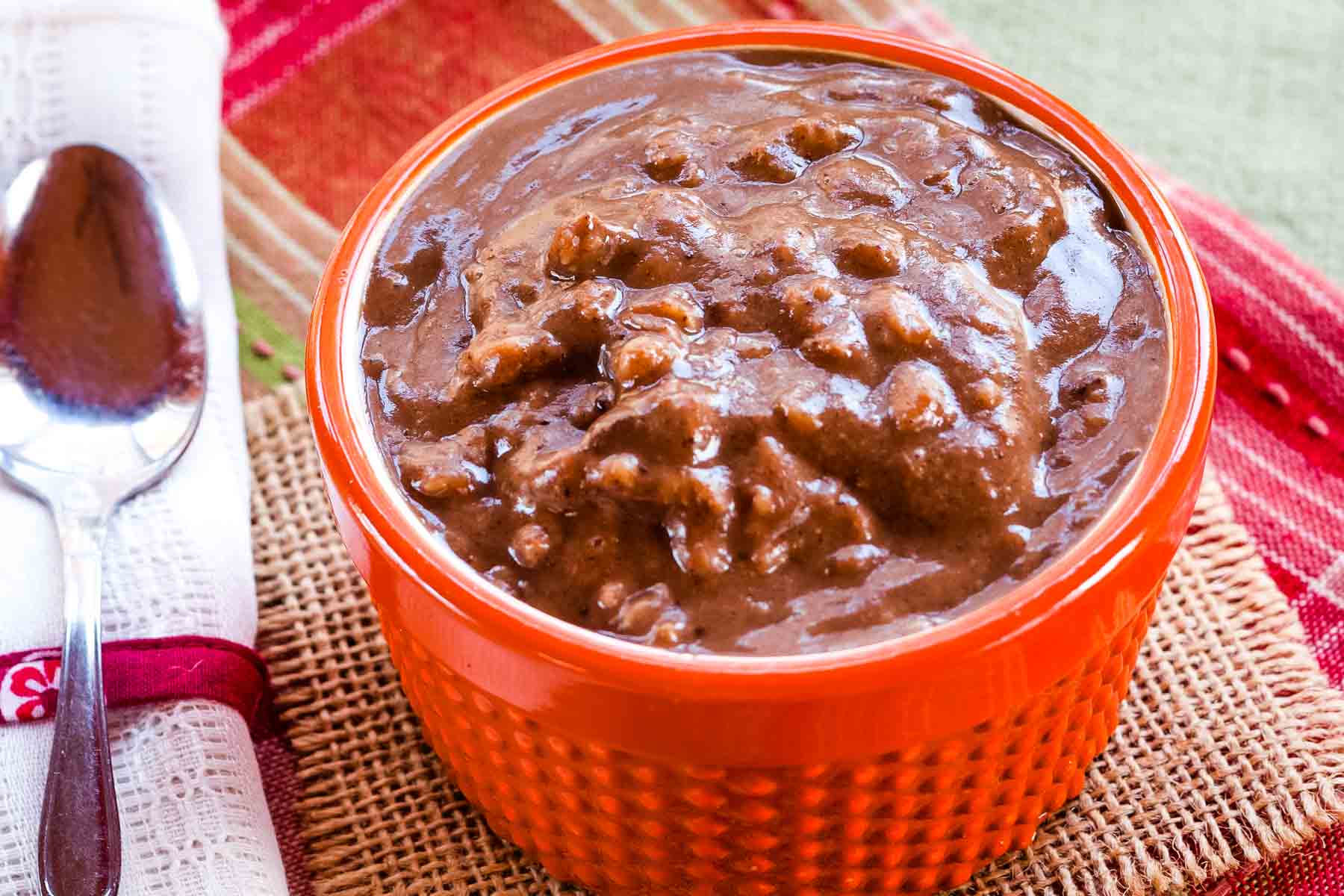 In the past, I've been totally up front about my daily habit of chocolate for breakfast. Back then, it was Mexican spice in my oatmeal, but a few weeks ago, I didn't have any of my Mexican Chocolate Spice Mix made up. However, I did have a little container of pumpkin pie spice I had mixed up. I thought since that ubiquitous Pumpkin Spice Latte is so popular, despite it's lack of actual lack of pumpkin (yep, it's true, but it's not a Pumpkin & Spice Latte, it's Pumpkin Spice, which is a thing, even in the absence of pumpkin), that I should toss some of the pumpkin pie spice in my oatmeal.
So for the first couple weeks, I was making Pumpkin Spice Chocolate Pudding Oatmeal with just pumpkin spice and cocoa powder. I was totally into the cinnamon chocolaty combo, but I just wasn't feeling pumpkin for a good part of the fall. So this oatmeal is totally amazing without any pumpkin. The warm spices and chocolate are truly a heavenly and comforting combination. After you cook your oatmeal to your desired texture, slowly stir in some egg or egg whites, and it gives it a rich, creamy, pudding-like texture, plus a nice dose of protein to keep you totally satisfied.
Then, you guys, I added pumpkin. Oh my! It totally ups the creamy, chocolate pudding-y factor, and if you like pumpkin, that hint of squash flavor gives a nice, earthy undertone. And it's vegetables! In your breakfast! Talk about a homerun way to start your day!
Go on, have a bite of Pumpkin Spice Chocolate Pudding Oatmeal. Or a bowl. Or three…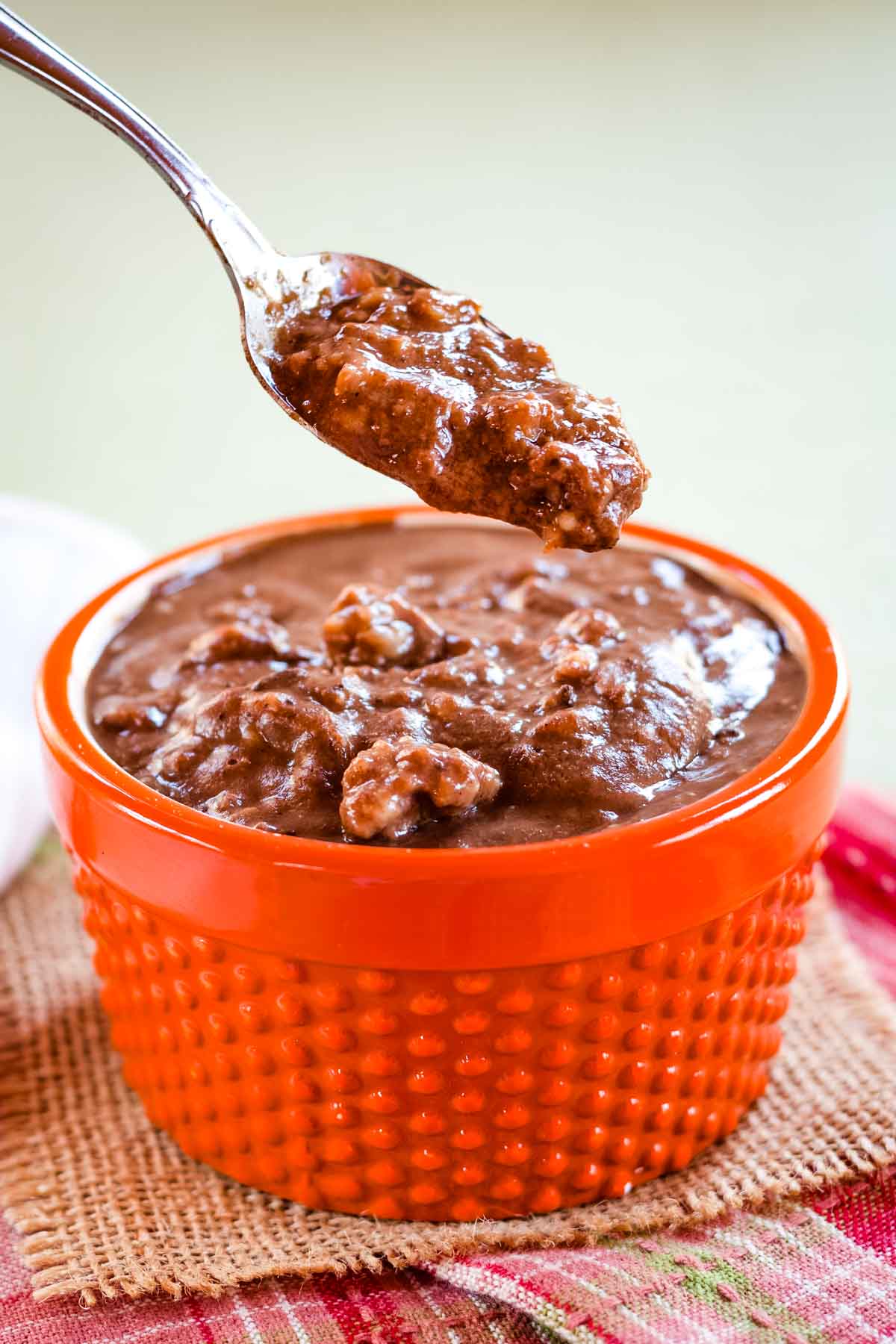 And don't feel the least bit guilty about eating chocolate for breakfast! I mean, whole grains, protein, vegetables! It's so good I bet it even helps regrow bones!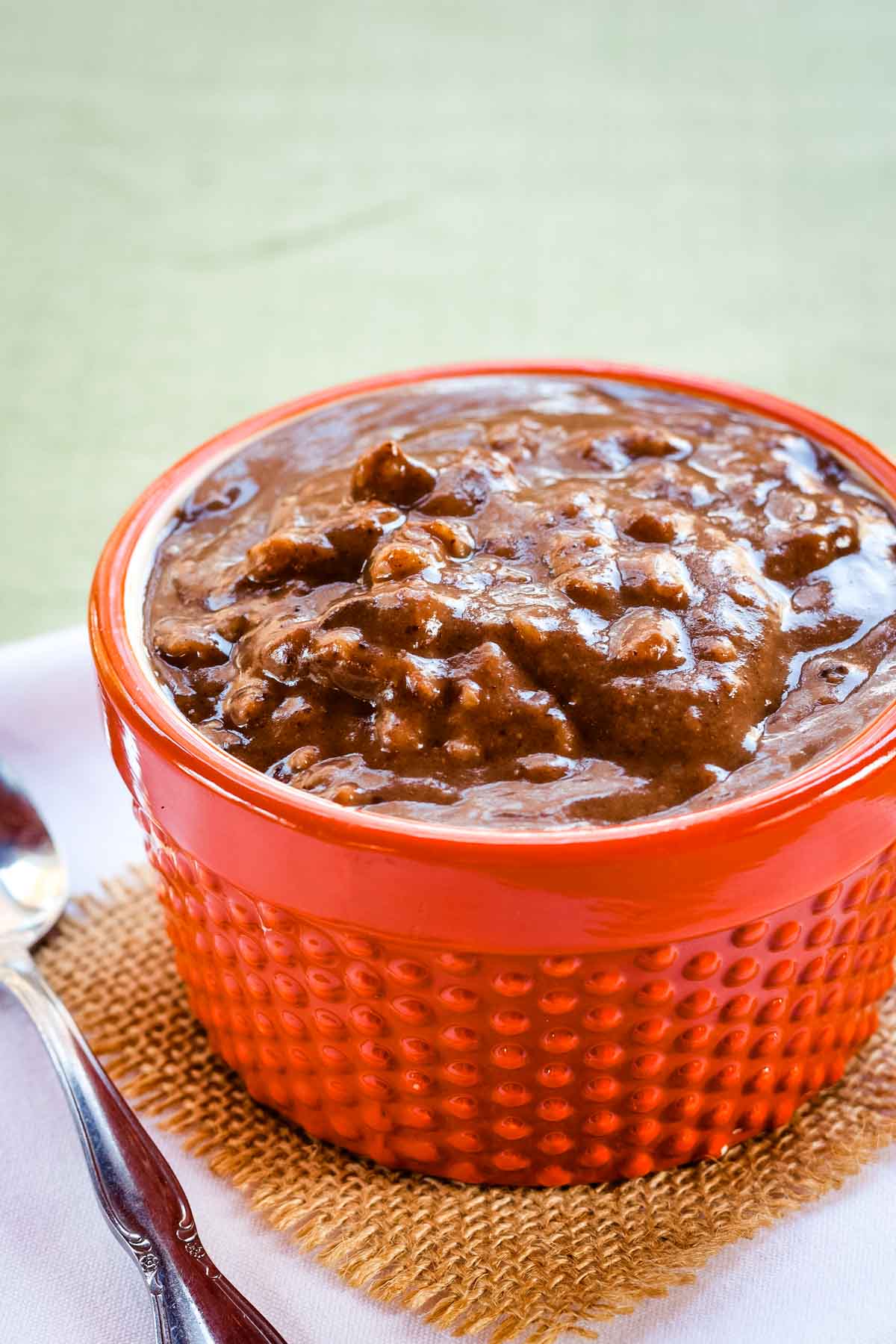 Have you ever broken any bones?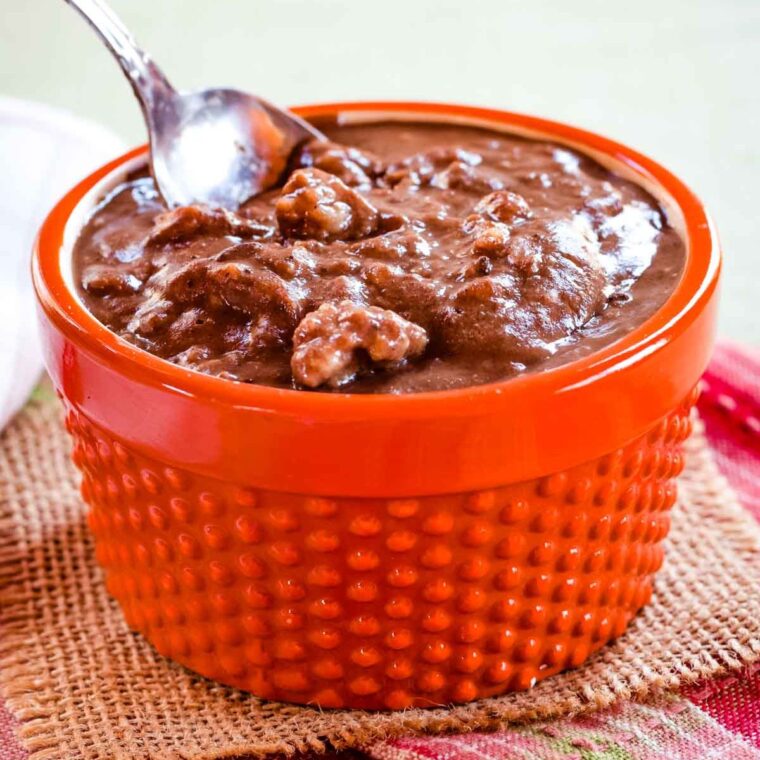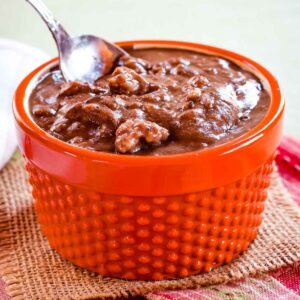 Chocolate Pumpkin Oatmeal
Warm up inside and out with a hot bowl of wholesome Chocolate Pumpkin Oatmeal for breakfast. If you haven't tried the combination of chocolate and pumpkin spice, now is the time. This easy recipe tastes decadent, but packs in plenty of healthy whole grains, plus some sneaky veggies and protein!
Ingredients
1/3

cup

old fashioned oats

gluten-free, if needed

2

Tablespoons

unsweetened cocoa powder

1-2

teaspoons

sugar,

brown sugar, honey, maple syrup, or equivalent sugar free sweetener of choice

1

teaspoon

pumpkin pie spice

pinch

salt

2/3-1

cup

water

the more water you use, the creamier it will be, but you will have to cook it longer

1/3

cup

unsweetened almond milk

or your dairy or nondairy milk of choice

1/4

cup

pumpkin puree

not pumpkin pie filling

2

egg whites,

lightly beaten or 1/3 c pasteurized egg white from a carton (can also use one lightly beaten egg, but I prefer the more neutral taste of just the whites).

A little butter for serving

if desired
Instructions
Combine the oats, cocoa powder, sweetener, pumpkin pie spice, salt, water, milk, and pumpkin puree in a saucepan, and cover with a lid.

Bring to a boil over medium heat, then reduce heat to low to keep mixture at a simmer.

Cook for 5-10 minutes, keeping an eye on it to make sure the mixture doesn't boil over, or until the oatmeal is cooked to desired doneness, but a little excess moisture remains (you can add more water if the liquid evaporated before the oats were as soft as you like).

Reduce heat to low. Slowly pour in egg whites while stirring constantly.

Stirring constantly, cook for another 1-3 minutes, or until mixture slightly thickens.

Top with a pat of butter, if desired.
Nutrition Facts
Chocolate Pumpkin Oatmeal
Amount Per Serving (1 serving)
Calories 226
Calories from Fat 45
% Daily Value*
Fat 5g8%
Sodium 224mg9%
Potassium 487mg14%
Carbohydrates 39g13%
Protein 13g26%
Vitamin A 9538IU191%
Vitamin C 3mg4%
Calcium 165mg17%
Iron 4mg22%
* Percent Daily Values are based on a 2000 calorie diet.
Categories:
Enjoy!
More chocolate for breakfast? Totally…
And here are some from my friends…