This post may contain affiliate links. Read my disclosure policy.
These aren't your basic Gluten Free Banana Muffins. They are moist, tender, and full of walnuts, chocolate chips with the rich, nutty flavor of browned butter. While they sound indulgent, this banana muffin recipe is truly a healthy breakfast made with wholesome ingredients.
Don't need a gluten free muffin recipe? Try my Whole Wheat Banana Muffins also made with brown butter!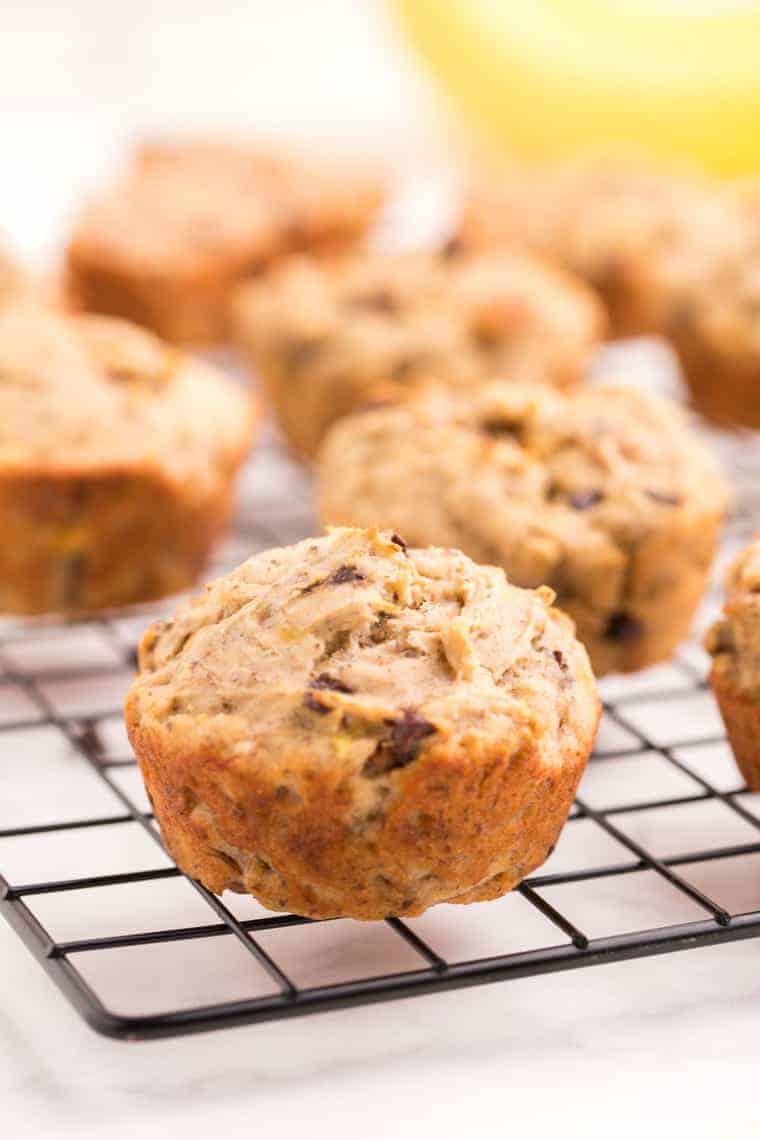 Moist and Delicious Gluten Free Banana Muffins Recipe
Is there anything better than starting your day with a big ol' muffin, nice and warm with butter melting into all the nooks and crannies?
I think not, and you can be certain my kids agree. Most days we tend to keep things simple for breakfast – fruit and yogurt parfaits, make-ahead oatmeal, toast.
So when muffins magically appear, you better believe they are happy campers. Oftentimes it's Gluten Free Carrot Zucchini Muffins, but when these Gluten Free Banana Chocolate Chip Muffins showed up, they absolutely squealed with delight!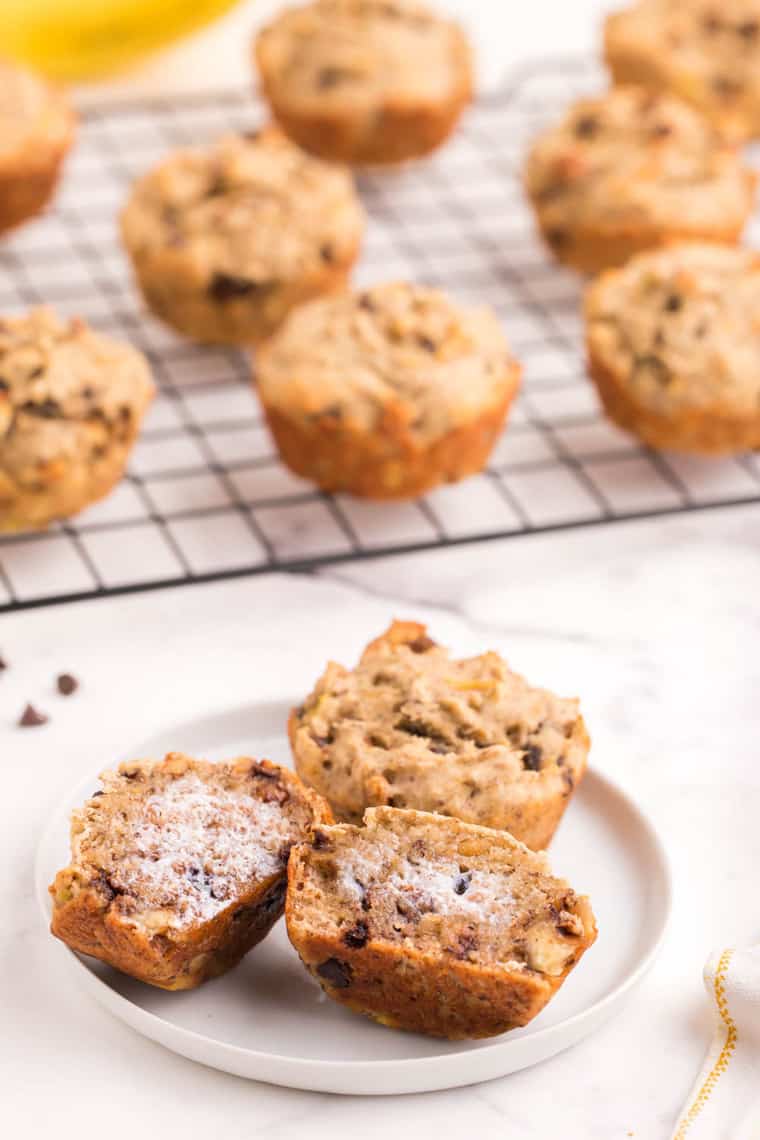 Why We Love this Recipe
The kids love the sweet flavor of the banana and the fact that they are loaded with nuts and especially chocolate chips. If my boys break open a muffin and see bits of melty chocolate, they think they've hit the jackpot. It is definitely a kid-favorite combination of flavors and ingredients, with just a bit of texture from those walnuts.
Are banana muffins bad for you?
What mom loves is that these are actually a healthy gluten free banana muffins. The overripe bananas have so much natural sweetness that you only have to add a little maple syrup instead of a ton of sugar. They have Greek yogurt that helps to replace some of the fat and provides moisture and a little protein. And there is some sneaky superfood action with ground flax seeds!
And they use a 1-to-1 gluten free flour blend, so there isn't a lot of measuring different ingredients from different little bags that have to be pulled out of the pantry.
But the real secret is the browned butter. Just like any fat that you add to baked goods, it helps keep them moist and tender. But by taking a few minutes to brown butter, it gives the muffins an extra rich and nutty flavor that just can't be beat. And because of that, a little goes a long way.
How to brown butter
Heat a pan over medium-low heat.
Add the butter, let it melt, and start to foam.
Now just go slow and watch it carefully, keeping the heat low and not rushing the process.
Stir frequently with a whisk or spatula until the butter becomes golden in color and some brown bits start to collect at the bottom.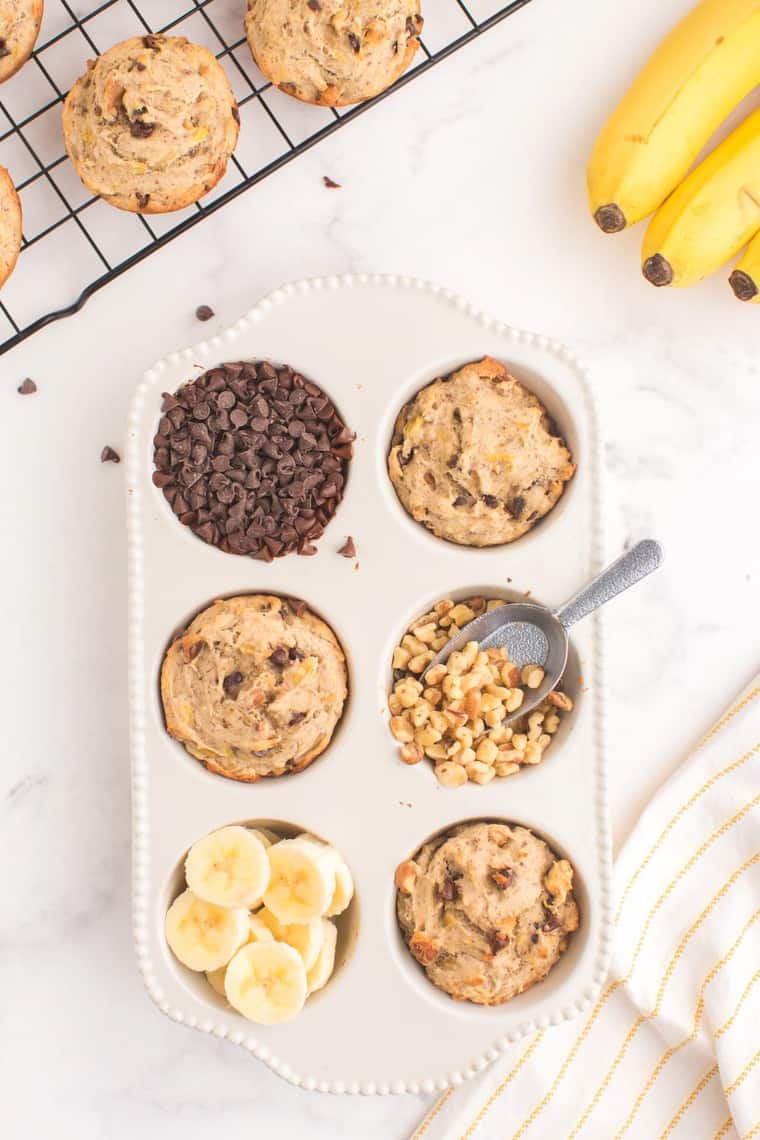 How to Make Healthy Gluten Free Banana Muffins
This might look like a long list of ingredients. But I promise, once you've browned the butter, it all comes together quickly in one bowl!
Here is a brief overview so you can see just how easy it is to make. Scroll down to the printable recipe card for the full quantities and details.
But don't skip my PRO TIPS below!
Ingredients
Unsalted butter: No need to worry about letting it warm to room temperature since you are going to be melting it in a pan anyway.
Chopped walnuts: Gives those muffins some nutty crunch and omega 3's.
Overripe bananas: Yes, make sure they have dark spots on them or have turned black. This means they are nice and soft and easy to mash, plus sweet enough that you don't have to add much sweetener to the muffins.
Maple syrup: Please use the real stuff. You only need a little, and it adds such a bold, full flavor.
Vanilla extract: A teaspoon makes everything taste better. Again, I highly recommend pure vanilla extract, most especially for gluten free baking so you can avoid colors and flavors that may contain gluten.
Plain Greek yogurt: I usually use nonfat, but you can use whatever you prefer.
Egg: Just one and make sure to bring it to room temperature.
Kosher salt: Yes, even sweet recipes need salt to bring out all the flavors.
1-to-1 gluten free baking flour blend: You can make your own or buy a bag of your favorite gluten-free flour (I usually use Bob's Red Mill or Cup 4 Cup). But be sure it is a 1-to-1 all-purpose or baking blend that you can use in a 1:1 ratio for regular flour. These usually contain xanthan gum, not just flours and starches.
Ground flax seed: An easy way to sneak in some extra superfoods.
Baking soda: We want those muffins to rise.
Mini chocolate chips: By using the mini ones, you only need a little to add a ton of chocolaty goodness because they spread all throughout the muffins. Prefer not to serve chocolate at breakfast? You can leave them out or substitute with raisins.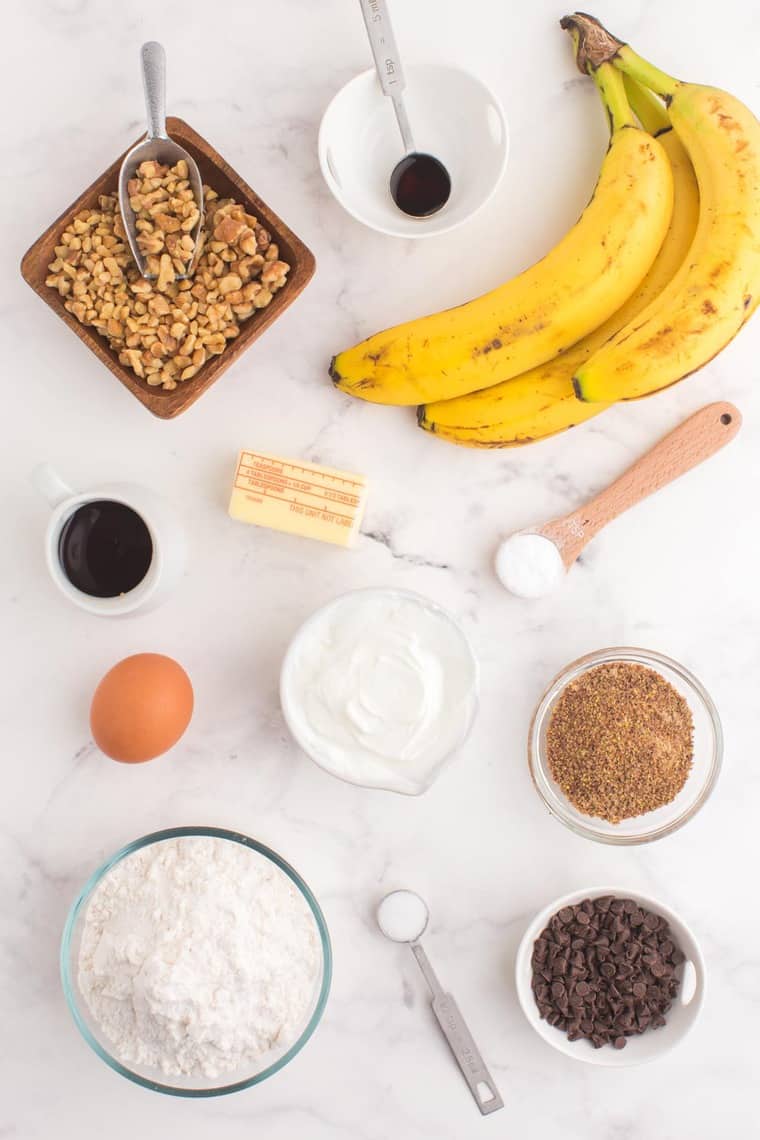 Directions
Preparations: Preheat oven to 375°F and spray a 12-cup muffin tin with nonstick cooking spray or line with cupcake/muffin liners.
Brown the butter: In a small skillet, melt the butter over medium-low and cook till golden brown. Add the walnuts and toast a little, then pour off the butter into a bowl to cool.
Combine the wet ingredients: Mash the bananas and blend in the maple syrup, vanilla extract, Greek yogurt, egg, salt, and reserved browned butter.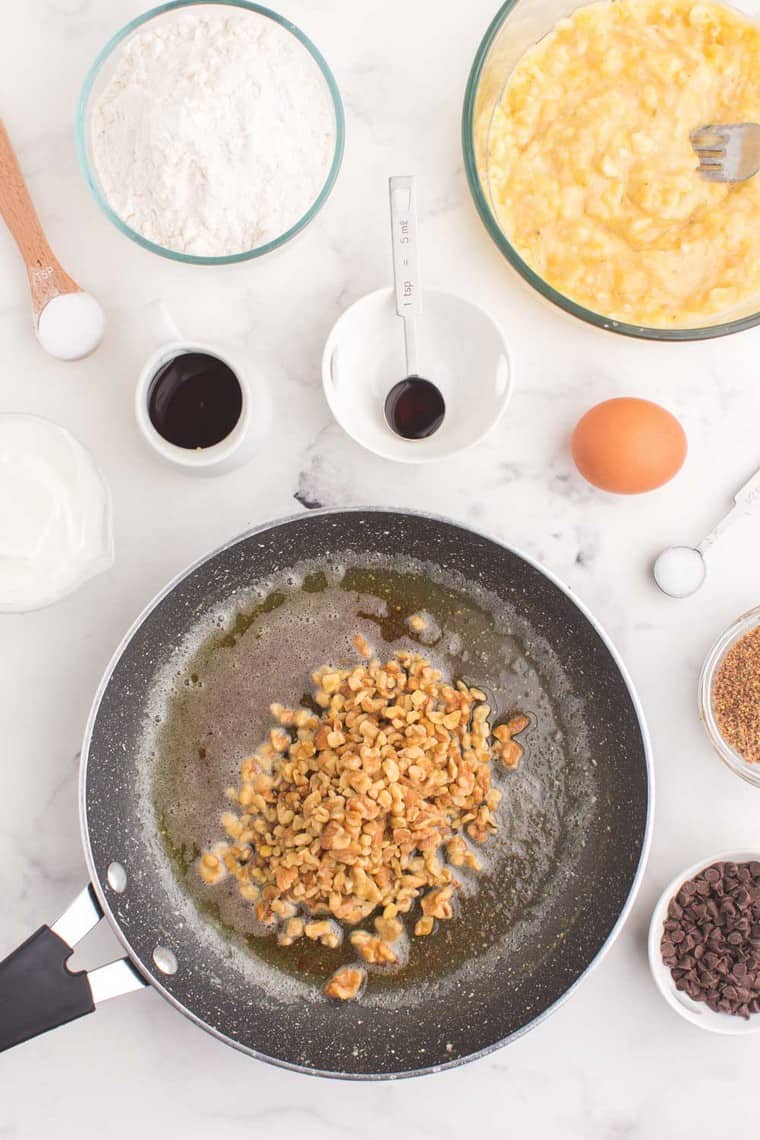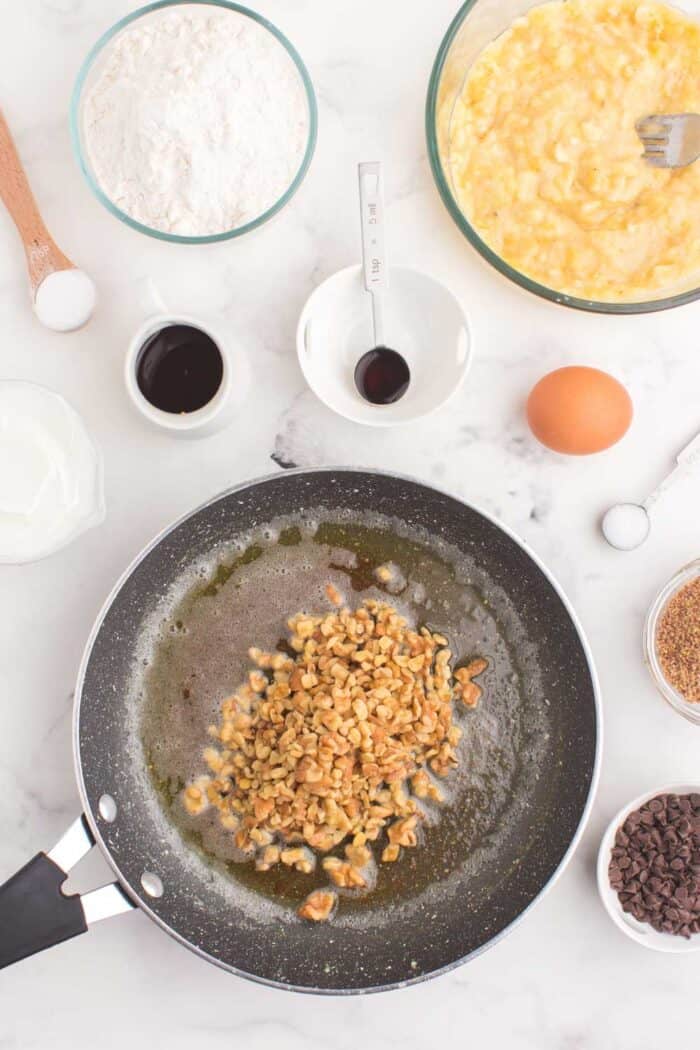 Stir in the dry ingredients: Add the flour, flax seed, baking soda, and walnuts, and stir until just combined, then fold in the mini chocolate chips.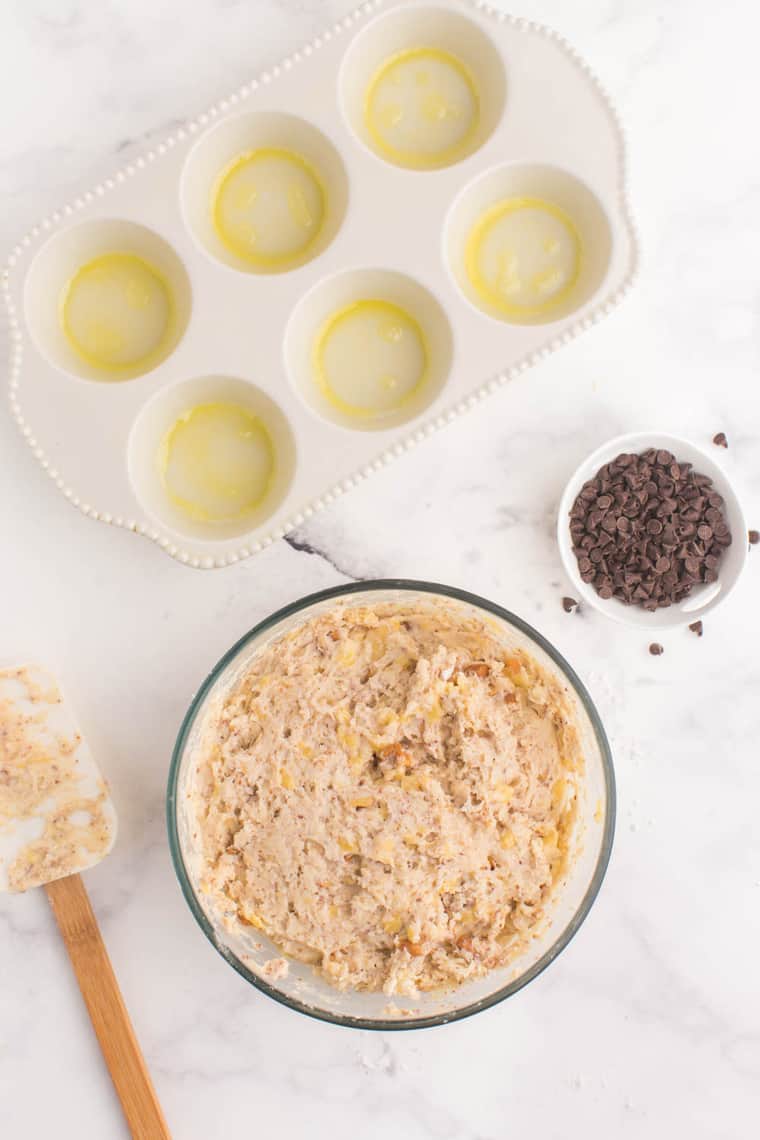 Fill, bake, and cool: Divide the batter between the 12 cups of the muffin tin and bake for 15-17 minutes. Cool in the pan for about 10 minutes before removing them to a wire rack to cool completely.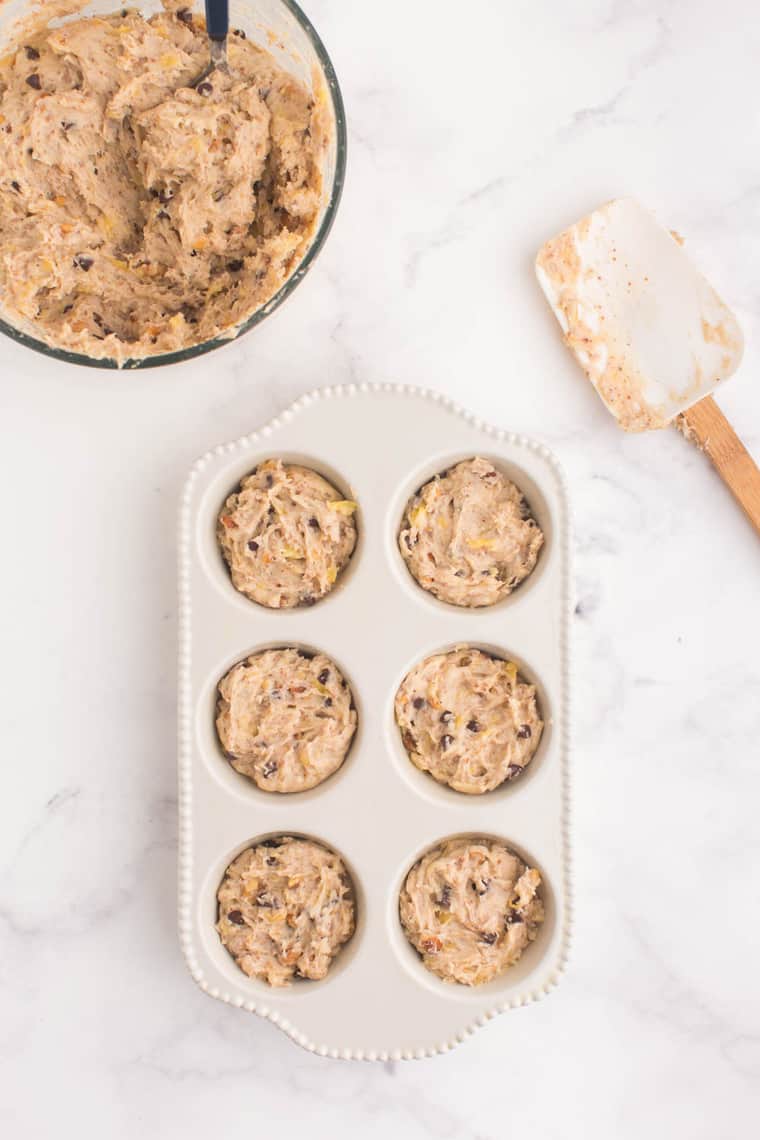 Tips for Success
A few simple steps will ensure you end up with the best gluten free banana chocolate chip muffins you've ever had.
Baking Tips
Prevent sticking: Use cupcake liners in your muffin tin, or make sure to spray it really well with nonstick booking spray
Don't burn the butter: As mentioned several times, go slowly and keep a close watch as you brown the butter.
Measure properly: It is especially important with gluten free baking to be sure that you lightly spoon the flour into the measuring cup and level it off with a knife. Packing in too much flour will give you a dense, chewy muffin.
Don't overfill: Yes, the idea of a giant, overflowing muffin is appealing. But if you overfill the muffin tin, they will take too long to bake through and you'll either und up with a raw or dry muffin. Nobody wants that! With a standard size muffin tin, you'll get 12 muffins from this recipe.
Storing the Muffins
These are very moist muffins. While they can be kept in an airtight container at room temperature if they last any longer than that, you'll want to store them in the refrigerator. They'll be good for 4 or 5 days if refrigerated.
Freezing Muffins
Muffins freeze very well, so I always recommend making an extra batch of the gluten free banana muffins recipe and freezing some. Be sure to put them in a plastic freezer storage bag and squeeze out as much air as possible. Then place the bag in an airtight container.
Alternatively, if you only plan to take out a few at a time. Wrap one or two together in plastic wrap, then place them in a freezer storage bag, squeezing out the extra air.
For the best flavor and texture, I recommend enjoying within a month or two. Though we have been known to keep muffins in our freezer for months. Warm them up and add a little butter, and it's like they are fresh out of the oven.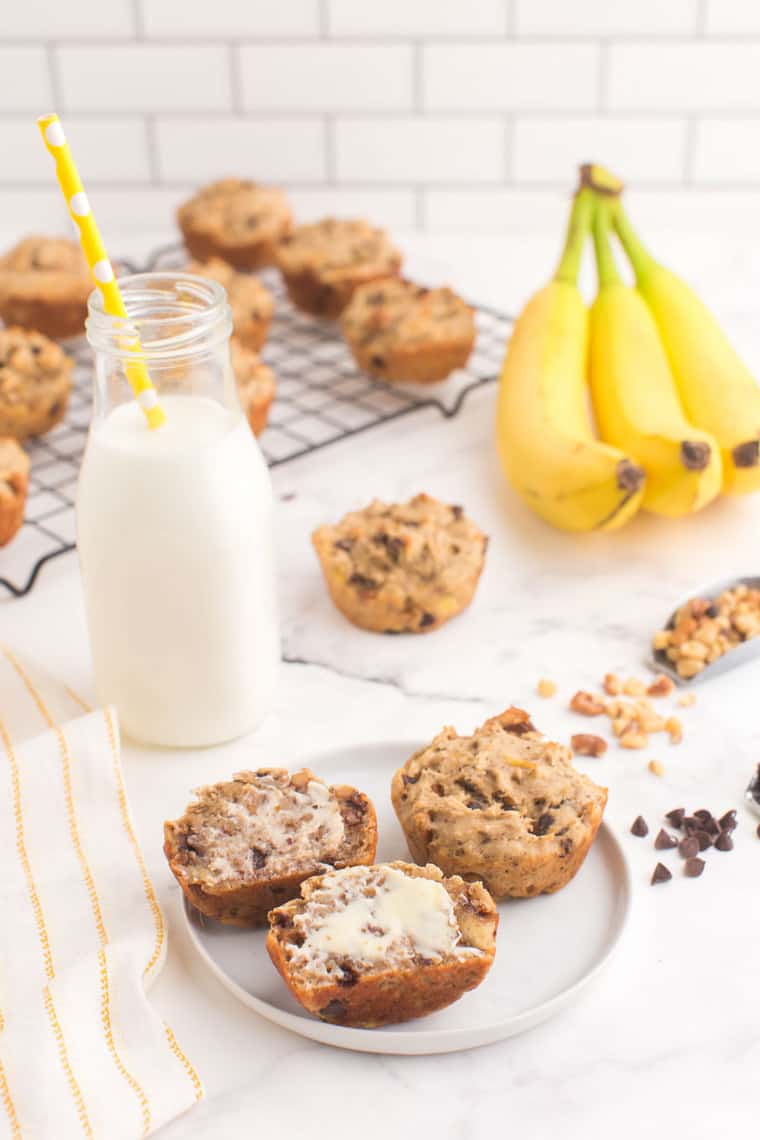 Make it a Meal – What to Serve with Gluten Free Banana Chocolate Chip Muffins
Serve something light alongside a muffin for a quick weekday breakfast to keep the kids satisfied until lunch. Or add these muffins to an entire spread for an Easter or Mother's Day Brunch.
Fruit and Yogurt
Eggs
Brunch Sides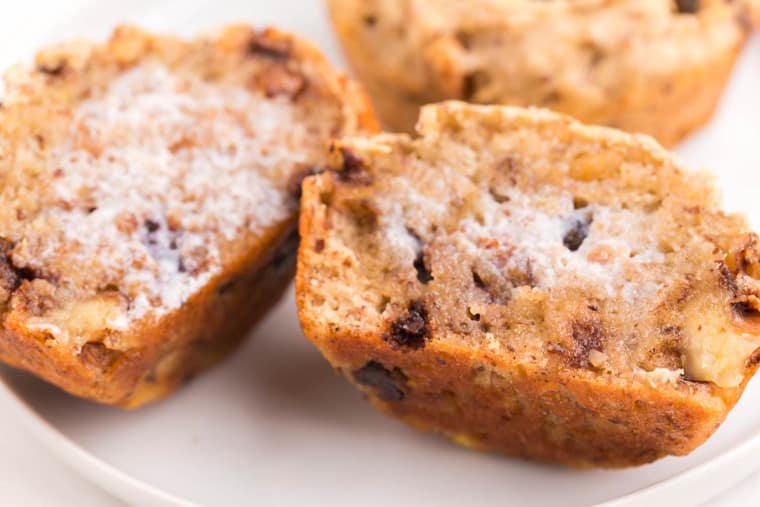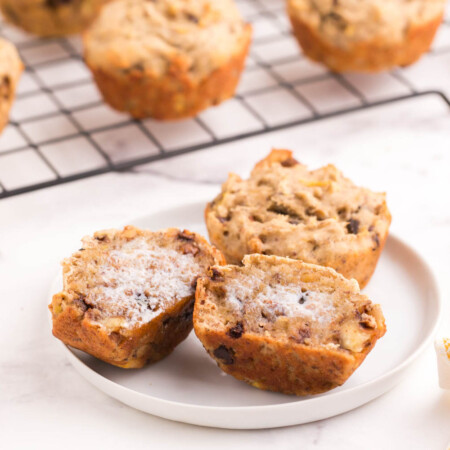 Gluten Free Banana Muffins
Not your basic banana muffin recipe. These Gluten Free Banana Muffins are chock full of walnuts and chocolate chips, plus brown butter to make them extra delicious. But without a ton of sugar and some superfood ingredients, they make a healthy breakfast.
Ingredients
1/4

cup

unsalted butter

1/2

cup

chopped walnuts

3

overripe bananas

¼

cup

pure maple syrup

1

teaspoon

vanilla extract

1/2

cup

plain greek yogurt

1

large egg

½

teaspoon

kosher salt

1 1/2

cups

1:1 gluten free flour blend

(such as Bob's Red Mill 1-to-1 or Cup 4 Cup)

1/4

cup

ground flaxseed

1

teaspoon

baking soda

1/4

cup

mini chocolate chips
Instructions
Preheat oven to 375°F and spray a 12-cup muffin tin with nonstick cooking spray or line with cupcake/muffin liners.

In a small skillet over medium low heat, melt the butter and continue to cook until it turns a light golden brown. Add walnuts, toss and roast for a couple minutes. Pour off butter into a small bowl to cool slightly, and set aside the walnuts

Add the bananas to a large bowl and mash with a fork until only a few small lumps are left.

Stir in the maple syrup, vanilla extract, greek yogurt, egg, salt, and reserved browned butter.

Add flour, flaxseed, baking soda, and reserved walnuts to the bowl. Using a spatula, mix until wet and dry ingredients are just combined, without overmixing.

Gently fold in the mini chocolate chips.

Divide the batter between the 12 cups in the prepared muffin tin and bake for 15-17 minutes.

Cool in the pan for about 10 minutes before removing to a wire rack to cool completely.
Nutrition Facts
Gluten Free Banana Muffins
Amount Per Serving (1 muffin)
Calories 210
Calories from Fat 90
% Daily Value*
Fat 10g15%
Cholesterol 25mg8%
Sodium 202mg8%
Potassium 176mg5%
Carbohydrates 27g9%
Protein 5g10%
Vitamin A 172IU3%
Vitamin C 3mg4%
Calcium 51mg5%
Iron 1mg6%
* Percent Daily Values are based on a 2000 calorie diet.
Categories:
More gluten free breakfast recipes for overripe bananas
Or freeze those overripe bananas to make Healthy Banana Smoothies to enjoy with your muffins!