This post may contain affiliate links. Read my disclosure policy.
Chocolate pudding, with no added sugar! This easy no-bake dessert recipe is also one of my best gluten-free no-bake dessert recipes.
Still trying to keep those New Year's Resolutions or stick to your healthy lifestyle? Kids want dessert, but you prefer to give them something healthy? Then keep on track, ditch the mix, forget the sugar, and don't heat the stove or oven. Just whip up my Chocolate Pudding "Snack Hack".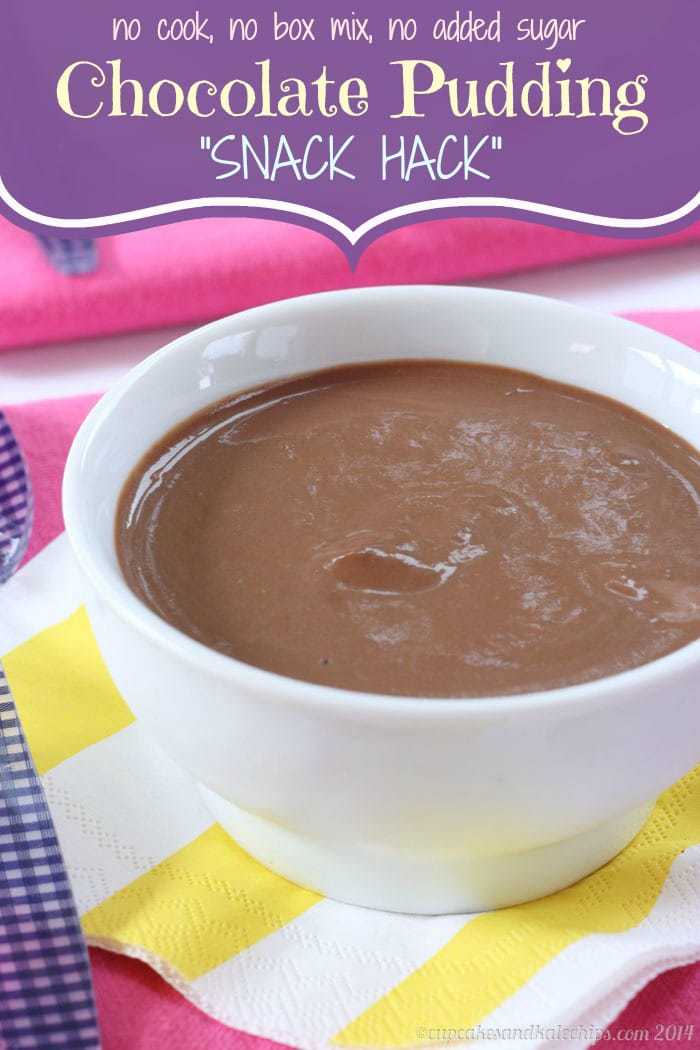 So I get the whole "they're only young once", "cherish every moment", "they grow up too fast" stuff. I really do. I love my kids, and I'm not eager for them to be too cool to hug and kiss mom or going off to college or *gasp* getting married or anything like that. Honestly, I'm not even ready for regular homework and wanting to pick out their own clothes. I love the innocence and imagination of childhood. As heavy as he is getting, I love that the little one wants me to carry him up and down the stairs, even though he is perfectly capable of doing it himself. I love that the big one wants to cuddle up in the rocking chair to say prayers with the little one and me, and then go off to read a book and tell imaginative stores with daddy at bedtime. I secretly love that they can't read the menu at restaurants yet – yes, of course the grilled cheese comes only with broccoli and not french fries, and nope, no chicken fingers on the menu, and I think that you and your brother can share the big salmon entree.
But let's keep it real – there are some things that I am sooooo over.
First, sippy cups. The straws and valves and caps and connectors, all of which get gunked up and have to be cleaned, but aren't really effective in keeping the liquid inside the actual cup, as intended. My kids, even the 21 month old, can drink out of a regular cup, but they both insist on carrying drinks around the house. Yes, I know, I could enforce the "only drink at the kitchen table" rule, but then they just don't drink because playing is much more fun, which leads to a whole other set of issues.
And really, any and all forms of plastic cups and plate and forks and spoons and bowls. I have drawers and cabinets that just explode with them because they never seem to stack well and stay organized. But if we don't use them, well, that's another thing I am over – signaling the end of a meal by dropping a plate, hurling a spoon, or spitting milk. Luckily the big one doesn't do that anymore.
Speaking of lack of verbal skills, or the refusal to use them. Sure, the little guy isn't even two, and he tries, he really does. But sometimes the big one, who has exceptional verbal ability, just can't be bothered to use it. I literally spent all day Saturday trying to decipher random grunts, groans, whines and cries.
High chairs, booster seats, and the like. Because if there is a crevice anywhere on it, food will get in it. Same with bibs.
Also the need to nap. The big one thinks he doesn't need to nap, and sometimes he doesn't. But sometimes he NEEDS to nap, but he still doesn't think he needs to so he flat out refuses and if he doesn't, then watch out. The little one knows he needs his nap and is happy to take it… if we are at home and he is alone in his dark, quiet room. Everyone says, "Oh just go about your day, and if they're tired, they'll just fall asleep in the stroller or lay down on the couch with a blanket." They've never met my kids. This has never happened. Ever. Ever ever ever. The last time one of my kids slept in a stroller, they were about four months old. The big one has fallen asleep on the couch once in his life. So we have to plan around naps or know that we will be dealing with an overtired mess at some point in the day. I'd rather both kids just be able to function like human beings from about 7:30am to 7:30pm on a semi-regular basis.
What I am not over is that my boys don't think I am trying to fake them out with this no-bake, gluten-free chocolate pudding.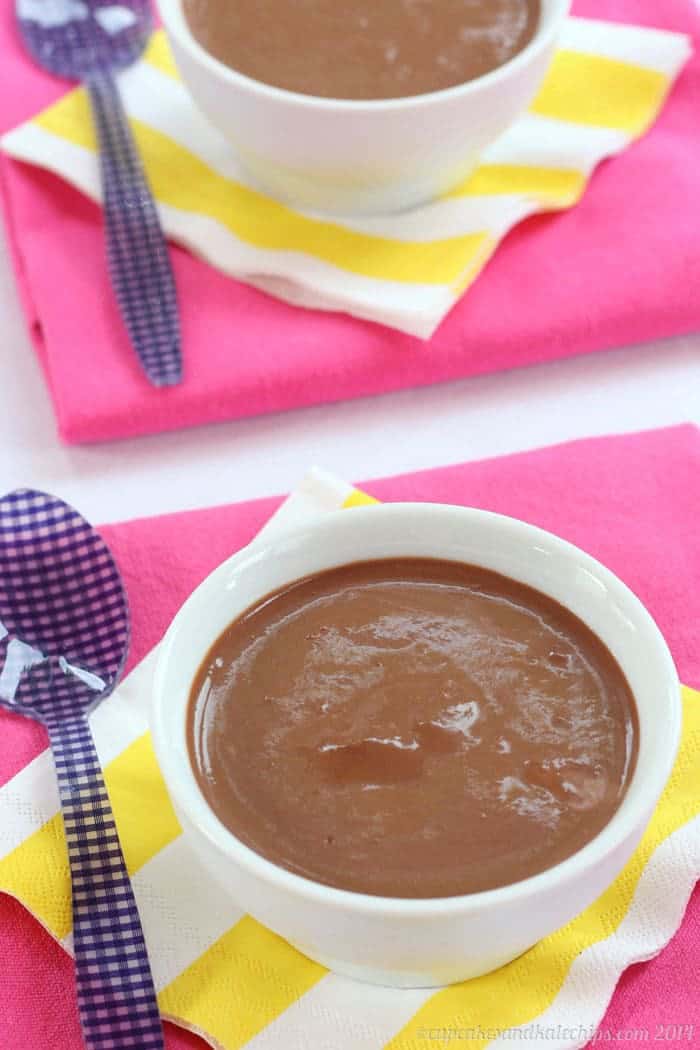 It's my Chocolate Pudding "Snack Hack". No box mixes here, no sugar, and no need to cook anything. Just whip together a few ingredients, and you can even make a "funky monkey" version by throwing in a little peanut butter. Serve it right away, or let it thicken up a bit in the fridge. The key is overripe, gnarly, and therefore super sweet bananas. I have all of these ingredients on hand about 99% of the time, versus chocolate pudding mix, which I really don't buy. And yes, there are easy cook and serve homemade pudding recipes, and most of those take only simple pantry ingredients, but when you've got two kids hanging on your legs yelling "snaaaaacccck" (yeah, I'm pretty much over that too), you don't want to be whisking and boiling and chilling, now do you?
Plus, you know, fruit and protein. Totally makes it health food!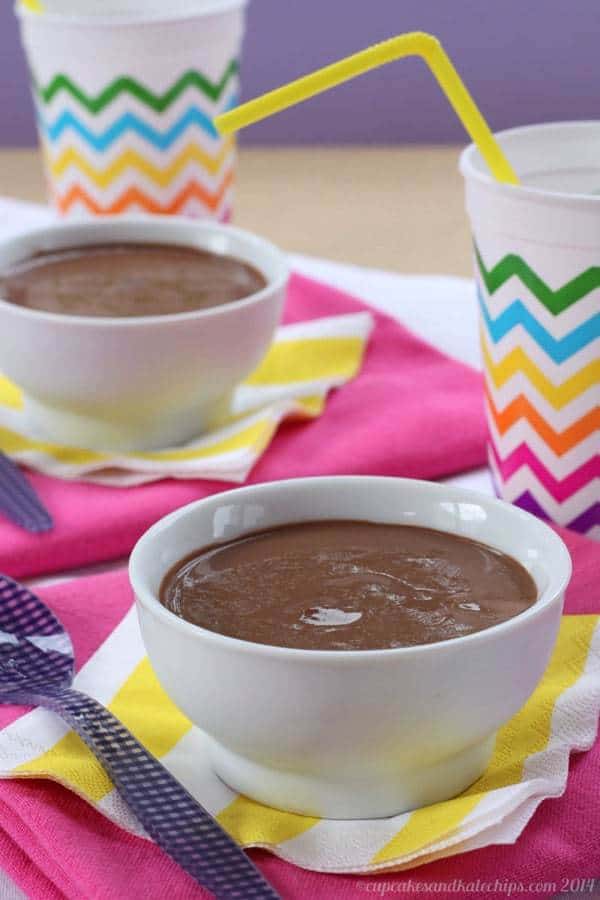 I hope you and your kids love bowl of creamy, chocolaty goodness as much as we do!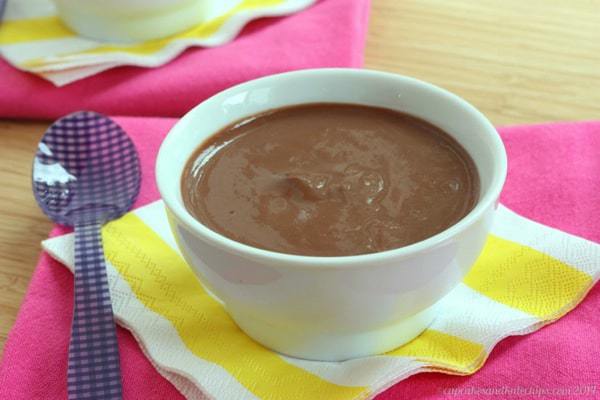 Are there any kiddie things that you are over or that you were ready to be done with when your kids were small?
Never miss one of my Yummy Eats or Tasty Sweets! Sign up HERE to have Cupcakes & Kale Chips delivered to your Inbox!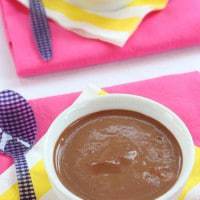 Chocolate Pudding Snack Hack
A healthy, easy treat that's no cook, no box mixes, and no added sugar!
Ingredients
1

large

very ripe banana

1/2

cup

Greek yogurt

2

Tablespoons

unsweetened cocoa powder

1

Tablespoon

optional - peanut butter

or other nut butter
Instructions
Combine all of the ingredients in a mini food processor or blender and blend until smooth. Alternatively, you can mash up the banana with a fork, and stir everything together, but the pudding won't be quite as smooth.

Divide between two bowls and refrigerate until ready to serve. Can be served right away, but it will firm up a bit if you refrigerate for at least an hour.
Nutrition Facts
Chocolate Pudding Snack Hack
Amount Per Serving (1 g)
Calories 161
Calories from Fat 54
% Daily Value*
Fat 6g9%
Cholesterol 3mg1%
Sodium 61mg3%
Potassium 371mg11%
Carbohydrates 22g7%
Protein 9g18%
Vitamin A 75IU2%
Vitamin C 5.9mg7%
Calcium 73mg7%
Iron 1mg6%
* Percent Daily Values are based on a 2000 calorie diet.
Enjoy!
Here are a few more quick and easy sweet treats…
Plus some from my friends…