Peanut Butter and Jelly Cheesecake Apple Nachos
Peanut Butter and Jelly Cheesecake Apple Nachos are a fun and easy snack recipe the whole family will love. Whether you are getting family and friends together to cheer on Team USA in the Olympic Winter Games or are looking to fuel the athlete in everyone, you'll enjoy this winning recipe for PB&J apple nachos inspired by everyone's favorite sandwich combo.
Disclaimer: This post has been sponsored by The J.M. Smucker Company. I received product and compensation, but all opinions are my own.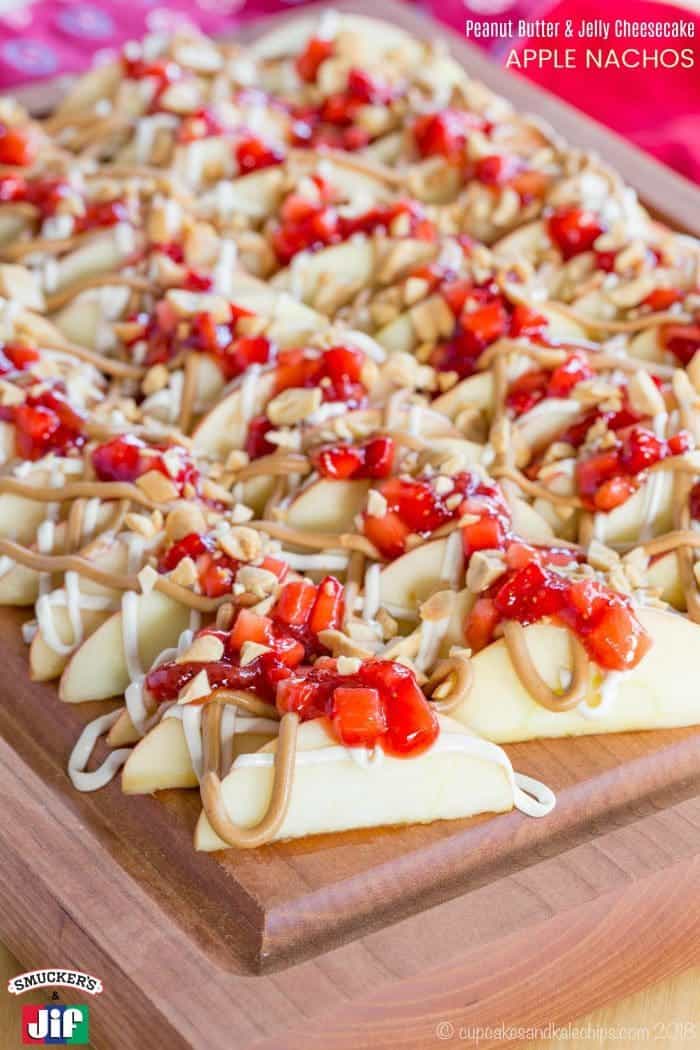 Peanut Butter and Jelly Apple Nachos with Strawberry Salsa and Cheesecake Drizzle
I missed my calling in life. Clearly I should have been a world-famous figure skater. Or skier. Oh heck, bring on the bobsled!
And what, you might ask, qualifies me to pursue these athletic endeavors? As a I child, I spent hours and hours and hours not at the ice rink or on the slopes, but watching the Olympic Winter Games. OK, I'm kidding, but this is definitely one of the most vivid memories of my childhood. The level of excitement in my house was tangible during those couple of weeks when we would watch the jumping and the spinning and the swooshing. There was even the time we were on vacation, and after being out and about all day, we would come back to the hotel at night to see what event was on. And the sadness when we realized it was all over this time around and we would have to wait another four years before getting swept up in the majesty and athleticism and support of our nation and its athletes could only be overcome by filling the time pretending I would be on that podium one day in the future.
My imagination would take hold, I'd throw off my shoes and pretend I was figure skating in my socks on the linoleum floor in the kitchen. Or we'd be lucky enough to have a snow day and I'd break out the sled and pretend it was the luge. While this may sound kind of silly, it was through watching Team USA that I was inspired to break out of my comfort zone and tap into my inner athlete and actually try things like ice skating and skiing. Maybe I'll never win a gold medal, but I enjoyed the attempt, and that's what matters. I'm hoping through watching the Olympic Winter Games with my boys this year I can inspire them to be active, have fun, and pursue their dreams, whether it be through sports or something else they are passionate about.
Besides, I do think I win a gold medal for fueling the potential athlete within my family, especially with Jif® Natural with a bit of sweetness from Smucker's® Natural Strawberry Fruit Spread on my team!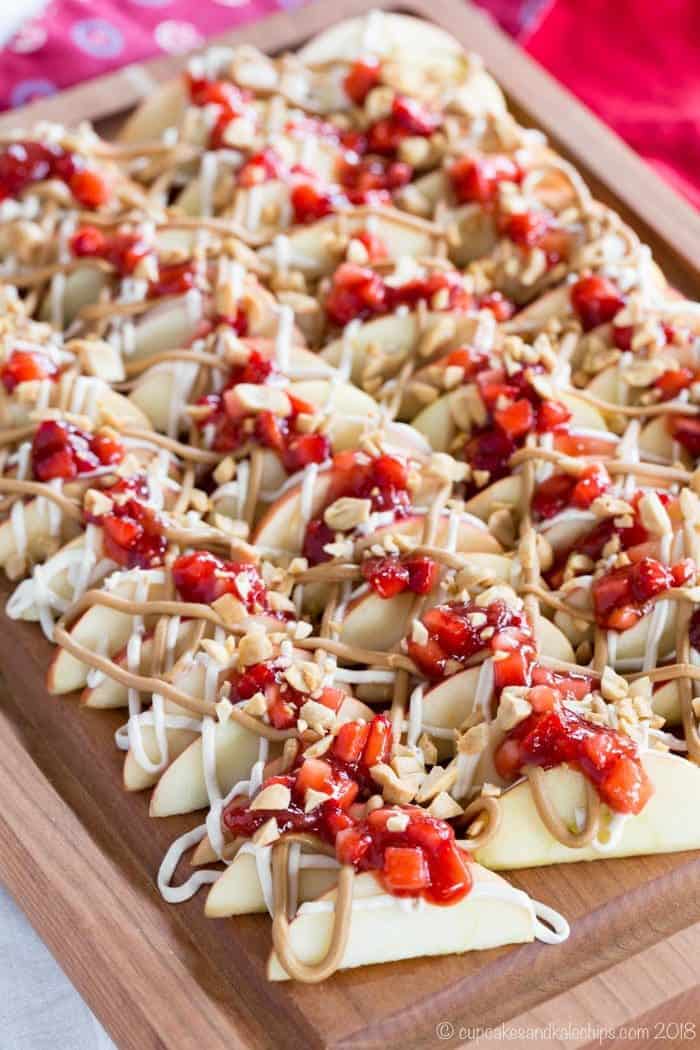 Peanut Butter and Jelly Cheesecake Apple Nachos will help you go for the gold!
Whether you are giving the kids an after school snack before they start practice or homework, or you are getting together with family and friends to watch your favorite events of the Olympic Winter Games, this easy snack recipe has the winning PB&J combination filled with the homemade taste of Jif Natural packed with 7 grams of protein and the perfect touch of sweetness of Smucker's Natural Strawberry Spread. Plus, with everyone's favorite combination of PB&J, it's sure to get top scores from all the "judges" in the house.
All it takes to make Peanut Butter and Jelly Cheesecake Apple Nachos is some cutting, stirring, drizzling, and sprinkling, so you can definitely get the kids involved. Simply chop those apples into wedges or slices. Give them a drizzle of Jif Natural Peanut Butter and a simple cheesecake mixture made of cream cheese, Greek yogurt, and a touch of honey. Top it with a strawberry salsa that's just a blend of chopped strawberries and Smucker's Natural Strawberry Spread and then sprinkle with peanuts. Then all you have to do is dig in. In no time you have the ultimate PB&J snack to fuel your family with the nourishment and support they'll need each day just like Team USA athletes!
You can have the kids make individual plates, put together a big platter to share with a crowd, or make them in individual containers that you can taken on the go, whether you are hitting the slopes, the ice, or just going to a family hike.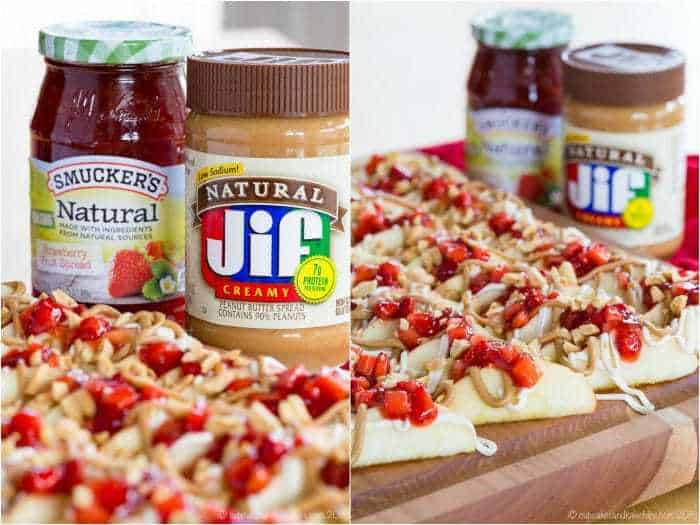 Besides fueling your inner athlete, Smucker's and Jif want you to help them continue to fuel Team USA. Smucker's and Jif want to help athletes achieve their Olympic dreams by donating $100,000 to the United States Olympic Committee to support future Team USA athletes. To show your support, just spread your love for Team USA and America's favorite sandwich by sharing a photo using the hashtag #PBJ4TeamUSA. Read more about how Jif and Smucker's is supporting Team USA at lovepbj.com.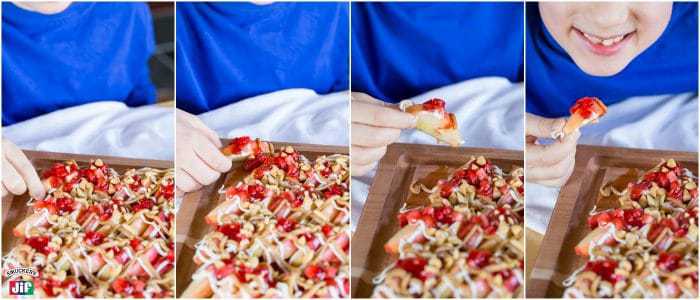 If you want some more yummy recipes to fuel your inner athlete with PB&J, try these…
You can also change up your usual PB&J sandwich by making PB&J Sandwich Skewers from i heart naptime. Give peanut butter and jelly a fun twist with Peanut Butter and Jelly Tacos from Home Made Interest. There's also a super creative PB&J Burrito over at lovepbj.com.
And when life gets busy, the kids can grab Uncrustables®, a yummy premade peanut butter and jelly sandwich with a convenient protein boost from the peanut butter which comes in whole wheat and reduced-sugar varieties.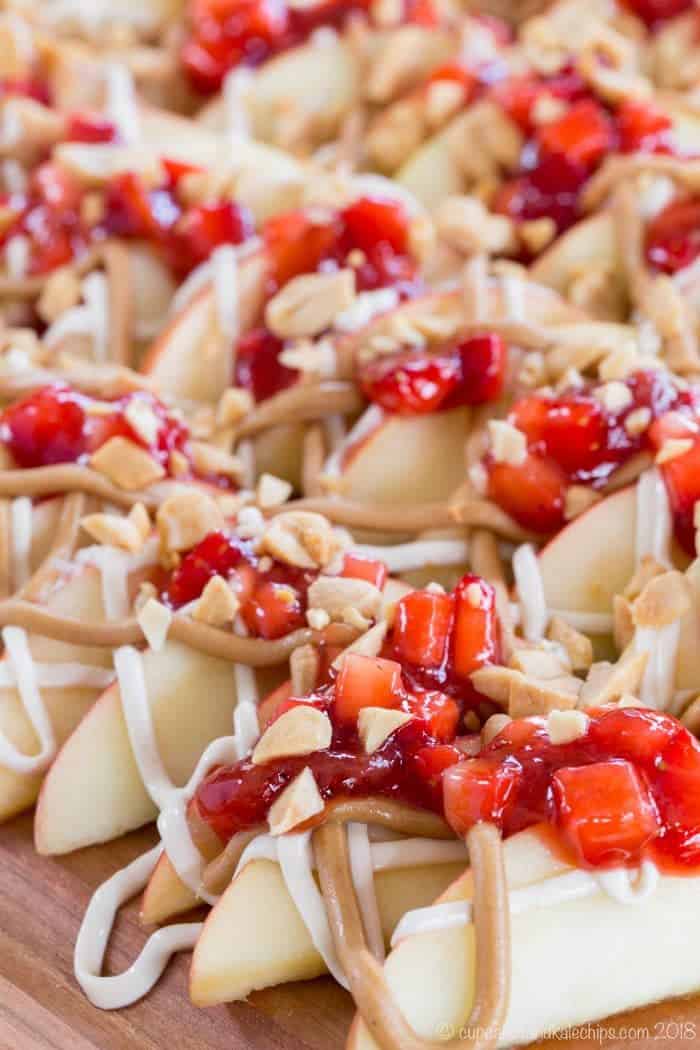 Make sure you spread your #PBJLove by following Jif on Facebook, Twitter, and Instagram, and Smucker's on Facebook, Twitter, and Instagram. And be sure to visit lovepbj.com for even more recipes and ideas to spread love and support for Team USA.
For more yumminess from me and my foodie friends, keep up with me on…
Or sign up to have Cupcakes & Kale Chips delivered straight to your Inbox!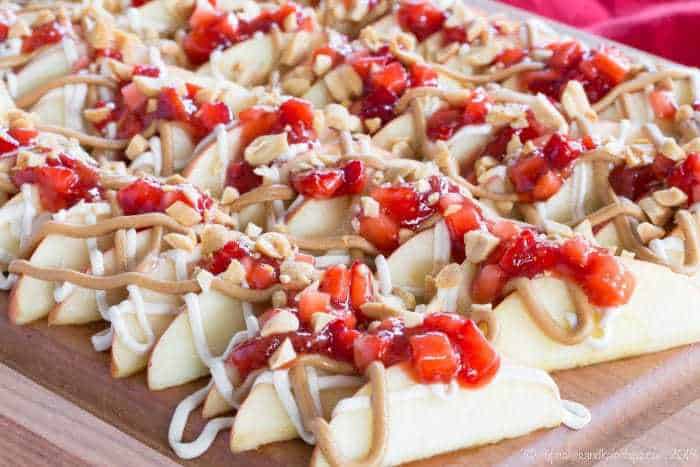 Share these Peanut Butter and Jelly Cheesecake Apple Nachos with your family and friends!

Peanut Butter and Jelly Cheesecake Apple Nachos
Ingredients
2 Tablespoons cream cheese (regular or light), at room temperature

2 Tablespoons plain Greek Yogurt

1/2 Tablespoon honey

1/4 teaspoon vanilla

1/2 cup chopped strawberries

1/4 cup Smucker's Naturals Strawberry Fruit Spread

4 apples

optional about 1/4 cup pineapple juice

1/4 cup Jif Natural Creamy Peanut Butter

1/4 cup chopped peanuts
Directions
In a small bowl, combine the cream cheese, Greek yogurt, honey, and vanilla, and stir until smooth.
In another small bowl, stir together the strawberries and Smucker's Naturals Strawberry Fruit Spread.
Cut each apple into about 16 wedges or slices. If desired, toss apple slices in pineaple juice to prevent browning, then lay out on a kitchen towel to dry slightly. Arrange apples on a large platter, or on individual plates or containers.
Transfer Jif Natural Creamy Peanut Butter to a sandwich bag and cut off the tip, or place in na small bowl and microwave for a few seconds to achieve a consistency that you can drizzle it, and drizzle evenly over the apple slices.
If desired, transfer the cream cheese mixture to a sandwich bag and cut off the tip, then drizzle over the apple slices.
Spoon the strawberry salsa mixture evenly over the apple slices, then scatter the chopped peanut over the top.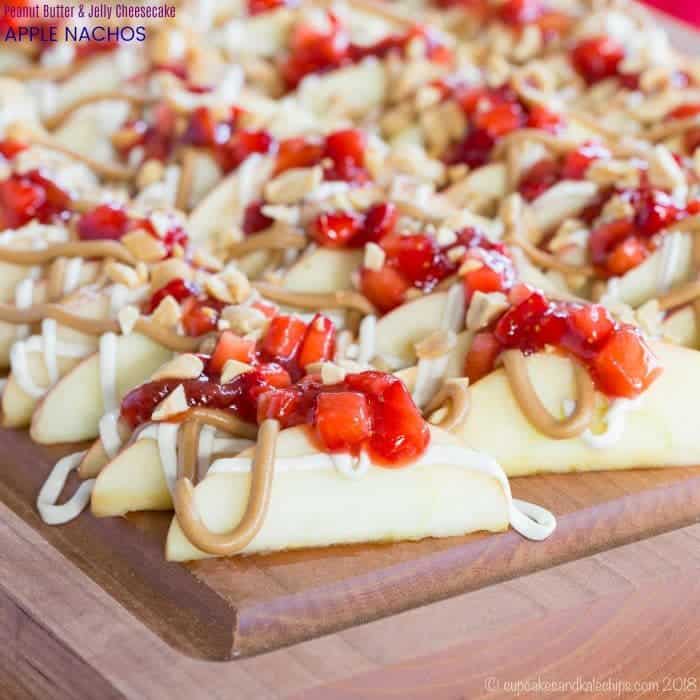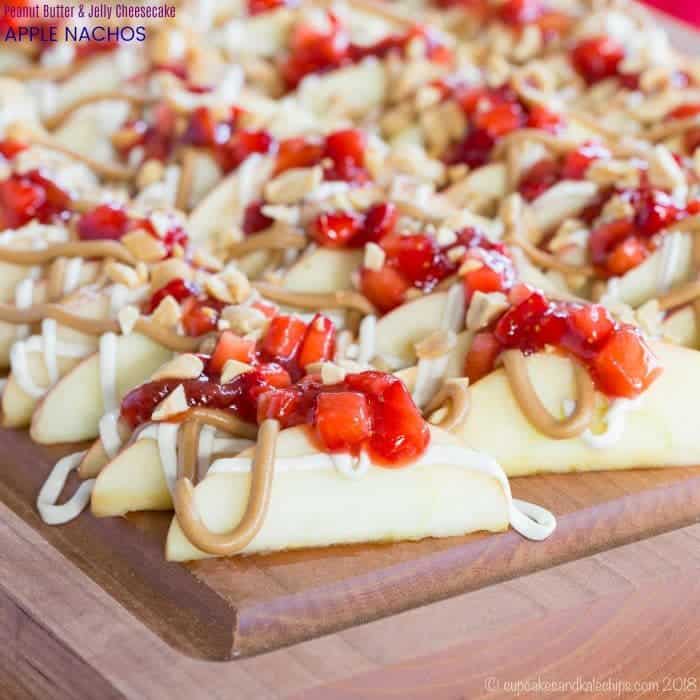 Loading nutrition data...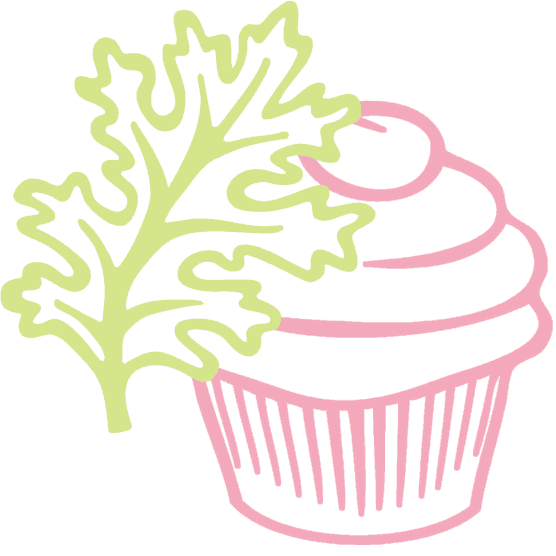 LOVE THIS RECIPE?
Give it a 5 STAR rating and share your photos on Instagram with the hashtag #CKCrecipes!
Enjoy!

This is a sponsored conversation written by me on behalf of Smucker's & Jif. The opinions and text are all mine.