This post may contain affiliate links. Read my disclosure policy.
Moist and tender and full of super secret, super healthy ingredients, pack some extra veggies, fiber, and protein into those kiddos (or yourself) and treat everyone to chocolate for breakfast with these Flourless Healthy Chocolate Zucchini Muffins.
Flourless Healthy Chocolate Zucchini Muffins

Disclaimer: I received samples of Swerve to use, and was under no obligation to write this post. No other compensation was received and I was under no obligation to write this post.
For the past month or so, I feel like everyone around me has been talking about just being inundated with zucchini from their gardens. They just can't keep up with the crazy green squash that is overtaking their yards and their kitchens. Food bloggers are making zucchini this and zucchini that. There are cookies, cakes, and casseroles. It's being stuffed, spiralized, and sautéed. And everyone else in the world is Googling or searching Pinterest for "best zucchini recipe" or "how to use up zucchini" or "what in the world am I going to do with all of this freaking zucchini".
You guys, I'm sorry for your woes. I really am. But I can't really empathize. You see, I have a black thumb, and The Hubby has barely had time to keep a few tomato plants in big pots alive in our backyard, so you can pretty much forget a garden. Especially a garden with a plant that would go crazy and take over our fairly small yard. And zucchini is one of, like, two vegetables that The Bug won't eat, so usually when I buy it, I don't really buy a lot.
Well, till last week, when for some odd reason I decided to buy four large zucchini and two large yellow squash. Why? I have no idea. We grilled some, but if I'm going to get The Bug to eat it without resorting to bribery, I have to get a little sneaky.
So since I haven't really been helping you out with recipes this year so that you could use up all of your zucchini, I figured it was about time. I actually had a few of my own to use up. Better late than never, you know…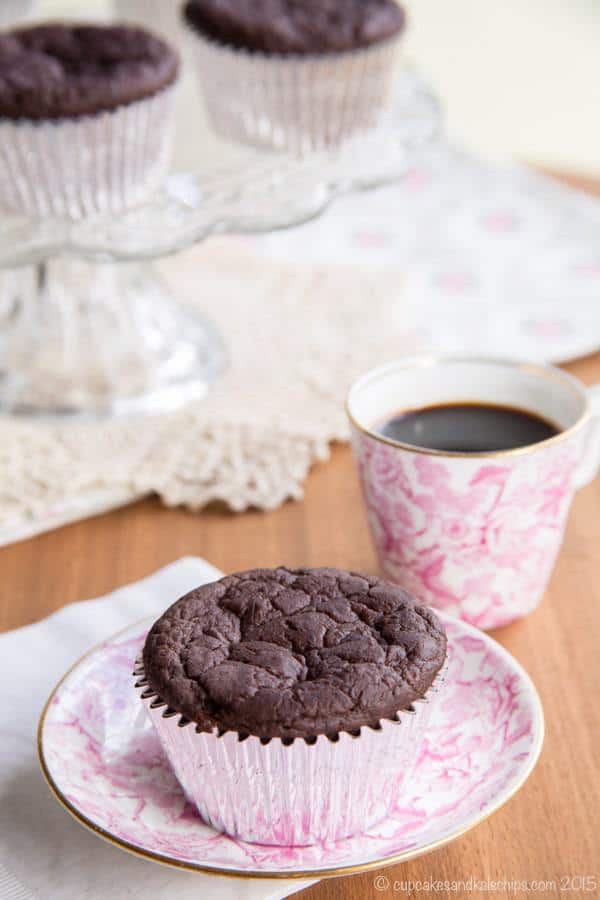 These Flourless Healthy Chocolate Zucchini Muffins aren't just sneaky. Heck, they aren't even just doubly sneaky. These little guys are triply sneaky. But before I tell you about how healthy they are, let's focus on what's really important. Chocolate, you guys. Chocolate for breakfast. Chocolaty enough that The Hubby actually enjoyed eating them, even though he us usually highly skeptical of my attempts to make chocolate healthy. They are also seriously moist and seriously tender but without being crumbly, like some gluten free baked good tend to be. And the reason for that is the first two secret ingredients.
Well, the first, it not-so-secret – it's the zucchini. And the second secret ingredient?
Black beans!! You've heard of black bean brownies and cupcakes and all, right? I men, I've even made black bean cupcakes. A few times. Chocolaty goodness, and none of that gluten free graininess. And definitely no bean flavor.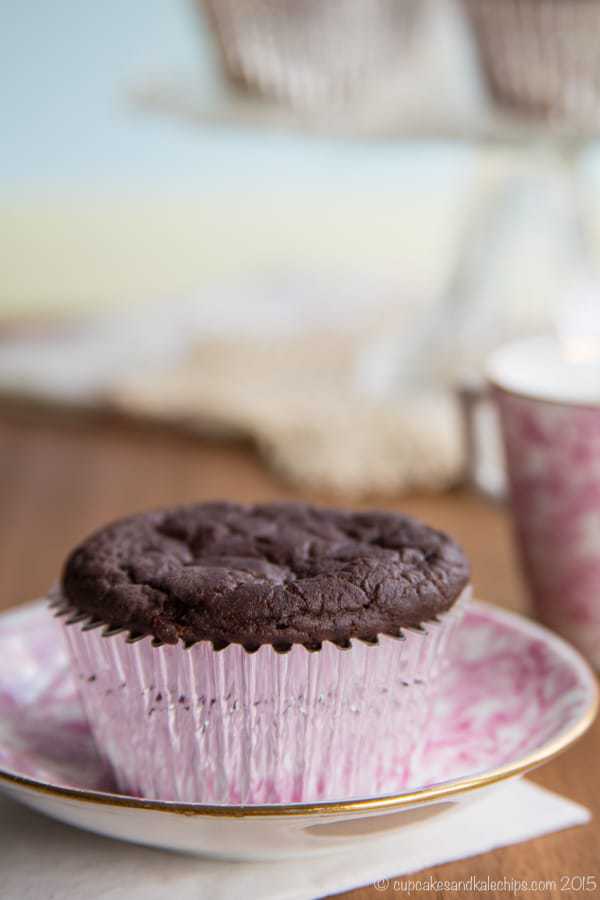 But muffins, especially chocolate muffins, have to be sweet, so how can I call these "healthy" if they are loaded with sugar? Well, they aren't. You can certainly stick with sugar in this recipe, but my friend Carolyn, who is the low carb and sugar free goddess over at All Day I Dream About Food, has been telling me about Swerve, a natural, carb- and calorie-free sweetener derived from fruits and vegetables. While I try to keep sugar in moderation, or use other natural options like maple syrup and honey, I've been interested to try to find ways to cut our sugar intake here and there. After a bout with gestational diabetes and a family history of Type 2 diabetes, it is something that is always in the back of my mind, and I am trying to take some baby steps to cut down the sugar, but I'm just not ready to give up sweets entirely. So this is an option that interests me.
Since Swerve measures cup-for-cup like regular sugar, I thought it would be great to experiment with, and I am definitely pleased with the results. I know, I know, some of you are thinking that I shouldn't go replacing sugar with "chemicals", but I want to tell you that Swerve is just as natural as sugar. It comes from plant-based sources, just like sugar, and, like sugar, it's processed to make it into a form that can be used in the kitchen. I'm looking forward to working with it some more!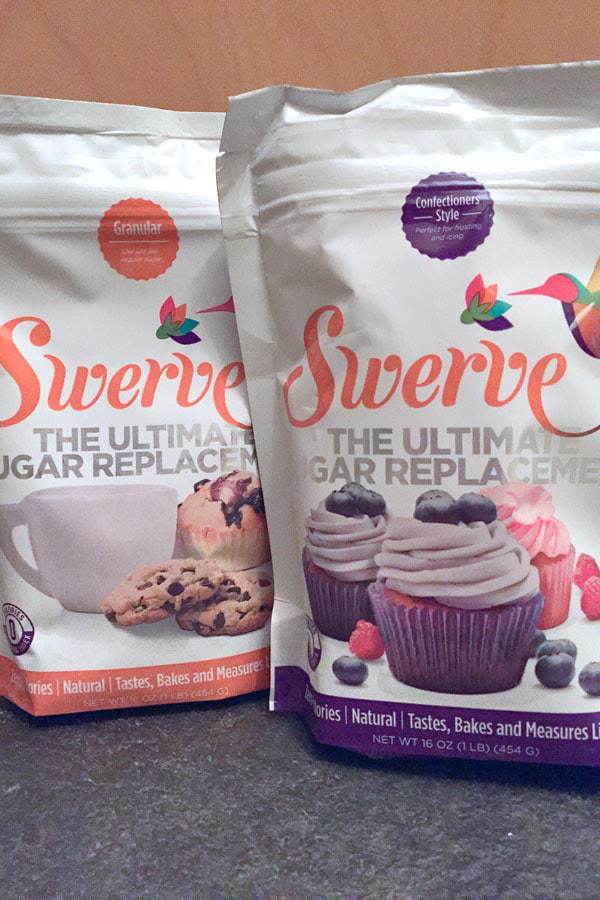 So yes, vegetables and beans for breakfast. But really chocolate for breakfast. And sugar-free chocolate, if you so choose. And it tastes nothing at all like vegetables and beans. I mean, The Hubby ate them. The zucchini-hating Big has been devouring them. Seriously guys, just trust me on this one. I mean, look at them…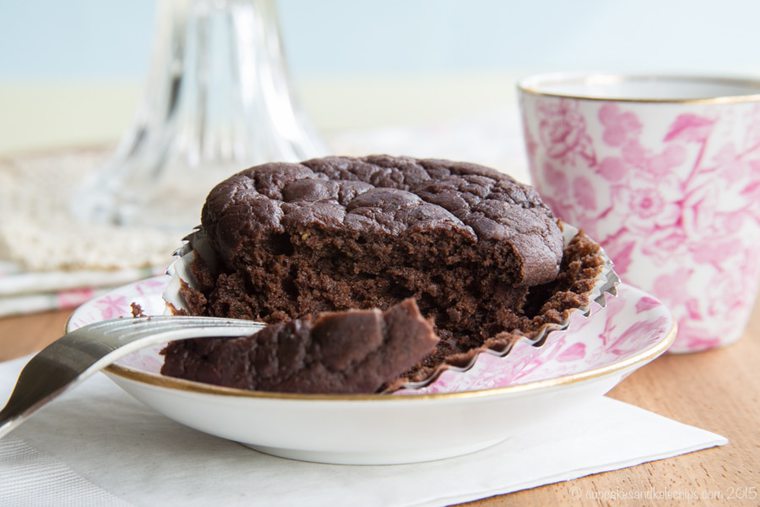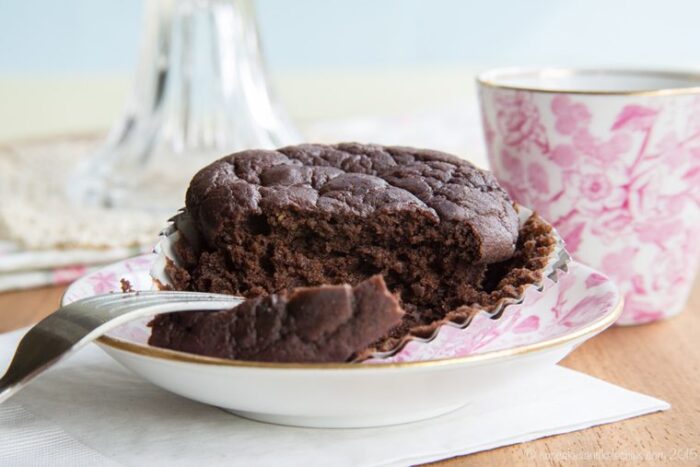 Were you overrun with zucchini this year?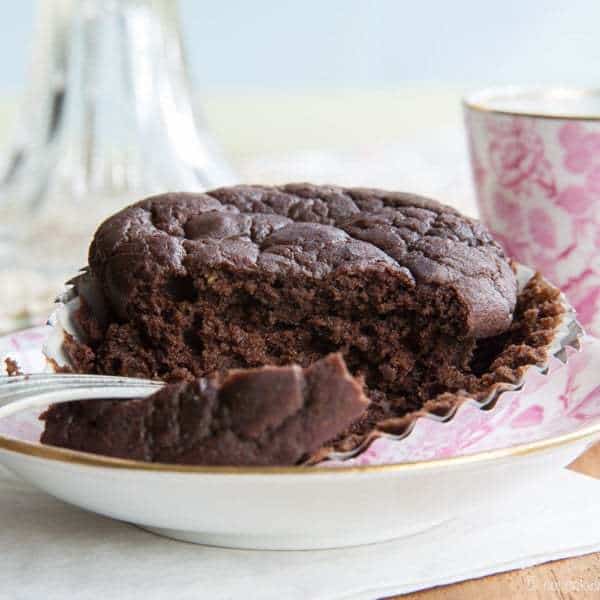 Flourless Healthy Chocolate Zucchini Muffins
Moist and tender and full of super secret, super healthy ingredients, pack some extra veggies, fiber, and protein into those kiddos (or yourself) and treat everyone to chocolate for breakfast.
Ingredients
1

cup

shredded zucchini

15.5

oz

reduced sodium black beans,

drained and rinsed

3

large

eggs

1

Tablespoon

vanilla extract

4

Tablespoons

coconut oil

or unsalted butter (softened)

¾

cups

Swerve granular

or sugar or other cup-for-cup sugar substitute

5

Tablespoons

unsweetened cocoa powder

I used Hershey's

1

teaspoon

baking powder

½

teaspoon

baking soda
Instructions
Line twelve muffin tins with cupcake liners, and preheat your oven to 350°F.

Place the zucchini in a kitchen towel and squeeze out any excess liquid. Set aside.

Combine all ingredients except the zucchini in a blender (I used my Blendtec), and blend until smooth.

Add the zucchini and pulse a few times until just combined.

Divide batter between the muffin cups.

Bake for 25-30 minutes, or until cake tester comes out clean.

Cool in the pan for about ten minutes before removing to cool completely.
Nutrition Facts
Flourless Healthy Chocolate Zucchini Muffins
Amount Per Serving (1 muffin)
Calories 116
Calories from Fat 54
% Daily Value*
Fat 6g9%
Cholesterol 46mg15%
Sodium 65mg3%
Potassium 239mg7%
Carbohydrates 11g4%
Protein 5g10%
Vitamin A 90IU2%
Vitamin C 1.8mg2%
Calcium 36mg4%
Iron 1.4mg8%
* Percent Daily Values are based on a 2000 calorie diet.
Categories:
Here are some more zucchini recipes…
Plus a few from my friends…