This post may contain affiliate links. Read my disclosure policy.
Cherry Chocolate Chip Energy Balls are quick and easy, healthy no-bake snacks that kids love! This no-bake energy balls recipe takes only a few ingredients and is totally portable. They are nut free, and can be made gluten free and vegan, too. You'll love the indulgent flavor combination in these Cherry Chocolate Chip Energy Balls.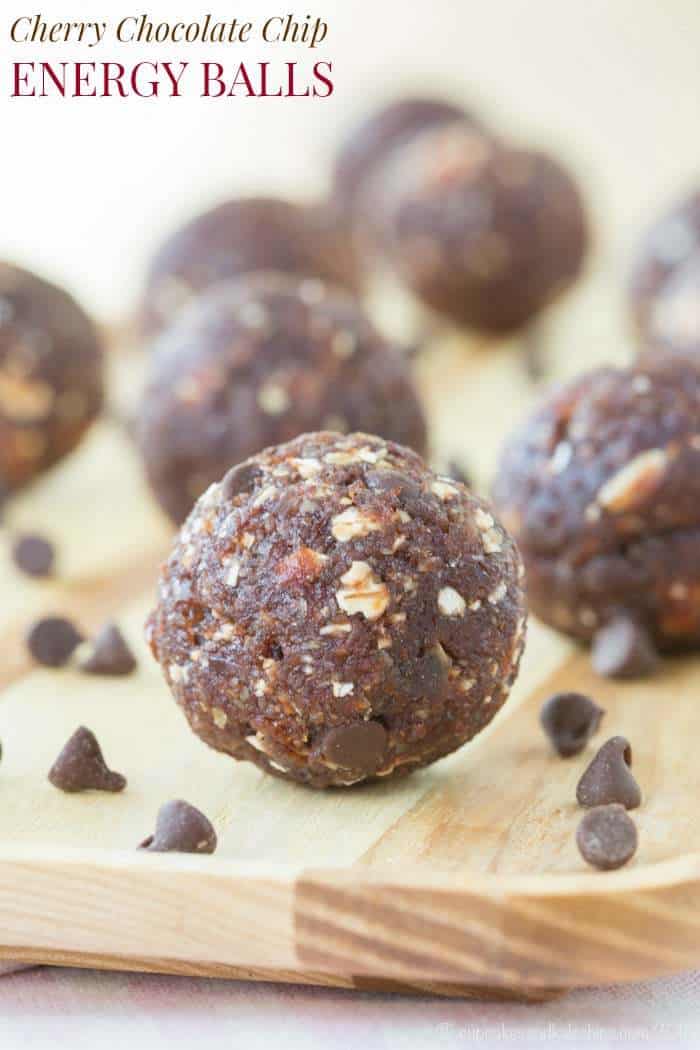 This recipe was originally shared on Lauren Kelly Nutrition on February 9, 2016. I am republishing this post with the full recipe.
The last few weeks have been filled with so much, well, stuff, and I don't even mean for me. So many people I know, both longtime friends, new friends, and even people I have not really met but that I know through the blogging community are going through such challenging times. This has really touched me, and I've spent more time thinking about and praying for people, in particular those I hardly know, because I can't even imagine being in their situation and what they are going through. I offer words of support, but in most cases, there's not a whole lot more I can do, especially since I don't live near any of them.
Except there is something, however small it may be, that I can do. While I'm not, you know, Beyonce, who has her every utterance retweeted eleventy billion times, I do have a public platform. I have a place where I can ask people to click some links, send some good thoughts and vibes and prayers, and if they are able to, maybe even donate. So I'm going to share some stories, and I hope that not only are you inspired by the strength of these women as they face challenges and persevere through everything life throws at them, but that you can help support them as well.
I have not met or really interacted much with Ashley of Center Cut Cook, but I am moved to both the saddest and the happiest tears by the bright light that she is through the darkest of circumstances. Her husband has stage 4 colon cancer. Her 17 month old son has a rare disease that sent him into liver failure as an infant, which in turn destroyed his originally healthy kidneys. Last week he received a liver transplant, but the road to recovery is a long one for this little warrior, and once he is bigger and stronger, he still needs that new kidney. I know she has times where she breaks down, but the fact that she finds the hope and joy in each day has touched me to the core. You can follow their journey on the Team Ryan Facebook page, and be inspired every day. But more importantly, please visit her blog, Facebook page, and Pinterest board. The more people that check out her amazingly delicious recipes (she is the original creator of that amazing Chocolate Lasagna you've probably seen all over the place), the more money this family can earn to help pay their ever-mounting medical bills. And while I know not everyone can do this, if you are so moved, you can also donate directly to them through this You Caring site. The blog had been her source of income, and obviously Ryan is not able to work right now, so every little bit helps.
Then there are a few people who haven't shared their stories publicly, but please keep them all in your thoughts. Deborah from Taste and Tell has only shared with her readers that a lot has been going on, and she will share more soon, but please go and support her blog. Another blogger I know is going through a terrible situation, and I have a dear friend who is waiting for some potentially-scary-but-hopefully-not medical results. I also can't forget dear Joan from Chocolate, Chocolate and More who we lost last year, but whose children will receive all of the money that her blog earns from people like you and me visiting.
It's amazing what a few clicks can do.
And finally Lauren from Lauren Kelly Nutrition had to have totally unexpected emergency surgery for an intestinal blockage. She was in the hospital for a week, in a lot of pain, and unable to eat. Now she is back at home, but it'll be a long, slow recovery. Not easy when you have three very active boys. Besides encouraging you to visit her site and Pinterest boards and share share share all of her yummy, healthy, and totally family-friendly recipes, I am sharing a recipe on her site that is so quick and easy that she can even whip them up for her boys while she is recovering…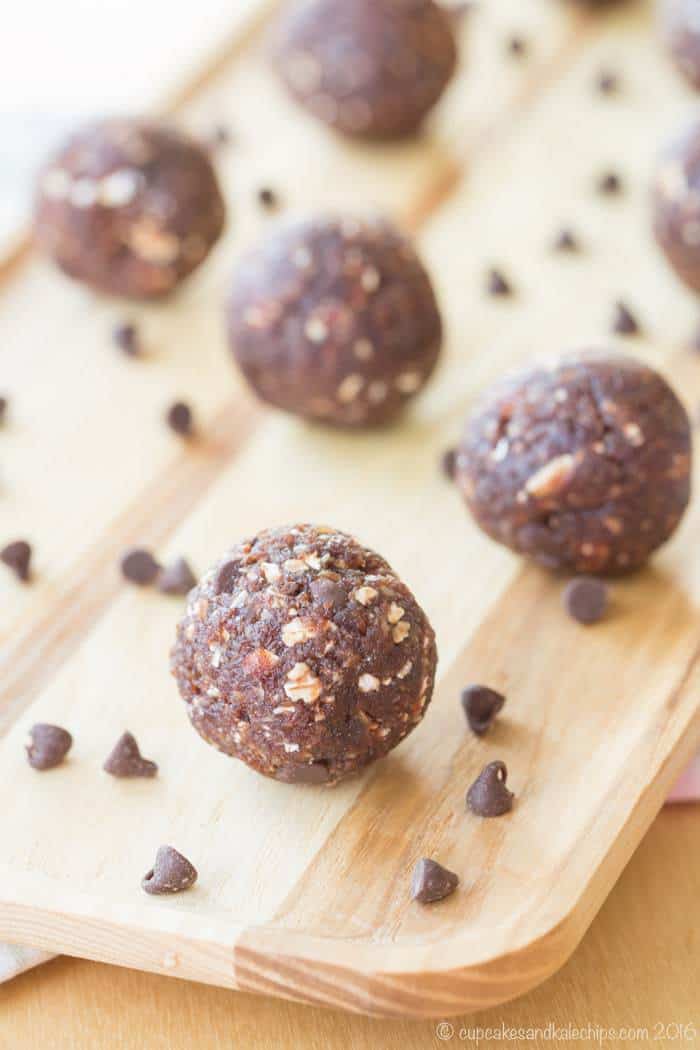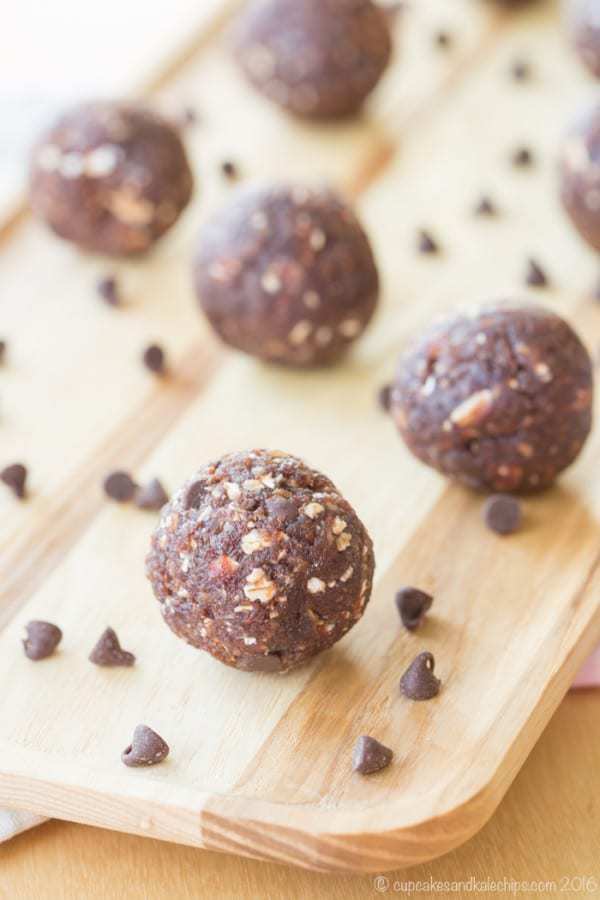 Cherry Chocolate Chip Energy Balls are just another recipe in my arsenal of energy balls recipes.
Quick, healthy, easy, no bake snacks that I can whip up in no time, and my kids just devour. 
And you only need a handful of ingredients, a food processor, and even a couple of eager kiddos to help you roll the balls. Plus there's chocolate, but it's mini chips so a little goes a long way. The pinkish hue even makes them a fun and nutritious Valentine's Day treat. Go ahead and dip them in chocolate if you like – I won't tell. Oh and the other bonus is that they are nut-free, meaning they are perfect for packing in school lunches for kids with allergies or that attend nut-free schools.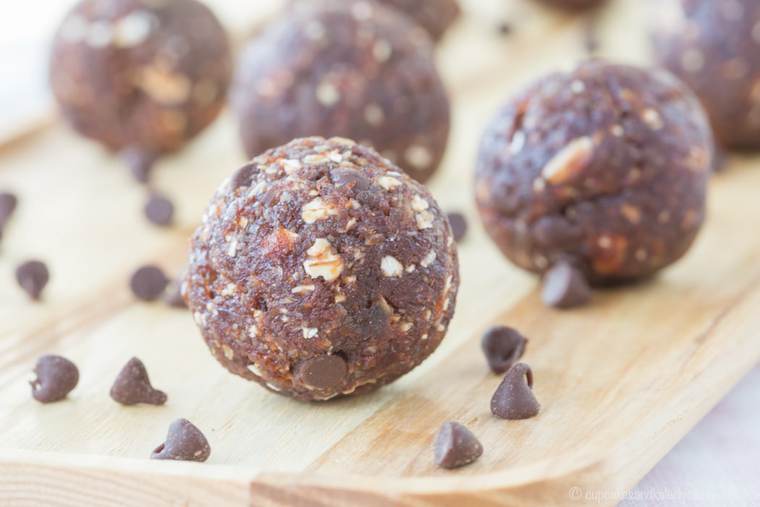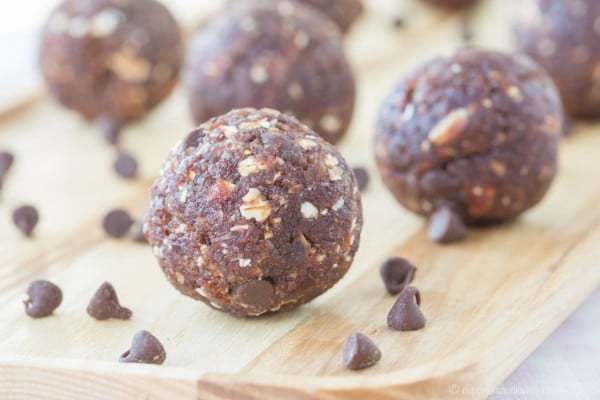 How do you help friends in need, especially when you aren't close by?
For more yumminess from me and my foodie friends, keep up with me on…
Or sign up to have Cupcakes & Kale Chips delivered straight to your Inbox!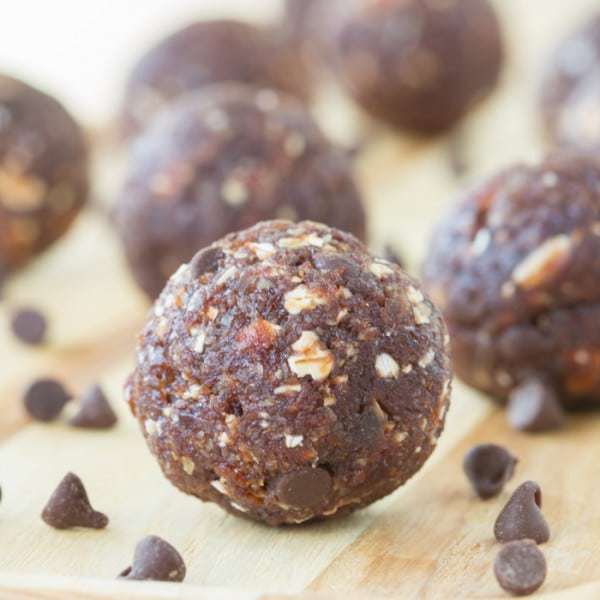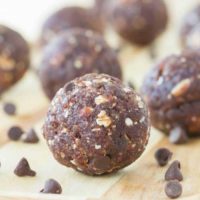 Cherry Chocolate Chip No Bake Energy Balls
An easy healthy snack recipe with only a few ingredients that's nut-free and can be made gluten free and vegan.
Ingredients
1

cup

pitted dates

1

cup

dried cherries

1

teaspoon

vanilla extract

1/2

cup

ground flax seeds

1/2

cup

old-fashioned oats

gluten free, if necessary

pinch

salt

1/4

cups

mini chocolate chips

gluten free and vegan, if necessary
Instructions
Combine all of the ingredients except the chocolate chips in a food processor and process until it forms a paste.

Stir in the chips.

Using about a tablespoon of the mixture at a time, roll into approximately 36 balls.

Store in an airtight container until ready to eat.
Nutrition Facts
Cherry Chocolate Chip No Bake Energy Balls
Amount Per Serving (2 balls)
Calories 178
Calories from Fat 45
% Daily Value*
Fat 5g8%
Sodium 8mg0%
Potassium 202mg6%
Carbohydrates 31g10%
Protein 3g6%
Vitamin A 515IU10%
Calcium 53mg5%
Iron 1.1mg6%
* Percent Daily Values are based on a 2000 calorie diet.
Categories:
Enjoy this Cherry Chocolate Chip Energy Balls recipe!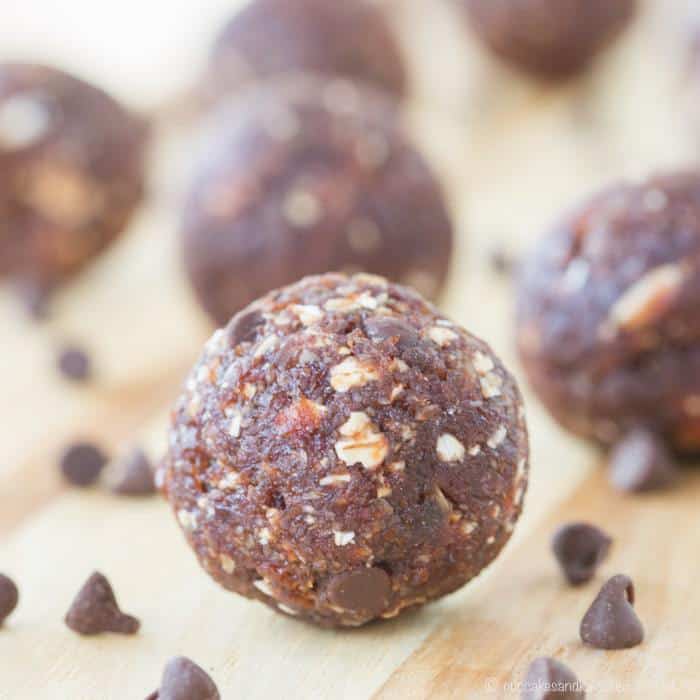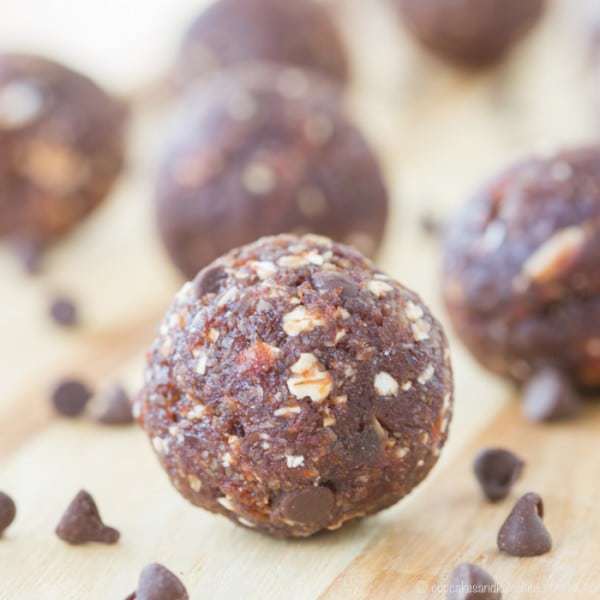 Want more energy balls?
And some from my friends…
And see more on my Bars, Balls, and Bites Pinterest Board.
Follow Brianne @ Cupcakes & Kale Chips's board Bars, Bites & Balls Recipes! on Pinterest.