This post may contain affiliate links. Read my disclosure policy.
Cranberry almond energy balls are quick and portable, healthy no-bake snacks that you can grab 'n go on your way out the door. These healthy snack bars are vegan, gluten-free, nutritious and delicious. You just need a few ingredients to roll up these Cranberry Almond Energy Balls (and Baby Bites).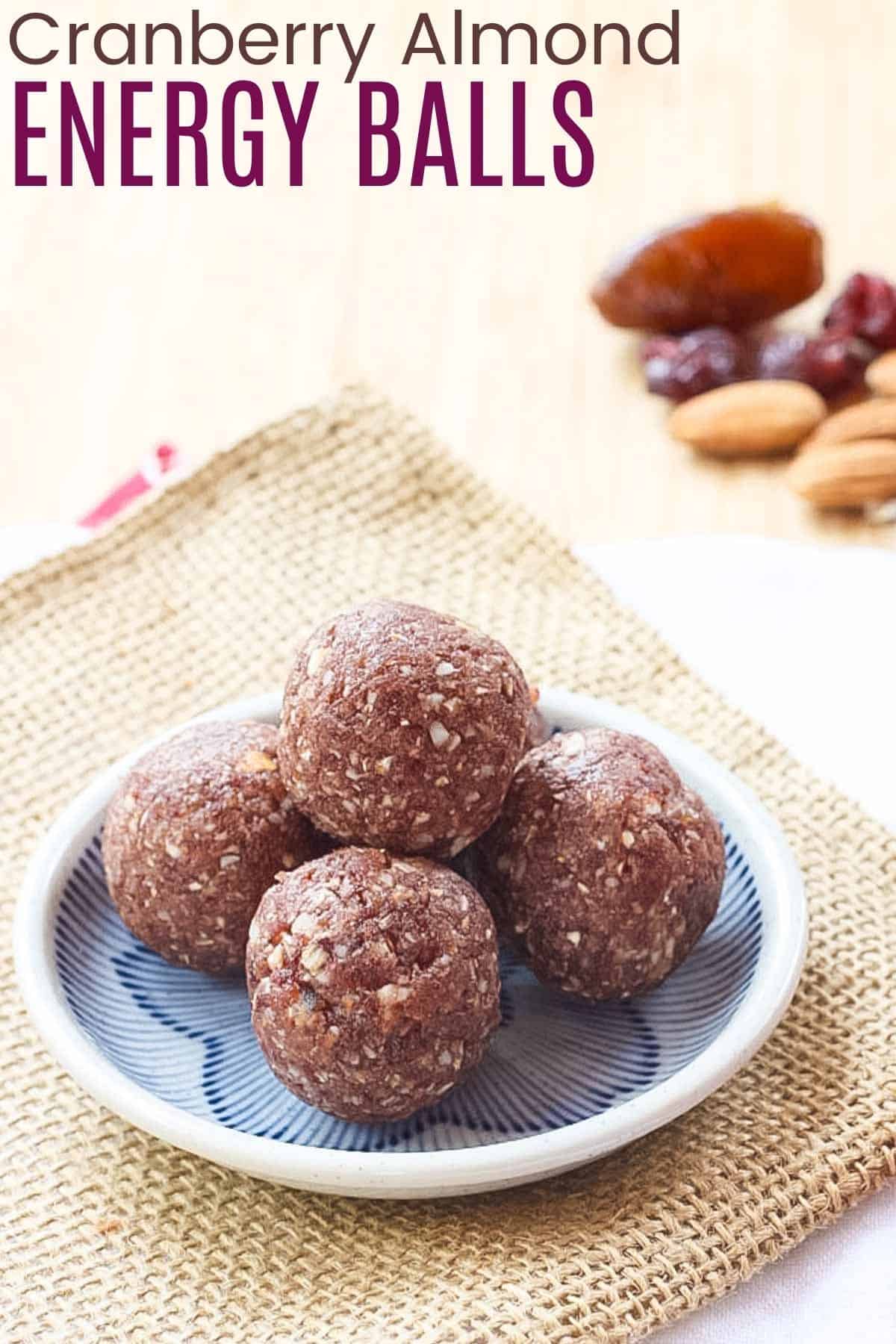 I'm speed blogging this week. When I was in school, I was always ahead of the game with my assignments. I never worked well under pressure. Now, well, the issue is not that I am a procrastinator but the fact that I do most of my blogging in random pockets of time between school drop-off and pick-up, naps, meals, cleaning up, laundry, and all of the stuff that goes along with being a mom. That's my full time gig. I only moonlight as a blogger.
Except next weekend. I am full-time blogger, hitting the big time by going to the BlogHer Food '14 conference in Miami. I am sooooo excited to meet my bloggy buds! But between my usual posts, a couple additional posts I picked up, and some that have to be submitted a bit earlier for sponsor approval, I am trying to crank out a lot before I step on that plane on Thursday. So if my posts aren't as eloquent as usual (haha!), sorry. Or not. You're getting recipes (which means they were prepared and photographed and edited and written and scheduled to be shared on social media). What more do you want?
I definitely need more hours in the day this week, or somehow I need to get more done in the hours I have available. If caffeine didn't have a super duper mega-huge effect on me, well, let's just say that Frappuccino I just had would NOT have been Light and Decaf! Hmmm, how do I keep myself going all day, but not lying awake all night? Well, that takes some balls…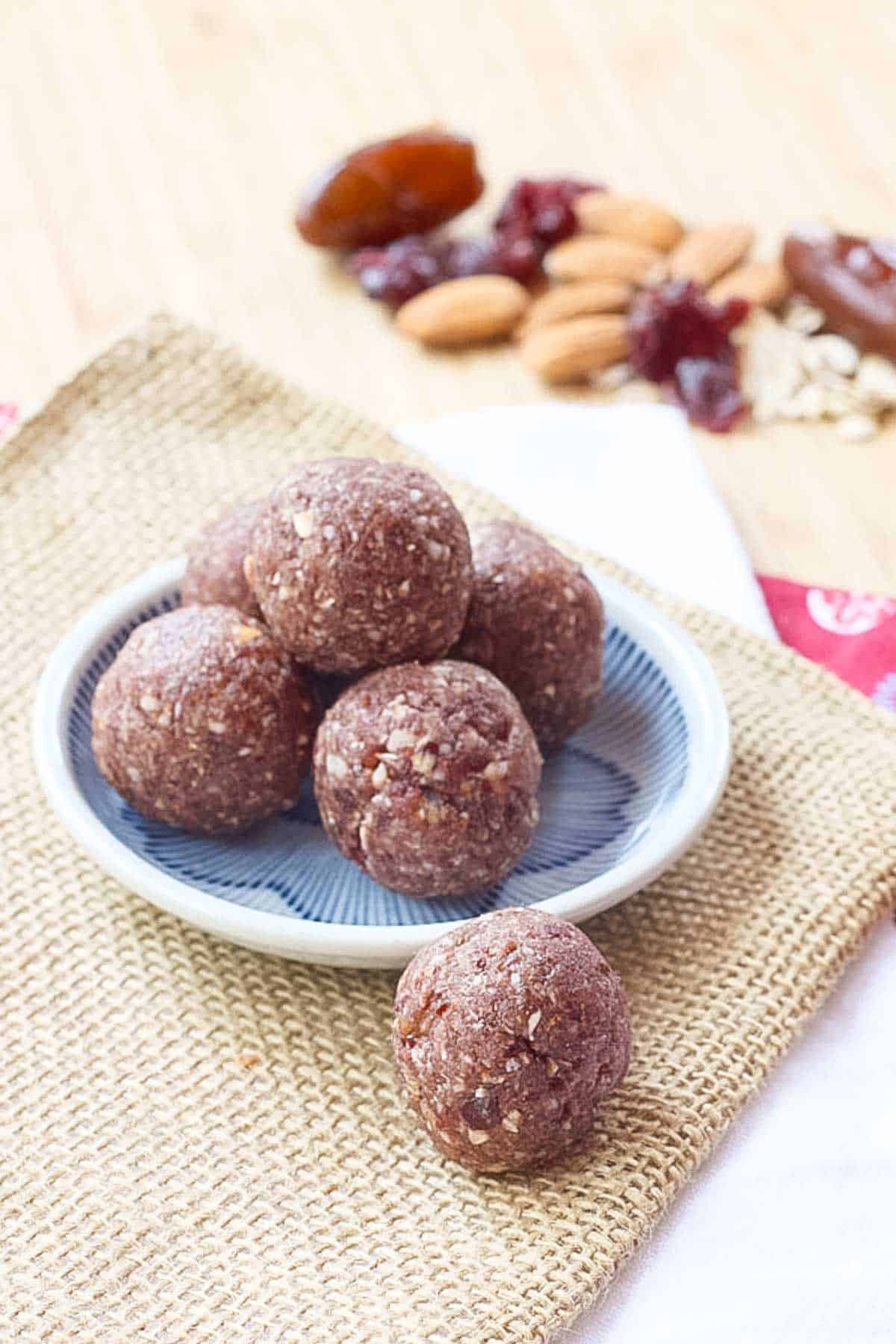 Cranberry Almond Energy Balls! Actually my boys have been snacking on these more than me.
Not that they need more energy, but my growing boys do need healthy snacks. They are loving that they are sweet and chewy, I am loving that they aren't packed with tons of added sugar, and they have nutritious ingredients like oats and almonds.
And for the littler ones, you can make teensy-weensy Cranberry Almond Baby Bites by using about a quarter teaspoon of the mixture. Baby Smiles has loved snacking on these. They are the perfect size for him to practice his fine motor skills and for him to much on, despite the fact that the kid still only has three teeth.
If you like this cranberry almond energy balls recipe, but would like a nut-free variety, keep an eye out for my monthly contribution over at The NY Melrose Family on Thursday.
What is your favorite on-the-go snack?
Cranberry Almond Energy Balls (and Baby Bites)
A tasty portable snack that you can throw together super fast with four ingredients. And they are vegan and gluten-free.
Instructions
Combine all of the ingredients in a food processor and process until it forms a thick paste.

Using about a tablespoon of the mixture, roll into balls. If you want the little bites, use about 1/4 teaspoon for each bite.
Categories:
Enjoy!
Need some more portable healthy snacks?
And here are some from my friends…