Easy Slow Cooker Corned Beef
Disclosure: This post may contain affiliate links. Cupcakes & Kale Chips is a participant in the Amazon Services LLC Associates Program, an affiliate advertising program designed to provide a means for us to earn fees by linking to Amazon.com and affiliated sites.
Easy Slow Cooker Corned Beef is the St. Patrick's Day recipe you need. It takes only one secret ingredient (and it's not Guinness, which keeps it gluten free) and about thirty seconds of prep time. When you make this crock pot corned beef recipe, you'll be ready for your gluten free St. Patrick's Day! But you can enjoy it all year round, especially when you use it as one of your back to school crock pot recipes! It's definitely a kid-friendly dish, too!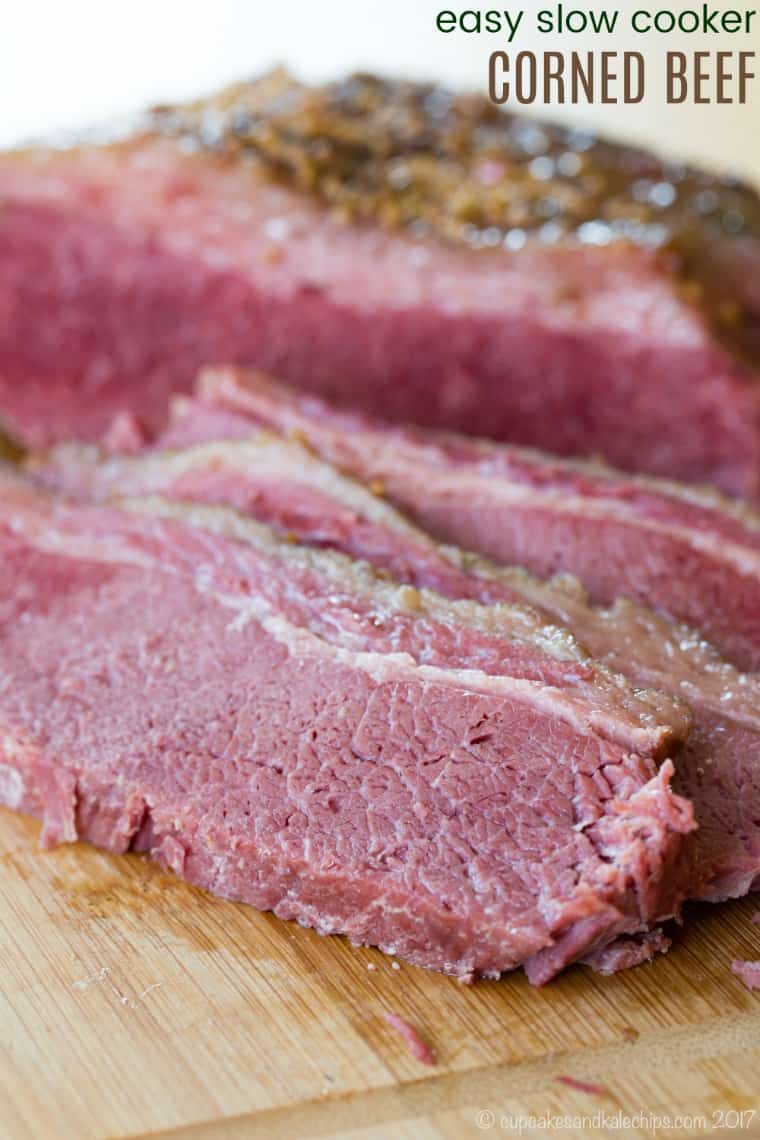 What qualifies this Polish and Ukrainian gal to give you what really should become your go-to corned beef recipe? Absolutely nothing. I mean, I make pierogies and Hrudka. And I get all kinds of flack for calling these tasty taters Shepherd's Pie Loaded Baked Potatoes because I use beef instead of lamb (full disclosure: I don't like lamb).
But what I can tell you is that up until several years ago I had never made it. It wasn't even all that long ago that I even tried it for the first time. Clearly, all of this is truly winning your confidence in me to be able to provide you with a crock pot corned beef recipe worth making.
So I'm sure, as with anything I label "shepherd's pie", I'm going to get called out for my utter lack of authenticity. I'm totally okay with that because I'm not putting this recipe out there for the folks looking for the most traditional corned beef recipe.
Why is this easy slow cooker corned beef recipe for you?
You don't like corned beef – I thought I didn't like it. I thought my kids wouldn't like it. Guess what? We all love this crock pot corned beef.
Or maybe you've never made it before – there's no possible way to mess this up.
Possibly you don't like cabbage – I don't add cabbage. Unless it's Maple Dijon Apple Cole Slaw, my family's not eating cabbage, so I just didn't even bother with the traditional corned beef and cabbage.
You might have kids as weird as mine – they will not eat potatoes or carrots cooked in meat juices. Again, I didn't bother and just make my veggies on the side (I give you some suggestions below).
It's entirely likely you have no time – trust me, you totally do have time for this.
Or you have celiac or a gluten allergy – no Guinness in this recipe.
Then again, maybe you don't like beer – see above.
If none of these apply to you, then there are plenty of other slow cooker recipes you can try. But if you want a total no-brainer, here you go…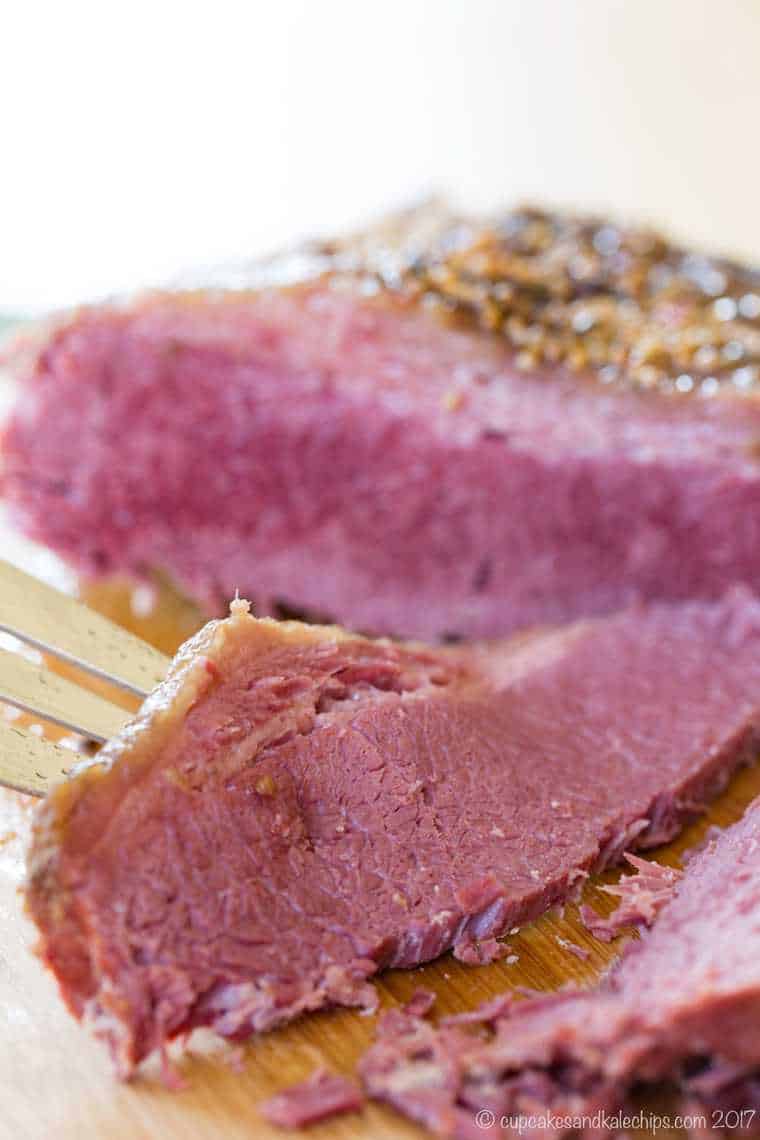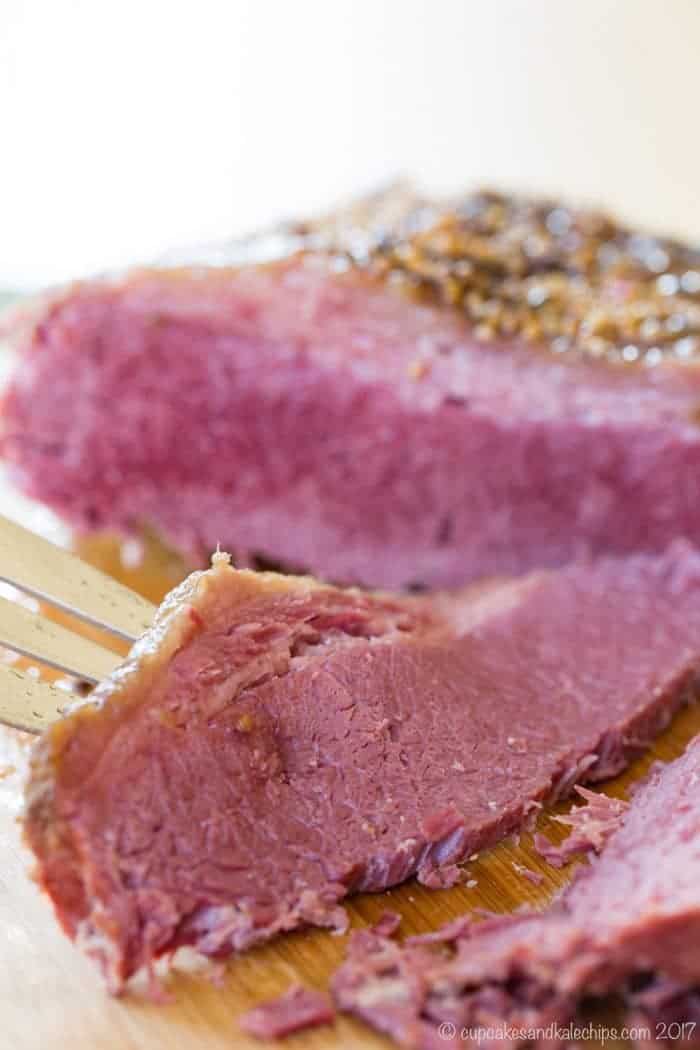 Easy Crock Pot Corned Beef
All it takes is a bottle of hard cider!
Once I had a friend tell me you really only need a bottle of Guinness to make good corned beef. But with a gluten allergy, that wasn't happening.
How do you make gluten free corned beef?
First, buy a package of corned beef brisket from the grocery store. It's the one that has already been cured and comes with the little packet of pickling spice.
Rinse it off and place it in your slow cooker.
Sprinkle in the seasoning packet that comes in the package, then pour over a bottle of hard cider.
Slow cook corned beef on low for 6 to 8 hours.
Finally, just pull it out and slice thinly against the grain.
Done and done!
There's something about the acidity in alcohol that further tenderizes this cut of meat and cuts some of the richness. Plus with hard cider as the recipe calls for, there is a slight sweetness to balance the saltiness. I really don't think there's a simpler way to make this, and it turns out so perfectly every time. There's really no need to make it any more complicated. Just rinse, dump, pour, cook, and enjoy!
With all the time you save, you can totally make Gluten-Free Mini Irish Cream Chocolate Mousse Pies for dessert!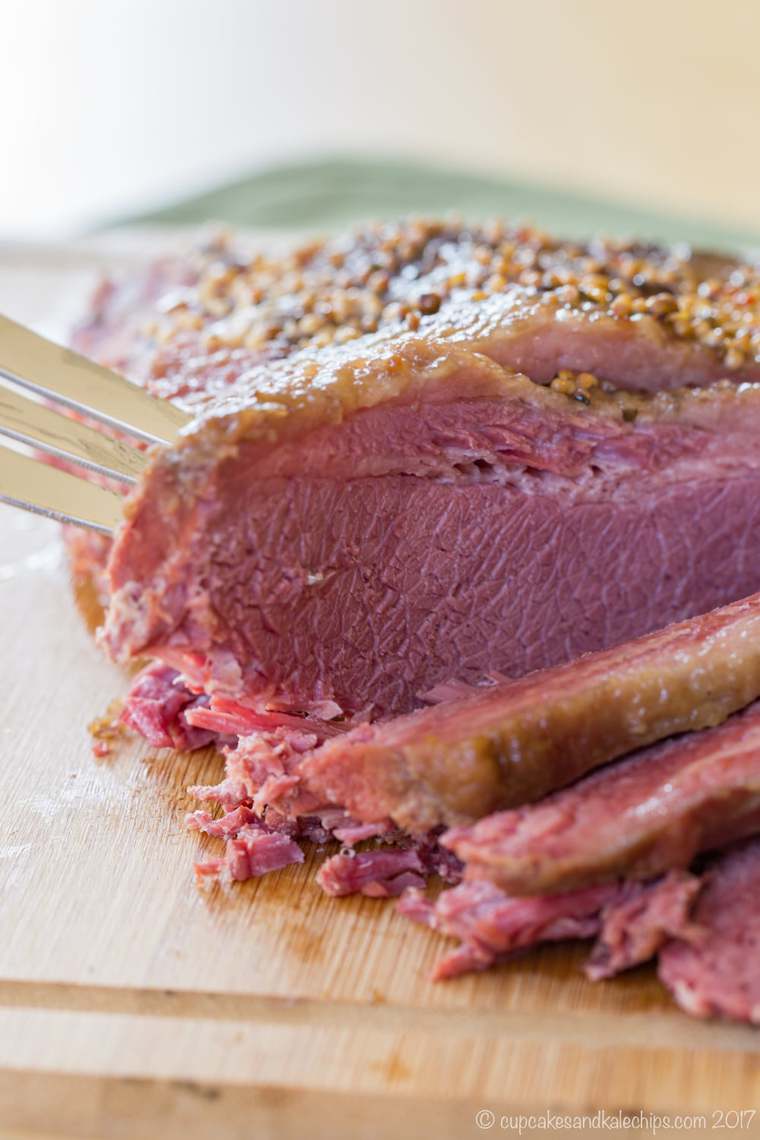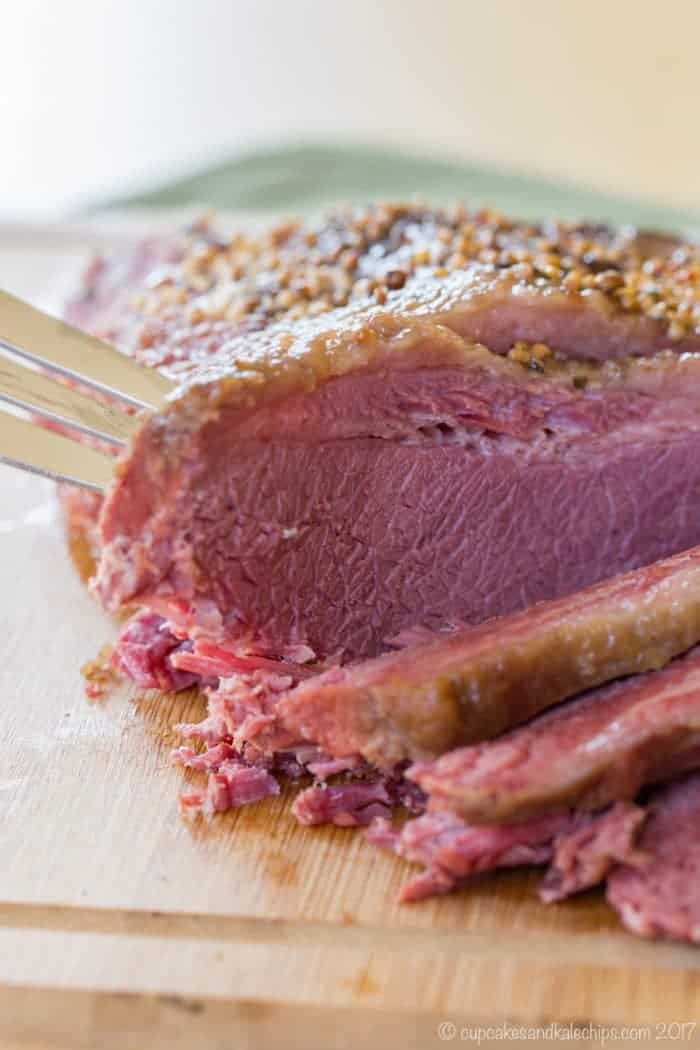 What do you serve with slow cooker corned beef?
And here's a ton of ideas for celebrating a gluten free St. Patrick's Day!
What can you make with leftover corned beef?
Then if you have leftovers, my friends have some fabulous ideas for you. Reuben Loaded Potatoes from Lemons for Lulu takes poutine to a new level. Potato wedges are topped with the leftover and all the classic Reuben fixin's. This Corned Beef Hash recipe with Horseradish Cream from A Spicy Perspective is perfect for brunch the weekend after St. Patrick's Day. That kicked-up sauce if the perfect complement to the meat. And then you can make Reuben Pasta Salad for lunch from Spend with Pennies.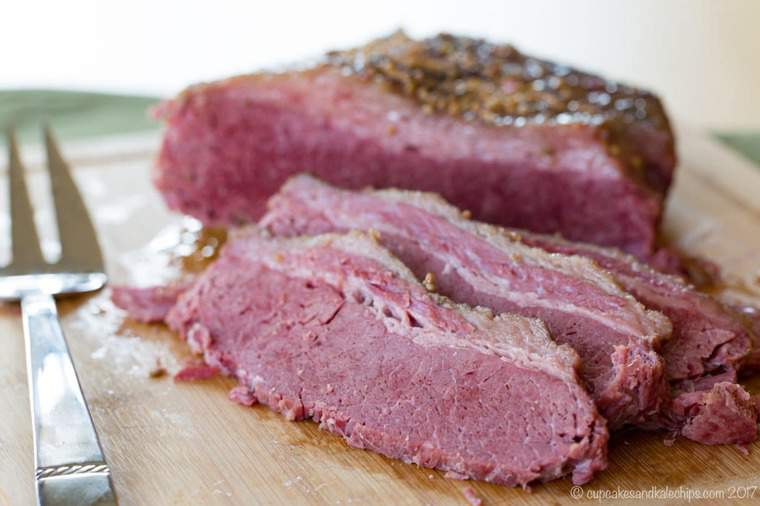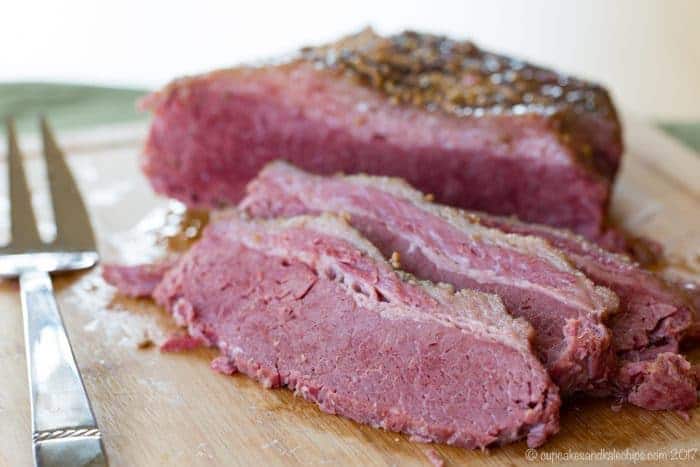 For more yumminess from me and my foodie friends, keep up with me on…
Or sign up to have Cupcakes & Kale Chips delivered straight to your Inbox!
What kind of crock pot should I use to make this corned beef recipe?
[amazon_link asins='B00EZI26GO,B01N00Z92D,B01MU0C1F5,B07B1N3T2F' template='ProductCarousel' store='cupkalchi-20′ marketplace='US' link_id='9fb858bd-279c-11e8-baf4-a34ed09f1b6d']
Since the cuts of brisket can be quite large, I cook this in my Hamilton Beach 6 Quart Slow Cooker. This ensures that the meat can lay flat while cooking so that it cooked through properly. If I used my smaller one, I'd have to squish it in and roll it up a bit, so it wouldn't come out as nicely.
Easy Slow Cooker Corned Beef Recipe
The easiest way to prepare this traditional Irish dish. Perhaps this version using hard apple cider isn't quite so traditional, but it is simple and flavorful. You'll want to make it for St. Patrick's Day, but it's one of our favorite crock pot recipes for any day of the year.
I hope you'll leave a comment and give it a FIVE STAR rating or share a photo on this pin on Pinterest!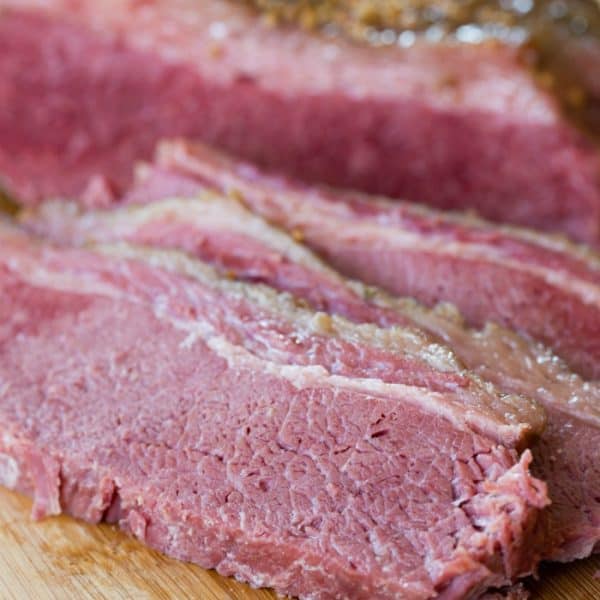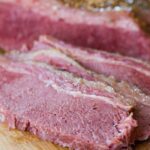 Print Recipe
Easy Slow Cooker Corned Beef
Easy Slow Cooker Corned Beef has just one secret ingredient for this gluten free version of the St. Patrick's Day Irish classic.
Ingredients
3

pounds

flat cut corned beef brisket with seasoning packet

12

oz

hard apple cider

(I like Strongbow Gold)
Instructions
Open the package containing the corned beef, keep the seasoning packet, and drain the liquid. Rinse the corned beef well and place in your slow cooker. Sprinkle with the contents of the seasoning packet.

Pour the bottle of hard cider over the corned beef, cover and cook on low for 6-8 hours.

Remove from the slow cooker and slice thinly against the grain.
Nutrition
Serving:
4
oz
|
Calories:
299
kcal
|
Protein:
22
g
|
Fat:
22
g
|
Saturated Fat:
7
g
|
Cholesterol:
81
mg
|
Sodium:
1840
mg
|
Potassium:
449
mg
|
Vitamin C:
40.8
mg
|
Calcium:
11
mg
|
Iron:
2.6
mg
Enjoy!