This post may contain affiliate links. Read my disclosure policy.
This easy Slow Cooker Corned Beef cooked is juicy, tender, and flavorful. The secret is a bottle of hard apple cider, making it gluten free – no Guinness beer needed! It is a delicious and effortless beef brisket recipe that takes only minutes to prepare, and leaves the rest to the crockpot.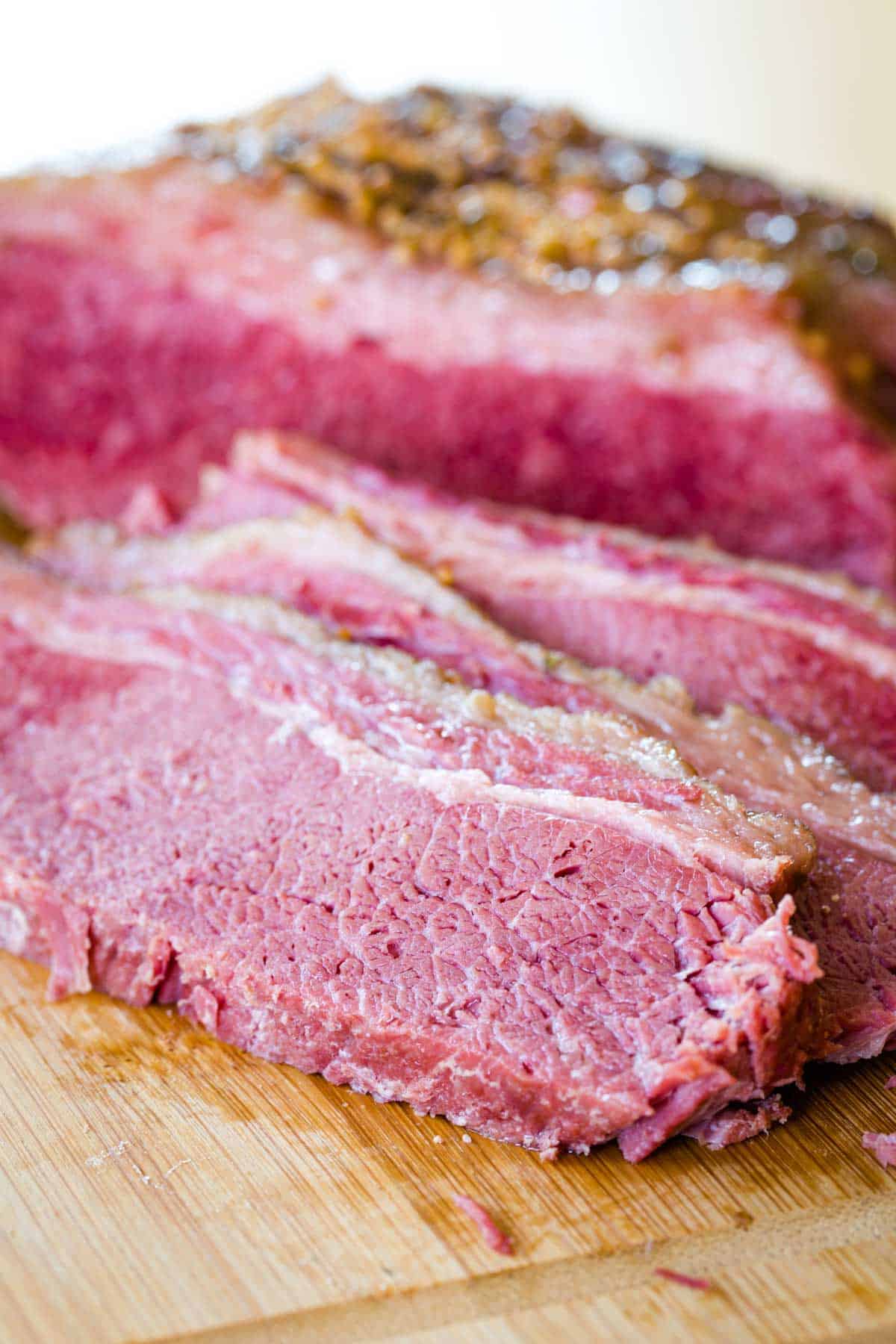 The Best Slow Cooker Corned Beef Recipe
This mouthwatering, easy corned beef recipe is perfect to serve with your favorite sides for the holidays, or as part of a St. Patrick's Day feast. It takes only a few minutes of prep before your slow cooker takes the helm, so it's an easy brisket recipe to make ahead.
This particular recipe does have a secret ingredient for us gluten free folks: hard cider! I had a friend once tell me that all you need to make a good corned beef is a pint of Guinness. However, since beer does not bode well for a gluten allergy, a simple swap was made.
As you'll discover, a gluten free corned beef brisket made with cider instead of Guinness is just as juicy and full of flavor! It may not be the most authentic version of a traditional corned beef – but it is downright delicious.
What is Corned Beef?
What does a Polish/Ukrainian gal have in common with the British and Irish? An appreciation for corned beef, that's what. The popularity of salt beef was sort of commandeered by the Irish, then brought to America, though the dish originates with the British.
Corned beef is a beef brisket cured in rock salt – "corns" of salt – though other spices and sugars can also be added to some recipes. Corned beef and cabbage (often served with potatoes) and is a simple, traditional dish that's popular around St. Patrick's Day in the US.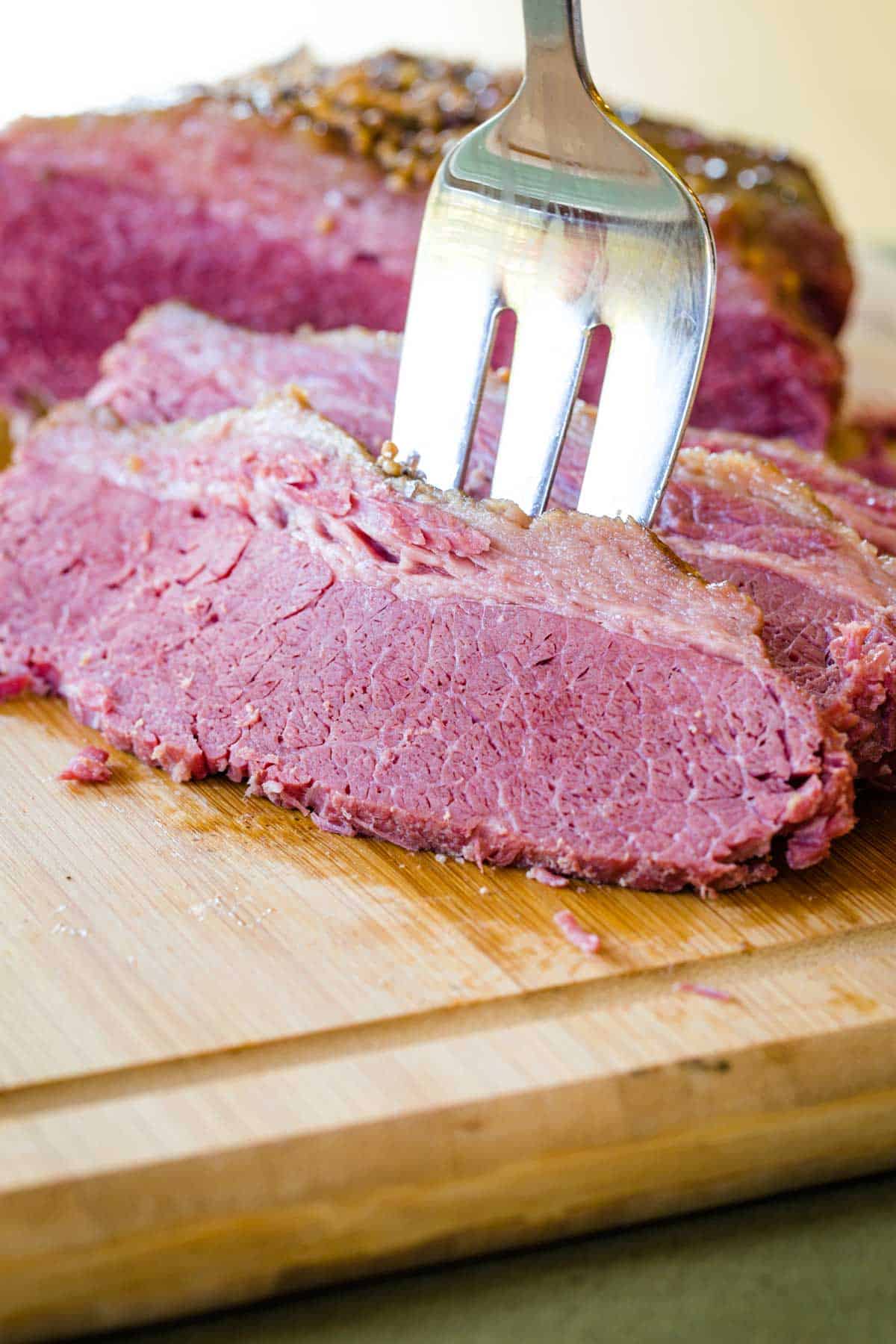 Ingredients You'll Need
Because corned beef brisket comes already cured, you really only need 2 ingredients! One being the brisket itself. Here's the breakdown:
Corned Beef Brisket: Often found in a vacuum-sealed package in your local grocery store. I use the brisket that has already been cured, that comes with a packet of pickling spice.
Hard Cider: One 12 oz. bottle. Not to be mistaken for apple ale, which is not gluten free. Common brands of cider that are gluten free are Strongbow, Angry Orchard, Bold Rock, Stella Artois, and Woodchuck.
Which Cut of Beef Should I Use?
I like to use a flat cut corned beef brisket, which is the best cut for homemade corned beef. It's also the most common cut found in most supermarkets! This cut of brisket has a thick fat layer that locks in all the moisture and keeps the meat tender as it cooks, and it's the best for slicing.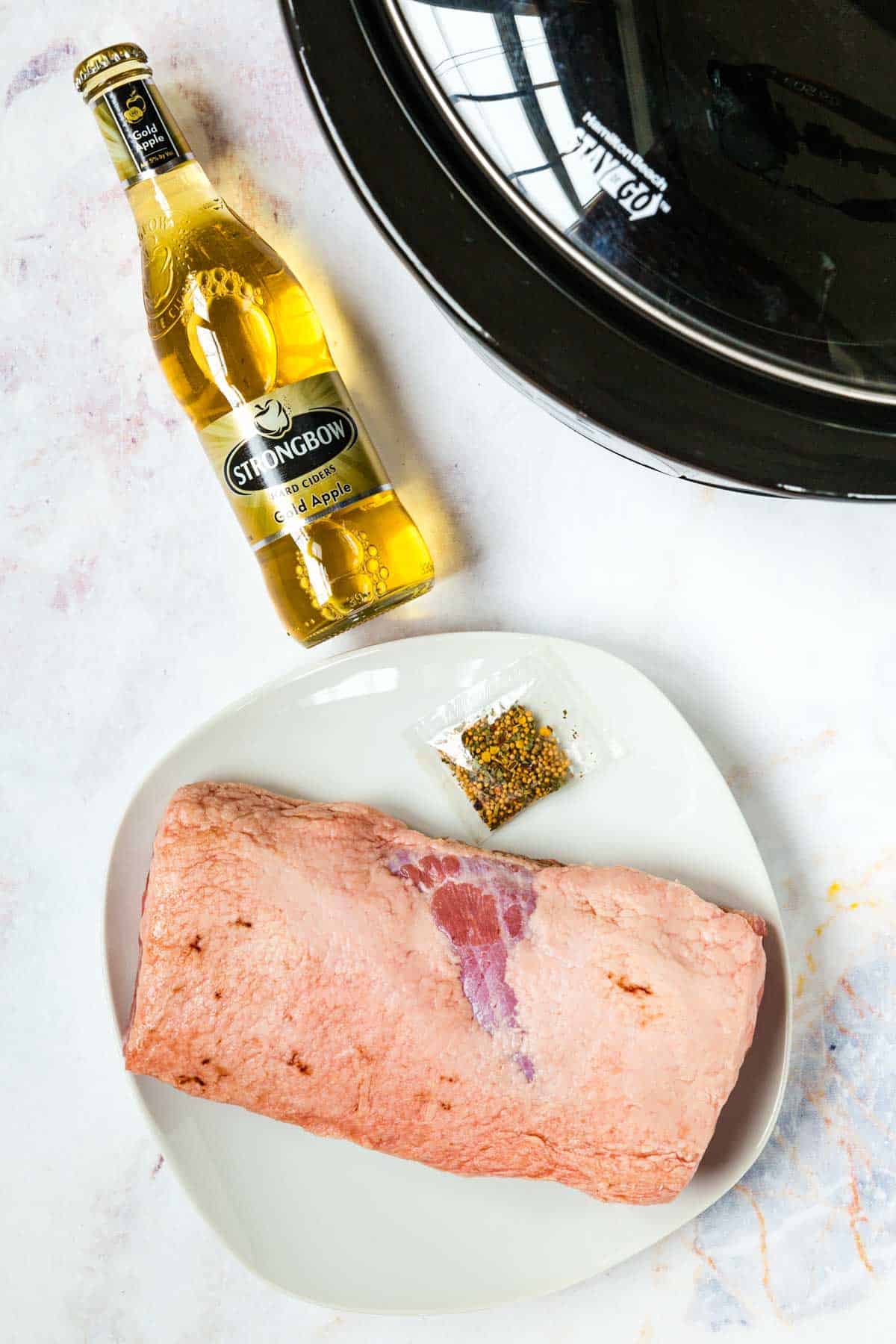 How to Make Corned Beef in the Crock Pot
Ever since I first made this recipe for unbelievably tender and juicy salt beef brisket, it's been a culinary love affair. Thanks to the Crock Pot, I don't think there's a simpler way to make something that comes out tasting so great.
Just rinse, season, pour, cook, and enjoy! Here are these steps in more detail: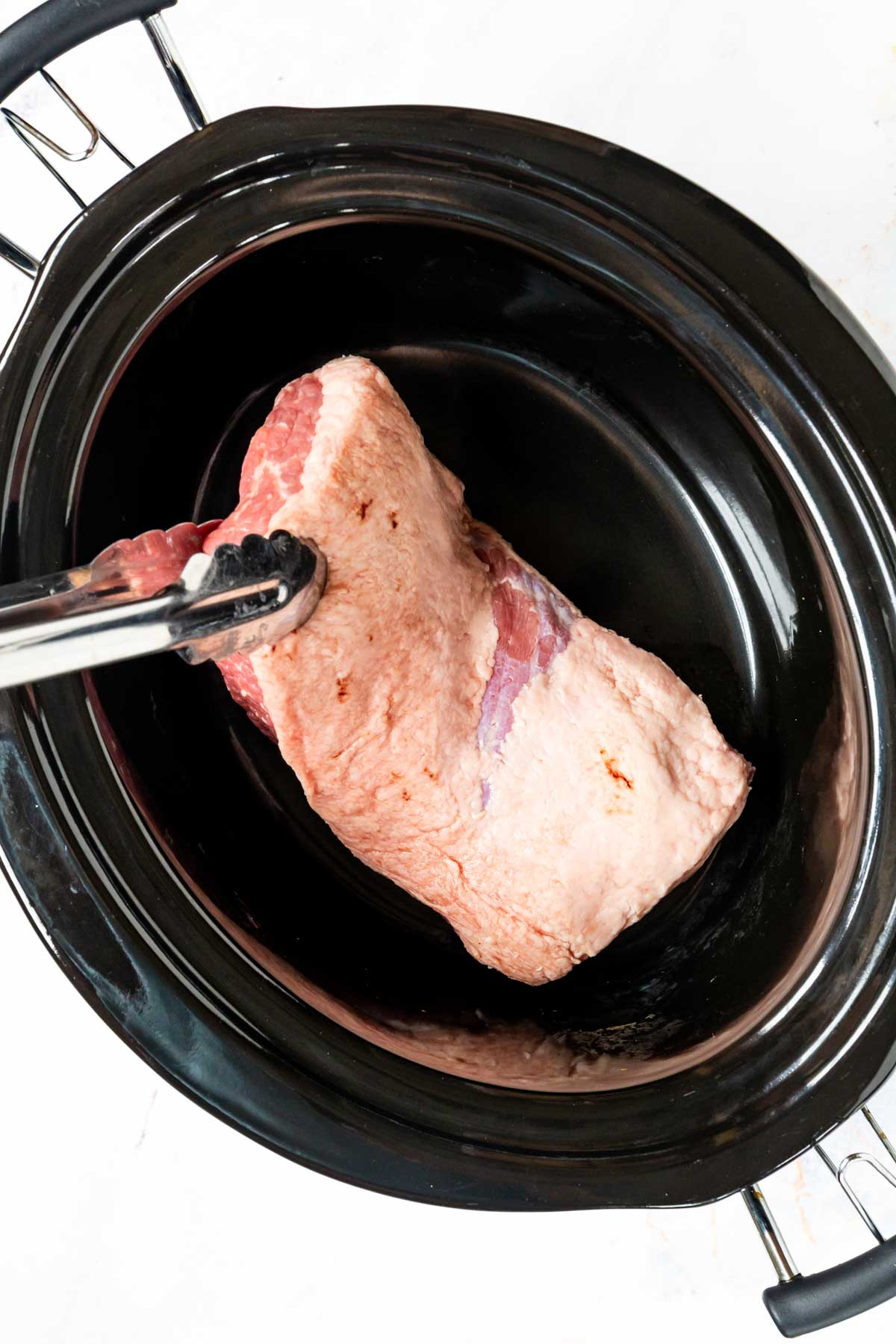 Rinse the Brisket: Remove the corned beef brisket from the package and give the meat a rinse, place the brisket fat-side-up in your slow cooker.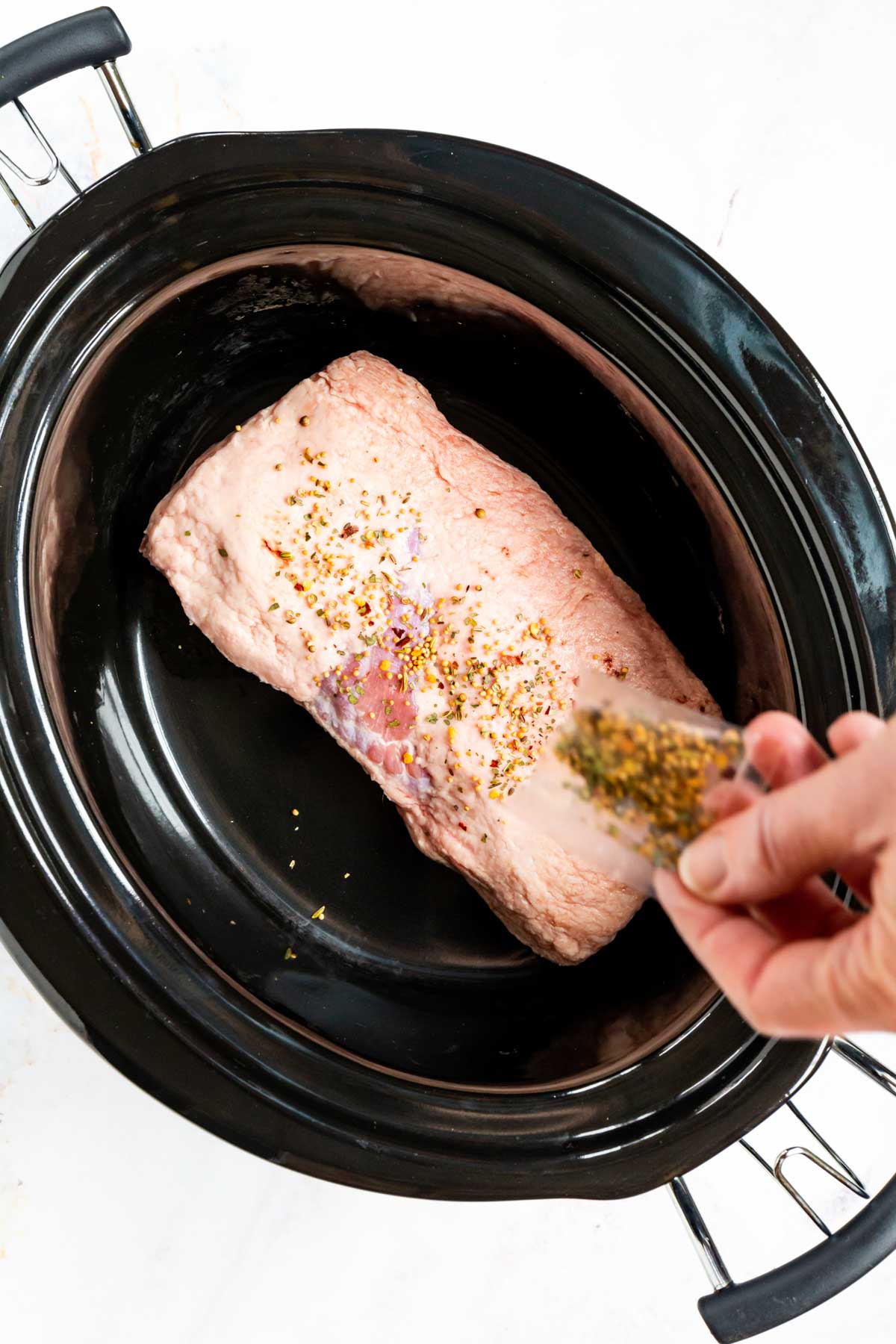 Season the Brisket: Sprinkle the contents of the brisket seasoning packet over the meat. These are the pickling spices that will infuse the beef with all kinds of flavor while it cooks!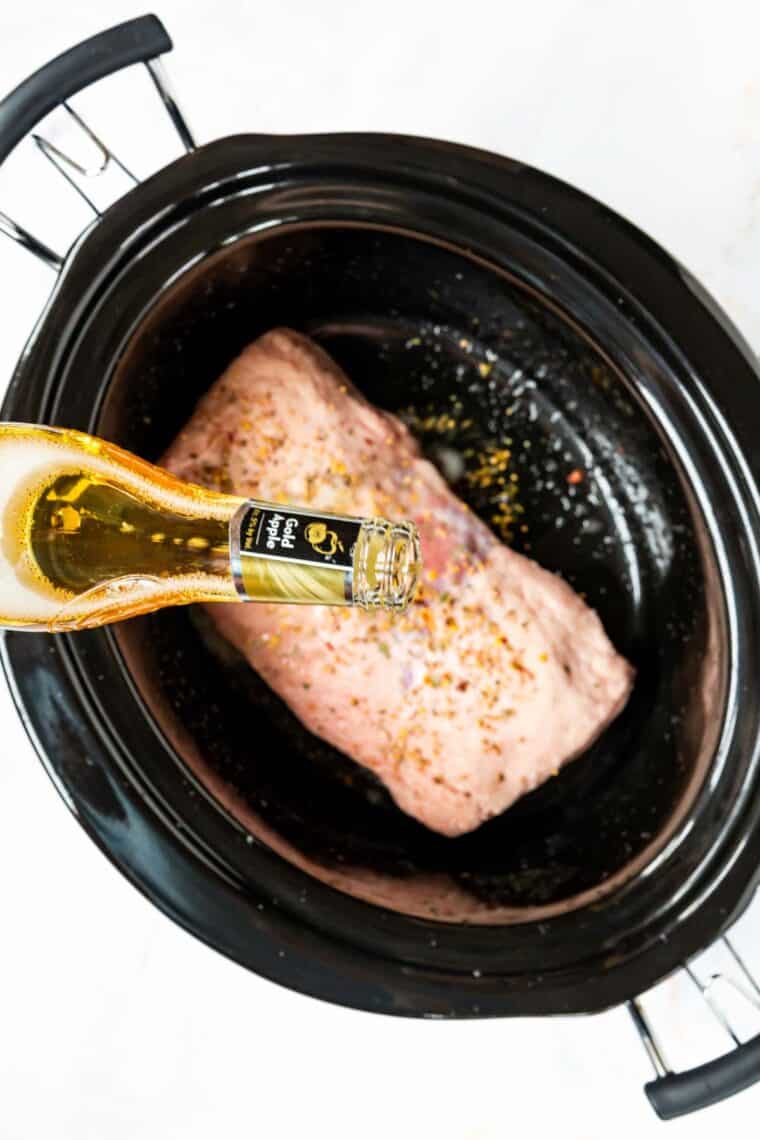 Pour in the Cider: Pour in a full bottle of hard cider, dousing the brisket.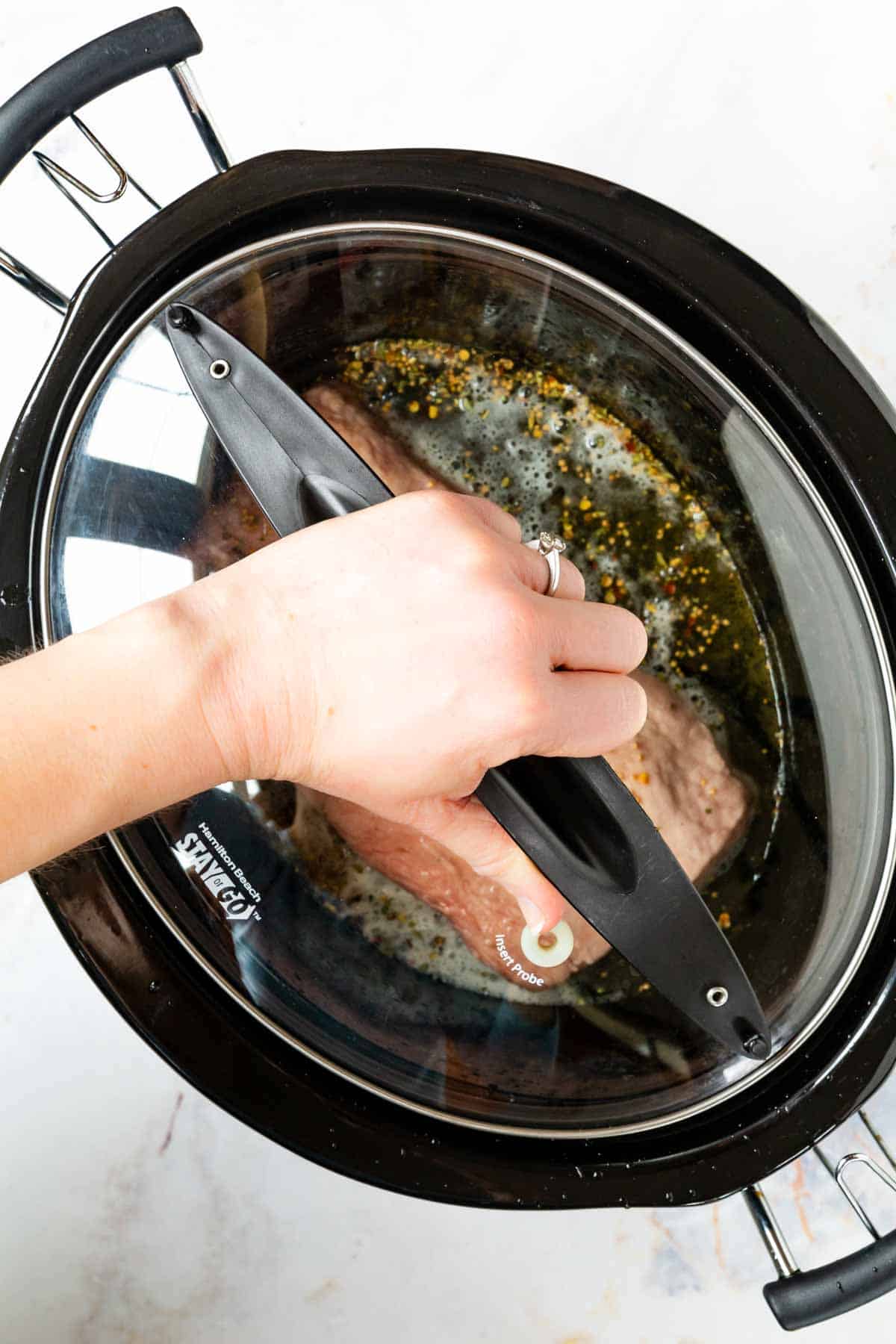 Cook: Place the lid over the slow cooker and cook the corned beef on low for 6 to 8 hours. Patience is key! Like any slow cooker recipe, you can't rush the process.
When your corned beef brisket is ready to serve, remove it from the slow cooker and slice the meat thinly against the grain.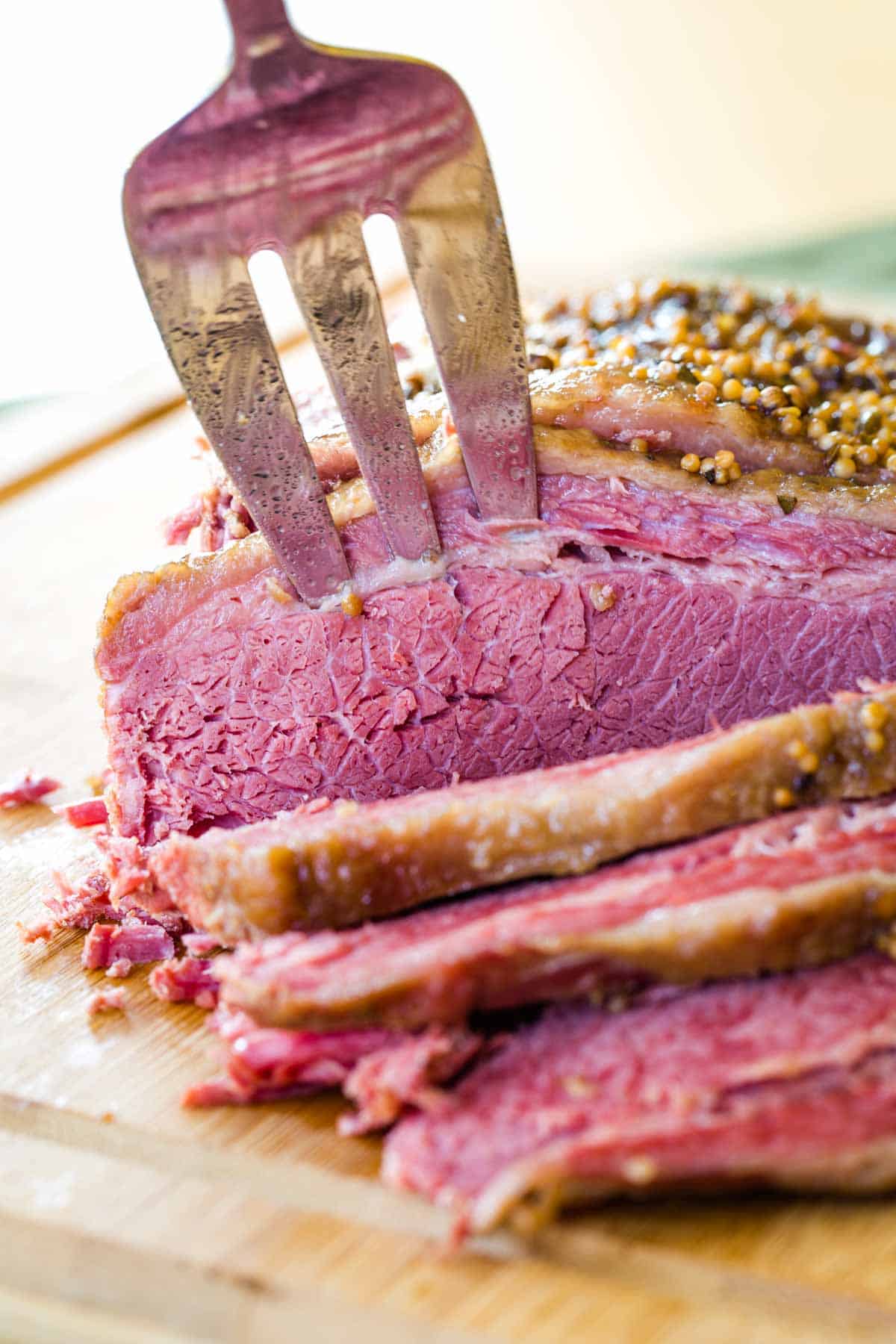 Tips for Success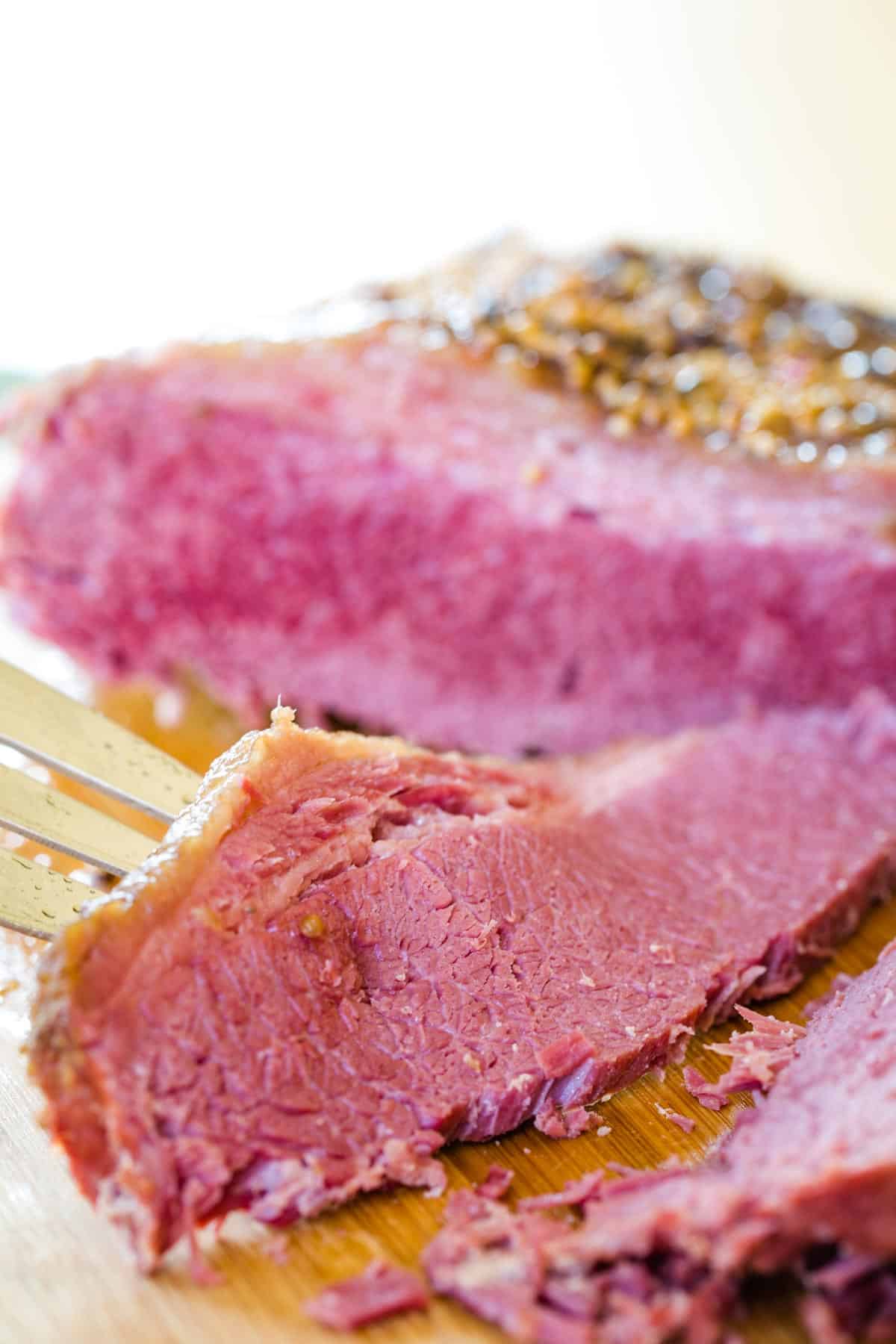 Serving Suggestions
I purposefully leave out the cabbage for this recipe, since corned beef is just so nice to pair with all kinds of other sides! Here are some of my family's favorite gluten free side dishes:
There are also tons of ideas for celebrating a gluten free St. Patrick's Day, including these Flourless Bailey's Brownies. Corned beef makes a great main dish for holidays like Thanksgiving and Christmas, too!
What can you make with leftover corned beef?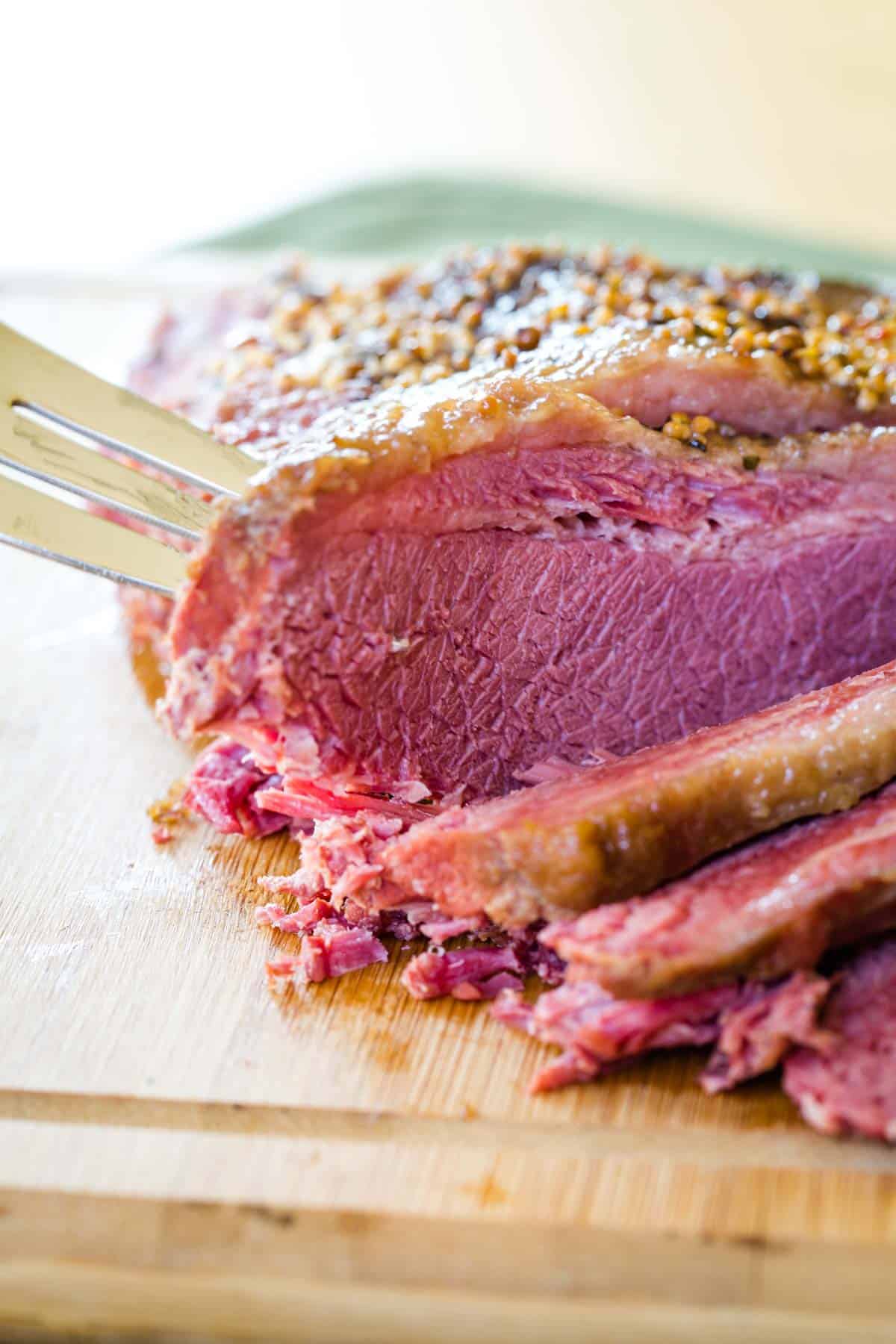 How to Store and Reheat Leftovers
Cooked corned beef can be stored for up to 3-4 days in the fridge. Make sure to store the meat in a shallow airtight container, or wrap it thoroughly in plastic wrap.
To reheat your corned beef, wrap it in aluminum foil and place this on a baking pan, then place this in a 350°F oven until heated through.
Can I Freeze Crock Pot Corned Beef?
There are some chefs out there who are steadfast against freezing corned beef brisket. However, I've found it's possible to freeze corned beef, either whole or sliced, without too much loss of flavor or texture. For best results, keep frozen cooked corned beef in the freezer for a maximum of 2-3 months.
To freeze corned beef, wrap the meat tightly in a double layer of plastic wrap and then place the whole thing in a freezer bag. Try to get as much of the air out as you can before sealing it up. Thaw corned beef in the fridge overnight before serving.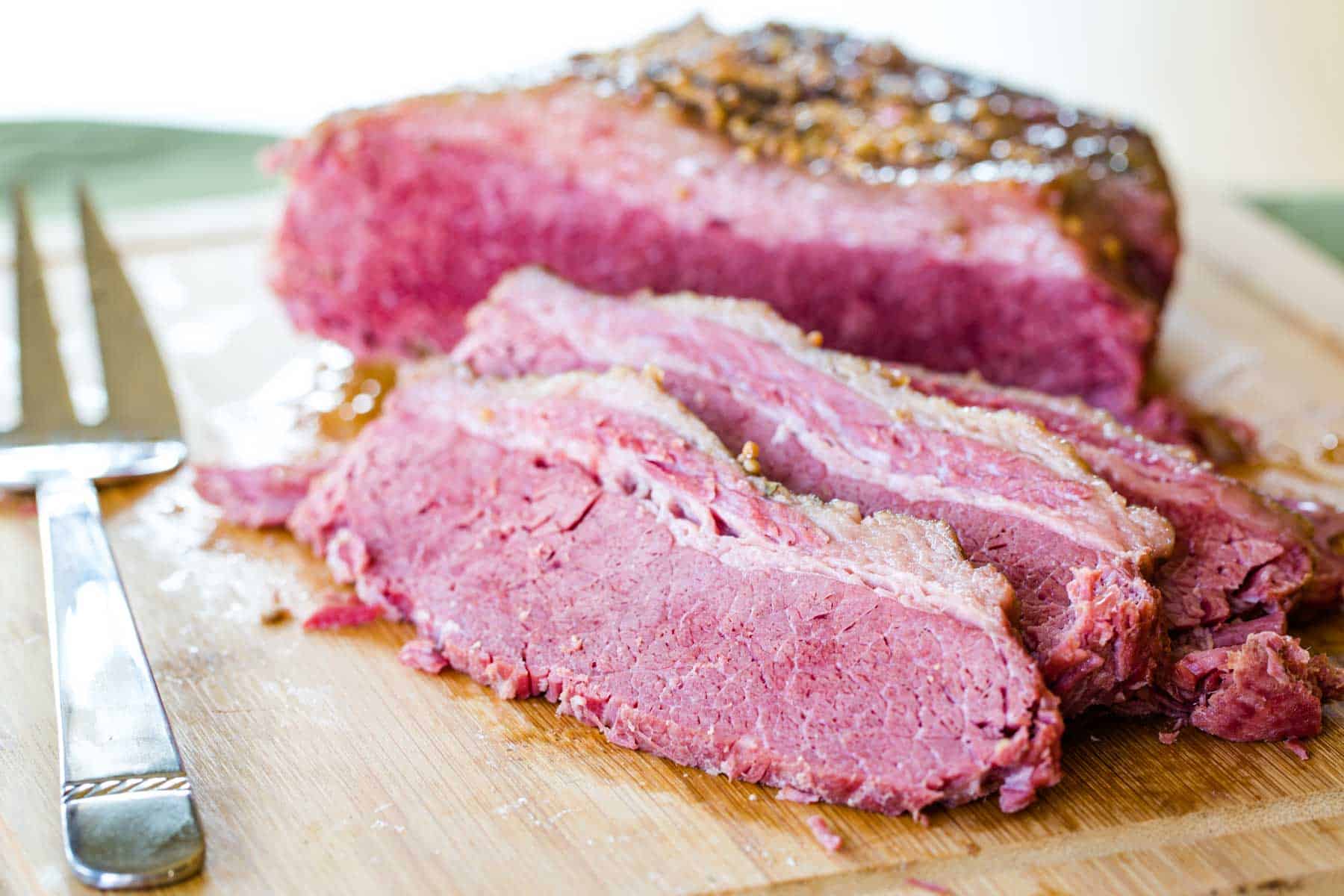 More Hearty Dinner Ideas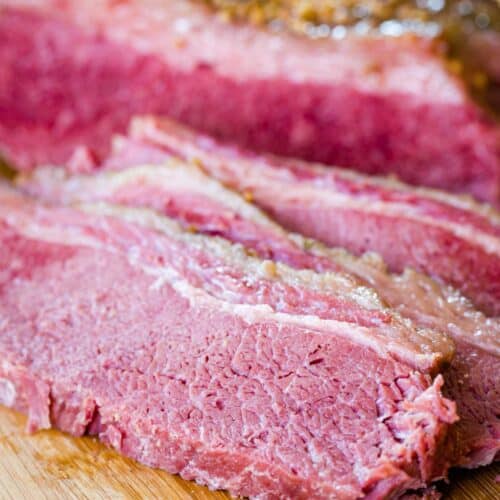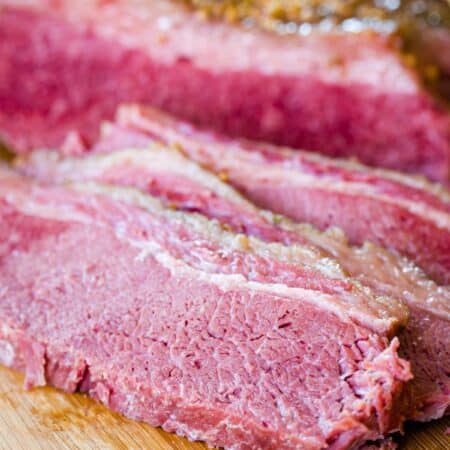 Easy Slow Cooker Corned Beef
This easy Slow Cooker Corned Beef cooked with a secret gluten free ingredient is juicy, tender, and flavorful. A delicious beef brisket recipe for any occasion!
Ingredients
3

pounds

flat cut corned beef brisket with seasoning packet

12

oz

hard apple cider

(I like Strongbow Gold)
Instructions
Open the package containing the corned beef, keep the seasoning packet, and drain the liquid. Rinse the corned beef well and place in your slow cooker. Sprinkle with the contents of the seasoning packet.

Pour the bottle of hard cider over the corned beef, cover and cook on low for 6-8 hours.

Remove from the slow cooker and slice thinly against the grain.
Notes
Store leftovers airtight in the fridge for up to 3-4 days.
Freeze leftovers in an airtight container or freezer bag for up to 2-3 months.
Nutrition Facts
Easy Slow Cooker Corned Beef
Amount Per Serving (4 oz)
Calories 299
Calories from Fat 198
% Daily Value*
Fat 22g34%
Cholesterol 81mg27%
Sodium 1840mg77%
Potassium 449mg13%
Protein 22g44%
Vitamin C 40.8mg49%
Calcium 11mg1%
Iron 2.6mg14%
* Percent Daily Values are based on a 2000 calorie diet.