This post may contain affiliate links. Read my disclosure policy.
#SundaySupper is here this week to give you a little inspiration to step away from the cookie jar and get back to a healthy lifestyle (balanced with the occasional splurge, obviously) with light, healthy, but most importantly, delicious recipes for A Lighter New Year. How do I pack in fruit, veggies, protein, and of course luscious chocolaty flavor everyday? By making my favorite Chocolate-Covered Berries Green Smoothie.
Chocolate-Covered Berries Green Smoothie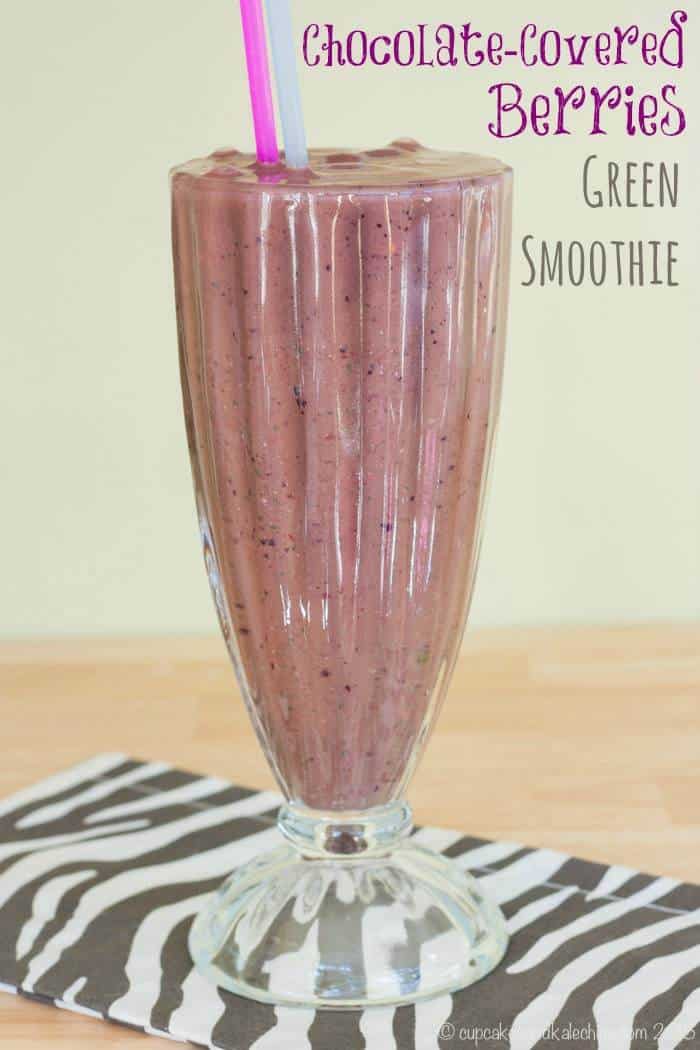 Smoothies are such a personal thing. Maybe if I were more observant and insightful when it comes to people and their actions and behaviors, I'd be able to make one of those fancy-shmancy infographics that has a bunch of smoothie types in the left column, and in the right column it perfectly captures the utter nuances of your personality in three to four succinct yet profound sentences based on your favorite smoothie.
But alas, I am not profound. Nor succinct. And not always really good at reading people and their personalities. Which kind of leads me to my semi-resolutions for the new year. I'm not typically one to make resolutions, but I feel like I spent all of 2014, and especially the last four months, and even more especially the month of December behind the eight ball, rushing through life in a futile attempt to feel caught up. But with two little kids, a husband who works hard at his job then lost his job then immediately interviewed for and got and is working even harder at a new job, my own part time pay/full time hours work from home job, and all that was involved with a relocation to a new state, plus the holidays and vacations and conferences, you would have to be uber-organized and efficient and, you know, maybe have 36 hours in your day and eight days in your week to really be ahead of the game. I actually think I started 2014 in a baby-induced fog since the little guy literally started sleeping through the night the last week of 2013, and every time I started to see the sunlight burning off that fog, another one rolled on in.
So with all of that, I feel like I wasn't paying much attention to people. Real, actual people. Sometimes even the people that live in my own house. And while I love all of my "friends who live in my computer", it's time to make sure I am focusing on my husband and kids, reaching out to my extended family and friends, making plans to meet up in person, putting myself out there to meet new people. It's time to really get myself organized, focus on efficiently getting things done during the time allotted to a task instead of flitting around from one thing to another, and putting down the dang phone and ignoring Facebook and Instagram and Twitter until I get my work done. Then when the work is done, I need to spend quality time with my family. And meet new friends in my new home. Strengthen relationships and focus a little less on my own little world and pay attention to what's going on in others' lives.
I hope that making these changes to myself don't mean that I have to change my favorite smoothie, because I really like this one…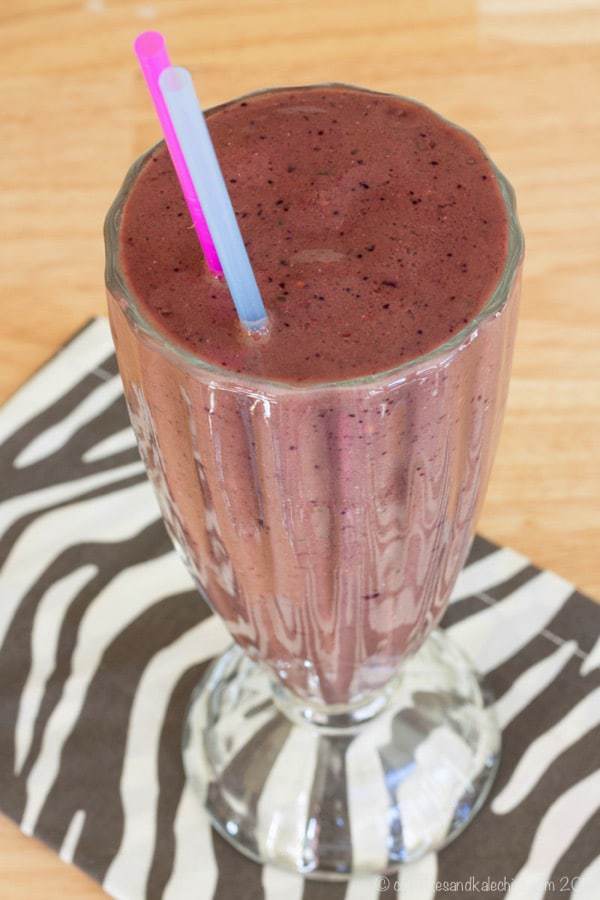 I pretty much drink a Chocolate-Covered Berries Green Smoothie once a day. Sometimes twice. I've made it enough that I have a few different ways to make it that'll basically make everyone happy. More protein or less sugar or dairy-free or super creamy. I'll give you all of my variations and you can do as you wish because no matter what, it's going to totally work in with pretty much anyone's healthy eating plans for the new year. There's tons of fruit and veggies. And chocolate. Always chocolate. Because when you're trying to eat more salads and quinoa, you still need to satisfy those chocolate cravings. Am I right? Of course I'm right.
Soooo, your options are to make this with dairy or non-dairy milk, cottage cheese and/or Greek yogurt, which can be flavored or unflavored, with or without bananas since I'm told there are banana haters out there, a bit of sugar or honey or stevia or whatever you feel you might need to sweeten it up. Go all strawberries, all blueberries, a mix of berries. They all work. My personal favorite – frozen mixed berries (NO strawberries – I don't like them in this smoothie, but that's just me), half a container of flavored yogurt (preferable blueberry or cherry), a little cottage cheese, no banana, and almond milk. And sometimes a few drops of liquid Stevia or a teaspoon of sugar/Stevia baking blend. Sometimes I use all regular cocoa powder, sometimes all dark cocoa powder, sometimes a little of both.
See, I'm all over the map. Totally scattered and unfocused. Even with my smoothies. So maybe this smoothie does reflect my personality 😉
And you can experiment and tweak it to reflect your smoothie persona too. Have fun!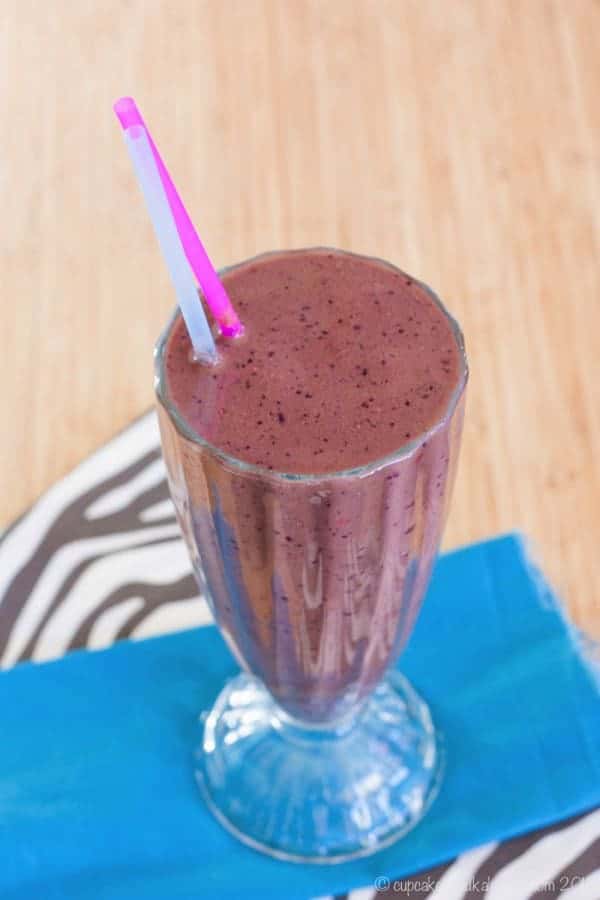 Join the #SundaySupper conversation on twitter on Sunday! We tweet throughout the day and share recipes from all over the world. Our weekly chat starts at 7:00 pm ET. Follow the #SundaySupper hashtag and remember to include it in your tweets to join in the chat. To get more great Sunday Supper Recipes, visit our website or check out our Pinterest board.
Would you like to join the Sunday Supper Movement? It's easy. You can sign up by clicking here: Sunday Supper Movement.
And get over 40 recipes for A Lighter New Year at the bottom of this post.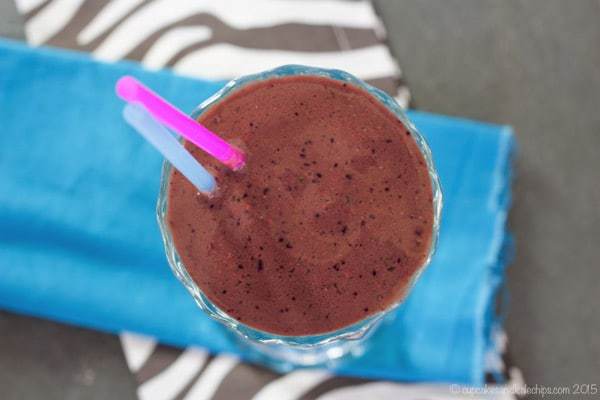 Tell me about your favorite smoothie.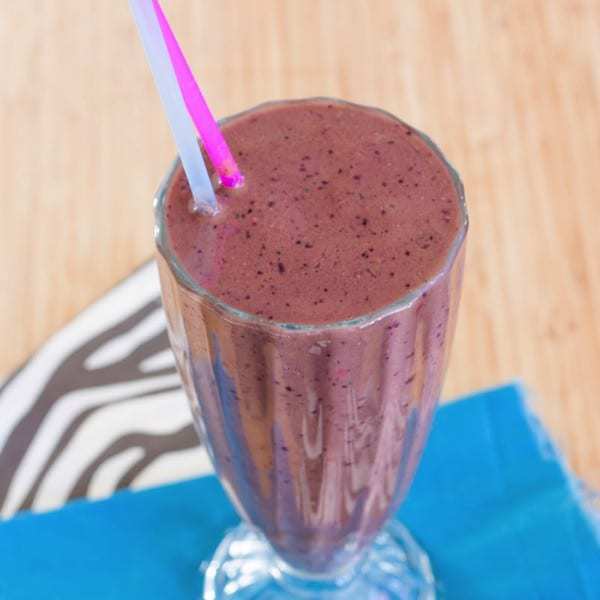 Chocolate Mixed Berry Smoothie
My favorite way to pack in fruit, veggies, protein, and of course luscious chocolaty flavor everyday. A sweet green smoothie!
Ingredients
2

cups

baby spinach

or other dark, leafy greens

2

Tablespoons

unsweetened cocoa powder

1

cup

unsweetened almondmilk

or milk of choice

ingredients for one of the 4 options shown below

1

cup

frozen mixed berries

1

pinch

salt

1-2

teaspoons

sweetener of choice

if needed (sugar, Stevia, honey, etc.)

4-6

ice cubes
Option 1 (my favorite, most protein): half of a single serving container of flavored Greek yogurt, 1/4 cup cottage cheese or plain Greek yogurt
Option 2 (the easiest): one single serving container of flavored Greek yogurt (cherry, blueberry strawberry, or mixed berry)
Option 3 (creamy): half of a banana (can be frozen), 1/4 cup cottage cheese or plain Greek yogurt
Option 4 (vegan): one banana (can be frozen)
Instructions
Combine all ingredients except ice in the order listed in your blender and blend until smooth.

Add sweetener and ice and blend to achieve desired sweetness and texture.
Notes
nutrition shown is for the base smoothie, without additions
Nutrition Facts
Chocolate Mixed Berry Smoothie
Amount Per Serving (1 g)
Calories 150
Calories from Fat 45
% Daily Value*
Fat 5g8%
Sodium 417mg17%
Potassium 570mg16%
Carbohydrates 27g9%
Protein 5g10%
Vitamin A 5700IU114%
Vitamin C 20.7mg25%
Calcium 385mg39%
Iron 3.3mg18%
* Percent Daily Values are based on a 2000 calorie diet.
Categories:
Here are some more of my favorite smoothies…
And make sure you check out all of these yummy #SundaySupper for a Lighter New Year…
Bright Beverages
Blissful Breakfast Items
Appetizing Starters
Savory Soups and Sides
Marvelous Mains
Delightful Desserts