This post may contain affiliate links. Read my disclosure policy.
This easy recipe for Gluten-Free Crepes is made completely from scratch! Serve these perfect French crepes either sweet or savory, for breakfast, brunch, dinner, or dessert. You can't go wrong with your favorite fillings!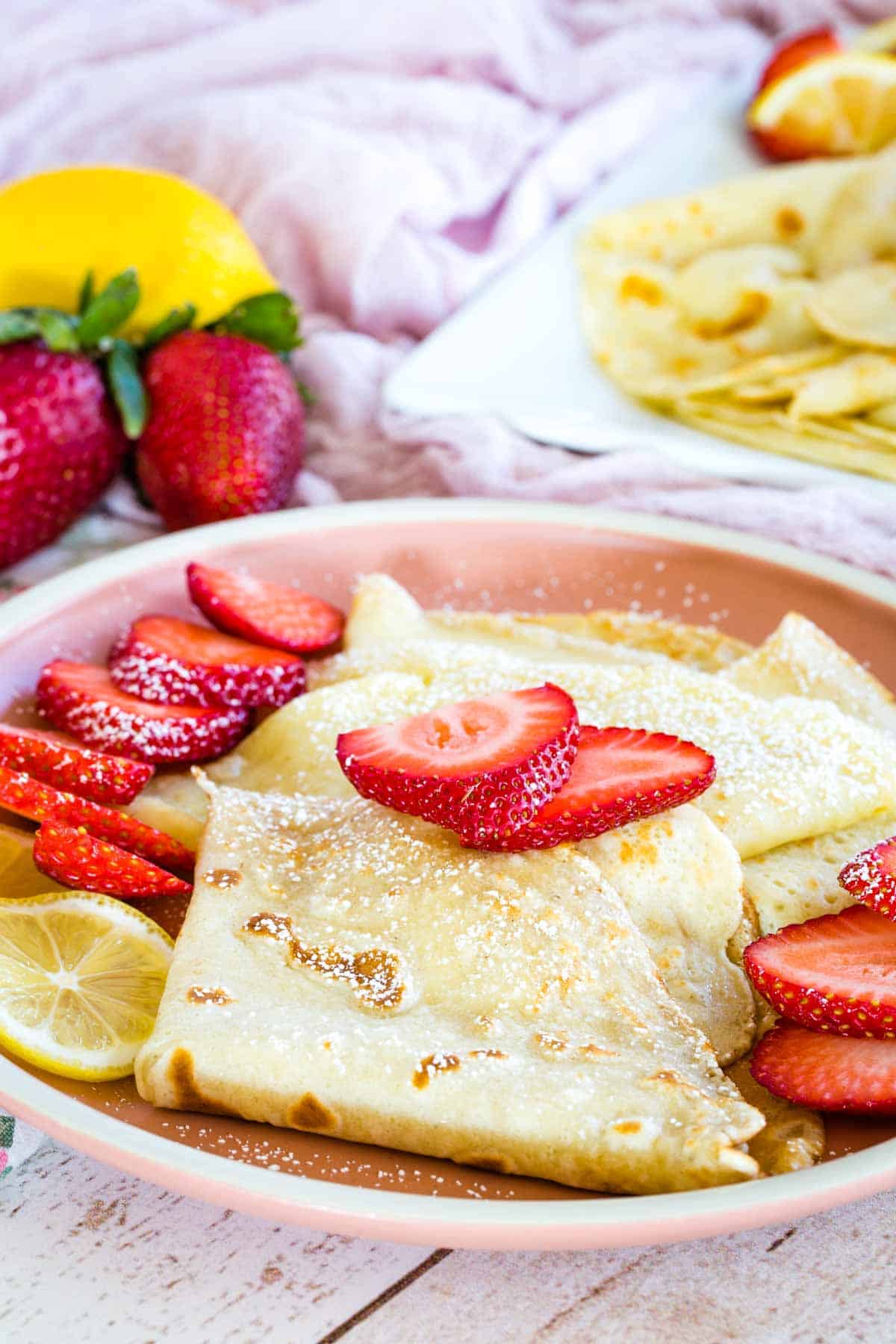 Homemade Gluten Free Crepes
Crepes really are a thing of beauty. How is it that something so thin and delicate-looking can be loaded up with such endless amounts of delicious toppings? I can't think of a better brunch dish than featherlight, tear-proof crepes, ready to be topped and filled with my favorite ingredients.
And as luck would have it, I've officially cracked the code for the ultimate gluten-free crepes. If I do say so myself, these may be the softest, fluffiest, most deliciously textured crepe pancakes I've ever had. 100% made from scratch!
Making these gluten-free crepes is actually so simple, but it does take a bit of technique. This recipe keeps things super straightforward, from blending the basic ingredients right down to swirling out the perfect crepes in your pan. With this fail-proof method, you'll be enjoying homemade crepes for breakfast every weekend from here on out!
What Are Crepes?
A crepe is a thin, French-style pancake that can be served either sweet or savory. Their texture is light and airy, and the batter is thinner than traditional pancake batter (a bit like the consistency of half and half). You can fold ingredients inside a crepe, or roll them up like a burrito.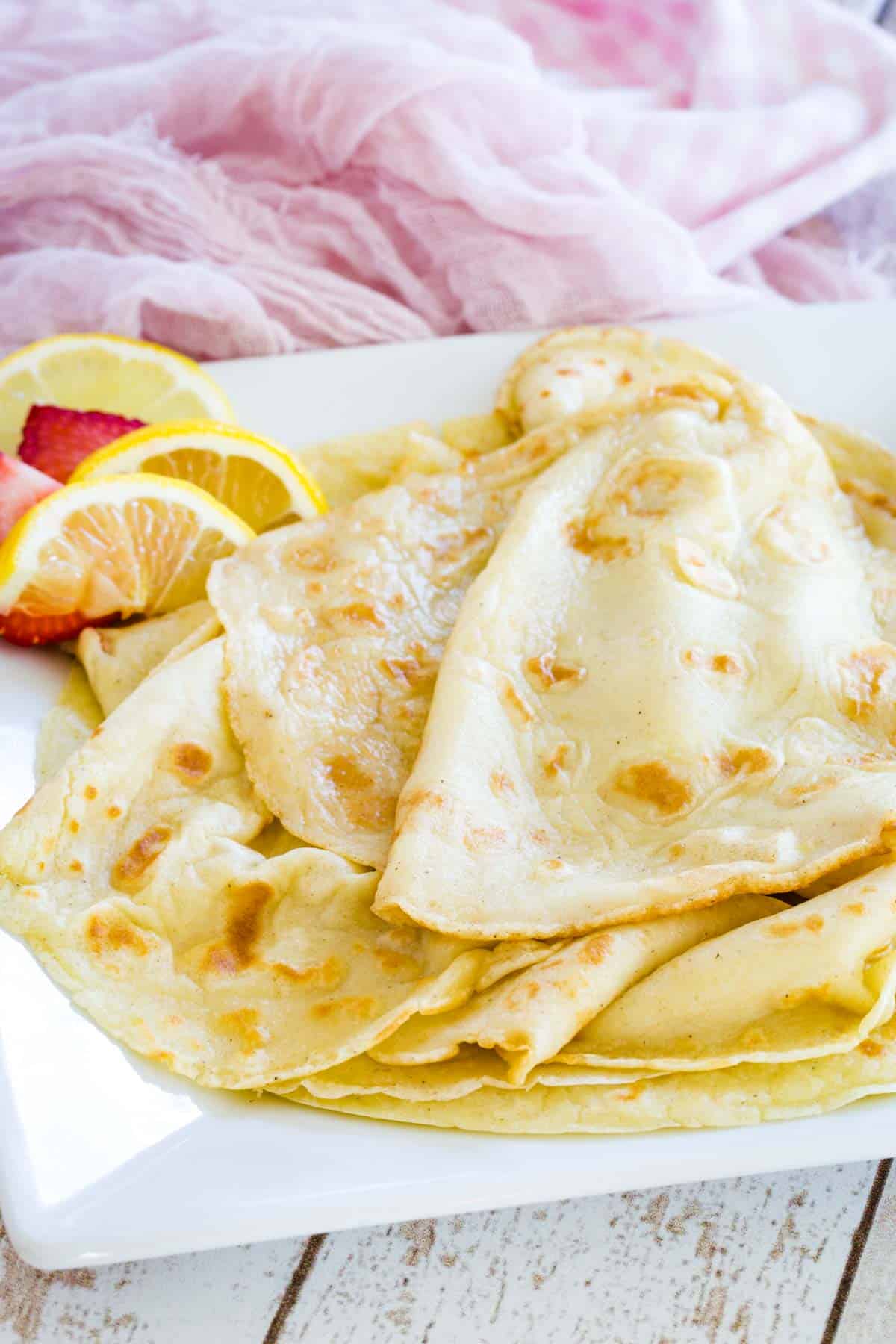 Recipe Ingredients
You only need 5 common pantry ingredients to make the batter for these gluten-free crepes:
Gluten-Free Flour: Use a gluten-free all-purpose flour blend (I've had best results with Bob's Red Mill 1-1).
Eggs: Eggs act as the binder and leavener for this crepe recipe. Be sure to take them out of the fridge ahead of time, to let them get to room temperature before you begin.
Milk: Also at room temperature. I've found that whole milk gives these gluten-free crepes the best texture. If you're making them dairy-free, you can also use soy milk or almond milk.
Unsalted Butter: Butter adds flavor and brings richness to the batter. You're going to want to melt your butter before you start, to avoid clumping.
Salt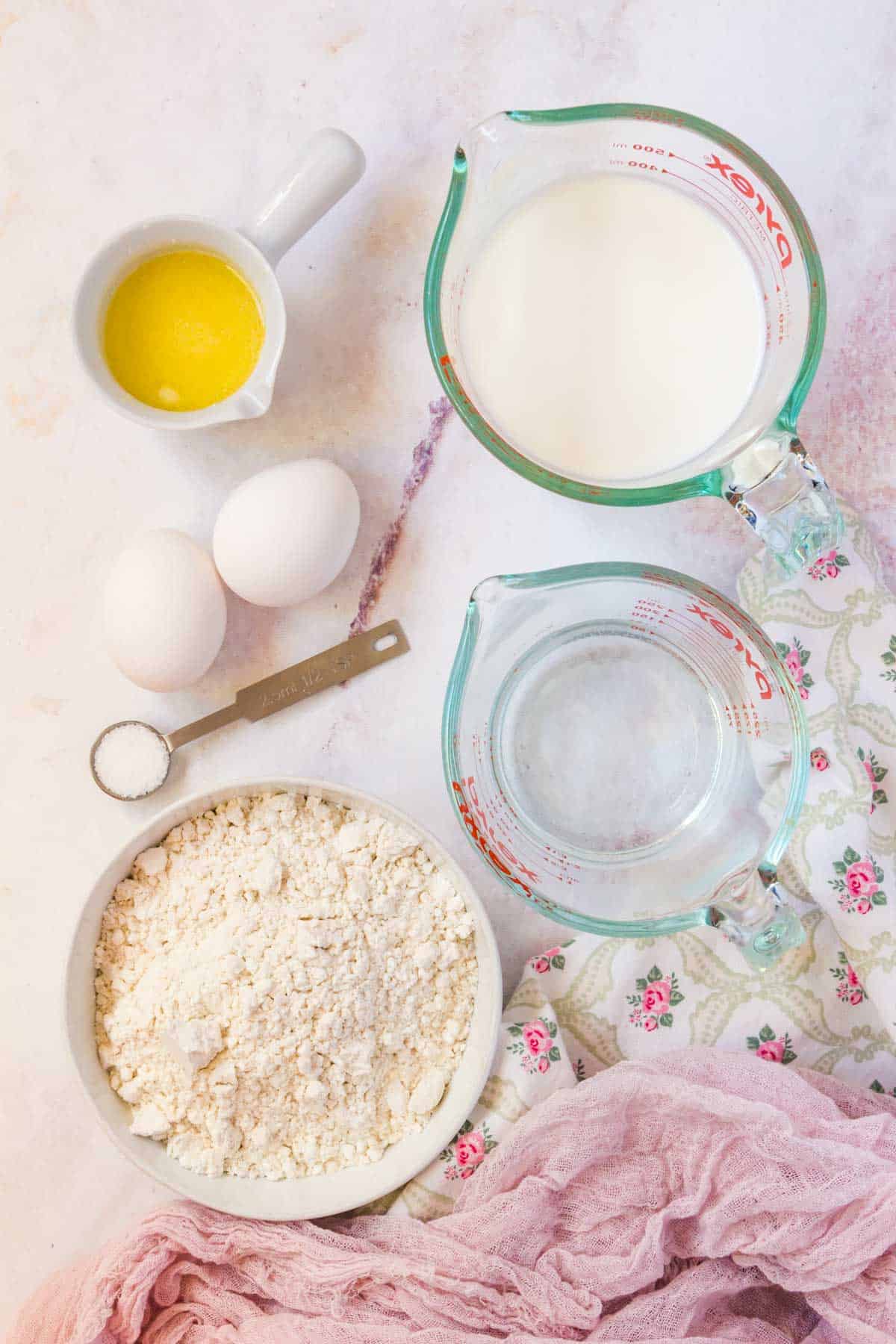 How to Make Crepes from Scratch
With a bit of patience, you'll be a pro at making crepes in no time! Here's how to make these gluten-free crepes at home:
Blend the Ingredients: Combine the ingredients for your crepes in a blender and blend until the batter is smooth.
Rest: Once blended, give the batter time to rest. Aim for half an hour at minimum, or you can also refrigerate the batter for up to 48 hours. The longer the batter rests, the more flavor your crepes will have and the sturdier their texture will be.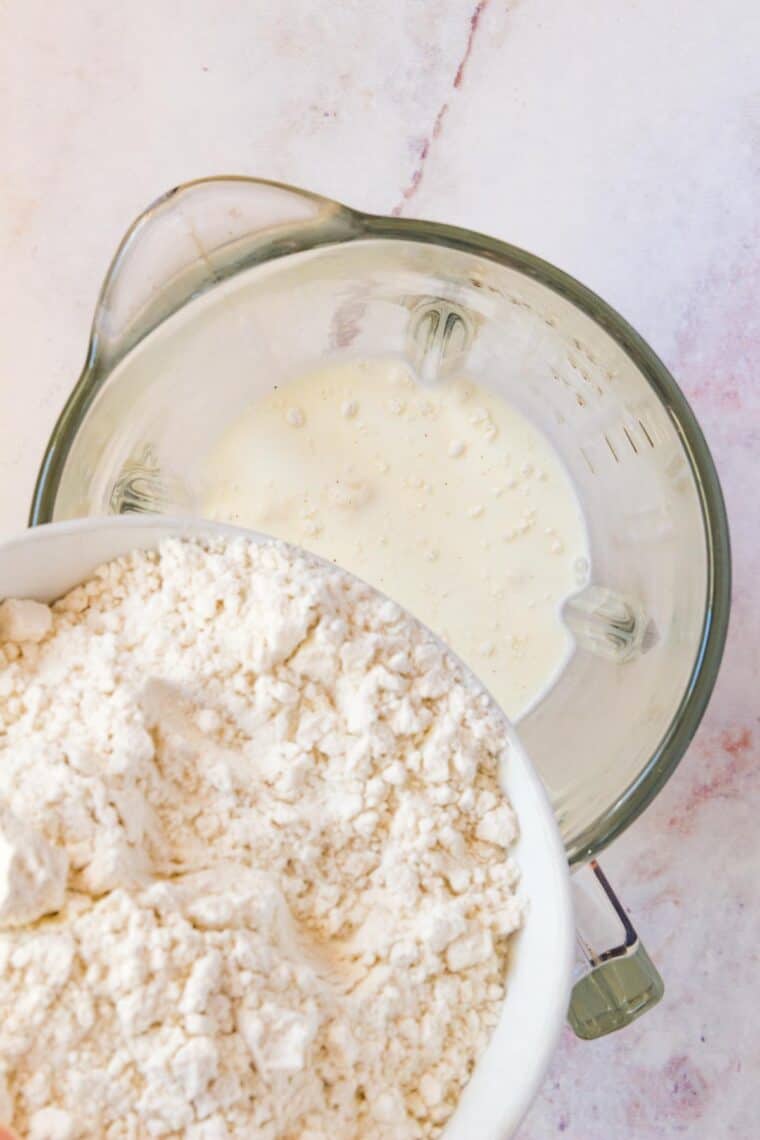 Thin the Batter: Let the batter come to room temperature again before cooking. Add in a bit of water and blend the crepe batter a second time to reach the right consistency. Of course, if you prefer thicker crepes, you can add less water or leave it out altogether!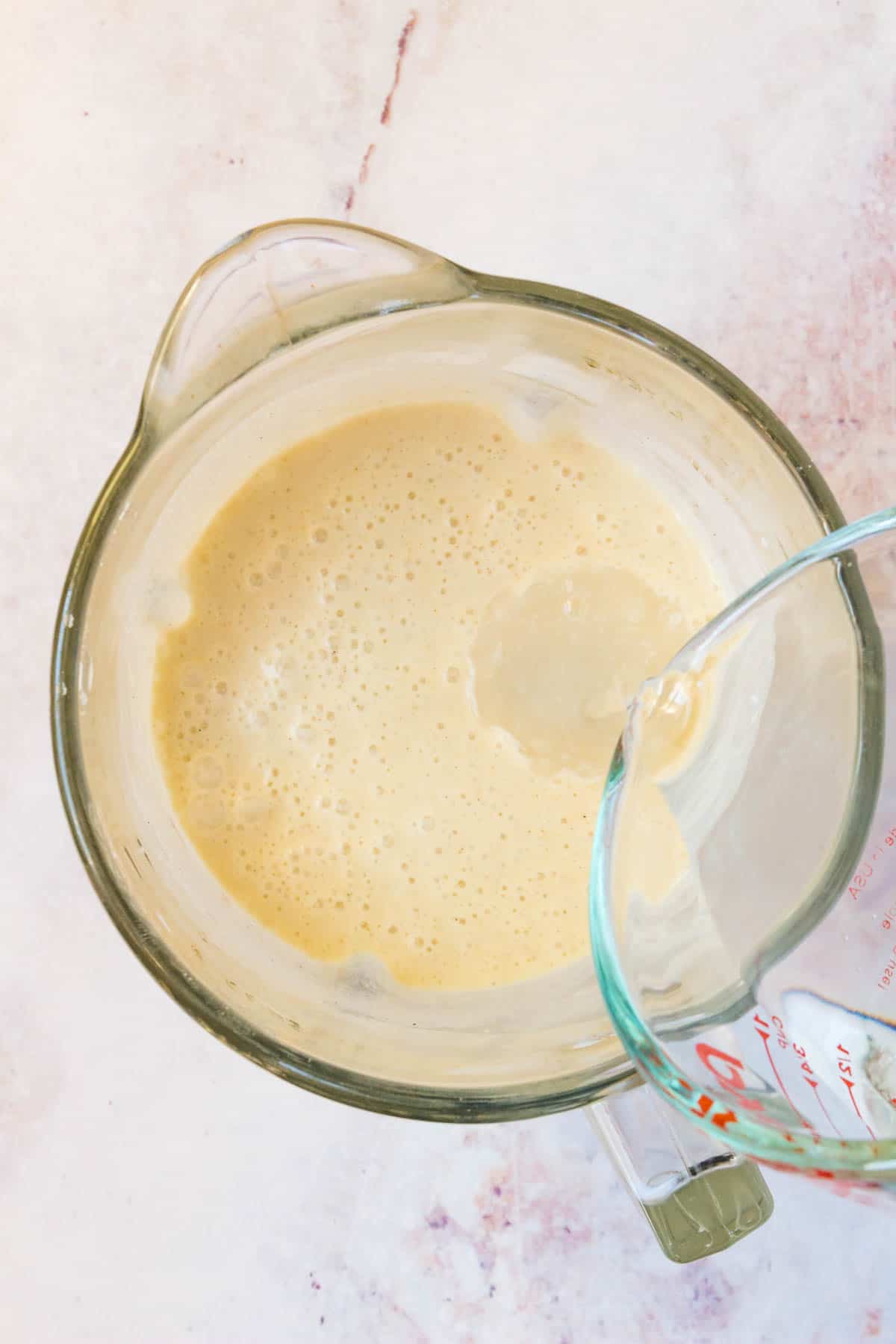 Cook: Grease and preheat a nonstick crepe pan or skillet over medium-high heat. Pour in some batter and swirl the pan right away, so that the batter spreads into a thin circle. You may need a couple of practice rounds to get the hang of it, but don't worry. Even those practice crepes will taste delicious!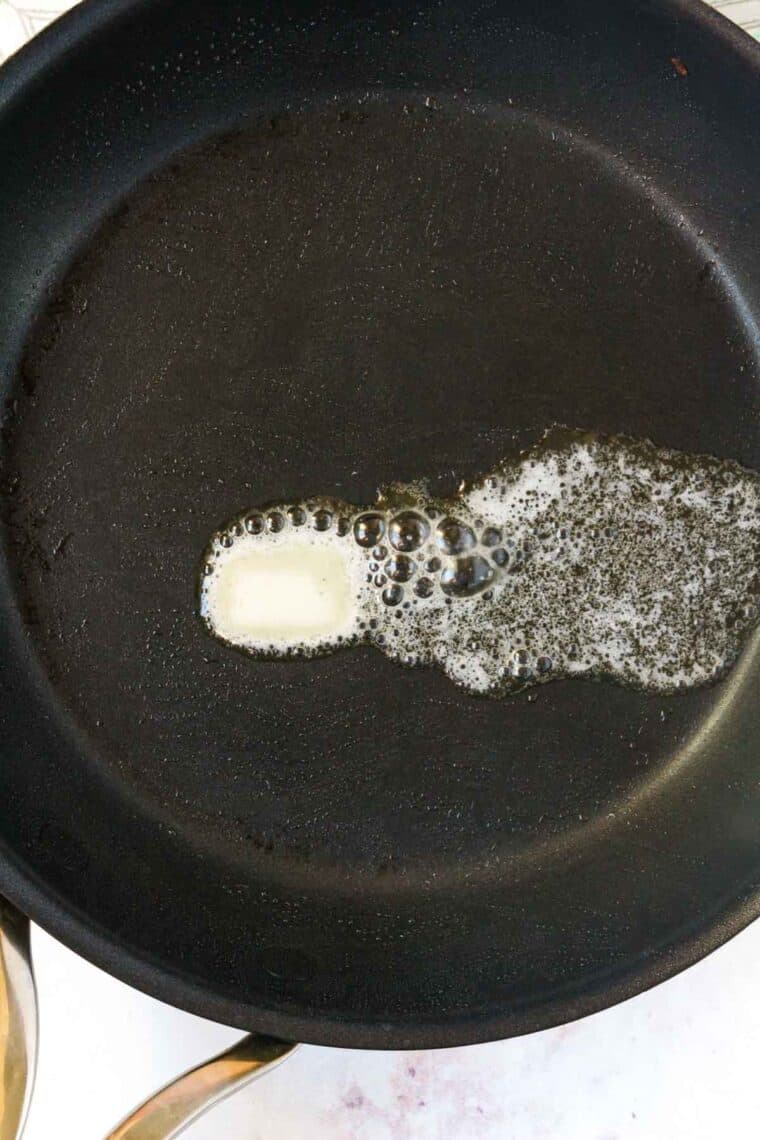 Flip: After the crepe cooks for a couple of minutes, use a spatula to loosen the edges. Flip and cook the crepe for another 30 seconds to a minute until the other side is browned.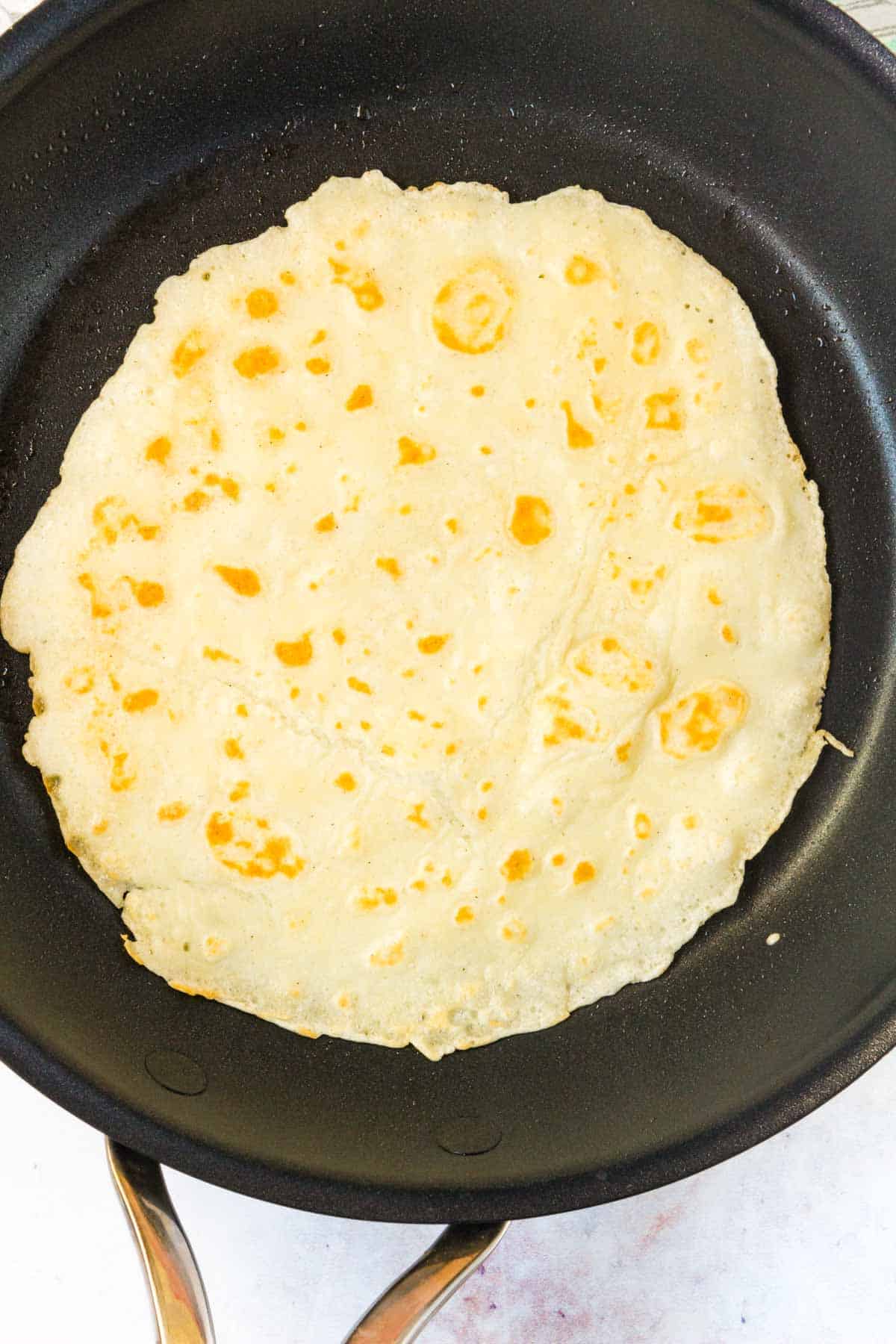 Repeat: Transfer your finished crepes to a serving dish and repeat the cooking process with the rest of your batter. You can keep your crepes warm by placing them in the oven on low, covered with foil.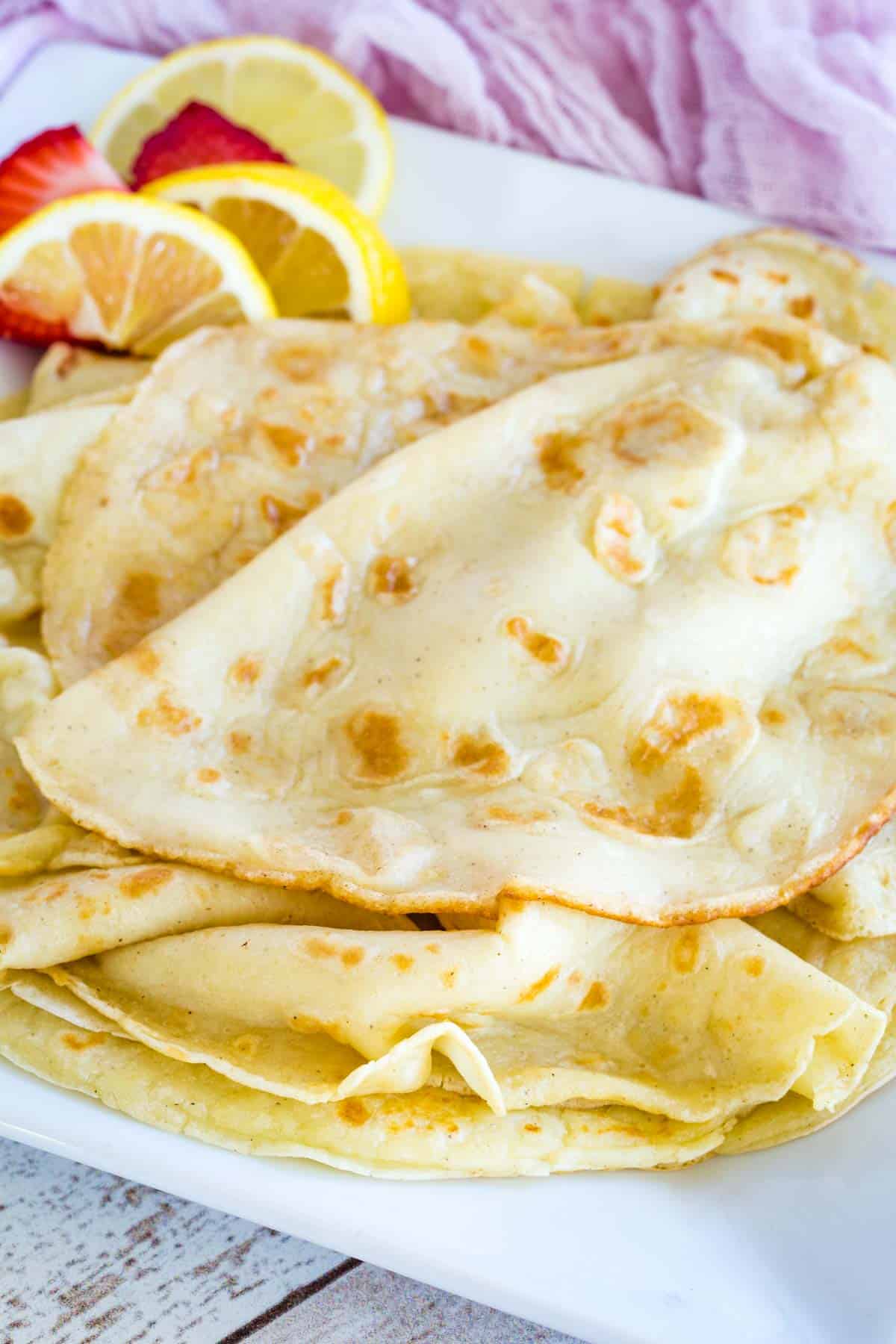 Tips for Success
Gluten-Free Flour Blends Can Vary: All blends aren't created equal! Depending on the brand of gluten-free flour you use, you may have mixed results when making your crepes. For example, if your crepes come out a bit rubbery, it could be because the gluten-free flour you used has too much xanthan gum.
Resting the Batter Is Important: Allowing the batter to rest once it's blended, either at room temperature or in the fridge, is what lets the texture and flavor develop. The crepes will also be less likely to tear during cooking! So plan ahead and don't skip this part.
Avoid Clumping: Make sure to blend your batter well and avoid using ingredients that are chilled or fresh from the fridge. Melting the butter and using room-temperature eggs helps prevent clumps in the batter.
Use A Non-Stick Pan: Just about any non-stick pan or skillet works great here. If you happen to have a crepes pan (usually larger with low sides), even better! In either case, it's still a good idea to give the pan a coating with butter or non-stick spray between crepes so that the batter can easily slide around. And be sure to get the pan nice and hot before swirling!
Can I Use Pancake Batter? No. While similar, pancake batter is thicker than crepe batter and won't yield the same results. Stick to this recipe for the best possible gluten-free crepes!
Can I Make Crepes Ahead? You can make the batter, as well as the crepes themselves, up to two days in advance. Store the batter or cooked crepes airtight in the fridge.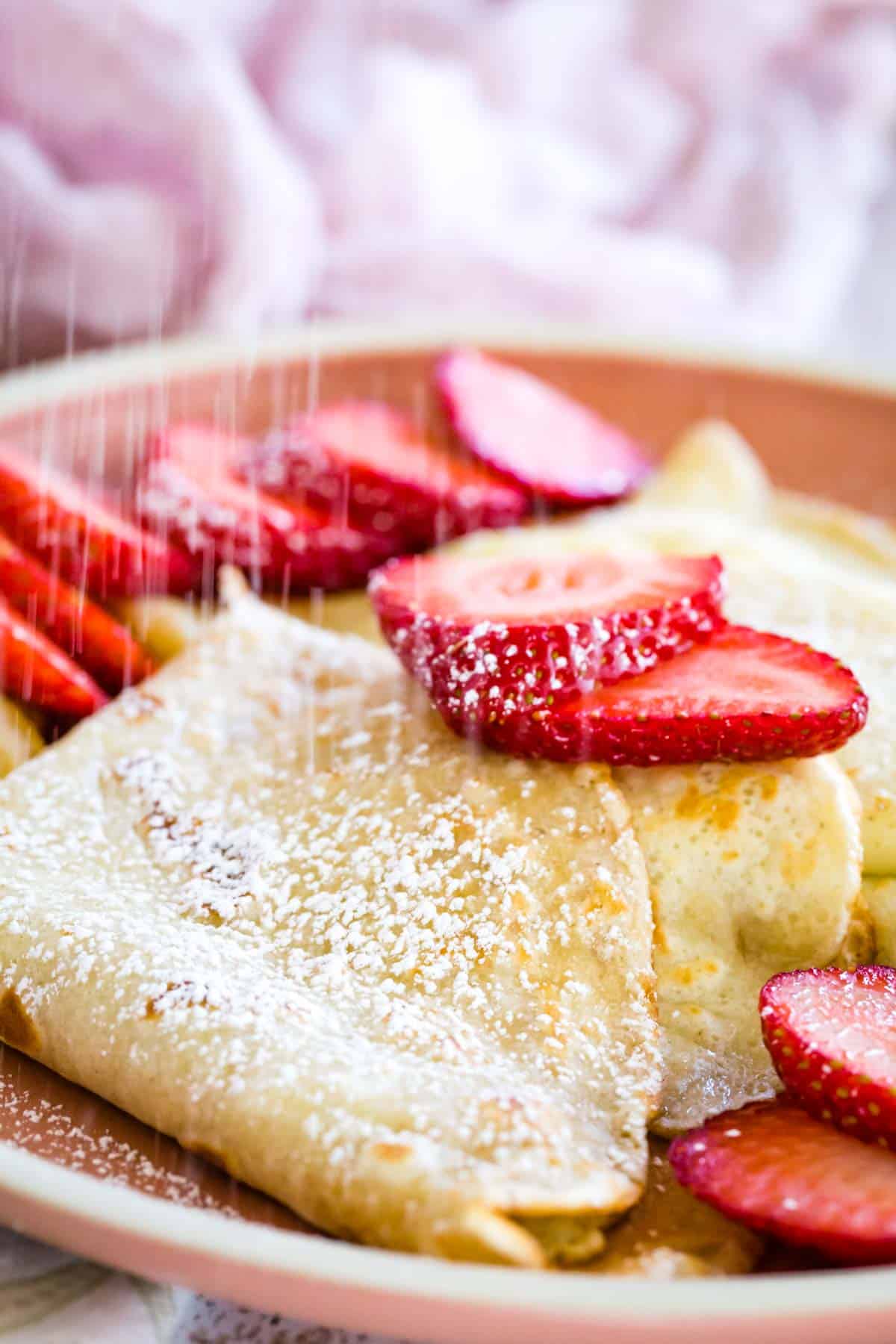 Filling and Topping Ideas
Whether you prefer sweet or savory, there are countless ways to fill a crepe. Here are some topping and filling ideas for your gluten-free crepes, perfect to try alone or in combinations!
Sweet Crepes
Savory Crepes
Hollandaise sauce (try my quick 2-step recipe for Homemade Hollandaise!)
Cheeses like melted cheddar, goat cheese, ricotta, and brie
Smoked salmon or leftover Salmon with chives or capers (add creme fraiche for extra richness!)
Herb butters flavored with dill, basil, or thyme
Veggies like sauteed spinach, mushrooms, or asparagus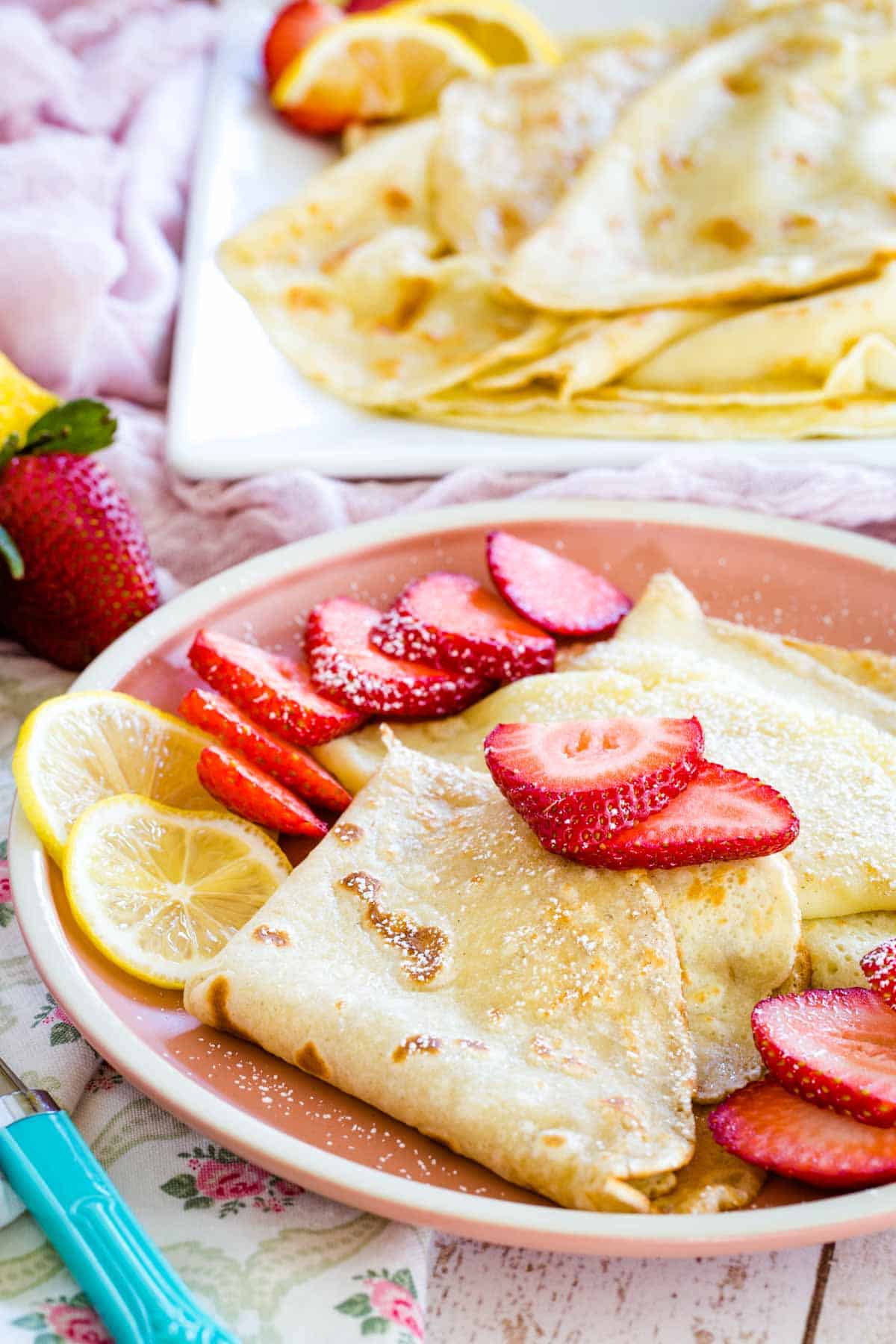 Make it a Meal
Homemade gluten-free crepes make a delicious sweet or savory, simple meal idea! The whole family loves this recipe, whether we're having them for an easy breakfast, light dinner or sweet dessert. Here are some other dish suggestions to serve with crepes:
Serve fluffy crepes alongside Scrambled Eggs – doubling as a side, or as a filling!
Make it a full breakfast with a side of Baked Dill Hash Brown Potatoes, Spinach Feta Frittata, bacon or sausage, and fresh fruit. Or keep things light with a Peanut Butter Smoothie.
Accompany a savory crepe with a side dish of sauteed or roasted vegetables, such as mushrooms, zucchini, tomatoes, or Air Fryer Green Beans. Even a fresh green salad is a healthy and easy option!
Make a crepe bar at your next brunch! Lay out all kinds of easy toppings and fillings buffet-style (see some ideas above!), and then let your guests get creative.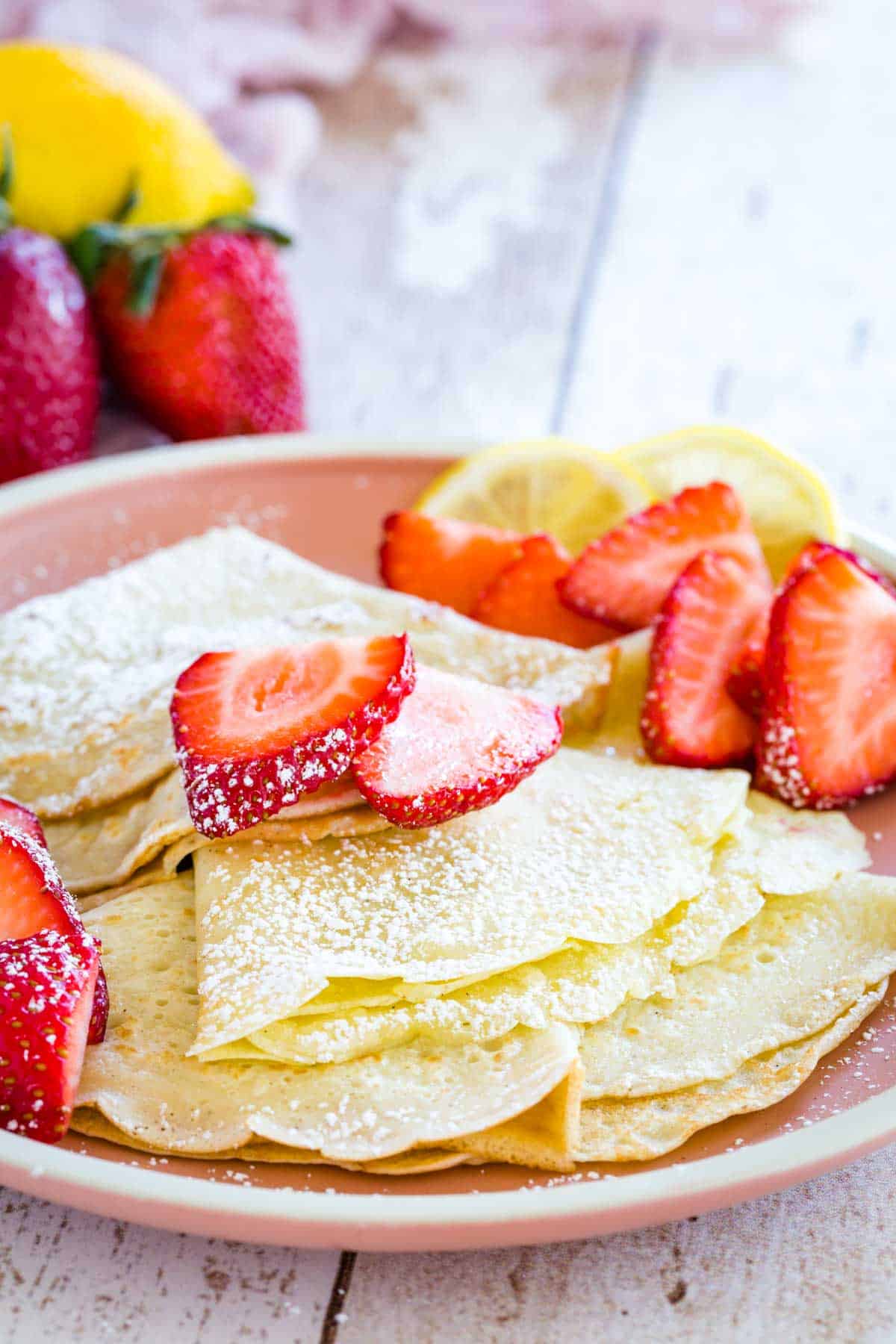 How to Store and Reheat Extras
These gluten-free crepes will stay fresh when stored airtight in the fridge for up to 3 days. I've found that the best way to reheat leftover crepes is to pop them in the oven at 350°F for a few minutes before serving.
Can I Freeze Crepes?
Crepes freeze very well! Store these gluten-free crepes airtight in a freezer-safe container and keep them frozen for up to 2 months. Defrost your frozen crepes at room temperature before pulling them apart and reheating.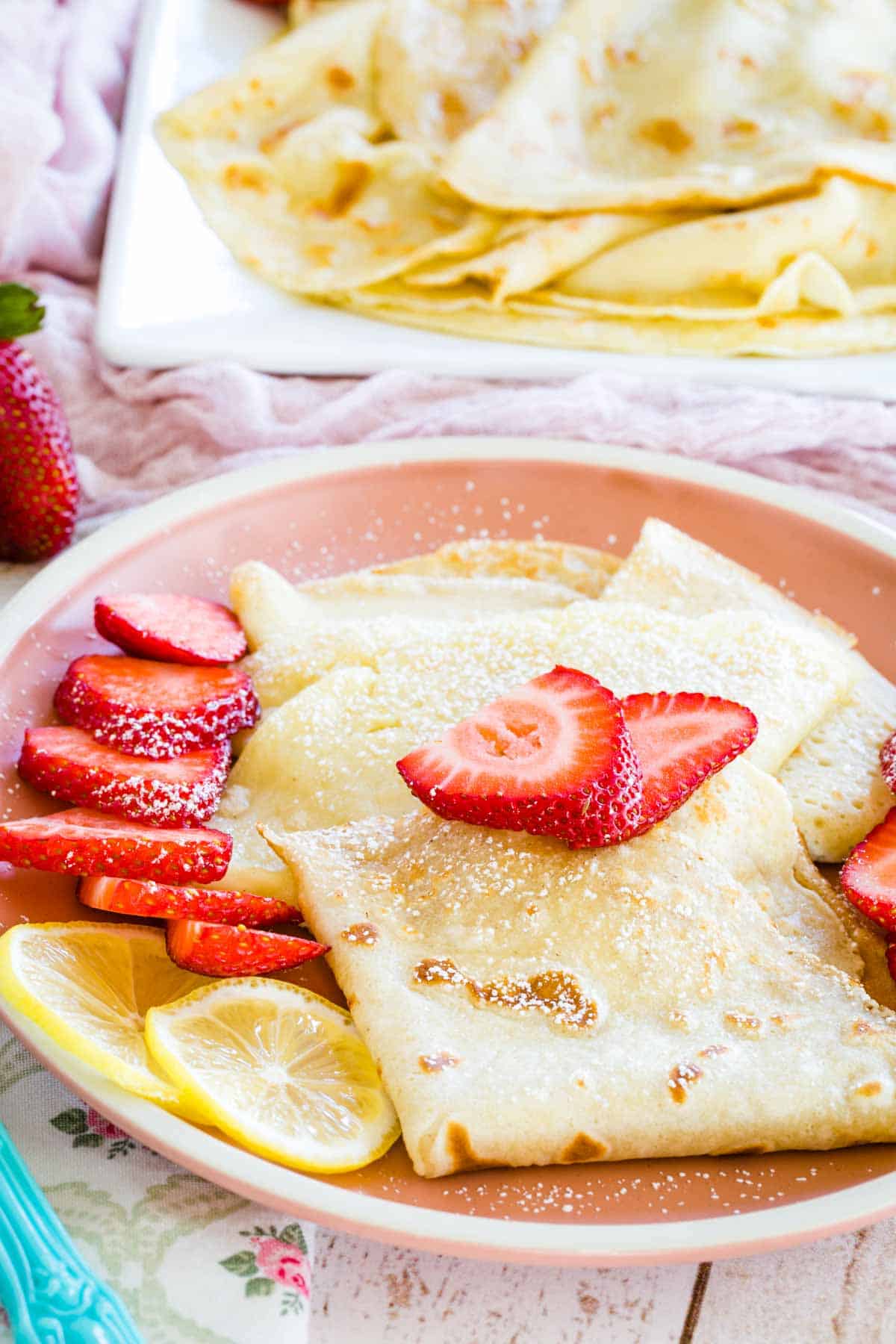 More Gluten Free Breakfast Ideas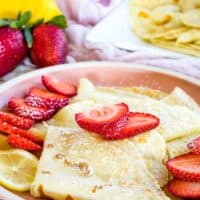 Easy Gluten Free Crepes
This easy recipe for French crepes is so simple, and gluten free! Serve your homemade crepes sweet or savory for breakfast, as a light dinner, or dessert!
Instructions
In a blender, combine the flour, salt, eggs, milk, and melted butter until smooth, about 30 seconds. Let the batter rest for at least 30 minutes at room temperature or up to 2 days in the fridge, covered. Longer resting will give you more flavorful crepes.

Let the batter come to room temperature before using. Add the water and blend again before cooking. If you like thicker crepes, you can use less or omit the water altogether.

When ready to cook, heat a pat of butter or a spray of nonstick spray in a nonstick 9-inch skillet or crepe pan over medium-high heat. When hot, pour about 1⁄4 cup of the batter into the pan. Immediately swirl the pan so the batter forms a thin circle.

Cook the crepe for about 2 minutes, or until the bottom is light brown and bubbles burst on the surface. Use a thin spatula to flip and cook for another 30 to 60 seconds, until golden brown on the other side. Repeat with the remaining batter.

Transfer to a serving plate and serve hot. Otherwise, place in a preheated 200°F oven on a baking sheet covered with aluminum foil or store in the fridge for up to three days covered tightly in plastic wrap. Reheat in a 350°F oven for a few minutes to serve.
Nutrition Facts
Easy Gluten Free Crepes
Amount Per Serving
Calories 187
Calories from Fat 72
% Daily Value*
Fat 8g12%
Cholesterol 77mg26%
Sodium 247mg10%
Potassium 107mg3%
Carbohydrates 25g8%
Protein 7g14%
Vitamin A 267IU5%
Vitamin C 1mg1%
Calcium 102mg10%
Iron 1mg6%
* Percent Daily Values are based on a 2000 calorie diet.